THE NEW KISMET!
This tug, with a sportier look than the R27 and a Volvo Penta diesel engine, will take us to some exciting cruising destinations with a quieter, more stable ride. The new tug will be just a little bit bigger, but still trailerable. Looking forward to a little more room to accommodate our growing grandchildren. One of our new goals is to share our love of boating with them for many years to come.
Two Long-Distance Cruisers Find the
Upside of Downsizing to a Trailerable Trawler

Jim and Lisa Favors were avid boaters in the Eastern USA for over 20 years before they bought a trailerable trawler. Spending the first year of retirement cruising the 6,000-mile Great Loop route on a 40′ trawler. One year turned into five years of cruising as live-aboards. With another Loop trip under their belts. Their mission soon became a desire to share with others the joys of long-distance cruising.
"Helping people discover what we've found to be a rewarding lifestyle! Extremely excited to continue our boating adventures on a trailerable trawler – a Ranger Tugs R29." Flexibility, mobility and affordability – trailerable boating is the wave of the future.
"We use our tug as an RV when traveling to cruising destinations, staying at RV campgrounds all over the country. We can now cruise waterways unavailable to bigger boats. Our initial concerns of downsizing were easily set to rest once we headed out on the water in our new and improved Kismet." 

– Jim & Lisa Favors  

Read More
eBooks by Jim and Lisa Favors at Amazon, iBooks and the Nook.
(Click on book below for reviews and more information)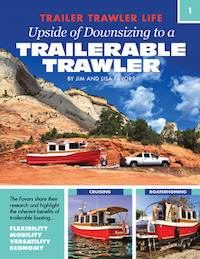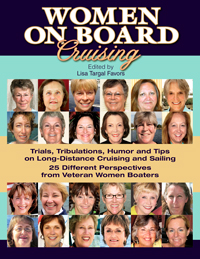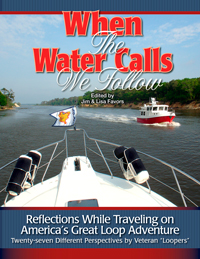 Have a question about long-distance cruising, the Great Loop boat trip or, Ranger Tugs
or a trailerable trawler? Leave a comment or email us, we'll get right back to you.


Kismet Has Cruised Many Waterways.
See Full List and Read More About Her Adventures.
See Search Box at the Top of the Sidebar then
SELECT LOCATION

You Are Interested in.