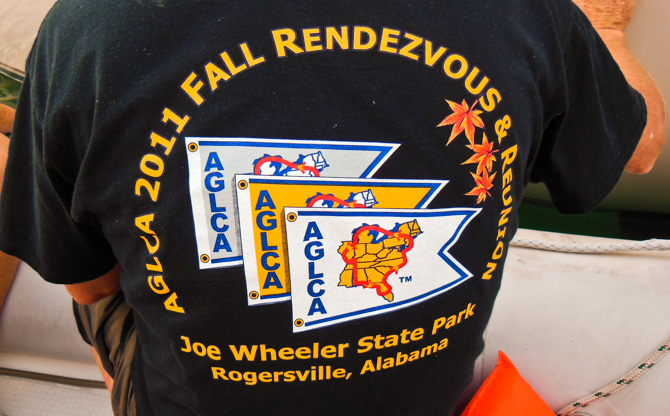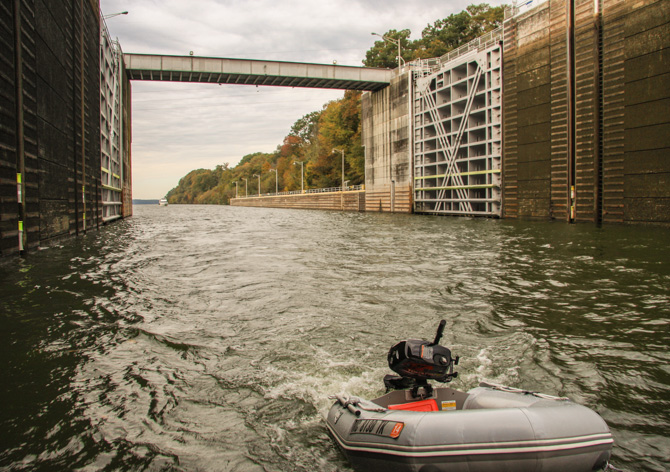 Arriving at Joe Wheeler for the 2012 America's Great Loop Cruisers' Fall Rendezvous, is the end point to our 2012 Tennessee River cruise.
Our trip's mission was to spend some time on the Tennessee River, traveling it's length along with this years crop of Loopers and commence the cruise by attending AGLCA's (America's Great Loop Cruisiers' Association) 2012 Fall Rendezvous held at Joe Wheeler State Park and Marina. To get to Joe Wheeler we had to lock through the Wheeler Lock and Dam, the last lock for us on this trip.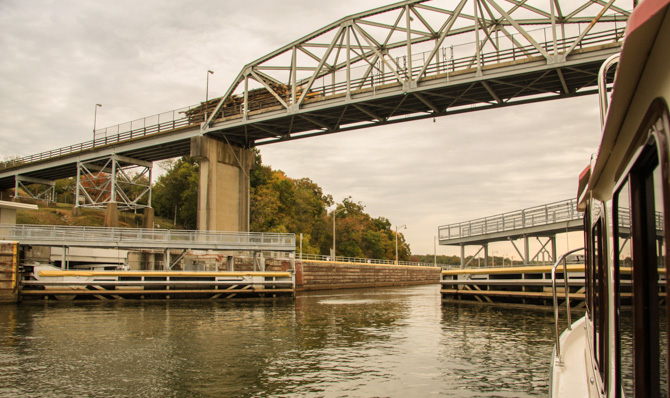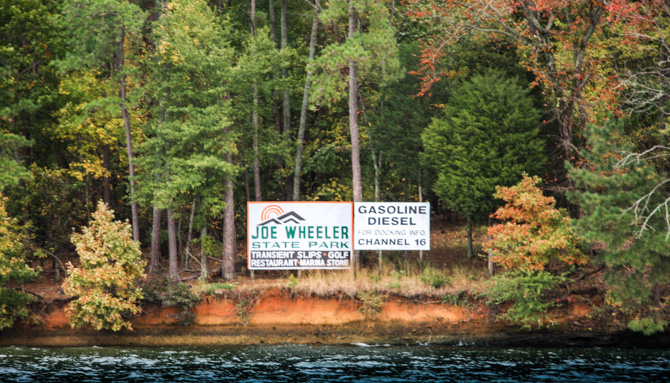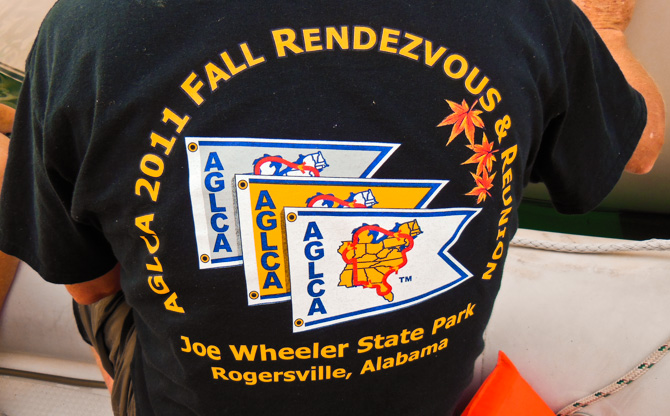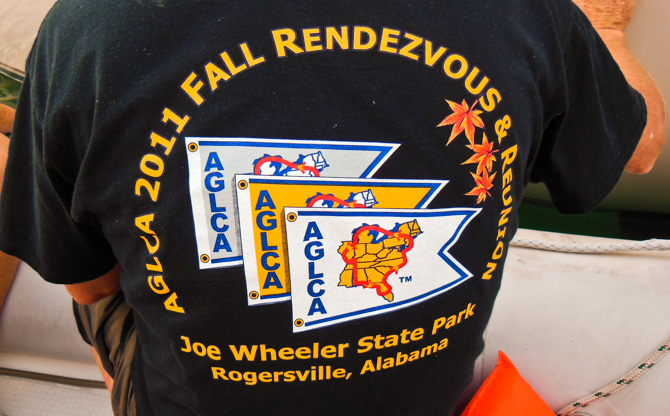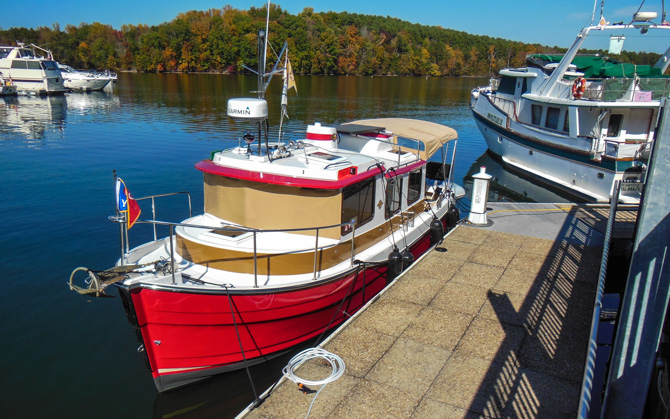 We always try to get this spot at the Joe Wheeler Marina because it's perfect for our tug and it's located in the middle of all the activities of the rendezvous.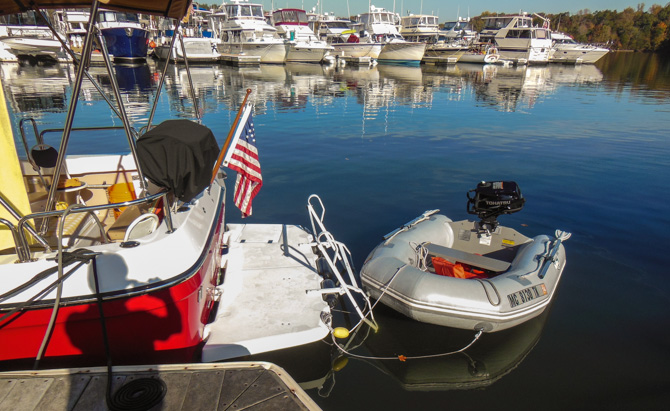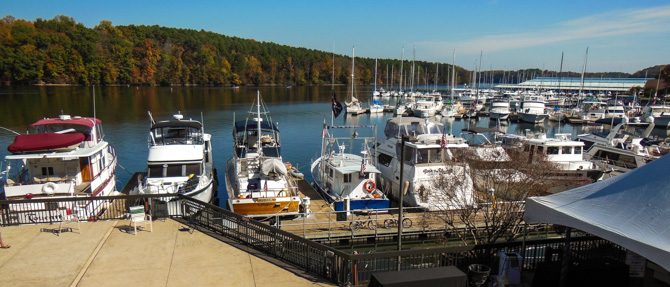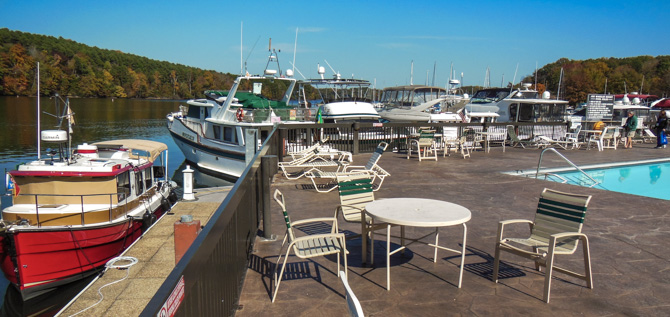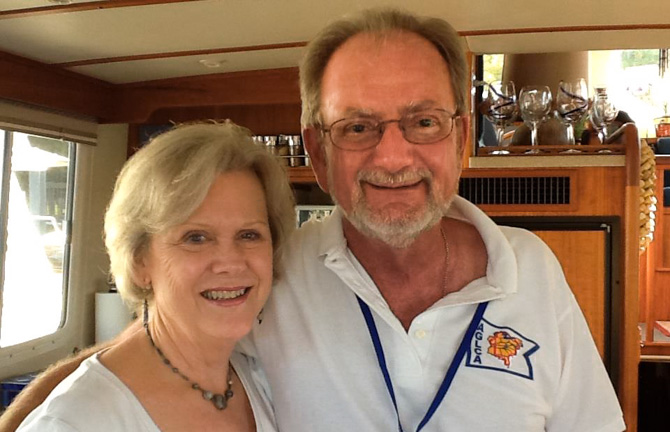 We meet some of our favorite Loopers here at the AGLCA Fall Rendezvous and right at the top of our list are Patsy and Tom Conrad, on True North, the Conrad's share the job of MC for the rendezvous at Joe Wheeler. This year Patsy added this cute parrot to their boat and apparently he is already a Looper.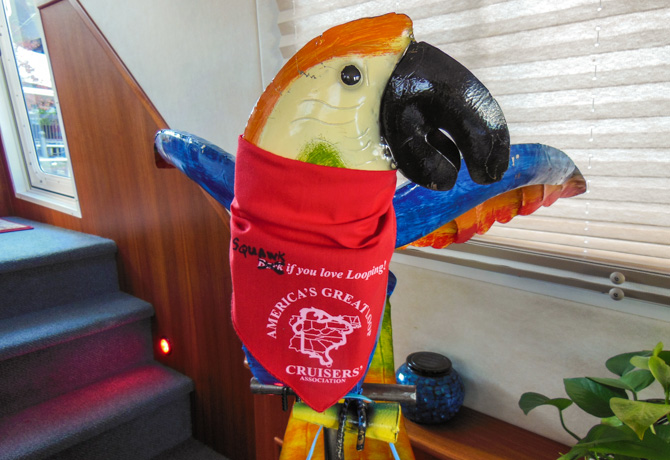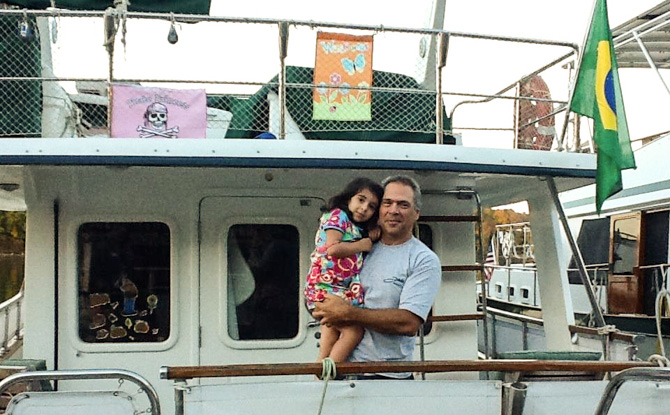 We had briefly met Jack, Denise and their daughter Beatriz, on Jade, at Pebble Isle Marina in New Johnsonville a few weeks ago. The Beraha's are from Brazil and have completed three-quarters of their Loop trip. We were neighbors at Joe Wheeler and we made a point of getting together to hear about their journey. They have an interesting story… after being childless for many years they moved onto their boat full-time to start cruising and a miracle happened… Beatrice. She has lived her whole life on a boat. What a great story.
Here is a link to their BLOG.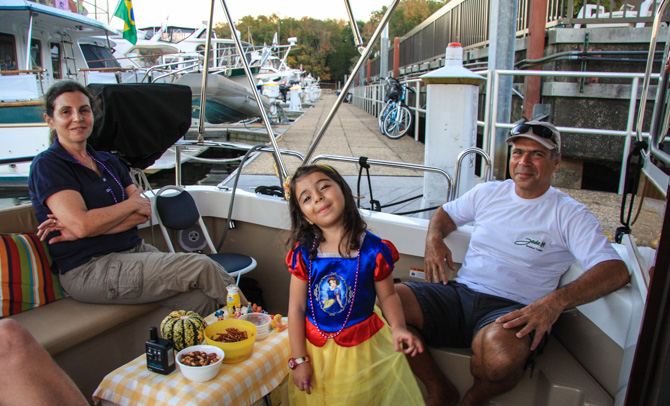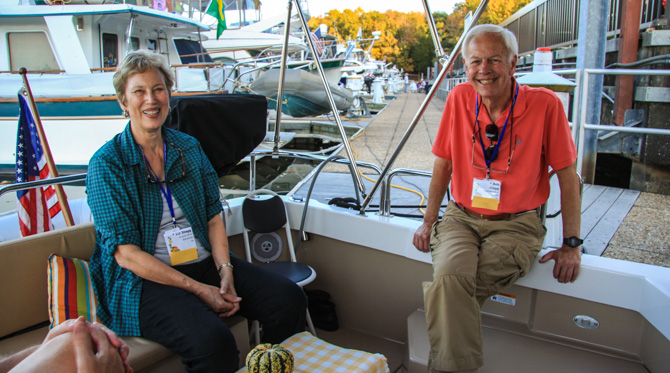 Liz and Bob Stagg (above), are two of the friendliest people we ever did meet while doing the Loop. Since the Stagg's live near Rogersville, they are almost always in attendance at the AGLCA Fall Rendezvous.
Our first Happy Hour began on the main transient dock of the marina where most of the Looper boats were tied up. A lot of boats had arrived ahead of us, so we were a little behind in the meet and greet aspect of the evening before scheduled activities began. All these friendly faces with big smiles greeted us as we stepped onto the dock, with drinks in hand, we immediately felt right at home amongst them.
We first met Charlotte and Stephen, on Jackets II, in our hometown of Traverse City, Michigan last summer as they were making their way through the Great Lakes, during their Loop trip. They had needed some assistance from an AGLCA Harbor Host and Jim was more than happy to help them out.
We did several portions of our second Loop, in 2008 with Robert and Kay Creech, on C-Life, and were so happy to run into them again at Joe Wheeler this year. Robert and Kay are attending the event to receive the award for Harbor Host of the Year. If you are ever cruising the East Coast ICW and visit Southport, SC, make sure to look up Robert and Kay, they'll welcome you with open arms.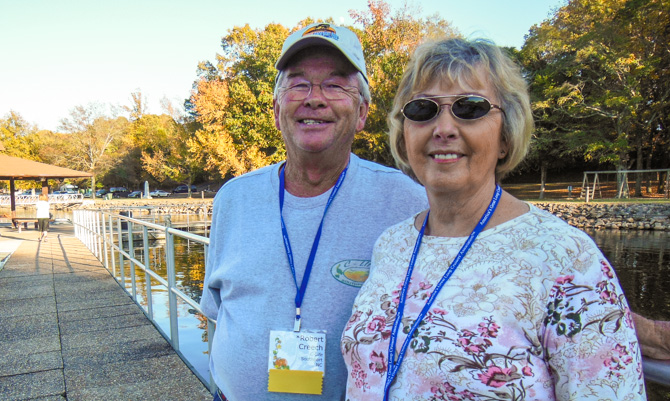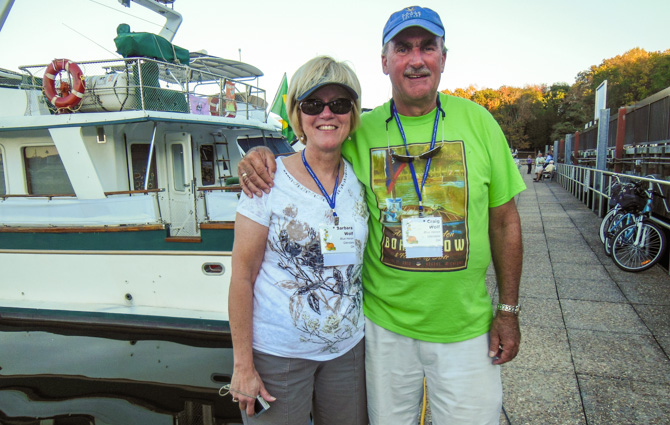 We also got to make new acquaintances during the rendezvous such as Barbara and Craig, on Blue Heron (above) and Bob and Madeline, on Betty L (below).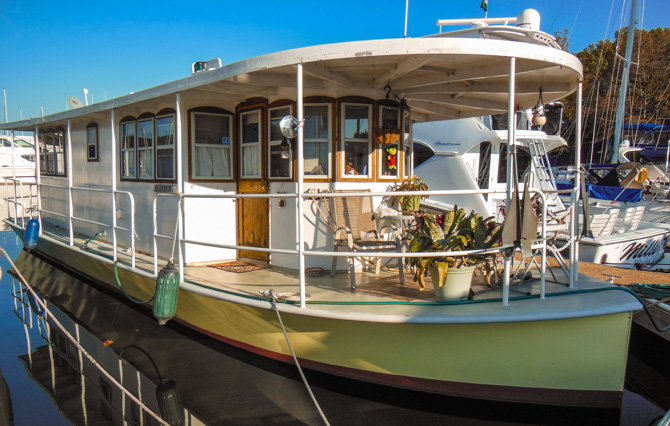 We also got to tour some unique boats like the one above and the one below.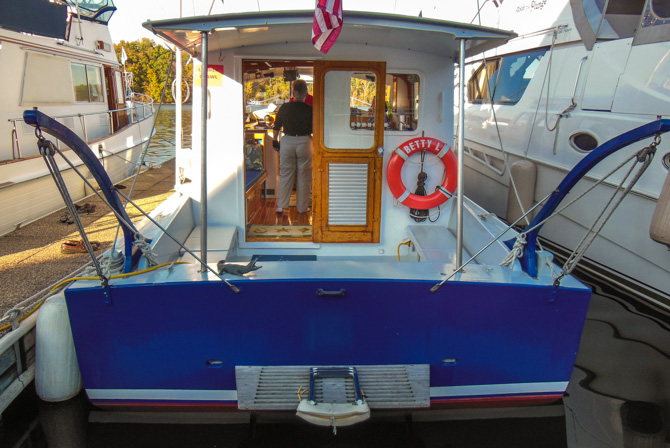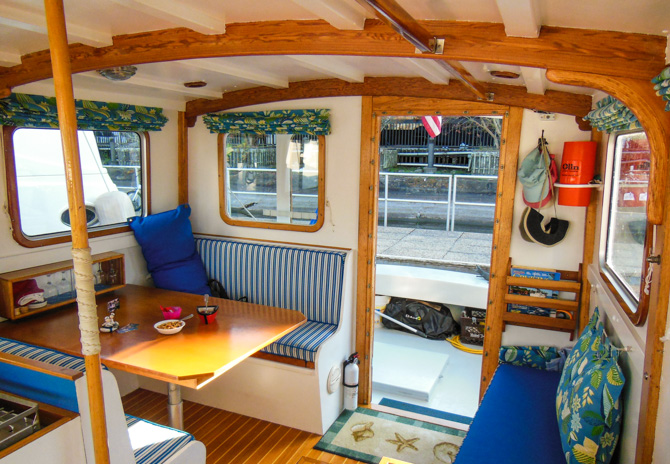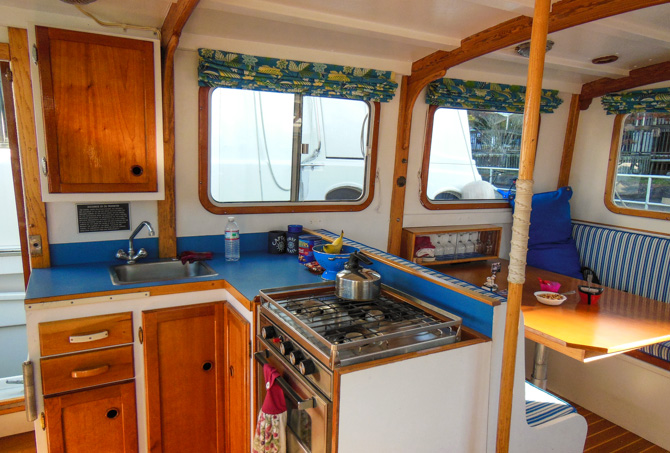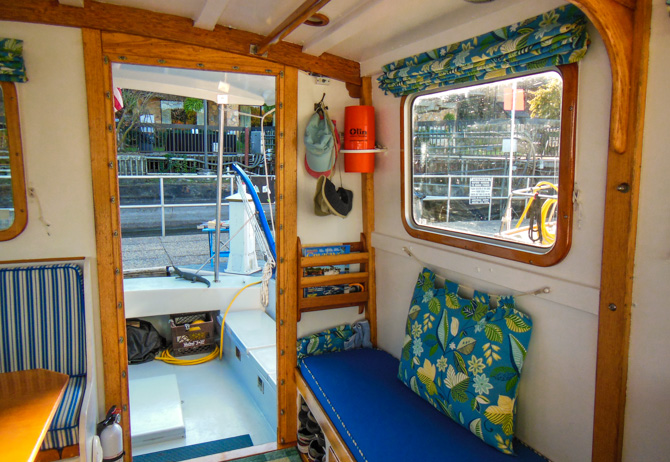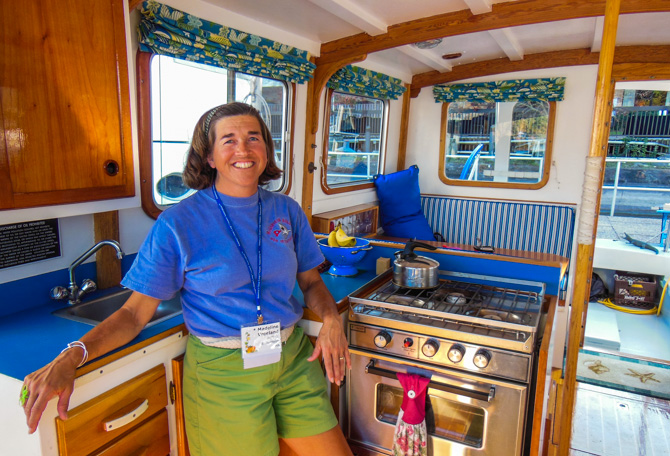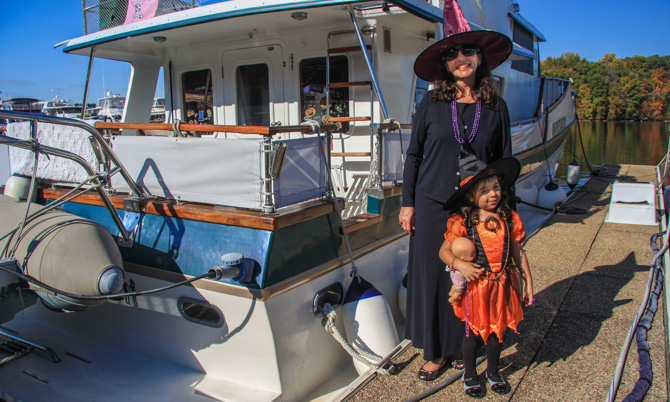 When Halloween arrived, near the end of the rendezvous, little Beatriz really got into the "spirit." We all tried to help make the trick-or-treat night special for her by getting presents and candy to fill her Halloween bag. Halloween is not celebrated in Brazil but when Breatriz saw all the costumes and decoration in the stores she had to go all out with her costume and see for herself what all the fuss was about.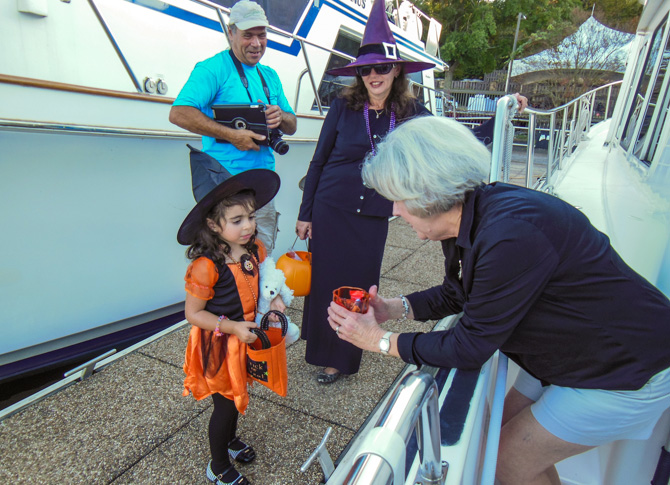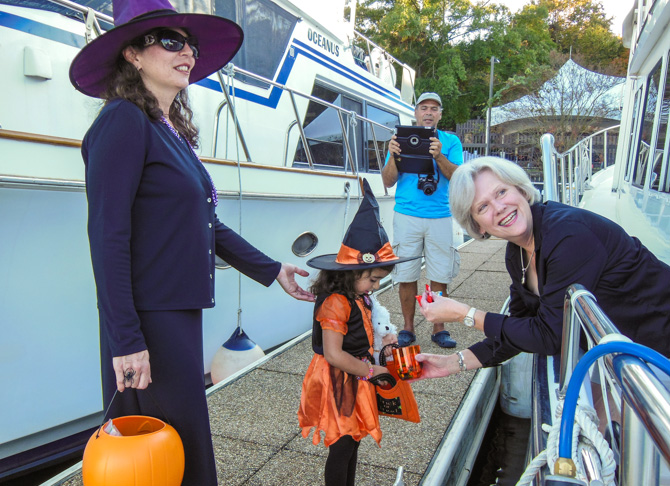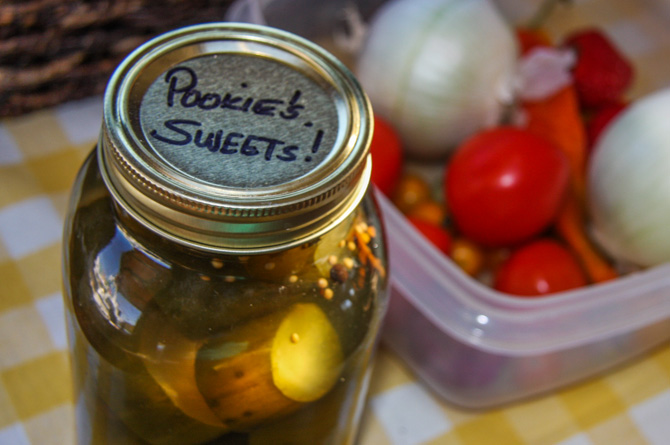 We sometimes joke that the only reason we go to the AGLCA Fall Rendezvous is because shortly after we get tied up at the marina, a jar of Pookie's Sweets shows up on our back deck courtesy of Pookie and Evan, on Pookie II (below), and to top it off Pookie and Evan are fellow Ranger Tug owners.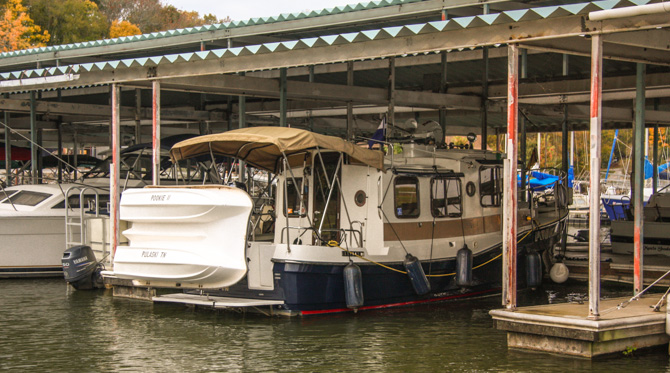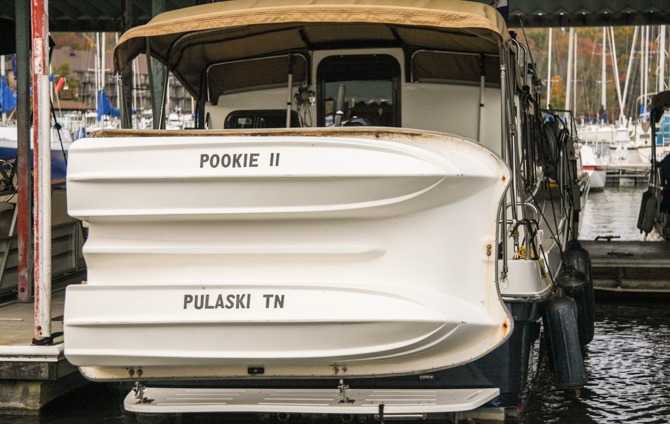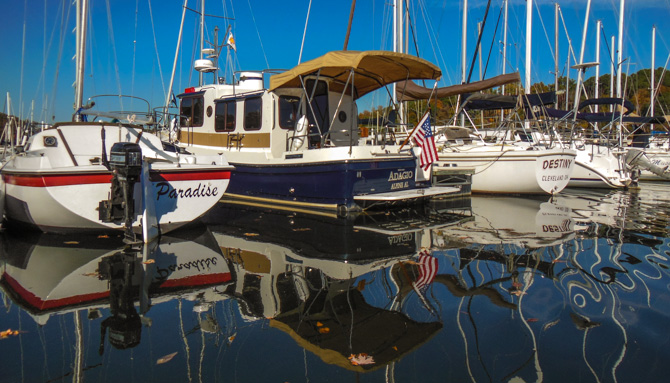 In all we spotted four Ranger Tugs at the rendezvous, including Kismet.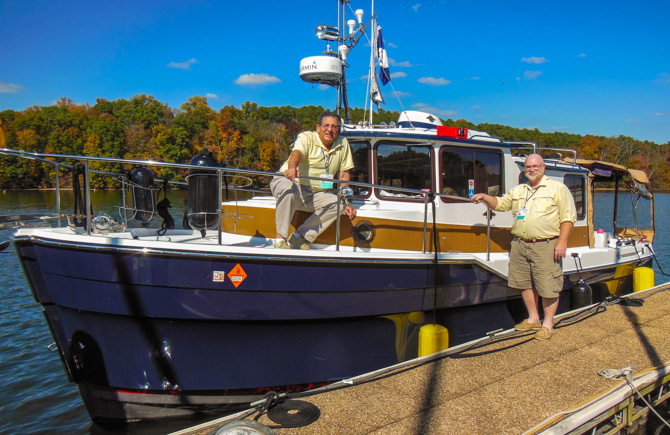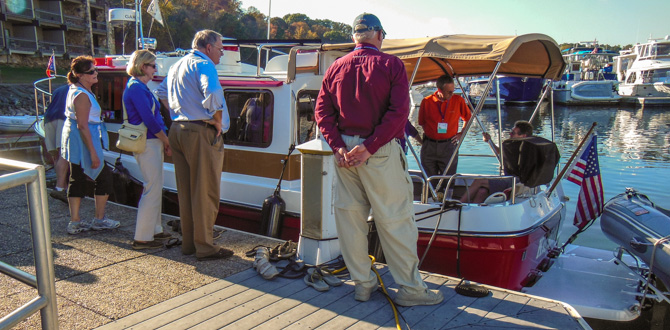 Lots of people lined up for a tour of Kismet during the boat crawl, and that's okay she likes the attention.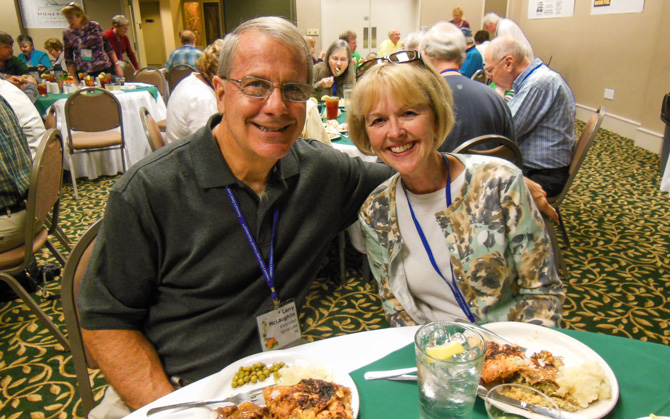 We enjoyed dinner last night mostly due to the company at our table. New acquaintances Larry and Anne, on Great Laker and Paul and son John, on Memshahib (whom we met at Green Turtle at the beginning of our trip) joined us for dinner and end of rendezvous festivities.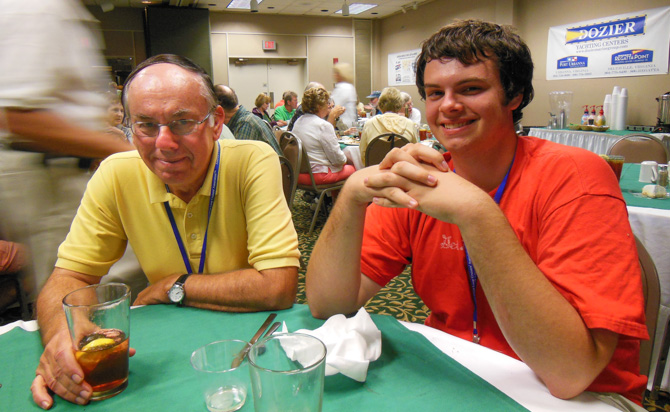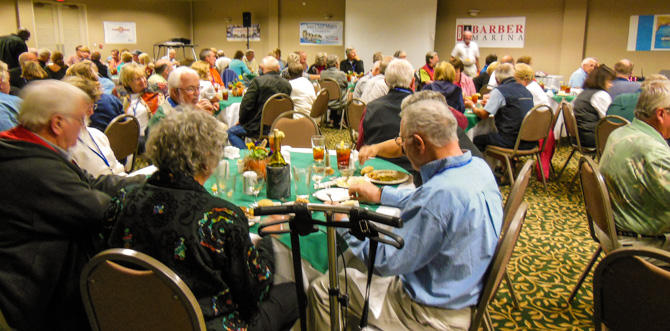 Robert and Kay received their Harbor Host of the Year Award and we got to help them celebrate the recognition they received. And last, but not least, is a group shot of this year's attendees of the AGLCA 2013 Fall Rendezvous.