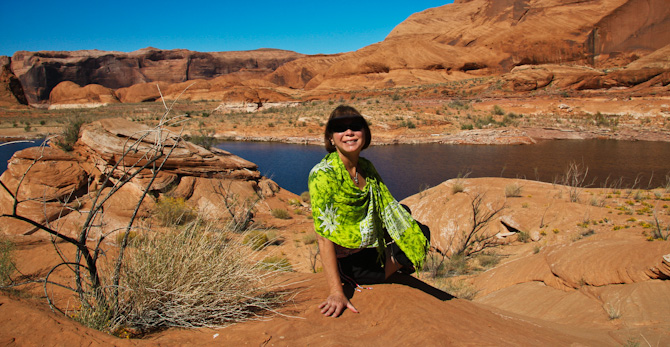 Our anchorage in Cottonwood Canyon was my personal favorite. It was such a beautiful spot, we spent two nights there; I could have spent more. With so much to see, and not knowing what surprises lay ahead of us, we did eventually, but reluctantly, move on, but what a wonderful two days of solitude and peace we had in this spectacular canyon.
I don't know exactly what grabbed at my heartstrings while tucked into this isolated, natural harbor, but I felt like we had been transported to another world. To climb high up the rocky shore and look down at the tiny spec our Ranger Tug, Kismet, had become, anchored neatly below was breathtaking to say the least. We couldn't have had better windless days, or more ideal temperatures, during our two-day stay in Cottonwood Canyon.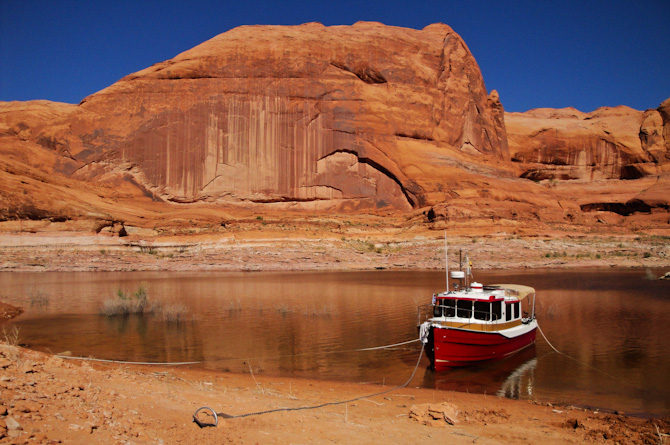 By this time we've really got the beach anchoring procedure down pat. With the anchor dragged up on shore and two lines out, one to port, one to starboard, we were securely anchored to the sandy beach.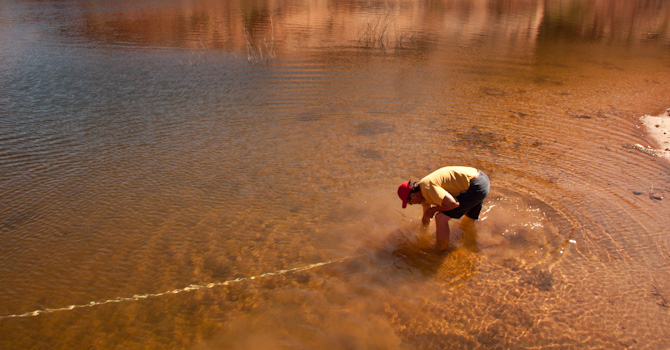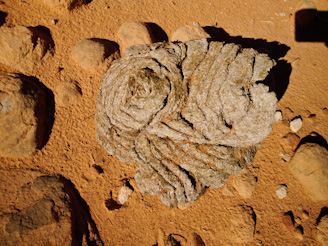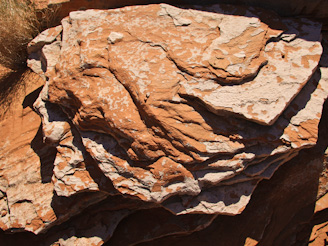 A couple of things that surprised us during our stay in Lake Powell we discovered during our two-day stay in Cottonwood Canyon. Shortly into our first hike away from the boat, we discovered lots of big, baseball cap size, mounds of sun baked animal feces (above-left). This large area, littered with droppings every few feet or so, was just up the hill in front of our anchorage, 100 feet or less. I desperately tried to fire up the Internet, to no avail, I wanted to see what wild and dangerous animals might be lurking close to our secluded spot. Could it be a mountain lion, bobcat, elk, mule deer, sheep, fox, wolf or coyote? What ever it was, looking at the size of the stool, it had to be quite big.
Next, I pulled out all the literature we had picked up at the Visitor's Center and scoured them for information on what kind of wild animal danger we might encounter while on Lake Powell. The pamphlets we had on hand really downplayed the possibility of bumping into anything that would be harmful to campers – that was good enough for me; In light of the feces it might have been a little naive of me, but I decided I really didn't want to spend my time worrying about a dangerous wild animal encounter while I was experiencing a little slice of heaven on earth.
Other native inhabitants of the canyons include ravens, eagles, hawks, owls, sparrows and this is where we heard the canyon wrens sing their unforgettable song.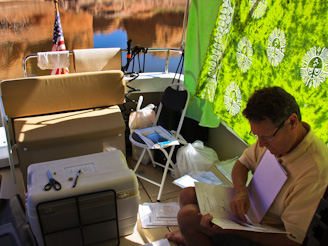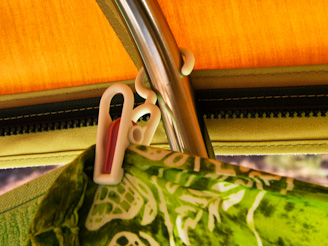 During the day the sun was pretty intense so we constructed a sun shield with a lightweight sarong. We wanted to spend time outside doing our chores (Jim decided he'd better organize and get some bills paid – not that we'd be able to visit the Post Office any time soon but we'd be ready to mail our bills the minute we got back to the marina). I find these hanger clips immensely useful all over the boat to hang something over a window where too much sun and heat are taxing our bodies and/or our air conditioning system. They also come in handy to clip a wet towel or bathing suit to the bimini to dry. I bought these on Amazon, they are inexpensive, and we use them all the time in hot climates. We would rather do just about anything other than use air conditioning on the boat (nice to have though when you really, really need it – we feel that we are boating to experience the outdoors and that's hard to do when you've closed yourself inside in a climate controlled vessel).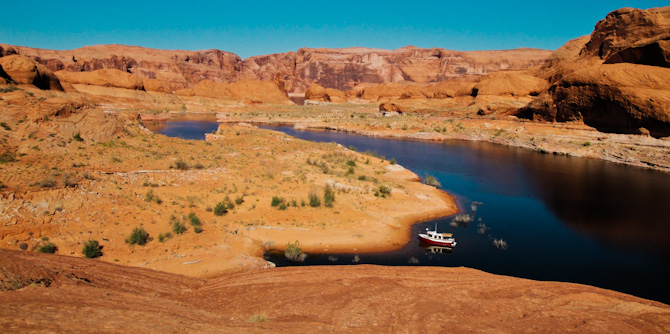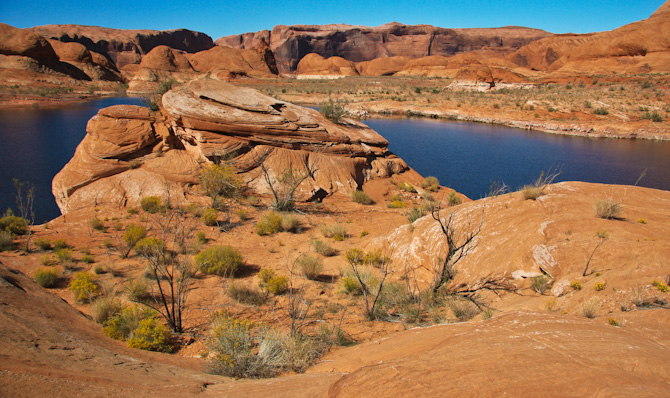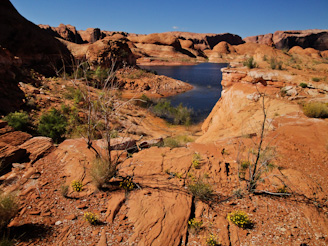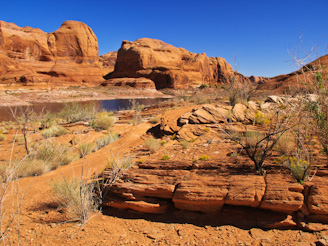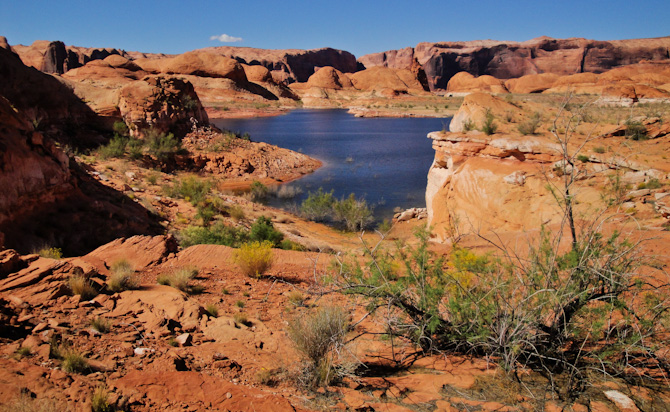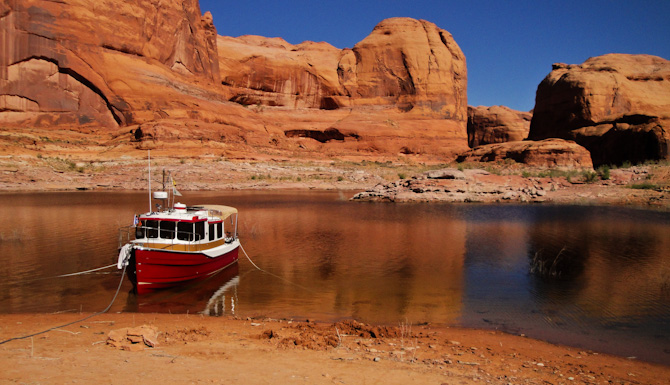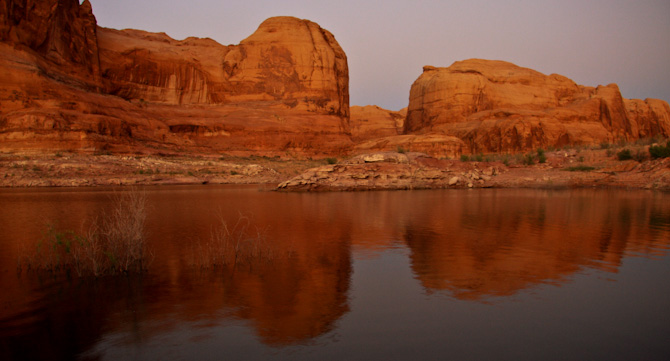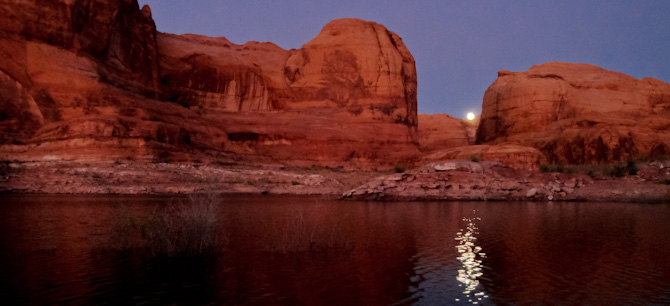 Right on cue, a full moon emerged at a very opportune moment and spot in our panoramic view, just as we were relaxing after dinner on the back deck of the boat during our first night in Cottonwood Canyon. The spectacle and light show that followed was stunning. First, the moon rose through a dip in the rocky shore across the way and continued to rise over the canyon and proceeded to illuminate our anchorage and everything within sight around us.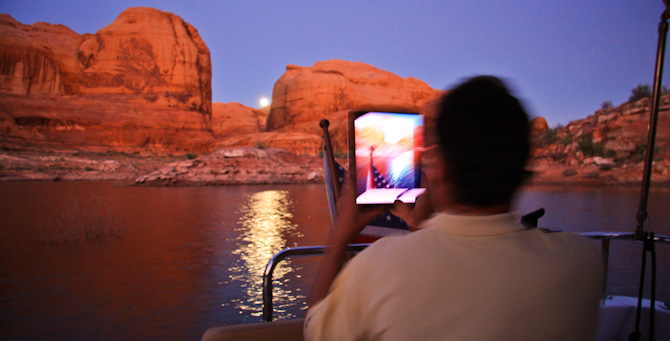 Jim was experimenting with the photo capture feature on the Navionics app, Marine&Lakes: USA HD, on our iPad. During our explorations through the canyons he is able to take a photo and add it to the chart and by using GPS it will show exactly on the chart where it was taken. A fun navigation tool.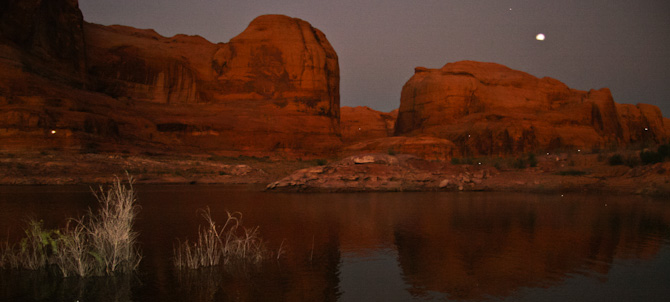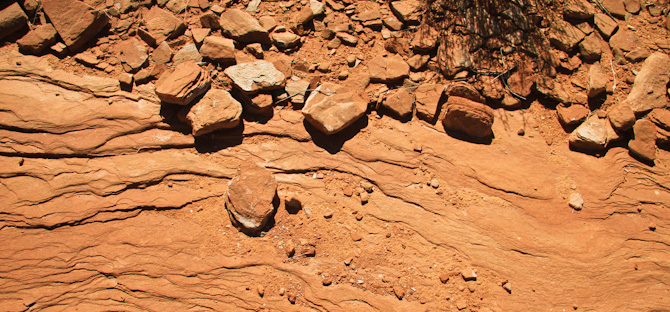 The other thing that surprised us was how porous and fragile the rock formations were. As we traveled through the canyons on the boat the gigantic, towering, rock formations looked dense and solid as they jutted out of the water. But, while hiking on shore, we discovered how very delicate the structures actually are as. All around us, rock was breaking off in chunks and finally eroding into the bright orange sand that makes up the many beaches in Lake Powell. Of course this made me think about how the canyons will constantly be evolving over time and what is now may not be quite the same in the future. I guess you could say the canyons will always evolve and change, vulnerable to the elements, almost like a living, breathing being.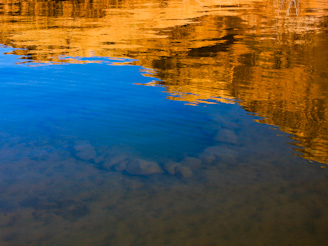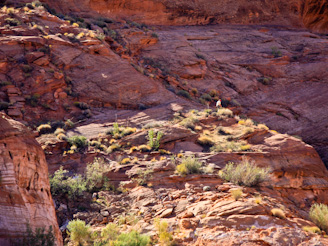 In the photo above you can almost see an old fire pit in the water close to our starboard side (above-left). The water levels in Lake Powell fluctuate a lot; during the spring/summer season of 2011 the level had risen 40 feet from the prior year. I'd like to go back someday with a different water level to see how it affects the look of the canyons.
Our second morning in Cottonwood Canyon Jim set out to climb some rocks. Apparently what looks easy going up is another thing entirely coming back down. If you look close you can see Jim as a little spec on the side of the cliff (above-right).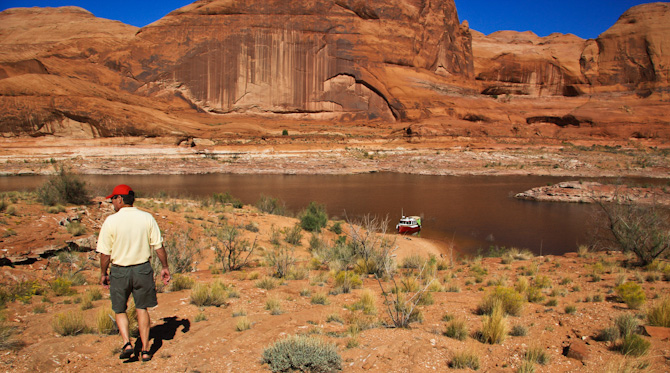 Most plants and animals found here are typical of desert species. Cactus, yucca, blackbrush, rabbitbrush and grasses dominate desert plant communities. Spring or summer precipitation prompts sand lilies, fleabane, evening primrose, lupine, Indian paintbrush and globe mallow to bloom. Pinyon and juniper trees grow at higher elevations. In startling contrast, shaded, spring-fed alcoves in side canyons provide suitable habitat for deer and beaver, ferns and sedges, reeds and cattails, cottonwoods and willows.