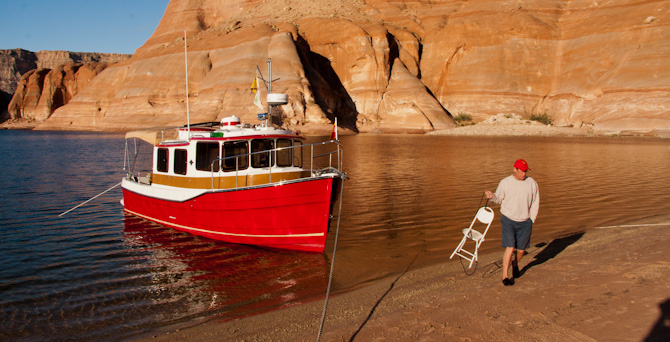 First Beach Anchor – Padre Bay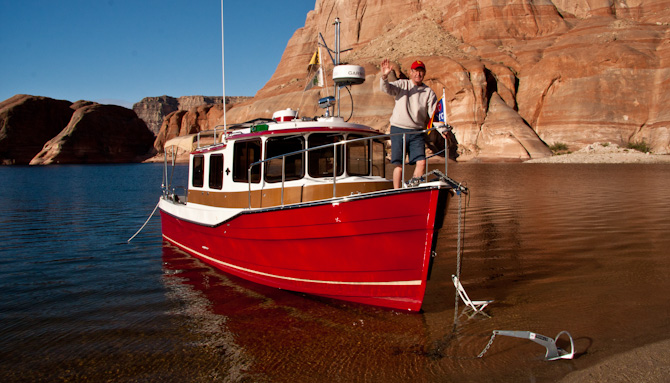 We left Wahweap Marina after three days of weather watching – glad to finally be on our way, headed toward the canyons on the horizon that teased us for several days. For east coast boaters, like us, experiencing Lake Powell for the first time is rather a daunting prospect. All we could see before us was rock, and lots of it – almost a foreign concept for boaters from the Great Lakes.
It's really okay to be just a little nervous when cruising unfamiliar waters for the first time; being cautious and careful is a good thing, especially important when heading out into unfamiliar rocky canyons. It was not a surprise to us that our first day out was filled with excitement, anticipation, a little fear and awe; we've wanted to cruise this lake for a long time.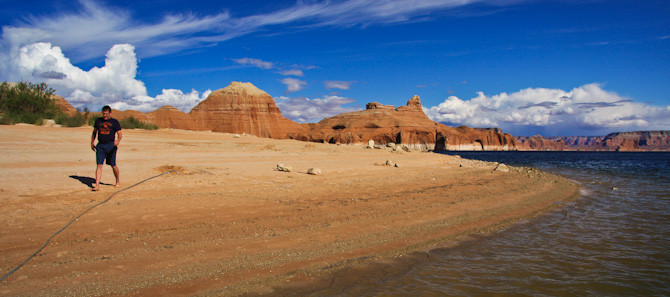 Jim is setting the bow anchor on the beach (above), a little to the starboard side of the boat because the wind was still a little strong on that side, we threw our spare anchor off the transom into the water (below) and took a line, from the port side of the transom, to shore and tied it to a rock. Guess you could call this a "three-way beach anchor" technique.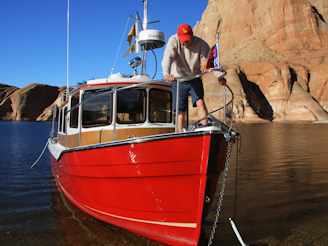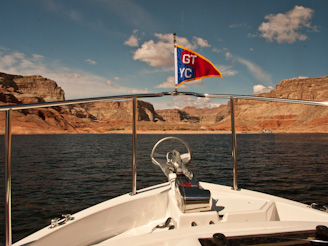 As we slowly approached Padre Bay, looking for a place to beach the boat to "beach anchor," we were surprised to see how many houseboats were already "camping." We took note on what the spots they chose looked like and how they set their anchors. The protocol seemed to be to not crowd another boat on the same beach unless you were part of the same party. It took us all afternoon inspecting spots and trying to understand what looked like rock and what looked like sand; rock and sand here are usually the same color. We cautiously nosed in several places to take a look at what was under the surface of the water and by late afternoon we knew we were going to have to commit to a spot that was not only vacant but hopefully, soft and sandy. We found our spot just inside Padre Canyon and it was a beauty.
In the middle of our search for a "camp site" and sandy beach Jim declared, "You know Lisa, in ten days we're going to be experts at this." He was right and as they say, the first time is usually the hardest.
So, we were relieved to be anchored to the beach in such a quiet, remote and amazing place – this is how our long anticipated tour of Lake Powell began.