Ranger Tugs 2013 Summer Rendezvous in Anacortes Followed by Puget Sound and Downtown Seattle
Continue reading...
---
on September 7th, 2013 in
CRUISING :
,
PACIFIC NORTHWEST:
,
Puget Sound
by
Jim and Lisa Favors
|
Comments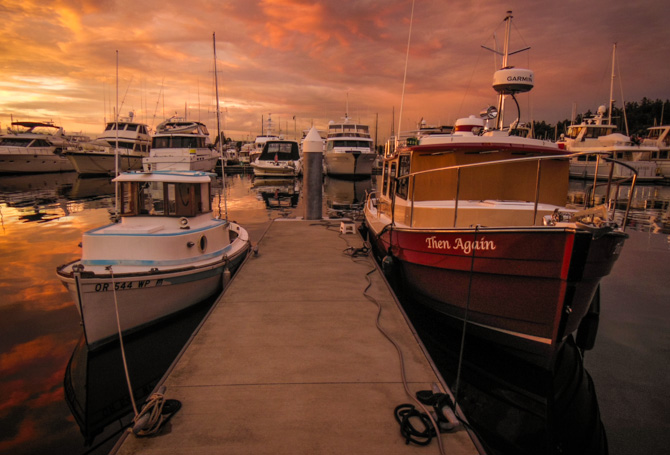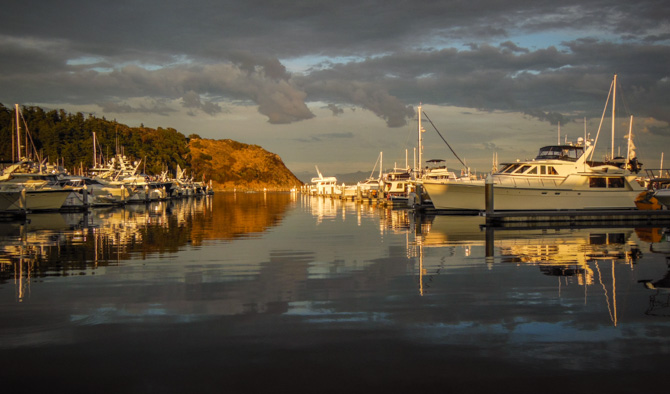 One of the ancillary benefits of boating are the many social opportunities present. Everywhere we anchor or dock we'll either run into old friends or we'll end up meeting some very interesting people. We can't think of a better place to do this than at the annual Ranger Tug/Cutwater 2013 Rendezvous, held this year at Cap Santé Marina in Anacortes, WA.
Because we'd been cruising for an extended period of time, in British Columbia, we decided to arrive a few days early so we could get caught up on the usual boat chores, which included a thorough cleaning of the boat, inside and out, washing clothes and picking up a batch of mail. In the midst of our getting settled and organized, Ranger Tug owners, and residents of Anacortes, Bob and Nita (below), on Nellie Too, approached us and said they were trying to put together a group to head up to Anthony's for the early bird special. So, with a sprinkling of familiar faces and a few new mixed in, we had an unofficial kick-off to the rendezvous.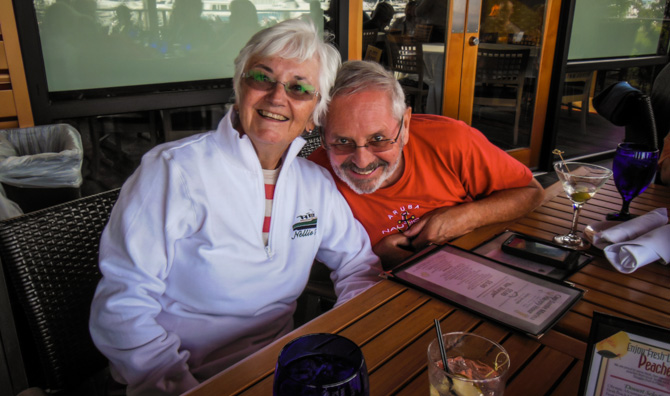 We'd met Bob and Nita (above) during our first 2011 Ranger Tugs and Cutwater Rendezvous in Bremerton, WA. soon after we took possession of our Ranger Tug R27. Nita and Bob are so much fun, we wish we could just take them home with us.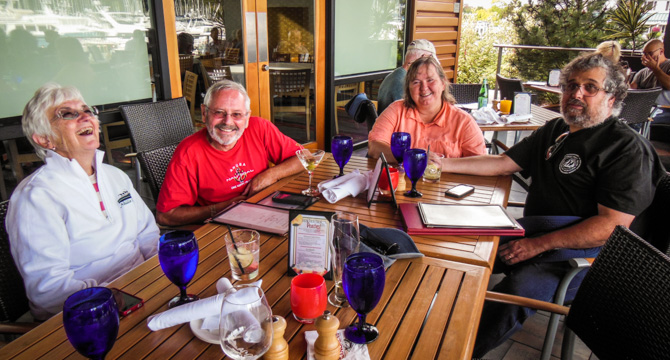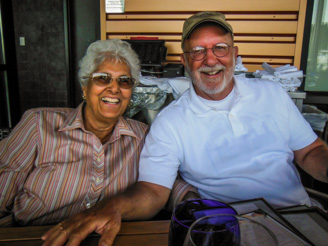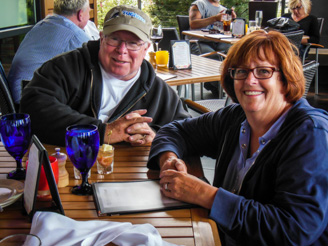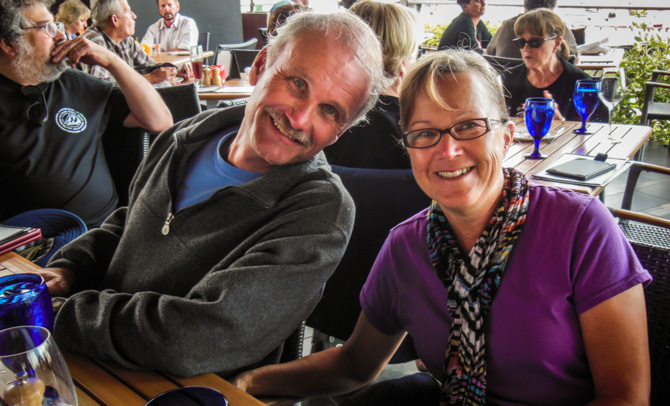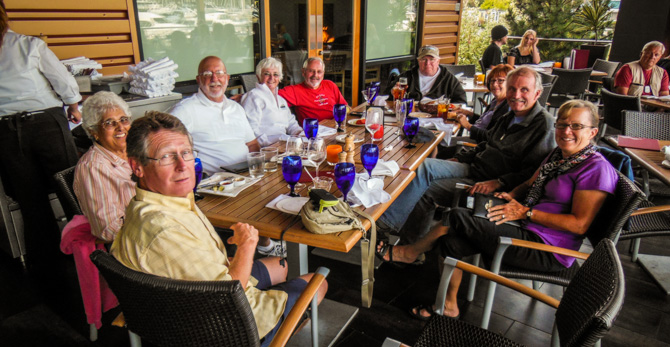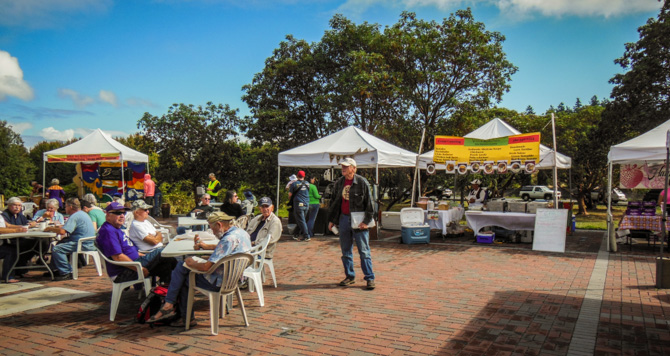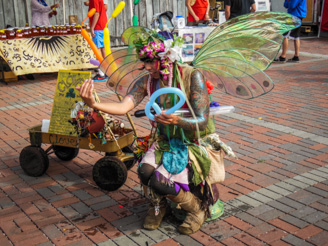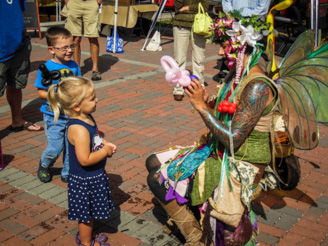 Before the rendezvous started, we had time to walk downtown on our way to visit the farmer's market and have lunch at the Croatian Restaurant our fellow tug nut, Tym told us about.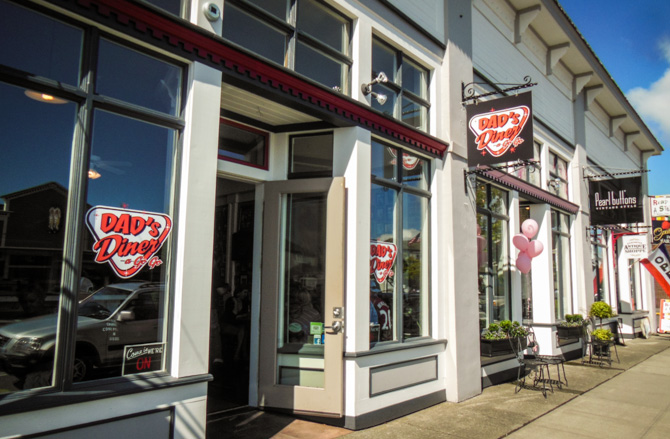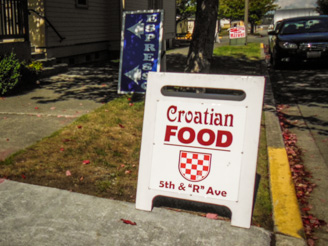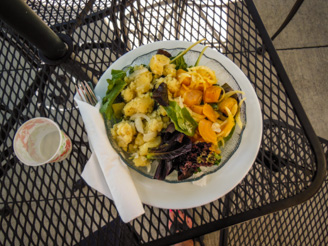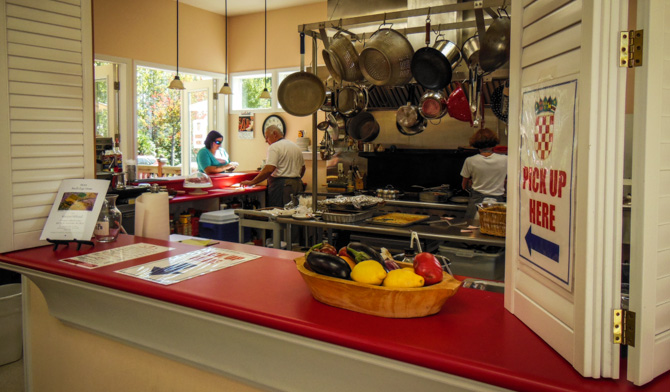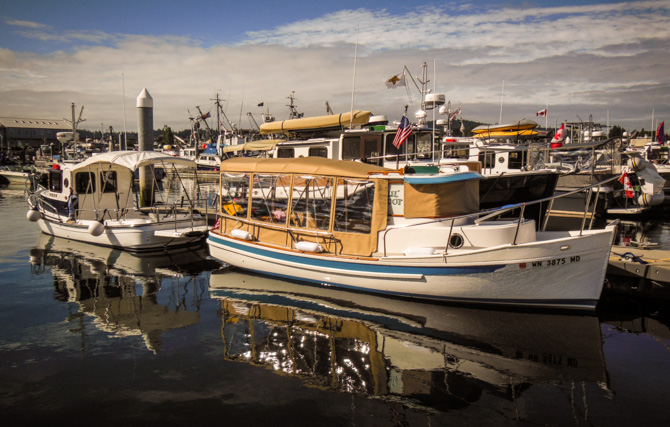 The next day boats started showing up in droves and by the time it was all said and done there were 73 boats in attendance, with about 150 people who own either a Ranger Tug, a Cutwater and/or work for the company. Although most of the folks were from Washington State and British Columbia, Canada, there was representation form Texas, California, Oregon, Michigan, Wyoming, Utah, Nevada and more. We tug owners attend these valuable rendezvous to learn more about our boats, see what upgrades others have done to their vessels, attend seminars, eat, drink, celebrate our time together and share our boating pursuits as Ranger Tug or Cutwater owners. We talk about where we've cruised, if we trailer or not and more often than not, we share maintenance tips and tricks. We gave a power point presentation about our cruising time on Lake Powell.
The Anacortes Rendezvous was our third as Ranger Tug owners and we'd have to say the event is more like a fun family picnic or large reunion, except most of us are not related. Boating, with our Ranger Tugs and Cutwaters, is the common denominator and basis for a likely friendship. The family part comes into play because Jeff, John, Andrew, Kenny, Ivan, Linda, and others representing the factory, bring their own families to the three-day event and have a grand time alongside the owners group during the three-day event.
One of the things we admire about Fluid Motion as a company (builders of both the Ranger Tugs and Cutwater boats) is how hands on they are with their owners group. We get the distinct impression, during our interactions with the factory staff that one of the company's main goals and objectives is to help people get out on the water to boat. This thinking is supported by how they actively engage their owners group in boating activities, how thoughtfully they build their boats, with ease of use in mind, and take care of their owners. It goes without saying that such a philosophy is beneficial to both owners and factory alike.
Herb, on Willie's Tug (above), was getting help with something on his boat.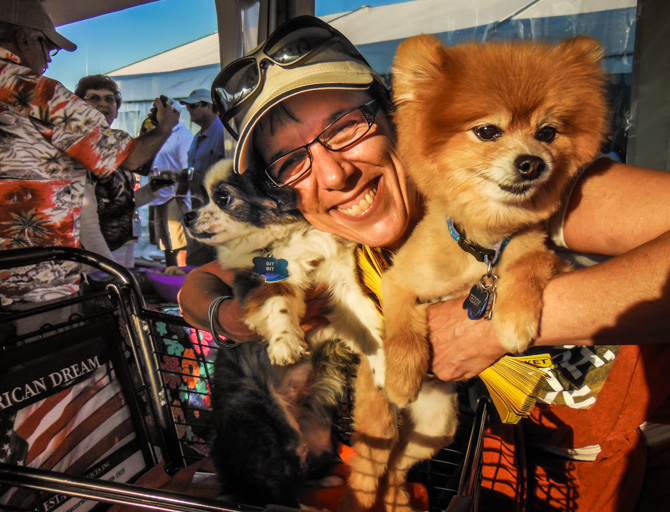 Harmony (above) was responsible for organizing the event, her two little pups helped.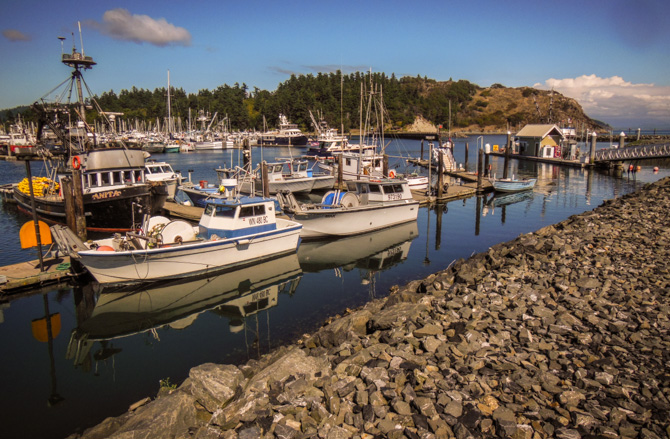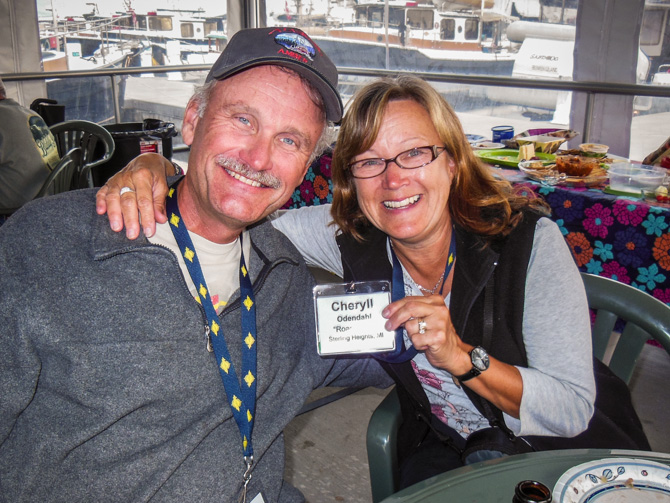 Rich and Cheryll, on Roam (above) just returned from a trip to Alaska on their Ranger Tug. Gill and Barry, on Laxey (below)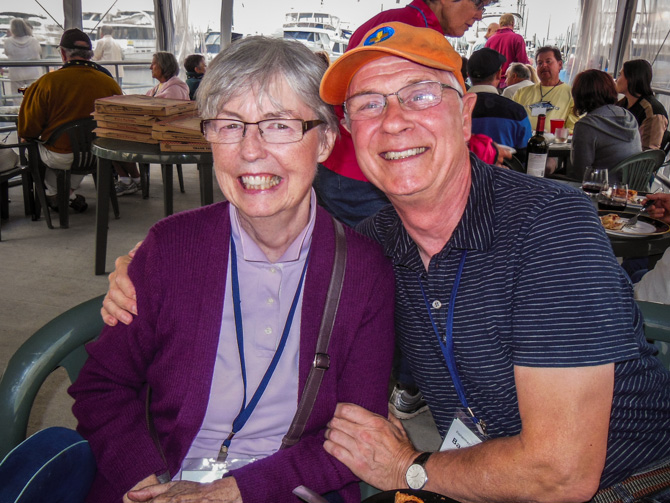 There was a rumor going around that Jim (below) kissed Bob while he was kiddingly sitting on his lap, but somehow we didn't get that shot. Maybe next time.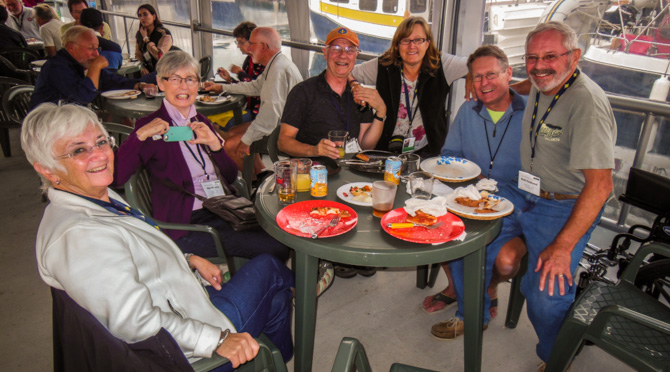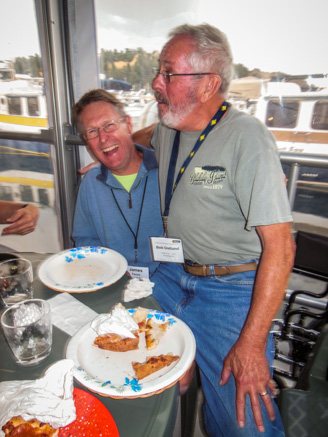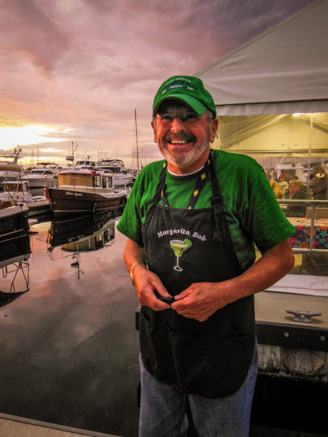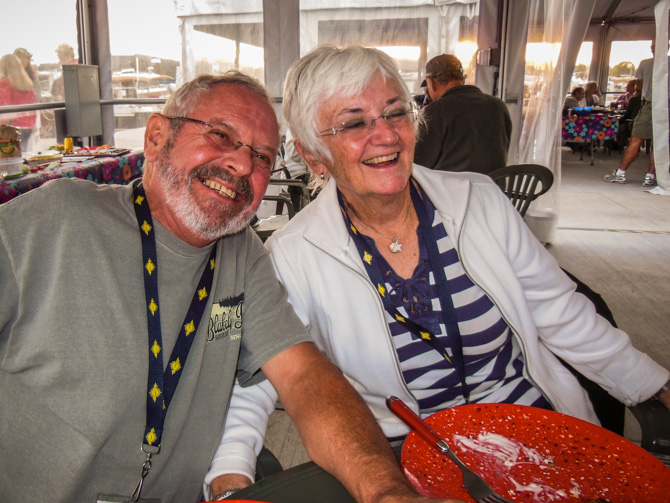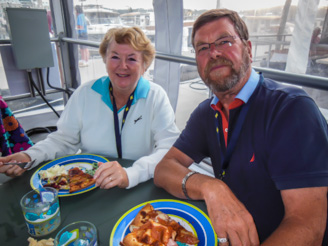 A few of the many participants at this year's rendezvous… Georgene and Colin (above), Willie and Herb, on Willie's Tug (above), Vicki and Bruce, on Moondance (below-left) and Tym and June, on Circle T (below-right).
Bob (above) and Nita (below) are always in charge of making margaritas for the rendezvous, it's why we call him "Margarita Bob," As you can see, they've got this chore down to a science. I caught Nita downing the last batch of mix just before we wrapped up happy hour to begin feasting on dinner.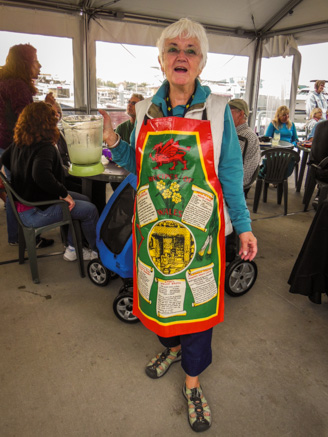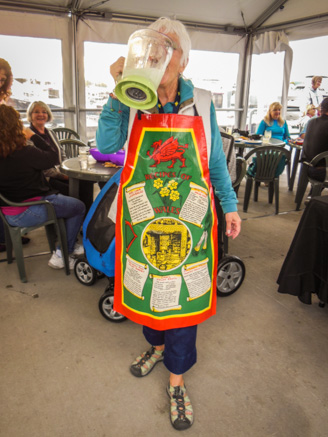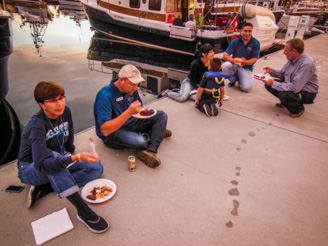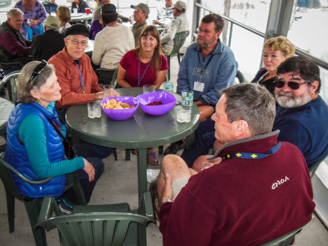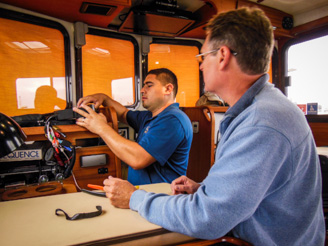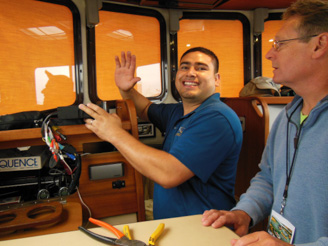 Ivan (above), from the factory, came to our boat to install a Bluetooth module to our Fusion stereo unit, a job that would have taken us a few hours took Ivan only a few minutes.
The last night of the rendezvous, the sky was on fire.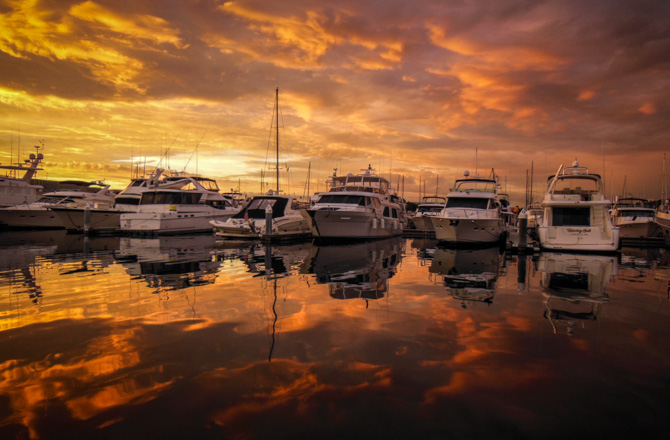 Pin It
Continue reading...
---
on September 3rd, 2013 in
CANADA
,
CRUISING :
,
PACIFIC NORTHWEST:
,
San Juan Islands
by
Jim Favors
|
Comments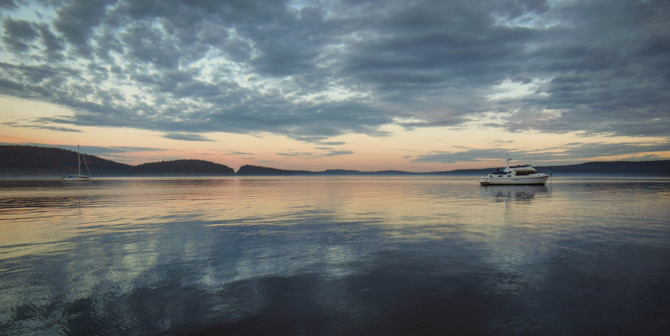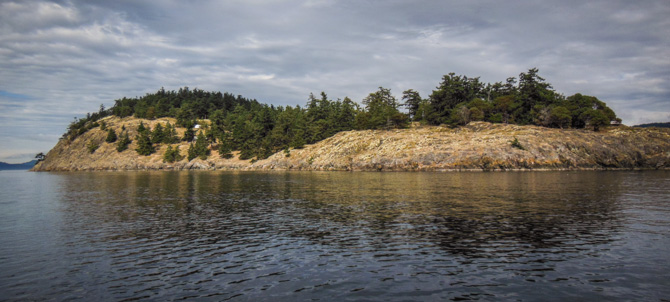 Spencer Spit, situated on the eastern side of Lopez Island in the San Juan Island chain, is a Washington State Marine Park, which means the area has mooring buoys, beach campsites, and hiking. We've never anchored or moored here, so we choose this spot as our days end destination, after we departed our yacht club friends at Garrison Bay. What's nice about Spencer Spit is that one can choose which side of the spit to anchor or catch a mooring ball on, depending on the expected wind direction. We had no concerns about wind that day and spent a calm night on the hook, we never got off of the boat. The next morning it was extremely foggy, but I figured with the aid of our radar, and only eight miles to travel that, it would not be a problem. Boy, was I wrong!
The next morning, I got up a little earlier than usual, while Lisa was still sleeping, pulled anchor and headed towards Thatcher Pass, where I noticed one of the large island ferries off to my port side. I looked away momentarily at the chart plotter and looked back up, the ferry had disappeared into the blanket of fog – scary, as it was not that far away from us. I decided to return to the anchorage and drop the anchor back down. After waiting a couple of hours the fog finally lifted, we could see our way through Thatcher Pass and Rosario Strait making for an uneventful and smooth cruise over to Anacortes, WA, where we would attend the Ranger Tugs 2013 Summer Rendezvous.
In an almost a surreal moment, amidst the lifting fog, we came upon this little sailboat (below) making it's way boldly through Thatcher Pass.
Pin It
Continue reading...
---
on September 2nd, 2013 in
CRUISING :
,
PACIFIC NORTHWEST:
,
San Juan Islands
by
Jim Favors
|
Comments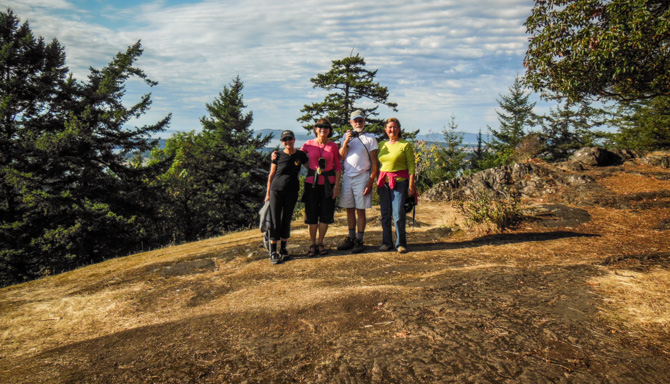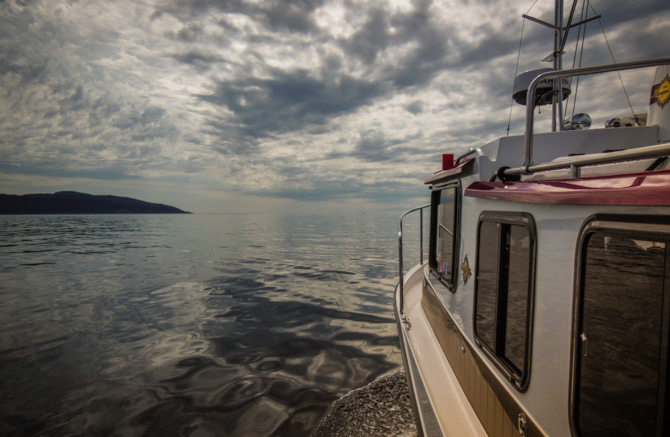 We left Roche Harbor to go whale watching in Haro Strait, the water was glassy smooth. It would be the last chance for a whale sighting this trip to the PNW – unfortunately it was not meant to be, but we had fun looking.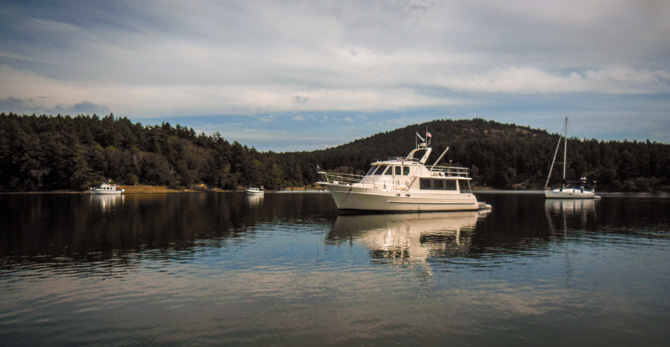 Our next stop was Garrison Bay and a long-planned rendezvous, by boat, with fellow members of Grand Traverse Yacht Club, our boating club in Michigan. Richard and Diane, Steve and Deb, Jim and Geri, Fred and Lisa and Mike and Carol had all flown out to the PNW to charter two sailboats to cruise the San Juan Islands. We arrived mid-day at different times to anchor in the well-protected bay just off Mosquito Pass.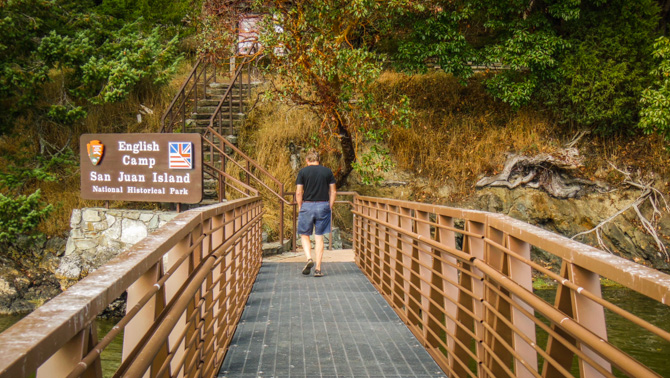 Garrison Bay is home to English Camp Historical Park, where British soldiers set up camp during the boundary dispute that was settled in 1872. Today, one can tour the restored buildings and grounds, visit the cemetery and hike to one of the highest vantage points on the island. We joined friends, Lisa, Diane and Richard, to walk almost to the top, although it was steeper and farther than we thought it would be, we were rewarded with unencumbered views of the harbor, Haro Straits and Vancouver Island sitting clearly visible off in the distance. First we explored English Camp and original garden site.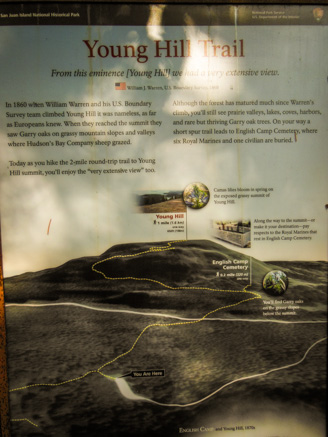 After we got back to our boat and had dinner, we were famished, everyone gathered for an after dinner happy hour in the cockpit of one of the sailboats. Who'd ever thought we could be 2,600 miles from home sharing boating stories and laughing with friends from our hometown. When we're away from home cruising, especially in new territory, we're usually actively making new friends, so this time, cruising time in the beautiful San Juan Islands with friends from home, was special for us.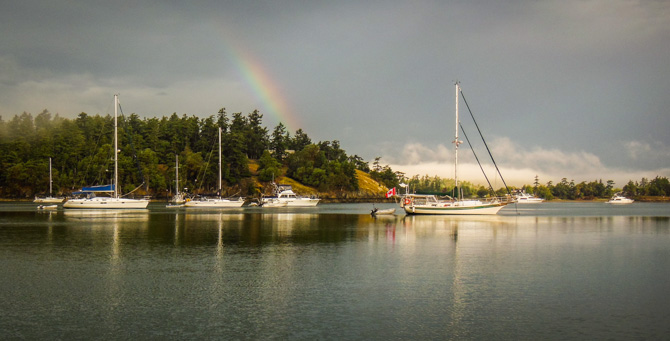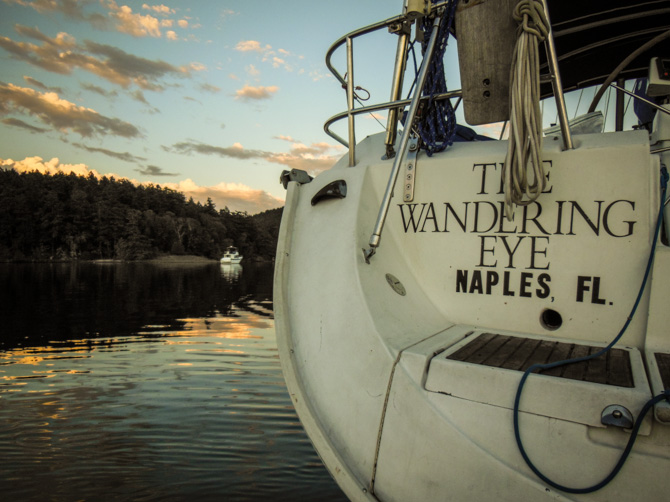 The Wandering Eye (above) ppears to be a long way from home.
The next morning we all departed the anchorage and went our separate ways, we were headed back to the mainland while the GTYC sailors were going to spend a few more days sailing and exploring the islands.
Pin It
Continue reading...
---
on September 1st, 2013 in
CRUISING :
,
PACIFIC NORTHWEST:
,
San Juan Islands
by
Jim and Lisa Favors
|
Comments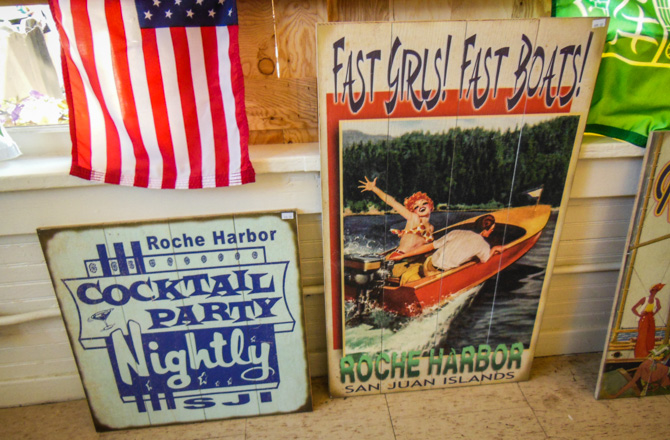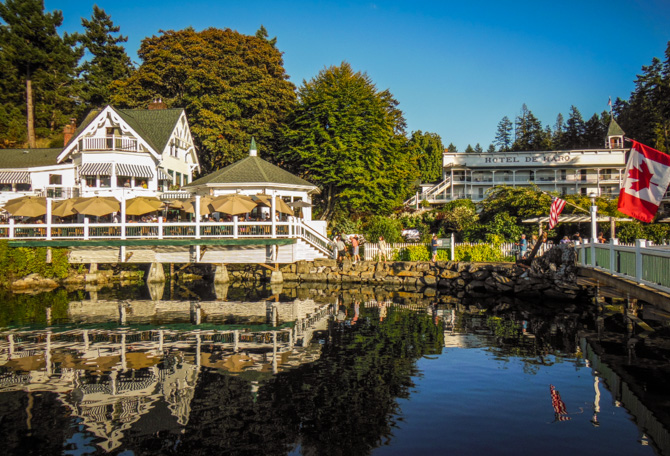 In 1845, the quaint waterside marine village of Roche Harbor, on San Juan Island, started out as a trading post for the Hudson Bay Company. By 1857 both the United States and Britain were claiming the San Juan Islands as their territories, based on a dispute over the western border of the islands. The dispute was settled in 1872 when an arbitration was rendered in favor of the United States. In 1881 the Scurr brothers bought Roche Harbor and started mining the rich limestone deposits, turning the harbor area into a mining town of 800 people. By 1956 the limestone mining business came to a close and Roche Harbor changed hands again – this is when the area started to transform into a small resort town and boating mecca.
We timed our arrival to the marina on Saturday, to coincide with their annual Labor Day Customer Appreciation party, which we know from past experience is always held on Sunday; this gave us time to give Kismet a much needed bath; she was fairly dirty after six weeks of cruising in Canada. We toured town, played bocce ball, and Lisa did a little shopping.
We always notice things in a marina that are a little different, not typical or just a better idea. The cleats (above) are the best, in design and sturdiness, we've ever encountered. Loved tying up to these.
Cocktail time!
Sunday was spent getting ready for the big mid-day party, we wanted to arrive early so we could to get a good spot to watch the band – we ate, drank, danced and met other friendly boaters in attendance. The event took place on a large floating platform with complimentary entertainment food, wine and beer.
After many months of careful planning to rendezvous with a group, from our yacht club in Traverse City (Grand Traverse Yacht Club), while we were all cruising in the San Juans, we finally met up while we were all in Roche Harbor. Part of the group met up downtown (above) and a few more joined us on the back deck of Kismet later in the evening (below).
We dinghied over to the harbor dock just before sunset and rafted up with a dozen or so other dinghies to watch the marina's employees put on their nightly sunset celebration… complete with British, Canadian and American national anthems played over the loud speaker as they lower the flags. The docks are lined with onlookers and the water is filled with boats and dinghies. To end the celebration the marina staff lines up in groups, fully clothed in their uniforms, to jump off the top of the marina office into the water below. It definitely adds an element of excitement to the sunset celebration. The ceremony is a rather moving experience and a summer tradition we've only encountered at Roche Harbor. Needless to say, we had a blast in Roche Harbor.
Pin It
Continue reading...
---
on August 30th, 2013 in
CRUISING :
,
PACIFIC NORTHWEST:
,
San Juan Islands
by
Jim and Lisa Favors
|
Comments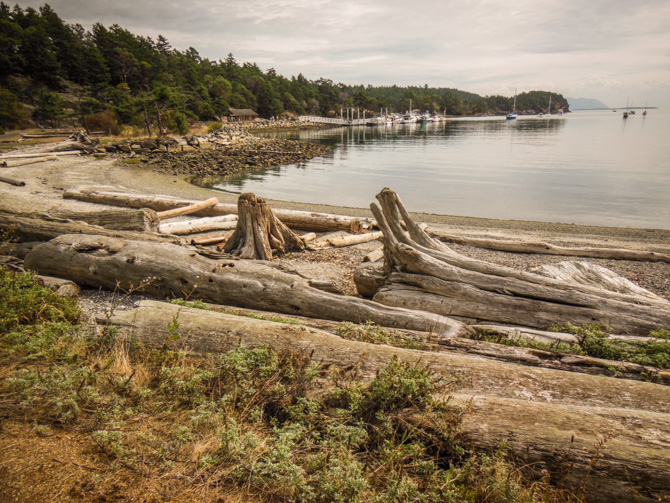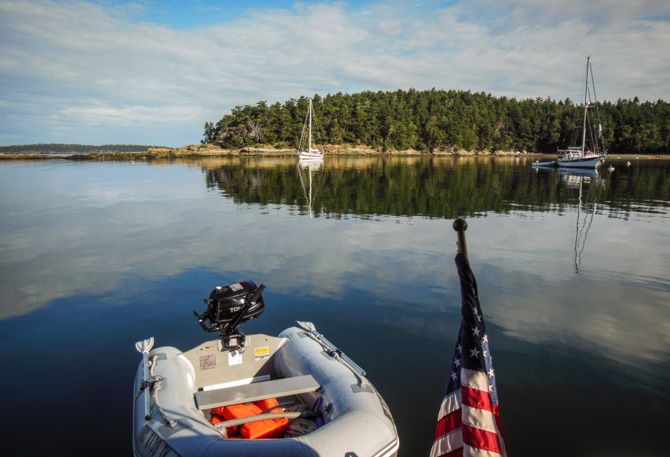 Leaving Friday Harbor behind us we cruised to Sucia Island, a Washington State Park sitting in the San Juan Islands at the base of Strait of Georgia, only 3.5 miles from the Canadian border. Our 16-mile ride, from Friday Harbor, was short and uneventful, however during the last few miles we had no leeward protection from the southeast and the open waters of Rosario Strait, so it was a little lumpy. Taking it slow and steady we made it into the well-protected cove of Shallow Bay, where we happily found a mooring ball available; our plan was to spend a couple of nights in the cove. We left Friday Harbor rather late in the morning and we took our time going the distance, so after settling into the cove we just sat back and enjoyed the late afternoon's stormy looking skies as they glided over us as the wind finally started to settle down a little.
Anxious to see what we've missed in our previous trips to the San Juan's, we got up early the next morning packed a lunch and dinghied to shore. Hiking first to Echo Bay, we found a wide-open bay where maybe 30 boats were at anchor.
We think these are Lion's Mane jellyfish.
These beautiful Pacific madrona trees (arbutus menziesli – also known as bearberry or refrigerator tree) stood out amongst the other greenery on the island, the thin red peeling bark reveals a silvery smooth greenish wood below.
We didn't see much in the way of wildlife during our hike on the island but we did spot this beautifully colored slug (above).
Our walk continued down to Fox Cove and Fossil Bay where we stopped for lunch and found a couple of park docks, more anchorage possibilities, and many campers using picturesque sites scattered around the park.
We wound up our walk by walking on the bluff overlooking Shallow Bay, we walked right above some of the sandstone sculptures Mother Nature has worked on over the years. After getting back into the dinghy, we rode over to the caves further down the shoreline to get a waterside view.
The island's history is rich with settlers, smugglers (prohibition), and a tourist boat business. The Wiggins family were the first settlers on Sucia Island in the late 1800s, they lived in a cabin near the salt marsh with their large family; they were followed by the Hamden family around 1920.
The name Sucia means "dirty" or "foul" in Spanish, it refers to the many submerged rocks that line the shore creating a hazard for sailing vessels. The island is made of sandstone, which time, along with wind and salt crystal erosion, has transformed into many caves and naturally sculpted formations. Sucia has several bays and coves for anchoring, or mooring; a small dock at the marine park in Fossil Bay; on shore campsites; a few rustic cabins; and seven walking trails. Members of local yacht clubs volunteer to maintain and work on improvement projects. The island (Shallow Bay in particular) is one of the best spots in the San Juans to watch the sun set.
Pin It
Continue reading...
---
on August 27th, 2013 in
CRUISING :
,
PACIFIC NORTHWEST:
,
Puget Sound
,
San Juan Islands
by
Jim Favors
|
Comments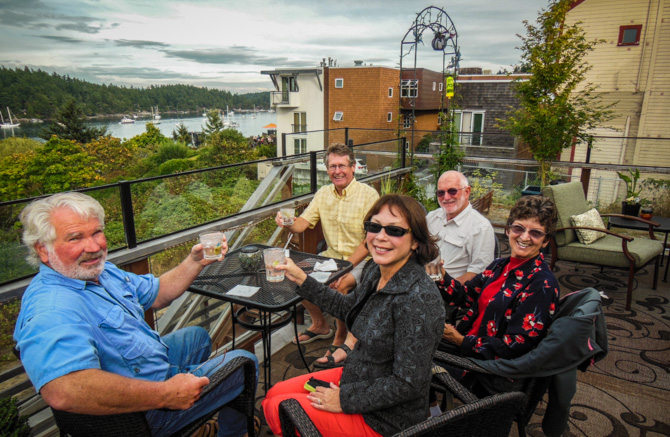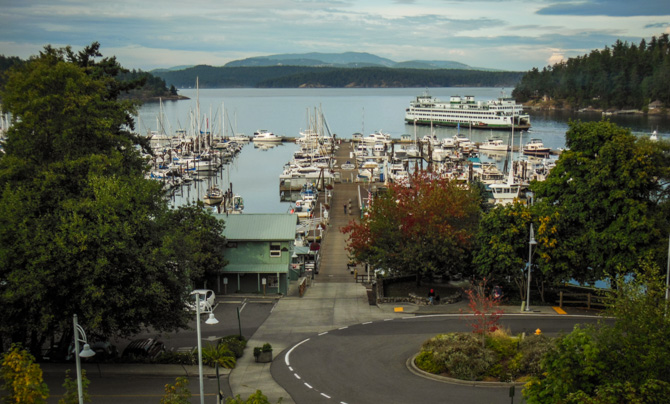 Friday Harbor is a picturesque town and the largest small town in the San Juan Islands; you could say it's the hub of commerce for the islands. This was our third time staying in the harbor. It has been said that the boating community is a small world, our slip just happened to be right next to Herb and Willy from Willy's Tug, Tim and June, on Circle T, from California were also docked nearby. Both are Ranger Tug owners we know from our cruising time in the PNW – most recently when we all joined the Ranger Tugs 2013 Desolation Sound Cruise. Because of meeting up with these boaters, we got to experience a couple of things while in Friday Harbor we wouldn't have, had it not been for Tim's "Local Knowledge." Perched on the bluff above the marina sits a Lions Club – with Tim's membership all six of us were able to take advantage of a scenic, and very happy, hour from the club's porch with the added bonus of touring their very informative military museum before we left.
Friday Harbor's famous mascot, Popeye, the one-eyed seal, has a statue in the park, overlooking the harbor, dedicated to her (above). She hangs out in the water surrounding the little fish market on the dock and will beg for food from people buying fish from the market.
Willy and Herb (below), on our way up to the Lions Club.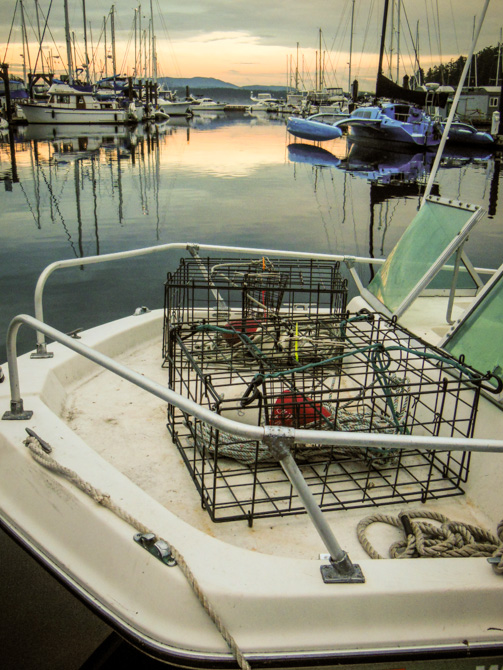 That night, after drinks at the Lions Club, before we parted to return to our boats, Tim suggested we meet on the dock the next morning and he would take us on an expedition of sorts to a favorite breakfast spot of his. He knew of a local restaurant we'd never heard of before and said it would include a walk, so we'd be sure to get our day's exercise in as well. We had no idea where we were going, but at the appointed time we met on the dock and off we went, walking up through town toward the airport. Tim, being a pilot, has flown in and out of the airport in Friday Harbor and has more local knowledge than the rest of us. As it turned out our long walk was rewarded with a fantastic breakfast at the little known, to outsiders, Ernie's  Cafe, abreast of the airport runway. We never would have found this restaurant on our own.
It was drizzling all morning, so our walk, up, around building, and through little out of the way paths, to the restaurant was a little wet, but we got to see some beautiful critters slink their way out of hiding to soak take advantage of the damp ground (below).
Finally, we arrived, the guys were way ahead of us and as you can tell from their gait, eager for a big breakfast. Looks like I should have had the Chili #4 (below).
One thing that was plentiful during our trip this summer were yellow jackets. They were everywhere it seemed, always flying into our boat or hovering outside. Ernie's had bee catchers hanging over their outside deck.
Apparently the restaurant is named after aviator and author Ernest K Gann.
Pin It
Continue reading...
---
on August 26th, 2013 in
CANADA
,
CRUISING :
,
Gulf Islands
,
PACIFIC NORTHWEST:
,
San Juan Islands
by
Jim Favors
|
Comments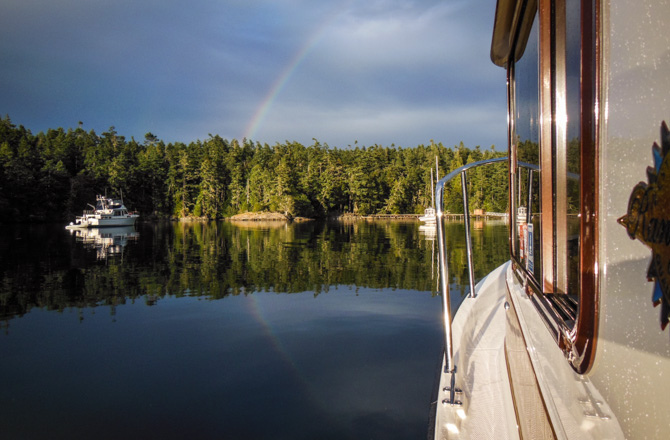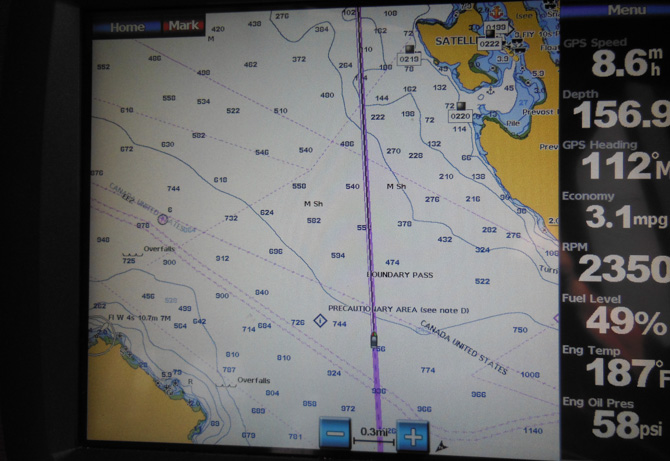 We left Vancouver Island in our wake as we bid Canada goodbye, with our bow now pointed toward Haro Straight, we began to feel the pull of our country drawing us back to familiar shores after the close of a long-planned boating adventure.
It was late in the day when we arrived back into home waters, so after checking in with customs at Friday Harbor, we idled back out and across the San Juan Channel to anchor overnight in the protected confines of Parks Bay, off Shaw Island. It's our cruising philosophy, when paying for overnight dockage, to strive to get as full a day at a marina, and or town, as possible, so we returned first thing the next morning to secure dockage for a couple of days at Port of Friday Harbor, one of our favorite San Juan stops.
Pin It
Continue reading...
---