on June 18th, 2014 in
CANADA
,
CRUISING :
,
North Channel
,
Ranger Tug
,
TUG NUTS - Ranger Tugs Group
by
Jim and Lisa Favors
|
Comments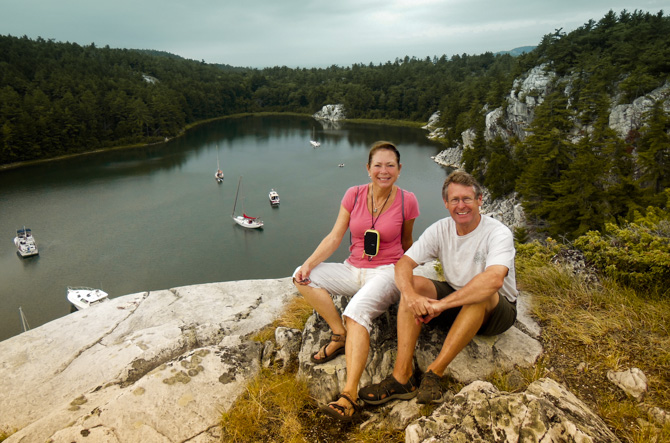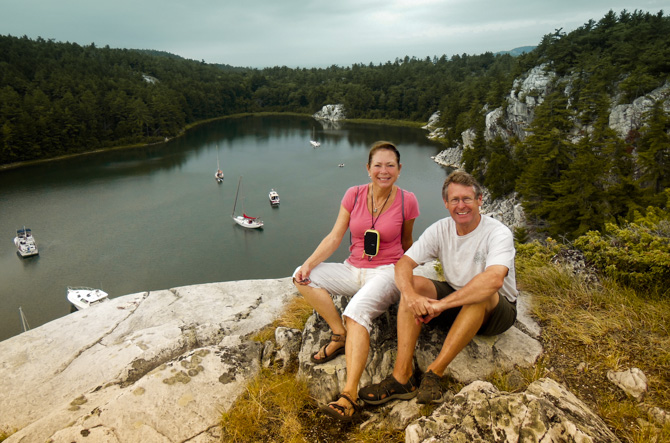 Join Us in the North Channel for the 2014 Ranger Tugs/Cutwater North Channel Rendezvous!
The More the Merrier!  
We've been given a one week extension, until June 27th, to guarantee dock space for the rendezvous, so if you're thinking of attending make sure you get your registration form and payment to me by then. We look forward to seeing everyone soon. Click on the link below to access the registration form and please email me with any questions that you may have.
With spring in the air the much anticipated boating season in Canada's North Channel is just around the corner. With that in mind it's time to start the official registration process for the 2014 North Channel Ranger Tugs/Cutwater Rendezvous.
The Rendezvous takes place at the Little Current Downtown Docks on Manitoulin Island in Little Current, Ontario; the marina is centrally located in the heart of the North Channel. The dates for the Rendezvous are August 7, 8 and 9th, 2014. I've attached the registration form (as a PDF file – see below). You'll need to print it out, fill in the form completely, and mail in to us to secure dockage and attendance at the rendezvous.
Click Here to DOWNLOAD and PRINT the REGISTRATION FORM
We will handle marina reservations for August 7, 8 and 9th (Thursday, Friday and Saturday). If you plan on arriving before August 7th, or staying after the 9th, you'll need to make those EXTRA DAYS (ONLY) reservation directly with Little Current Downtown Docks… 705-368-1725
Port of Little Current Downtown Docks
Upon arrival you'll pay for all your dockage fees (event days and extra days) to the marina. Rates are $1.75 Canadian per foot, per day plus tax for any extra days. For the Rendezvous days we have a special price – pay for 2 days and get the 3rd rendezvous day FREE.
As alway, if anyone has questions you can call or email me, make a Tugnuts post to the North Channel Rendezvous thread, or PM me on Tugnuts.com. Please complete and return the registration form by June 20, 2014.
Hope to see you there!
Jim and Lisa Favors
info@trailertrawlerlife.com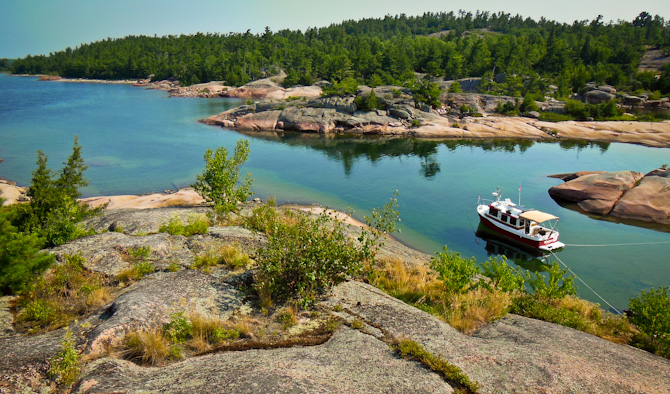 Pin It
Continue reading...
---
on September 18th, 2013 in
CRUISING :
,
PACIFIC NORTHWEST:
,
Puget Sound
,
Seattle
by
Jim and Lisa Favors
|
Comments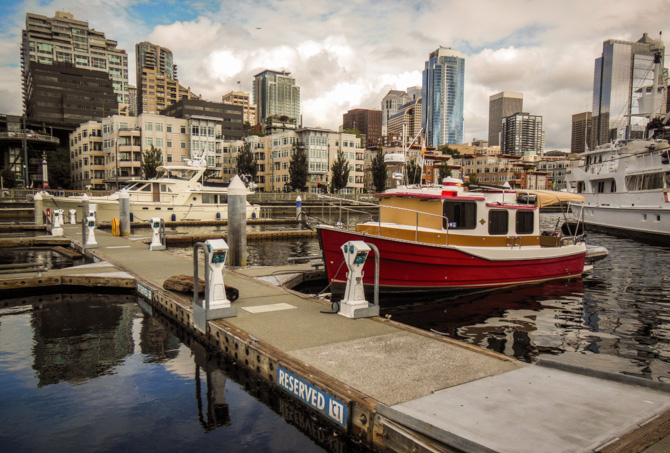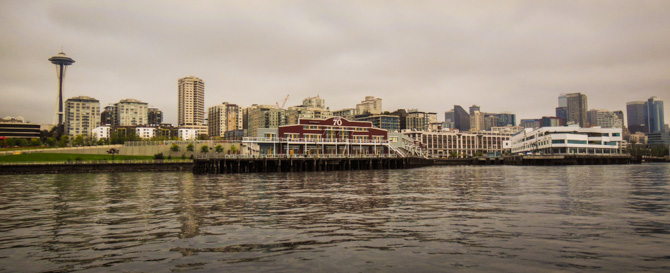 As we approached the final weeks of our PNW cruising adventure, I asked Lisa if there was one place she wanted to visit before our trip came to a close. Unsurprisingly she said, "Downtown Seattle of course." That's why we positioned ourselves at the Bainbridge Island anchorage for two nights before we made the short 8-mile trip across Puget Sound into Elliott Bay and finally to the Port of Seattle's Bell Harbor Marina. The reason we like docking in downtown Seattle is that, as visiting boaters, everything we could possible need is with 10 blocks or so of the marina, providing an endless amount of activities to entertain us.
While waiting for our slip to open up at the marina, we cruised around the harbor and happened upon two-year old Serene, one of the world's largest private super-yachts.
Jim was amazed at the variety of beer selection at the World Market during our first walk into town.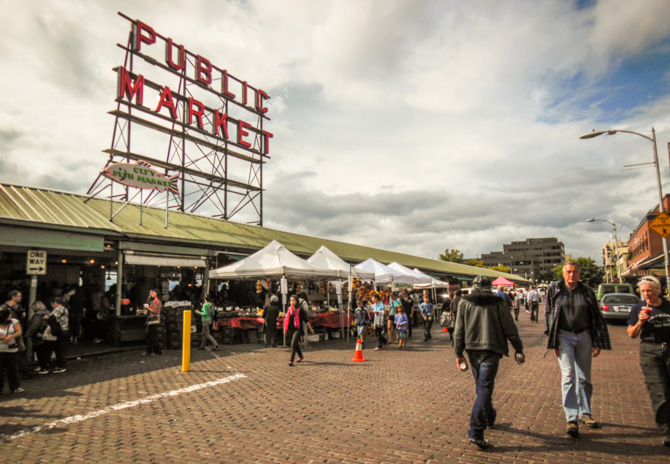 On top of our list, when visiting Seattle, is the famous Pike Place Market. With everything from fresh vegetables, fruits and herbs, brightly colored bouquets of flowers, homemade pastries, pasta, and mountains of freshly caught seafood, Pike Place Market is the "bomb." Opened in 1907 and holding the distinction as the oldest continuously operated public farmers market in the country, this attraction is a must see when visiting Seattle. Our love for the market formed years ago – first when Lisa lived on Queen Anne Hill, (just north of the downtown area during the 1970s), and again when we, together, spent a winter, in 2007/2008, renting a room in a B&B on Capitol Hill. We were waiting for our Fathom 40 to be built. During that time we'd visit the market once a week to procure produce, fresh fish, and assorted accoutrements. We'd return to the B&B to put together a feast from our finds – we like to revive that ritual whenever we visit downtown Seattle.
This was our first taste of Jack's smoked salmon candy. Wow, delicious!
The Bubble Gum Wall, a local landmark in downtown Seattle, is located in Post Alley under the Pike Place Market by the box office for the Market Theater. The old brick wall, 15 feet high and 50 feet long, is covered several inches thick with used bubble gum. The tradition continues after theatre workers twice scraped the gum away only to have it reappear. The growing gum wall was finally left to grow on its own and was declared a tourist attraction around 1999.
Pastries for breakfast and freshly baked bread is always procured at our favorite, Three Girls Bakery (above).
We bought halibut for our dinner that night. It was fun deciding where and what to buy.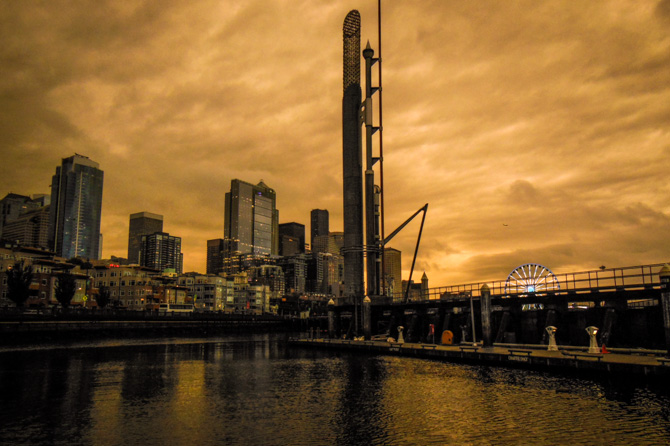 The next day we walked down to Pioneer Square, close to where the Seattle Seahawks' CenturyLink Field and Seattle Mariner's Safeco Stadium are located. That afternoon, unbeknownst to us, the Seahawks had a home game. This was not to be any home game as sometime during the game they were going to try to set a record for the "Loudest Outdoor Sports Stadium." As we sat in the cockpit of our boat later in the day the roar of the crowd was loud and we were a good mile away. They did end up setting a 136.6 decibel sound record at that game and Seattle went on to win the game and become SuperBowl Champions.
Years ago, during our stay at the B&B, we discovered Uwajimaya, the 35,000 sq. ft. Asian market located in Seattle's Chinatown-International District. Similar to our experience at the Pike Place Market, visiting Uwajimaya is a visual treat. With an abundance of interesting produce, unusual seafood and all things Asian, this Asian market is more like visiting a living cultural museum.
Another walk to Pioneer Square brought us to an old time favorite, the Glasshouse Studio. Founded by good friends back in the 70s, under new ownership it survives the ups and downs of today's economy. We thought the window display looked like a richly blooming garden with the bright and colorful, organically crafted glass.
Lots of driftwood piling up at the marina… daily. If you don't want it banging on the hull of your boat you just drag it out of the water and set it on the dock.
When we spent the winter in Seattle several years ago, our favorite happy hour spot was Ray's Boathouse, a waterfront restaurant we are totally hooked on.
Earlier in the week, we made arrangements to visit Ranger Tug owners Bruce and Vickie at their downtown Seattle condo. Upon entering their lovely home, the stunning views from their picture windows captured our attention. Elliot Bay, downtown Seattle and off in the distance, the majestic Olympic Mountains presented themselves for our viewing pleasure. After meeting their two beautiful Bengal cats, our conversation quickly turned to boating. We discussed our cruises up to British Columbia (we both traveled with the 2013 Ranger Tugs Desolation Sound Cruise), and future boating plans. After romancing one of Bruce's artfully prepared martini's, we all walked back down toward Pike Place Market to one of Bruce and Vickies favorite restaurants for dinner. Afer dinner we said our goodbyes  – the next day we waved goodby to Seattle as we left Bell Harbor for the trip to Anacortes where we would prepare Kismet to come out of the water.
Pin It
Continue reading...
---
on September 14th, 2013 in
CRUISING :
,
PACIFIC NORTHWEST:
,
Puget Sound
by
Jim Favors
|
Comments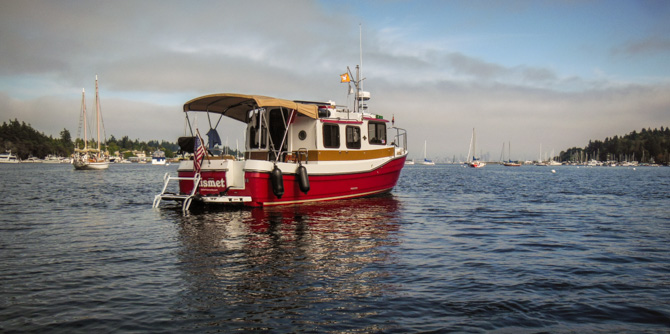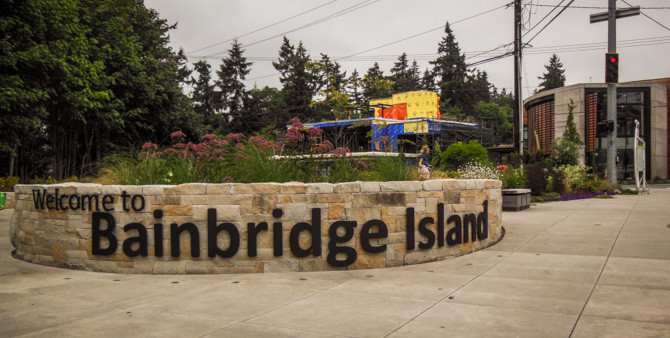 Bainbridge Island sits north and west of downtown Seattle – Eagle Harbor was our choice for one night on the hook. On a clear day, you can plainly see Seattle's skyline eight miles to the east across Puget Sound. Eagle Harbor is home to the City of Bainbridge Island, which can be a little confusing. Kind of like New York, New York but in this case it's Bainbridge Island, Bainbridge Island!
After finding a suitable spot to anchor, we dinghied to the city dock so we could explore town, this being our first visit by boat. We were fortunate in that just a few months before our arrival the brand new Bainbridge Island Museum of Art opened its doors. We were able to tour the museum's, well put together, inaugural exhibit.
We got a big laugh out of this shark mooring ball. Someone has a great sense of humor.
The Ranger Tug (above) must have been a very early edition of the 25-foot model, it was docked not far from our anchorage.
Pin It
Continue reading...
---
on September 13th, 2013 in
CRUISING :
,
PACIFIC NORTHWEST:
,
Puget Sound
by
Jim and Lisa Favors
|
Comments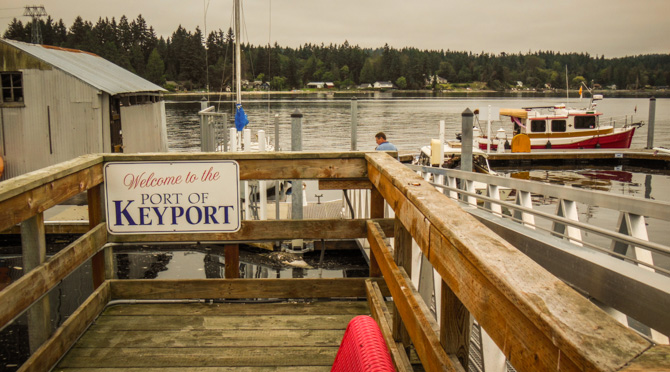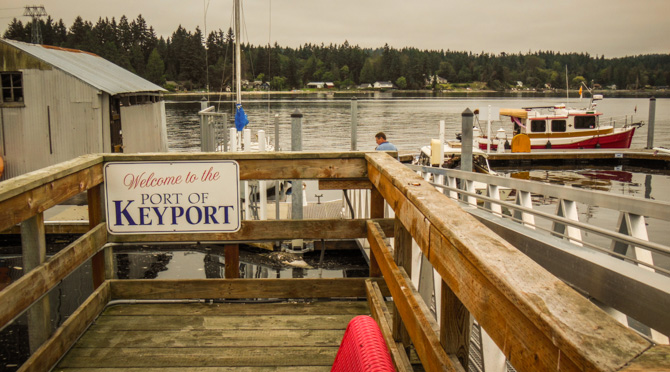 After doing some research of the Liberty Bay area, for our planned stop in Poulsbo, I stumbled across information on the little town of Keyport, WA., nicknamed "Torpedo Town USA. Its major tourist facility, the Naval Undersea Museum is located at the a small U.S. Navy depot, Torpedo Research and Testing Facility, tasked with ranging and repairing torpedoes for the U.S. Navy and allies. The museum features exhibits and displays on undersea technology, including the Trieste II, which descended to 20,000 ft (6,100 m). After pulling anchor in Poulsbo, we arrived at Keyport's free town dock, in a matter of minutes, for a tour of the Museum.
We happened to be there the same day as a Naval ceremony took place inside the museum, so we got to see a lot of service men, all dressed up in their Navy Blues, and their families getting ready for the ceremony. We spent an enjoyable couple of hours learning about everything to do with undersea naval operations as it relates to the preservation, collection and interpretation of  U.S. Navel undersea history, science (geology and weather) and operations. It was a good stop to get off the boat to stretch our legs before we continued on our way to our next anchorage, in Eagle Harbor, off Bainbridge Island.
Pin It
Continue reading...
---
on September 12th, 2013 in
CRUISING :
,
PACIFIC NORTHWEST:
,
Puget Sound
by
Jim and Lisa Favors
|
Comments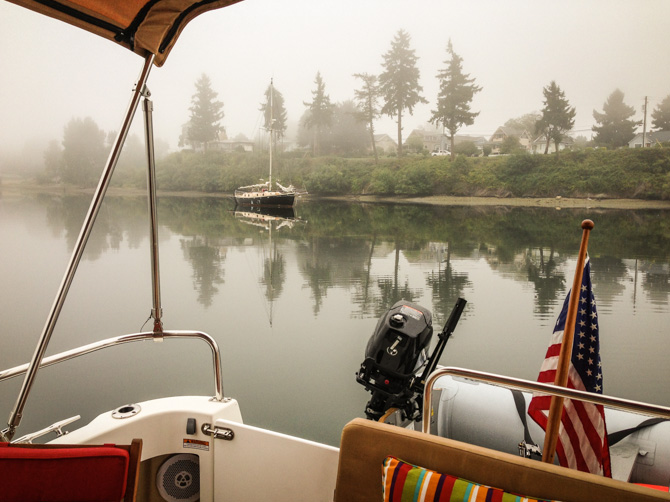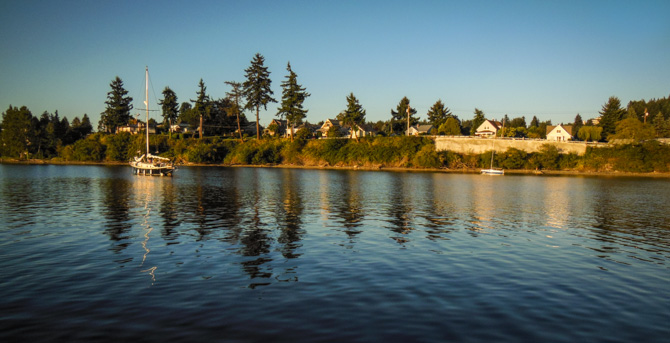 Poulsbo, sitting at the edge of Liberty Bay, is a delightful, highly Scandinavian influenced, community. This quaint, picturesque, little town has a strong Norwegian heritage. Its founders came from Norway via Michigan and Minnesota to settle in a landscape that was similar to their own snow peaked mountains and fjords. Other Scandinavian immigrants soon followed.
On a prior visit to Poulsbo, we had docked at the city marina, so this time we decided to anchor out in the protective confines of the bay and dinghy into town for a our on shore leave. We arrived late afternoon, so we hung out on the boat and enjoyed a nice sunset and a peaceful night at anchor.
The next morning we dinghied over to the city marina to tie up so we could have lunch and shop. We were surprised to see Teddy Bear (above) docked at the marina. We first encountered this interesting yacht in Anacortes, WA when we took possession of our Fathom 40.
Poulsbo has an array of gift shops, galleries and stores with unique and unusual items to look through. We found a Mexican Cantina style restaurant for a tasty lunch which in hind sight is about as far away form Scandinavian food as I guess you can get.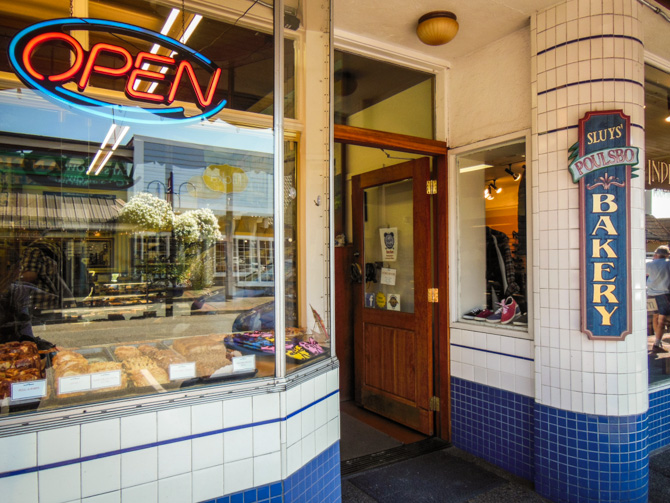 Thinking back to our first visit to Poulsbo, we remembered a nice bakery in town, although it was late in the day, we tracked down Sluys Bakery. We each made mental notes to decide what we wanted to pick up the next morning for breakfast when I would return by dinghy for a pastry run.
Something seemed to be amiss in the water in the bay, especially in the marina. Not sure what it could be, can only imagine. Wouldn't want to accidentally fall into the water in this area.
The next morning we awoke to a pea soup type fog; it took forever to lift.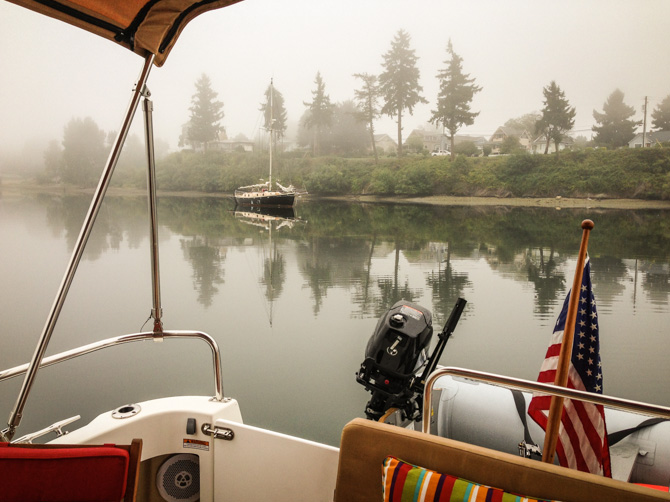 Pin It
Continue reading...
---
on September 10th, 2013 in
CRUISING :
,
PACIFIC NORTHWEST:
,
Puget Sound
by
Jim Favors
|
Comments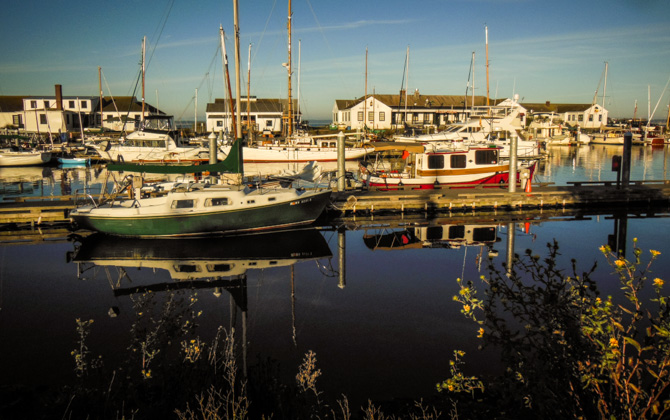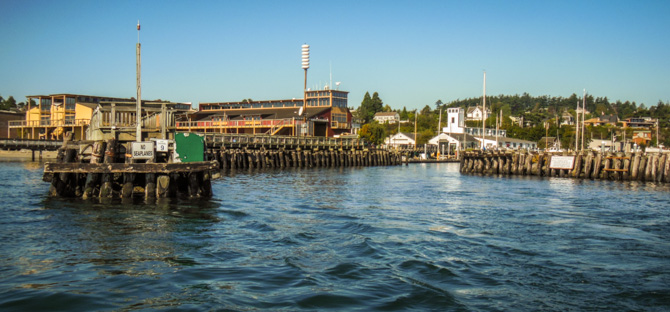 Over the years people have highly recommended a visit to Port Townsend, WA, but, for whatever reason, we have never made the stop. During our trip out west this year, we put Port Townsend on our planned route as we headed south from the San Juans toward Puget Sound.
Port Townsend sits at the northeast point of the Olympic peninsula where Strait of Juan De Fuca and Admiralty Inlet meet. In the late 1800s Port Townsend was intended to become the main city in the Puget Sound area, so a great deal of new buildings and Victorian houses were built. However, the rail system the founders counted on to make this happen, only made it to Tacoma. So Port Townsend never became the big city mecca they hoped for. The good news is that today Port Townsend has a unique small town village feel with elaborate 120-year old buildings lining the main street of downtown.
We arrived in port the day after the annual wooden boat show and were happy to see some of the classic wood boats still lingering in port. Like most towns we visit by boat, we walked the entire length of the downtown area,  located within a block of the marina. Lisa especially liked the variety of shops and spent some of her free time shopping. After taking a tour of the main street, we ventured up the bluff overlooking the harbor for a spectacular hillside view of the town and waterfront.
We stayed two days and can attest to why so many of our boater friends suggested we put Port Townsend on our 2014 PNW itinerary… we'll be back.
Pin It
Continue reading...
---
on September 9th, 2013 in
CRUISING :
,
PACIFIC NORTHWEST:
,
Puget Sound
by
Jim Favors
|
Comments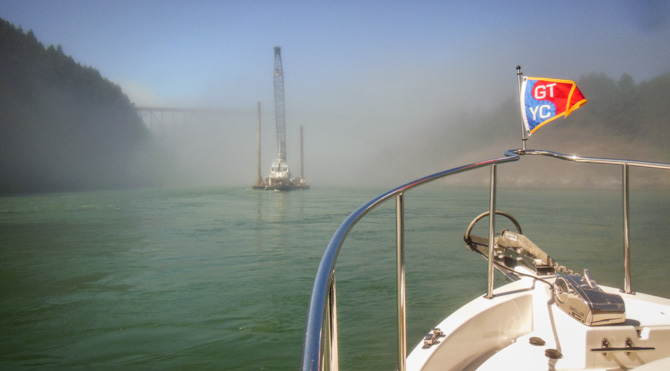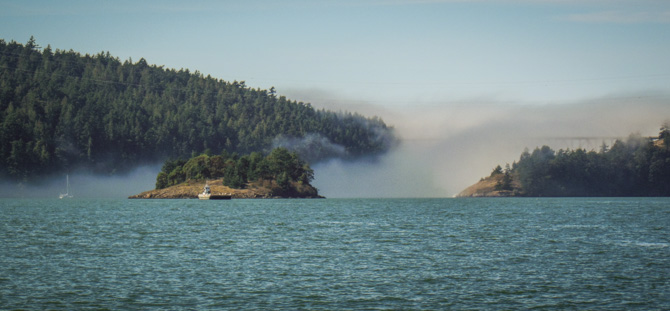 After spending a pleasant night on the hook at Hope Island, we woke to a blanket of fog so thick, we could hardly see more then 150 feet in any direction. We waited and waited until finally, close to our planned departure time, the fog began to lift a little. We pulled anchor, turned on our radar and headed towards Deception Pass. A safe trip through Deception Pass needs to done at slack tide. We needed to be positioned at the pass for the optimal tidal event.
The fog continued to lift as we made our way to the pass, however, we were surprised when we arrived to see a wall of fog completely covering the cut. We idled in a circular pattern, along with a couple of other boats, waiting as long as we could for the possibility of the fog lifting but it never did. At precisely slack tide, we saw a big tugboat heading towards the narrow pass and decided to follow them through the foggy channel. We were close enough to see the tug boat and that's about all, we couldn't even see the bridge that spans the channel until we were almost directly under it.
Looking off our back deck we could see a barge bringing up the rear (below).
Once we cleared the bridge the channel opened up, we were heading south, the tugboat and barge were heading north, we parted ways and headed into a thick white haze with smooth, glassy water beneath us. Without the tugboat for guidance, we idled ever so slowly around Deception Island and inched our way south, staying attentive to the stray radar bleeps on our radar screen. We traversed the whole length of Whidbey Island in complete fog that lifted ever so slightly as we crossed the Strait of Juan de Fuca and got closer to Port Townsend, 18 miles south. The good thing about foggy conditions is that the surface water is typically fairly calm.
Pin It
Continue reading...
---
on September 8th, 2013 in
CRUISING :
,
PACIFIC NORTHWEST:
,
Puget Sound
by
Jim Favors
|
Comments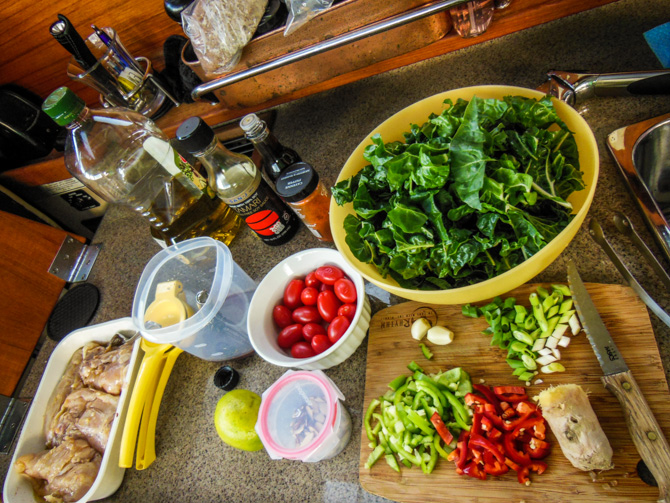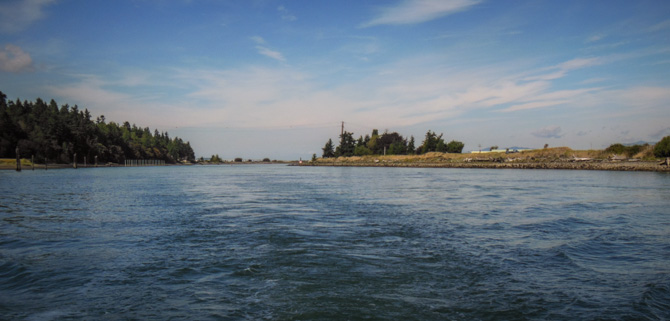 Leaving the dock at Cap Sante Marina in Anacortes, I saw our fuel gage flashing a bright red "low fuel" light, setting my mind into a bit of a panic. Idling to the fuel dock, I was hoping we'd make it before running completely out. how embarrassing would that have been, I haven't run out of fuel since I was in High School. The good news is we made it to the fuel dock without conking out in the harbor.
Confidently fueled up, we headed through LaConner and up into Skagit Bay, where we caught a mooring ball off Hope Island. We were positioning ourselves to transit through Deception Pass the next morning. The plan was to cruise down the open waters of Rosario Strait to Port Townsend – our first ever visit by boat. 
Dinner on board Kismet came together without a hitch after we got settled in. A beautiful evening to enjoy on our back deck, along with a yummy feast using up some of the fresh produce we had acquired in Anacortes.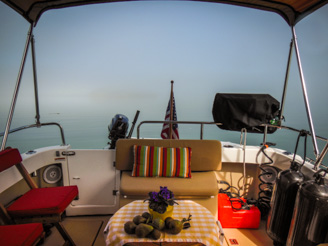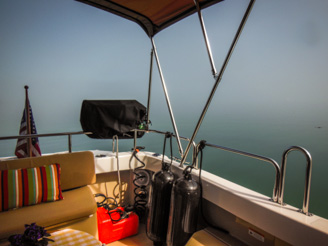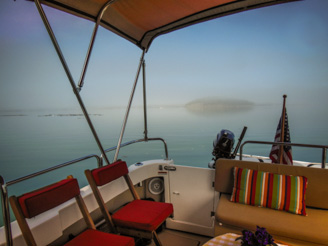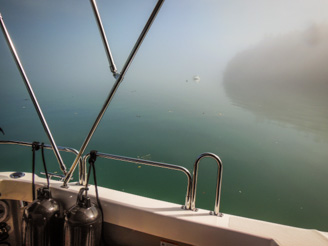 The next morning we woke up to a thick blanket of fog.
Pin It
Continue reading...
---