on December 22nd, 2014 in
CRUISING :
,
FLORIDA:
,
Panhandle
by
Lisa Favors
|
Comments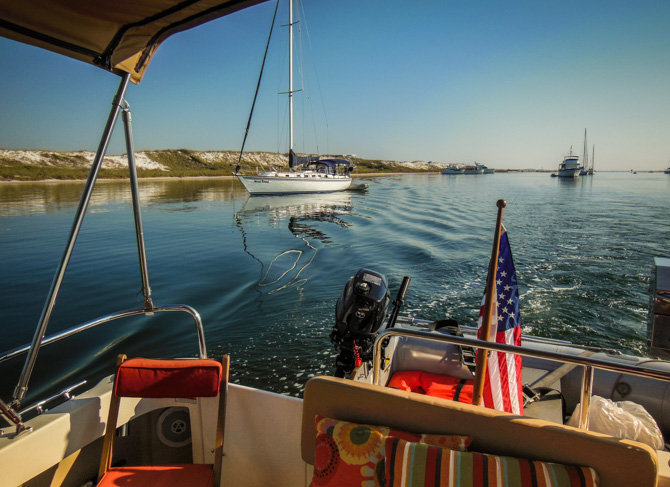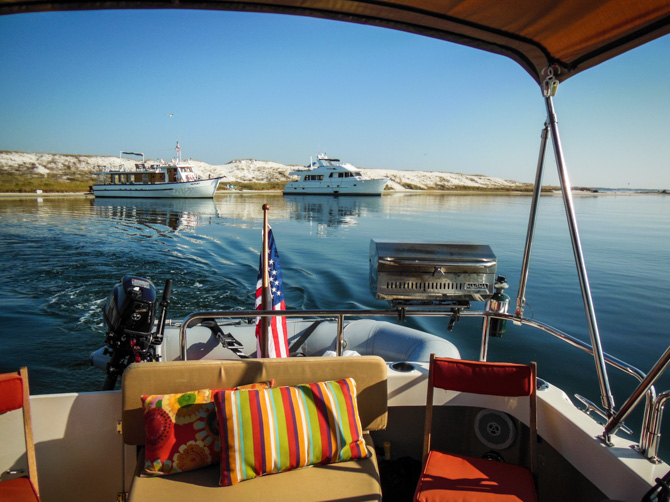 The barrier island between Orange Beach, Alabama and Pensacola Bay is called Perdido Key – Pensacola Bay inlet and Santa Rose Island are directly east of Perdido Key. Following the War of 1812 three major forts were built to strengthen the United States defenses in this Pensacola Bay area – one being Fort McRee built at the eastern tip of Perdido Key. Fort McRee is long gone, it was held by the Confederates during the Civil War until 1862 and was mostly destroyed.The property remained in the hands of the United States Navy until 1971 when a large portion of Perdido Key, and Santa Rosa Island, were turned over to the National Park Service, becoming Gulf Islands National Seashore.
We departed Orange Beach with only a 15 mile cruise to a well protected cove next to Perdido Key, off of the Pensacola Bay inlet. We soon anchored in 8 feet of crystal clear water and surrounded by white sand embankments, it was the perfect setting for two days swing on the hook.
Because we were anchored within eyesight of the main inlet to Pensacola we were fortunate to be entertained by a small school of dolphins making their daily fishing rounds, from the inlet, through the cove. As the dolphins chased by Kismet and fished for their dinner,Lisa and I prepared ours on the grill. Our simple dinner was followed by a game of cards on the back deck and finally, one of our favorite pastimes when we anchor out, we watched the day end with a gorgeous sunset.
The next day we decided on a short dinghy ride over to the tip of Perdido Key, plenty of area, mostly beach, to hike around while scouting out remnants of Fort McRee. We found the anchorage area was occupied by two types of boaters, those that land, bow on the beach, and stay for the day and those that drop a hook and stay for a couple of days or more. Because of Perdido Key's close proximity to Pensacola Naval Air Station and the home of the Blue Angles, we heard this anchorage can become a busy place when the Blue Angles are practicing their routine. We love watching the Blue Angels, but had no such luck on our two-day stay. The anchorage is very peaceful and quiet, however, if you plan to go, I'd suggest arriving on a week day versus the weekend for a less crowded anchoring experience.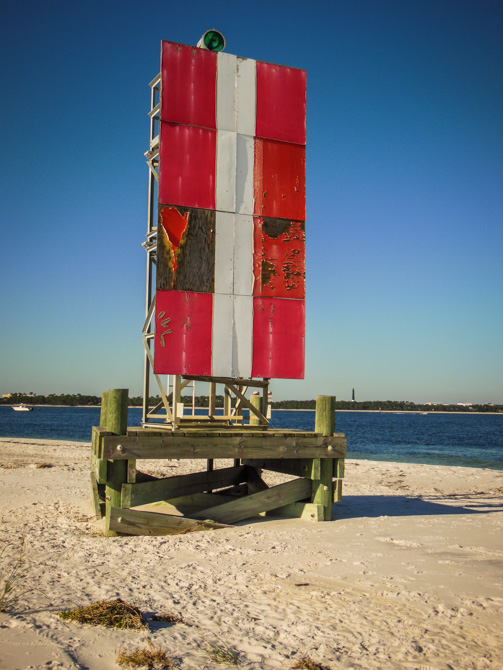 Pin It
Continue reading...
---
on December 9th, 2014 in
BOOKS
,
CRUISING :
by
Lisa Favors
|
Comments

---
on November 6th, 2014 in
CRUISING :
,
FLORIDA:
,
Panhandle
by
Lisa Favors
|
Comments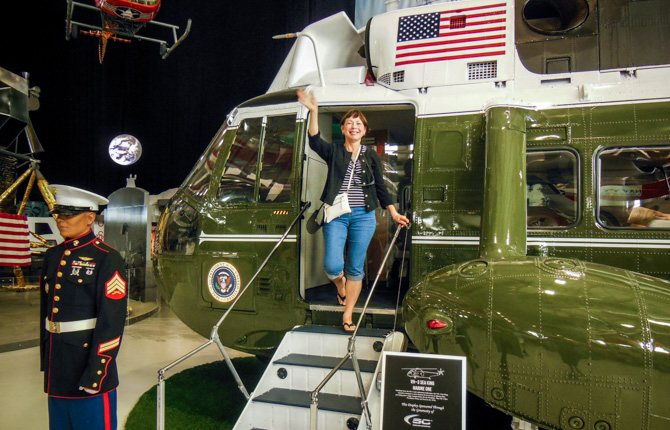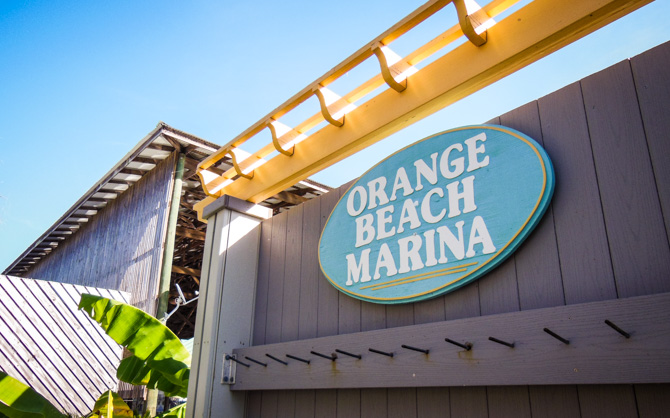 Staying at Orange Beach Marina so that we can take a day to visit the National Naval Aviation Museum. We arrived late afternoon, got settled then borrowed the marina's loaner car to take a tour of the area and visit one of the beautiful beaches.
Some folks stopped by (above) that knew us because they also own a Ranger Tug. It's a small world!
The Naval Aviation Museum in Pensacola Florida first came into our mind, as a must visit museum on our first Great Loop in 2005. Finally, on our third cruise through the Florida Panhandle – nine years later, we made plans to tour the best aviation museum in the world.
While docked at the Orange Beach Marina in Alabama, we used the marina's loaner car to drive the 30 miles or so to Pensacola for the long awaited museum visit. The Pensacola Naval Air Station is home to the Blue Angles and has been a Naval Station since 1826, it is also host to the Naval Air Museum.
With displays of aircraft from WWI, dirigible, aircraft carriers, presidential helicopters, WWII, Vietnam and more, we knew immediately that we were in for a treat. Housed in two very large museum buildings (two floors in the original building), funded entirely by private donations, the building is large enough to have planes hanging from the ceiling, it was difficult deciding where to start our tour. They also have a restoration facility where it can sometimes take up to seven years to restore some of our Nations most prized and historically significant aircraft. From here we'll let the pictures do the talking, I'm sure after seeing these photos, you'll be making your way to the Naval Aviation Museum at the first opportunity.
Continue reading...
---
on October 28th, 2014 in
CRUISING :
,
FLORIDA:
,
Panhandle
by
Lisa Favors
|
Comments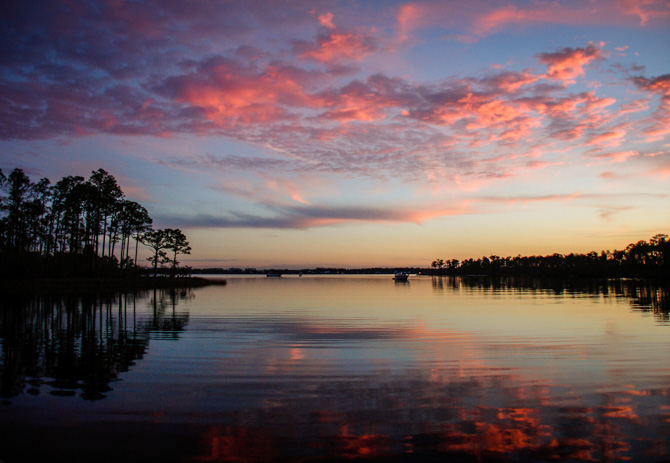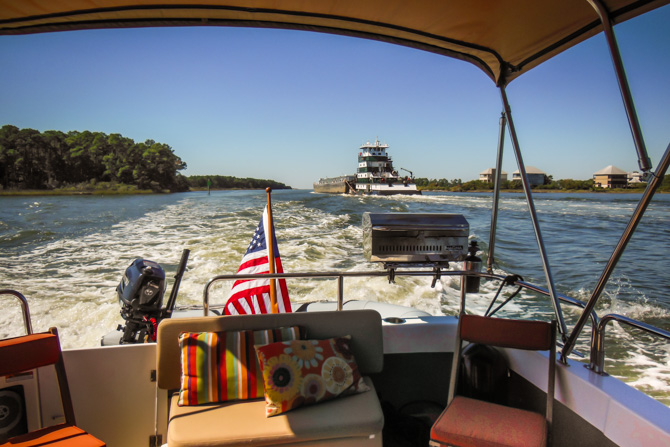 After a smooth cruise through Mobile Bay, from Eastern Shore Marina, we made a port-side turn into the protected Intra-Coastal Waterway where we soon passed our first tug and tow (above).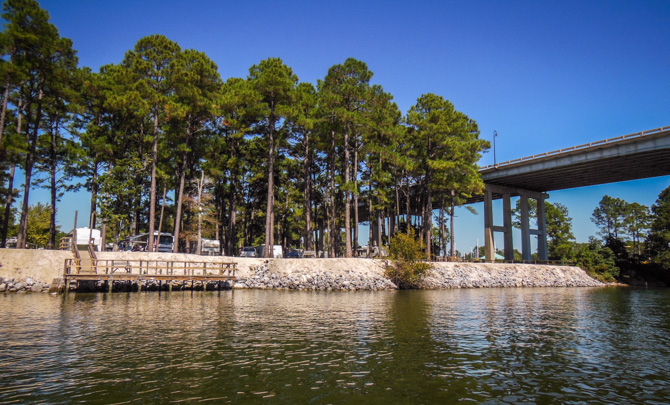 First landmark we see on the ICW is Lulu's Cafe (below). Not stopping there this time though as we were both in a hurry to get settled into our night's anchorage.
Returning to Ingram Bayou…
One of our favorite anchorages, this will be our third time stopping here. The afternoon was spent by first hanging by some scarfs to block the heat of the sun while we settled in to lounge on the back deck of Kismet. We watched a few dolphins herding their day's catch up along the shore. After playing a few games and soaking in the beauty of the bayou we retired for a peaceful sleep on the hook.
Morning brought a whole new perspective to Ingram Bayou…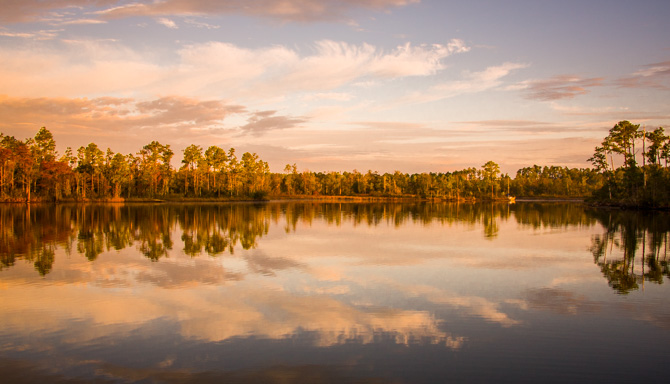 Pin It
Continue reading...
---
on October 23rd, 2014 in
CRUISING :
,
FLORIDA:
,
Panhandle
,
TRAILERING
by
Lisa Favors
|
Comments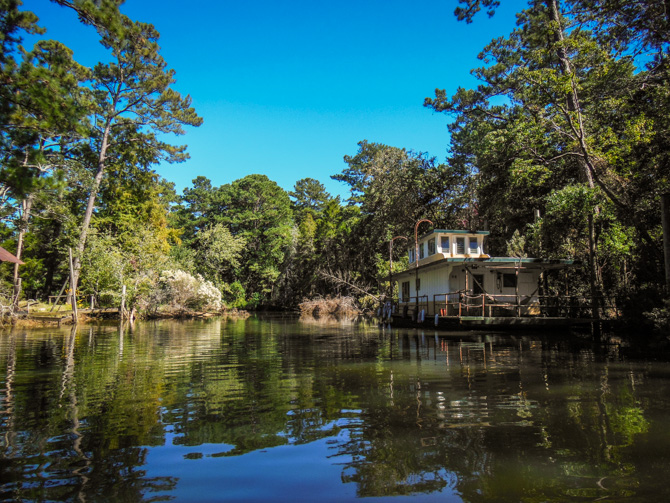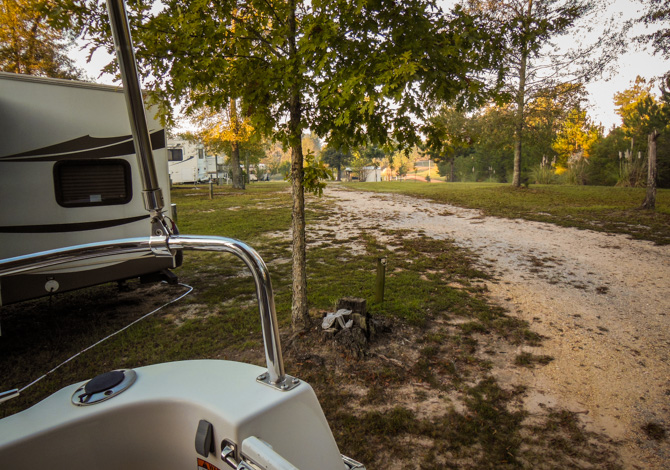 After leaving Joe Wheeler State Park after the AGLCA rendezvous we headed south with Fairhope as our intended launch site. However, after a late start and a long day's drive, we called it quits when we got to Greenville, Alabama and found this rustic RV park about a mile off I-65. Stopping here for the night gave us the opportunity to arrive at Fairhope early in the day. The park was quiet except for an evening symphony of cricket chirping in a swamp nearby.
We have been by this way twice before and each time stayed at Eastern Shores Marina in Fairhope, Alabama. We ran into Ed, the harbormaster, at the AGLCA rendezvous a few days ago and made arrangements then to secure a slip and check into good launch sites. He suggested the Fairhope Yacht Club across the inlet, since he is a member he offered to go over there with us when we arrived to use their ramp (above).
Finally! Back in the water.
It's a small world because we ran into another MTOA members, Ken and Ann Shanley, on Charis (below), they were staying on the yacht club docks, just across from Eastern Shore Marina.
The first time we were in Fairhope was just months after Katrina hit the Mobile Bay area, in December of 2005. We remember the high waterline mark lining the walls of the office back then. The second time we were there, in 2007, the water line was preserved as it is today (above and below).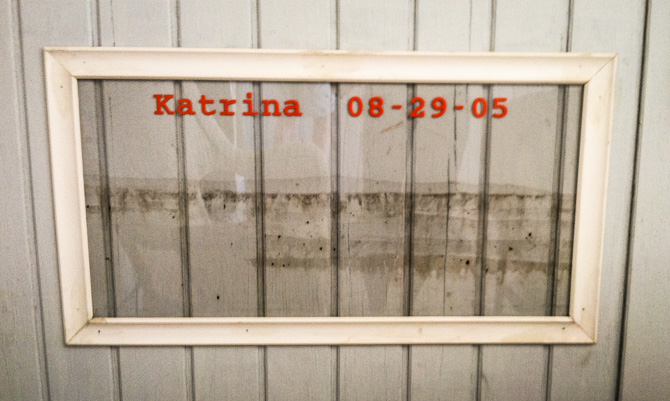 Debbie (below), was a bright spot in our morning when we visited the marina office. She went over the chart on the wall and gave us a few good anchoring spots in the panhandle. She knows her stuff! One of the reasons we love staying at Eastern Shore Marina is the staff is so helpful and accommodating. Another reason we like this marina so much is it is chock full of genuinely rustic, old south character, we find this atmosphere missing from some of the newer marinas we visit.
One of the reasons we decided on Fairhope for a launch spot for this year's fall cruise is because of family. My brother Jem, his wife, Patti and his extended family moved to Fairhope about four years ago and whenever we can visit with them is precious time spent.
My beautiful niece, Jena (above-left). My brother, Jem and I (below).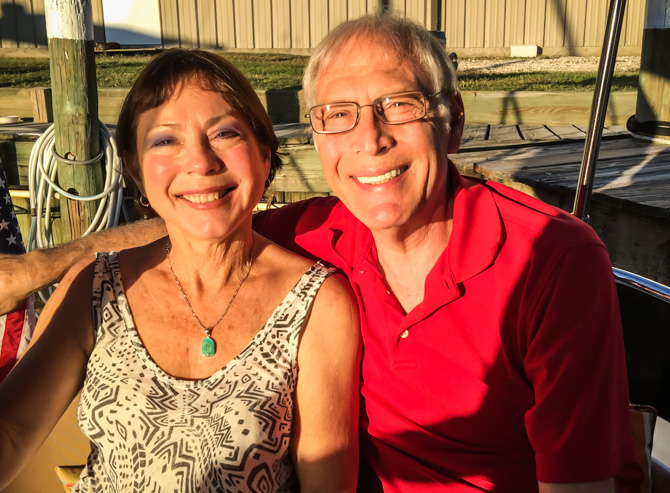 My handsome nephew, Jay, Jim, me, my brother's wife Patti and my brother, Jem (below).
Jim took me to a TOPLESS BEACH today!
One thing we had never done before when staying at Eastern Shore was take a dinghy ride up Fly Creek, starting just around the bend from the marina. It was such a nice day and we were enjoying the fresh, warm air we decided to launch the dinghy and head up the creek. The dinghy ride began immediately with the "Topless Beach" (above). What followed was a spectacular windy creek with a few boats and all levels of party shacks, my term, don't know what locals call them, lining the shore. The party shacks I am referring to are open air tiki type huts probably used to cool off down by the creek when it's hot. Some were basic in accommodations, with hammocks and coolers. Others were decked out with bars, electric fans, big screen TVs and comfortable furniture. The creek seemed to go on forever and finally we decided to turn back, we think we only got about half way. So, if you are staying at Eastern Shore Marina, don't miss this fun dinghy ride.
We loved the Boater's Lounge at the marina.
Pin It
Continue reading...
---
on October 17th, 2014 in
AGLCA – Great Loop Group
,
BOAT CLUB RENDEZVOUS :
,
CRUISING :
,
RIVERS
by
Lisa Favors
|
Comments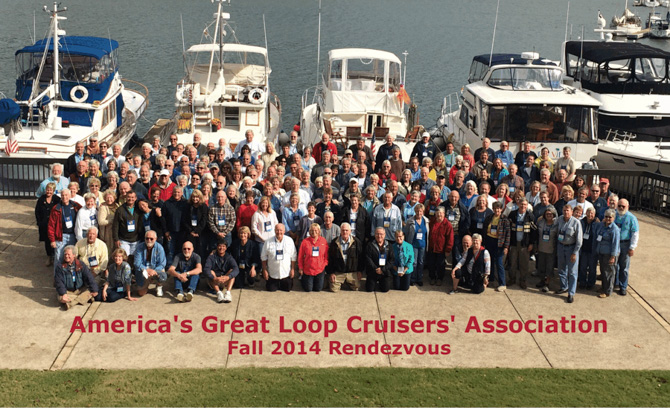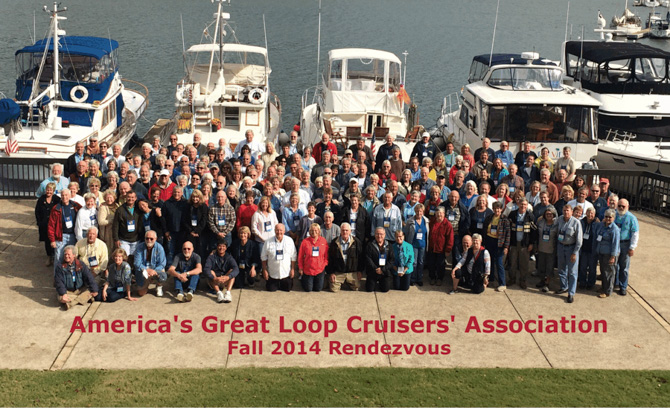 We packed up our boat and truck and headed down the highway to Joe Wheeler State Park in Rogersville, Alabama for AGLCA's 2014 Fall Rendezvous. Jim and I have been Loopers almost ten years (we have done the Loop almost twice). The excitement and camaraderie we feel when out on the water cruising new territory, meeting other Loopers in far off ports, and especially while connecting at one of the rendezvous, or Gold Looper Reunions, never gets old, in fact, it sustains us as cruisers.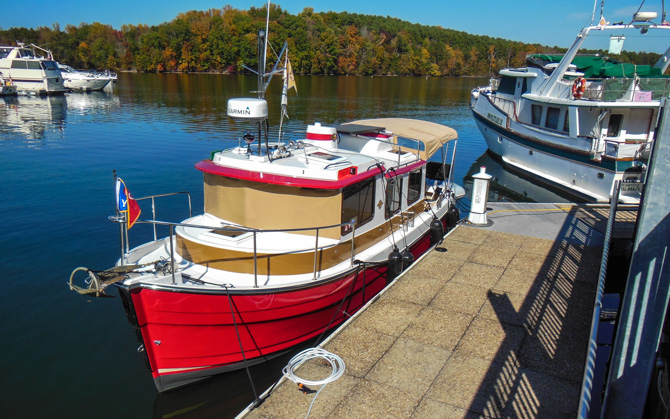 We laughed, we played, we shared boating stories, we sang and enjoyed music, we exchanged information on favorite anchorages, marinas, boat maintenance and galley provisioning. Seminar speakers help current Loopers prepare to navigate the stretch ahead. Jim gave two presentations at the rendezvous, The Gulf Coast of Florida and St Johns River. With many helpful sponsors in attendance, the resources available to current and future Loopers is huge.
One of the fun times at the rendezvous is the dinghy race. A two-person blindfolded competition to complete a short route around a marker… backwards.. with the captain blindfolded. The navigator sits behind the captain giving verbal commands to guide the captain around the marker and back to the dock. If you've never seen this drill before, we must tell you how hilarious it is… for those on the dock!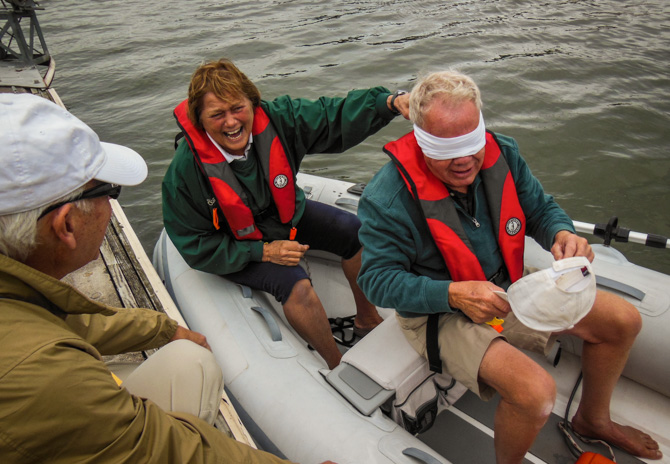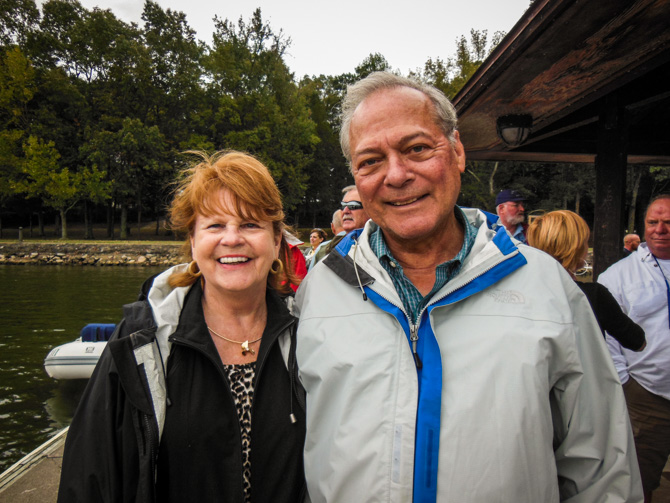 One of our highlights when arriving at Joe Wheeler for the event is the jar of pickles delivered to our boat by fellow Ranger Tug owners Pookie and Evan, on Pookie II (above and below). The best pickles we've tasted. Thanks again Evan and Pookie, glad we got to visit a little more this time.
Thinking of Cruising the Great Loop?
One of the first things to consider doing is joining America's Great Loop Cruisers' Association. Completing the Great Loop boat trip is a big accomplishment for any boater, experienced or not. We have completed the trip 1.75 times, in different boats. One of the first things we did just before leaving our homeport of Charlevoix, MI, on our first Loop trip, was to become members of America's Great Loop Cruisers' Association (AGLCA). We fondly remember the first boat we saw sporting the club's distinctive burgee while staying at Burnham Harbor in Chicago. We could hardly contain our excitement as we dinghied over to Evelyn J. to introduce ourselves as fellow Loopers. The friendship made that day, along with all the other Looper relationships we made during our Looping trips, is the most valuable part of our approx. 6,000-mile trip… and it all started with that beautiful white AGLCA burgee.
We learned a lot during the years we lived on our boat doing the Loop. You don't have to know it all before you leave that which is familiar. The beauty of doing the Loop is in the ongoing learning process; if you're from the Great Lakes, you've never dealt with tides and saltwater issues; if you've boated in the Great Lakes you may not have much experience with locks. By the time you close your Loop, you'll be a seasoned boater and confident of your skills. We all have to start somewhere. Sure there will always be people that should not be boating… ever, but we would never discourage anyone who is working toward a challenge and seeking adventure. The important thing to remember, when contemplating a commitment to cruising the 6,000-mile route, is that it doesn't matter what skills you possess or lack – but do ask yourself a few questions… do you enjoy all aspects of boating and navigating and how big is your desire to take on such an adventure. The beauty of AGLCA is that it creates and brings together a living network of boaters; all willing to help one another along the way. The club burgee is an instant introduction to new friends and future cohorts in one of America's greatest boating adventures. A new Looper will meet other Loopers currently on the trip by recognizing the club burgee and attending one or more rendezvous., they'll find support and camaraderie as they all negotiate their way around the Loop. They'll even bump into "Gold Loopers," (the gold AGLCA burgee signifies completion of the Loop) at various ports on the route as those boaters proudly display that gold burgee as a reminder of the accomplishment they have achieved. Gold Loopers love to share information with "newbies" about routes, hazards and local information; they are a valuable resource for Loopers and boaters alike.
The AGLCA twice-yearly rendezvous helps a current or future Looper in many ways. The Fall Rendezvous will cover navigation and particulars from Alabama to Norfolk, the Spring Rendezvous will cover Norfolk to Alabama. Some people attend these events early in their planning to see what the trip is all about. Current Loopers attend to learn more about new cruising ground in front of them along with a chance to stop and celebrate their ongoing accomplishments with their new boating buddies. Another valuable benefit of joining AGLCA is the Daily Digest (a Looper forum), which includes Tom Conrad's valuable "Weather Musings," focusing on the weather windows for crossing the Gulf of Mexico. Questions are asked and answered on the forum much like any other forum, only focusing soely on the Great Loop boat trip. Seasoned Gold or Platinum Loopers along with experienced high profile boaters give sessions on everything to do with Looping, navigation, boating, maintenance etc. They provide an excellent resource for anything related to the Loop. AGLCA brings it all together.
If you have not had the experience of being part of the club, it would be hard to grasp the significance and value gained. You can't put a price on it, we know Loopers who feel their Gold burgee is a badge of honor, having accomplished and completed an adventure of a lifetime. Sure you could do the Loop on your own, but it seems to us that it would lack some of the richness of the experiences we've outlined above. Joining AGLCA and experiencing the Great Loop boat trip was one of the most stimulating and adventurous things we have ever done as a couple and it positively changed our lives for the better.
Jim and Lisa Favors
Pin It
Continue reading...
---
on August 10th, 2014 in
CRUISING :
by
Lisa Favors
|
Comments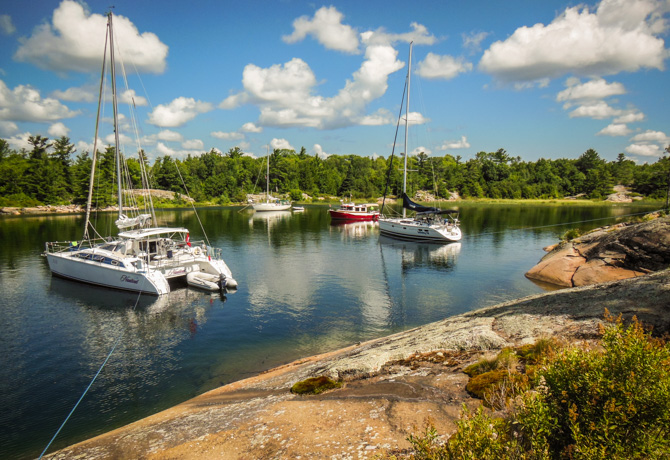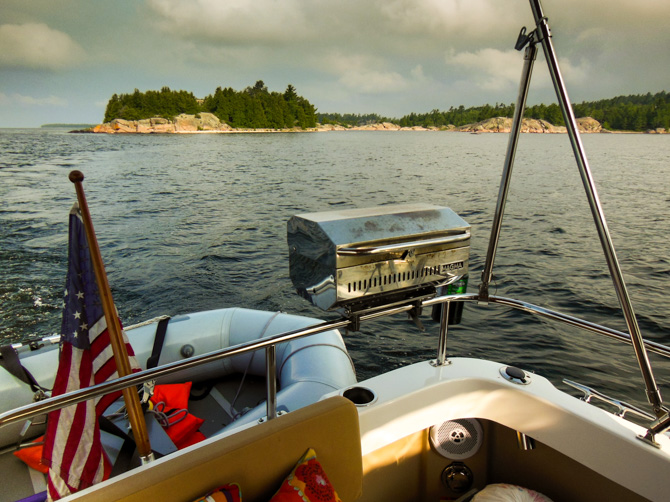 When we left South Benjamin Island we headed for Fox Island, located only about four miles from South Benjamin. We had anchored here once before with our Silverton and remembered how beautiful it was. The landscape is rocky all around the anchorage, offering good hiking and photo opportunities along the perimeter. When we anchored here previously, we were the only boat on the hook in the channel, this time there were several boats already at anchor, so this time we settled on a spot all the way in, up by the reeds.
We were looking forward to our afternoon hike on the island. Some parts are just challenging enough, we had to figure out how we could continue along without wading through water or climbing up the steep side of a smooth rock. Just over the crest of the rocky shoreline we were surprised by this little land locked natural pond (below). It looks like it is home to some very lucky birds, animals and aquatic life.
Next, we followed the eastern shoreline around the anchorage to see how far we could get before turning back.
We found lots of berries on the island, so we picked handfuls of blueberries and raspberries and ate them while we walked.
When we were anchored off South Benjamin with Mike and Jess, we all took a walk on the outer island, the one that protects the anchorage from the open channel. One thing we noticed while there were an abundance of spiders clinging to the evergreen trees, EVERYWHERE. That is where Mike and Jim procured a few aptly coined "spider sticks" to forge ahead while swiping the air in-between trees for spider webs. Even though we noticed the absence of spiders and webs on the trees, Jim found a spider stick anyways, saying he was protecting his "woman."
We ended our stay with a dinghy ride through some reeds and rocks, the little channel opened up into a little well that we decided we'd keep in mind for a future anchorage.
Pin It
Continue reading...
---
on August 9th, 2014 in
CRUISING :
by
Jim and Lisa Favors
|
Comments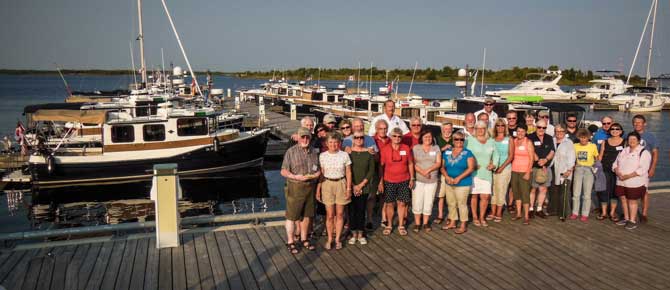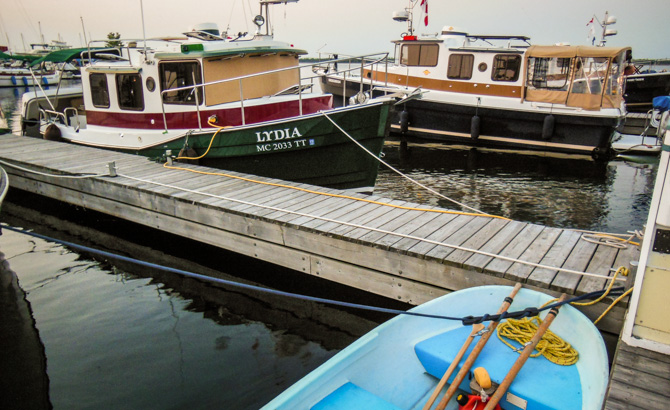 We want to thank everyone who attended the first Ranger Tugs/Cutwater North Channel Rendezvous and look forward to meeting up with many of the participants on the waterways in the future. Boats in attendance ranged from far away as Alberta, Fort Lauderdale, Rhode Island and Texas. This was the first time cruising the North Channel for 9 of the 15 boats.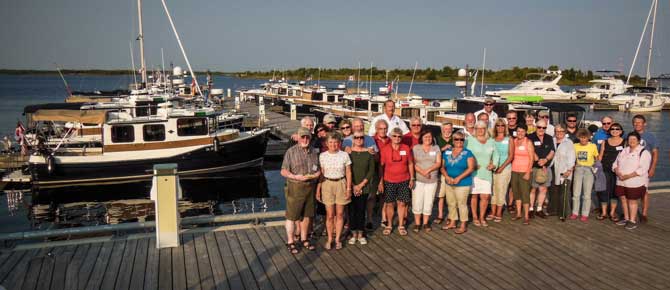 Although we could not have had a successful rendezvous without those that were in attendance there is lot that goes on behind the scenes well before the rendezvous starts and during the rendezvous that we are all very thankful for. Thanks to Debby Turner at Little Currents Turner's for suppling the Manitoulin Island/North Channel maps for our ditty bags. We also had donations for our ditty bags from Prism Polish, GMC Flint Assembly Plant and the UAW (including the bags), Ranger Tug hats and key fobs. Thanks to Reid Taylor for making arrangements for our dockage at Little Current Town Docks and use of the Pavillion, everything was delivered as promised.
One of the things when organizing a rendezvous of this sort, is that you never quite know for sure how everything will work out until it happens. Kelly, owner of Anchor Inn, did such a great job, the food was exceptional, everyone was extremely pleased with the quality and quantity… thanks Kelly for all your hard work, being on time (even though having to deal with a power outage during prep work), professional and on budget.
Roy Eaton, Little Current Crusiers Net coordinater, was very well received by our attendees. The very first night he hit the docks and delivered his own welcome bag to each attendee and it included Little Current information as well as free ice cream coupons and free pump out passes. A visit to his live Cruisers Net broadcast and his wonderful North Channel powerpoint presentation helped to enhance the even offerings to each Ranger Tug owner. Thanks Roy. Mark Coles, of Boating Georgian Bay, gave us a detailed history lesson of Georgian Bay and passed out some boat wax and some special BGB hot sauce.
Reed Yacht Sales and Lefroy Harbour Marine and Resorts were not only sponsors but they were part of our experience. Thanks to Paul Reed along with Ryan Stovold and Jim Ward for being in attendance and supporting our Ranger Tug community of boating. We truly hope our mass presence in the North Channel leads to positive things for both of their organizations.
Lastly, but certainly not least, a special thanks to Jeff Messmer at Ranger Tugs for his rendezvous guidance, financial and promotional support as well as sending Kenny Marrs all the way from Kent, Washington to join us, we think he had a great time. Kenny always does a great job working to help Ranger Tug owners and this trip was no exception, thanks Kenny for your support, your friendly smile and positive, professional, demeanor.

Mark and Jodi, on Irish Mist, took this amazing panorama of our boats at dock in Little Current. Thanks for sharing Mark.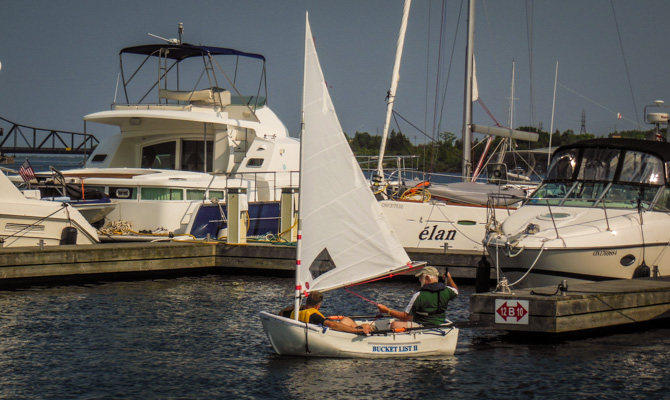 Dave, on Bucket List has a Portland Pudgy dinghy with a sailing kit he had yet to install. He got lots of help on the dock today and Dwain helped him with the sailing mechanics after it they launched it.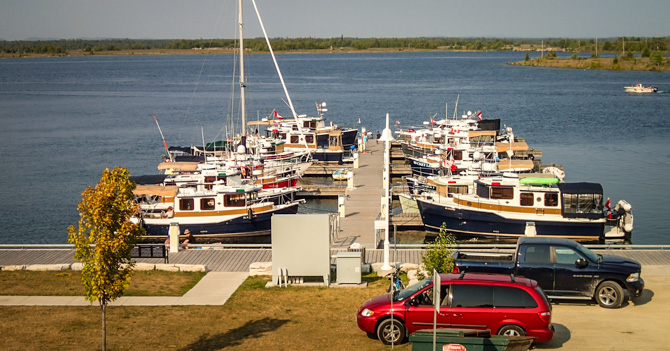 Randy and Cindy, on I Think I Can, took these great photos (above and three below) from on top of the hill behind the marina. Thanks Randy and Cindy for sharing.
Pin It
Continue reading...
---