Powell River, Hardy Island and

Princess Louisa Inlet.
Including Malibu Rapids, Chatterbox Falls and the Malibu Club.
Continue reading...
---
on August 15th, 2013 in
CANADA
,
CRUISING :
,
PACIFIC NORTHWEST:
,
Sunshine Coast
by
Jim and Lisa Favors
|
No Comments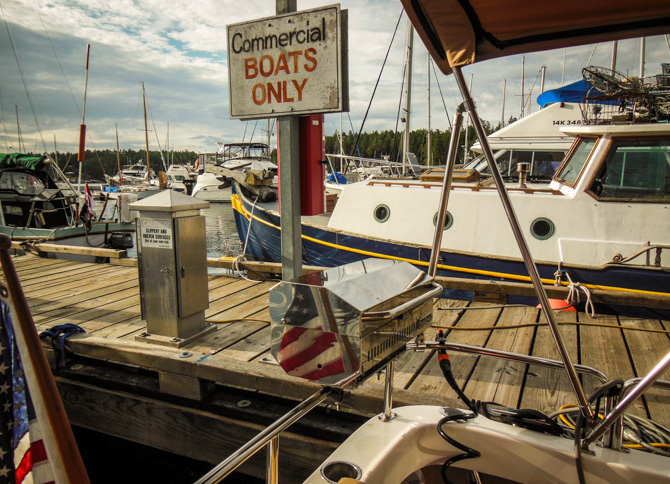 Entering the Sunshine Coast…
After two glorious weeks of picture perfect boating weather and sensory overload during our exploration of Canada's Desolation Sound, the time had come to start working our way south/southeast. We had a calm but overcast day to exit Desolation sound from our anchorage in Roscoe Bay. Up next, was Jervis and Princess Louisa Inlets and the much talked about Chatterbox Falls, but first we had to explore a few of the little fishing villages along British Columbia's "Sunshine Coast." Our first stop was Lund (below), a busy, picturesque, seaside village, 120km north of Vancover, only eight miles south of Desolation Sound. The village has only about three-hundred year-round residents, but is host to a lot more during the warm weather season. Not only is it close to Desolation Sound Provincial Marine Park but also the Copeland Islands, Okeover Inlet and tropical Savary Island.
During our brief stay in Lund, we learned a lot about the area called the Sunshine Coast, a region of the southern mainland coast of British Columbia, on the eastern shore of the Strait of Georgia, just northwest of Vancouver. The Sunshine Coast is British Columbia's best kept secret, stretching over 180km of coastline from Langdale to Lund with many quaint, tiny coastal communities in between, assessable only by boat or ferry, it has it's fair share of desirable weather and is known for it's many cultural activities including resident artist's gallery exhibits, outdoor recreation and many festive community events.
After roughing it in the wilderness of British Columbia, cruising in saltwater without a real bath and stowing garbage in the far corner of the cockpit, the boat needing a good cleaning, a pump out, fuel and fresh water – needless to say, Lund Small Craft Harbour was a welcome stop. After accomplishing all of the above, we still found time to tour the historic, 110-year old, Lund Hotel and walked all over the small town.
During a rainy evening we enjoyed an excellent fish and chips dinner at the Boardwalk Restaurant located in the harbor, right across from our slip at the marina.
This is one of the car ferries we saw delivering boats to the village (above). One morning we visited Nancy's (below) for some fresh cinnamon rolls and ate them outside in the warm sun next to a palm tree. Guess it really is the Sunshine Coast.
The Lund Hotel has a helicopter pad (below) adjacent to their lawn. We imagine a lot of locals travel this way instead of taking the ferries or personal boats. Sea planes are very prevalent in this neck of the woods.
We found this bike (above) an interesting way to advertise a bike rental and repair business on Savary Island. It was located near the Lund Water Taxi building.
The small marina office offers an outdoor boater's lounge with a beautiful rustic chair (below) to use for accessing the internet.
An interesting factoid about this small fishing village is that it sits at the northern most point of Route 101, mile 0. If you were to start in Lund on Route 101, and drive south you could end up at the tip of South America, all on this historic highway.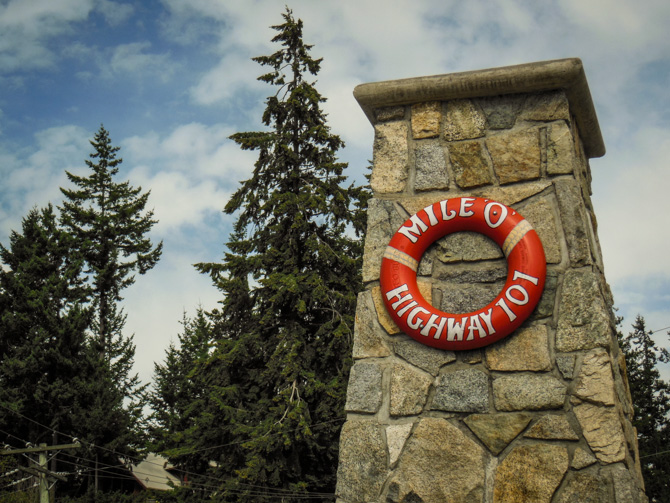 When asking Fran (below), Lund's Harbormaster and one of the friendliest we've met, about available transportation to Powell River (an 18-mile trip), for a provisioning run, she volunteered to lend us her car. We had not been to a full-fledged grocery store in well over two weeks, our supplies were low and I needed to visit a marine hardware store and we had heard that Powell River had everything we could possibly need, it is a real hub of activity.
Thanks again Fran!
We always enjoy visiting other countries while boating to see all the different products they have on their shelves. This trip we were introduced to Sour Cabbage Heads (above), packaged up in a sour marinade, we suppose.
On the ride into town we couldn't help but notice how the road was lined with deliciously ripe, ready to pick, wild blackberries. If you've read some of our prior posts you already know this is a real bonus find for us, we just can't get over how abundant this wild berry crop is all over the Pacific Northwest. On our return trip to Lund we found a dirt road off the main highway (below) and made a roadside stop to pick several bags of the plump, black, juicy fruit, using some of our shopping bags to collect them, enough for three or four days of breakfast snacks, blackberry pancakes. One night Lisa improvised a little and produced a blackberry cobbler with a little whipped cream on top. Yum!
So relieved we got to reprovision at the big stores in Powell River. We saved a lot of money by going to a bigger town and got everything we needed to sustain us during our trip to Chatterbox Falls.
One of the things we love to do when boating is walk the docks and see all the unusual boats tied up. This one, not far from our slip, was intriguing with it's unique anchor mount on the bow of the boat.
This beautiful sculpture of King Neptune stands guard over the harbor at Lund.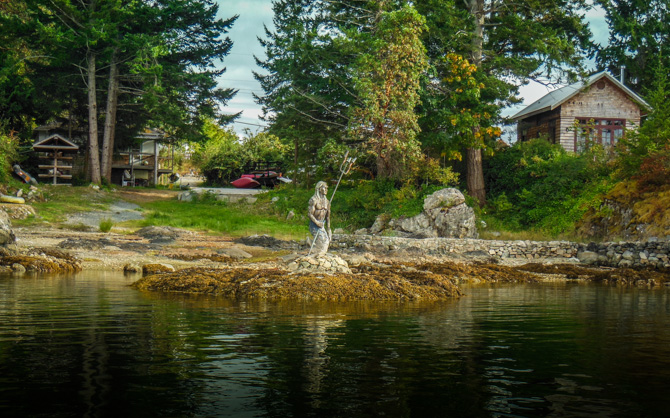 Pin It
Continue reading...
---
on August 15th, 2013 in
BOAT CLUB RENDEZVOUS :
,
CANADA
,
CRUISING :
,
Desolation Sound
,
PACIFIC NORTHWEST:
,
TUG NUTS - Ranger Tugs Group
by
Lisa Favors
|
No Comments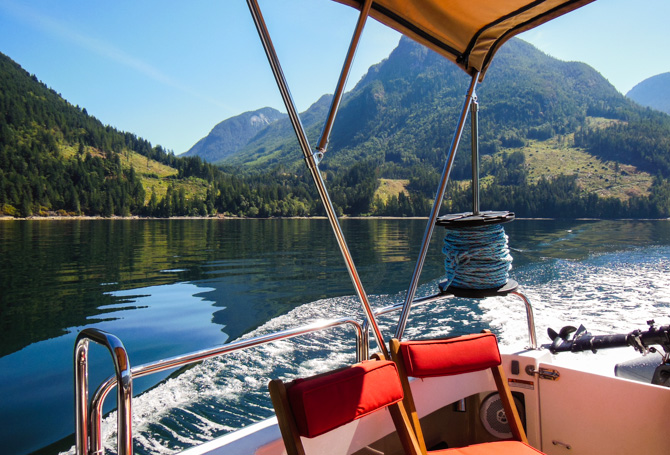 ---
on August 14th, 2013 in
CANADA
,
Desolation Sound
,
PACIFIC NORTHWEST:
by
Jim and Lisa Favors
|
No Comments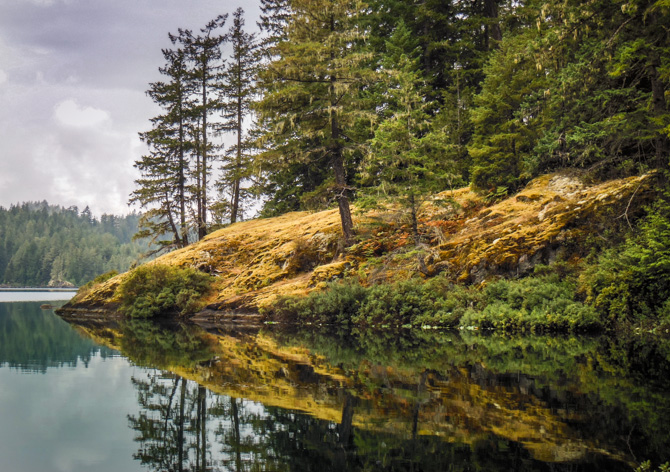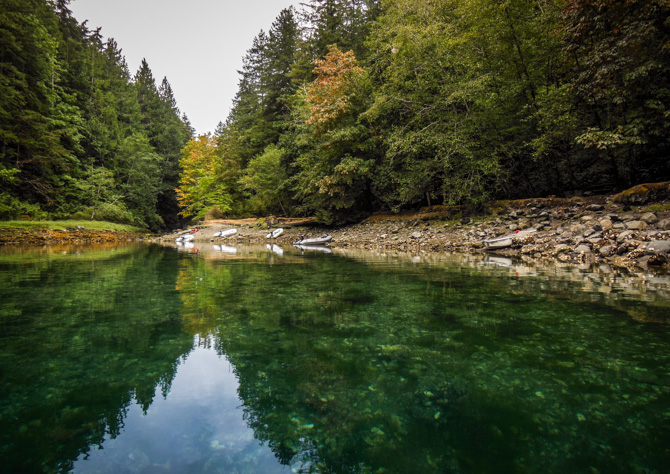 One of the activities we came to enjoy while cruising Desolation Sound was hiking to the many inland, fresh water, lakes. Black Lake was one such lake located not far from our anchorage in Roscoe Cove. After a short dinghy ride it was easily accessed by a fairly short woodsy old logging trail that continued along the lake for awhile before heading up a big hill. Lush vegetation and huge ferns surrounded us as we explored the trail further up the hill. With the big trees and lush vegetation we felt like we had been plopped down in the middle of a Jurasic Park movie set.
On two separate occasions, during our stay, we landed our dinghy at the base of the trail and hiked up to the lake to cool off and freshen up. There are no beaches at the edge of the lake instead large outcroppings of boulders line the shoreline, we'd ease ourselves out onto the slippery tops and slowly walk into the crystal clear fresh water. What a treat for us on a hot august afternoon. The water temp was pretty much the same as the other lakes we hiked to earlier in our trip, quite warm.
All in All Roscoe Bay provided an excellent last stop for the crew of Kismet while cruising Canada's beautiful Desolation Sound.
Next up… Princess Louisa Inlet and Chatterbox Falls.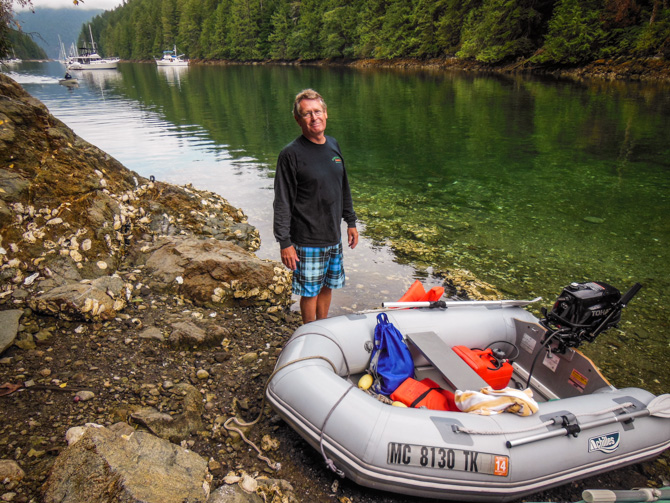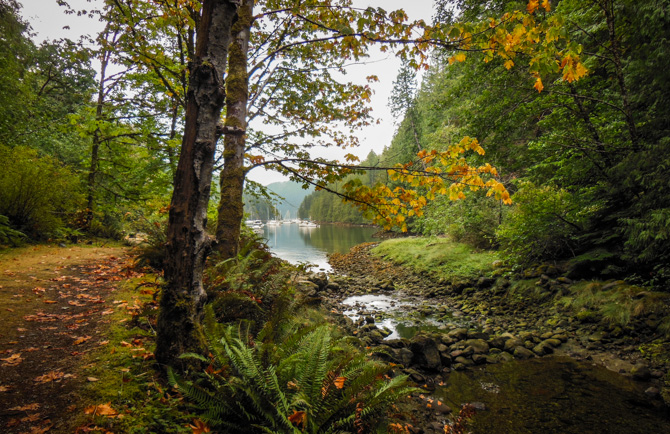 The family (below) were carrying jugs of water, all the way from Black Lake, to their boat anchored in the harbor.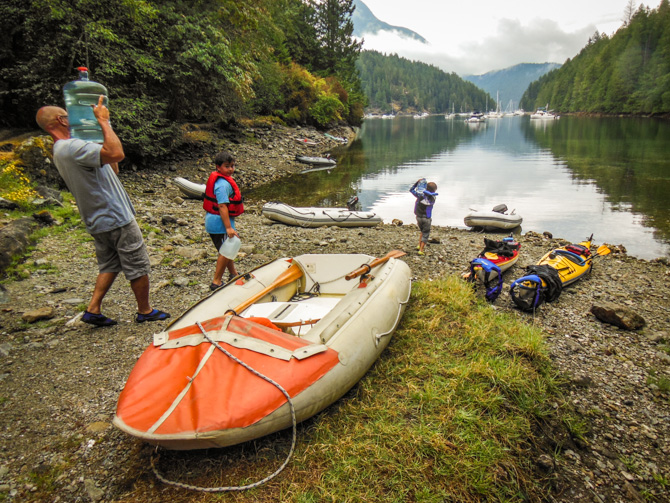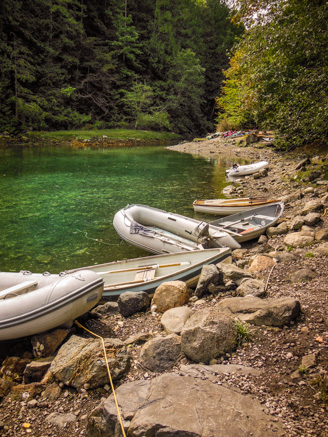 We made another trip to the lake on our last full day in Roscoe Cove; it was crowded. A bunch of kayakers descended upon the bay and, like all the other boaters in the anchorage, they wanted cool off by taking a dip in the lake.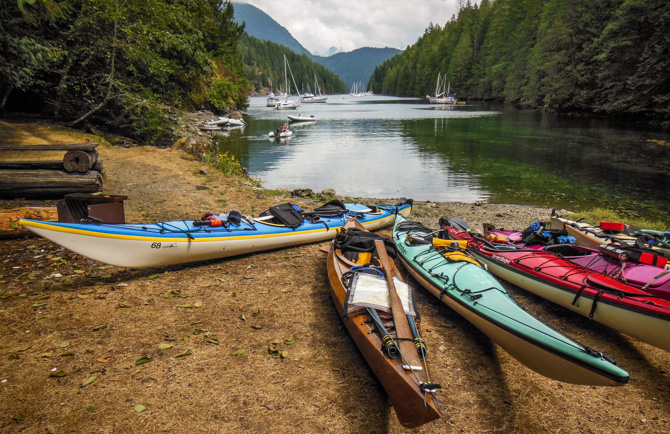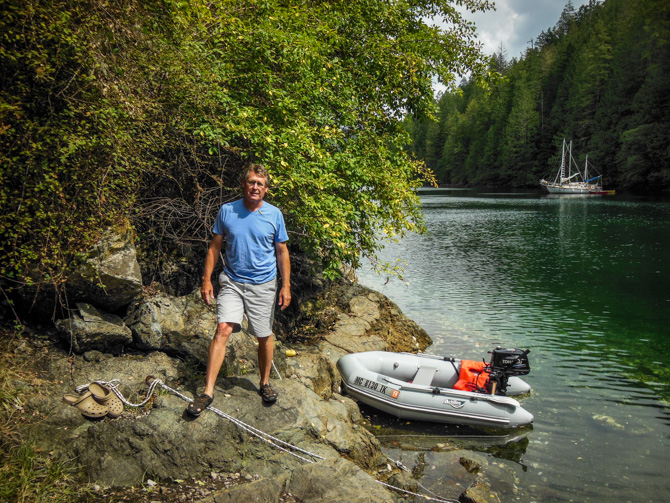 Pin It
Continue reading...
---
on August 13th, 2013 in
CANADA
,
CRUISING :
,
Desolation Sound
,
PACIFIC NORTHWEST:
by
Jim Favors
|
No Comments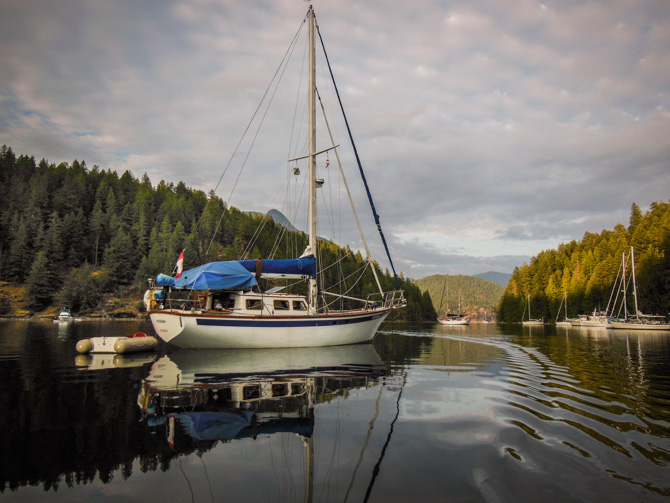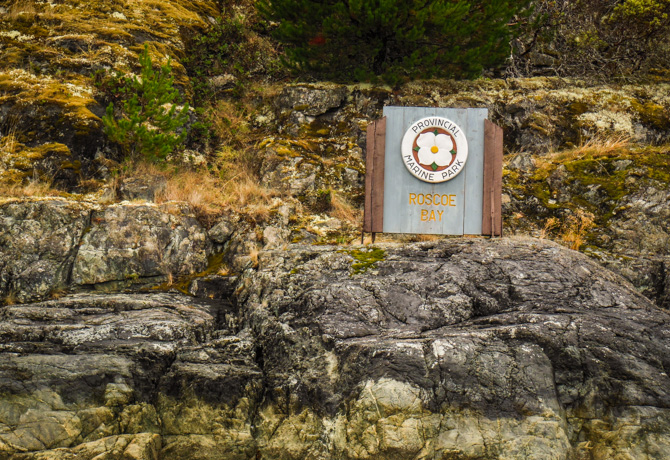 We saved the last two days of our Desolation Sound cruise for Roscoe Bay. Once inside the narrow entrance to the inner cove (which guide books state is best navigated on a rising tide), we took our time to slowly cruise the anchorage (photo-below), we wanted to find the perfect spot before we dropped anchor and stern tied to shore. There was plenty of room available, so we could be choosy about our selection which was located all the way up into the bay. Surrounded by pine trees and high rock bluffs, the cove offered, not only a picture perfect setting but, a lot of protection from any potential foul weather.
The entrance to Black Lake (above) was just a short dinghy ride from our anchored boat.
Pin It
Continue reading...
---
on August 12th, 2013 in
CANADA
,
CRUISING :
,
Desolation Sound
,
PACIFIC NORTHWEST:
by
Jim Favors
|
No Comments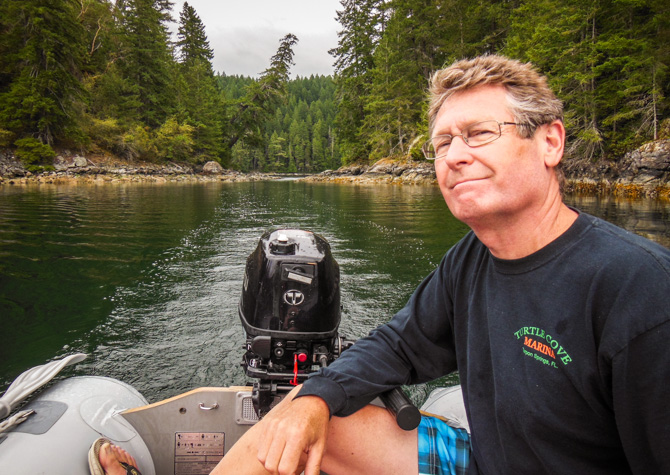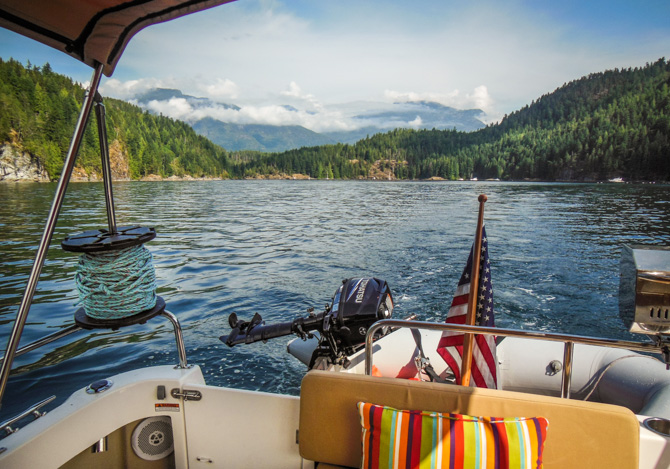 We left Pendrell Sound this morning to motor over to Squirrel Cove. Several boaters recommended this spot as a very well protected anchorage and since our weather turned a little sour we decided the cove might just be the ticket for a good night's sleep.
The photo below not only shows a pretty typical type of cruising boat in Canada's Desolation Sound but some of the huge logs boaters have to contend with when cruising this area.
Squirrel Cove is a popular place, it provides a very protected anchorage for a large number of boats and, as a bonus, there's a small village nearby – we love an opportunity to get off the boat. That's just what we did shortly after we got settled at anchor; we jumped into the dinghy and headed toward town. The wind had really picked up outside the cove and it was a pretty rough  one-mile ride in our little 7.5-foot dinghy.
It doesn't take much to entertain us, a little walk, lunch off the boat, and a stop at the grocery store for a few supplies or just to check the availability of produce and goods, this trip out we even picked up some blackberries from a roadside stand. We desperately needed to dispose of some garbage that had been collecting in the corner of the cockpit of Kismet and we'd heard the town dock was the place to drop it off.
The pirate boat (below) sent their tender out to collect a small group of aptly dressed young ladies.
Our trip into the village was three hours tops. As far as getting off the boat, Lisa was good to go for another day, but I was still up for a little more exploration by dinghy, so when I dropped her off at the boat, I continued on to explore the anchorage. As it turned out it became a little more than I had bargained for… I almost missed dinner.
Sometimes a guy just has to get away by himself to explore new territory by himself. I thought this would also offer up an opportunity to return to the boat with stories to share with Lisa, something hard to do when we're always together. I had heard about an inner lake near the anchorage that is impossible to transit, even by dinghy, at low tide, also not possible at high tide when the current is creating a full-fledged rapids, but I my source said that it could be negotiated at or close to slack tide. Sounded like just the sort of challenge for me… just what I was looking for to brighten up my afternoon.
Consequently, I set out to investigate this mysterious channel before slack tide, thinking to myself that this adventure would be worth some spousal separation. Time wise, I thought a good half hour or forty-five minutes tops would do the trick. As I approached the northeast side of the small inlet to the lake, I could see water filling the approximately 100-foot channel with incoming tide. I ventured a little closer to get a better vantage point, thinking all would be OK and just as I was processing this thought a kayaker had come through the rapids and continued past me. As I inched closer I realized the shallow, rock laden, and narrow mouth of the inlet would be problematic for my small dinghy, much less returning against the current. TOO LATE!!! The outboard prop caught a rock, the engine died, and I went for the oars… without control of the dinghy the current sucked me through into the calm interior of the landlocked little lake.
Now what to do, I thought to myself as I restarted my outboard and slowly cruised around the small pristine lake, enjoying the undisturbed natural setting. May as well take a look around while I was there, but all during that time I was thinking how the heck am I going to get back out. Nightfall was not far off and slack tide was at least two hours away. Of course I had not brought my cell phone or portable VHF radio, so  I couldn't alert Lisa, who was comfortably enjoying our anchorage back at Kismet. It was about this time I spotted another dinghy in the far reaches of the inner lake and decided to head his way. My thoughts were that this guy would have more knowledge of the area than I did and surely would have an exit strategy in place. Subsequently, I introduced myself to Peter, who I found out was in the exact same predicament as myself, he was also stressed about being late for dinner back on his anchored boat and perplexed as to what to do next.
Peter suggested we both raise our outboard dinghy engines to their highest transom elevation, in order to reduce our draft, then we could try to run hard up against the turbulent rapids. We both tried and failed, the current was that strong against our small outboards, besides, if we had drifted into the really shallow rock areas we could have caused damage to the prop and/or the dinghy. Our next strategy included the aid of a friend of Peter's who had, lucky for us, had just kayaked up to the inlet and landed his craft on the outside mouth of the rapids. Peter's friend suggested we do a three-way relay and pull the dinghies (one at a time), with a long painter line, up through the rapids. At shore's edge one person stood on slippery rocks, steadied the dinghy close to the rock strewn shore, another pulled the dinghy forward 20 feet, while the third person took the newly created available line up the channel another 20 feet and began another pulling process. We did this relay method three or four times for each dinghy and finally made it back to the anchorage with both Peter, his friend and I returning to the dry warmth of our respective boats… just in time for dinner.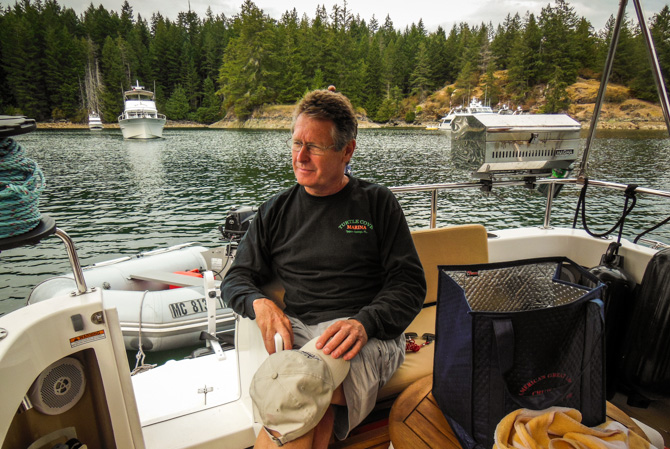 By the time I got back to the boat, I was pooped, but it was a fun time and makes for a good story.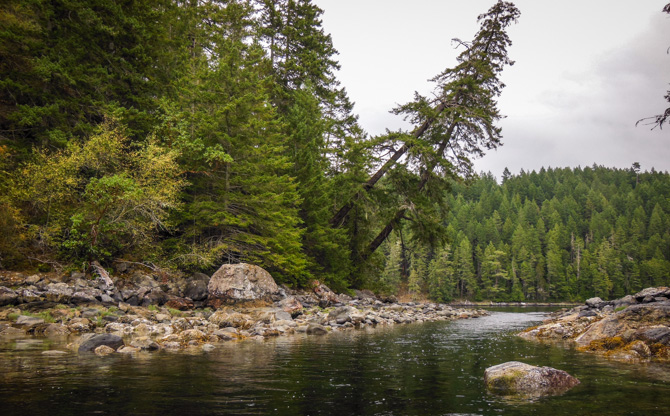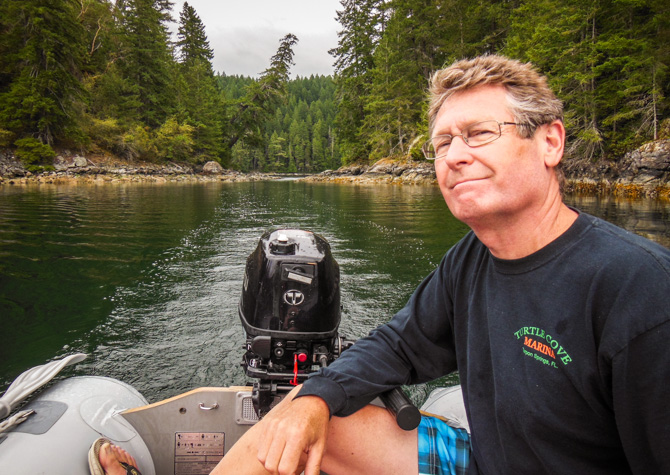 I was so excited about my little adventure, the next morning before we left the cove, I took Lisa over to the rapids so she could fully appreciate the dilemma I faced the day before.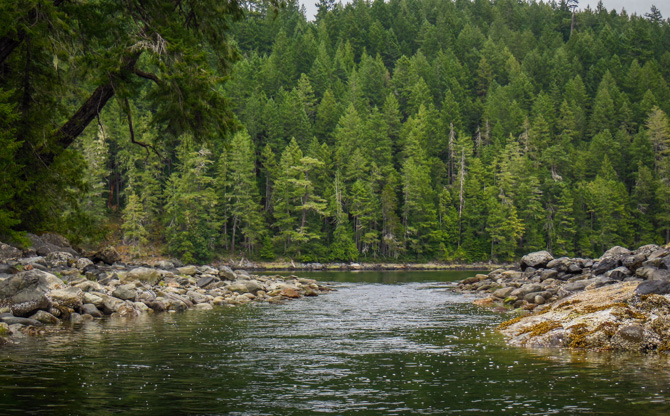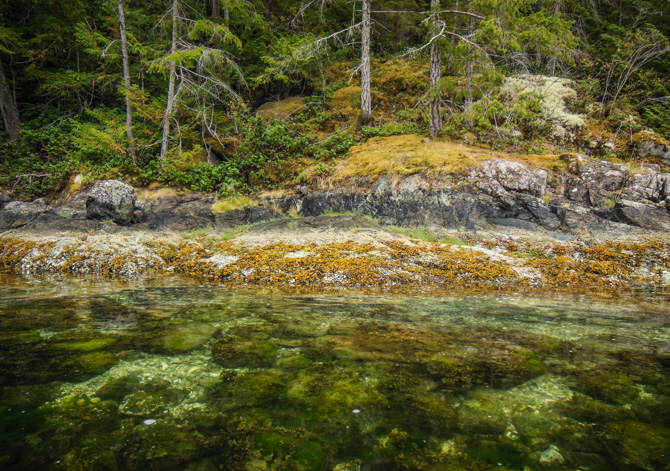 Pin It
Continue reading...
---
on August 11th, 2013 in
CANADA
,
CRUISING :
,
Desolation Sound
,
PACIFIC NORTHWEST:
by
Jim and Lisa Favors
|
No Comments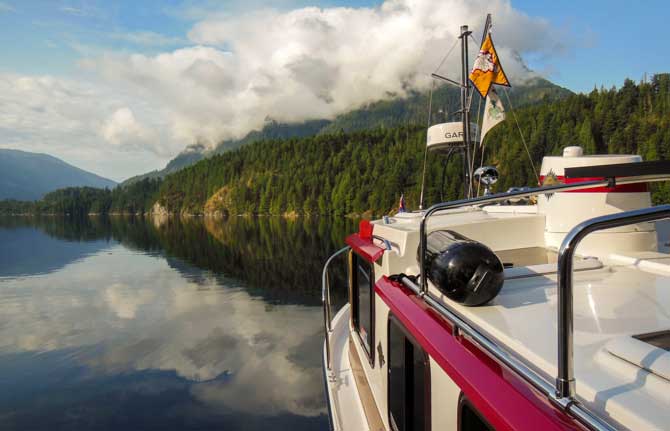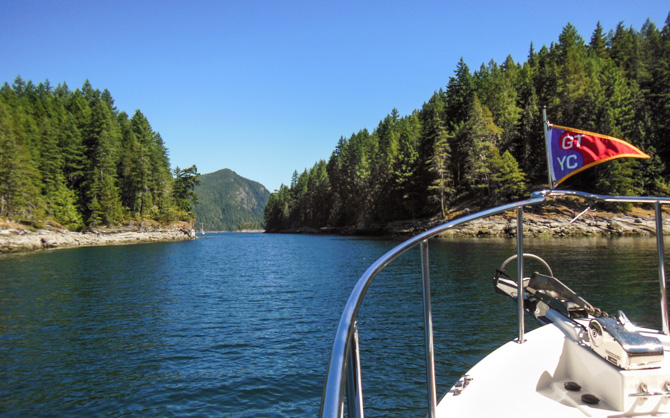 We left our anchorage at Octopus Islands late morning, during slack tide, to head to Pendrell Sound. Just as most days during this trip, we had sunny skies and calm waters for our day's cruise.
"How was the swimming?" We often get asked this question in regards to how a cruising territory meets some pretty typical boater's desired water activities. The reason I bring this up in this post has to do with our stop in Pendrell Sound. British Columbia's Desolation Sound is located within close proximity to the 50th parallel. As a reference the only place above this parallel, in the United States, is Alaska. With that said you'd think the water would be too frigid to go swimming. Not so!
If you look at a map you'll notice Queen Charlotte and Johnstone Straits are situated north of Desolation Sound, while the Strait of Georgia is to the south. In the middle sits Desolation Sound where the meeting of the tides occurs. The proximity of these straits and poor tidal circulation, as described to me by a local boater, is what maintains a summer water temperature averaging 74° and some of the warmest salt water north of Mexico. We initially thought our thermometer was broken when we stuck it in the water to gauge the temperature before jumping in, it registered a surprising 79 degrees (most of the rest of the Pacific Northwest bodies of salt water averages a brisk 48 to 54 degrees).
With that said we didn't waste any time getting into the water after getting settled into our two-day anchorage, located at the very tip of the Sound.
We spent most of our time swimming and relaxing in the warm sun. In between swimming and enjoying our new fjord-like setting, we ventured off to explore the upper part of the large cove by dinghy. There was quite a variety of vessels anchored in our midst, everything from boats our size to a mega yacht and everything in between.
Returning from our dinghy ride, we stopped to visit a large oyster farm not far from our anchorage. Oysters like warm water and seem to thrive in Desolation Sound. While talking to one of the farmers, we learned that the warm, dependable, water temperature of Pendrell Sound makes it an ideal location for this major oyster culture operation, specifically to collect oyster seed (spat). Pendrall Sound was eventually set aside as a reserve to protect breeding oyster stocks. The type of oyster most widely cultivated in BC and the PNW is the Pacific oyster which is not native to the area, most of the seed was imported from Japan to British Columbia between 1930 and 1940s when they eventually became naturally established. Like most farming the work they do looks pretty demanding, but if you like to work outside and be on the water with Mother Nature I don't think you could find a better setting than Pendrell Sound.
It was hard to leave Pendrell Sound in our wake as we headed out after two days of blissful anchoring, but there is still more for us to explore before we leave Desolation Sound.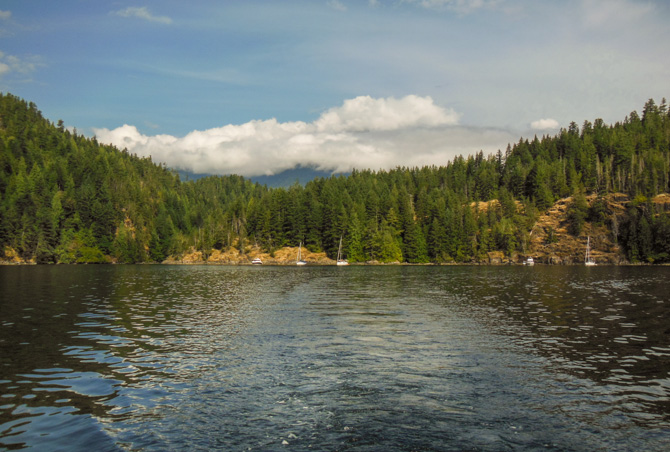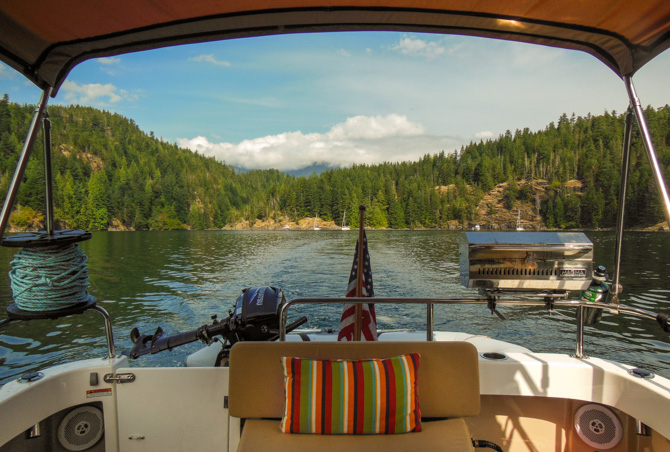 Pin It
Continue reading...
---
on August 9th, 2013 in
CANADA
,
CRUISING :
,
Desolation Sound
,
PACIFIC NORTHWEST:
by
Jim Favors
|
1 Comment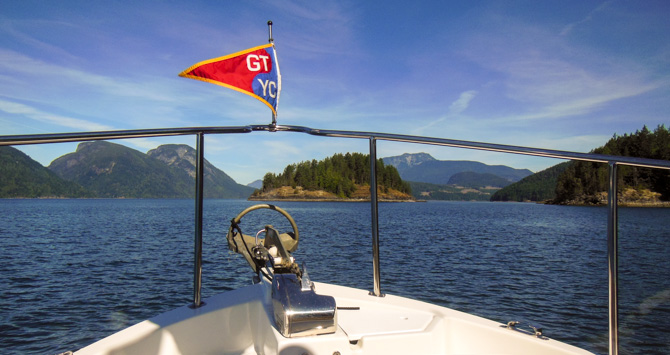 After a restful time at Toba Wildernest we departed late morning for Octopus Islands Marine Park on Quadra Island in Desolation Sound. Our departure was timed according to the tide schedule to achieve safe passage to and from the Octopus Islands area. Boaters have to properly negotiate one to three sets of rapids through narrow, shallow passages, depending on one's chosen destination.
"Rapids?" You may ask, "How the heck does someone do this in a boat?" First of all the key is to do it "properly." The tide fluctuates twice per day, up to 12 feet per cycle, but usually only 8 to 10 feet. When the tide is coming in or going out the maximum current runs up to 12 knots on the flood and 10 knots on the ebb. When the water is running either way hard rapids are created because there is simply too much water being forced through tapered, shallow, channels. When the flow slows, close to the tidal swing, the current subsequently eases up; the rapids subside and become safe to transit at what is called "slack tide." This period of time happens twice a day – arrivals and departures to these islands are best timed by nature's clock. We've encountered several rapids during our time cruising in Desolation Sound and British Columbia due to the mountainous topography and huge tidal swings.
To get to Octopus Islands, and our selected anchorage, we had to transit a channel called "Hole In The Wall" (the two photos above shows the channel after we finished going through it). We timed our morning departure so we'd arrive at the east end of Hole In The Wall 30 minutes before slack tide, so we never got to see the rapids in full force, and we're glad of it. As it was the still active current could be felt pushing Kismet around as we worked our way through the many eddies that had not quite settled down. Lucky for us we have enough engine horsepower to power through stronger currents and eddies at slightly less then slack tide. I'd guess the current was running about 3 knots when we transited the pass, just enough to be exciting but not enough to be dangerous. After we passed through the rapids we soon entered Small Inlet and arrived at our chosen anchorage spot in the heart of the Octopus Islands.
There are several areas to anchor in the Octopus Islands, we choose a smaller cover with only a few boats already anchored. We could look out into the larger cover (above) from our anchorage. Then there were a few even smaller coves like the one below that only a couple of boats could anchor in.
We saw some mammoth sea kelp (above) around the islands here, the biggest we've seen anywhere so far.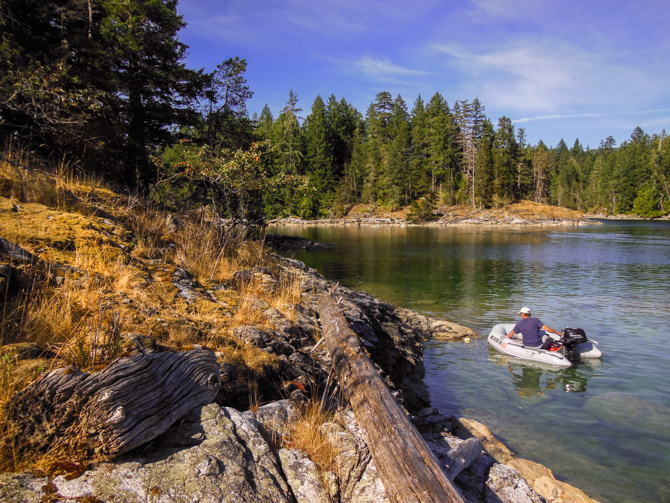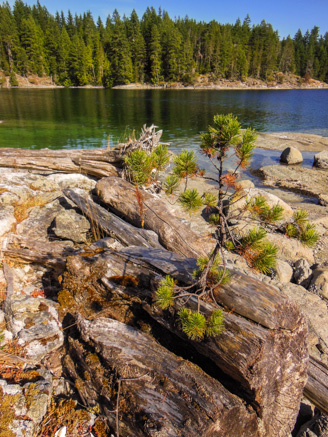 Pin It
Continue reading...
---