on October 14th, 2012 in
CRUISING :
,
Tennessee River
by
Lisa Favors
|
No Comments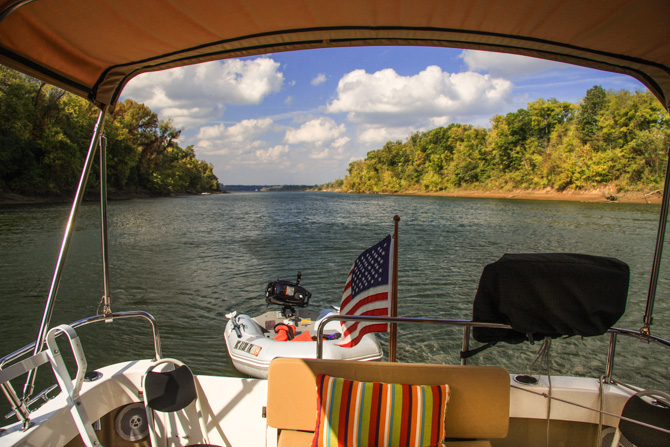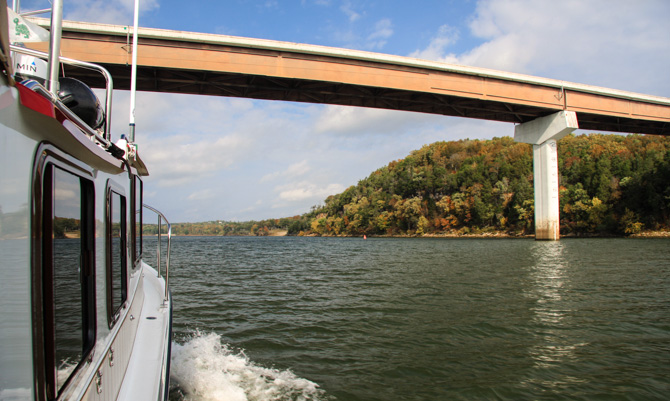 A beautiful fall day presented itself to us as we headed out, from Clifton Marina early the next morning, with a plan to anchor out at Diamond Island. With bright blue skies and a pleasantly warm day, we basked in the scenic beauty along the Tennessee River during our cruise. Lots to see with many boats on the water, some Loopers passing us and people fishing or relaxing along the sandy shoreline of the river.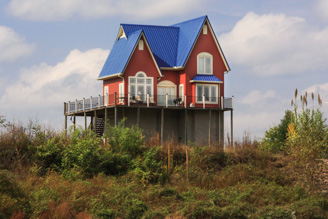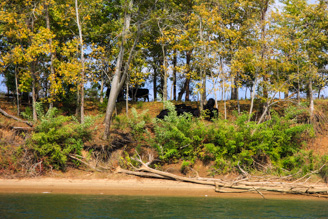 The houses along the river are interesting to look at and we enjoyed seeing this herd of cattle grazing along the river. (Above)
We met Bill and Bonnie, on Elissa II (above) during our stay at Clifton Marina, they are from Northport, Michigan, not far from our hometown. Small world isn't it?
This was our third time anchoring at Diamond Island, this was "home" for the remainder of the day after we left Clifton Marina. We knew there was a number of boats leaving Clifton the same day, so we were surprised to find we had the entire anchorage, on the east side of the island, to ourselves.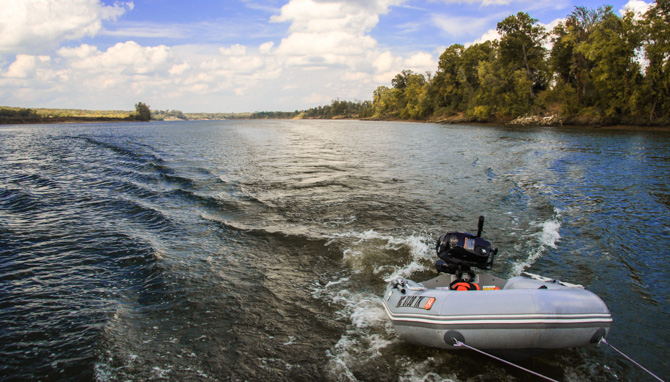 Diamond Island (the entrance to the anchorage – above), and the surrounding area, is called Pittsburg Landing where, in 1862, a large force of Union Soldiers stationed themselves for the Civil War's Battle of Shiloh. On this day, however, it was hard to imagine anything so horrific as a war taking place in this serenely beautiful spot.
As we settled in for a peaceful night on the hook, fellow Loopers, Joel and Debbie, on Watermusic (below), arrived just before dusk and dropped anchor downstream, behind us. The weather the next morning had changed and high winds were expected. Since we had the Pickwick Lock to negotiate, we decided to leave early before the wind had a chance to build and, as luck would have it, we were relieved to have gotten through the lock without a problem. By the time we made it to Grand Harbor Marina, with the weather quickly deteriorating, we were happy to be tied up to a dock. We were more than pleased to see a lot of Loopers there already, with more headed in later in the day. Of course a happy hour on the dock was organized and we got a chance to meet several more of this year's participants in the Great Loop boating adventure.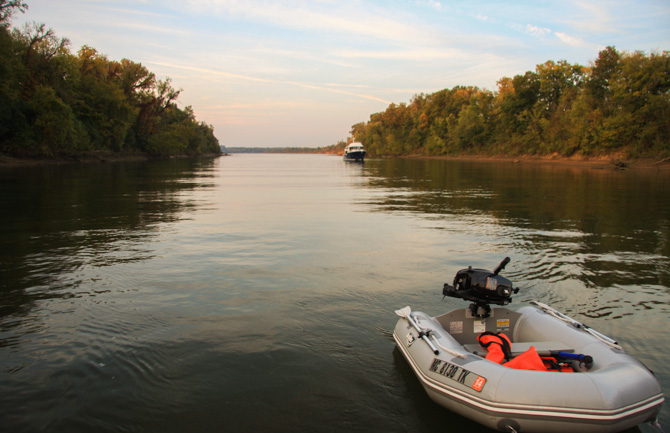 Pin It
Continue reading...
---
on October 13th, 2012 in
CRUISING :
,
Tennessee River
by
Jim Favors
|
No Comments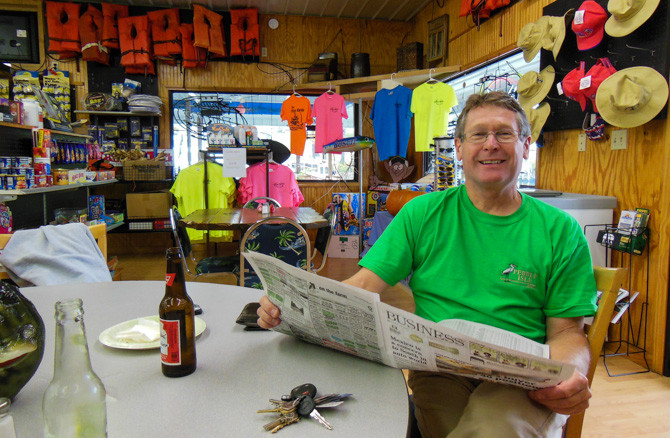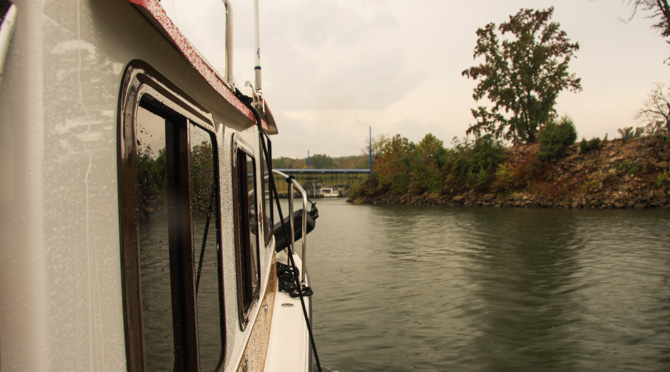 When we're cruising day after day and anchoring out overnight, we get to a point where we'd like to take in the creature comforts a marina will afford. Most marinas offer the essentials of power, water, fuel, laundry and showers, but every once in a while we are "wowed" – our second stay (first visit was during our second Loop trip in 2008) at Clifton Marina in Clifton, Tennessee was exactly that. The welcoming reception and unique experience we received while in Clifton could just well be this part of the country's well-known southern hospitality or maybe it's a business owner who really cares about his customers. In any case, transient boaters, cruising the Tennessee River, who are lucky enough to have turned toward the eastern shore at the end of a cruising day to enter the narrow channel at Clifton Marina, get an experience above and beyond the norm. This is Gene's (the owner) little piece of paradise, but we learned fairly quickly that the marina is really run by his more recent manager, Sonja.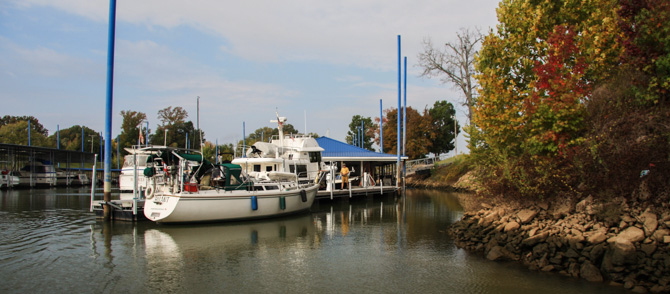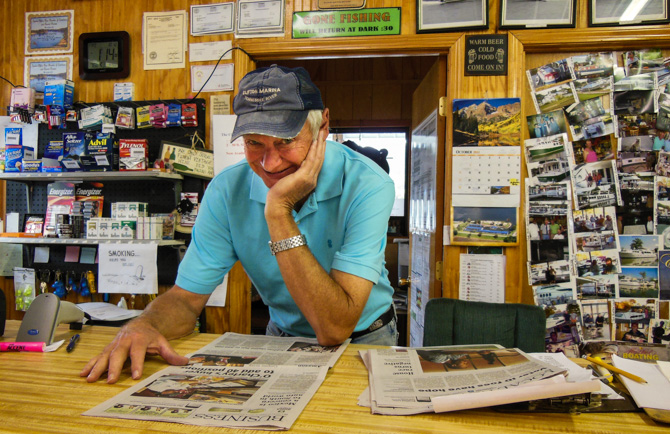 Gene (above), the owner of Clifton Marina, knows he's got a good thing going at his establishment.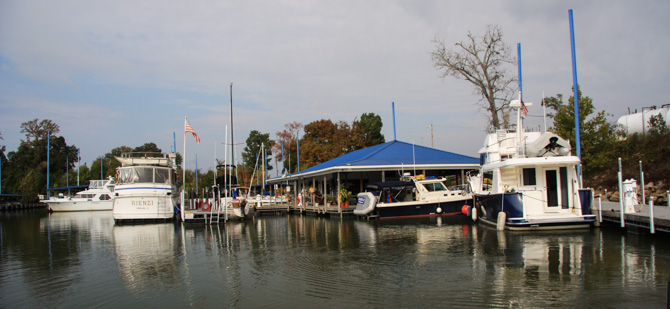 The wow factor comes into play because of how well Sonja manages it all – juggling different tasks always with a big smile and friendly disposition. Everyone agrees she's a Loretta Lynn look-alike (and sound-alike) with a beautiful smile to enhance the effect. Sonja was always there, sun up to sundown, making sure everyone was taken care of with dock and slip assignments. She'd run out to take care of her marina duties between preparing and stirring the gumbo, and bantering with the rest of the marina staff, who we think enjoyed watching her multitask as much as we did. When we arrived Sonja had just begun to prepare a huge pot of gumbo, it would be offered later in the day to whomever showed up for at the marina for dinner.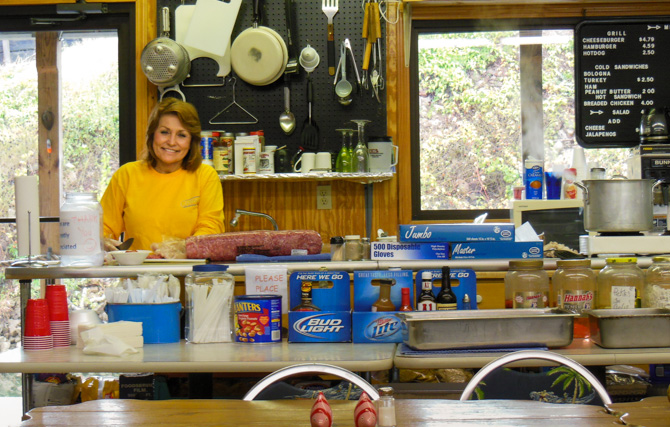 We first met Sonja (above) as she was dicing ingredients that would go into her famous gumbo.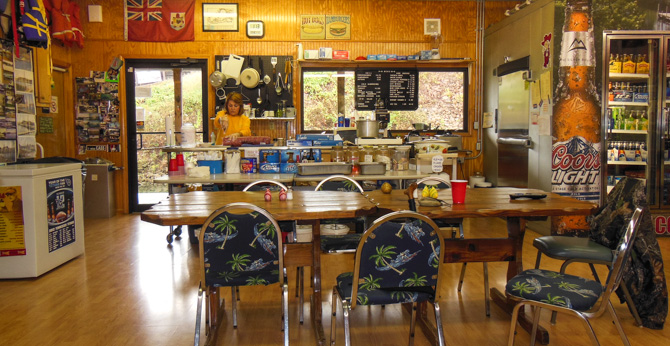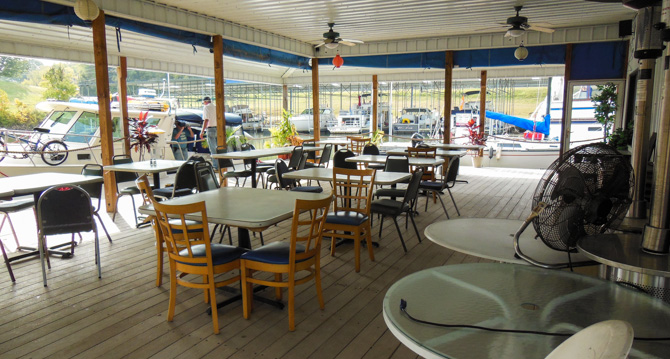 Clifton Marina's attractive building, directly situated in the thick of things at the marina, houses the office, small necessities and marina store, TV, kitchen/restaurant – all in one big open room, along with a combo laundry room/shower facility and a large outdoor, covered porch providing an airy boaters lounge fully equipped with TV and eating area.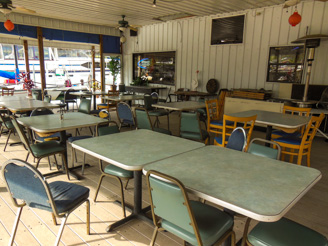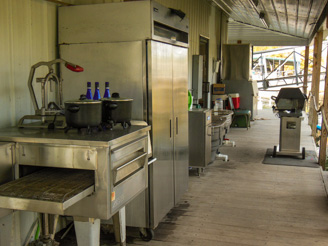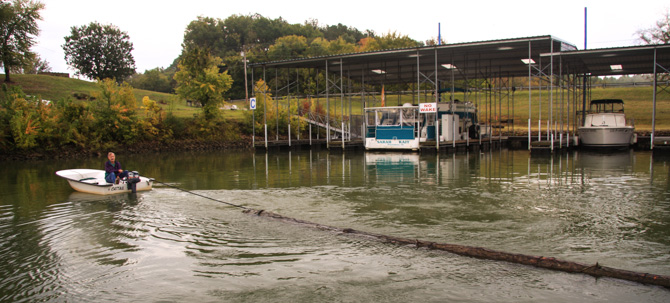 Minutes after we arrived we noticed this boater helping out the marina by dragging a huge log out of the fairway with his dinghy.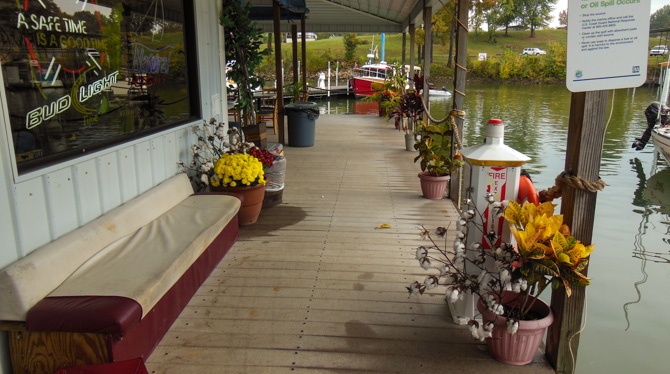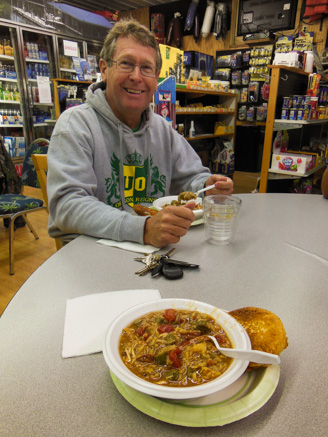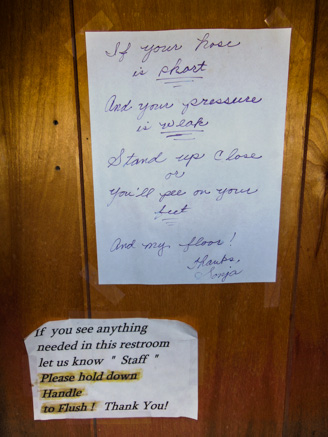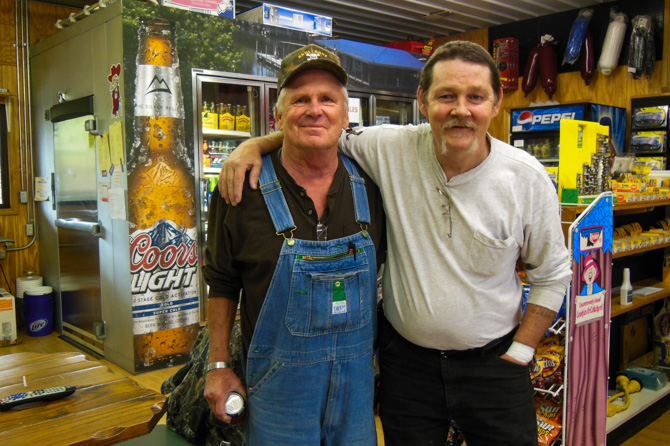 Sonja's husband and brother are regulars in the marina office/boaters lounge, we enjoyed their humor and friendliness during our stay.
We borrowed the marina's courtesy car (above) for a quick trip into town.
We thought the above photo was interesting since it's probably the only time we've had a shot of our Ranger Tug next to a Fathom 40 which is the same model as our previous boat, only with a grey hull. Great shot for size comparison between the two boats.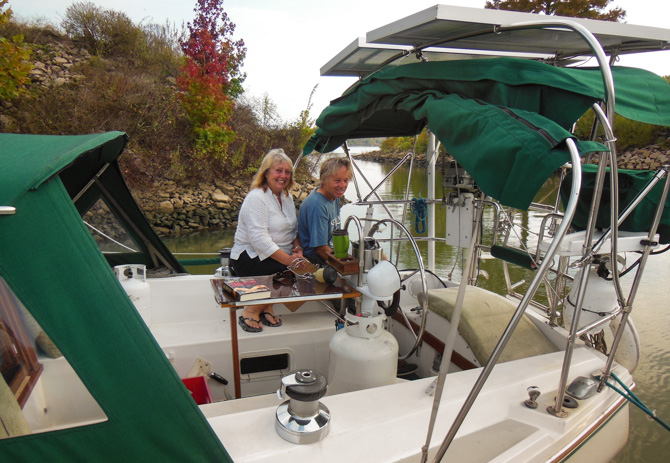 We met our dock mates, Mark and Jo (above) on Truant and enjoyed a short chat with them on their boat after which Jo and I exchanged some old books.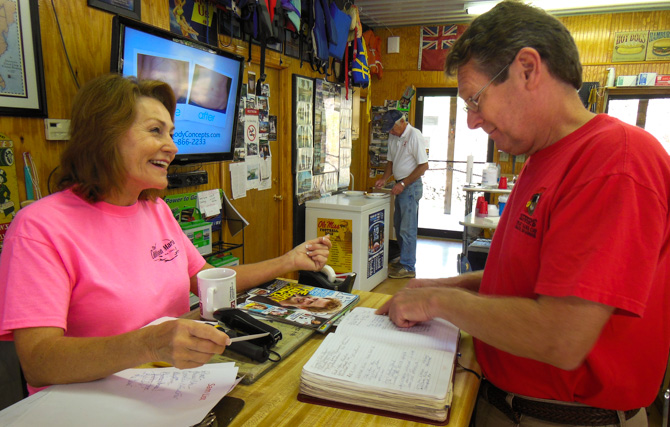 Jim is checking out (above) and signing the guest register, shortly after adding our info, he flipped a chunk of pages back to 2008 and found our entry in the register from that year, it was when we discovered this little slice of heaven years ago, we were on our second Loop trip, on our Fathom 40.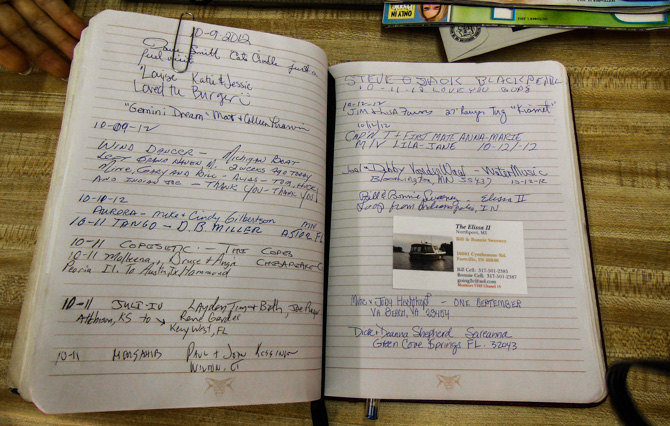 Pin It
Continue reading...
---
on October 11th, 2012 in
CRUISING :
,
RIVERS
,
Tennessee River
by
Lisa Favors
|
No Comments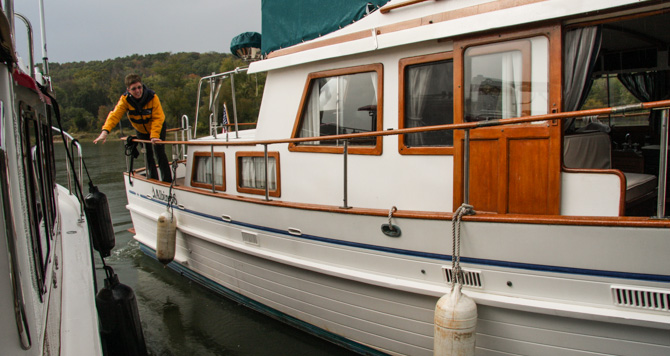 Staying in the travel mode of leaving late and quitting  early we only cruised 15 miles today, stopping to anchor out in Lick Creek. This was our first time in Lick Creek, a new experience in a natural setting. We worked our way into the unmarked serpentine channel with the aid of our GPS, traveled past a few deadheads and very shallow water to an area with 5 to 9 foot depths. It was well away from the river barge traffic, so we settled in for a cozy afternoon warm and dry inside our cabin as it lightly drizzled outside.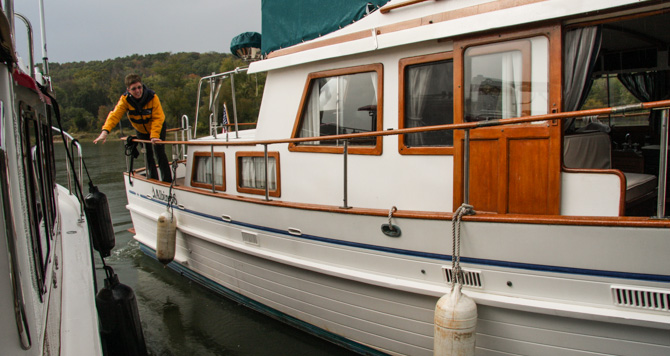 We had made prior arrangements to rendezvous with the crew on 0 Regrets, they were heading north on the Tennessee River at the same time we were traveling south. We hardly ever miss an opportunity to talk with someone about boating and Lick Creek provided a great spot to tie off each other for a short visit. After swapping boat stories and experiences they were off to Green Turtle Marina, their homeport and we were left to swing on the hook in Lick Creek by ourselves.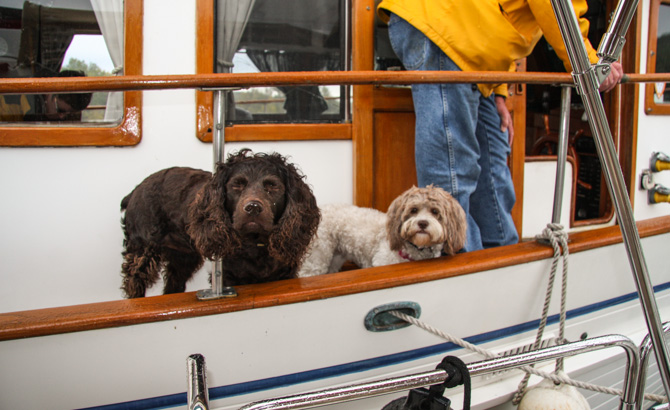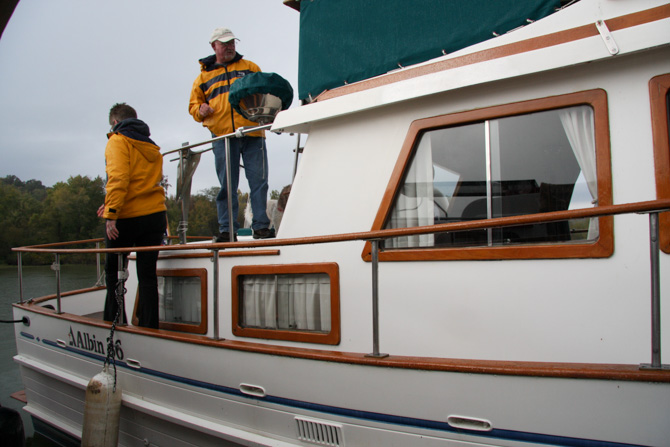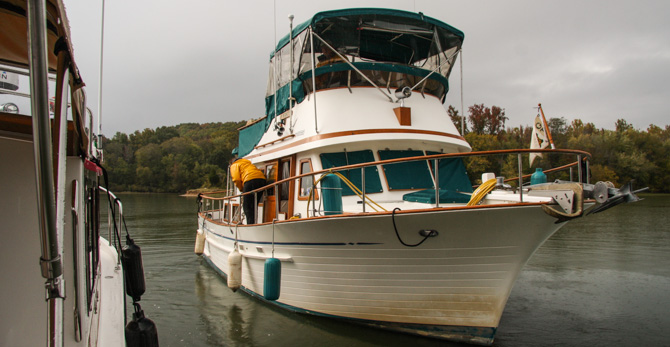 Continue reading...
---
on October 10th, 2012 in
CRUISING :
,
RIVERS
,
Tennessee River
by
Lisa Favors
|
No Comments
Leaving Pebble Isle Marina we had our sights set on an anchorage we'd never been to before. Twenty miles up river at MM116 of the Tennessee River is Blue Creek, Cuba Landing Marina is located there. (The photo above, and below, shows the entrance to the marina and the cove we anchored in.)
Having just left a marina we inched our way past Cuba Landing to a shallow, relatively open cove. We found a few more boats anchored there for the night in 5 to 8 feet of water. We've never anchored in Blue Creek before, we liked finding such a well-protected spot. We enjoyed a pleasant evening on the hook and felt it is has all the characteristics of a good layover stop as one works their way up or down the Tennessee River.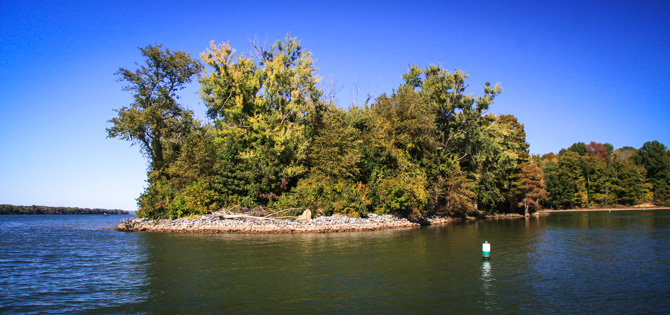 Our anchorage (below).

Continue reading...
---
on October 9th, 2012 in
CRUISING :
,
RIVERS
,
Tennessee River
by
Lisa Favors
|
No Comments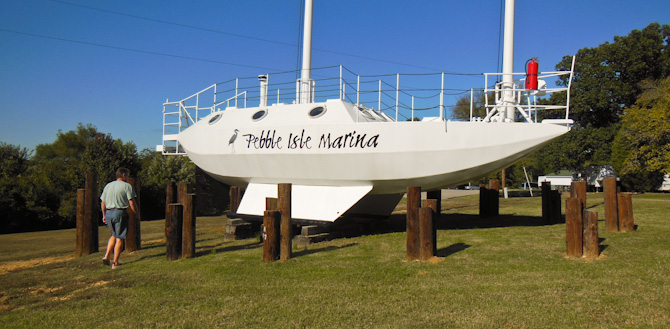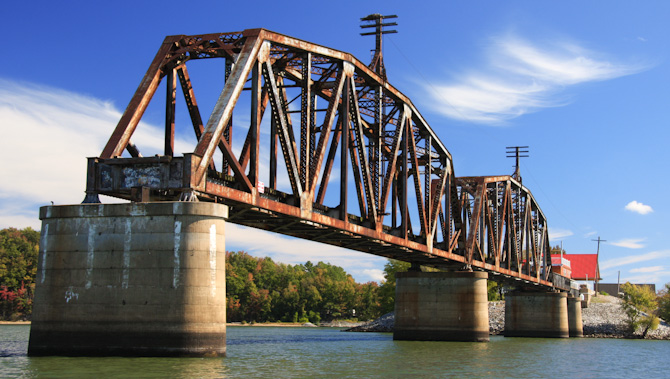 At MM-78.2, on our way to Pebble Isle Marina today, we passed the Louisville and Nashville RR Bridge (above), a non-functioning bridge at this time, probably only used for fishing now. Shortly after the bridge, we passed an abandoned, partly submerged building (below).
The Tennessee Valley Authority purchased many acres of land in preparation to create Kentucky Lake. The Kentucky Dam was completed in 1944, the area was flooded and many towns below the new water level disappeared. Lake Barkley was created in the early 1960's when a dam was constructed on the Cumberland River, only a couple of miles from Kentucky Dam. When the Cumberland and Tennessee Rivers were impounded to create the two lakes, an inland peninsula was formed. In 1963, President John F. Kennedy designated the peninsula as Land Between the Lakes National Recreation area. The Land Between the Lakes region has 215,000 acres of water, 300 miles of undeveloped shoreline and 170,000 acres of public land.
It was kind of eerie passing this ghost of a building, it made us think about how things used to be in the area and got us to wondering about what remnants of that prior day lay beneath the surface of the water.
Pebble Isle Marina is located at MM-96 on the Tennessee River,  we were looking forward to returning for a visit and some of their infamous morning cinnamon rolls. Owners Randy and Tami are well known for their infectious southern personalities, their hospitality and their genuine care and concern for the boating community, they are the kind of people that find it easy to welcome perfect strangers to their establishment and making quick friends in the process. This was our third visit to Pebble Isle and we've returned because we know a good marina when we see one. The homemade cinnamon rolls made every morning in the marina kitchen are just one of the friendly features this marina provides their transient boaters.
Randy and Tami keep their marina "ship shape," while exuding a friendliness we've come to expect, and enjoy, while cruising the Tennessee River and the surrounding southern states.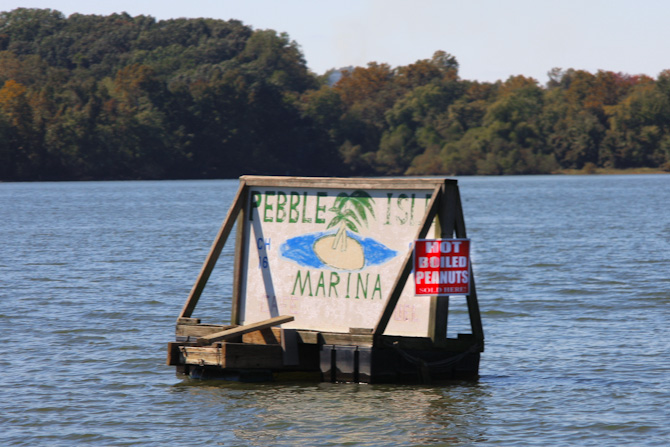 We arrived fairly early in the day and immediately pulled up to the fuel dock to fill up on diesel, they have some of the best priced fuel on the river. They helped us secure our boat into our assigned slip and offered the use of their "loaner car". Since cruising boaters don't often have the means for provisioning while on the river system, many marina's have a car available for running errands, usually the grocery store, but we sometimes like to use provsioning as an excuse so we can check out a nearby town. Oh and by the way we met Loopers from other parts of the world during this stop, one boat was from New Zeeland and the other from Brazil.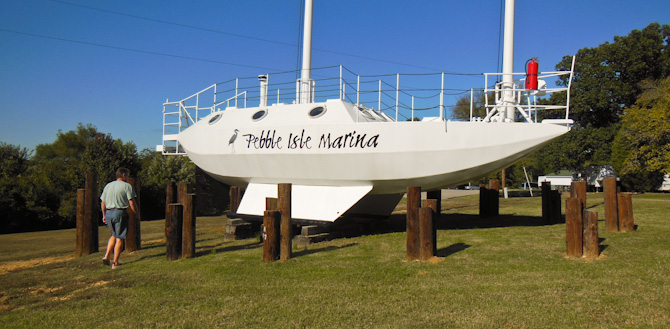 Last time we were at Pebble Isle, this boat looked in sad shape (below). Randy and Tami did a nice job getting her back in ship shape to become signage at the entrance of their marina.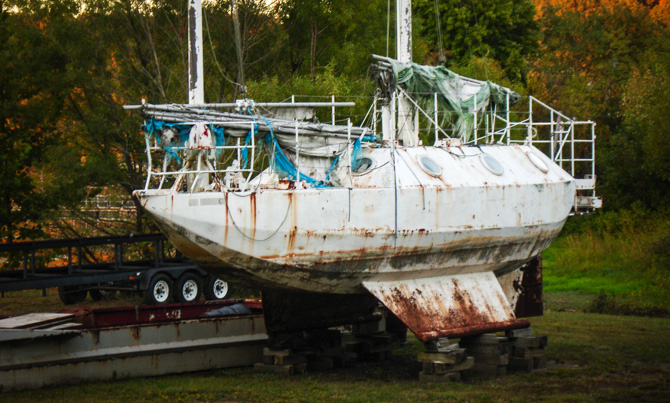 The marina is located within walking distance of the Johnsonville State Historic Park. Civil War enthusiasts will love an opportunity to absorb some historic landmarks relevant to this area while getting some excercise at the same time.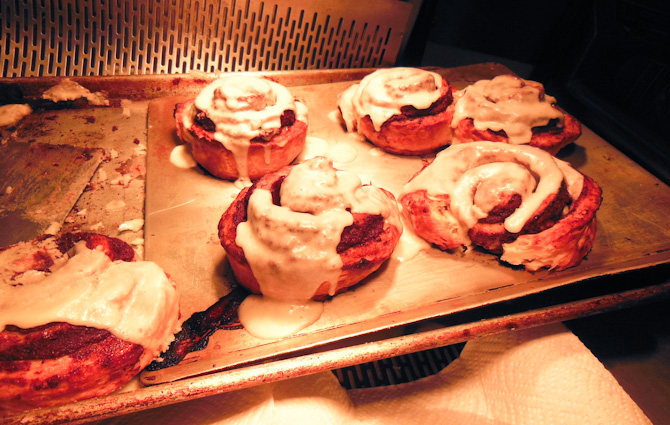 Gabi and Rob (below), on S/V CanCan, met us one morning at Pebble Isle for breakfast, they are friends of a friend who told them we'd be in their area; they had some questions on trailerable boating. Of course we had those delicious cinnamon rolls and a good conversation about both our boating exploits and adventures. After breakfast, Rob and Gabi drove us into town to visit the hardware and grocery stores, it's just what boaters do to help each other. Jim needed a part for something he was fixing and Gabi and I found stuff we needed for our respective dinners, and as the sign below so clearly states… the butcher was in.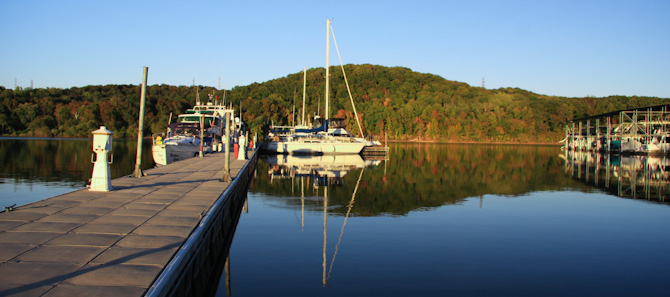 Pin It
Continue reading...
---
on October 8th, 2012 in
CRUISING :
,
RIVERS
,
Tennessee River
by
Jim Favors
|
No Comments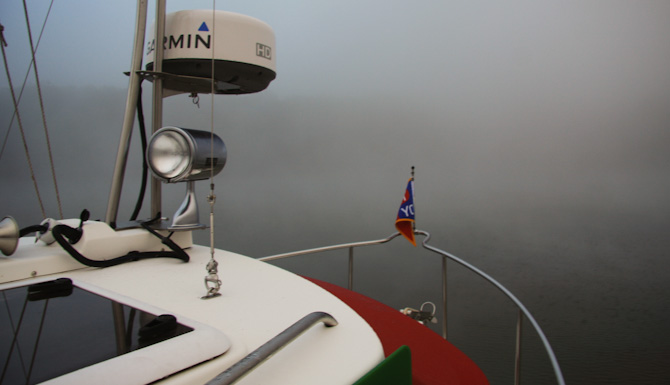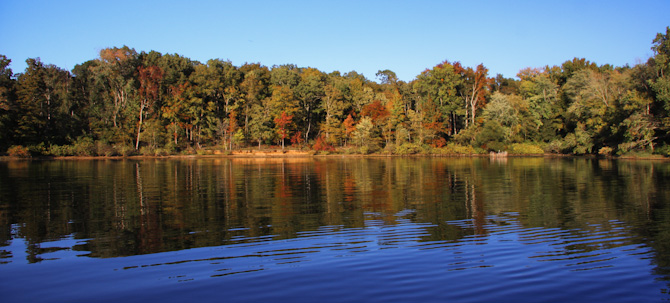 We left Duncan Bay knowing we'd travel south on the Tennessee River for only 4 hours, so it wasn't going to be a long day. Twenty-nine miles later, at mile marker 62.6, we made a starboard turn into Cypress Creek, then another right into the first cove. What we found was a anchorage that provided us calm waters in a very protective, natural surrounding.
Because of our short cruise day I took advantage of the calm water by continuing my work on the dinghy davit bracket installation (see next post). I like to maximize my down-time by having a few projects in the works, like waxing the fiberglass or stainless, changing the oil or cleaning sea strainers. There is never a lack of things to do when spending a lot of time on a boat.
The next morning we woke up to find ourselves completely immersed in a thick bank of fog. It was so thick, we could hardly make out where the nearby shore was; being able to see back out to the Tennessee River was impossible. We learned a long time ago that, when river cruising, it's best to sit tight and wait for the fog to lift if you can't see nearby land clearly. We were only delayed a few hours, so we sat back and enjoyed the changing conditions; Lisa took lots of photos as the thickly veiled fog as it moved quickly past the sun and our eventually left our anchorage.
Before long, the fog lifted to present a beautiful sunny day. Another great day ahead of us for cruising the Tennessee River.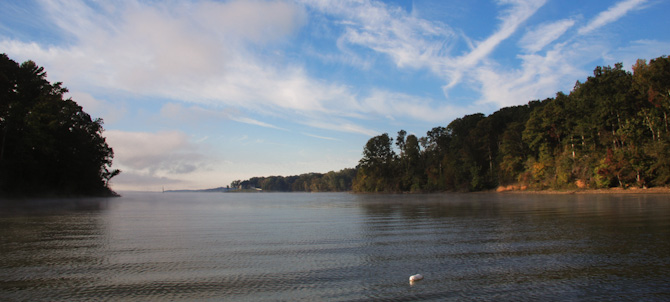 Pin It
Continue reading...
---
on October 8th, 2012 in
CRUISING :
,
MODIFICATIONS & UPGRADES TO KISMET
,
RIVERS
,
Tennessee River
by
Jim Favors
|
No Comments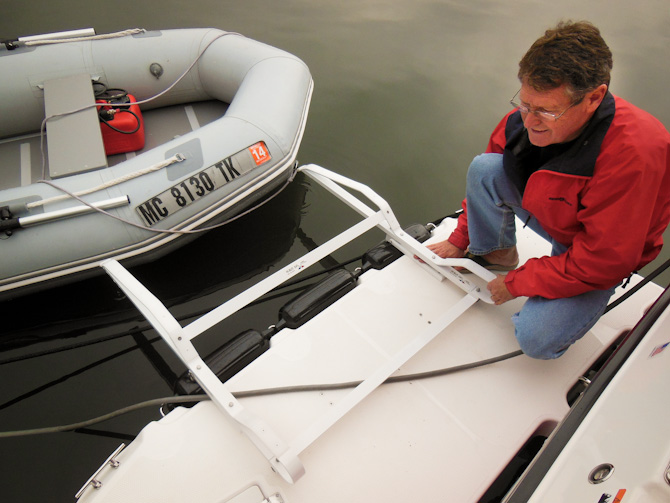 We had been towing our dinghy for over a year when we finally decided to get serious about finding a davit system. Towing is easy and inexpensive, however towing can also become problematic in rough seas or at higher speeds, so we wanted to find a solution, a viable launch and retrieve system where the dinghy would rest upright while overhanging the swim platform slightly. We thought it should be lightweight and detachable when needed, We also needed it to be somewhat flexible, so we could still use our swim platform without completely launching the dinghy.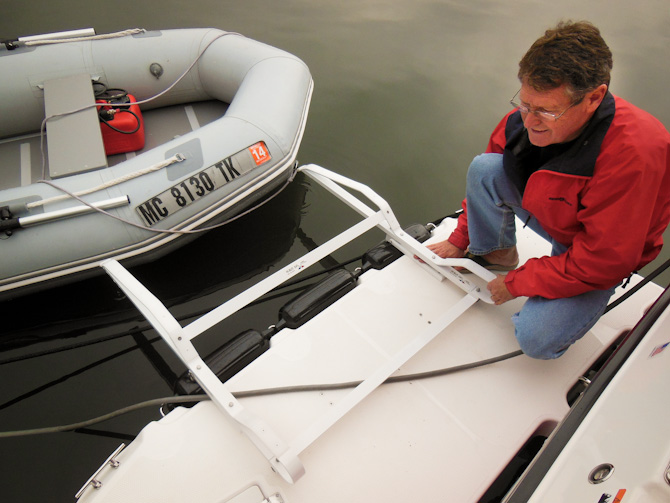 After much research and contemplation, we found a davit system, made by, HURLEY MARINE, it fit our specifications exactly. This will make things simpler for us, we won't have to always be conscience of having to pull up the dinghy line when we slow down for a bridge or lock opening or to anchor or dock. We won't have to concern ourselves with how the dinghy is holding up because it will be safely resting on our Hurley Davit system, high and dry.
We ordered the unit from Hurley before we left home to cruise the Tennessee River. We packed it in the bed of the truck along with all the other gear we would need for our trip south along with the necessary tools for installation. When we had a spare moment at Grand Rivers, I unpacked the davit to assess the requirements for installation and see what tools or equipment might be needed while we still had the truck close by and could run into Paducah for supplies; we needed to do this before we left Grand Rivers, and our truck, to cruise south.
Two days after we left Green Turtle Marina we found a free afternoon at anchor in Cypress Creek; the install was easy as could be with calm water in a well-protected anchorage.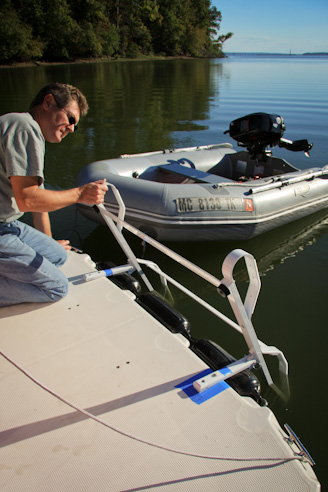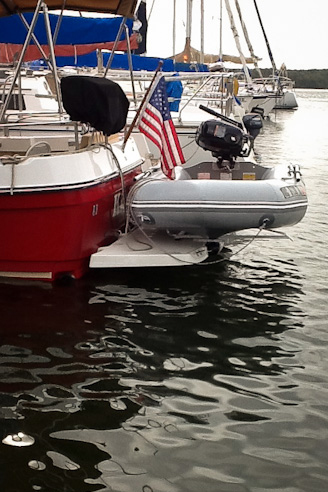 Pin It
Continue reading...
---
on October 8th, 2012 in
BOOKS
,
CRUISING :
by
Lisa Favors
|
No Comments

NEW!
Women On Board Cruising
See preview below…
Full Price – $44.90 for Both Books
Christopher Shustak's (below) When the Water Calls… We Follow


Susan Armstrong's (above) Women On Board Cruising
Full Price – $44.90 for Both Books
Pin It
Continue reading...
---