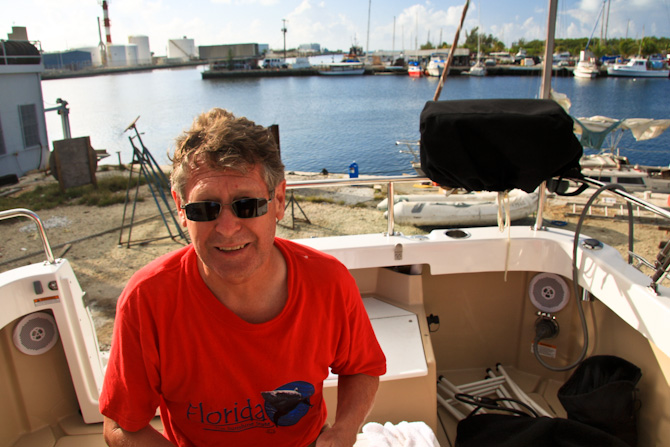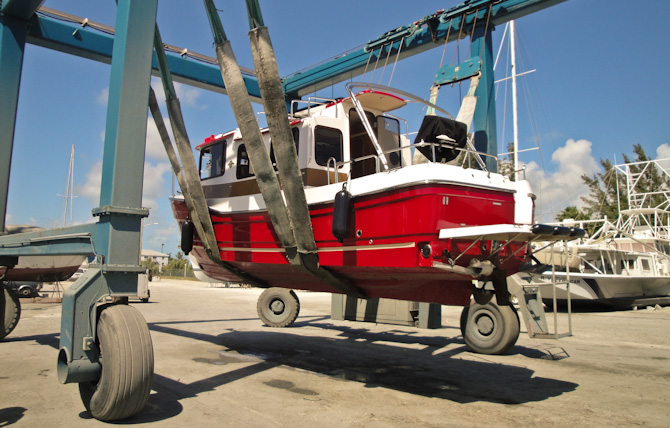 We never addressed the issue of bottom painting our Ranger Tug until one day, while taking our boat out of the water in Ft Myers Beach; we were surprised by the excessive growth of barnacles on the hull of Kismet. We recognized the problem and we wanted to take care of it ASAP. After arranging to have our boat hauled by 3D, a self-service boat yard in Key West, I began researching how to clean the hull and what to apply to help the process along and what kind of paint we might need. Because we use our boat in salt and fresh water, trailer it and, at times, it will sit out of the water, we found we needed to have a hard ablative paint for our particular usage.
After leaving Marathon and arriving in Key West, we launched our boat on Stock Island and cruised the short distance to the 3D Boat Yard to have Kismet hauled out by a travel lift for the first time. After a thorough power washing and initial scraping, the boat was settled onto jack stands and wood blocks for three days of bottom prep and painting "fun."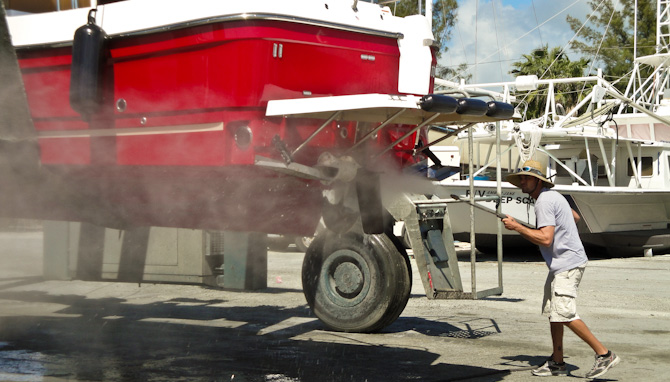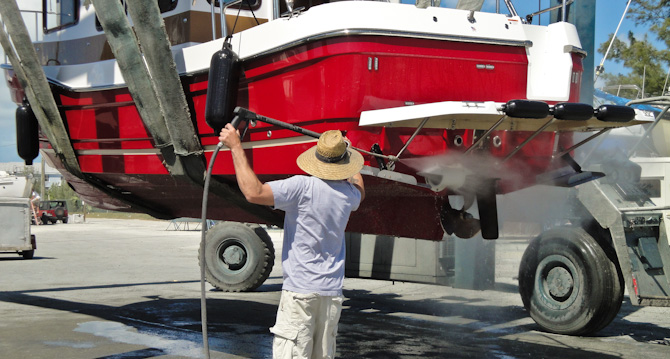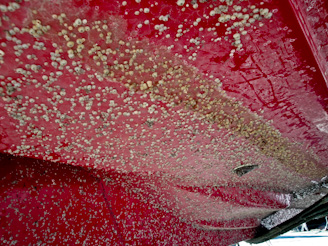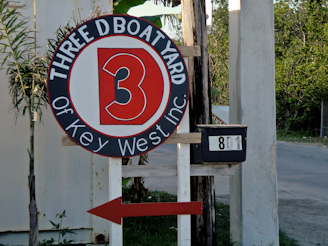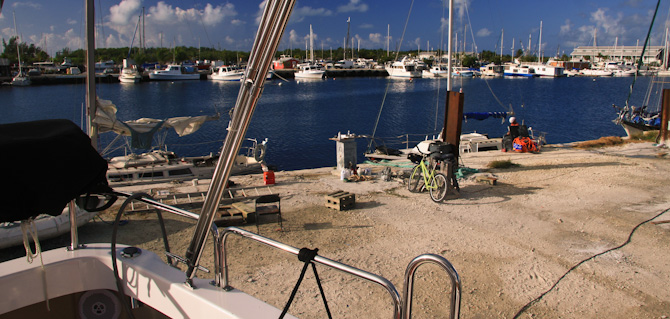 This was our "home" for three days while I worked on this nasty chore and the sea breeze and the water view helped ease the pain a little during our stay.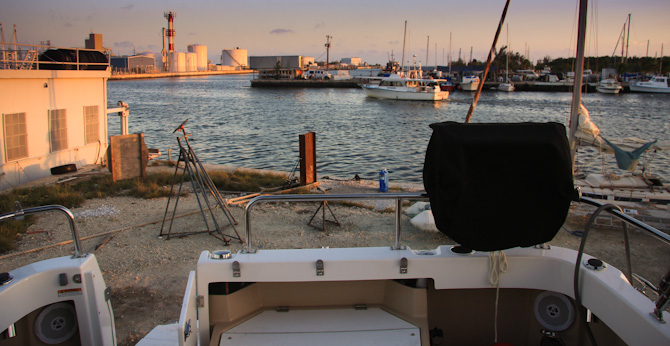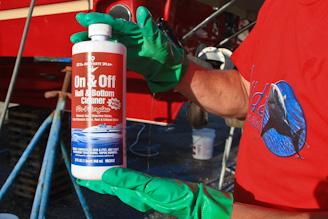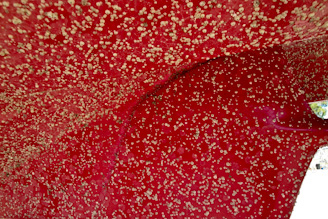 Our first dilemma? How I was going to clean the remaining stubborn barnacle scales from the entire underneath hull of the boat? It was a mess and seemed almost a daunting task. Lisa did some online research and finally found a product called On & Off and boy what a time saver it turned out to be. After being brushed on the hull the product instantly goes to work on, and dissolves, the barnacle residue. I applied the On & Off solution by brush, let it work a bit, then I scraped a little and rinsed. I did this two times on the entire hull, three times in a few tough spots.
The bottom line is, it's really better to take care of the bottom painting chore before this happens and, in our case, we should have done it a lot sooner.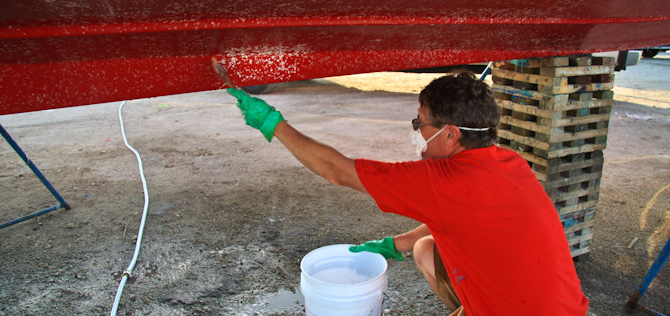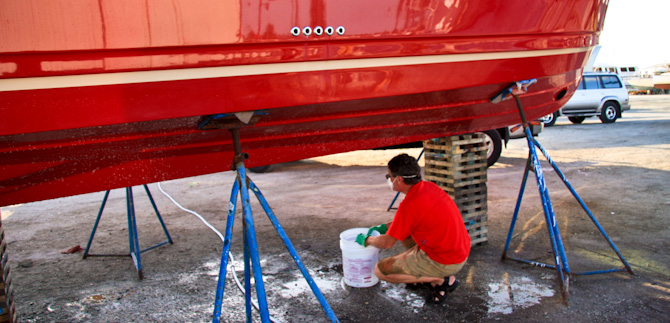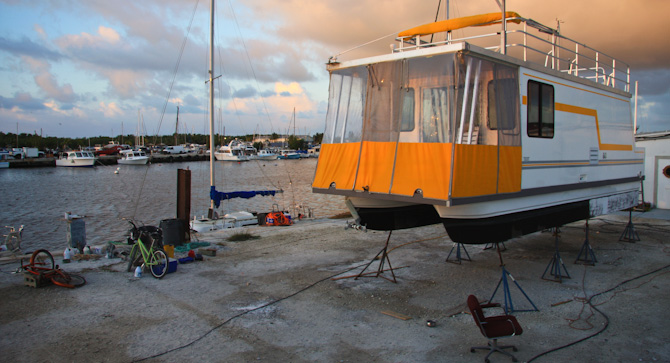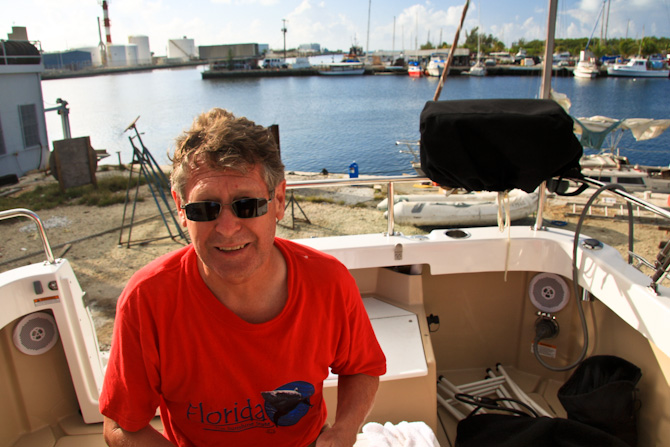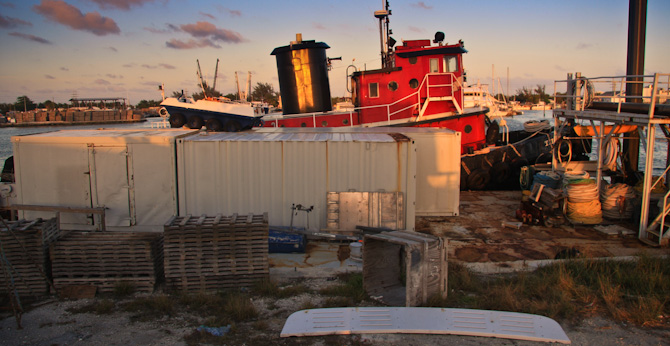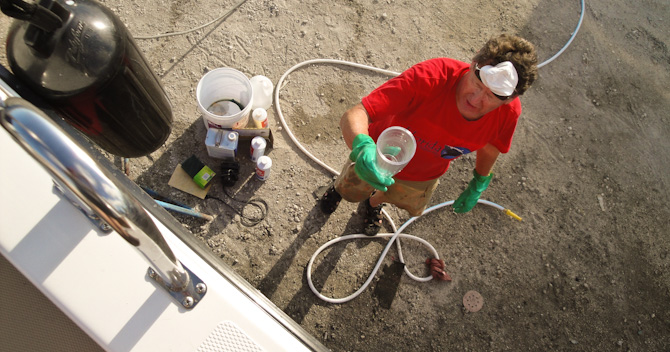 Lisa kept me drinking lots of water (above – here I am asking for more) and reminded me to wear my mask and gloves to keep all the chemicals and fumes off my body and out of my lungs. I had prepared ahead of time by procuring old clothes from the local Goodwill store; I will throw them away in a few days.