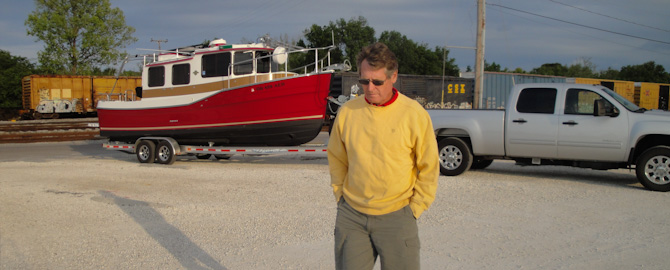 Our last stop in Florida this year is Fernadina Beach to attend the MTOA 2012 Souhern Rendezvous. We've never had the pleasure of visiting Amelia Island when going up or down this coast, but we've only heard good things about this friendly little resort town. We were surprised that, since we got there late in the day, we were able to park and stay on the boat in the marina parking lot overnight without being hassled. We think Fernadina is making a few exceptions during the rendezvous because it is a big event for this town and they'd like MTOA to come back for future events. We met a group of hospitable town folk while hanging out on the boat, we were even invited to visit their homes, within walking distance from the marina.
The next morning, we trailored the boat over to the boat ramp, just up the ICW from Fernandina, and were very impressed – a boat ramp on steroids, in our opinion – a first-class facility.
We're ready to roll (above), it's just a few miles over to the marina from here.