We ventured out on a long dinghy ride today – up the New River and into a few side channels. We were just a short distance away from the marina and it was hard to tell we were so close to such a big city as Fort Lauderdale. We must have been gone several hours as there is a lot of waterway to cover on the river with a few little offshoots to explore. As an extra bonus we got to see all different kinds of boats – old, new, big, small and some very unusual ones.
Jim said that to venture further up the river we had to go under this old bridge. I was a little nervous as to what might be lurking under there but we just had to go for it to see what was on the other side.
This took the prize for the most unusual, and classy, boat sighting on the river today. I want a tour!
Every time we come here I tell Jim this is my favorite little house on the river.
Looks like a "Son of a Barber" lives here (below). Cute!
We think this is the old Jungle Queen boat (above).

We had to quickly scoot out of the way of this big yacht (above) as it headed up the river. Beautiful! As you can see, lots of nice old yachts docked on New River.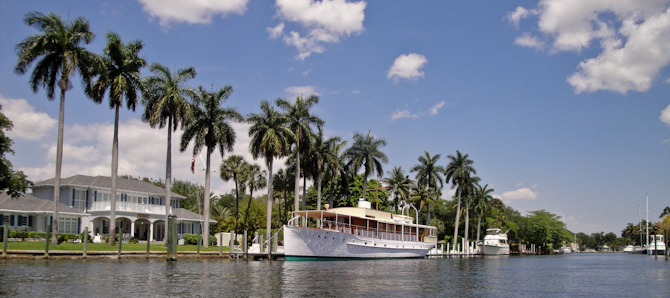 If you like to be on the water and close to city convinces, it doesn't get much better than New River in Downtown Ft Luaderdale. Almost everything is within walking distance or a short taxi/bus ride away. Restaurants, the beach, grocery, dinghy excursions, museums and theater and if that's not enough West Marine has recently opened their largest and most grandiose retail store only a couple of miles from the river. One of our favorite pass times was watching large yachts traversing the river, on their way home or to the large ship yards up river. It was interesting to see that some of the yachts had tenders as big or larger than our Kismet.