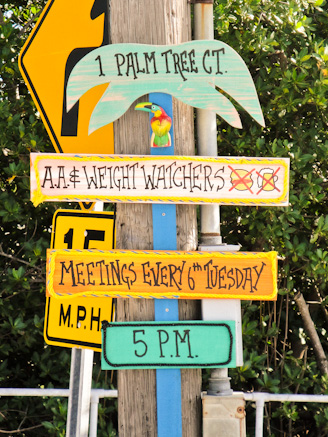 Tuesday night was the first of three boat parties this week in Marathon. It will be followed by an MTOA get-together on Wednesday night (same spot as tonight – on the docks at Sombrero Dockside Marina) and a Looper Sunset Celebration at Banana Bay Marina on Sunday night.
The 1 Palm Tree Ct. gathering (a private event – by invitation only) is held weekly by several of the boats docked close to the restaurant at the marina. Every year they put together a "boater's lounge," so to speak, right on the dock under a sad looking, half dead palm tree. They bring with them, or they scrounge up, tables, chairs, fire pit, grill, umbrella and an old TV and voila, instant outdoor boater's lounge. The sign has been updated this year and it pretty much says it all. Our friend, Ellen, on Our Turn (below), looks cool and happy at the beginning of the "Meeting."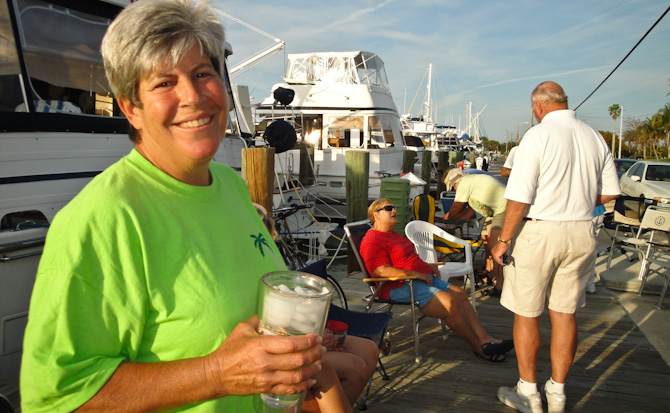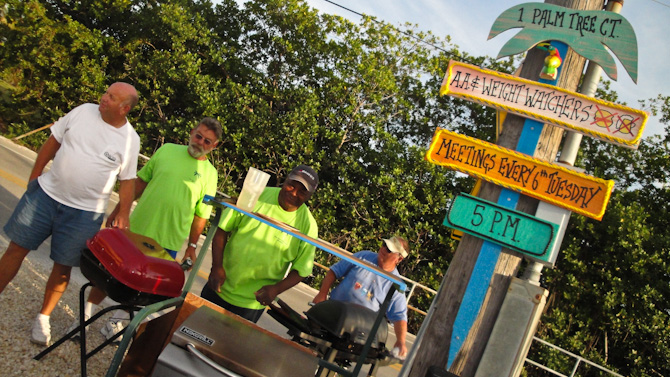 The chef's are just waiting to start the grills (above) to cook meat, chicken, sausages or whatever people bring with them. I think they are also trying to stand in the only shade available on the dock. Our friends Louis and Diane, on Bella Luna, (below-left) are a couple of the original founders of 1 Palm Tree Court. We were their guests tonight. Louis procured and cooked some good looking steaks for the four of us and we brought a couple of dishes to share with everyone.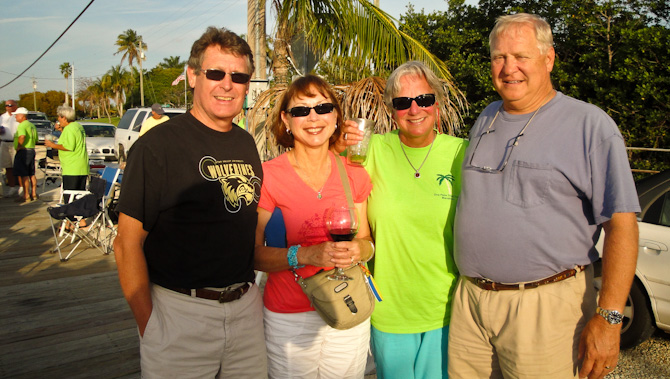 Louis and Diane again (above-left) and Ken and Darla, on Mosey (above-right).
Louis is getting ready to grill the steaks and later on, Roy, on Our Turn, (above-right) is getting ready to make a special treat tonight for the 1 Palm Tree Ct. crowd – freshly cooked cinnamon sugar donuts. Hmmmmmm Yummy!!!
Tuesday nights always end sitting around the fire pit telling stories or, like tonight, star gazing.