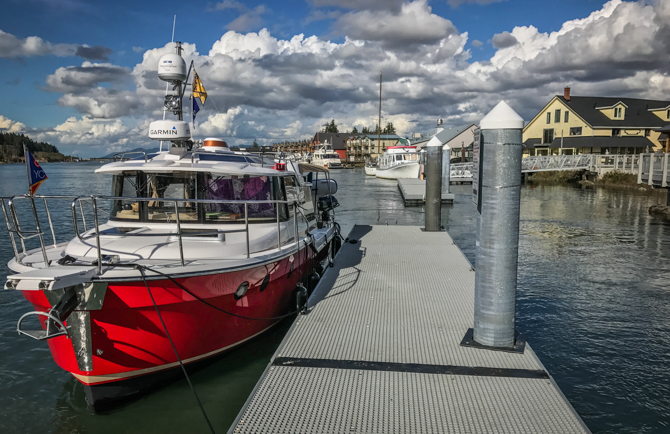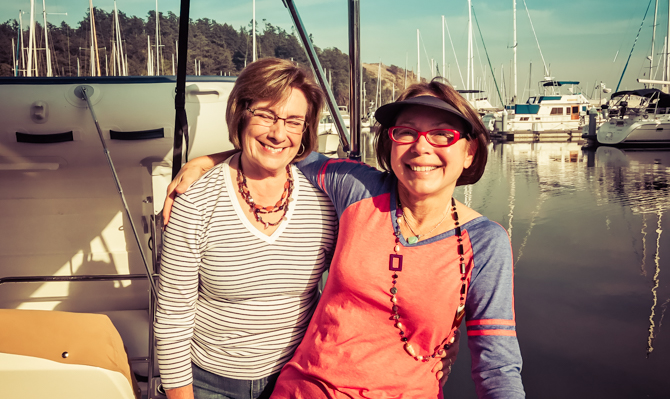 La Conner – Home to the Skagit Valley Tulip Festival (every April) –
After leaving the San Juan Islands we made a quick trip back to Anacortes to visit an old friend. Judy met us at the marina for lunch on the boat and a "catch up on our lives" afternoon. We always make sure to connect with Judy when cruising in the Pacific Northwest. To maximize our quick stop, I caught up on several big loads of laundry during our visit.
In all our time cruising in the Pacific Northwest we have never docked at La Conner. We've stayed at the marina north of downtown in our Fathom 40, many years ago, but it was a short stay and we never made it into the picturesque town. Located along the Swinomish Channel near the San Juan Islands, with Mount Baker in the distance, La Conner is a romantic waterfront community with a fishing village atmosphere and in my own words… "Great Shopping." With art museums, gift shops, galleries, clothing shops and many restaurants, La Conner has the recipe down to entice a cruiser to its port. Something for everyone!
We had several docking options as it was late in the season and not busy. We had help docking from a young family who caught our lines and engaged in conversation. There was a lot of current and we were thankful to have the help. One of the nicest feelings as a boater is arriving at a town dock and have an opportunity to meet a local resident even before our feet hit the dock. This gets me thinking, when I am old and gray and am no longer able to cruise, I'll go down to the marina to catch lines and welcome boaters to town. Sounds like a plan!