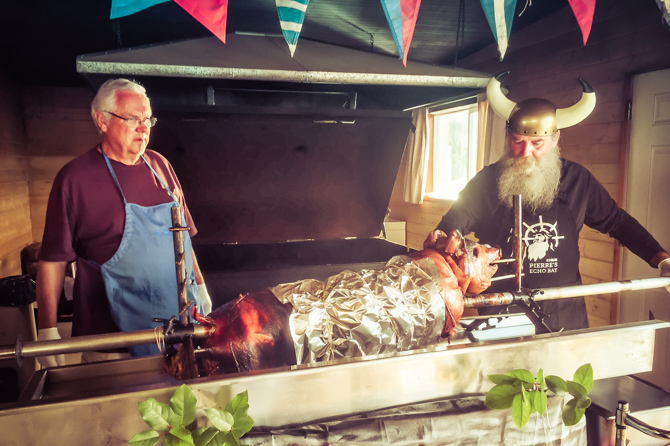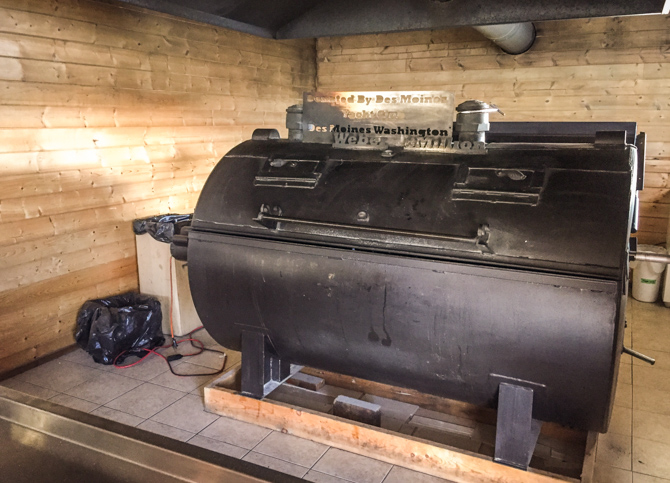 It's All About the Pig Roast! –
We first heard about Pierre's Echo Bay while we were researching the Broughton Islands for our 2016 summer cruise. We made a point of visiting their booth at the the Seattle Boat Show earlier that year while we were collecting information for our upcoming cruise. Owners Pierre and Tove Landry were at the booth when we stopped by to see what they were all about. Their reputation proceeded them, as we already knew about their famous feasts from other boaters. In talking to them and others at the show, we gained a little glimpse into what we could expect that summer as we explored the Broughton Islands. Our trip would not be all wilderness and wildlife, if we charted the right course, our experience would be interspersed with theme meals at unique and colorful floating marinas. Pierre's Echo Bay, being one of the standouts.
Because of these little outpost communities spread out around the islands, we got to meet other cruisers from around the world. We were there to explore and anchor out in remote areas in the golden silence and extraordinary beauty of mother nature.
The solitude we found was something we will never forget.
In contrast, the little floating communities were a social gathering spot.
The boats at dock ranged from small vessels, like our tug, to huge yachts capable of cruising the world. At the marina, especially the pig roast, we all came together on the same level, as explorers by definition, because all we sought the remoteness of British Columbia for some exceptional cruising. During our stays at these marinas, being newbies to the area, we eagerly spent our time gathering information about anchorages, wildlife and local history from those boaters willing to share their experiences of cruising these islands.
When we arrived to Echo Bay on Friday, we were greeted by Tove in the marina office/gift shop. First thing she did was hand us a milk carton and a square piece of material. She explained that we should craft a Nordic Viking ship out of the materials and bring it to the pig roast on Saturday night. "Be creative!" she said.
Saturday was the much anticipated Pig Roast. The marina staff started cooking a whole pig, on their custom made spit, first thing in the morning. By the time dinner was served the meat was falling off the bone. As instructed, we brought a hearty potluck dish to share as we gathered in the dining hall for the event. We would eat together like one big family. The event has different themes during the summer, we were glad we got to experience the Nordic one, as the owner's ancestry falls in this line. Many boaters go all out and dress in costume for the occasion. Lots of fun!
Saturdays: Pig Roast; Mondays: Prime Rib; Wednesdays: Fish & Chips


Dinners are frequently sold out, so be sure to make reservations ahead of time.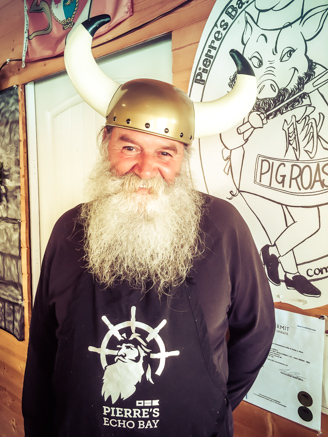 Owners Pierre (above-right) and Tove (below) work hard to make the pig roast memorable for the boaters.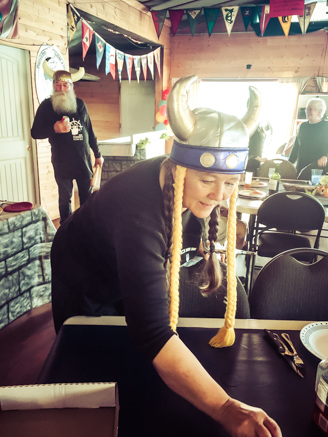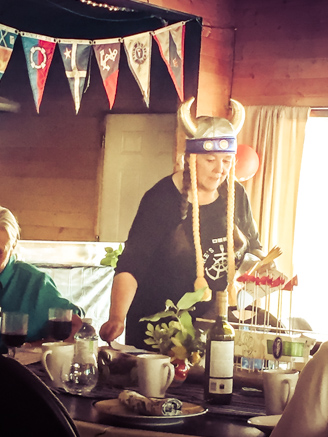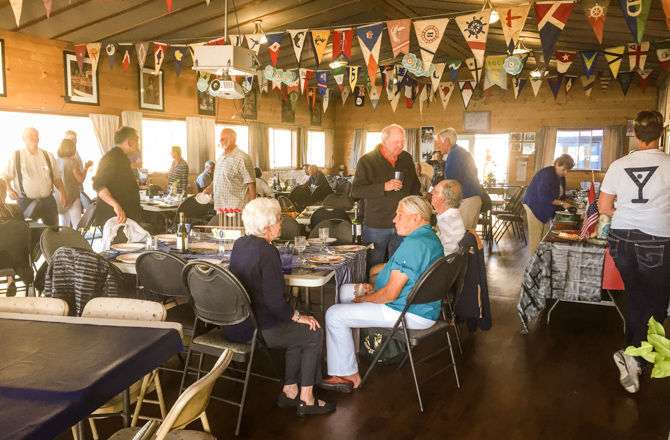 Cruising Guides for the Broughton Islands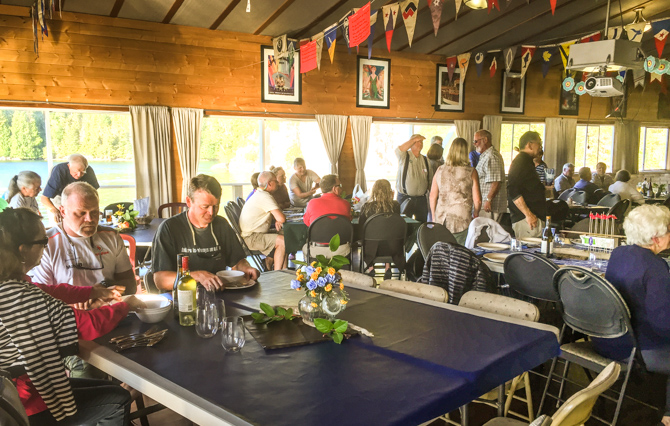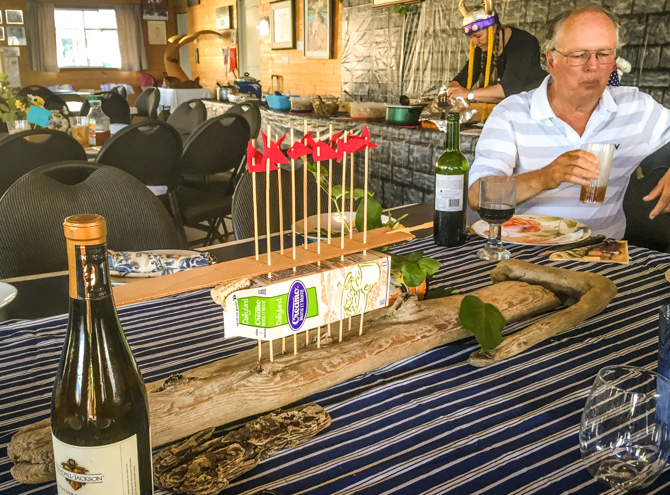 It's amazing what you can do with a milk carton and a piece of cloth. Of course, the more creative craftsmen added other materials in their viking ships to achieve a desired effect.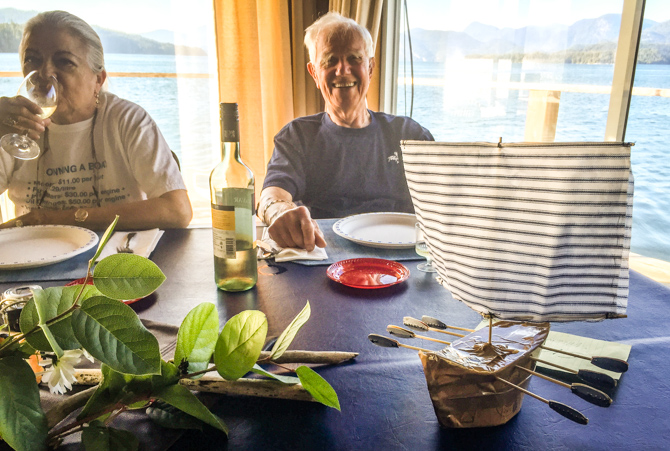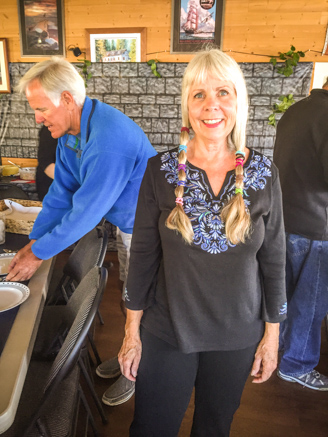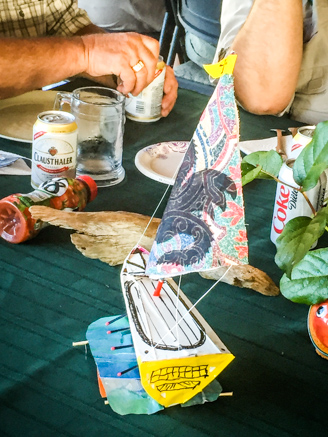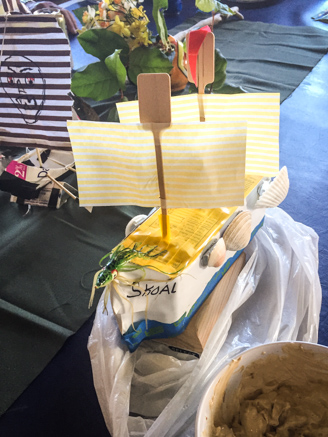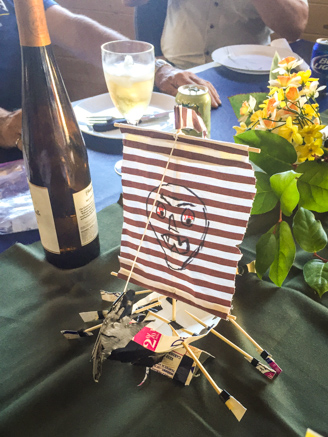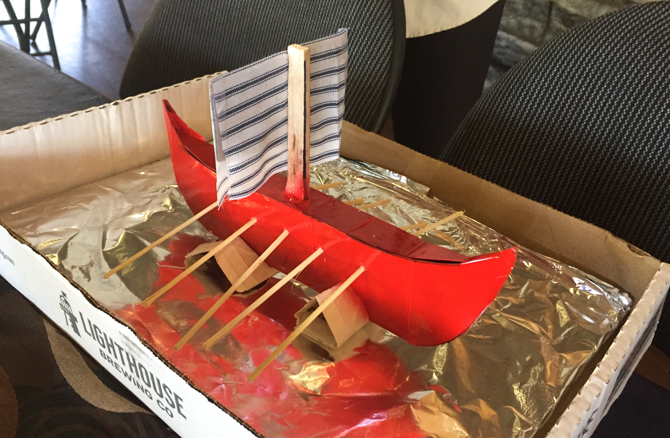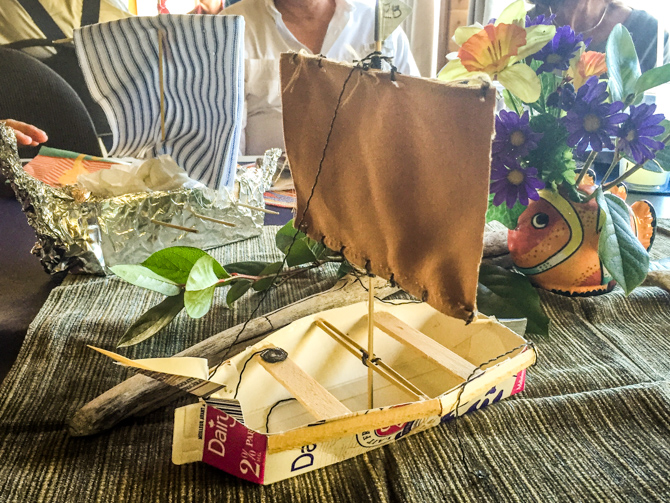 We love to share info about boating in our books…