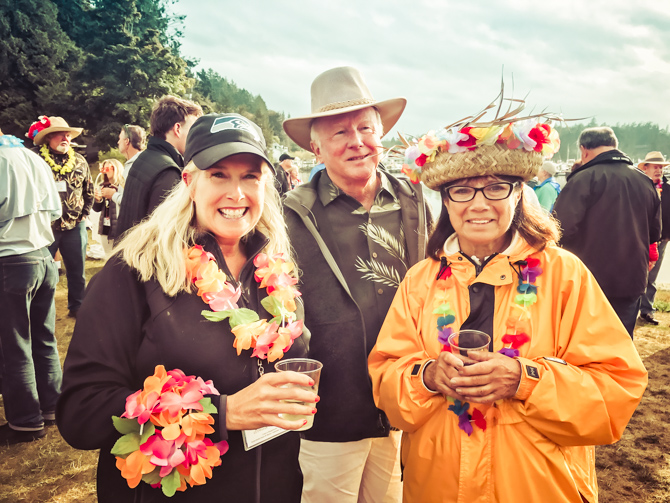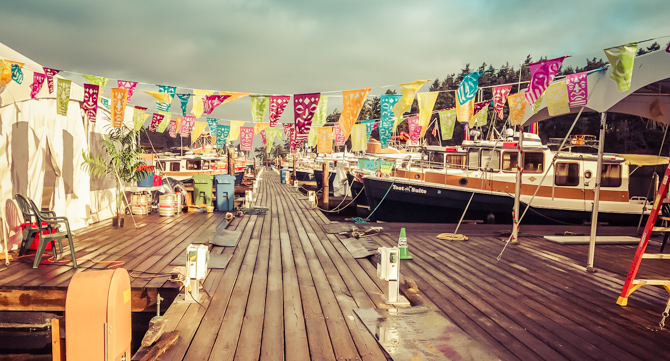 If you are Fluid Motion, parent company of Ranger Tugs and Cutwater Boats, you hold the largest "Thank You Rendezvous" the boating community has ever seen! –
We attended our first Ranger Tugs Rendezvous in August of 2011, just after taking delivery of our 2012 Ranger R27. At that time it was organized by the owners and supported by the Factory. It was held in Bremerton Washington that year and attended by approximately 68 boats and over a hundred owners. It was a fun event, "Parrotville Party" was the theme that year, very similar to this years theme, "Cruise to Margaritaville." These tuggers sure like their margaritas.
One has to ask why has this event gotten so big, five times the size of the one we attended in 2011? We finally decided it's not just one thing. But it does revolve around one central fact. Fluid Motion takes care of their customers and the yearly rendezvous is a way of continuing this effort. Making a big statement without even saying anything. They make great boats and take care of their customers. It's that simple and I'm often perplexed how other companies don't understand this basic principle of business.
Fluid Motion doesn't do it alone, but they are the driving force.
They enlist their suppliers and vendors to help support this large event. Garmin had a team of five in attendance to conduct educational seminars on GPS, Radar and Autopilot as well as perform software updates on anyone's Garmin equipment. They were also at the 2011 Rendezvous and every event in between. Volvo Penta, a sponsor since these boats have been powered by them, held a diesel Q & A seminar, had a D4 300 HP engine on display for demonstration purposes. Global Marine Insurance had five of their own in attendance and held two Q & A sessions and were sponsors. In all there were 42 partners and sponsors for this very successful event, so it's definitely a group effort.
Attendees also had the opportunity to sign up to have one of the countless Fluid Motion techs on hand to visit boats to address any questions owners may have and/or perform any warranty work, all without charge. Good reason to attend one of these rendezvous. Right? The process sounds daunting when you think of how many boats were in attendance, but they have perfected a very well organized and orderly system to make sure everyone is happy.
With a minimal sign-up fee, the theme in place, activities and competitions well organized and more food and beverages than one has the right to expect, the Factory dove in to provide another memorable event most of us attendees will not soon forget.
So, a big THANK YOU back to Fluid Motion from the crew of Kismet. We had a great time during the rendezvous and the Cruise to Margaritaville!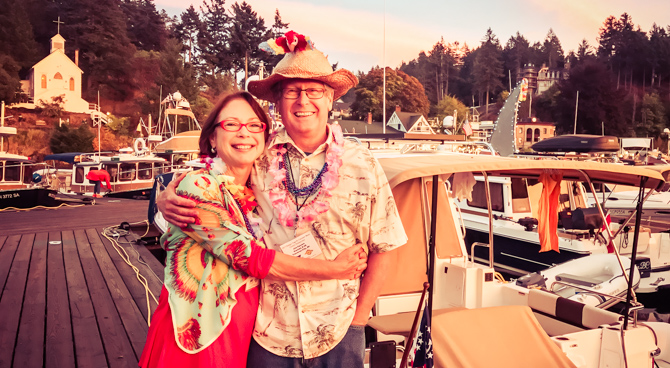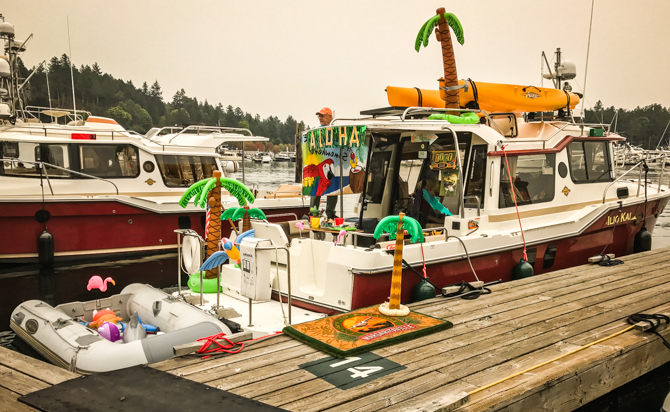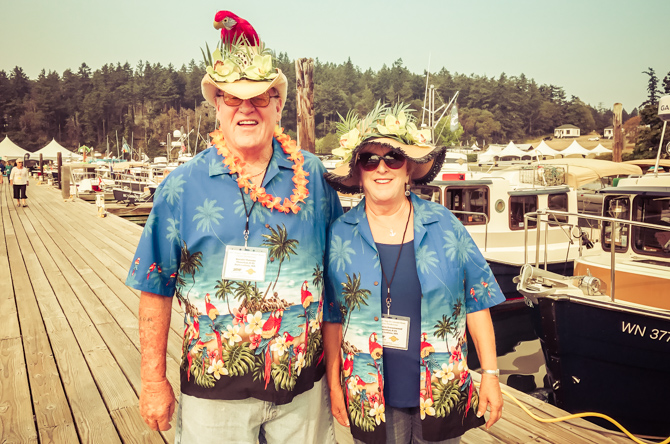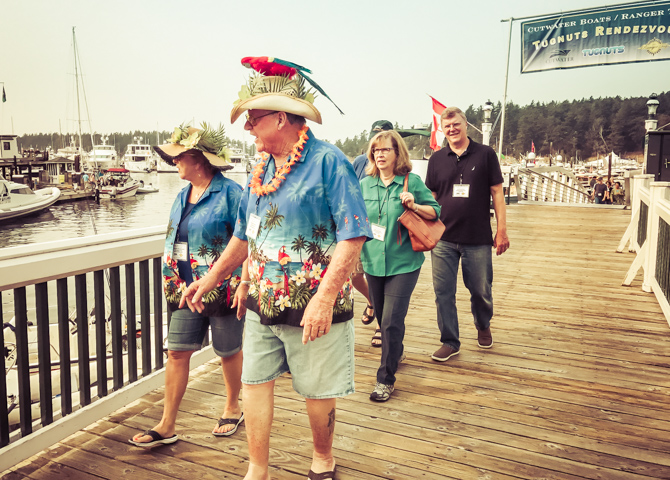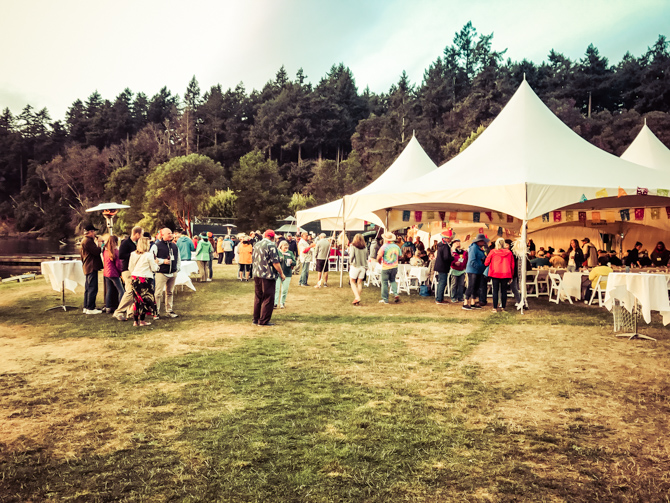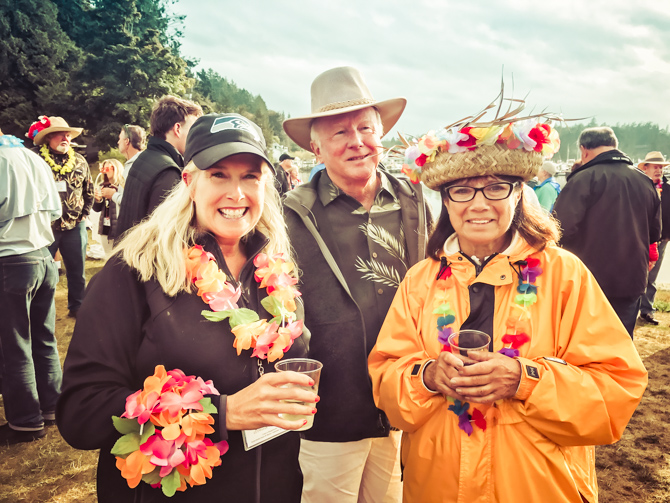 Dave Livingston (above middle), the creative mastermind behind Fluid Motion's success. Accompanying him is Christie Messmer (left) and Ann Marrs (right).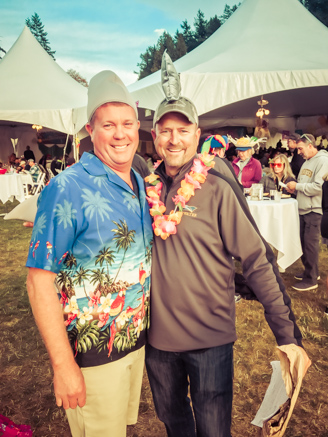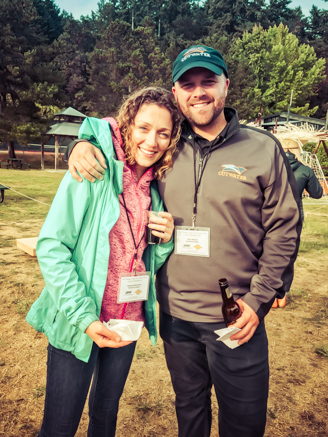 John Livingston and Jeff Messmer (above-left) the driving force behind Fluid Motion's success. Communications Director, Sam Bisset (above-right) with his girlfriend, Ashley.
The Owners Group is Not the Only Thing Growing!
There is a huge sense of community with Fluid Motion factory personnel, currently about 300, and Ranger Tugs and Cutwater Boats owners as if we are all part of one big family. All or most of the Fluid Motion staff bring their families to the event. Over the years we've had the opportunity to, not only get to know the folks we've worked with on our boat, we've met their families, girlfriends, wifes and watched their families grow. At this years event, Ivan was not able to attend as he was with his wife, back on the mainland, as she gave birth. We hope to meet the new addition in the near future. We also got to meet Sam's girlfriend Ashley and met Tim's family during one of the dinners. Looks like bright futures for all.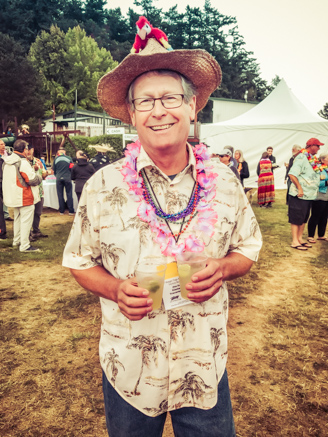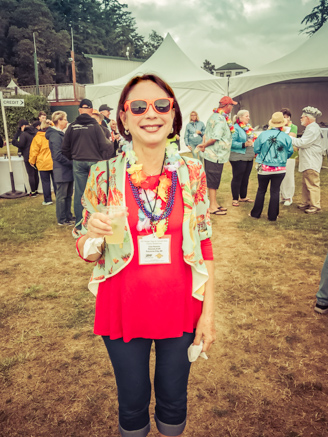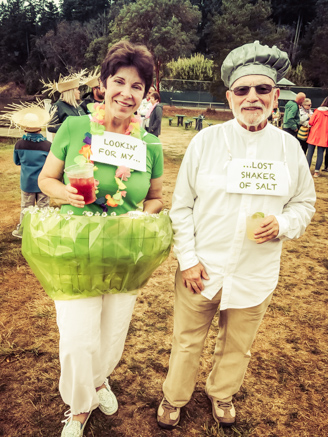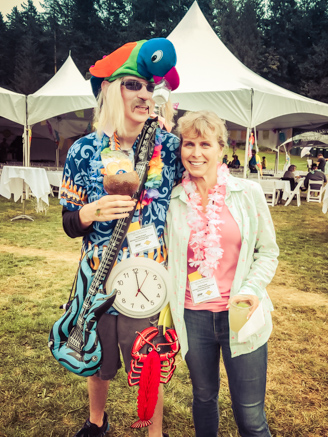 The joint winners (above) of the Best "Cruise to Margaritaville" Costume Competition.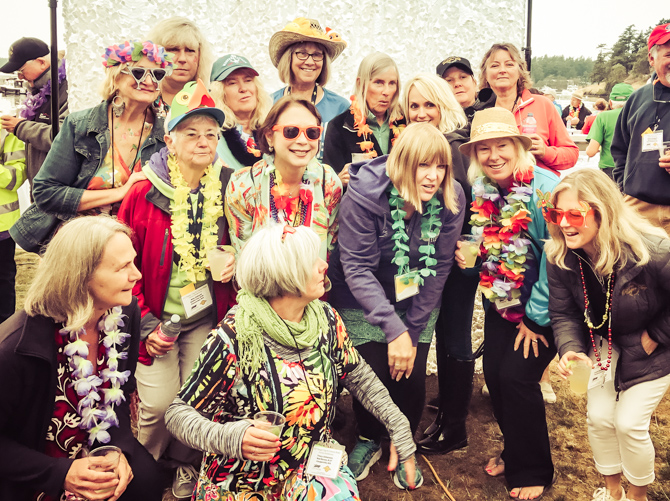 Ranger Tugettes, and a few others, gathered for a group photo (above and below, left).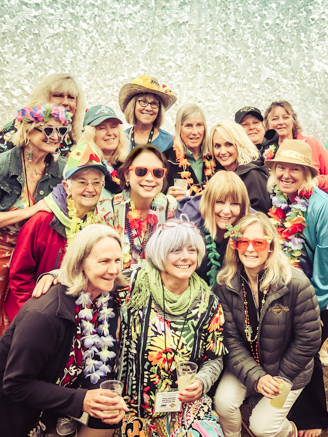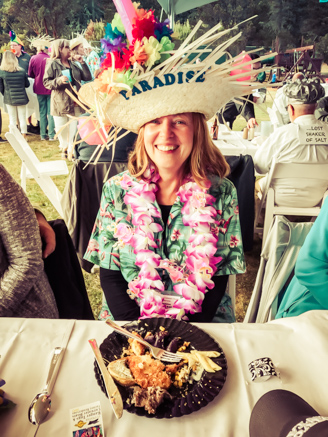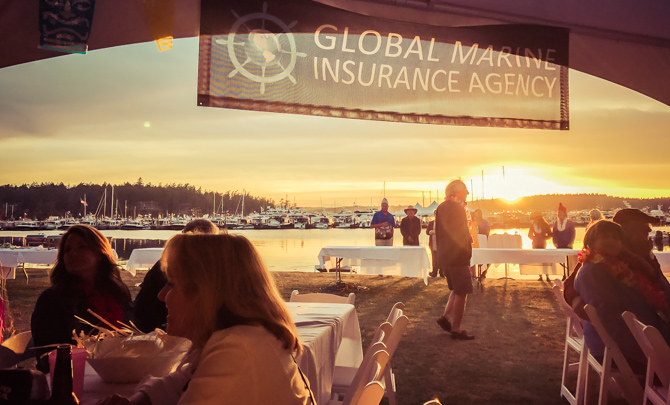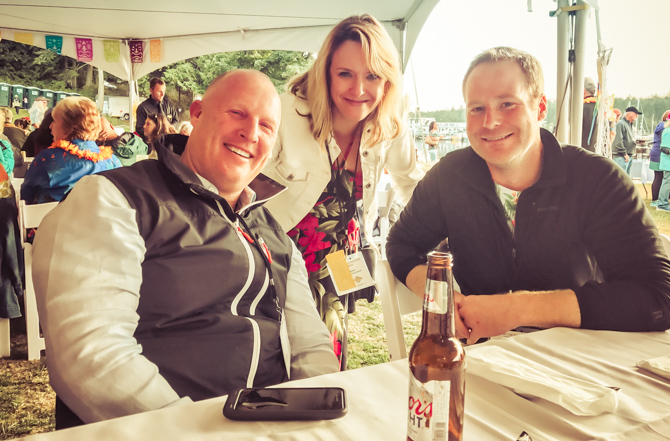 The crew from Global Marine Insurance, Troy, Holly and Ben (above).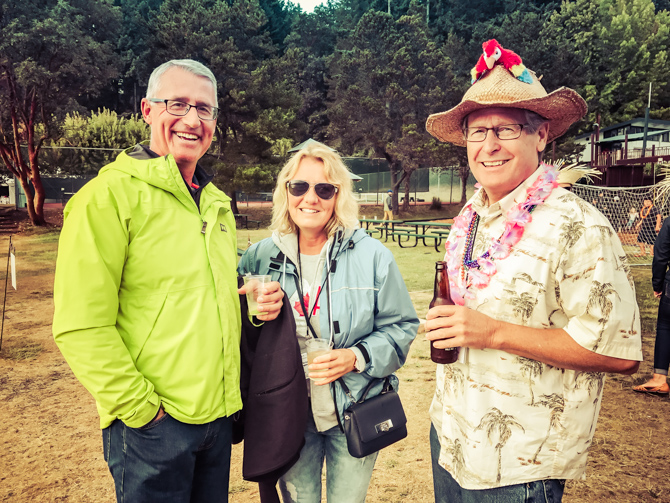 These folks (above) had just shared with us their decision to buy an R29, after spending some time with us onboard Kismet.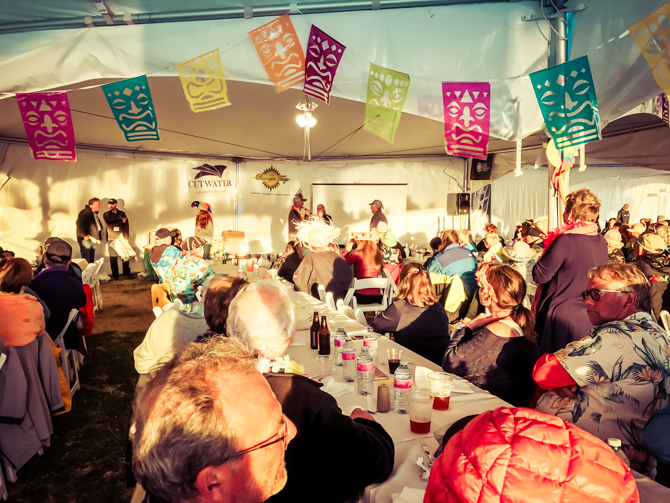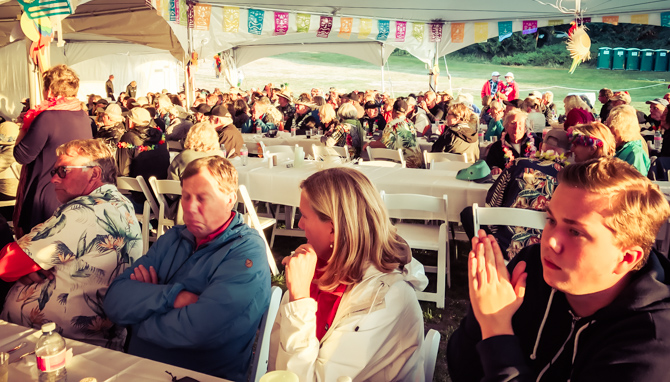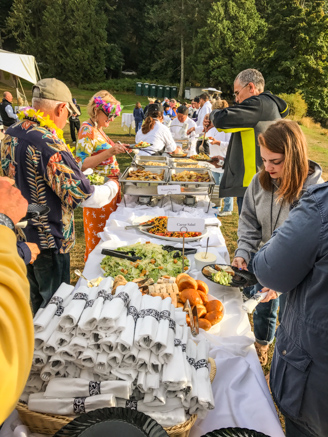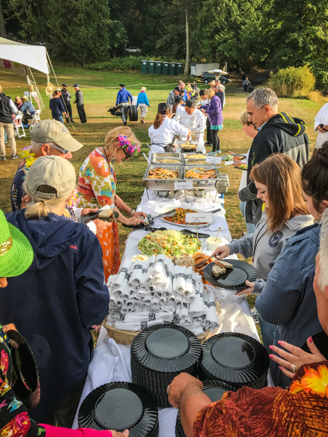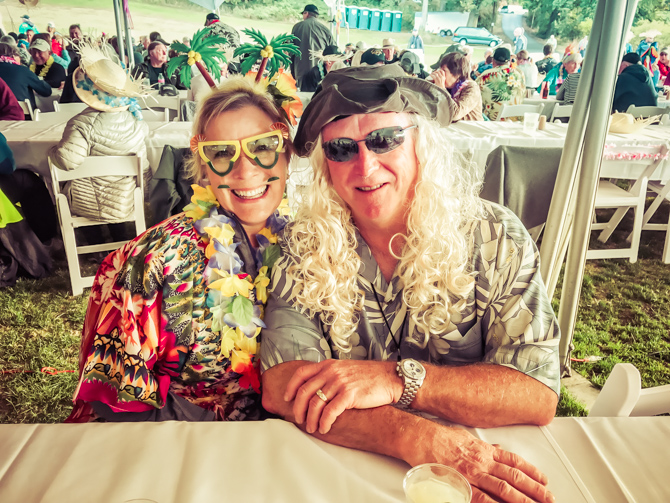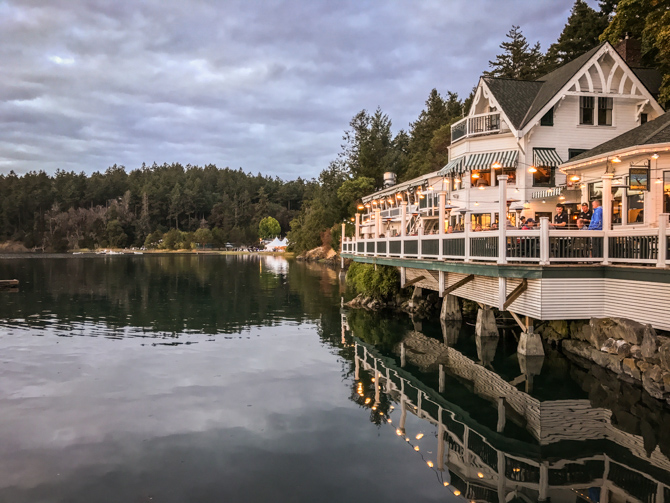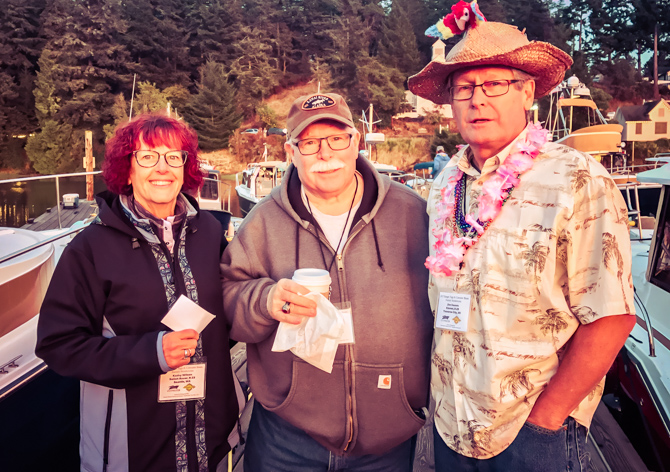 We met Kathy and Craig (above) at our first rendezvous in 2011.