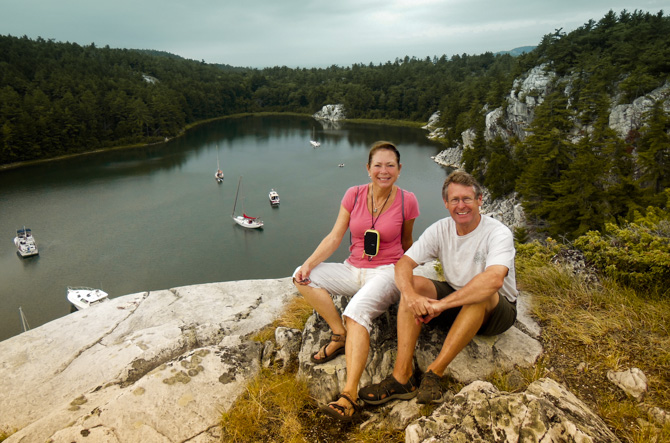 Join Us in the North Channel for the 2014 Ranger Tug North Channel Rendezvous!
The More the Merrier!  
We've been given a one week extension, until June 27th, to guarantee dock space for the rendezvous, so if you're thinking of attending make sure you get your registration form and payment to me by then. We look forward to seeing everyone soon. Click on the link below to access the registration form and please email me with any questions that you may have.
With spring in the air the much anticipated boating season in Canada's North Channel is just around the corner. With that in mind it's time to start the official registration process for the 2014 Ranger Tug North Channel Rendezvous.
The Rendezvous takes place at the Little Current Downtown Docks on Manitoulin Island in Little Current, Ontario; the marina is centrally located in the heart of the North Channel. The dates for the Rendezvous are August 7, 8 and 9th, 2014. I've attached the registration form (as a PDF file – see below). You'll need to print it out, fill in the form completely, and mail in to us to secure dockage and attendance at the rendezvous.
Click Here to DOWNLOAD and PRINT the REGISTRATION FORM
We will handle marina reservations for August 7, 8 and 9th (Thursday, Friday and Saturday). If you plan on arriving before August 7th, or staying after the 9th, you'll need to make those EXTRA DAYS (ONLY) reservation directly with Little Current Downtown Docks… 705-368-1725
Port of Little Current Downtown Docks
Upon arrival you'll pay for all your dockage fees (event days and extra days) to the marina. Rates are $1.75 Canadian per foot, per day plus tax for any extra days. For the Rendezvous days we have a special price – pay for 2 days and get the 3rd rendezvous day FREE.
As alway, if anyone has questions you can call or email me, make a Tugnuts post to the North Channel Rendezvous thread, or PM me on Tugnuts.com. Please complete and return the registration form by June 20, 2014.
Hope to see you there!
Jim and Lisa Favors
info@trailertrawlerlife.com