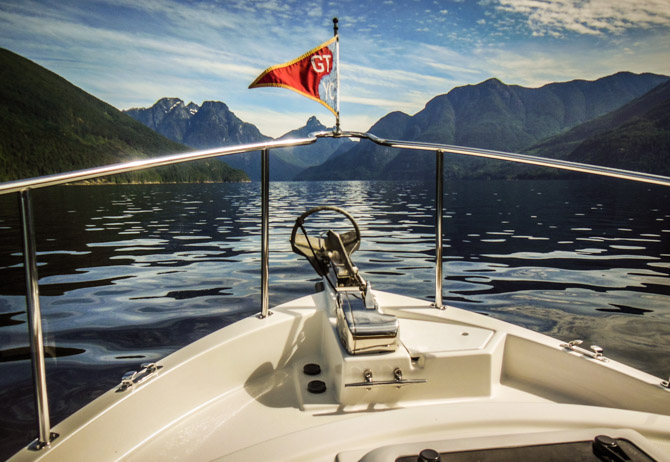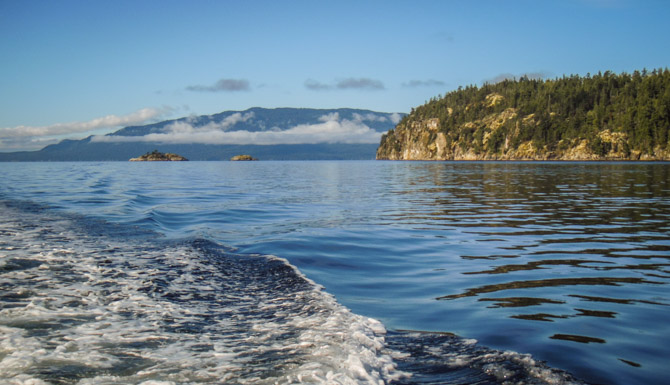 Jervis Inlet Has a Maximum Depth of 2,402 ft –
We untied our lines from our slip at Pender Harbour at 7:45 a.m. to start our 48-mile trek up Jervis Inlet fjord. Timing for this trip needs to be well-thoughtout ahead. It's important to time our arrival at Malibu Rapids, the mouth of Princess Louisa Inlet, at slack tide. The rapids are located at the eastern shoreline of Jervis Inlet. At the speed we travel, 8 miles mph, it took us 5 hours to reach the rapids, from Pender Harbour. We arrived within half-hour of dead calm. You wouldn't want to have to wait and hover outside the rapids very long or go early and risk running the narrow dog-leg channel at full force with a 10-knot rapids.
Jervis Inlet is a fjord carved out by glaciers and has three arms, or reaches – Prince of Wales Reach, Princess Royal Reach and Queen's Reach. Princess Louisa Reach is a side inlet off Queen's Reach. At the end of Princess Louisa Reach is Chatterbox Falls, our destination for a four day stay.
The last time we cruised Jervis Inlet, it was very cloudy, but today was all blue skies. As you can see in the photos we had very calm water most of the way up.