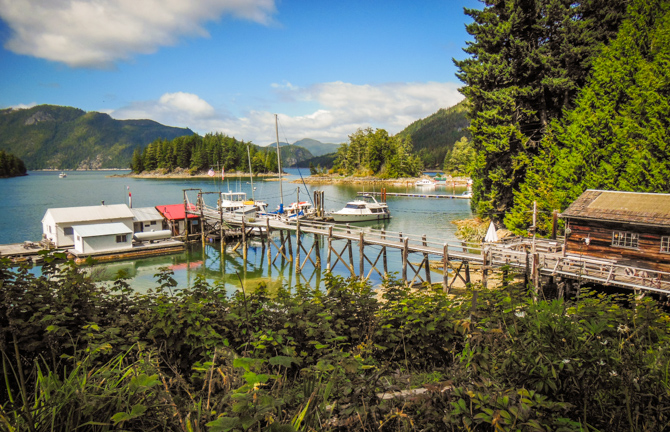 Lagoon Cove Marina – A Must See When Cruising the Broughton Islands –
This day was somewhat bittersweet! Although we were still in the Broughton Islands, we were heading south to our last stop, Lagoon Cove Marina, before high-tailing it 254 miles back to the USA.
It was windy and the water was rough when we departed Pierre's Echo Bay for our 25-mile cruise into Knight Inlet and finally, our last stop in the Broughton Islands… Lagoon Cove Marina. This is a full service marina located at the north end of E. Cracroft Island, just southeast of the Broughton Archipelago. The setting is well-protected from all sides and offers vast scenic vistas from almost any angle.
We'd heard great things about the hospitality at Lagoon Cove Marina, so we were glad we had time to include this little gem in our summer's cruising activities. As we pulled to the dock on a beautiful sunny day, we were greeted by friendly staff and a stunningly picturesque setting.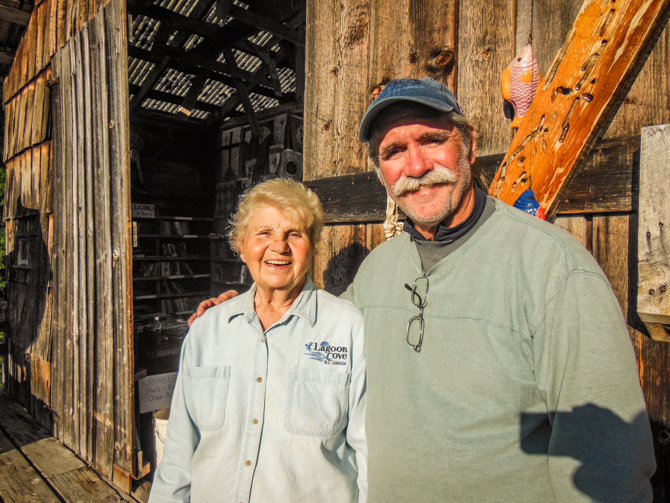 Changing of the Guard at Lagoon Cove Marina – A mix of established traditions and new blood can only mean success. Jean Barber and Jim Ryan (above) closed on the sale and transfer of Lagoon Cove in November, 2016.
During our first Happy Hour, we met Jean Barber, who created Lagoon Cove, along with her husband, Bill, 25 years ago. We also met Jim Ryan. Jim had recently made an offer on the property and, in November, 2016, completed the sale to buy Lagoon Cove Marina, the buildings and 154 surrounding acres. We were fortunate enough to sit and talk with Jean to learn about the colorful history of Lagoon Cove.
The Barber's Unique Retirement Plan
Bill, who passed away a few years ago, wanted something to do in retirement (this would have been in the early 1990s). Jean wanted Bill to only work part time and get a place in Florida. Bill wanted nothing to do with that, according to Jean. Lagoon Cove was their compromise. In buying this property Bill worked for four to five months a year at the cove, full-time. It was kind of part-time in that it was for part of the year. Jean commuted from Portland, Oregon for two months or so, during the summer months, for 20 some years – until Bill passed away four years ago.
With a Little Help from Her Friends…
Jean told us she has been running the place ever since, full-time, with the plan of selling it to the right person. By her own admission, she has been doing things she never did before, in keeping the place afloat. She only managed with the help of friends, family and fellow boaters. It was an honor for us to have met Jean and learn about what it takes to forge ahead into the unknown and create a special retreat and a living legacy.
With the acquisition of Lagoon Cove by the Ryan family, there will be many improvements made to the marina in the coming months and years. Fresh faces, determination and commitment to an idyllic floating community will serve the local, and long-distance boating community, well.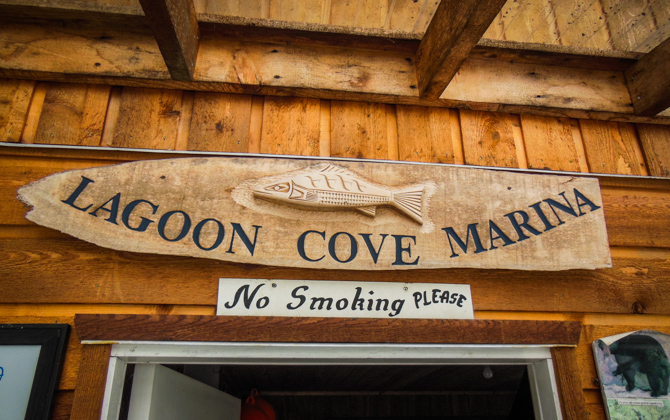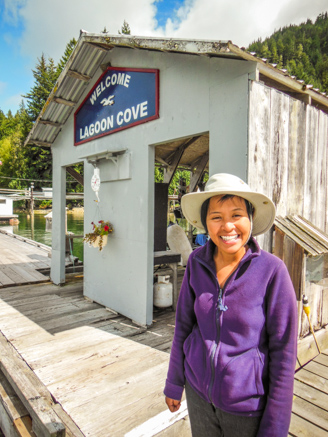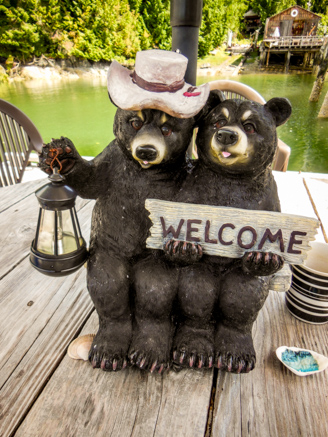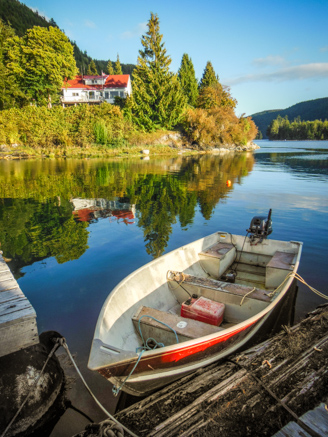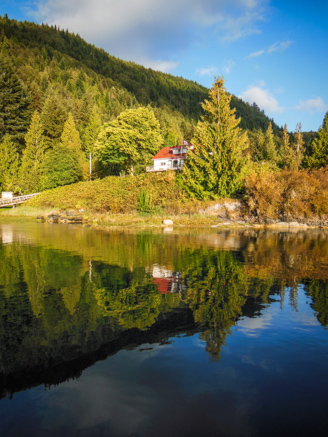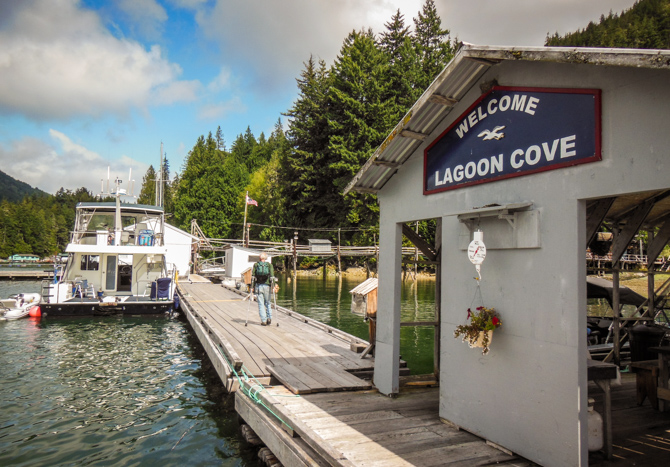 Cruising Guides for the Broughton Islands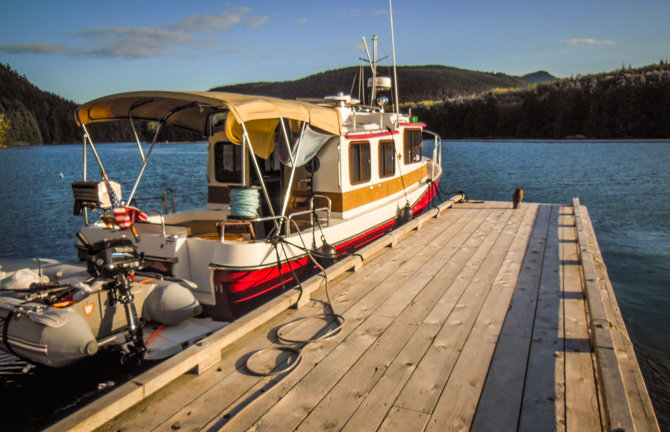 We were pleased to have diesel (gas), propane services and  clean spring water available on the docks.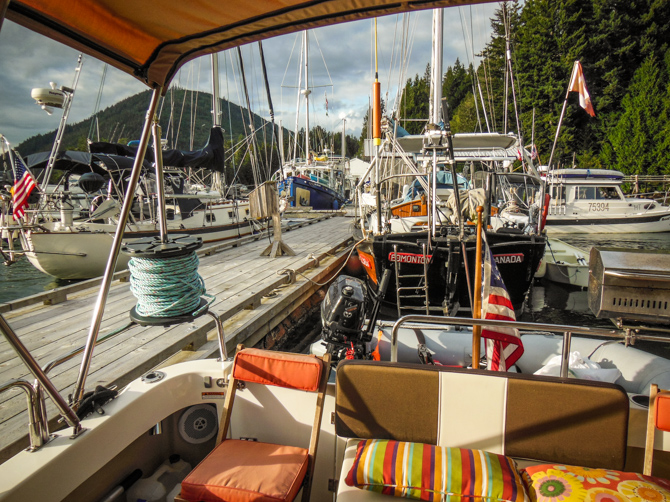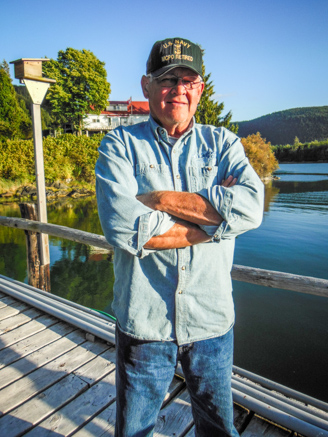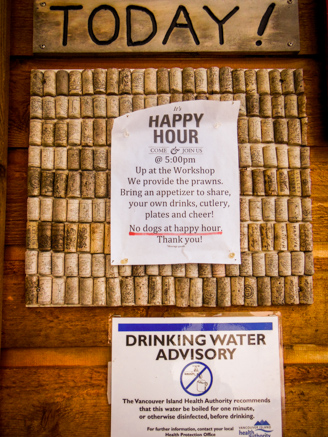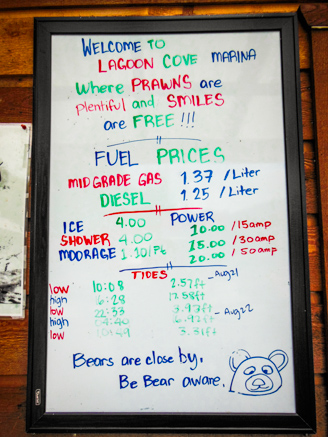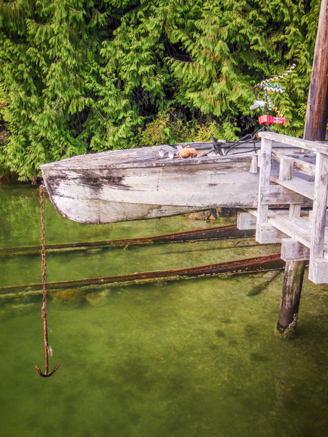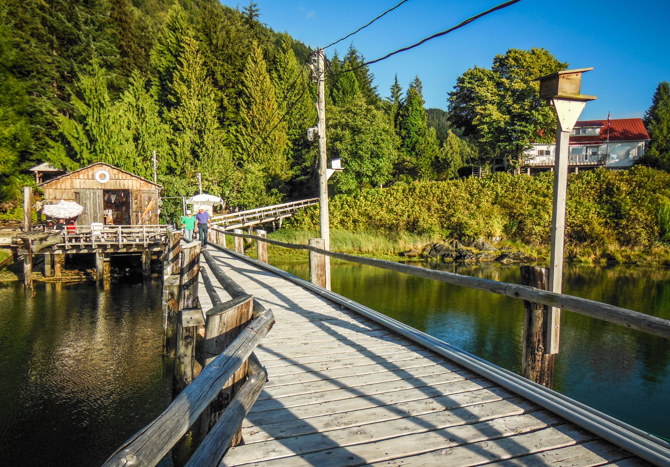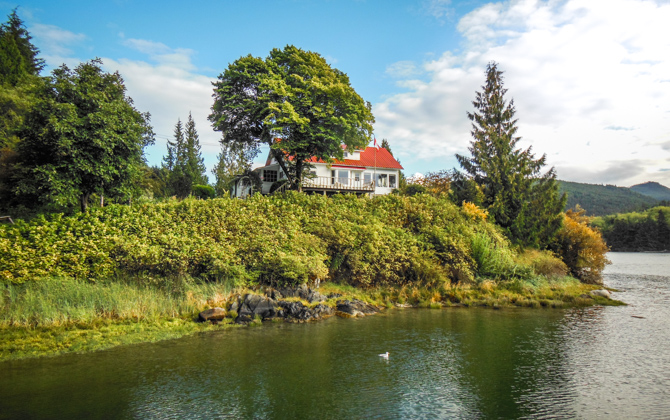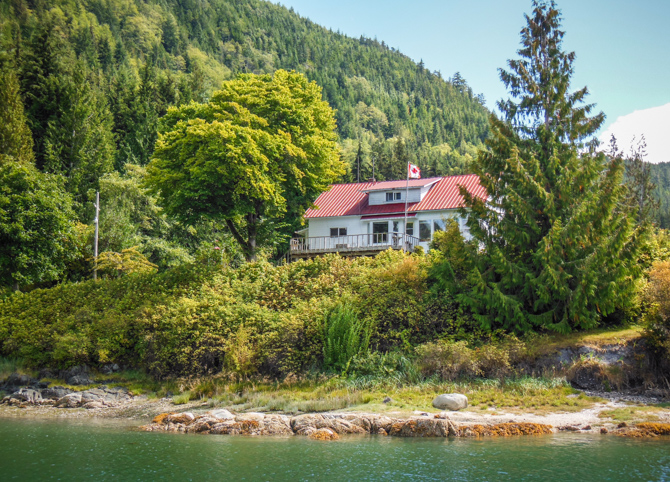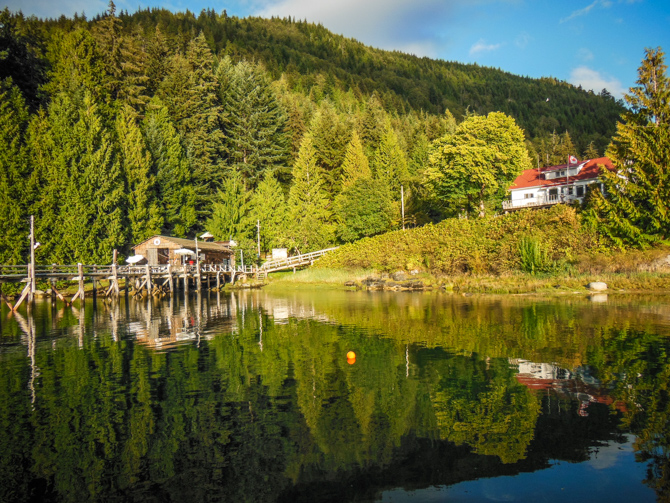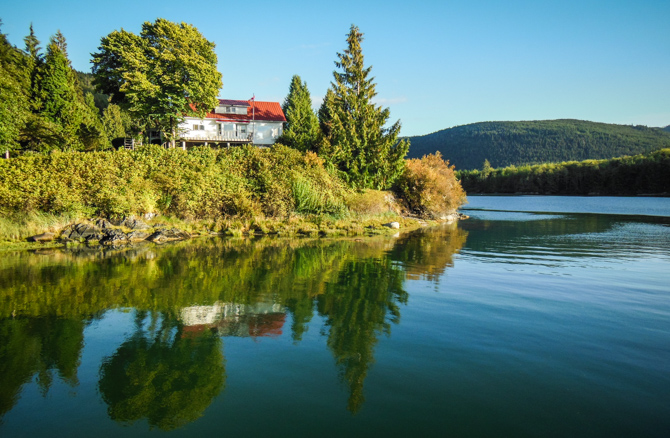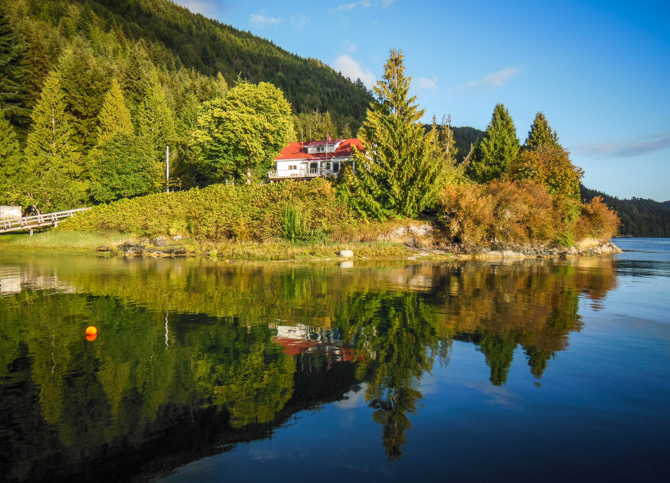 We love to share info about boating in our books…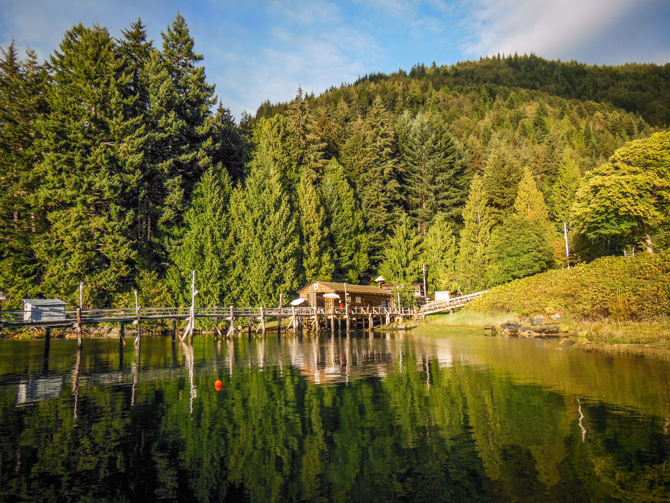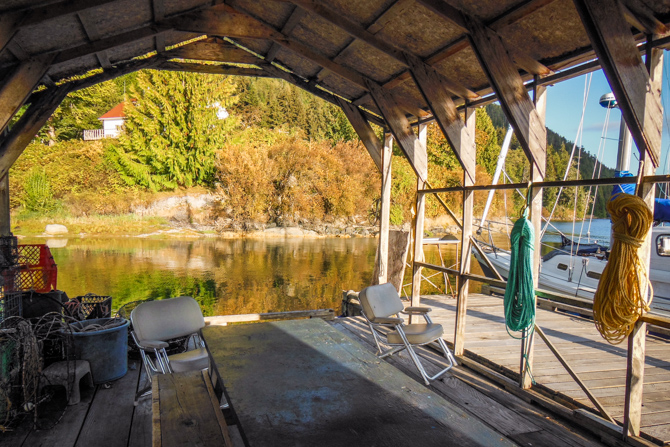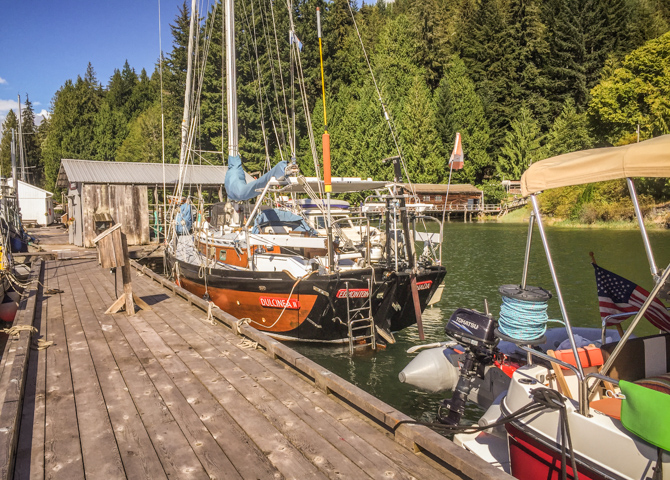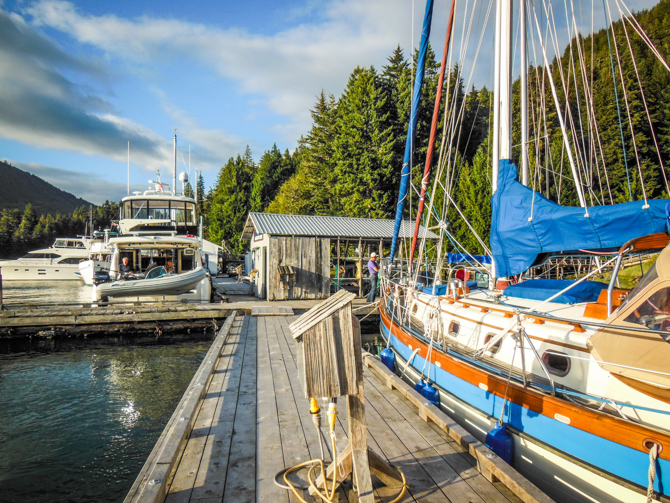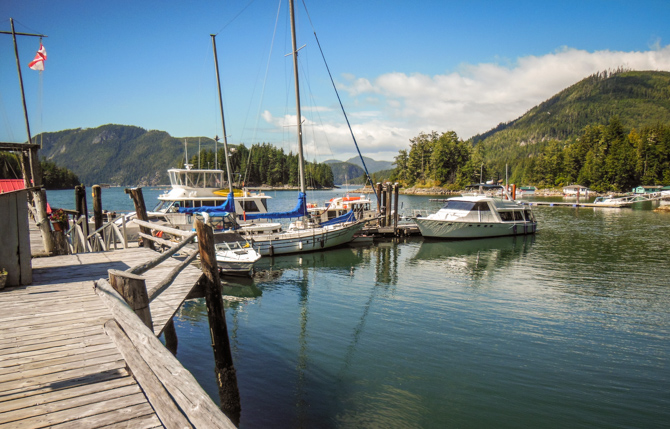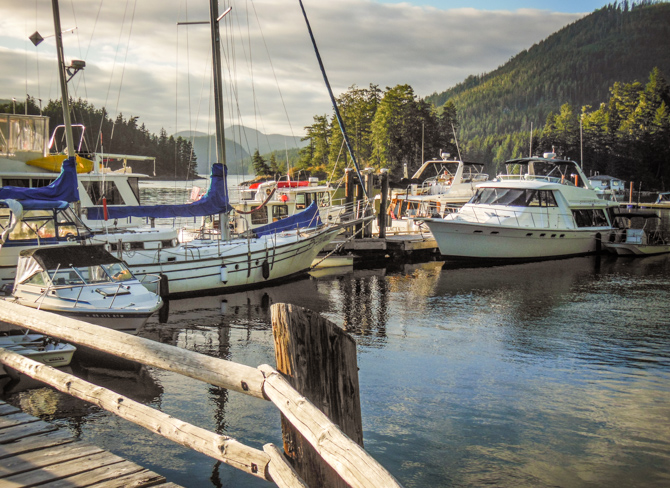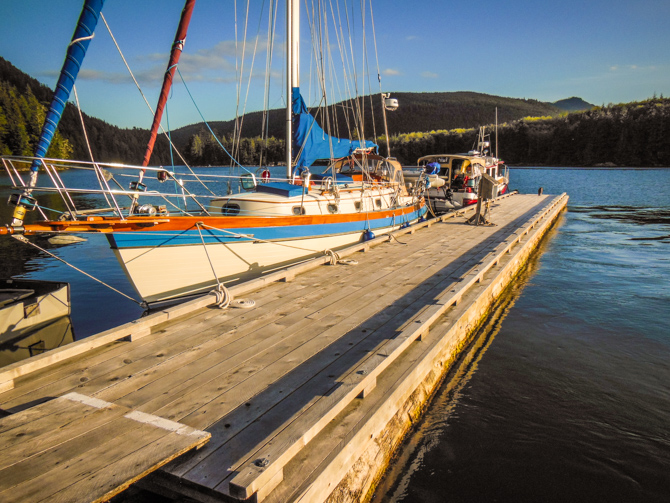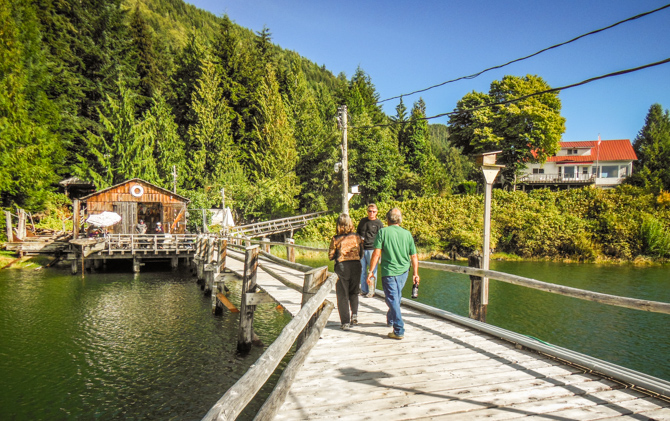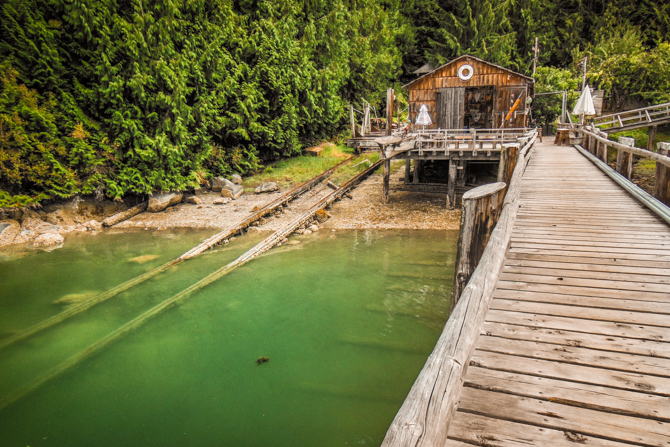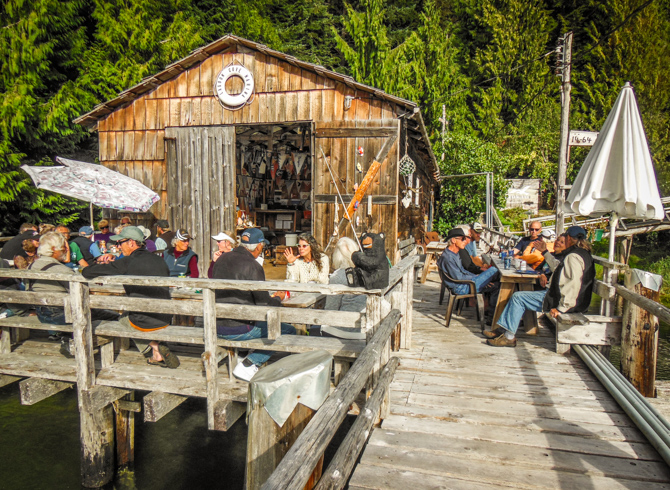 Happy hour is held at 5:00 pm each night on the patio in front of the old boat shed/boater's lounge, adjacent to the workshop. Fresh prawns are caught daily and supplied at no cost to resident boaters who bring a dish to share. What a wonderful treat for us all. They were so tasty we thought we may have to stay another day. As it turned out the winds were too high in Johnstone Straight the next day (not that we even wanted to leave that soon), which would have made for a very uncomfortable ride, so we decided to stay another day. Yay, more prawns!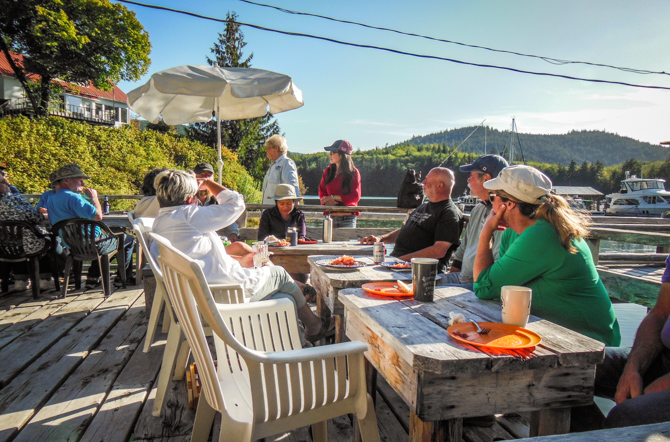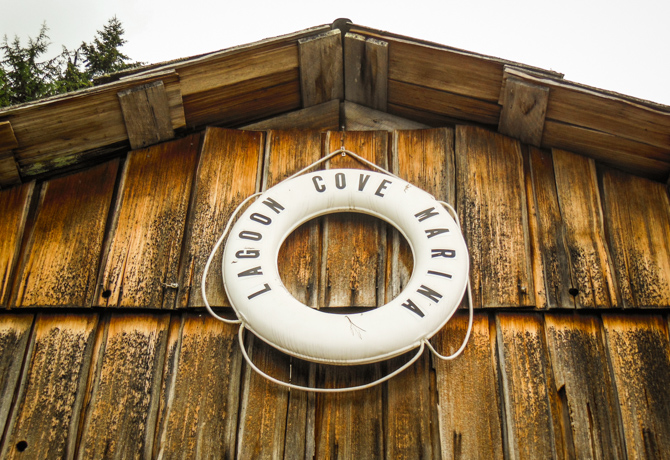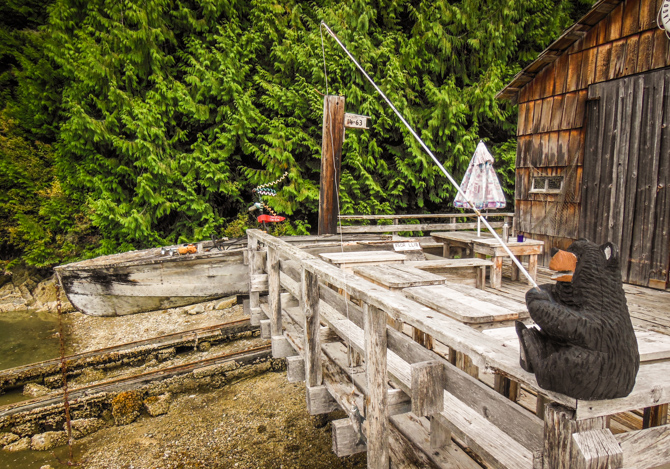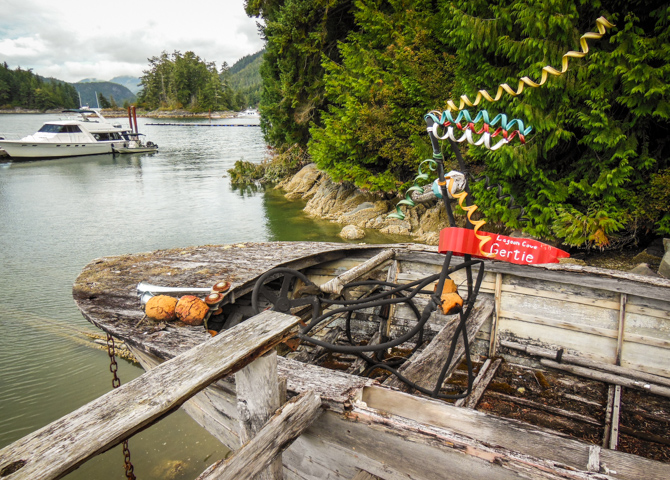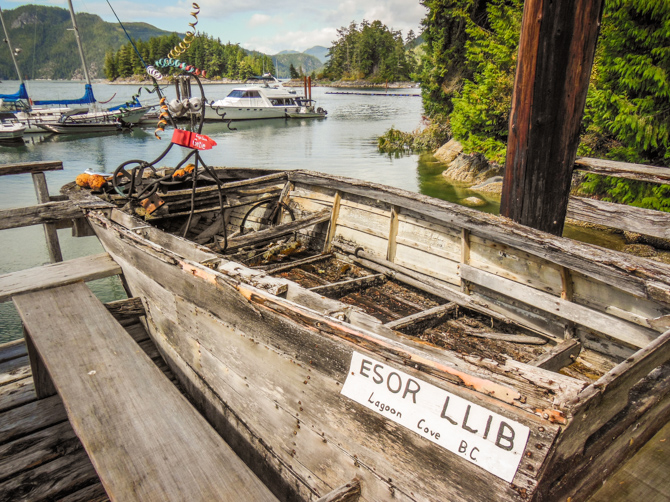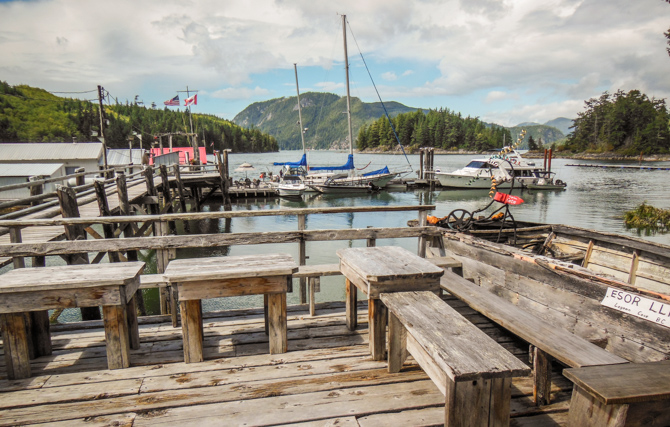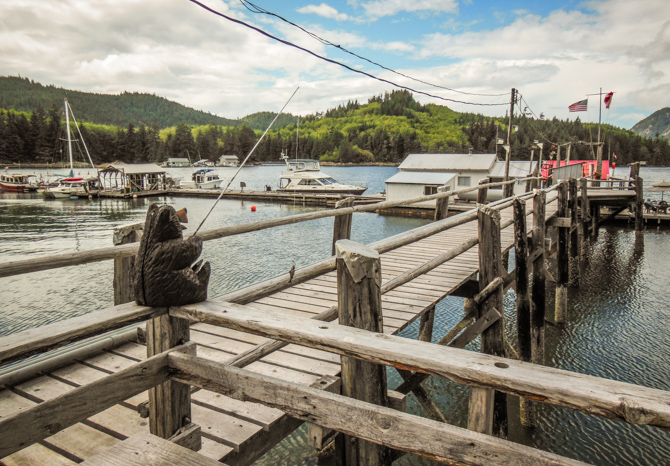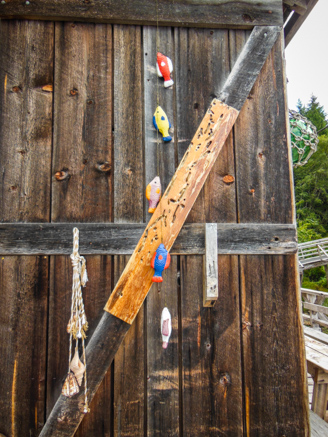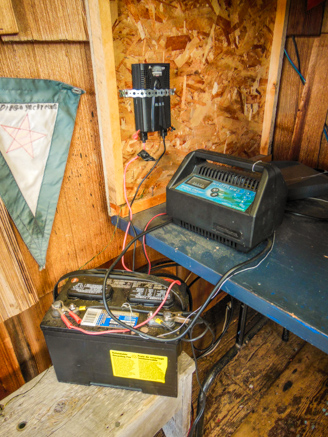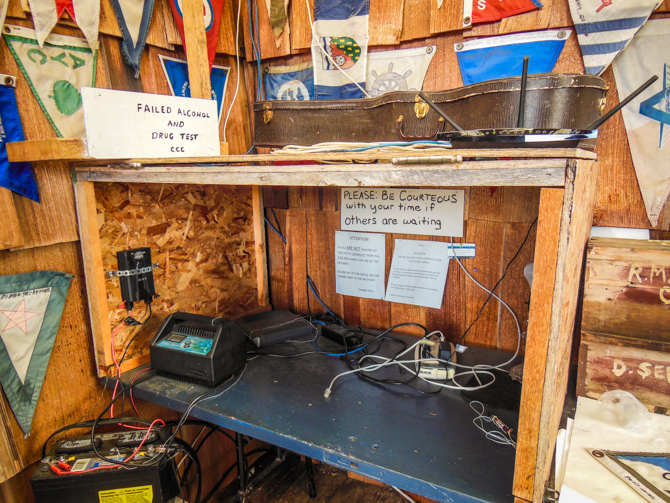 This was the WI-FI set up at the marina when we were there in 2016, located in the old boat shed/boater's lounge (above). Pretty rustic, but amazing work-around. One of the new owner's additions is an  upgraded WI-FI system for all boaters on the dock. Guess we'll have to go back to try it out.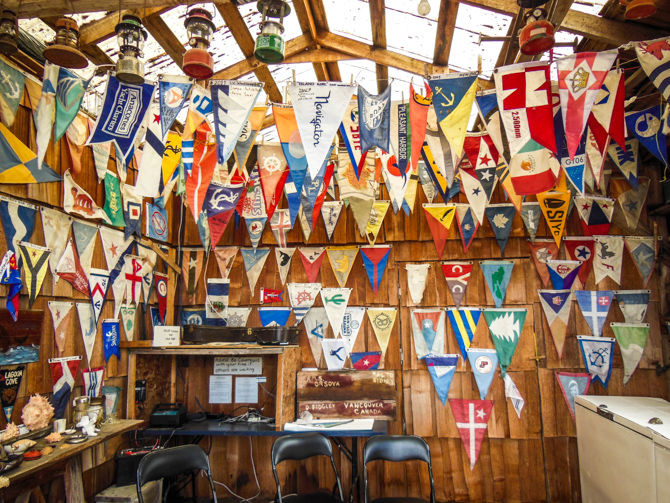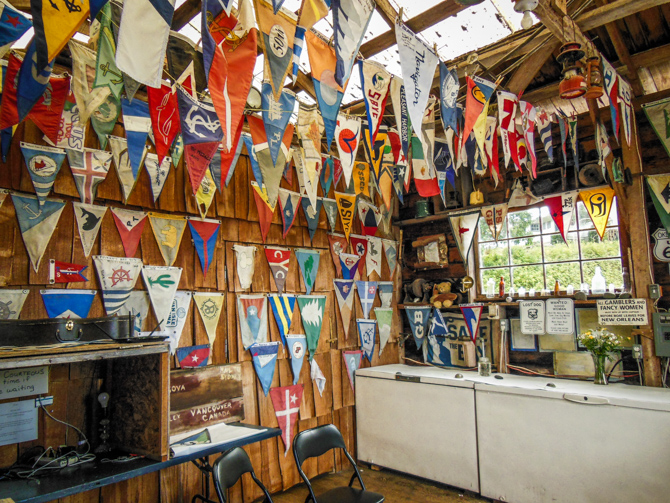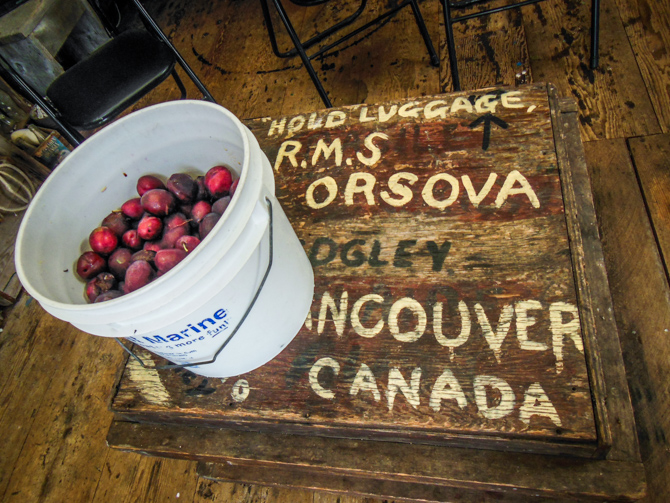 Plums were ripening everywhere on the property and made available to boaters in the boater's lounge.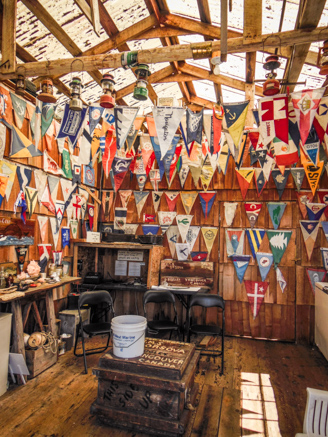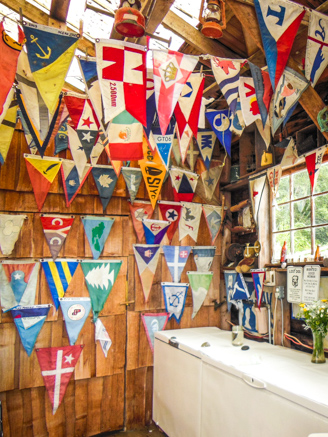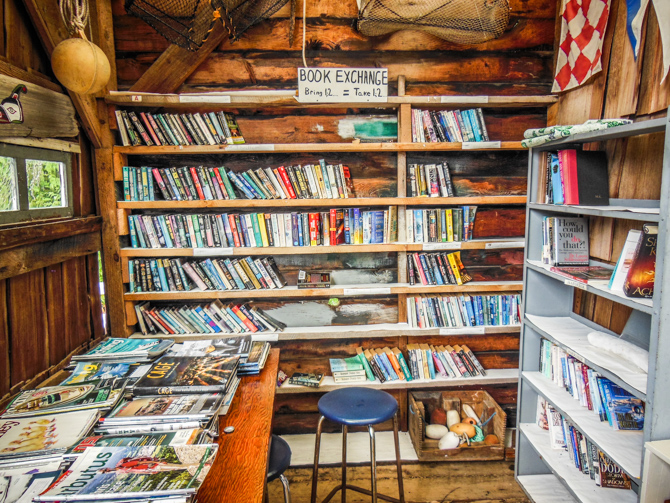 You will never get bored at Lagoon Cove!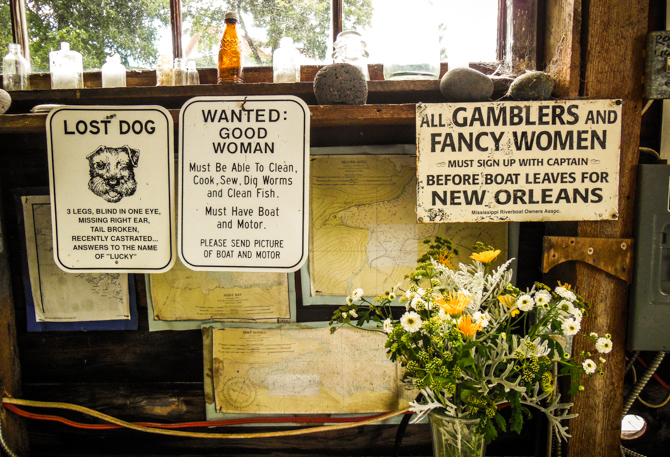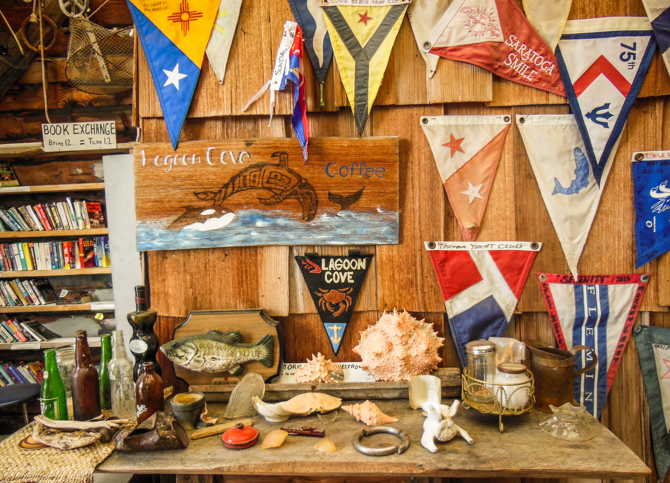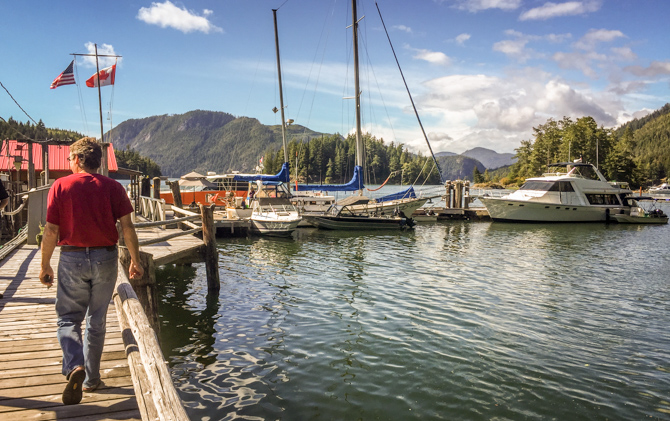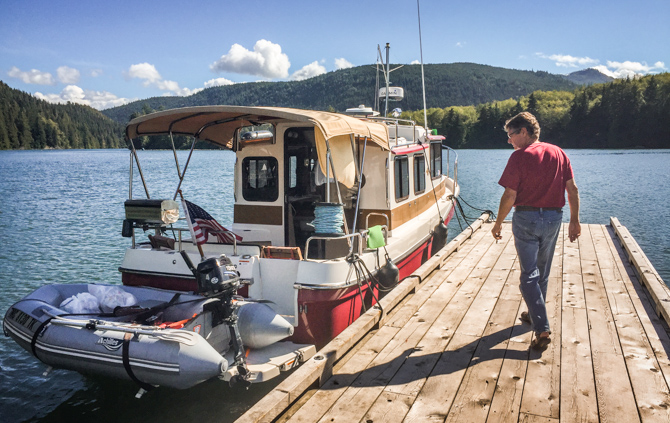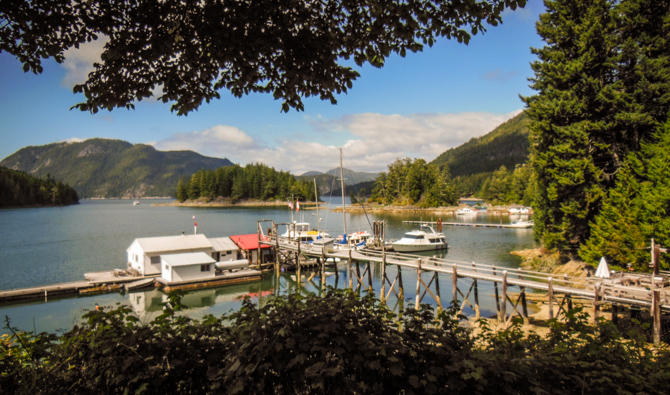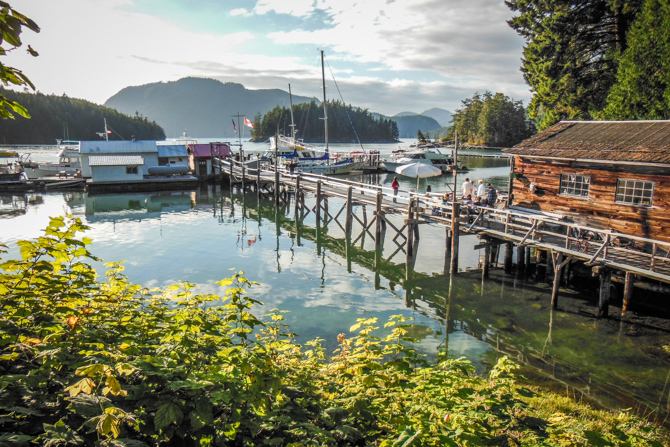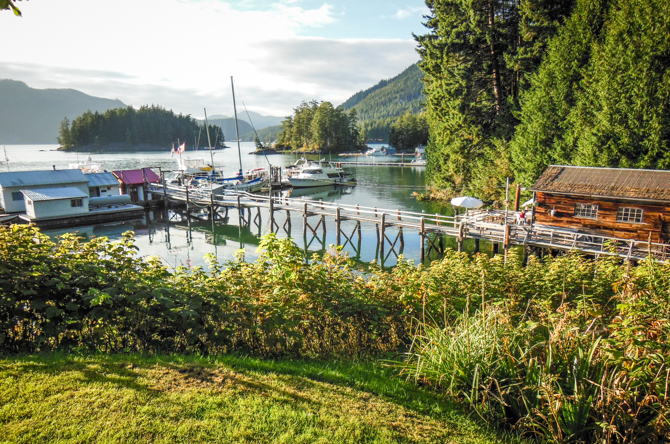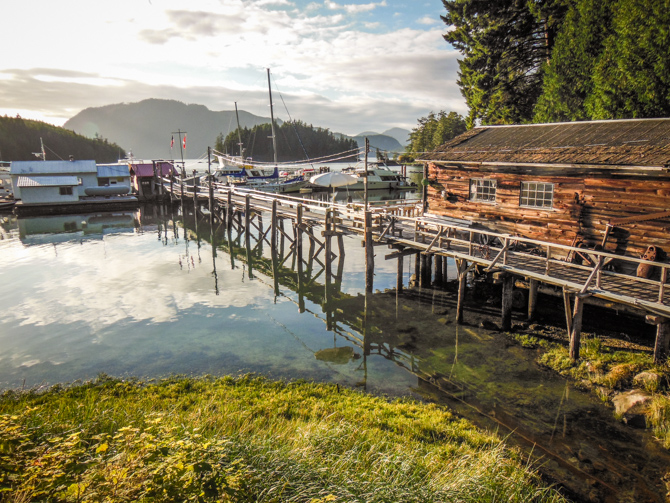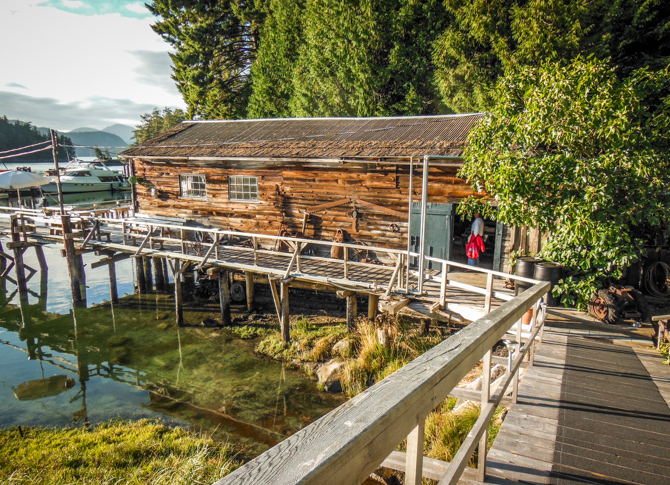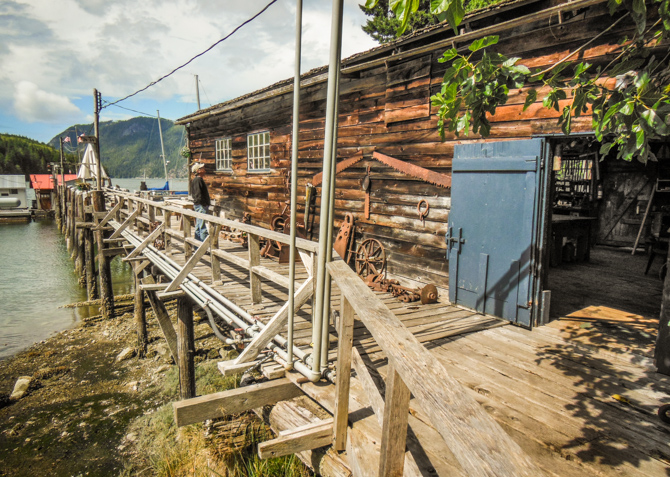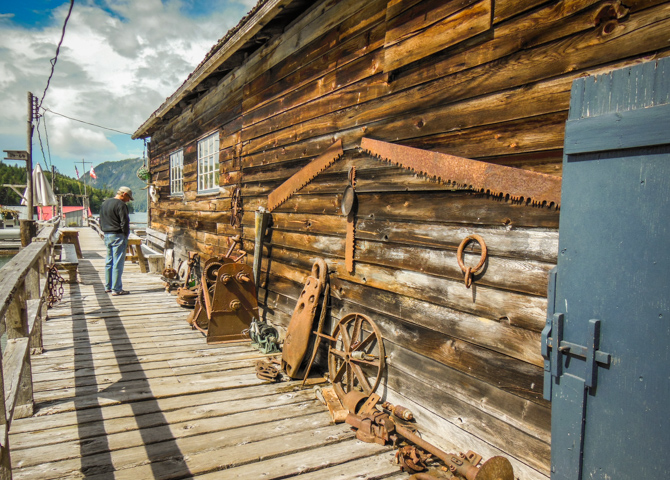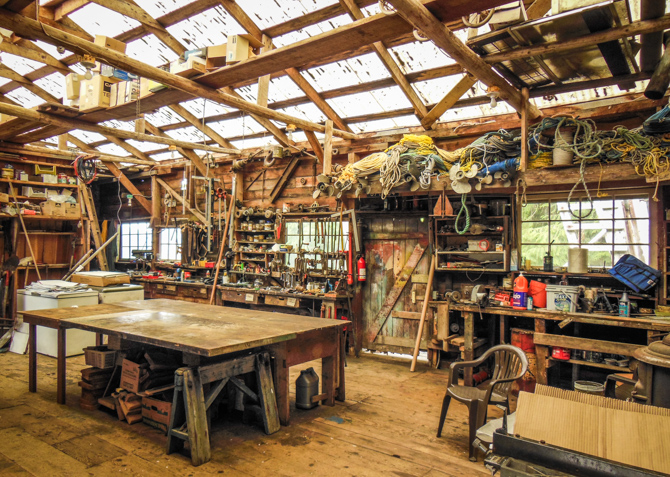 What does it take to build a floating community? Probably a workshop. This workbuilding still functions as a building/repair shop. Have a repair to make on the boat? You might find help with tools, etc. available in this building.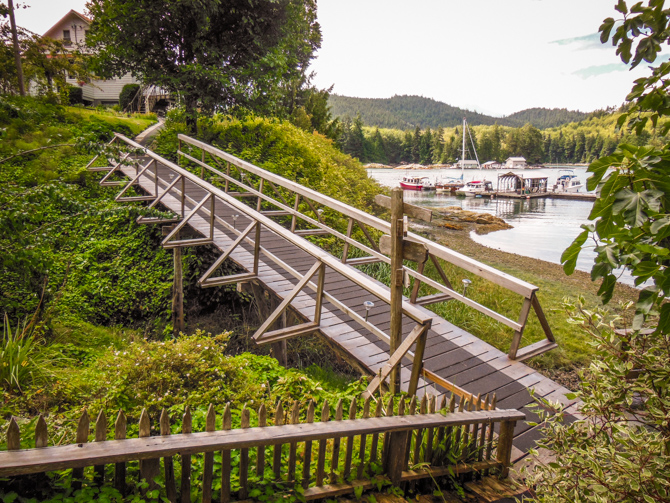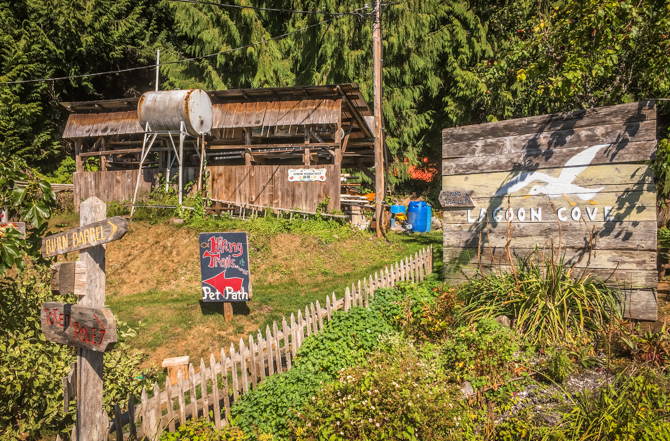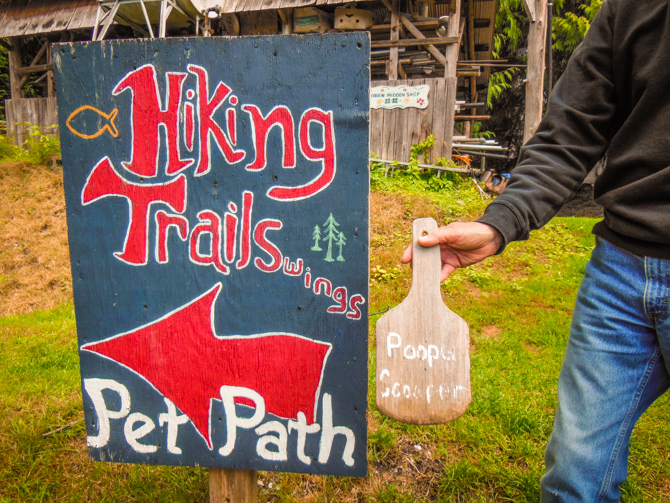 With winds as high as 25 mph in Johnstone Straight, we sat tight at Lagoon Cove Marina for a second night. With 154 acres there are many opportunities for getting off the boat to stretch your legs just by walking the many trails on the island. So, off we went for a long hike. We didn't see any bears during our hike in the woods, but we heard from another boater, when we got back, who did.
So lets review…..free prawns during happy hour, close-up black bear sightings, plum and fruit trees, wild blackberries, workshop, wildlife sightings, hiking trails, friendly staff, beautiful scenery and friendly people, whats not to like? The only negative thing we can think of is that this stop marks the end of an amazing adventure – we'll soon have to depart for our trek back to the states!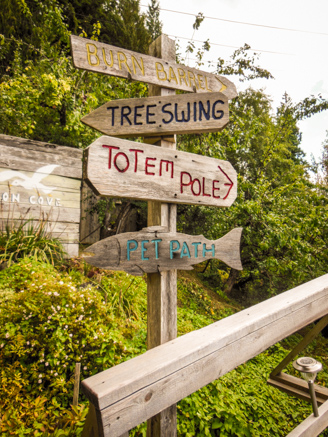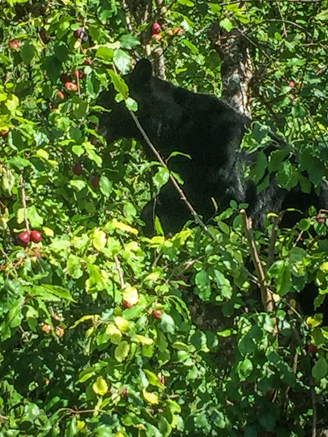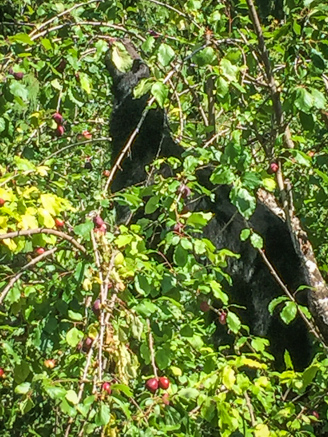 Shortly before happy hour, on our first night in the cove, we were treated with an up-close encounter with a black bear, He was perched up in a plum tree helping himself to some very ripe, delectable fruit. We were separated by a small wooden bridge, only 50 feet away from the dangling, plum indulging bear. We watched him for 1/2 hour before he climbed down the tree and ran into the woods. This must be a favorite food foraging site for local bears as Lagoon Cove has plenty of tempting fruit trees and berry bushes surrounding the owner's home.
Get ready for sightings, from the dock, of seals, porpoise, orcas, and humpbacks whales.
Other wildlife in the area includes mink, otter and a variety of birds.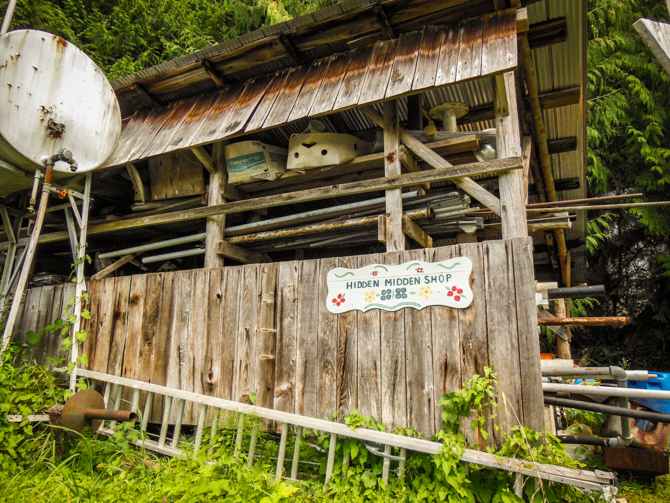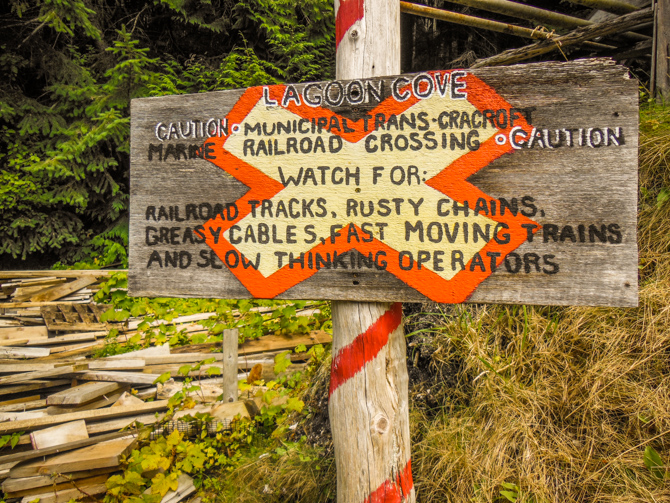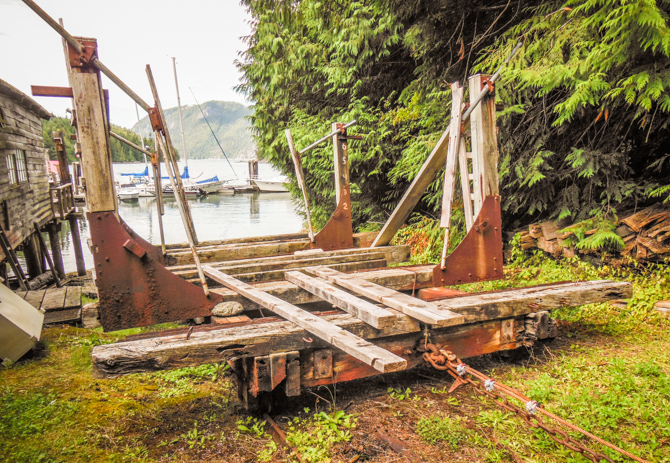 This is a remnant of an old boat launch (above), not sure if it is still used or not.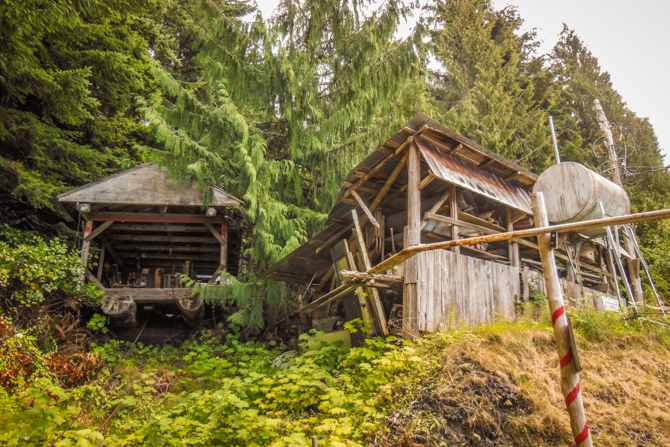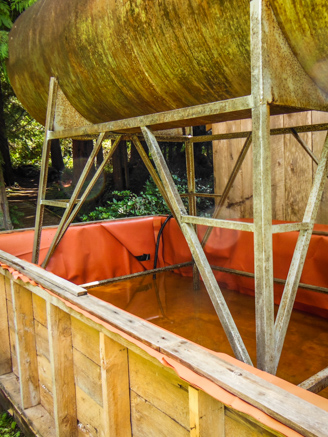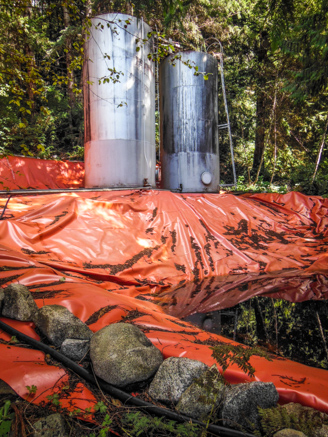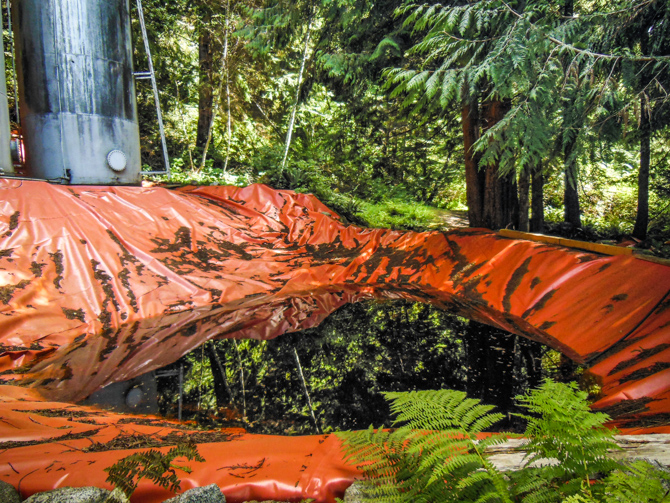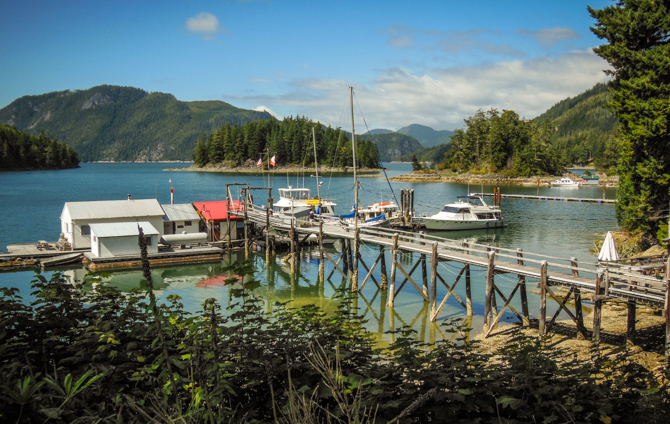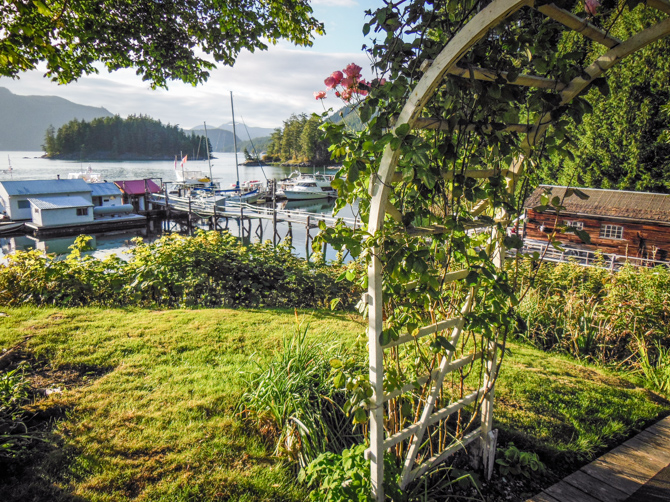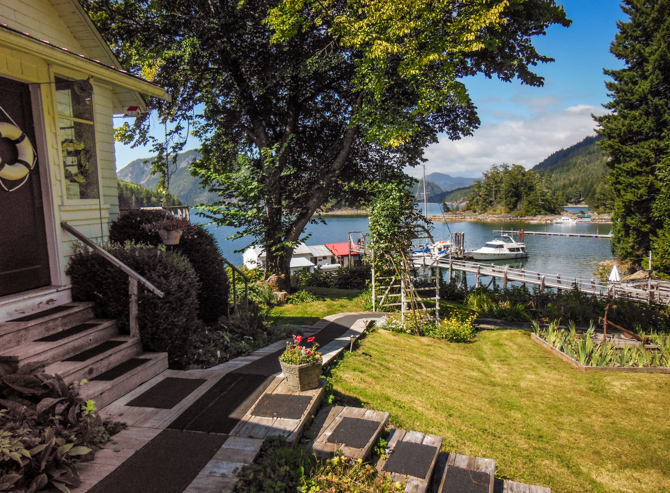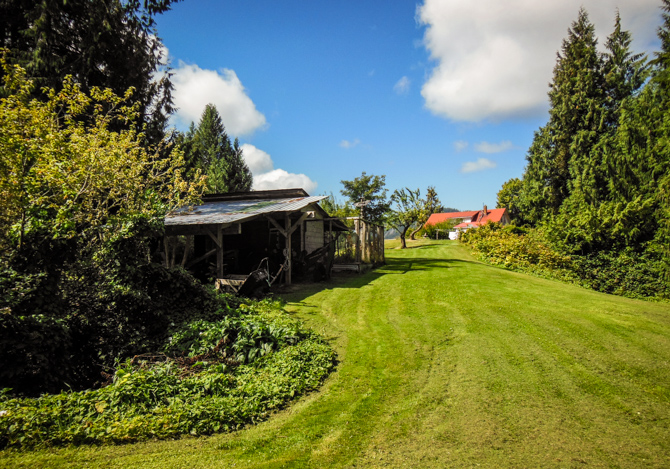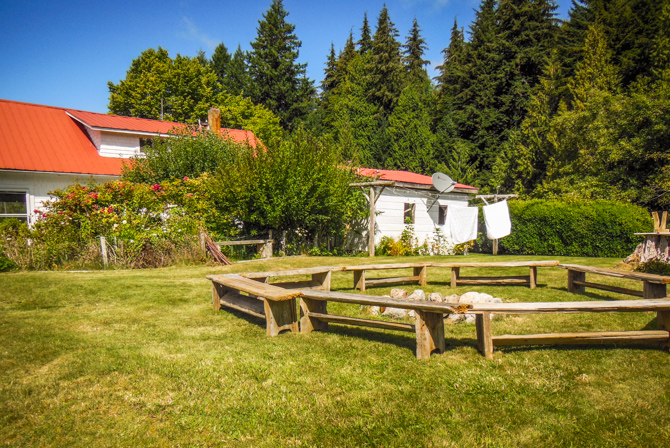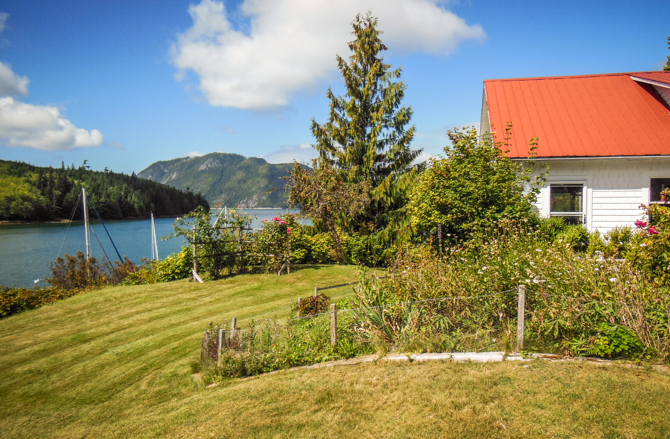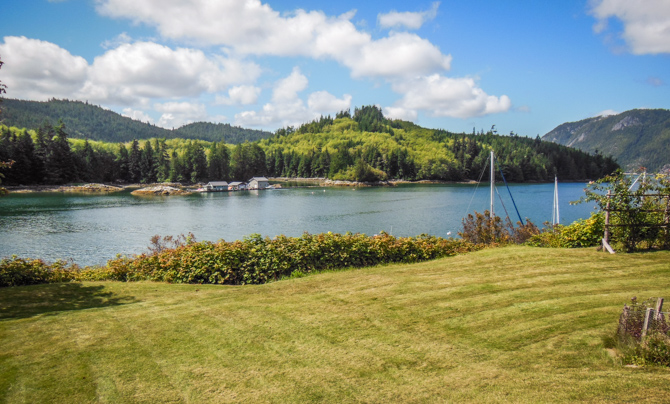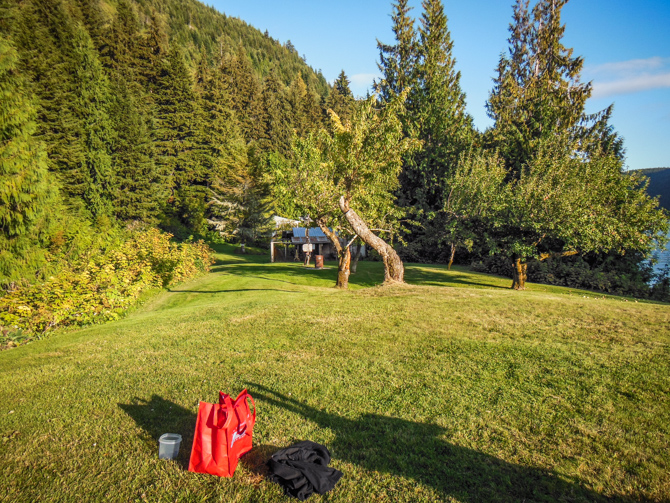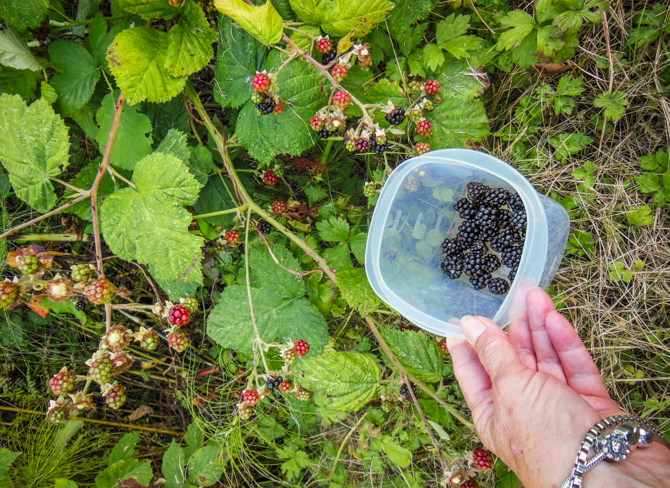 When we returned from our hike in the woods, we picked a bunch of these plentiful wild blackberries to consume for breakfast the next day.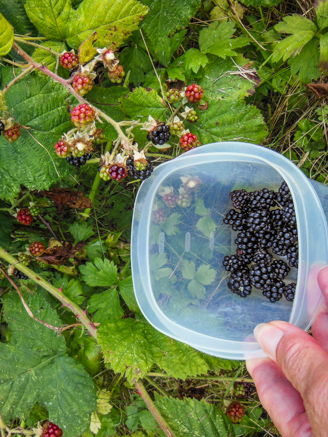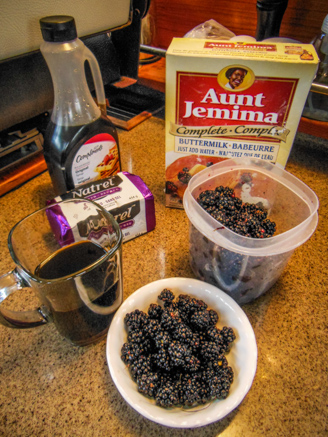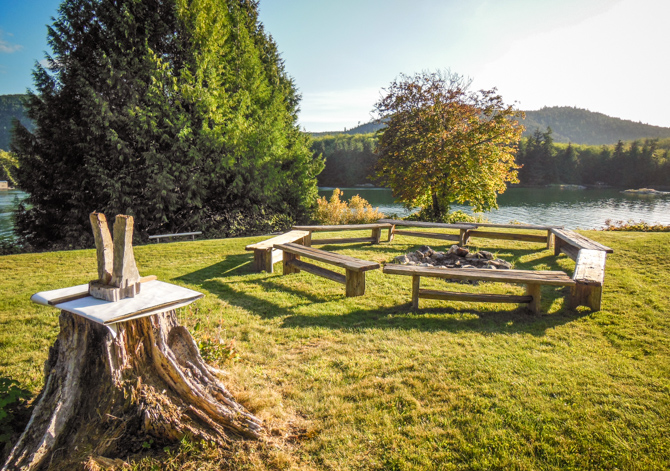 Nice place for a campfire! There are also opportunities to play yard games such as Corn Hole, Ping Pong and Bocce Ball.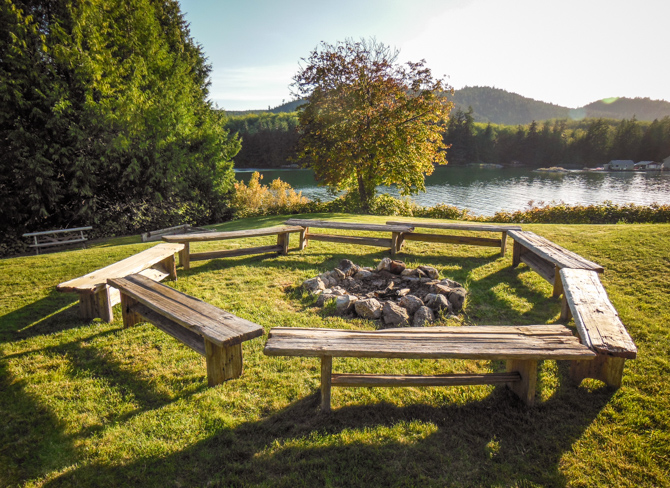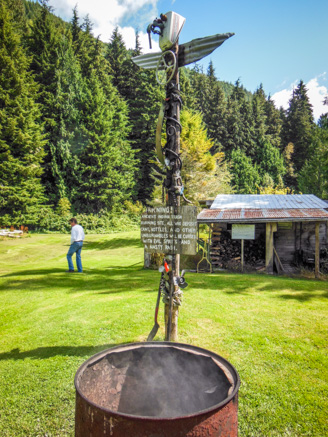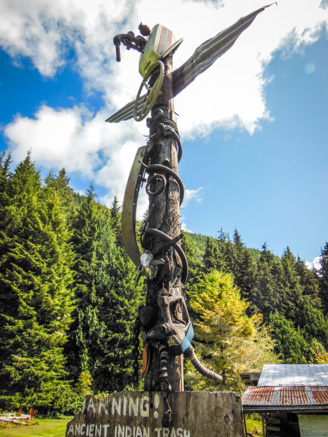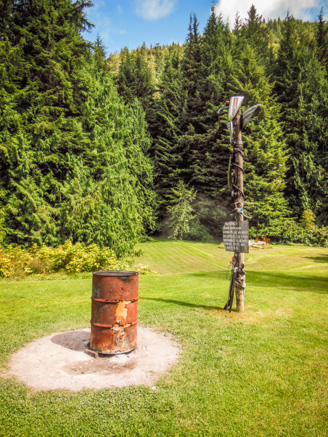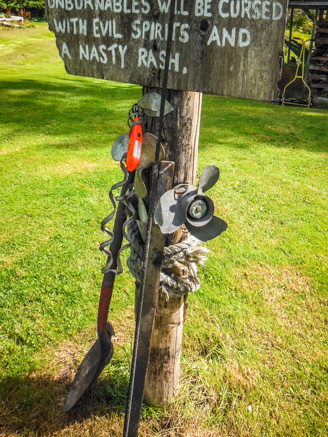 The burning barrel (above) is available for boaters to incinerate some of their burnable trash. A nice feature when cruising the Broughtons since disposing of garbage can be an issue.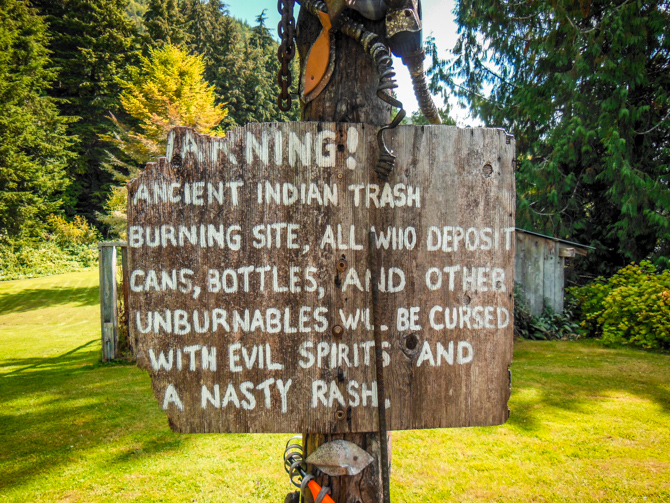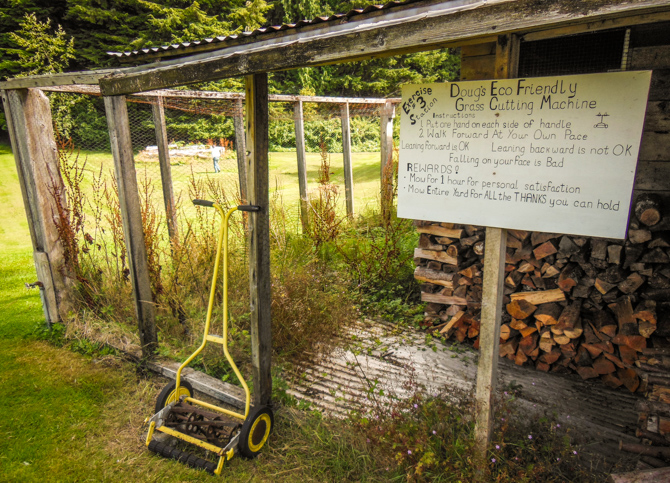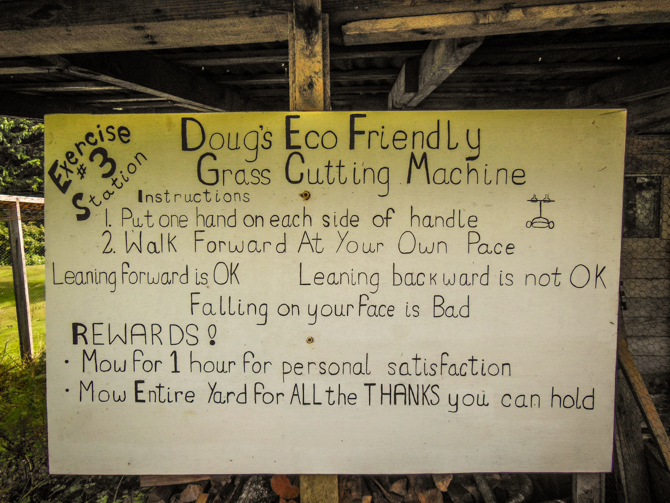 A novel addition to Lagoon Cove are the unique "Exercise Stations" with observations areas included for those who'd just like to watch others workout.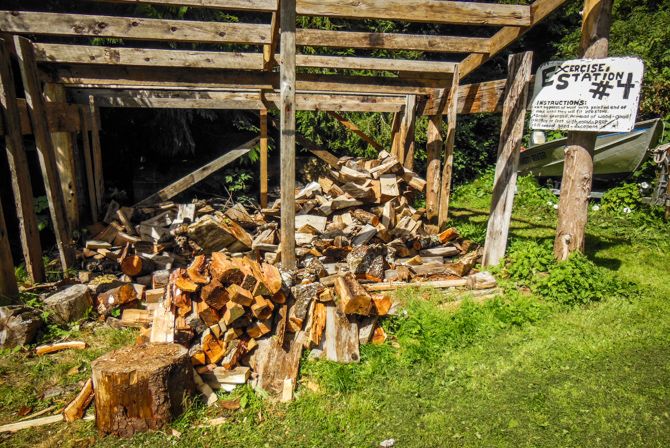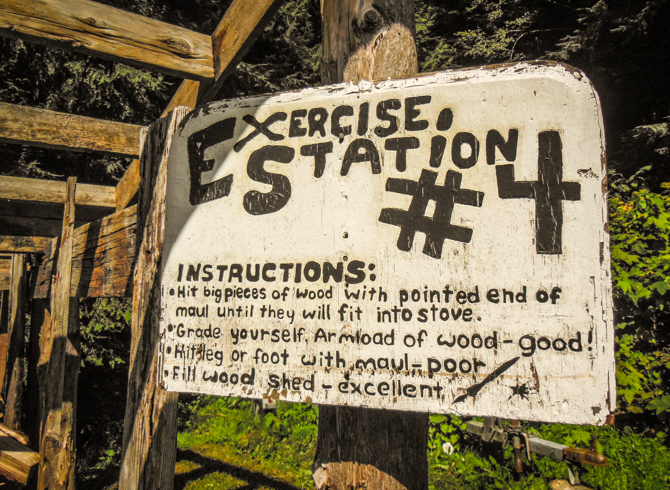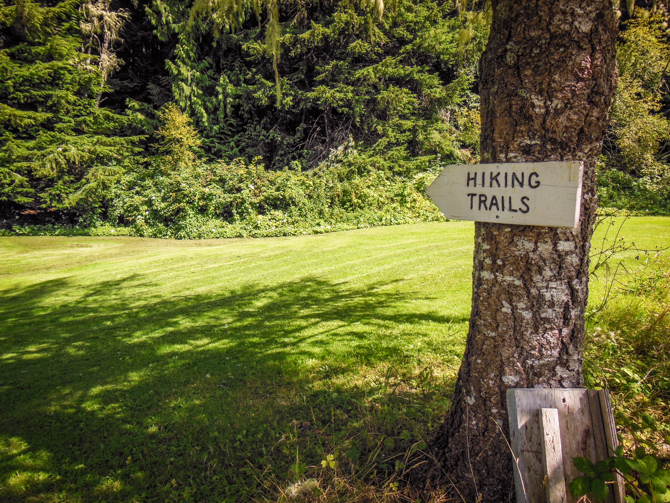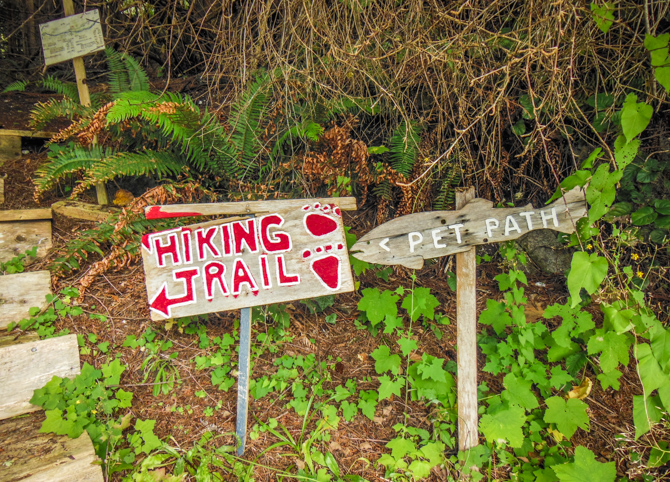 We took a hike to Midden Beach one afternoon. A good walk through dense woods on a well-marked trail.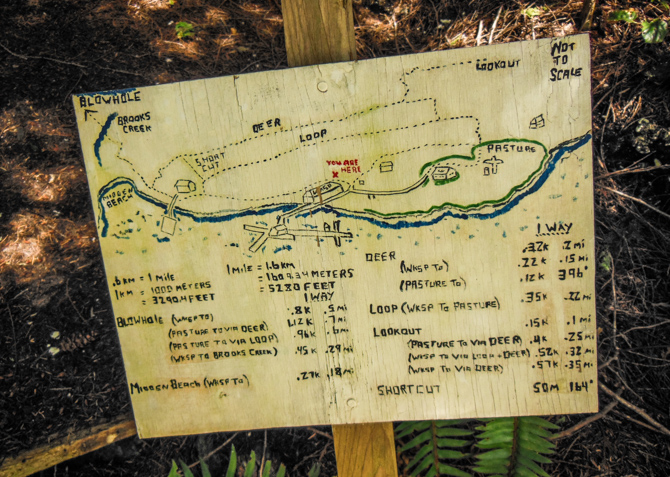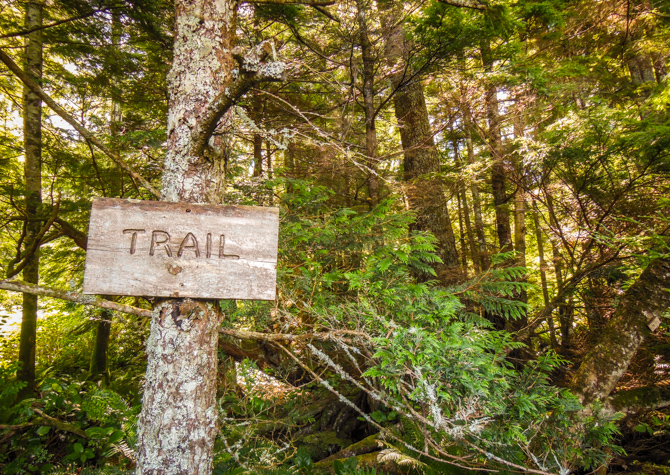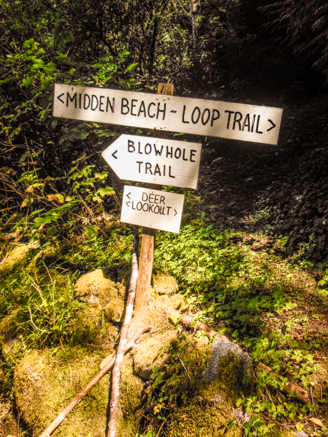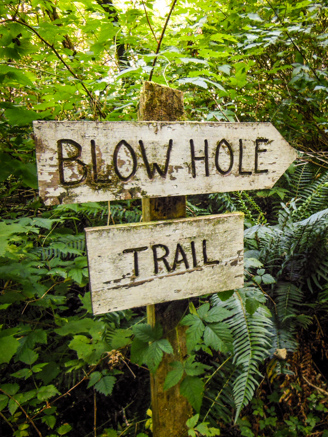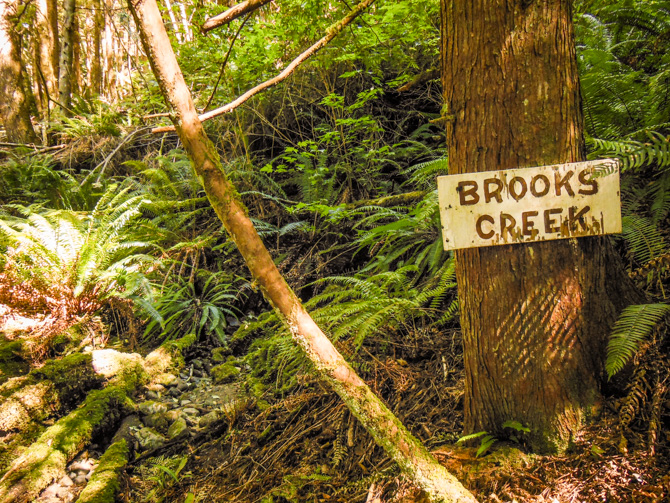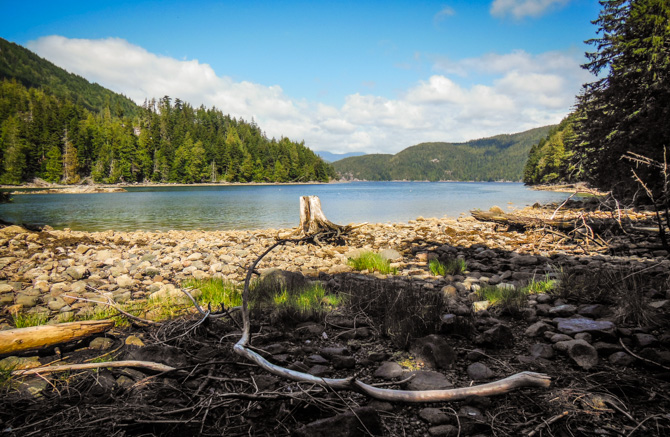 Midden Beach (above).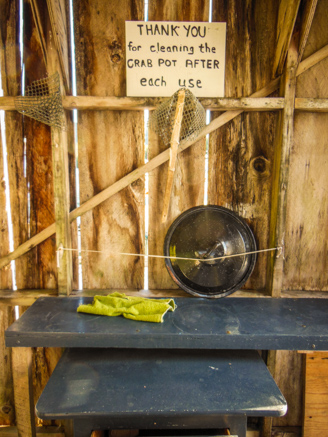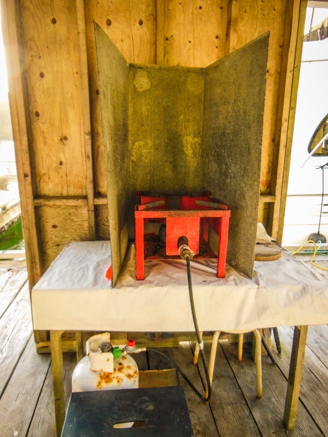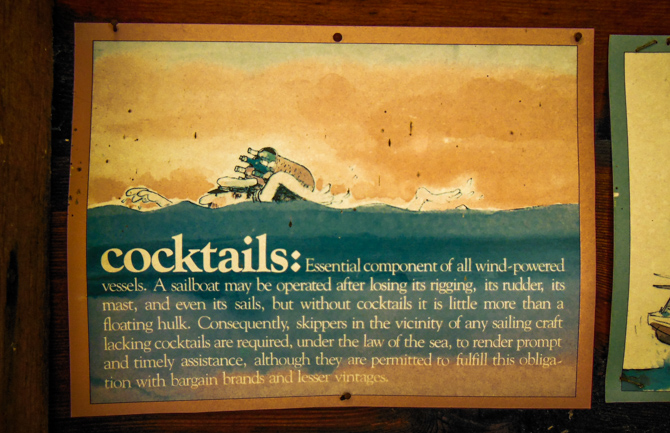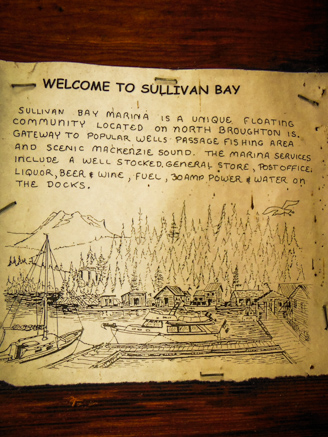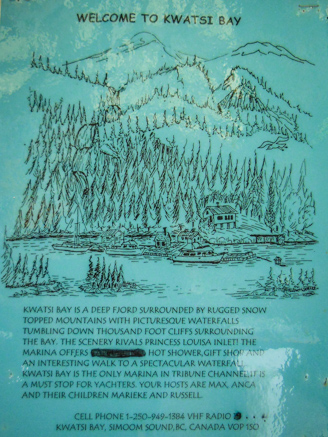 During our cruise through the Broughton Islands, we were fortunate to stay at both the floating communities pictured in the flyers (above), Sullivan Bay Marina and Kwatsi Bay. As we've said before, the communities in the Broughtons eagerly support each other while offering different and unique experiences for boaters.