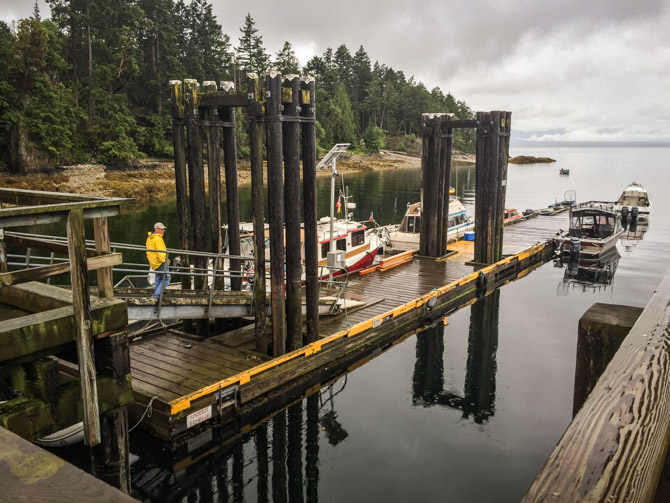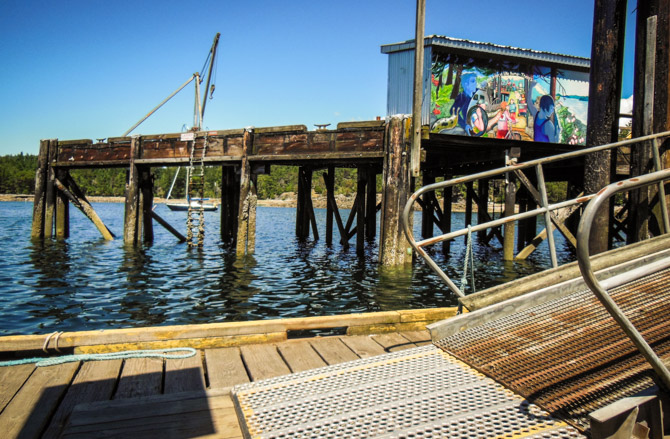 Lasqueti Island – Our fascination with this island had just begun –
It was just a short 12-mile hop from our anchorage in Tribune Bay on Hornby Island to False Bay, located at the north end of Lasqueti Island. The roughly 42-sq-mile island is situated less than ten miles from Vancouver Island. We really didn't know what to expect once we got to the island, but we had a feeling that we were in for a special treat. We had heard a little about the alternative lifestyle on Lasqueti Island during our last visit to the Pacific Northwest. We were intrigued but, due to circumstances at the time, the stop was bypassed. All we had heard was this… there was an island in the middle of the Strait of Georgia that, in more recent history, a bunch of hippies had made their home, living off the grid… in more ways than one.
There are two docks, one at each end of the island. False Bay is on the north side of the island, Squitty Bay is located at the south end.
Arriving in False Bay, we surveyed the anchoring/docking situation. Knowing nothing of this harbor or island, we weren't sure where we should settle, we were hoping to spend at least one night. There was a fairly protected cove to the left side of False Bay that we could throw the hook – that was one option. The other option was the ferry dock, it's quite small and was almost full of little fishing boats and runabouts. There was a large area reserved for the ferry and another for float planes, but we did find a spot that we might wiggle into between two small fishing boats near the back. We quickly decided that to get easy access and the full effect of life on the island, we needed to be at the dock, so we could walk up the hill, at will, to most of the activities of interest.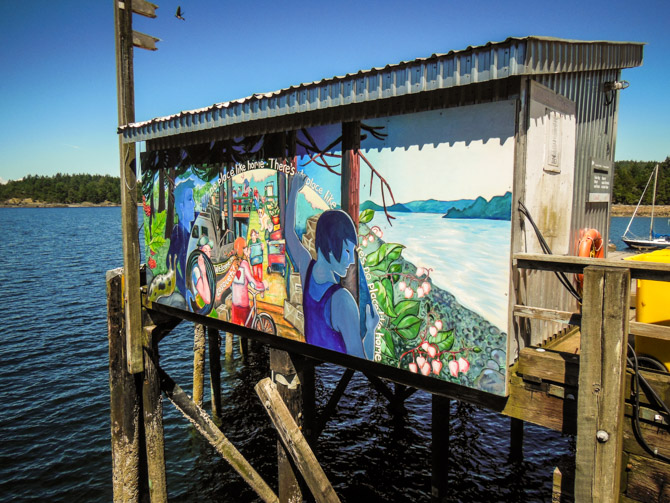 This beautiful mural is a colorful and friendly greeting to those visiting Lasqueti Island.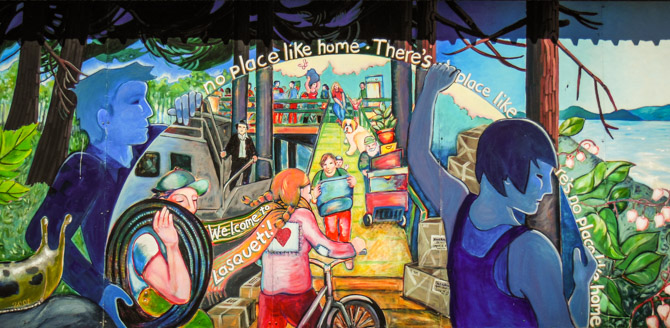 After we maneuvered around at the dock to fit in-between the two small boats, we met Danny, who immediately welcomed us to the island and filled us in on the weekend activities, all within walking distance of the dock, just up the hill – a farmer's market on Saturday, a bakery with doughnuts in the morning, a band playing at the pub Saturday night and most importantly the grand opening of the Judith Fisher Centre, a community health center for elder care. It was such a natural and friendly encounter, we felt properly welcomed. Danny is a good ambassador for the island, one of many we were yet to meet, as it turned out. Danny was on his way out on his boat to fish, so we hurriedly inquired about protocol for using the dock and, according to Danny, it was a pretty loose affair, we didn't even need to check in with anyone and there was no fee. We decided to stay two nights.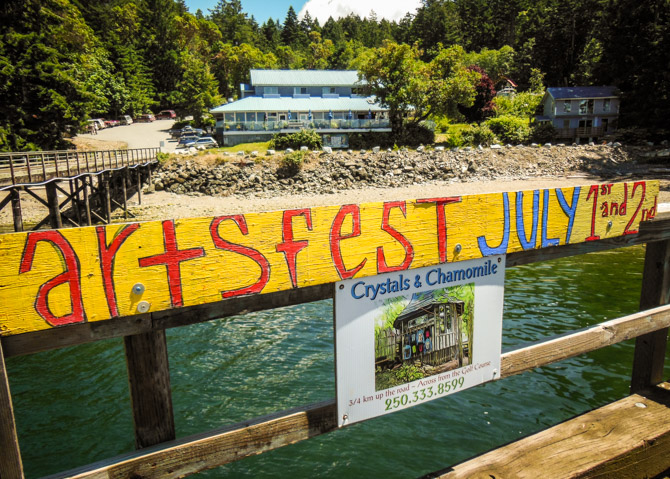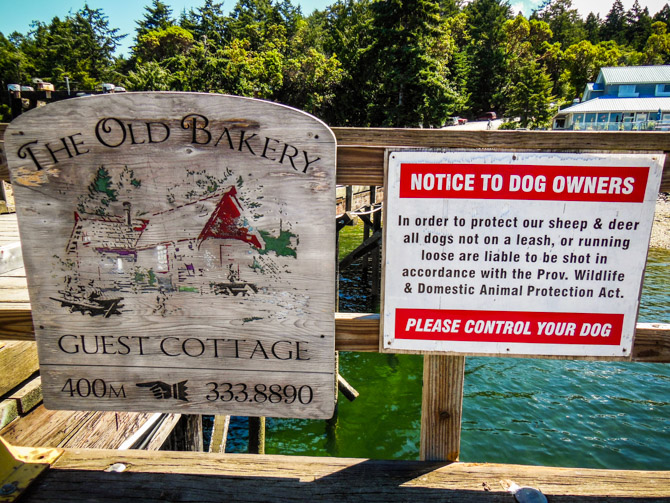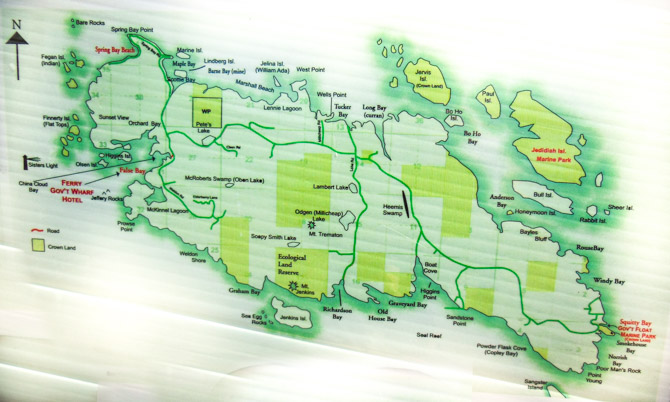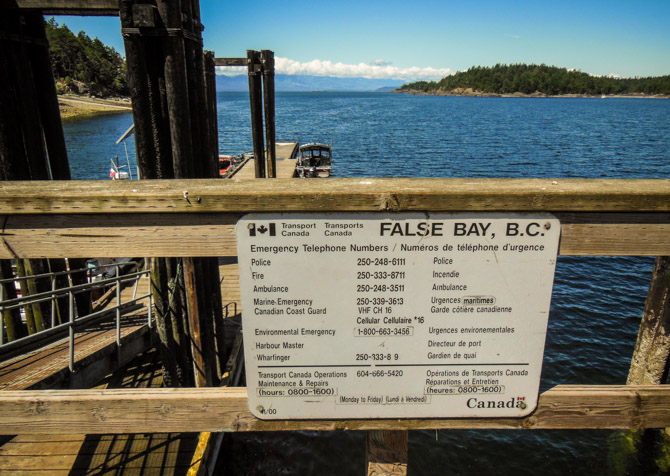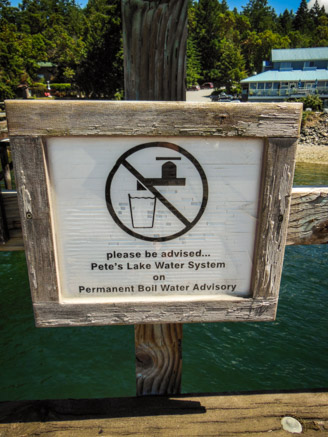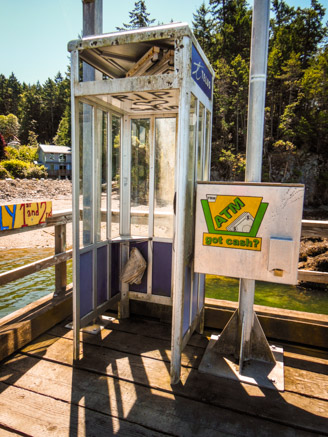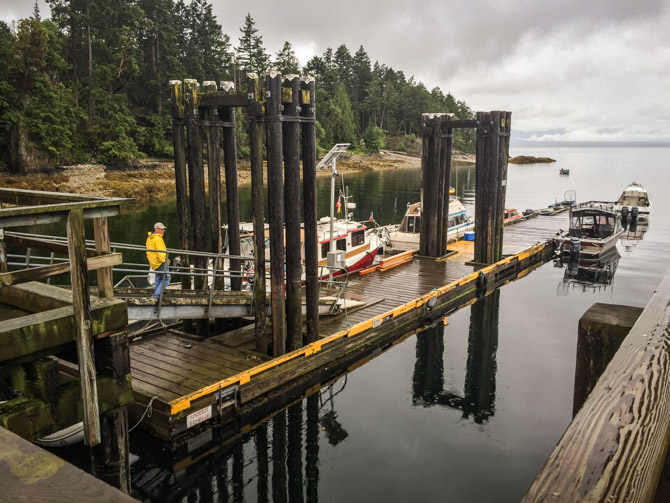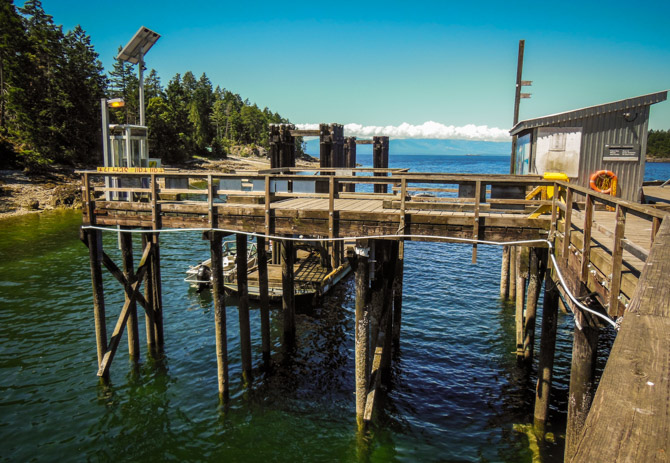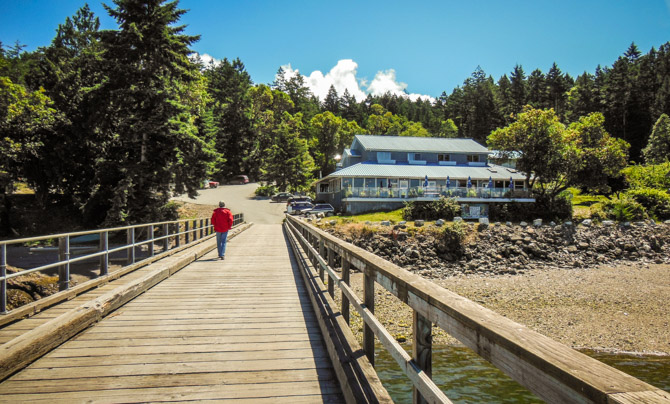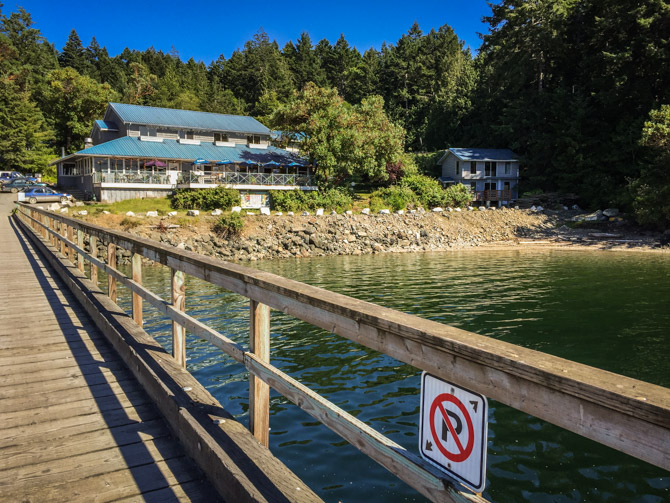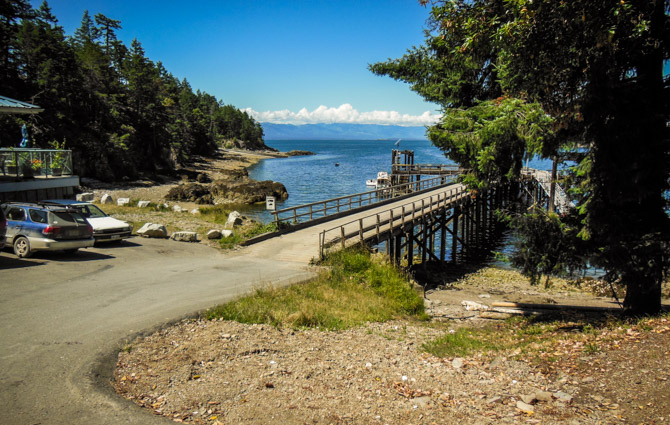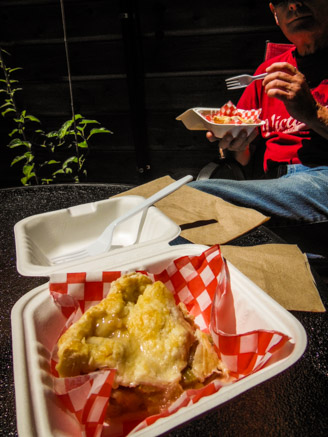 After getting settled at the dock, we walked into town to investigate. With a pub to the right and bakery to the left, being mid morning, we decided to hit the bakery where we set our sights on a freshly made rhubarb pie. We ordered two slices to pickup on the way back from our walk, but before leaving the bakery we ended up meeting the man who grew the rhubarb used in that pie, he must have just dropped it off. From maker, to baker, to eater. That's how it works here, a short trail in the food chain, we learned.
The bakery on Lasqueti Island also seemed to have several convenience items for sale, so we asked if this was the only store on the island. The answer surprised us since there were not many staples for sale, mostly just a few shelves of exotic asian sauces and prepared foods. The store keeper told us most everyone on the island grows their own food. That one statement led us to wonder about a lot of the ramifications for the community there. The fascination with this island had just begun.
Although the Lasqueti Island has a rich First Nation history, the island was named in 1791 after Juan Maria Lasqueti, a prominent Spanish naval officer. We found it interesting to learn, by one of the locals we met at the grand opening, that, back in the 1970s the island attracted people looking for an alternative lifestyle. Hippies, draft dodgers, communards, utopians, revolutionaries and other exotic characters made their home on the island, creating a sort of Canadian counter-culture. At that time there were many abandoned houses available from previous communities and perhaps only 100 homesteaders in residence.
Today, the island is not a commune or for artists only, Lasquetians live here to seek a simpler way of life. Although simple does not always equate to simple mindedness as according to Canadian statistics report the island is the most highly educated community in the province. Professions are diverse and includes poets, artists, musicians, physicists, consultants fishermen, loggers, farmers and commercial agriculturalists. We thought a skill worth having as a resident might be a MacGyver type personality. Some of the businesses on the island include a soap maker, a clothing maker, a chocolatier, energy systems sales, construction, landscaping, propane sales, yoga, massage, and marine transport.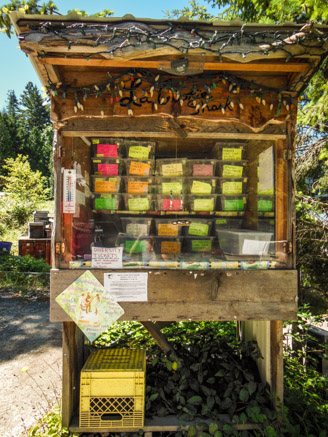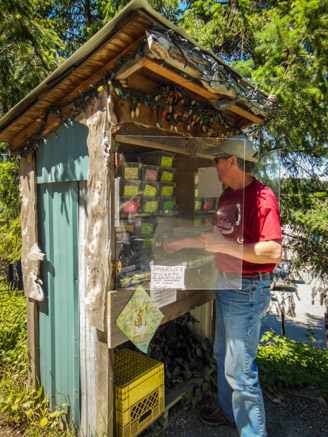 We also came upon La Cookie Shack. In a little hut just up from the pub we found boxes of unguarded cookies stacked in plastic see-through storage boxes with labels on the front face, a thermometer to gauge the heat inside the hut hangs inside and a honor system payment box. The cookie monster was released.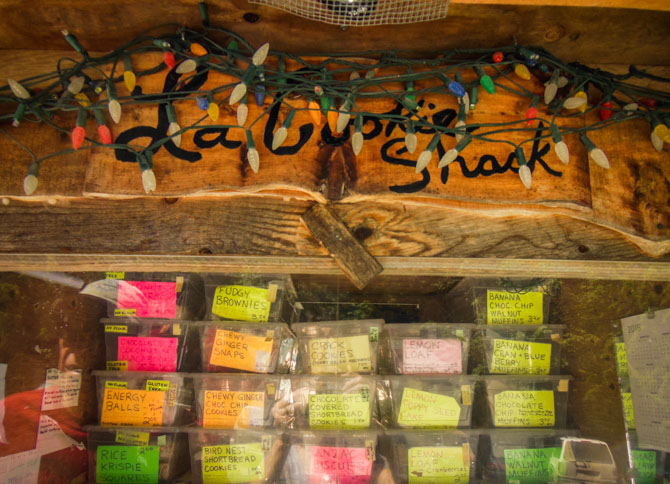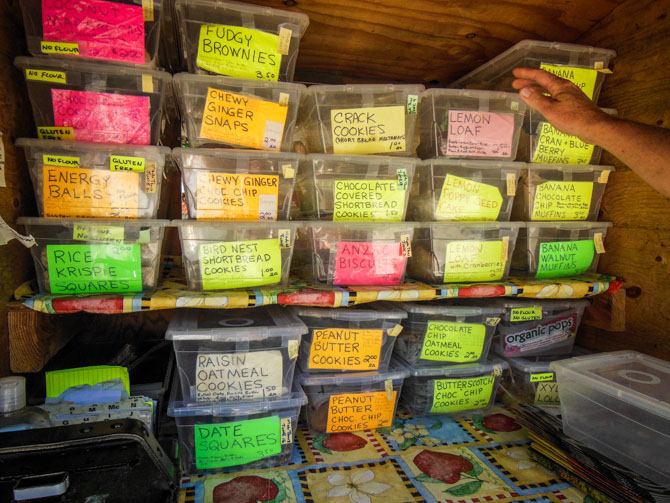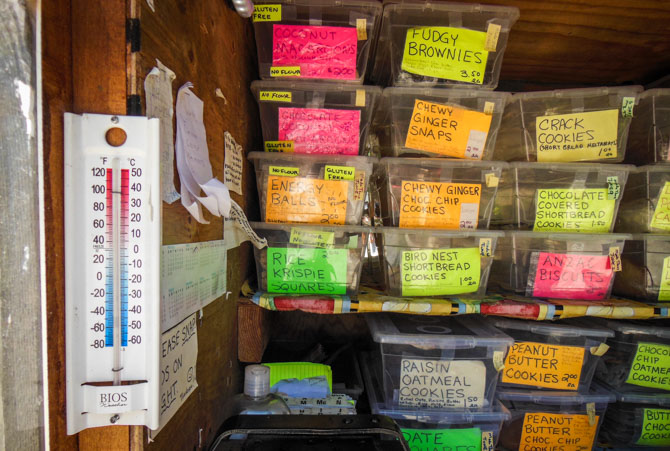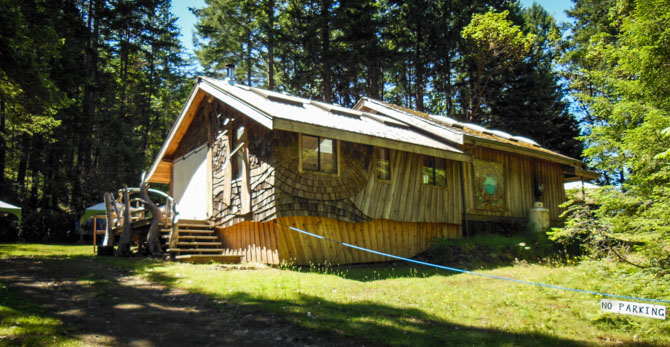 Our walk took us up the main road and heavily treed hill past the pub, the cookie hut, the post office, the Free Store, the Volunteer Fire Department, the Art Center/Farmer's Market, the grade School and finally the new grounds of the JFC, before we found ourselves in a more rural area interspersed with well hidden homesteads. The paved road was short, leading to a few major arteries of unpaved roads. Lasqueti Island is probably one of the least developed islands in the Gulf Islands and the only one of the larger Gulf Islands not currently connected to BC Hydro's electrical power grid. They don't want it! The island's power source is generated by solar, wind, micro-hydro, and fossil fueled generators windmills, and water-driven turbines for their electricity. Water source? Some properties have wells while others take advantage of nearby streams to meet their water needs. The island's main water source comes from Pete's Lake. As the many signs in the harbor and on the island indicate. All water must be boiled before consuming. The island does have full B.C. Telephone and Internet service.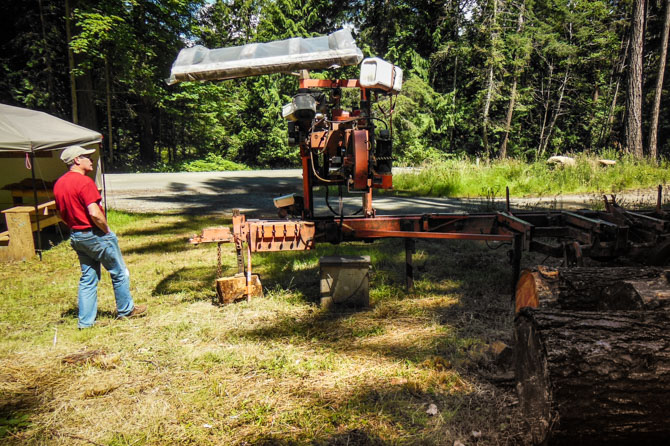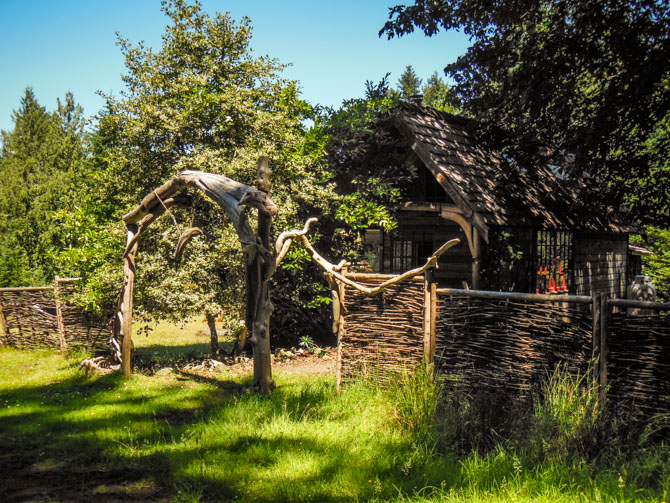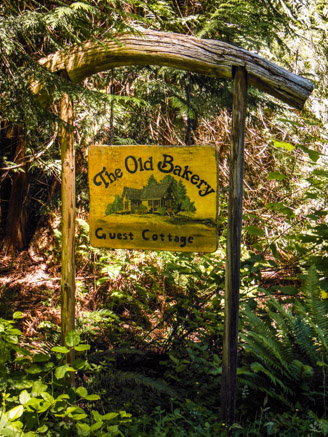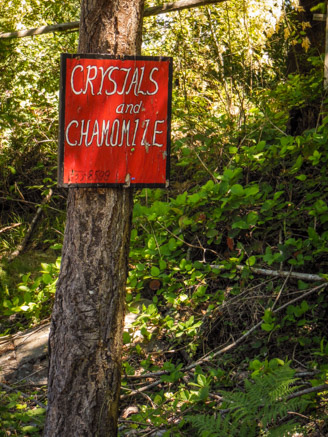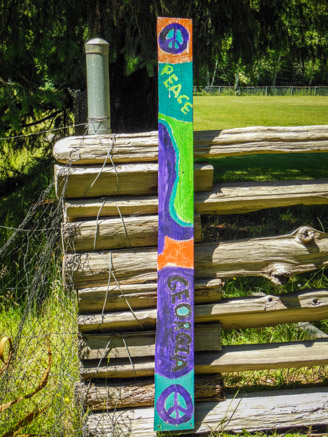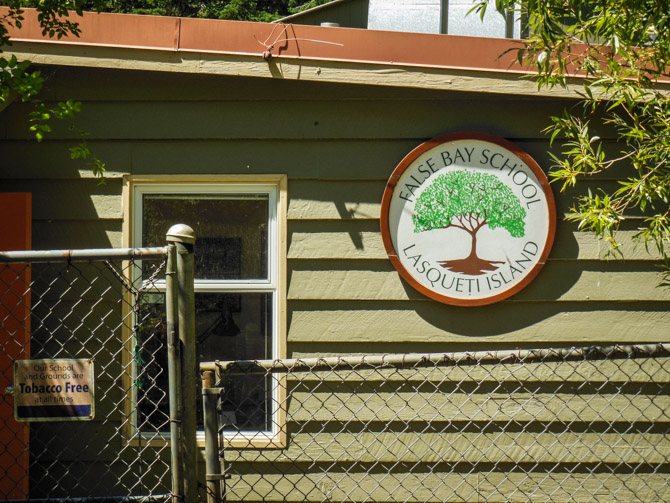 The grade school is just off the main road not far from False Bay. In talking with a few residents, we learned that a lot of people move off the island when their children reach high school age and return when their schooling is complete.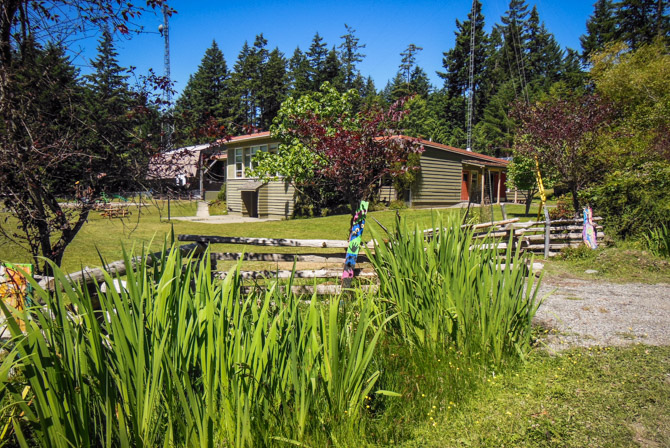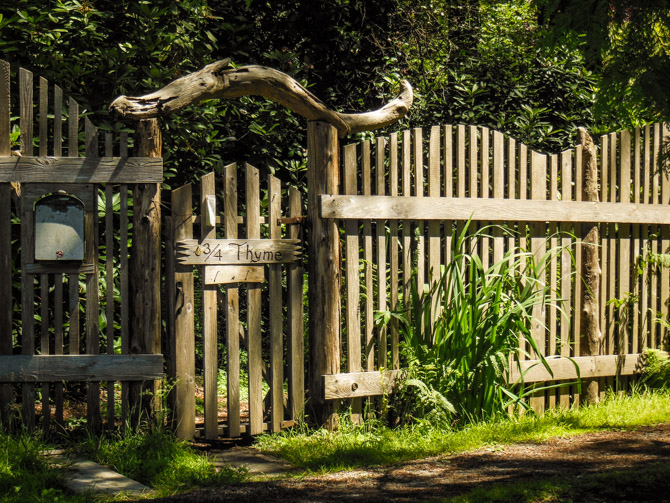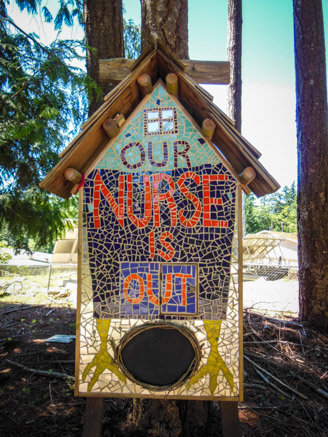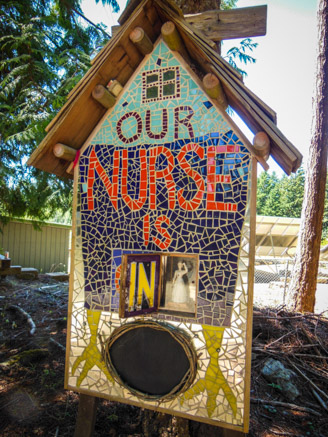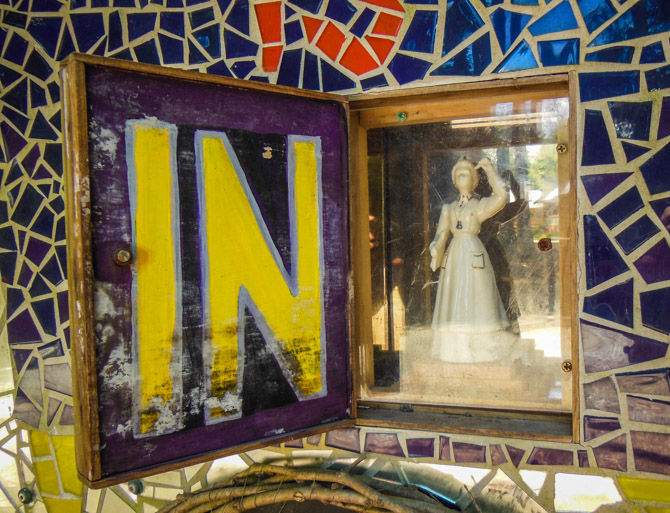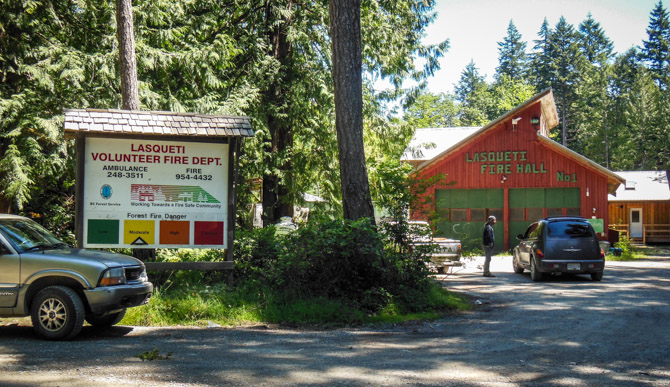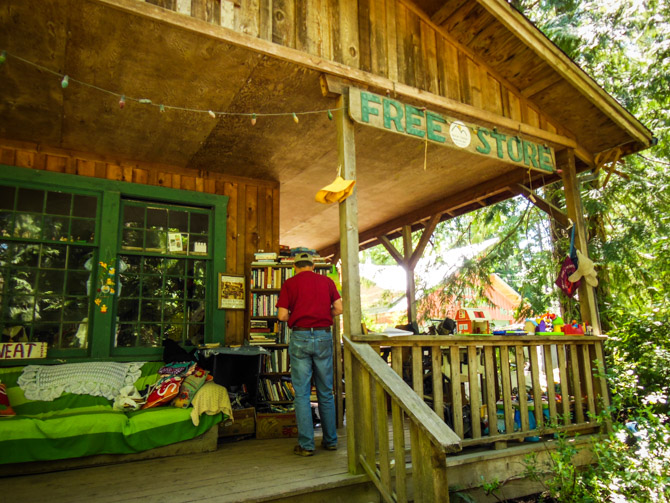 We also thought the Free Store was interesting. Everything on the shelves is free, residents can exchange items they no longer desire or need. It just makes sense. Set up like a store, most items are displayed on shelves or tables on the porch with a recycling station at the rear. This is a sustainable lifestyle in it's finest form.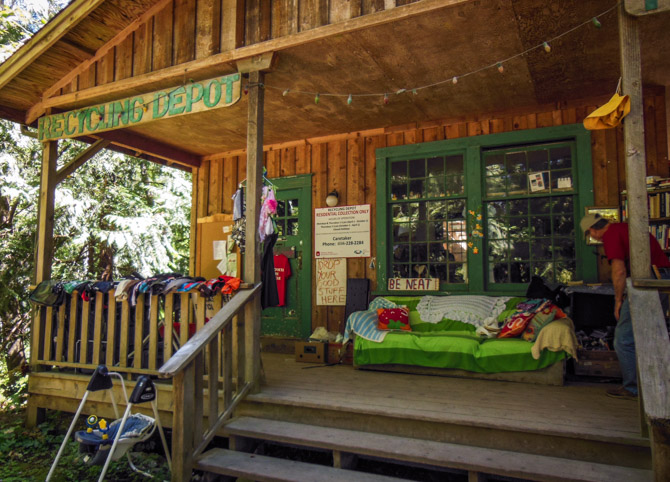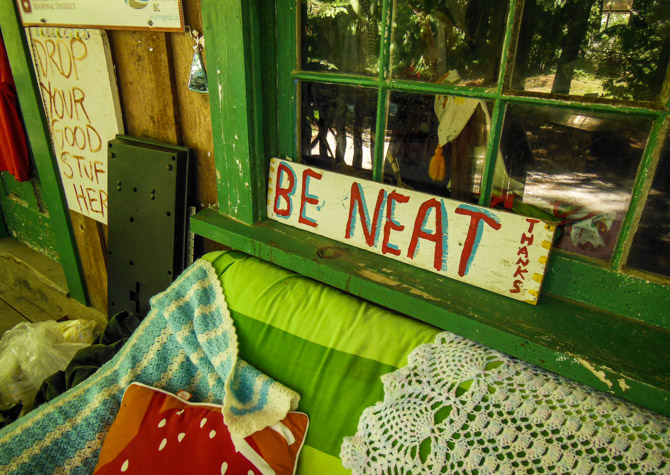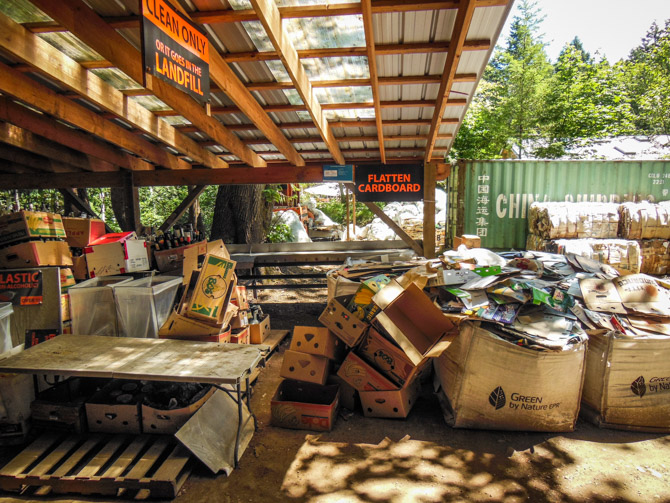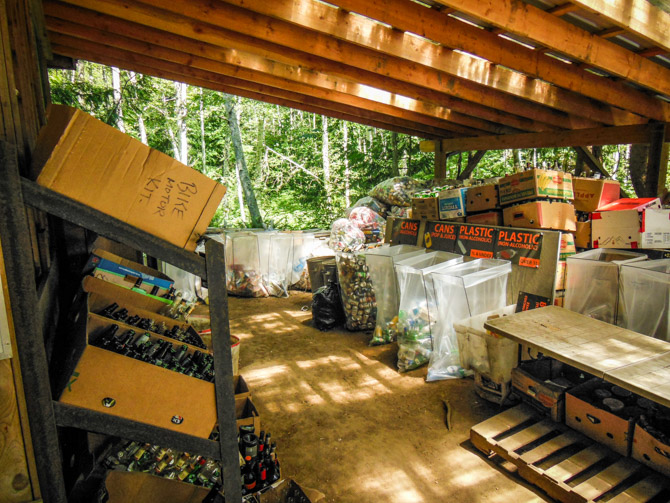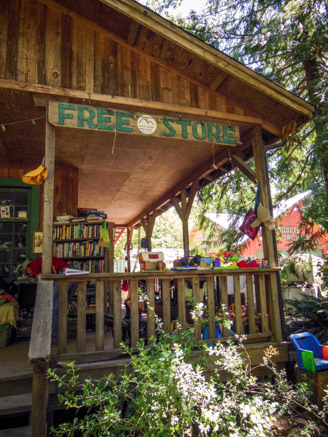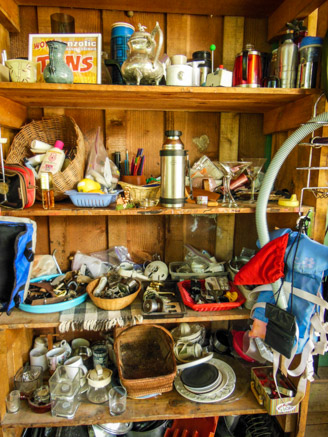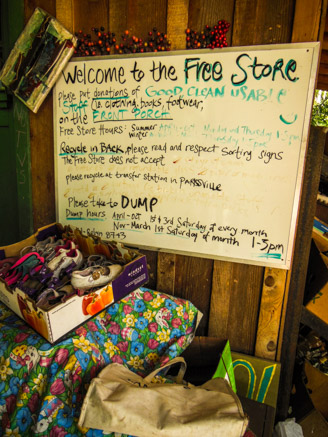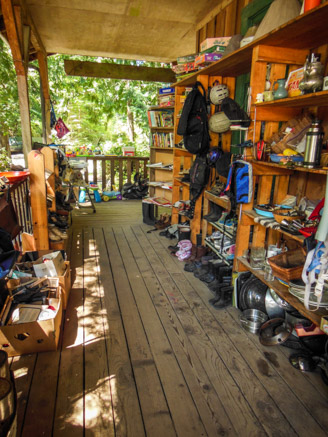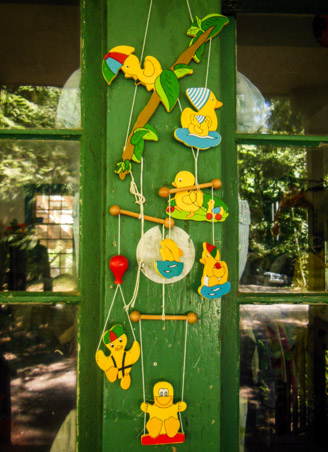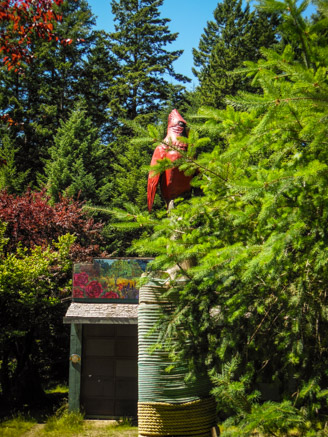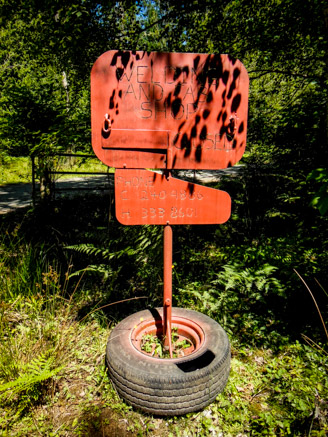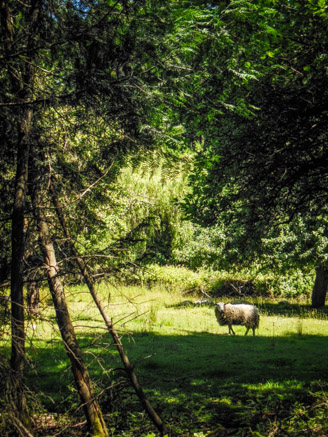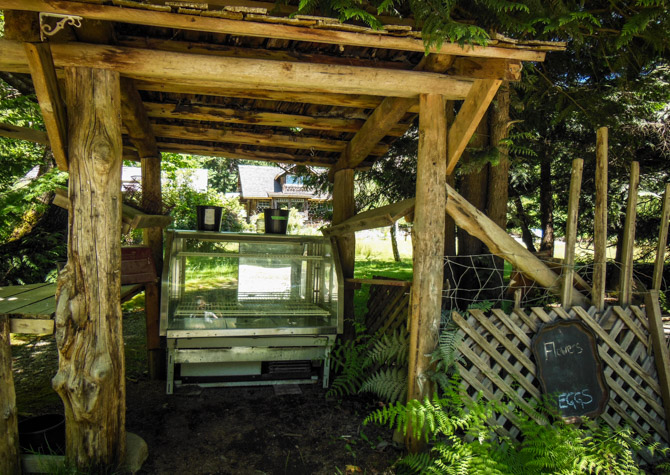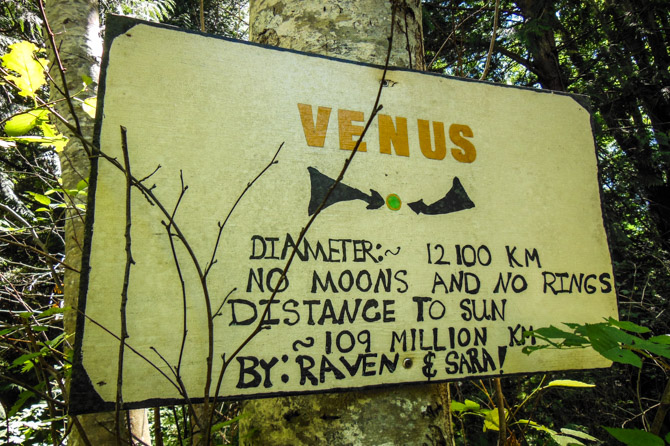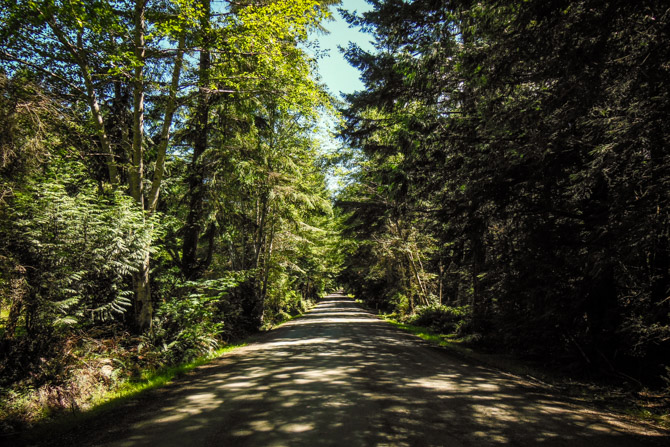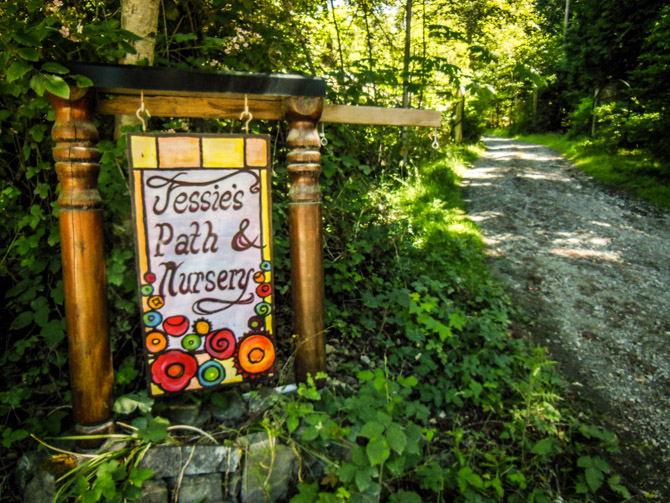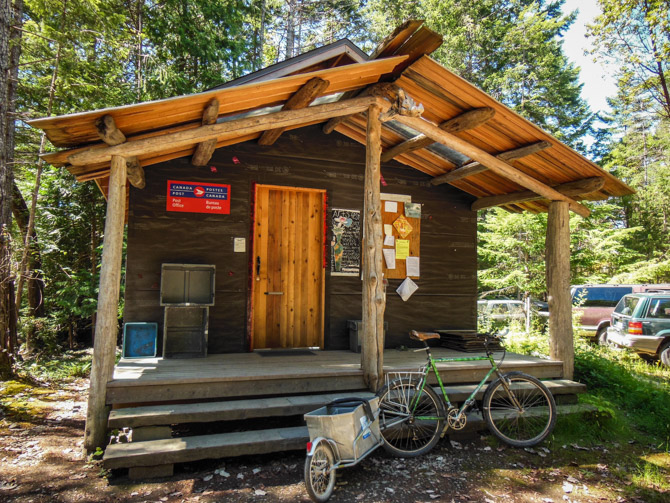 Lasqueti Island Post Office (above and below).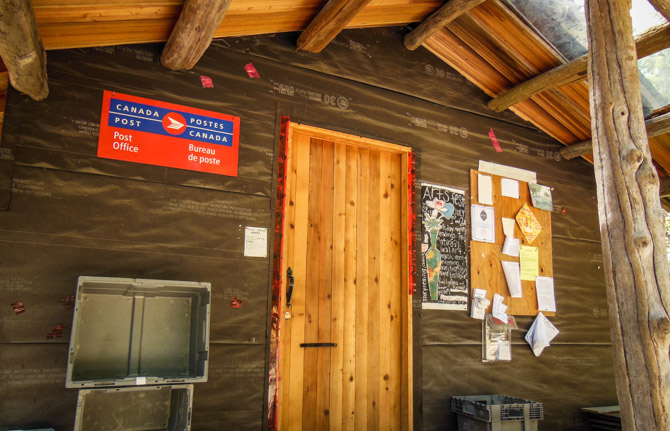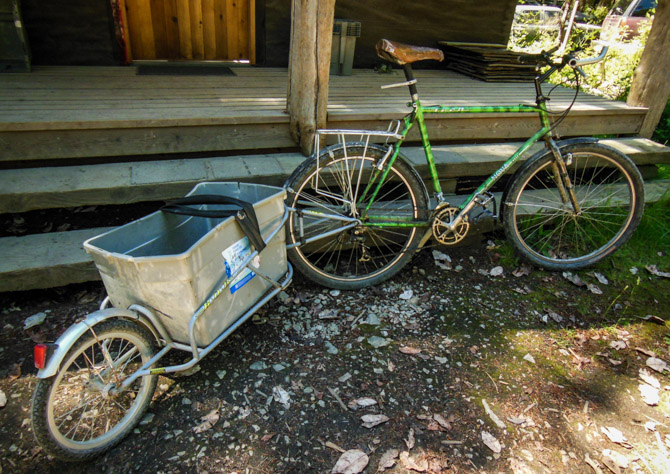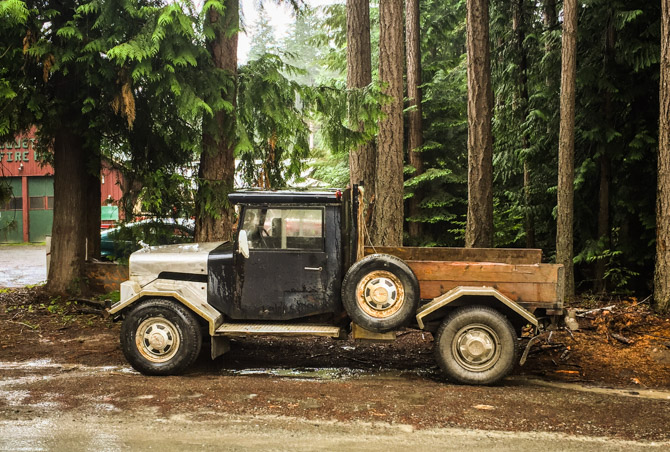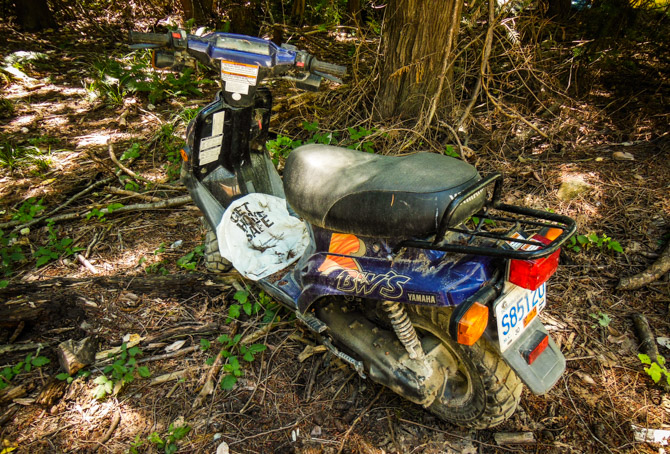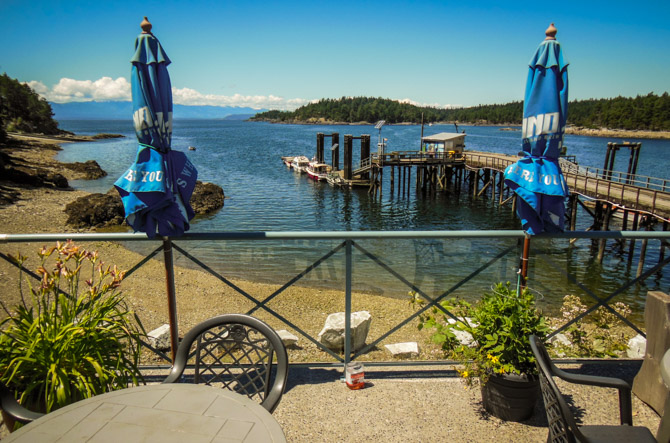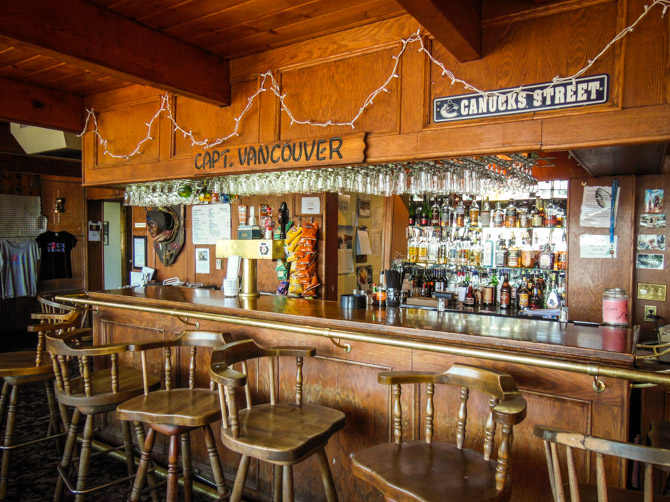 After our walk, we set up at a table in the pub at Lasqueti Island Hotel and Restaurant, to use their internet and catch up on email, all while having a beer.
Our last night in Lasqueti Island, we went to the pub to see a band play, Vinyl Feedback. A special thank you to the woman who took me for a spin on the dance floor without introductions. It was a fun night on Lasqueti.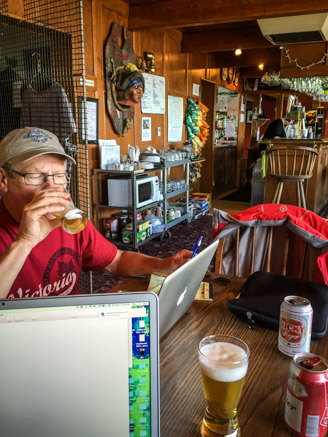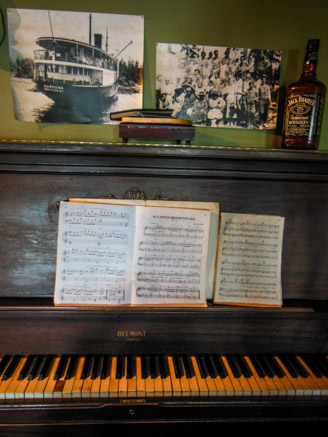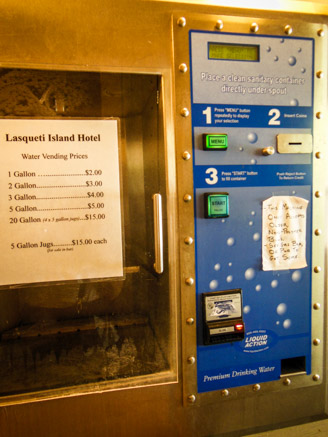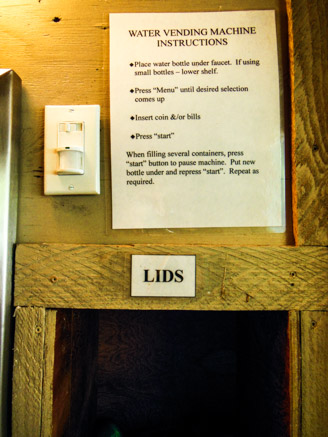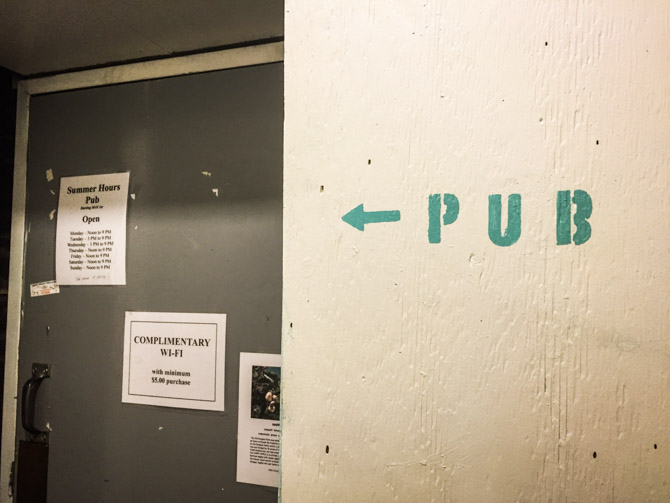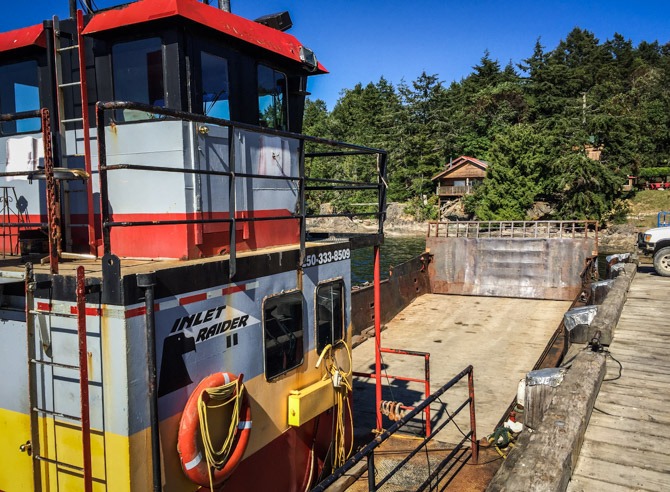 We think this barge (above) is for transporting vehicles on and off the island.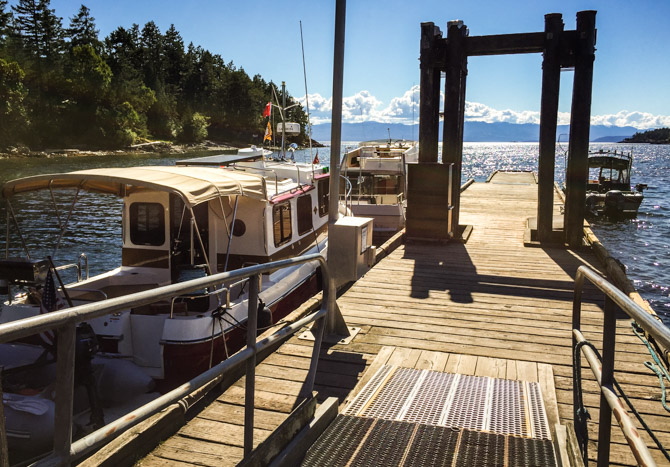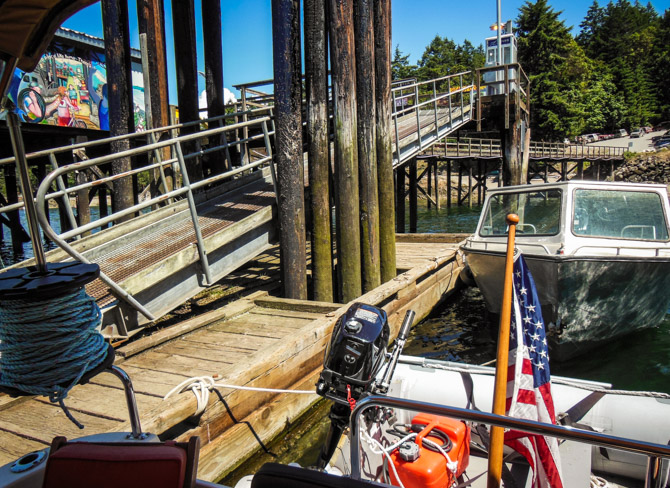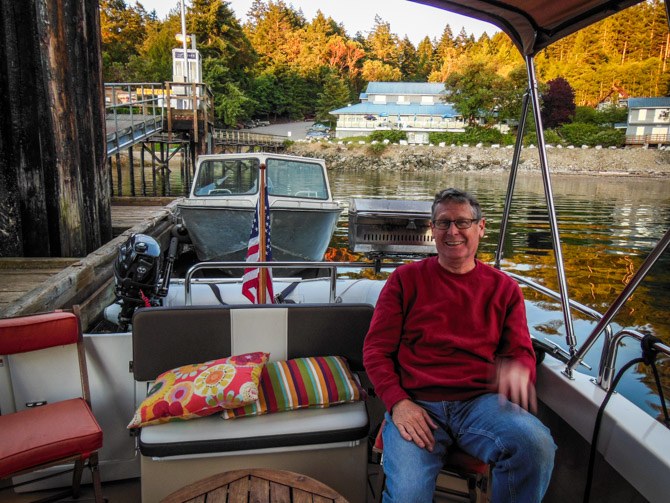 Today there are, at any given time, approximately 450 year-round residents inhabiting the island. A passenger-only (no vehicles) ferry connects the island to the community of French Creek, near Parksville, on Vancouver Island. Two to three runs per day, five days a week, weather permitting. We had dinner on board the first night when the ferry made it's evening appearance. We'd been out exploring the island earlier and had not seen the offloading process during the other runs.
It certainly was a sight to see. The ferry was full of residents and visitors. The cargo they carried off that ferry was amazing. Large tupperware containers full of provisions, sacks of product, feed and seed, machinery such as generators, motors and chainsaws. We saw heavy suitcases lugged up the plank along with 2x4s hung over one resident's shoulder. When we arrived, we thought it odd that a large entertainment center stood on the dock near our boat. Danny came by later in the day with a dolly and since it was high tide, he was trying, with Jim's help, to get it up the less steep dock. The difference from high tide to low tide is significant, about 12 feet, making for a very steep dock at times. Provisioning is quite the chore on Lasqueti Island.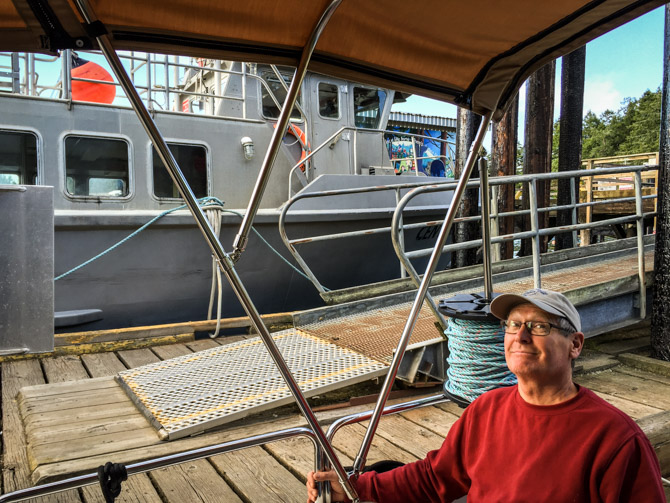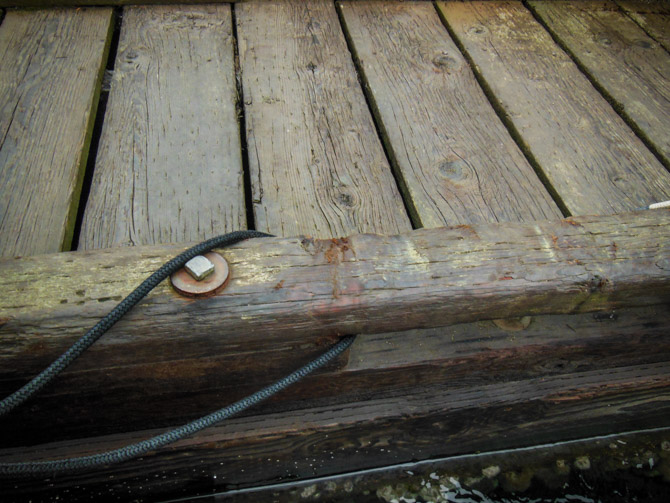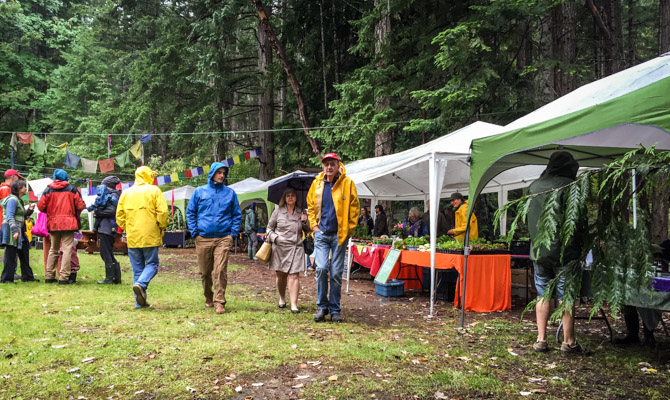 As it turned out we chose a good weekend to visit Lasqueti Island. Because of festivities on the island, as mentioned by Danny, the weekly farmer's market and more importantly, the opening of their new health center, we were able to see probably more than half of the population of the island in one or two spots during our stay.
It was raining most of the day when all the activities took place. We wore our raincoats to visit the farmer's market where we got fresh doughnuts. There probably would have been more people in attendance if the weather had been better.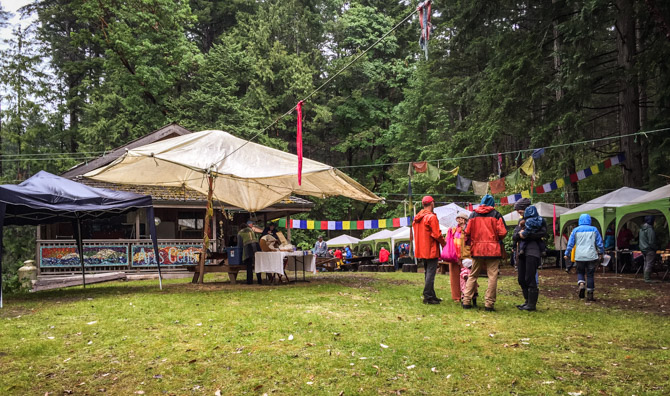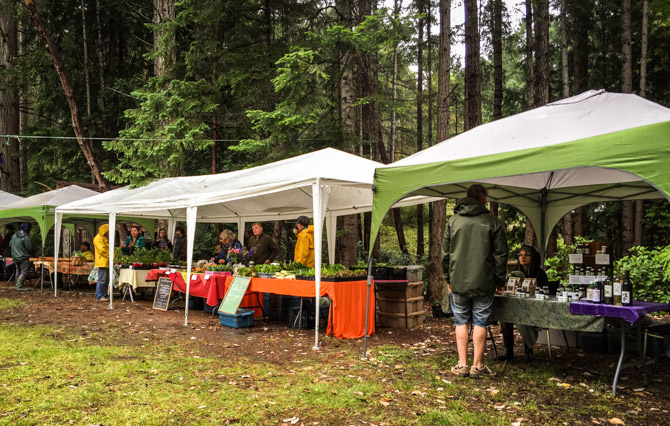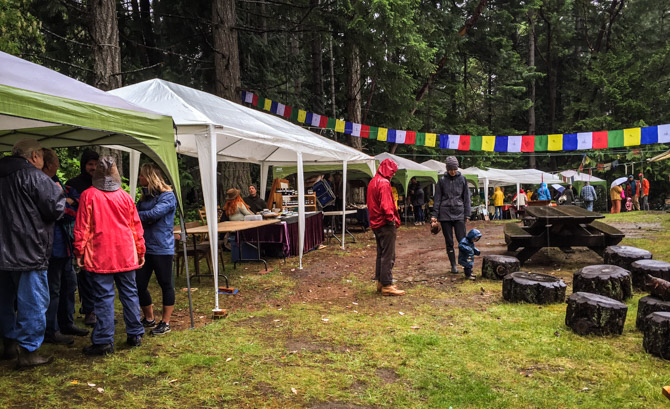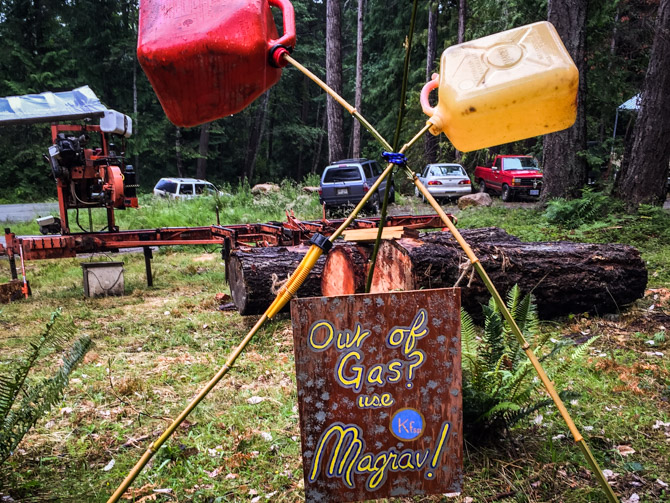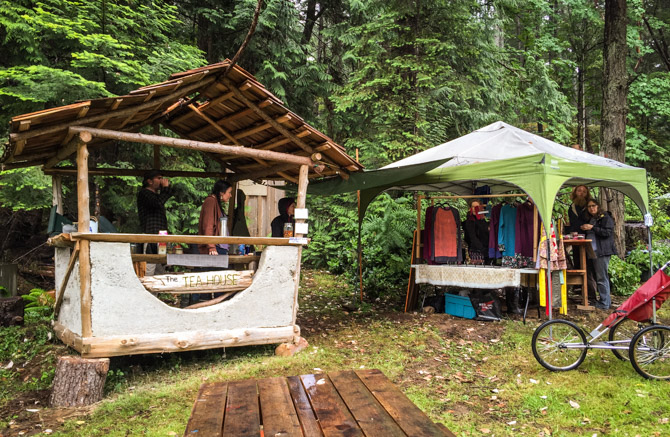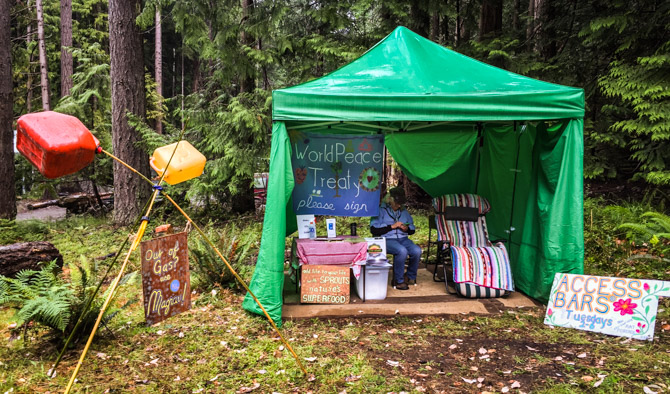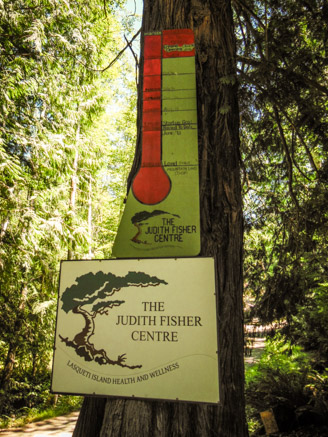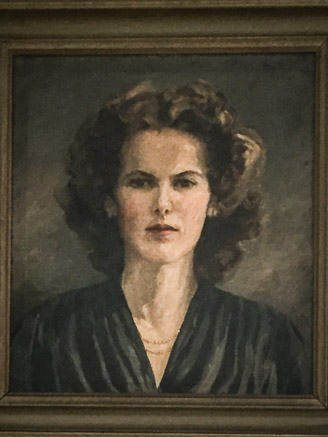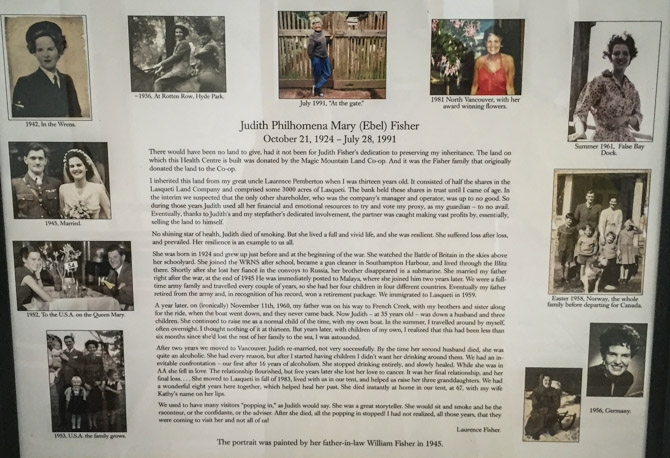 Although we were just visiting the island, we were invited and welcomed by more than one person to the grand opening of the Judith Fisher Centre. It is located on the main road up from the Art Center and Farmer's Market. After we ate our doughnuts, we headed up to check out the new facilities.
The islanders are very proud, as they should be, of this huge accomplishment. Brand new, and modern health care facilities for the aging population on Lasqueti Island. There will be small buildings, yet to be built, to house fragile elders. One has already been built, donated by the woman who built it and spent her last days on earth there.
We were told about how hard people must work to maintain this kind of lifestyle. Growing their own food, building, maintaining and fixing mechanical fixtures in place for electricity, water supply, heat and waste. We wondered what happened to older, or physically challenged people. It seemed like quite hard labor, but the benefits were bountiful. Clean air and water, a natural environment, a close community to help the less able. We saw this in action during our visit to the Grand Opening of the Judith Fisher Centre.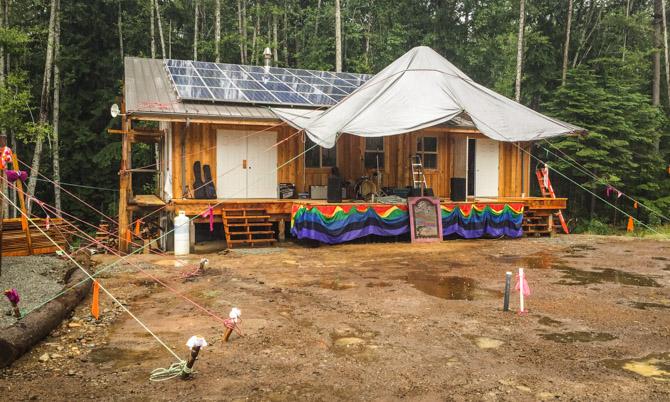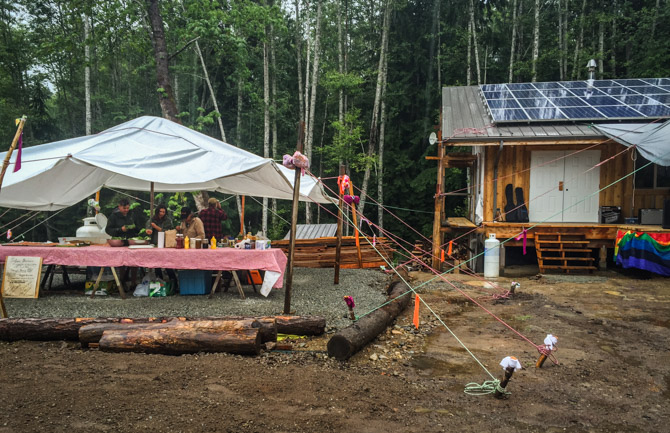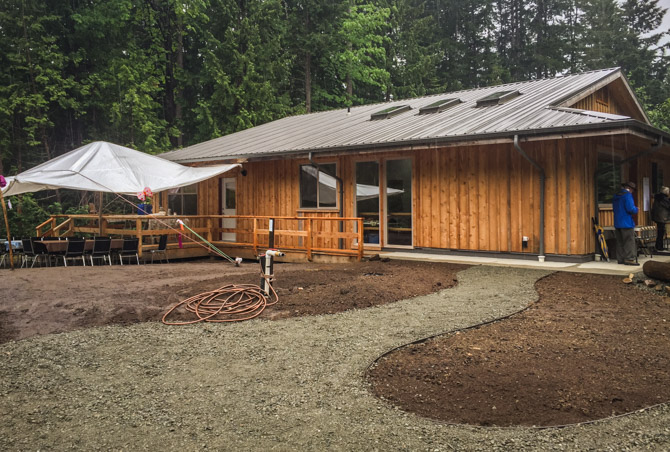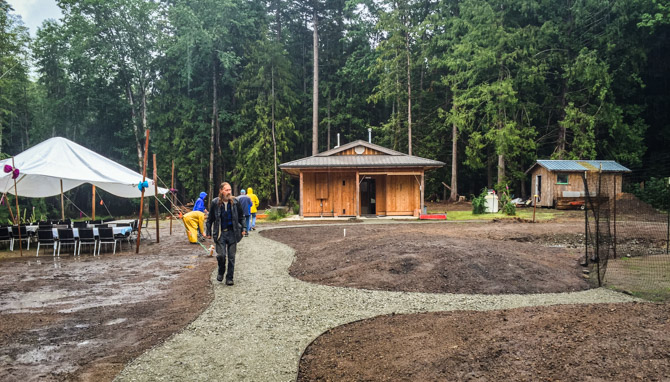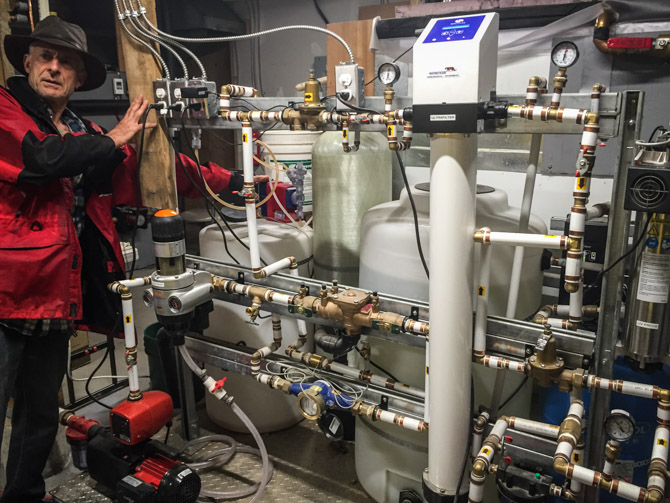 John, (above) filled in a lot of blanks for us. Starting with an explanation of the mechanical room in the lower level of the building. We asked a lot of questions about how the island functions with water and power issues.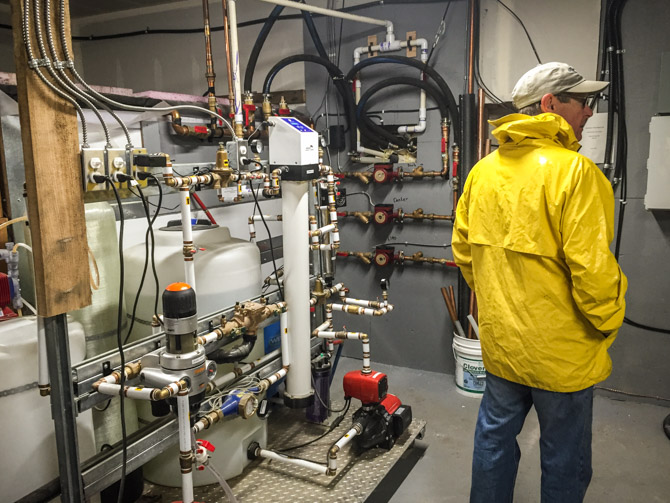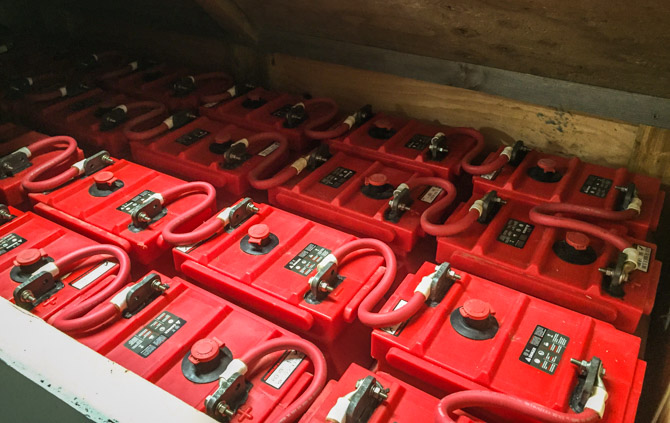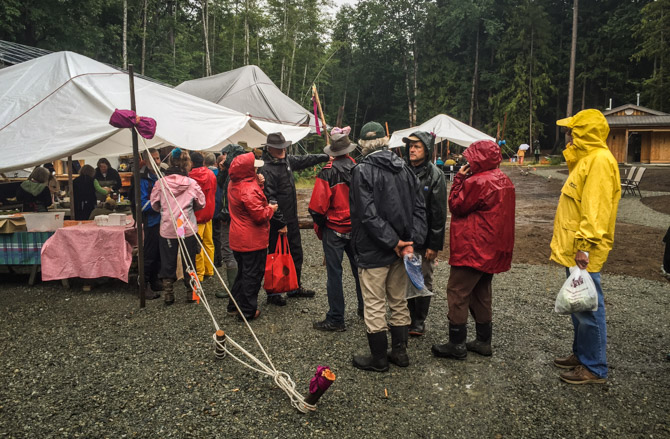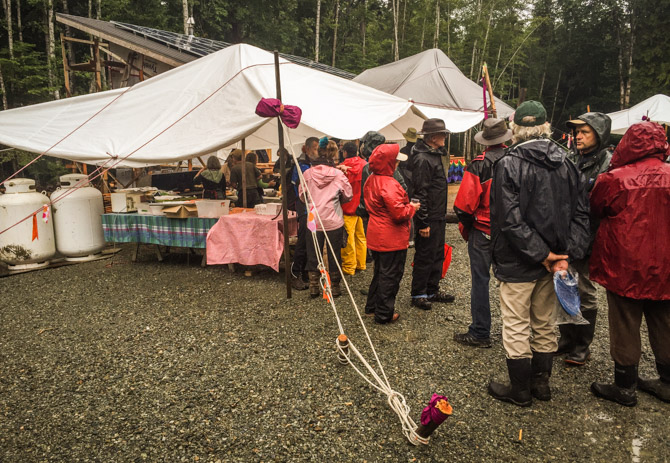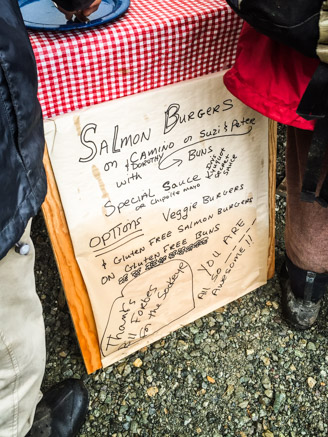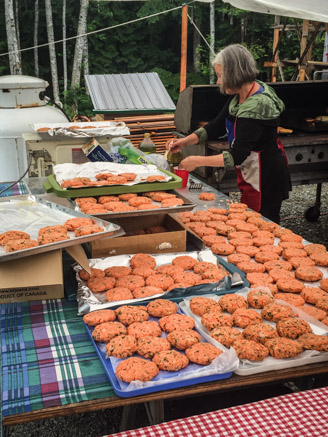 People showed up carrying dishes of food. Carrot cake mostly. We have never seen or tasted so many different kind of carrot cake. Salmon burgers and salad lunch was served to all who came to celebrate. There was a dedication and some entertainment held after most were fed. We talked with so many friendly people, John, Ezra, Jim, Phil and last, but not least, Barry, who kept an eye out for us during our stay. We didn't feel like outsiders, on that day we were part of this community, celebrating a huge accomplishment. We felt as though we were part of the community. Thanks to everyone!