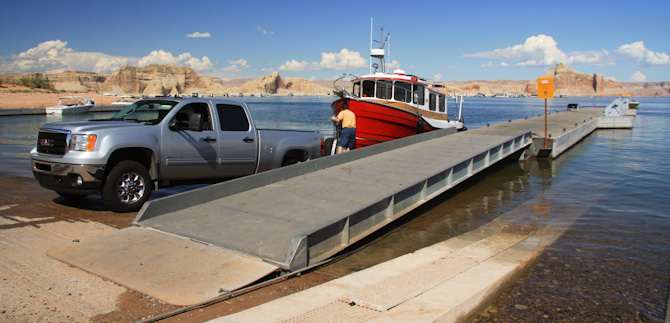 Wahweap Lodge and Marina in Arizona, is our spot to launch Kismet for a a long, two-week adventure on Lake Powell. A cloudless sky and calm waters greeted us at the boat ramp just after we entered the resort, shortly after our boat inspection.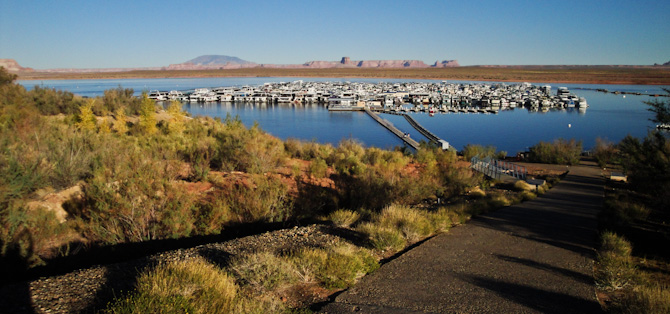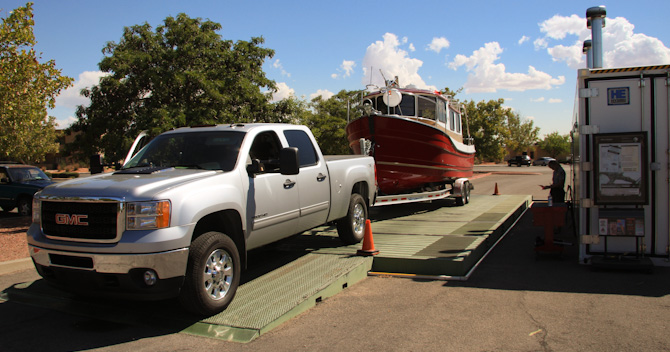 The inspection for Lake Powell was not as thorough as we experienced with Lake Tahoe. We mostly answered questions and think it helped that we'd last had our boat in the fresh waters of Lake Tahoe.
Getting the boat into the water was easy enough on the HUGE boat ramp which accommodates large houseboats and fluctuating water levels. We've never seen anything like this, as far as boat ramps go. Luckily we are arriving during the slow season and on a monday, there was only one boat ahead of us.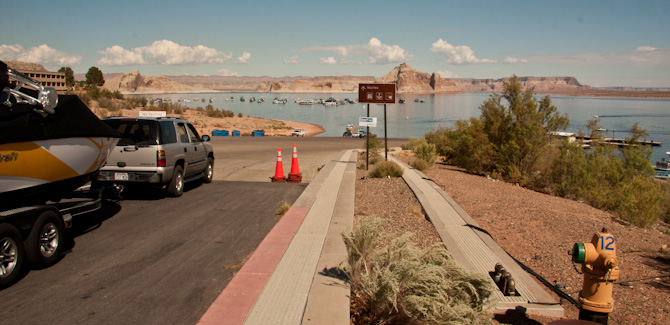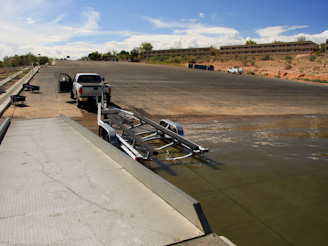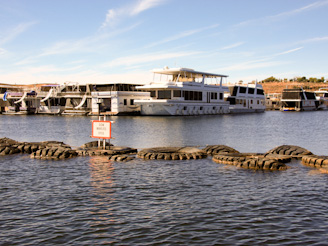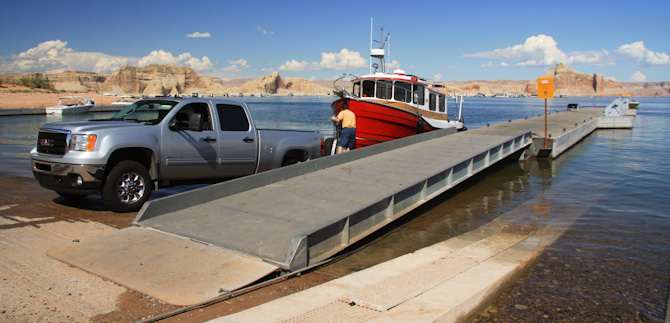 After getting the boat in the water and parking the truck and trailer we headed directly for the pump out dock. Since the dock sits by itself with no way onto land, and although there are plenty of stations (see above) to accommodate boaters, we couldn't find any with the attachment needed to complete the job. We finally found a sign that said the attachments were at the marina office. So, we had to untie and drive over to what we thought was the marina office mentioned on the sign. Now, a little side note – all the pump outs on Lake Powell are free. They are serious about making sure no human waste gets into their clean water and what better way than providing lots of pump out stations all over the lake and making them free. Sounds like a good plan to me.
Well, apparently the building we thought was the marina office turned out to be another store, not associated with the marina and they would gladly sell us the attachment for $24, but we were confused and decided to untie again and head over to the other dock and ask the harbormaster more about having to buy the attachment. Good thing we did this since they were selling them for only $10 there. A heck of a deal since the pump outs are free and in our experience most charge way more than that for one pump out. So, long story long, we now have our very own pump out attachment.
Only $28 to spend a night at the Wahweap Marina for our 27-foot tug.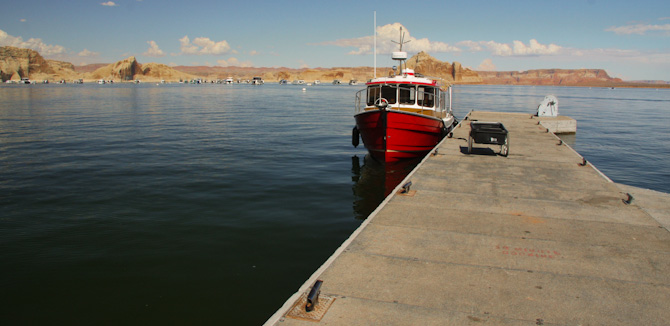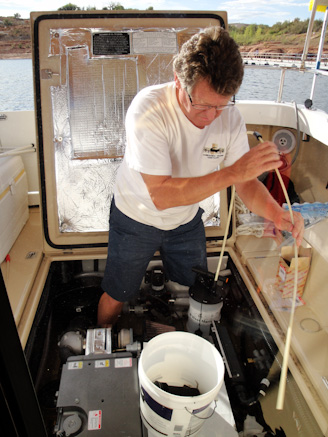 We arrived on a Monday, thinking that we may shove off to explore the lake on Tuesday. Well, almost immediately we decided that it might be better to not have to rush and instead spend a day getting organized. It also gave us a chance to study the weather and talk to some other boaters about places to visit and about how to anchor on the lake. Our first check of the weather showed a front arriving on Tuesday with some very iffy weather for the following three days. We're so happy we waited, even though we had to stay at the marina for those extra days it was very windy, gusty, cold and just plain nasty weather. Staying the extra three days also gave us time to do some shopping, clean the boat, change the oil and visit the Glen Canyon Dam.
Finally, the weather pattern changed and Friday looked like our day to go. Hurray!