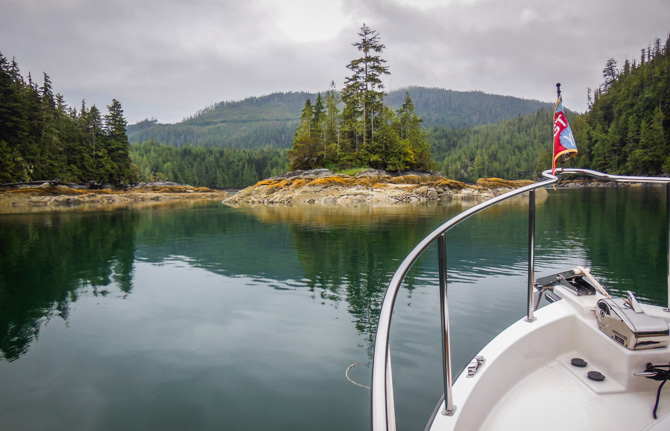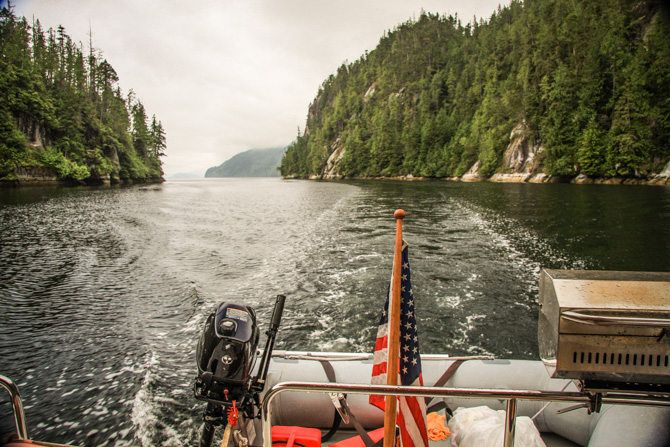 Laura Bay, south of Penphrase Passage, is a popular anchorage with
good protection behind a scenic, un-named island.
The Broughton Islands are comprised of 200-plus remote islands included in the over 240,000 islands between northern mainland British Columbia and the north-end of Vancouver Island. From Anacortes Washington to the Broughtons is about 233 miles. At least a week's worth of cruising for the serious boater to get to the Broughton Islands from the US border. The number of year-round residents in the Broughtons is less than 1,000. Keeping all this in mind, we have a lot of remote wilderness to explore during our three-week adventure.
The day of our departure from Kwatsi Bay, we cruised 15 miles to Laura Bay and our second anchorage in the Broughtons. Along the way we saw two eagles and many dolphins as we slowly worked our way up Tribune Channel. Being new territory for us, we took a side trip and to cruised up into Watson Bay to get up close to Lacy Falls. Not much water running this late in the summer. We do these side trips during a day's cruise to maximize our experience and to cover more territory. We plan to do this a lot of during our time in the Broughtons.
We must be getting spoiled with all the spectacular natural scenery, mountains views and wildlife sightings. I say this because upon arrival to Laura Bay, although a well protective anchorage and scenic, it seemed to us to be just another woodsy outpost anchorage, with no mountain views. I'm not complaining, just stating a fact. Therefore after a stern-tie to shore to anchor overnight, we decided to move on to Turnbull Cove the next morning.