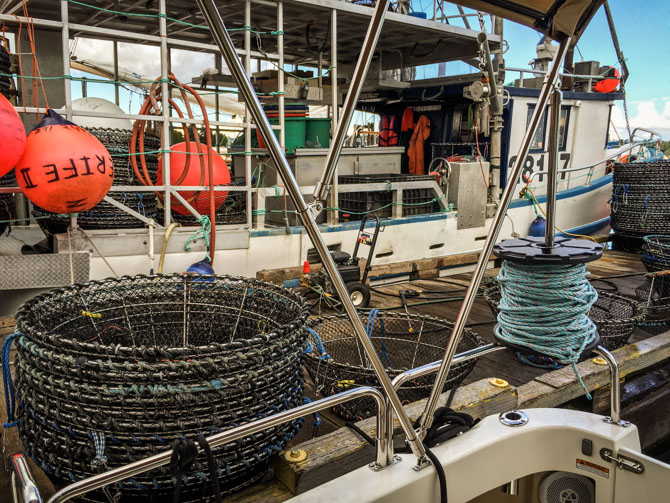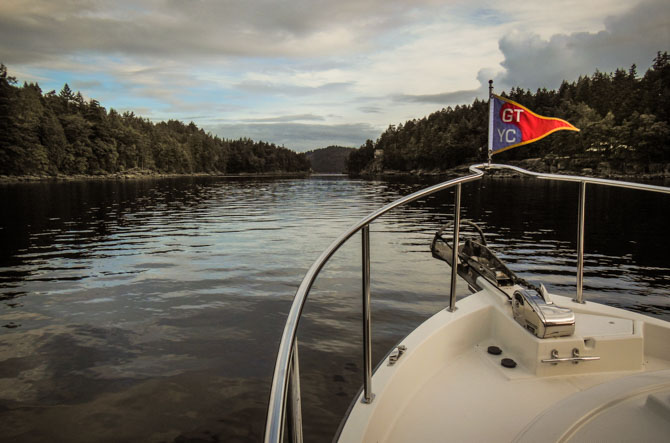 Newcastle Island Marine Park is Within Easy Access to Nanaimo, BC –
Our route from Pirates Cove to Nanaimo took us through Dodd Narrows and eventually to Newcastle Island. This passage through a narrow channel needs to be well-timed to transit at slack tide. If not at slack the currents run up to 9 knots in a very turbulent swirling narrow channel between rocky cliffs. We were up at 6 a.m. to hit Dodd Narrows at the 7:03 a.m. slack.
Our end destination was Newcastle Island Marine Park located across from Nanaimo BC, the second largest city on Vancouver Island. We decided to first dock at the downtown marina visitors dock (visitors are allowed a three-hour stay), in Nanaimo before we headed for anchor. It was a busy stop in that we fueled the boat, made a grocery run, paid bills and found a post office. This is where we had our first day of substantial rain and stormy weather since starting our summer trip with the bonus of some hail in the mix.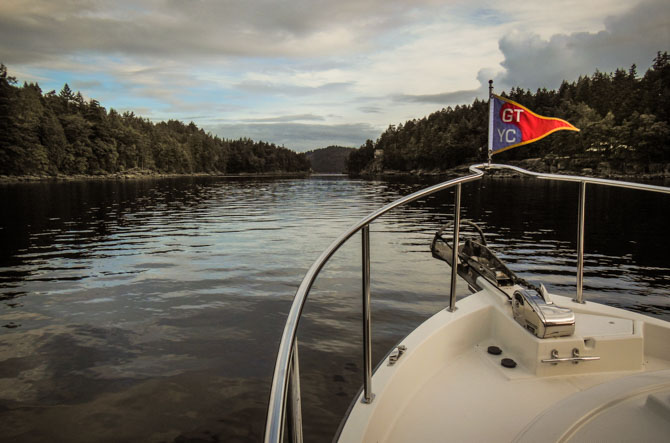 Transiting Dodds Narrows looks innocent enough at slack tide (above and below)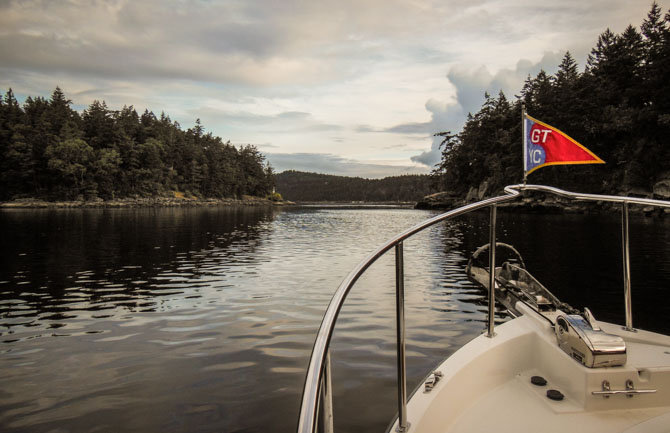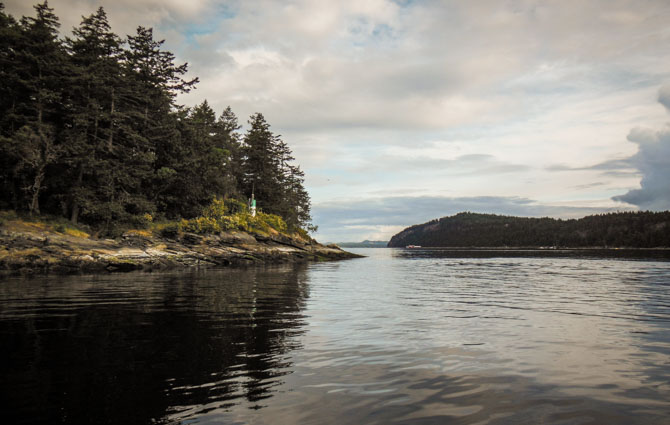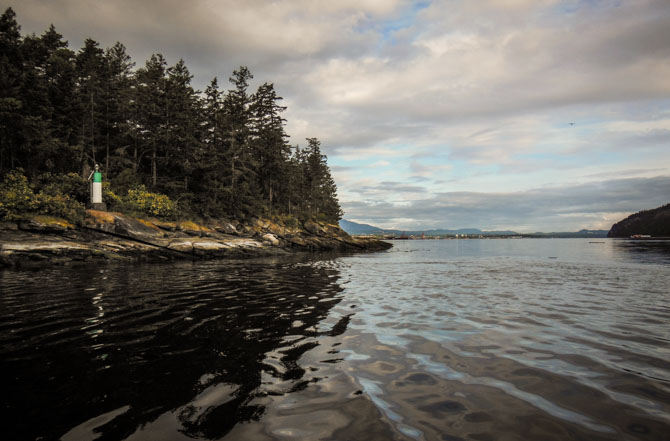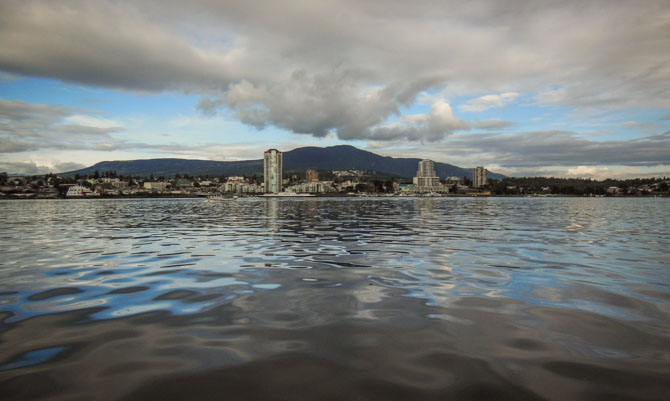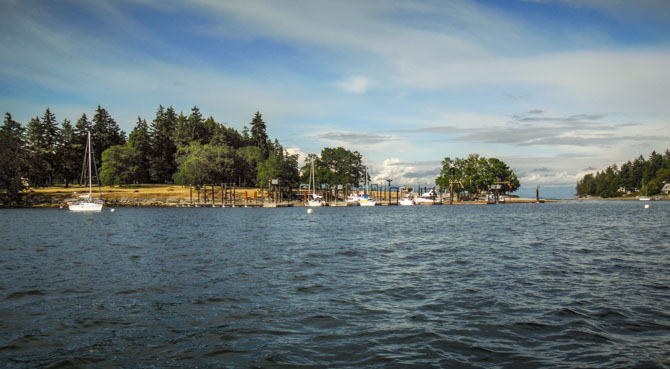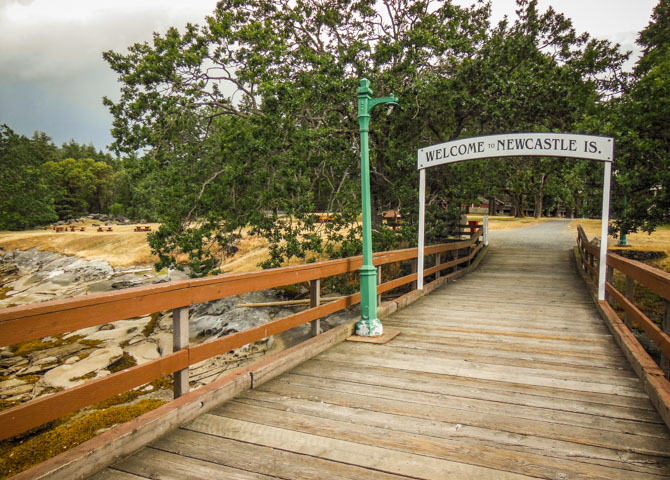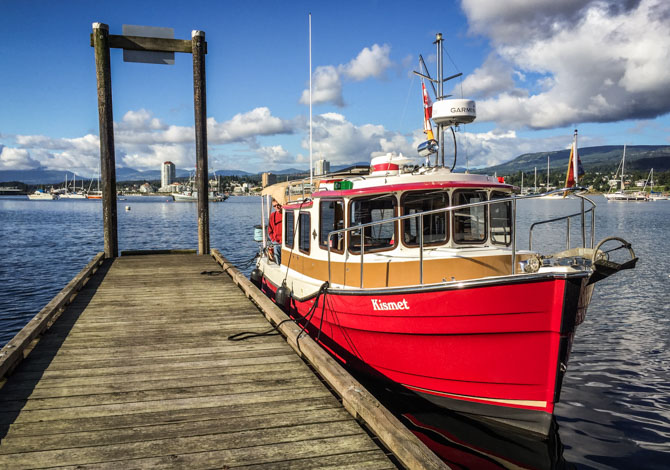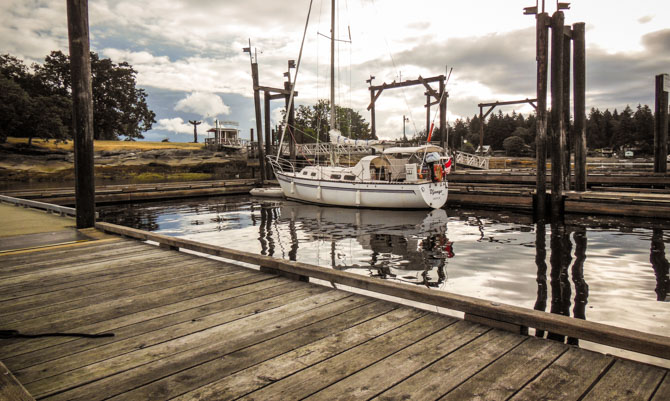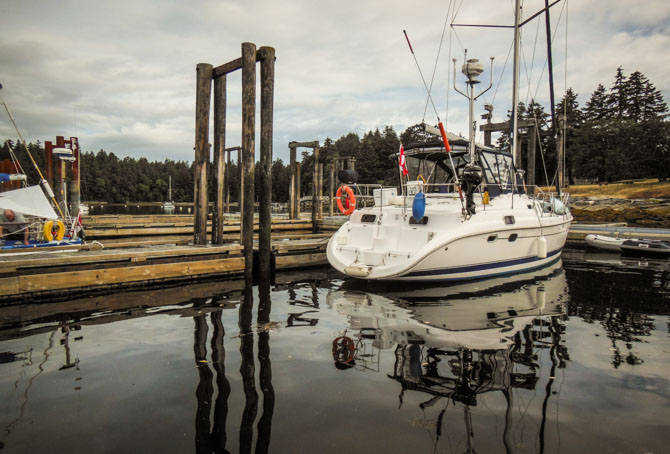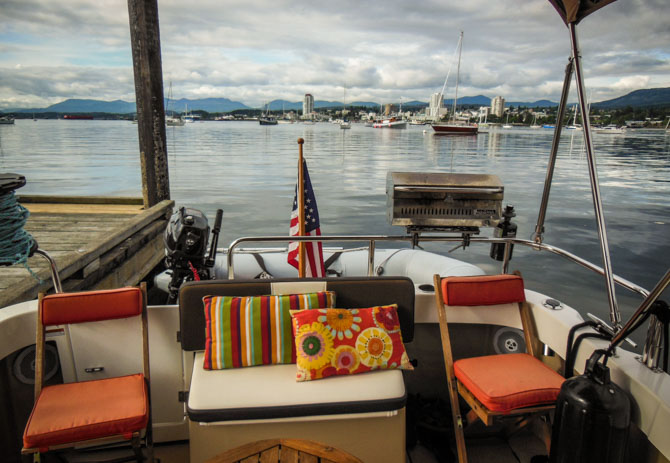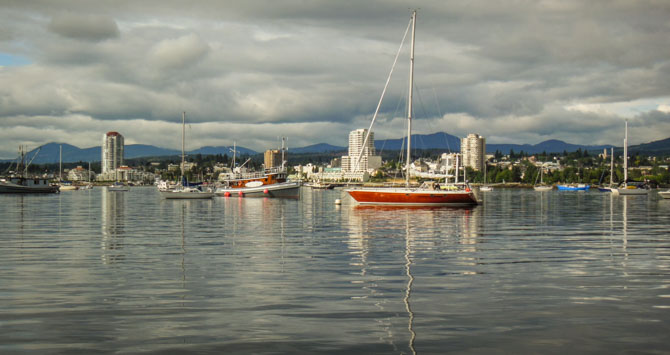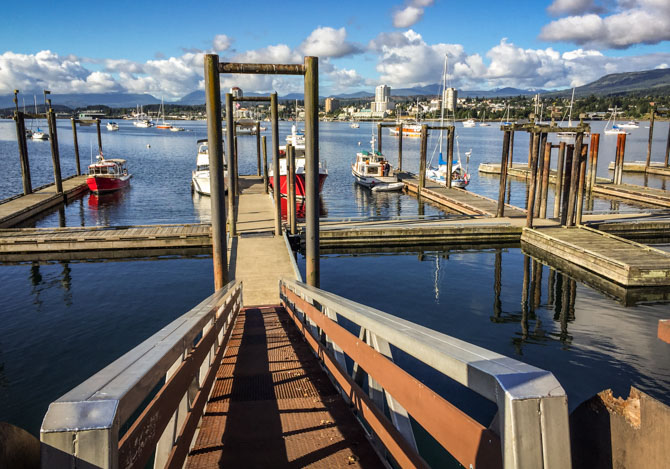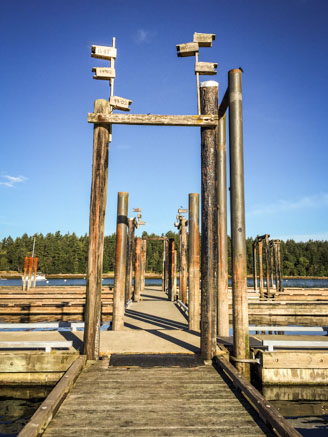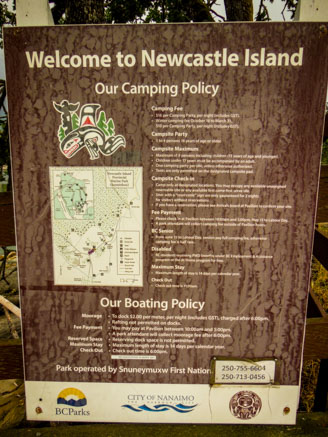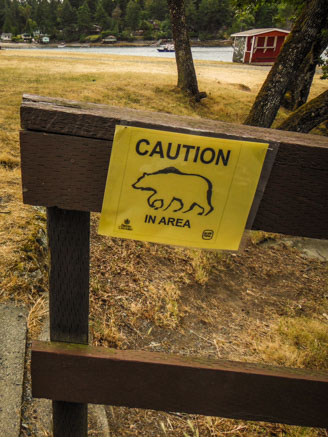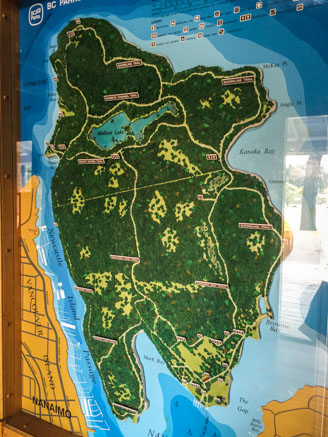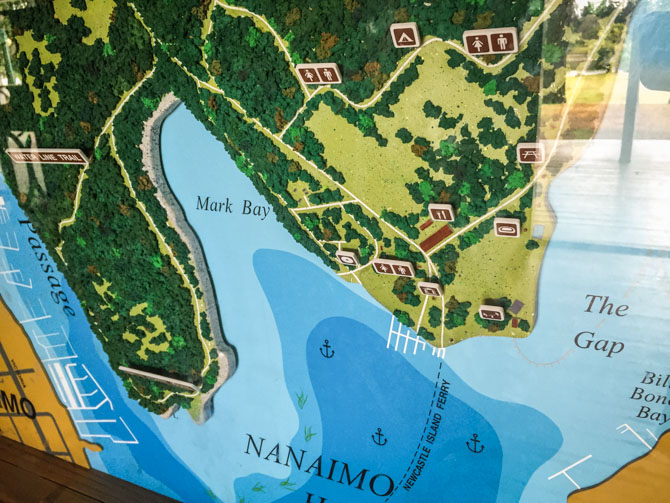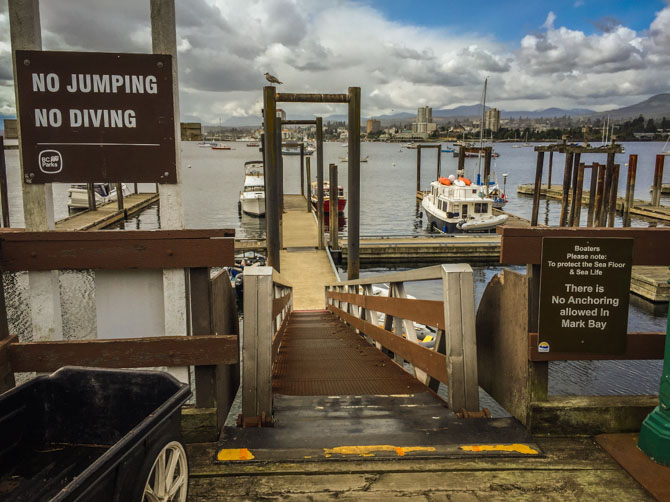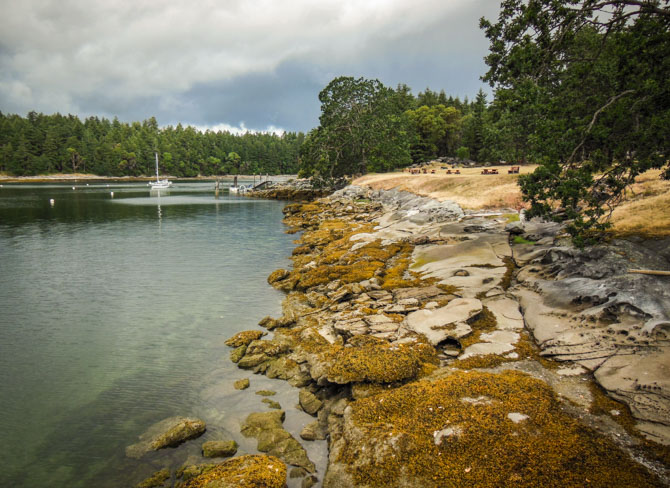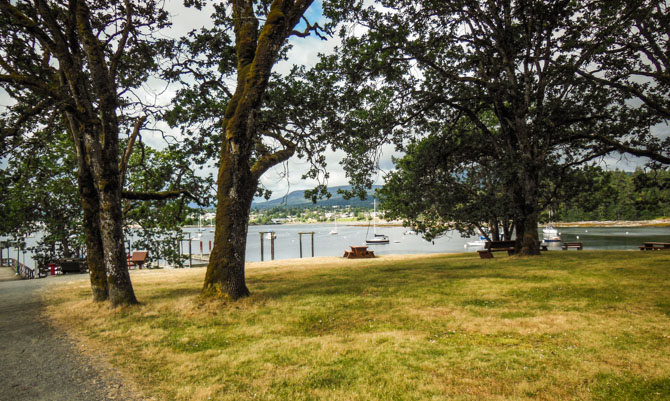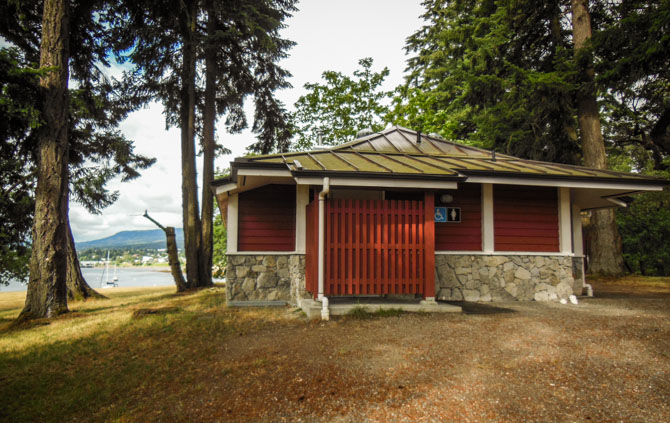 Shower facilities (above) on the island.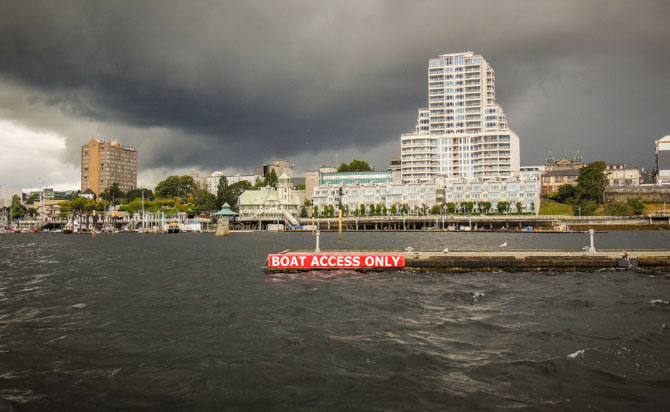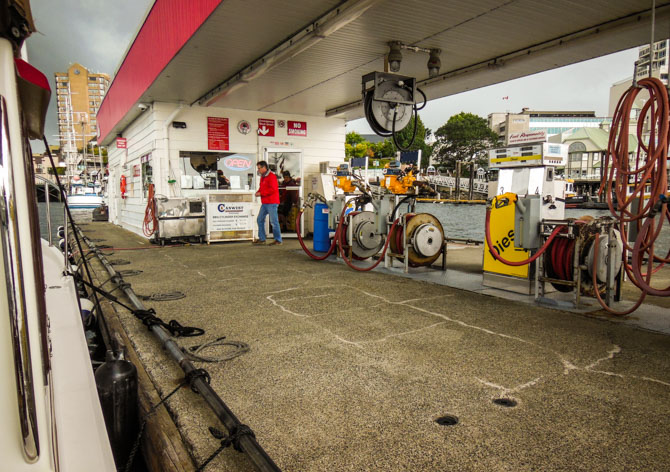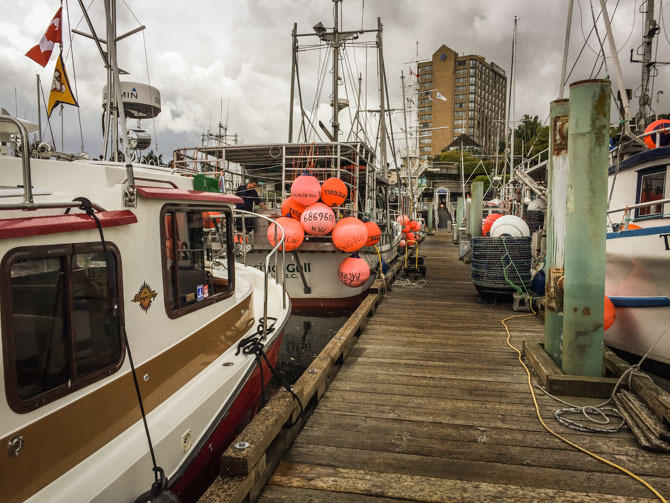 Anchoring at Newcastle Island and Using the Visitor's Dock in Downtown Nanaimo –
On day two, we got up, pulled anchor and headed for the docks on Newcastle Island to take showers, we had a busy day ahead. We needed to go back to Nanaimo, the visitor dock again. We didn't quite get all our errands completed the day before and we had spotted an interesting restaurant we thought we'd like to try. We also wanted to visit the Nanaimo Yacht Club for a burgee exchange which we arranged in advance. After our showers, we first cruised from the anchorage to the Nanaimo Yacht Club and made a burgee exchange (See previous post for details on the burgee exchange.)
When we left, it was time for lunch – next stop the Nanaimo visitors dock again for another three-hour stay. As we pulled up to the dock the scene varied greatly from the day before. The dock was almost full with fishing boats who had off loaded all their equipment, it seems, onto the docks to spray wash. It was touch and go for a minute, but we found a small spot at the dock amongst all the fishing paraphernalia. We were questioned by another fishing boat that was also looking for dockage. They tried to tell us we were not supposed to tie up there, it's only for fishermen to use – however, we always check with a harbor master before docking at a visitor's dock. Just to make sure everyone was happy, we had the harbormaster join us on the dock for the conversation. The other fishing boat eventually found a spot and the harbormaster smoothed over the confrontation effectively. Now we could walk into Nanaimo for lunch.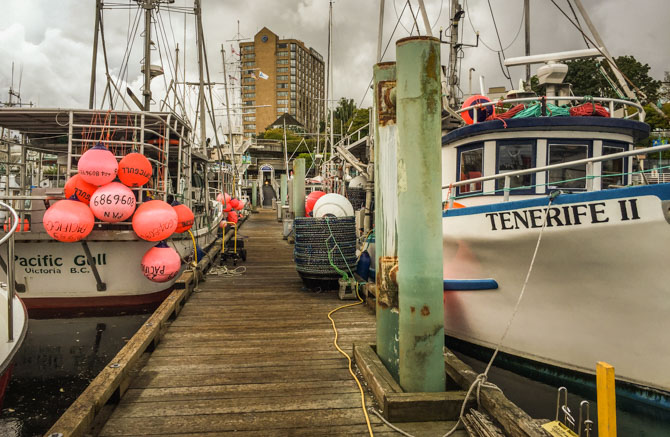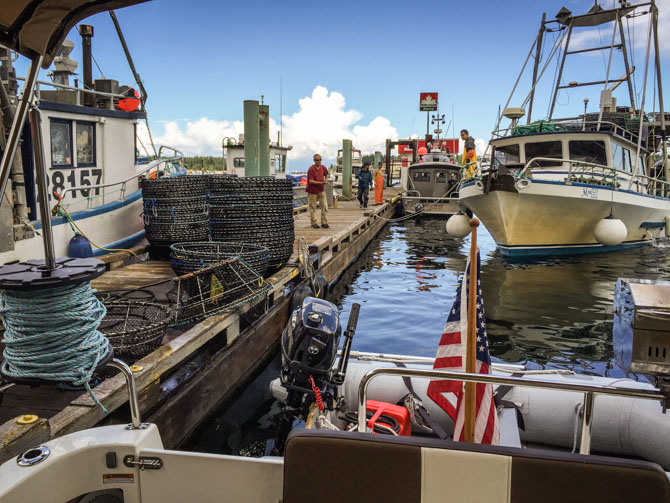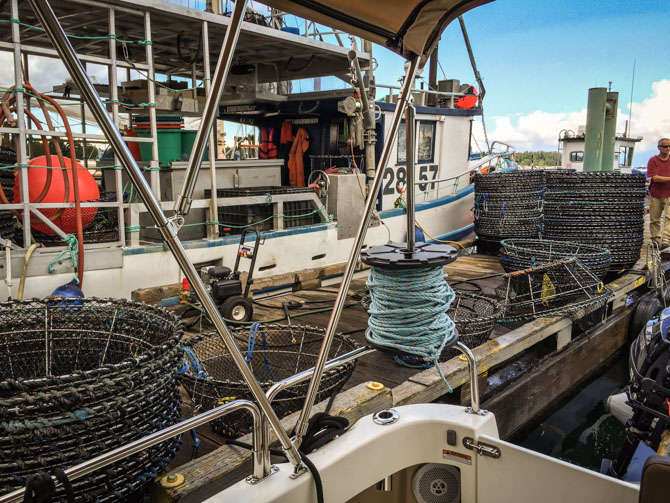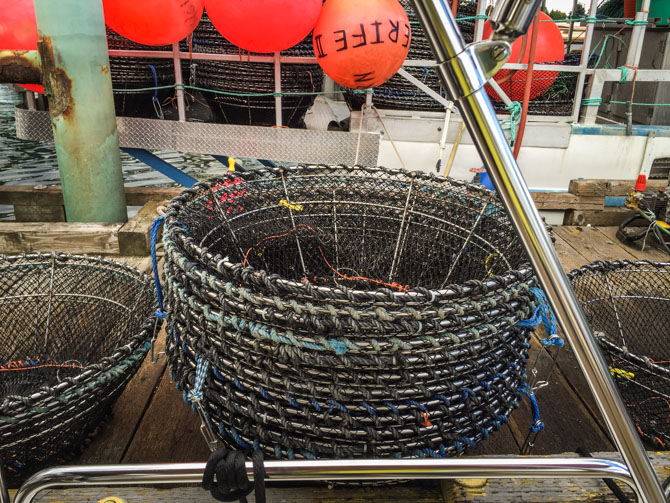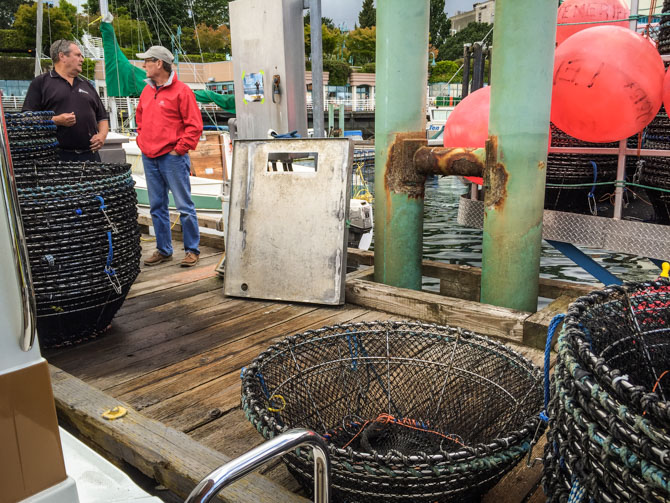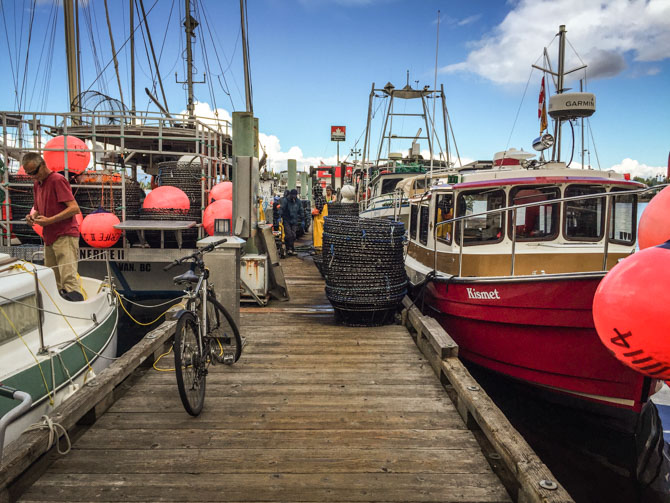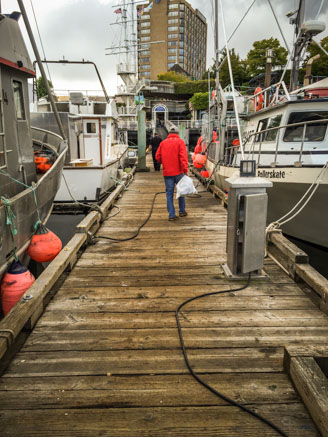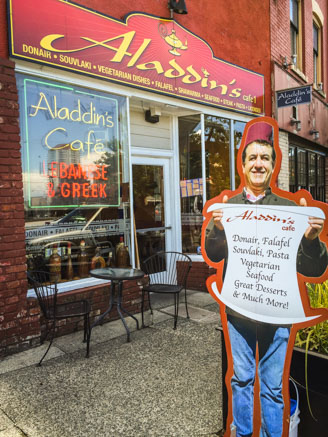 Alladdin's Greek Restaurant, turned out to be a very tasty and plentiful gourmet Middle Eastern delight. After, we finished up our errands and headed back to the boat dock, hoping we hadn't had our lines slashed by the irate fishermen, we quickly shoved off the dock with full stomachs and tired feet from walking all over Nanaimo.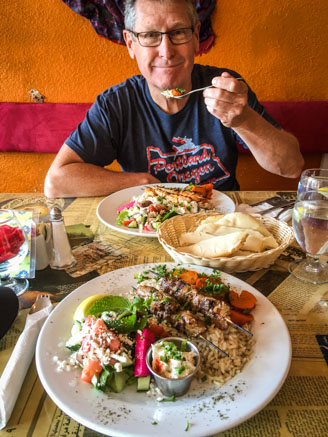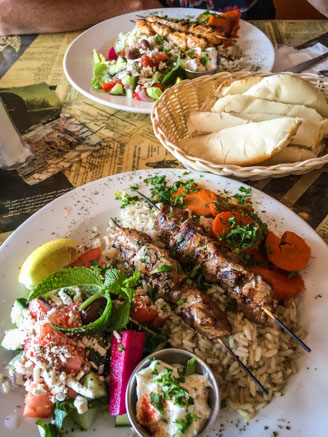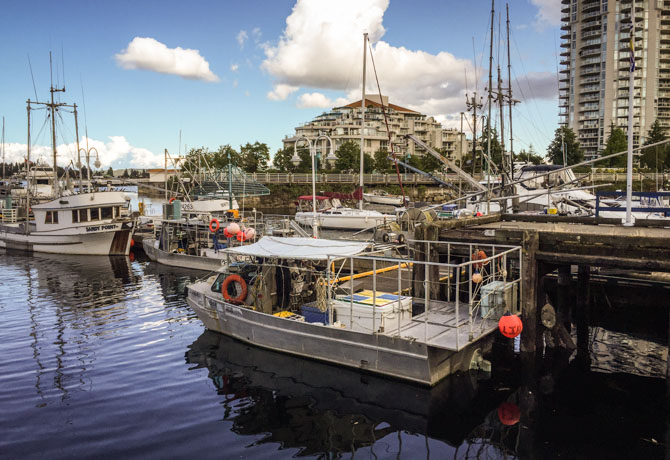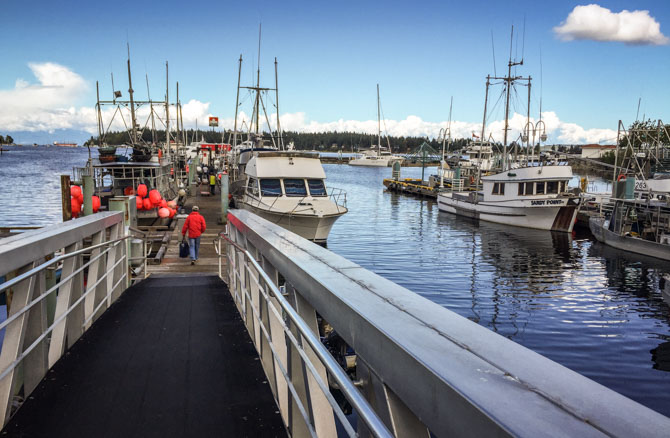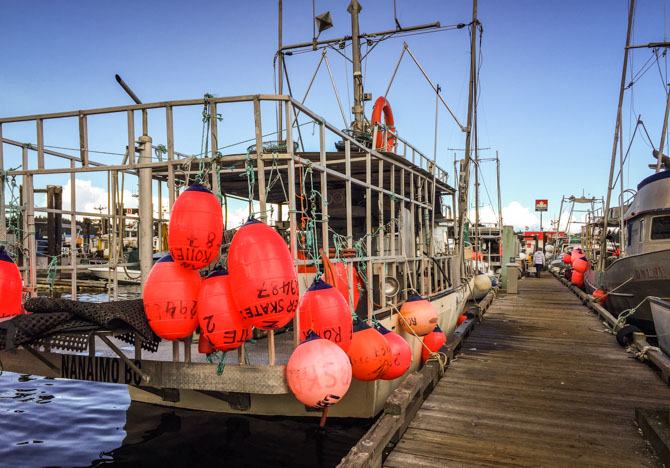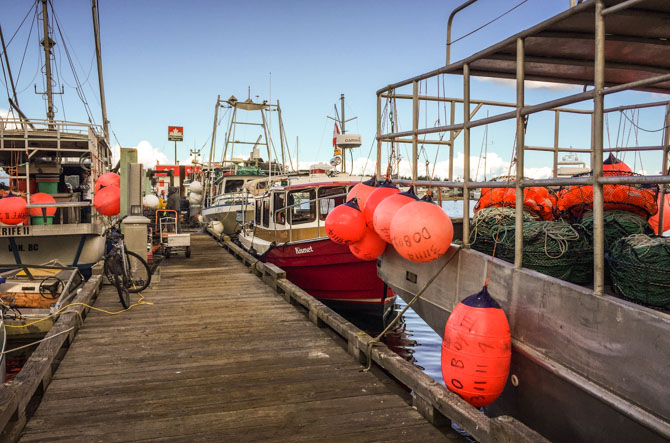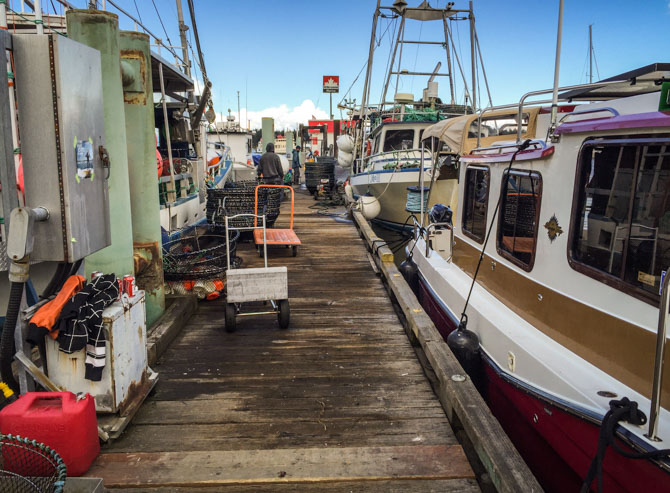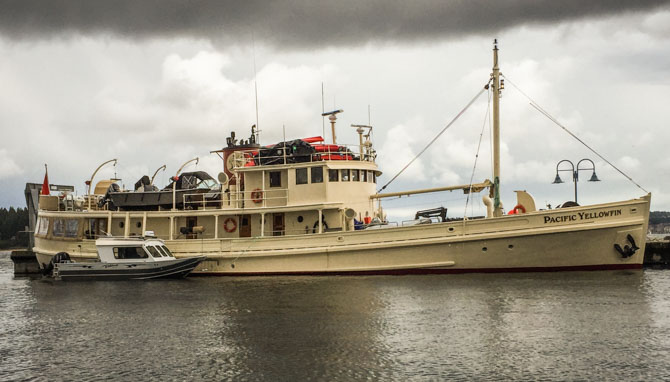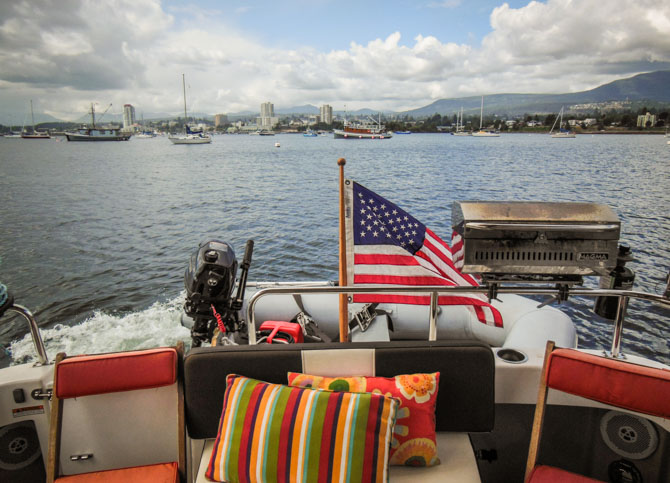 Back at the Newcastle Island anchorage, we settled into our evening activities. It was a calm, still night with warming skies. New boats arrived and boaters cruising the harbor in their dinghies, all while enjoying the sparkling lights of Nanaimo off in the distance. As the sun began its decent, we enjoyed happy hour and a light dinner. Then as the whole harbor quieted down, we listened to a boater play his accordion.