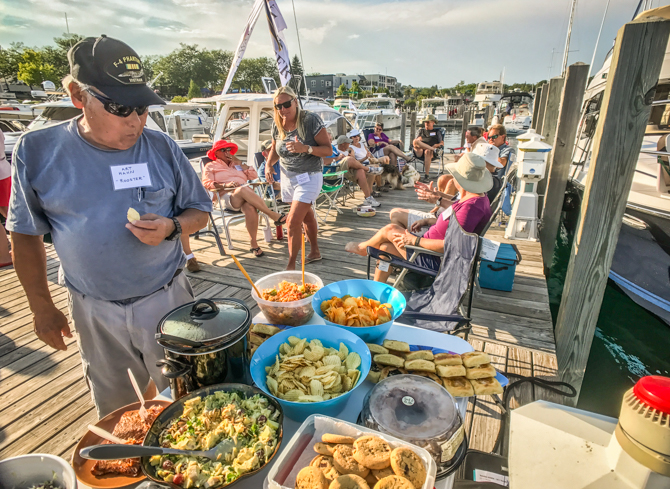 1.

Own a Ranger Tug or Cutwater Boat? Add to Your Cruising Calendar!

Come One, Come All!
Own a Ranger Tug or Cutwater Boat?
2018 Great Lakes Area
Ranger Tugs and Cutwater Boats
Summer Rendezvous
Orillia, Ontario – Canada
on the Trent Severn Waterway
Tentative Dates:  August 17 – 19th
– Since 2014, the Great Lakes Area Rendezvous has moved to different areas on, or near, the Great Lakes. This way, we can explore different ports. Last year's event was held on Round Lake in Charlevoix, Michigan. This years planned rendezvous will be held in the beautiful Trent Severn Waterway. A must see boating destination for any serious cruiser.
Check Out Last Year's Event…
We know it's not just around the corner, but what better time than now to start planning a 2018 cruising itinerary. For Tugnuts and Tugettes, who are shoveling or snowplowing driveways, summer can't come soon enough. Winter seems the best time to organize trip details and dream of parts unknown.
Please take a moment to think about the possibility
of  joining us this summer in Orillia, Canada for a fun time.
Come by water, if your homeport is in the area. If your tug is far away, load her up onto the trailer and tow it nearby. Aren't trailerable boats wonderful? You won't regret exploring the Trent Severn Waterway with a group, or on your own, before or after the rendezvous. For example, the crew of Kismet is thinking about launching in Alpena, Michigan, crossing Lake Huron to Georgian Bay, entering the Trent Severn Waterway to Orillia. After the rendezvous, we will continue cruising south/southeast on the Trent Severn turning north on the Rideau River to Ottawa and finally the Ottawa River to Montreal. We are getting goose bumps just thinking about this new (for us – Rideau to Montreal) cruising adventure.
This year we are working closely with Ryan Stovold, of Lefroy Harbour, Ontario's Ranger Tugs dealer, and Fluid Motion. Ryan has attended and co-sponsored all our rendezvous so far. Details will follow once Ryan secures the dockage dates in Orillia. There will be cruising in the scenic Trent Severn Waterway available for groups before and after the Rendezvous, or do it solo on your own schedule.
More info will soon follow – in the mean time, if you have an interest in attending – email us directly (info@trailertrawlerlife.com) so we can add you to the list – You will get updates as the plan formalizes. Official registration will not start until late spring.
Don't miss this opportunity to cruise an historic waterway. Sign up to grow social relationships with other tug owners from all over the United States and Canada. In our world, when it comes to boating activities, it's more about making memories and sharing adventures, than almost anything else.
See you in Orillia!
Jim and Lisa Favors
M/V Kismet
Ranger Tug R29