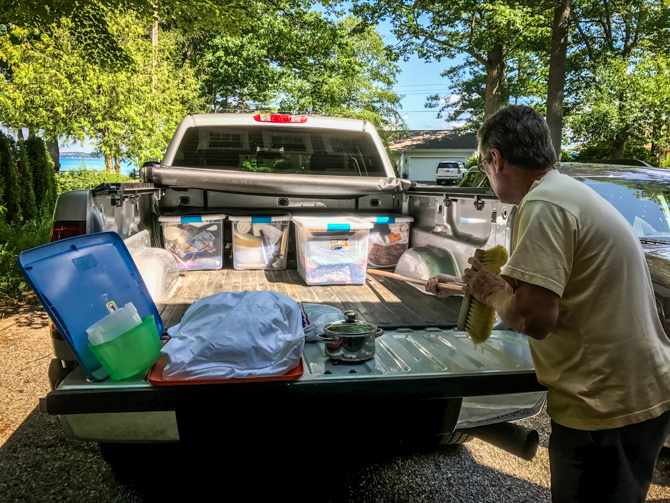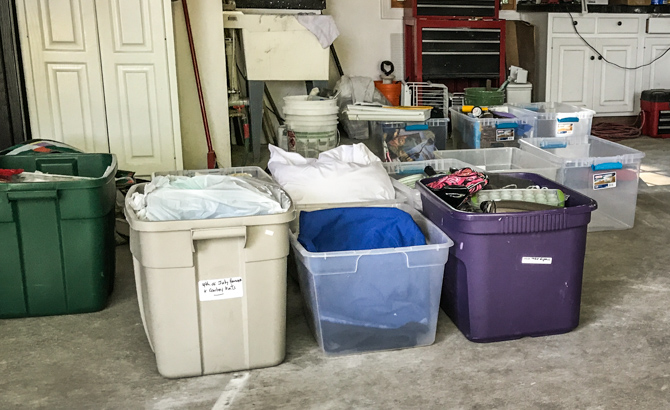 Packing for a Cross Country Trip is Like Preparing for a Marathon
Getting ready for a cross-country trip requires some mental gymnastics! We've only got one shot to pack up the truck before we head west. Better to be well organized from the start. We knew it was going to be tight, especially since we were taking a few containers of personal items to our son, Ross and his family, who live in Portland, OR.
We actually started the packing process back in April when we unloaded the contents, of our sold Ranger Tugs R27, from our truck into the garage. I sorted through it all and weeded out things we never used. Then I put most of the boat paraphernalia into containers that would eventually fit neatly in the bed of the truck. Once we depart home there's no chance we're turning around, unless it's Lisa who's not in the truck. We are fairly familiar with the drill and what we need to take, so it does get easier.
We started getting organized several weeks before the actual departure day.
I made a list, sorted through the old boat stuff again and made a staging area on the floor of our garage. I then started ordering new items such as a 22 lb. Rocna anchor, BBQ grille and an electric pigtail adaptor. These were items that sold with our R27. That was the fun part. About a week before departure date I started packing, first by loading all the containers, that were ready to go since April, into the bed of the truck. Then I fit more items between the containers, or on top of containers, to ensure we used up every possible inch of available real estate.
Amazingly everything I had sitting on the garage floor fit in the bed of the truck.
This left the back seat of the truck for clothes and personal belongings, or stuff we needed to access on the road trip. As we were packing the truck we also kept an eye on what needed to be done to close down the house for a two-month adventure. This process sometimes feels like a well choreographed marathon. Again we've had practice, as this is our second time packing up to drive west to pick up a new Ranger Tug. In 2011, we drove out to Seattle to get our first tug, an R27. All-in-all, we've made this cross-country, round trip, five times, if you count the time we drove out in the winter of 2007/08 to watch our Fathom 40 be built. Two of those trips were made by hauling the boat to and from the West Coast specifically to cruise Puget Sound and British Columbia.
We left Michigan early Sunday morning. Feels good to finally get on the road!
When not towing a boat, like now, we will cover about 500 miles per day, give or take a few. We anticipate the trip will take four straight days of driving from Michigan to Idaho, where we will visit friends for a couple days, then one more day to Portland, OR, we'll visit family for a few days before we meet up with the new Kismet. Although we usually take in some sights on the way – on previous trips we've visited  Glacier National Park, the Badlands, Mount Rushmore, Teddy Roosevelt National Park and a few side attractions. This trip is a straight shot for us, our focus being getting on that new boat as soon as possible.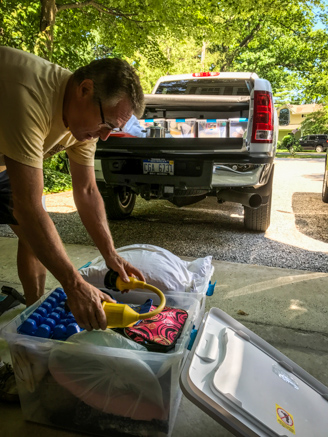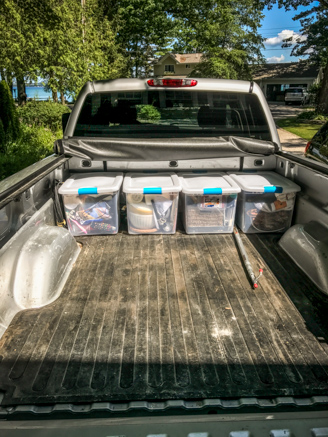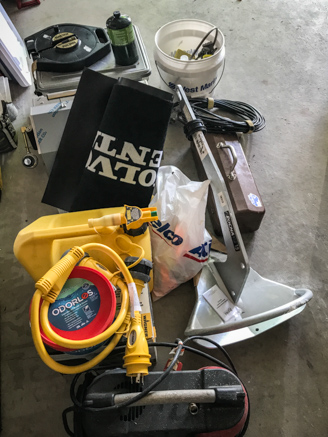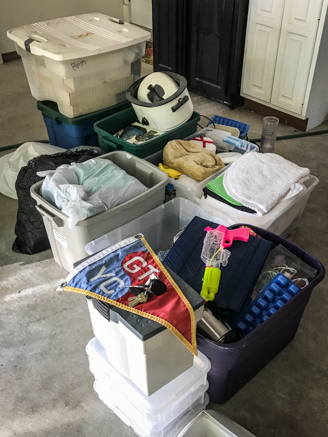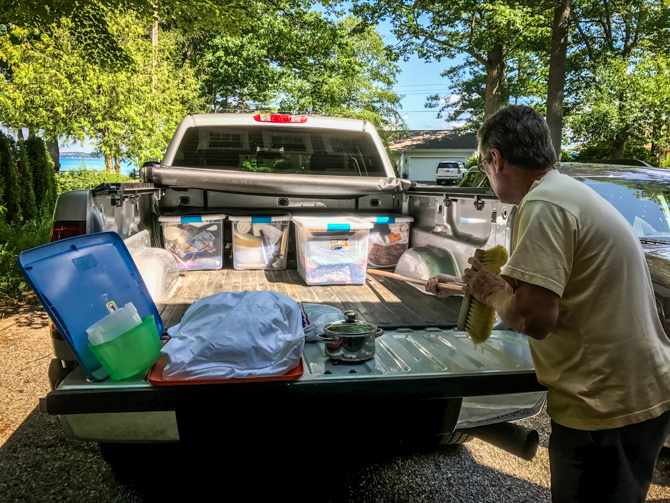 By using a hook and a pole, I was able to quickly push the containers to the front of the bed of the truck.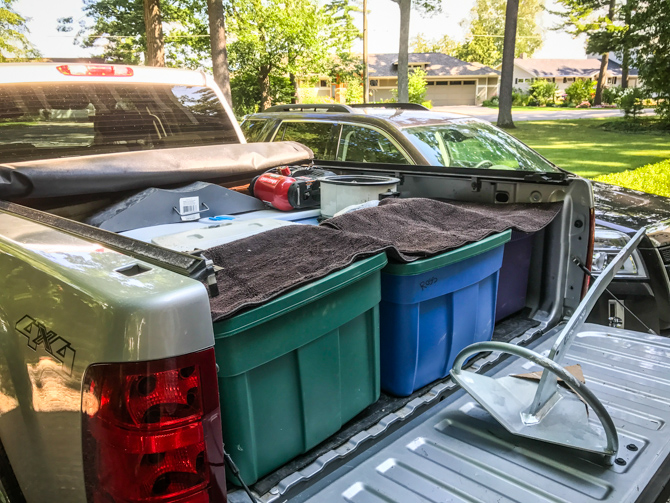 Don't think we forgot anything. The truck is filled to the gills.