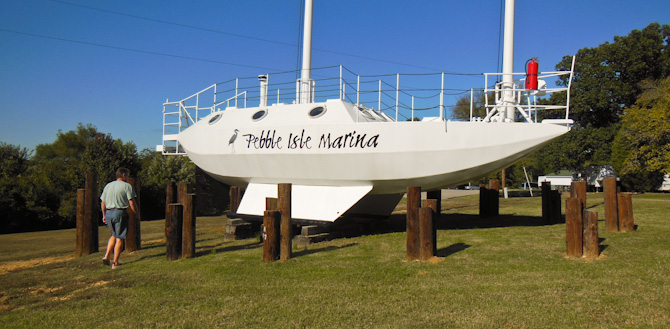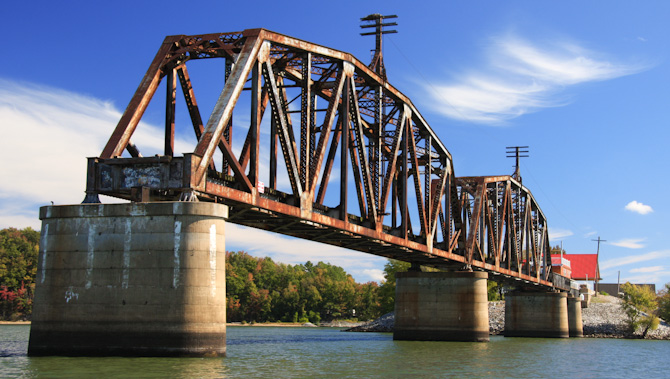 Pebble Isle Marina owners Randy and Tami are well known for their infectious southern personalities.
On our way to Pebble Isle Marina today, At MM-78.2, we passed the Louisville and Nashville RR Bridge (above). It is a non-functioning bridge at this time, probably only used for fishing now. Shortly after the bridge, we passed an abandoned, partly submerged, building (photo below).
The Tennessee Valley Authority purchased many acres of land in preparation to create Kentucky Lake. The Kentucky Dam was completed in 1944, when the area was flooded and many towns below the new water level disappeared. Lake Barkley was created in the early 1960's when a dam was constructed on the Cumberland River, only a couple of miles from Kentucky Dam. When the Cumberland and Tennessee Rivers were impounded to create the two lakes, an inland peninsula was formed. In 1963, President John F. Kennedy designated the peninsula as Land Between the Lakes National Recreation area. The Land Between the Lakes region has 215,000 acres of water, 300 miles of undeveloped shoreline and 170,000 acres of public land.
It was kind of eerie passing this ghost of a building, it made us think about how things used to be in the area and got us to wondering about what remnants of that prior day lay beneath the surface of the water.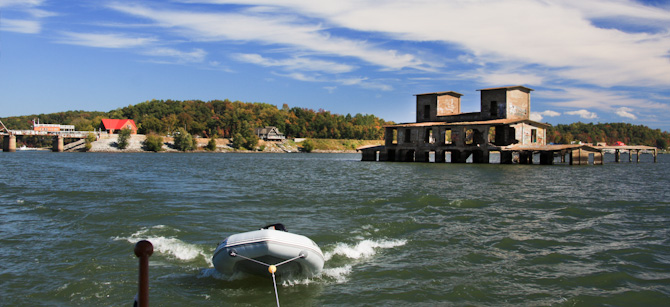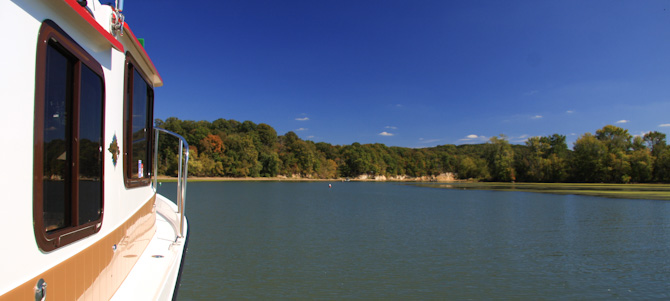 Pebble Isle Marina is located at MM-96 on the Tennessee River, we were looking forward to returning for a visit and some of their famous morning cinnamon rolls. Owners Randy and Tami are well known for their infectious southern personalities, their hospitality and their genuine care and concern for the boating community, they are the kind of people that find it easy to welcome perfect strangers to their establishment and making quick friends in the process. This was our third visit to Pebble Isle and we've returned because we know a good marina when we see one. The homemade cinnamon rolls made every morning in the marina kitchen are just one of the friendly features this marina provides their transient boaters.
Randy and Tami, keep their marina "ship shape," while exuding a friendliness we've come to expect, and enjoy, while cruising the Tennessee River and the surrounding southern states.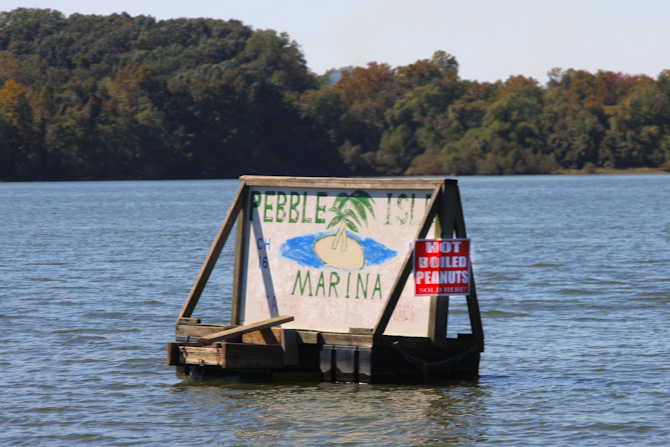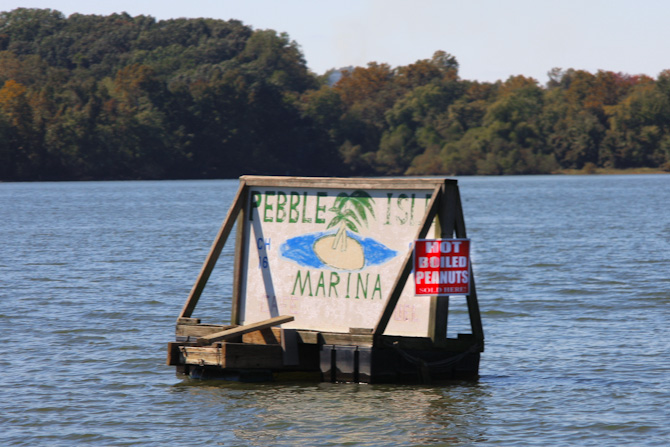 We arrived fairly early in the day and immediately pulled up to the fuel dock to fill up on diesel. They have some of the best priced fuel on the river. Staff helped us secure our boat into our assigned slip and offered the use of their "loaner car." Since cruising boaters don't often have the means for provisioning while on the river system, many marina's have a car available for running errands, usually the grocery store. We sometimes like to use provsioning as an excuse so we can check out a nearby town. Oh and by the way we met Loopers from other parts of the world during this stop, one boat was from New Zeeland and the other from Brazil.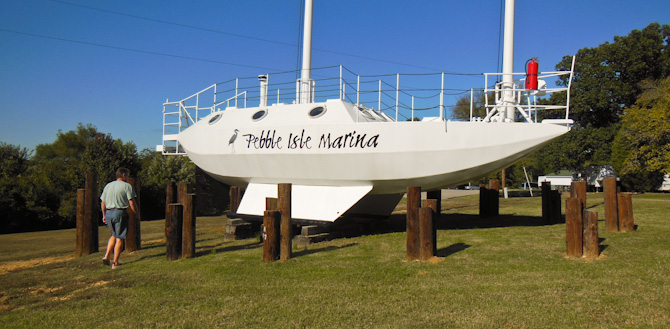 Last time we were at Pebble Isle Marina, this boat looked in sad shape (below). Randy and Tami did a nice job getting her back in ship shape to become signage at the entrance of their marina.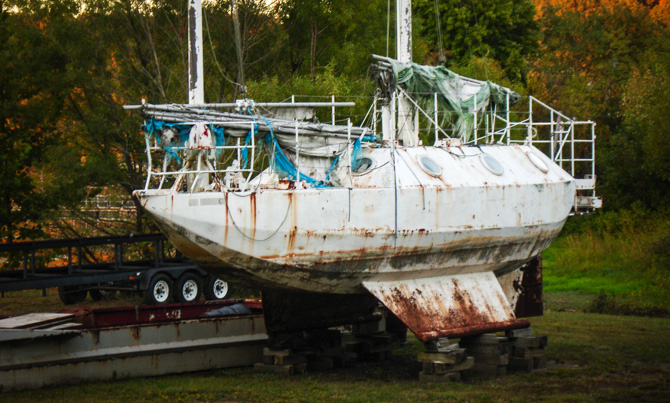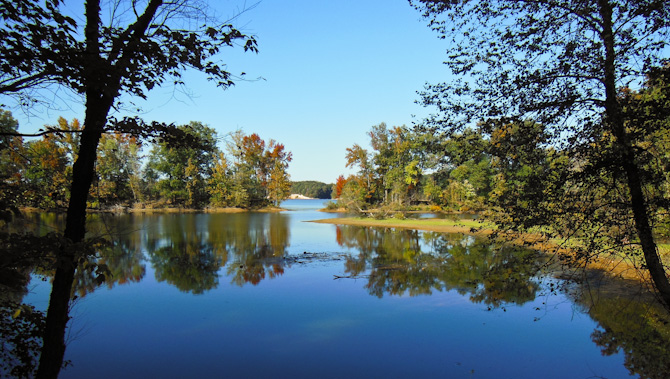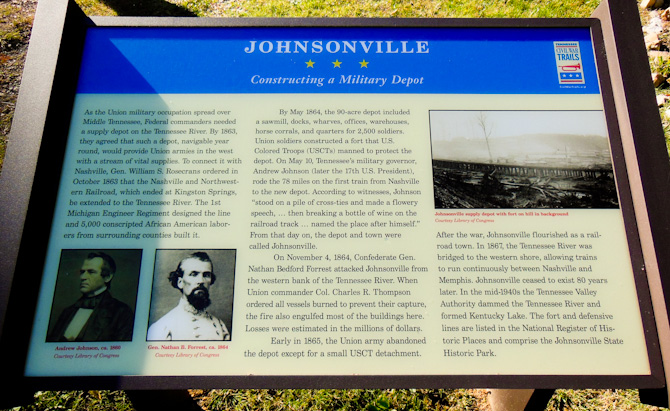 Pebble Isle Marina is located within walking distance of the Johnsonville State Historic Park. Civil War enthusiasts will love an opportunity to absorb some historic landmarks relevant to this area while getting some excercise at the same time.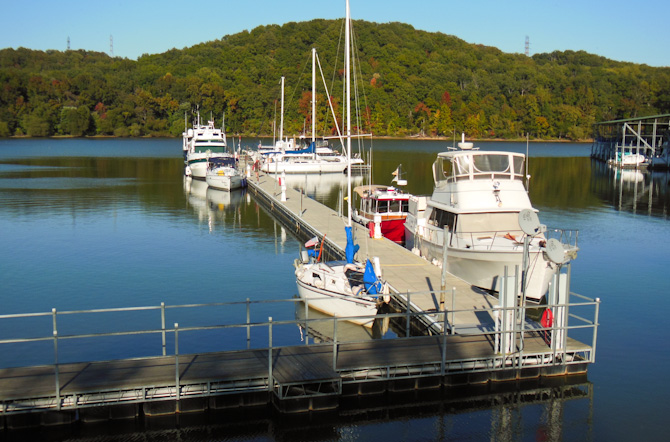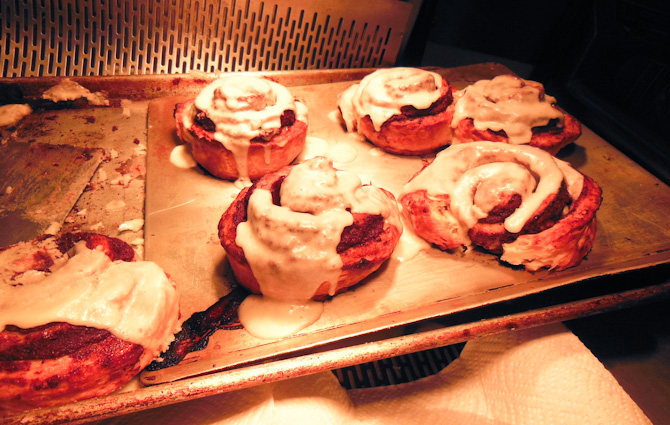 Gabi and Rob (below), on S/V CanCan, met us one morning at Pebble Isle for breakfast. They are friends of a friend who told them we'd be in their area; they had some questions on trailerable boating. Of course we had those delicious cinnamon rolls and a good conversation about both our boating exploits and adventures. After breakfast, Rob and Gabi drove us into town to visit the hardware and grocery stores, it's just what boaters do to help each other. Jim needed a part for something he was fixing and Gabi and I found stuff we needed for our respective dinners, and as the sign below so clearly states… the butcher was in.