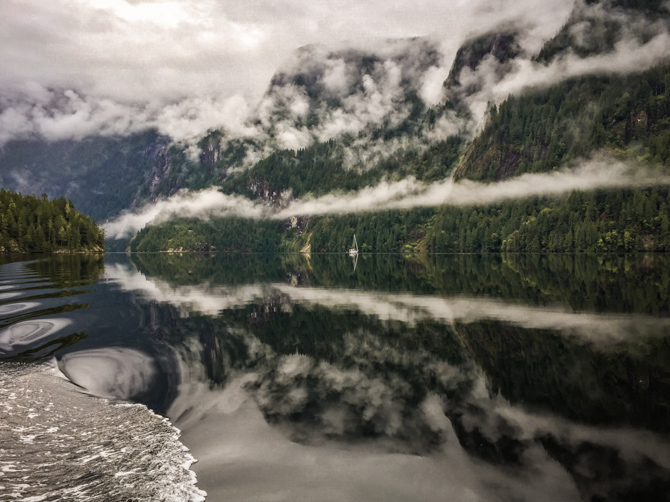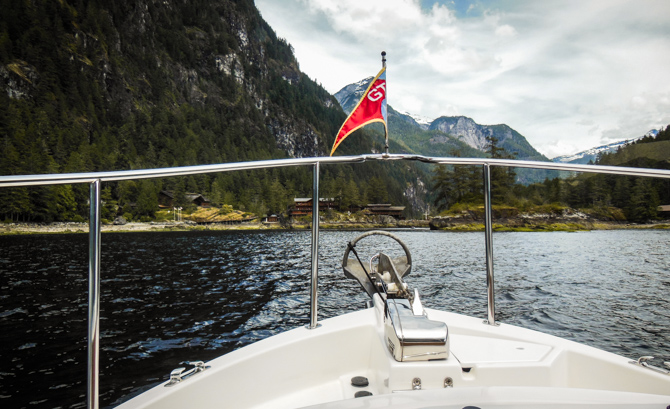 Princess Louisa Inlet Leads to Chatterbox Falls
Arriving at Malibu Rapids shortly before slack, we had no trouble at all transiting the rapids to Princess Louisa Inlet. We proceeded the last four miles to the end of the fjord and the "granddaddy" of all Pacific Northwest waterfalls – Chatterbox Falls.
Princess Louisa inlet is a narrower fjord than Jervis Inlet and it can have a sobering effect on a visitor once inside it's towering walls. The mountain walls seem to envelop and suck you inside towards the apex of the falls with an uncanny stillness in the air. Unlike our last visit to the falls, which was very overcast and rather gloomy, we had a picture perfect day for our day's cruise. Calm water and a clear skies highlighted the green, purplish snow-capped mountains hovering over us displaying their regal, majestic glory.
Some of the photos were taken the day we left Princess Louisa Inlet. It wasn't raining, but clouds hung low throughout the fjord like wispy cottony ribbons as we plowed through the jello-like smooth water. A photographers dream stage.