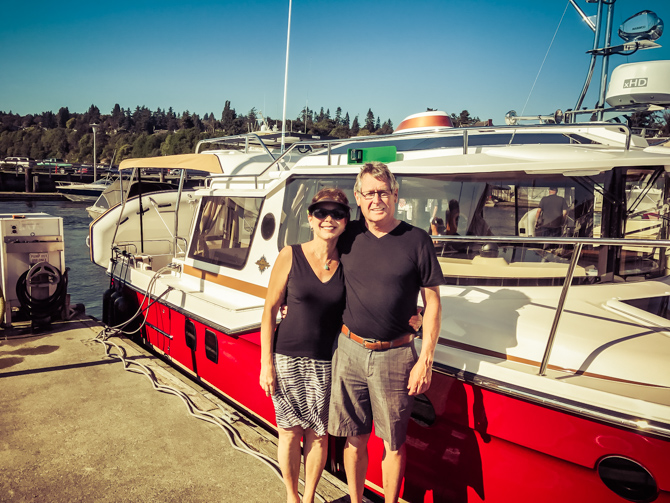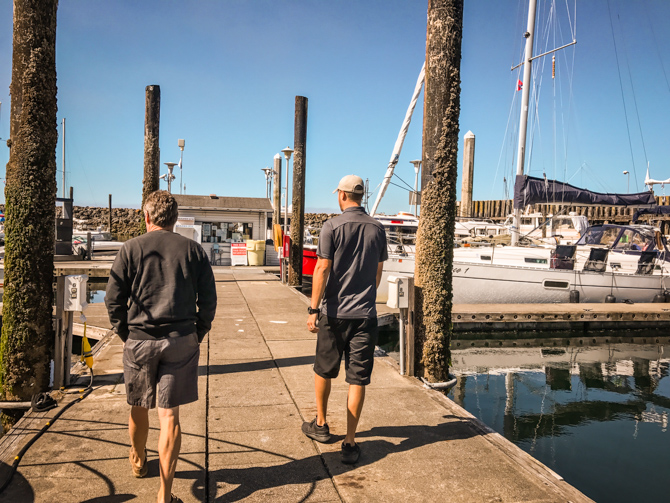 Even Experienced Boaters Need Help Sometimes! –
Because of our many years of boating experience (six of those years on a Ranger Tug) we didn't feel we needed to have the "New Boat Delivery Experience" provided by Ranger Tugs when we took possession of our new Ranger Tug R29S – but, they insisted. Boy were we wrong! Way wrong!
We have been avid boaters almost all of our adult lives. In all the new boat purchases we've made we've never, ever, EVER had such a thorough and rewarding new delivery experience like we recently had when taking delivery of our new R29S. The only other experience that was close to comparing was when we took possession of our R27, in 2011. In six years, Ranger Tugs has only improved the process, amazingly not cutting back on it in any way. We think they get how important this is to the new owner's buying and satisfaction quota meter. Pretty smart in the long run don't you think, to educate new owners on their new boat's systems and features. This process can only enhance their confidence in the factory support team and help them to feel they got their money's worth. On the other end, think of all the time saved by educating in advance, rather than after the fact with panicked phone calls at all hours of the day and night because an owner was unfamiliar with the boat. We see it all the time with Fluid Motion, It's just plain and simple, this company is successful because they work smart! They know what boaters want and need, they've even fostered a community atmosphere among owners to cinch the deal.
Andrew Signed Us Up for the Two-Day Orientation
Well in advance of our arrival, Andrew Custis, Ranger Tugs Customer Service Manager, made arrangements for our two-day training. The training is tailored to each boater based on their knowledge or lack of knowledge as it relates to the boat they are buying and relative level of maritime skills. For those needing more instruction, more training is available by the experts at the factory. We've always felt that Fluid Motion's mission is to get people out on the water to boat. They have fashioned their support services with that premise in mind. If that boat is a Ranger Tug or Cutwater, even better.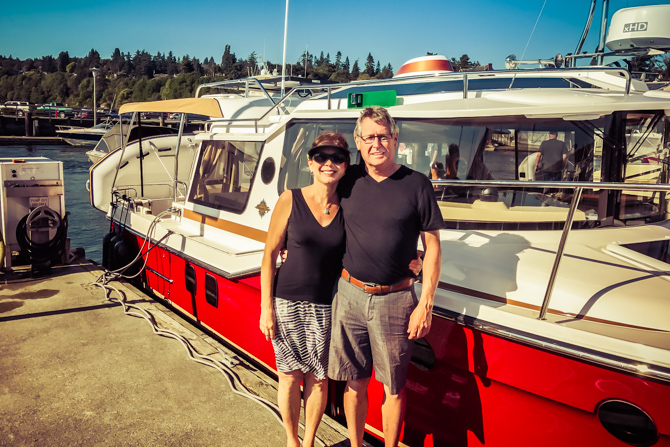 Ranger Tugs R29S Kismet Orientation
Day One
Thirteen days after we left our home in Traverse City, Michigan, we arrived at Des Moines Marina and met Customer Service Representative, Tim Bates. Tim didn't waste any time taking us out on the dock to meet our new, shiny red hulled, Ranger Tug R29S.
Under Tim's friendly guidance, we immediately dove into day one
of our dock-side training.
What was amazing to us, as Tim reviewed the boats features and operational functions, was how much has changed since our last boat purchase, 6 years ago. Tim had designed a multiple page guide and checklist to make sure every operational feature on the boat was covered, from the propane stove to the boat's power management of shore, generator, solar and inverter.
This checklist was new to us and we're thinking Tim has brought some serious skills to Ranger Tugs from previous work experience. The items on the checklist are too numerous to number, but suffice it to say, we got a thorough education and understanding of our new boat. Over the last six years, we have always been wowed by the factory personnel. Tim is no exception, it was nice for us to have a chance to get to know another customer service representative, and Tim gets high marks for the introduction to our new tug.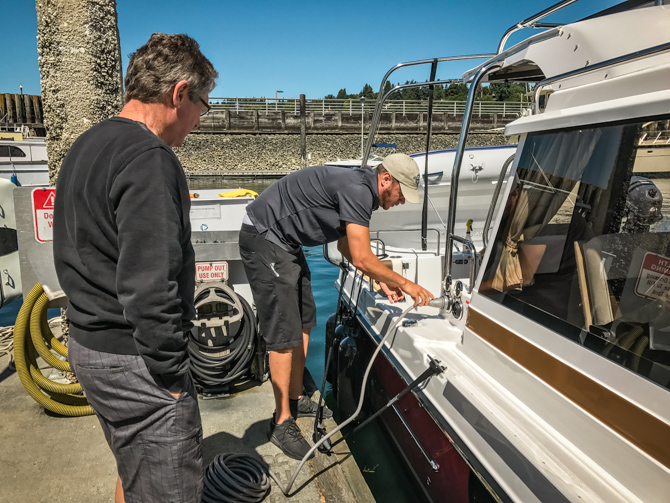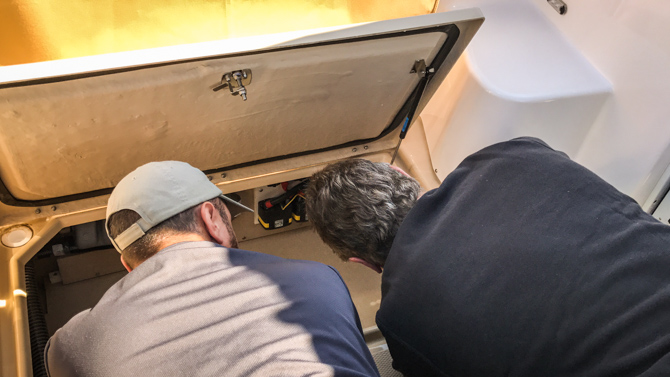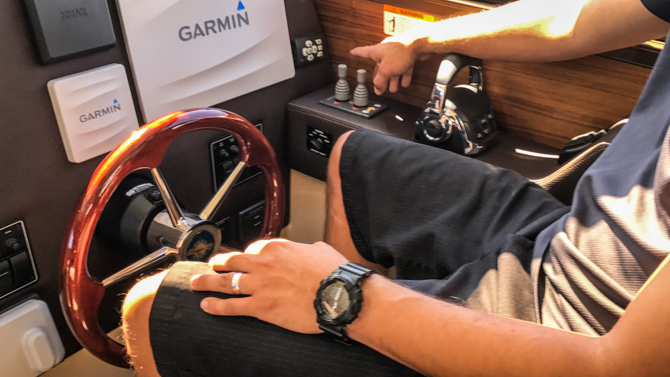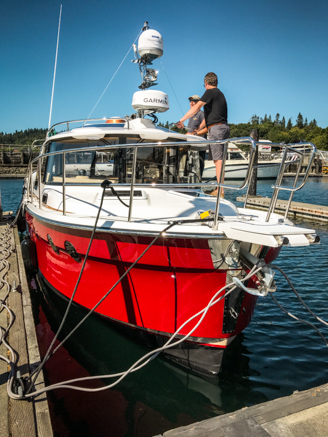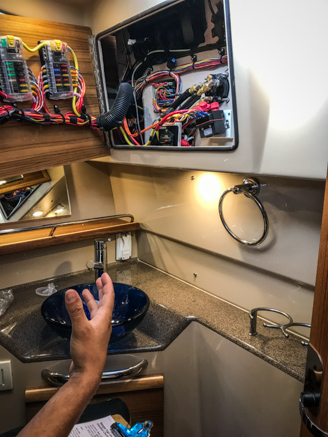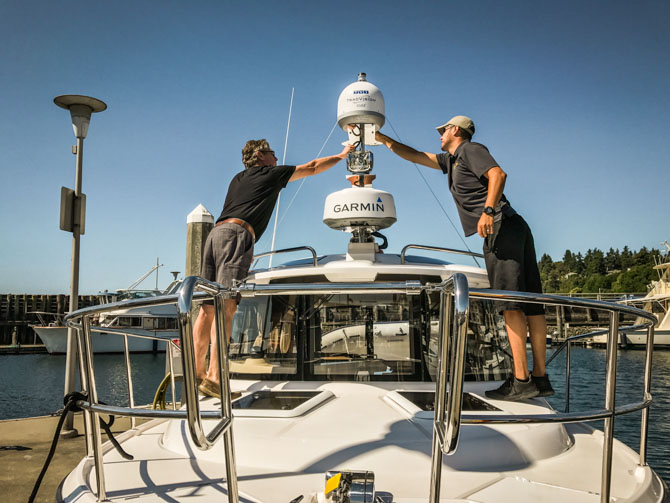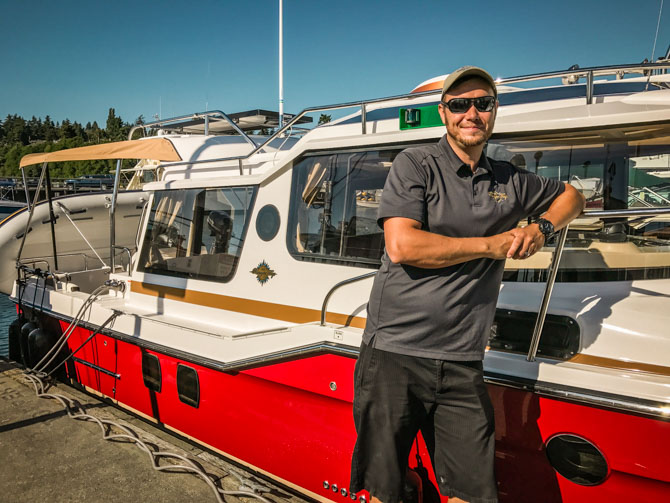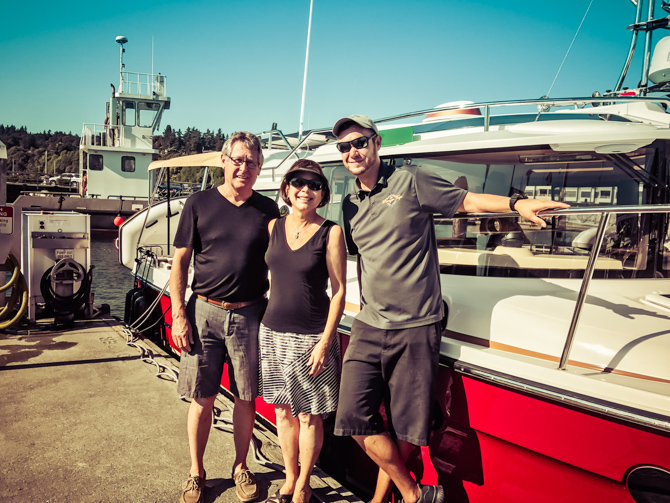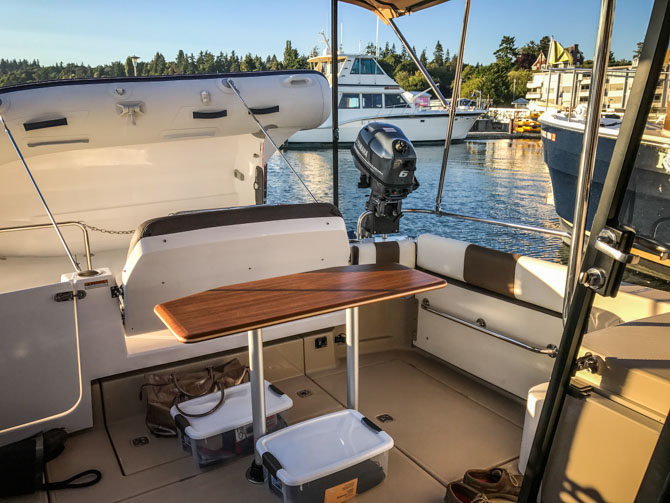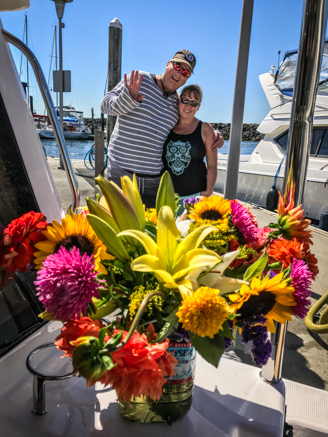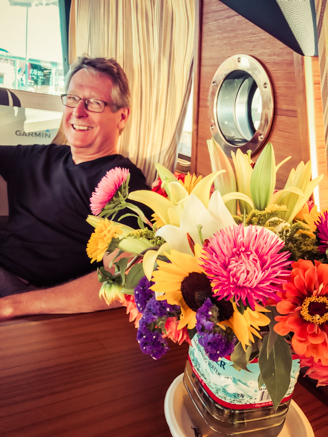 These wonderful boaters (above left) just randomly gave us these flowers. They said that they wanted to help us celebrate our taking possession of our new boat. Thank you so much, it was a wonderful surprise for us today!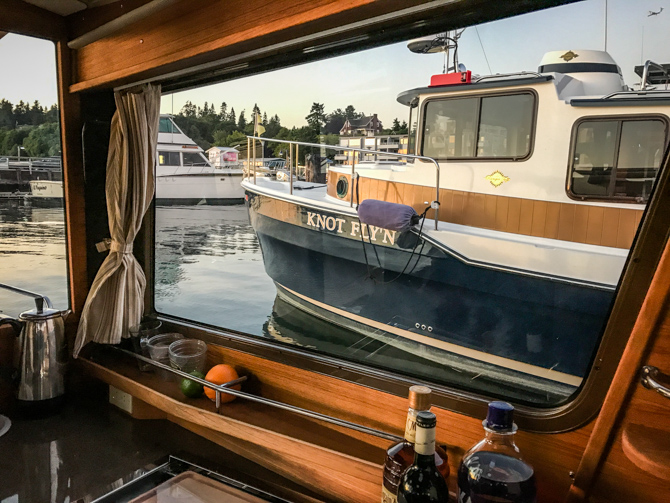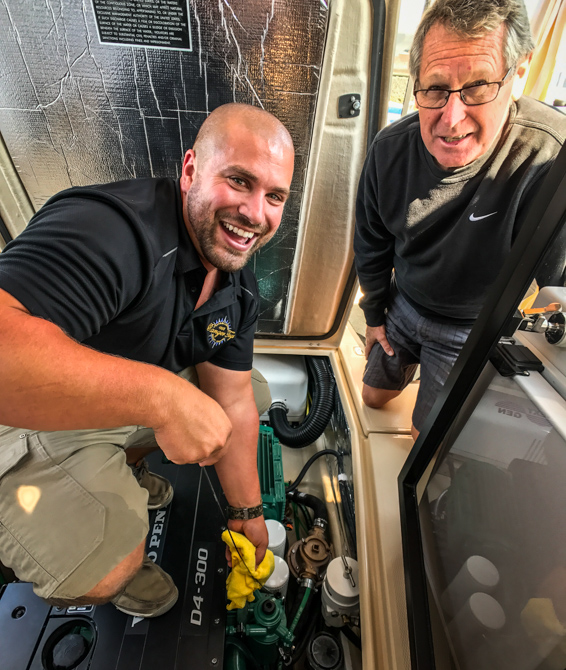 Day Two
Kenny Marrs met us at the boat in the morning of day two of our orientation. He would be covering the Volvo Penta's engine operations, Garmin electronics, dinghy deployment and retrieval and much more. We've known Kenny from the beginning of our Ranger Tugs association, a nicer young man you will never meet. We have seen Kenny in action, the dedication to his customers needs is intuitive and honest.
After our dockside training was complete Kenny went with us for a sea trial and our maiden voyage on the new Kismet. One of the first things we noticed was the stability of the ride. The Volvo Penta D4 300hp engine runs with authority but yet is relatively quiet. When I say the engine runs with authority I'm meaning the boat does what you want it to and when you want it done. Kenny reviewed the breaking in procedure, impeller, filter, and oil maintenance. I could go on and on but there were way to many topics covered to review in a blog post.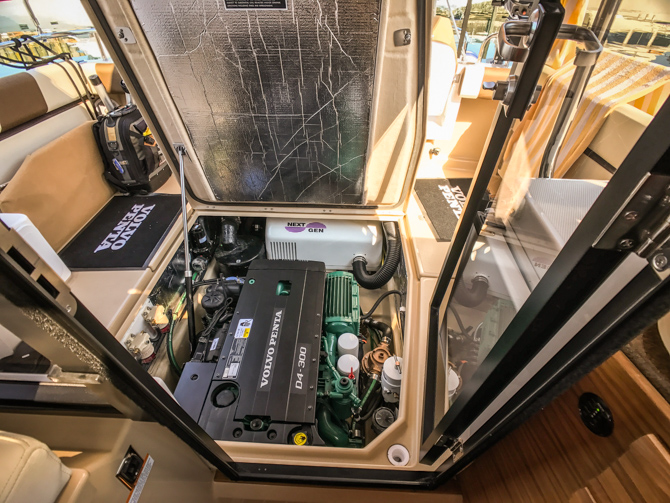 This Volvo Penta D4 300hp engine is going to take us to some amazing places!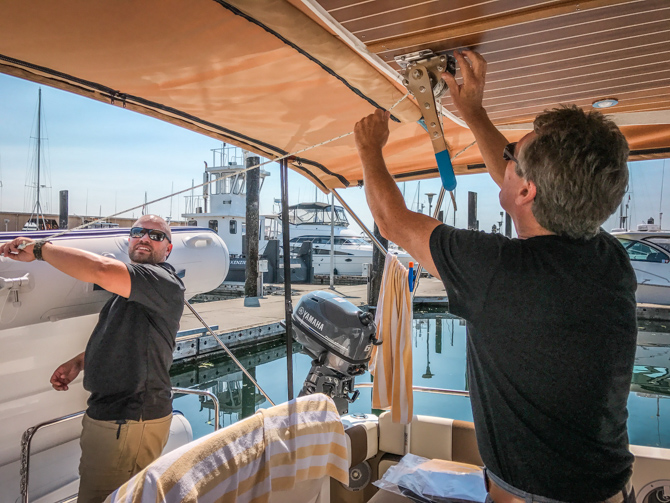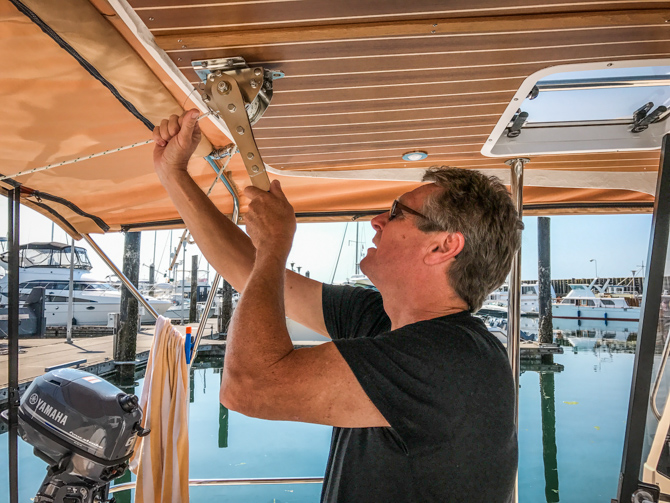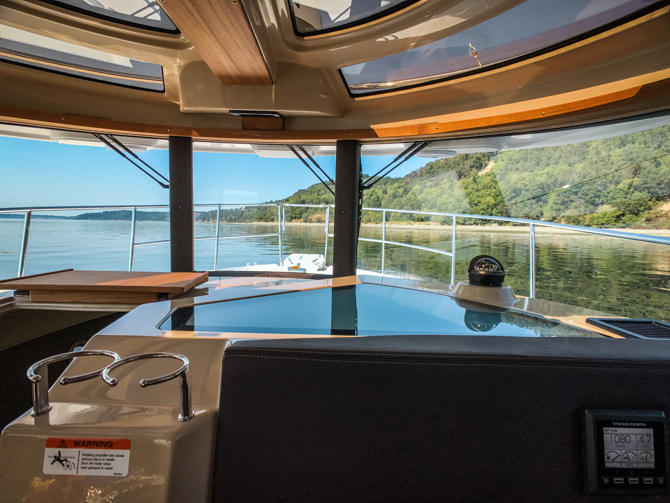 I think during the sea trial, it really hit home – this boat is amazing.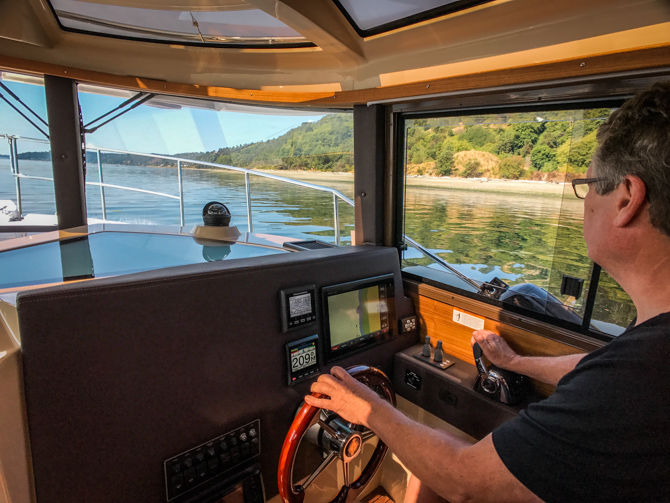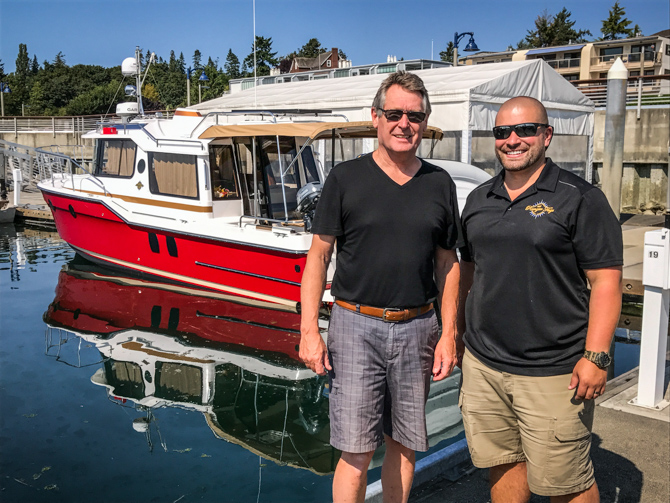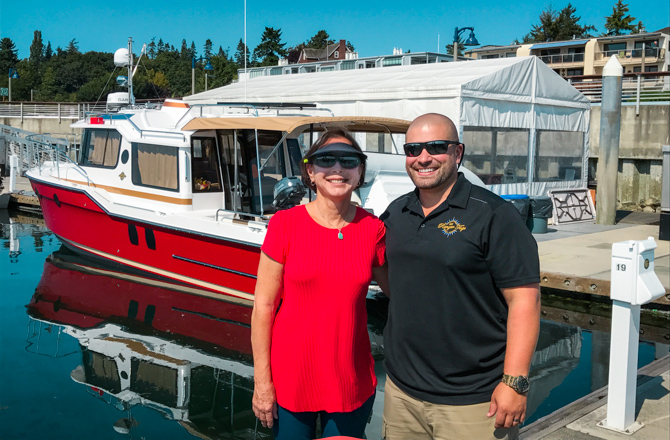 The two-day training of our new Ranger Tug R29S was the best new product delivery experience we've ever encountered. Thank you Ranger Tugs for being the professionals that you all are. Special thanks to Tim Bates and Kenny Marrs for sharing us with their knowledge and expertise.