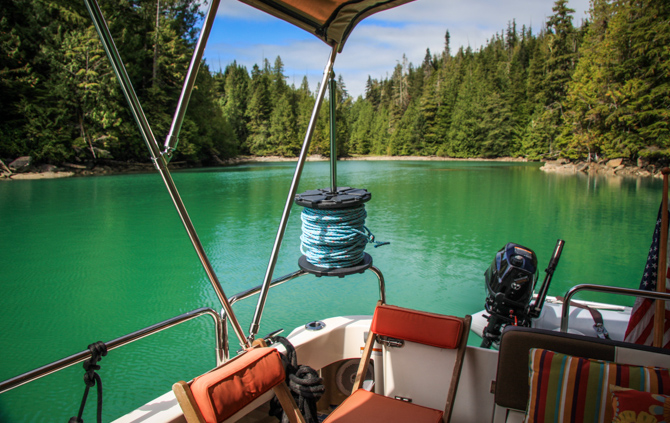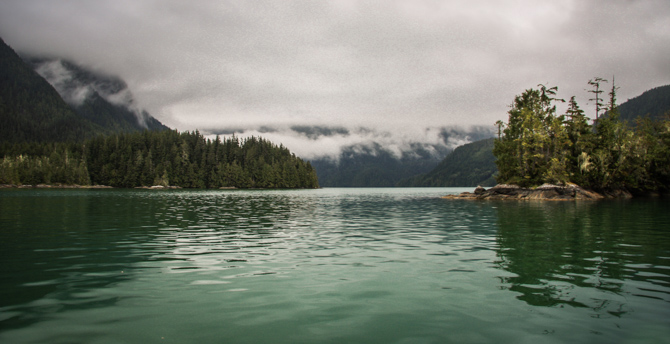 Simoon Sound – A Sure Thing for a Bear Sighting
We left Kwatsi Bay late morning to head back west into Tribune Channel and eventually Simoon Sound. First, we wanted to explore the length of Tribune Channel while also looking out for a spot to anchor for the night. Our preferred choice was Macintosh Bay, but the best spot was taken. We proceeded further back into O'Brien Bay and found a nice spot in the north corner of the bay with a good view of a level shoreline and wide open beach area where we hoped to have a black bear sighting at low tide.
Simoon Sound is located on the north and east sides of Wishart Peninsula between Tribune Channel and Kingcome Inlet. The sound is also a reserve of the Dzawada'enuxw First Nation of the Kwakwaka'wakw peoples. Captain George Vancouver anchored here on Discovery and Chatham in 1792
Entertainment for the night? Bear Watching!
Sure enough, at 5:15 we spotted a small black bear walking on the rocks right not too far from the boat, exciting to see and watch his/her activities for 1/2 hour and then it was gone. In another 1/2 hour, a large black bear appeared on the beach – we watched for an hour as it easily turned large rocks over looking for food, never paying much attention to us. Shortly after, the large bear disappeared into the underbrush and the small bear appeared right behind our boat, on shore of course but the closest to us then any other sighting, maybe 25 feet. The bear easily made its way along the rugged, rocky ledge foraging for food under the rocks looking for its dinner as we finished ours up.
We decided to stay put in O'Brien Bay another day and it turned into a blue skied sunny day – great for being at anchor doing chores around the boat and enjoying nature.
By this time in our trip, we were really starting to feel the confines of our 27-foot boat close in. We aren't really comfortable getting off the boat to walk on shore, even if we could find a path to explore. We know there are a lot of bears in those woods and nearby beaches, however, we did enjoying the peace and quiet, the occasional wildlife flitting by and the beautiful blue-green still water Kismet was afloat on.