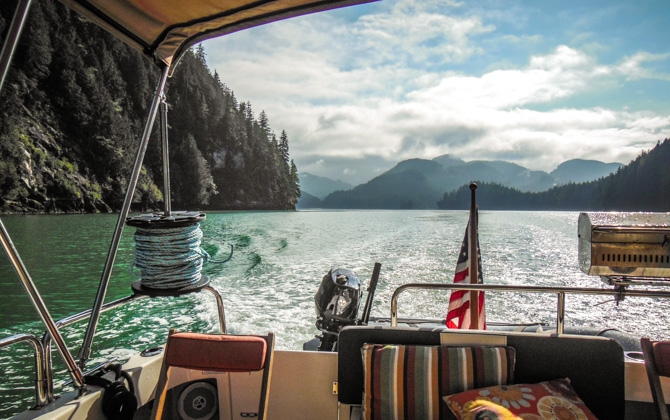 Sullivan Bay Marina is on the Edge of the Broughton Archipelago – 
After two peaceful nights on the hook at Turnbull Cove we pulled anchor to head a short seven miles to Sullivan Bay Marina. We timed our stay at Sullivans to coincide with their prime rib dinner, a weekly, scheduled event. Sullivan Bay Marina is a remote floating island community, only accessible by boat, sea plane or helicopter. Besides dockage there are many float homes, a convenience store, fuel dock and restaurant.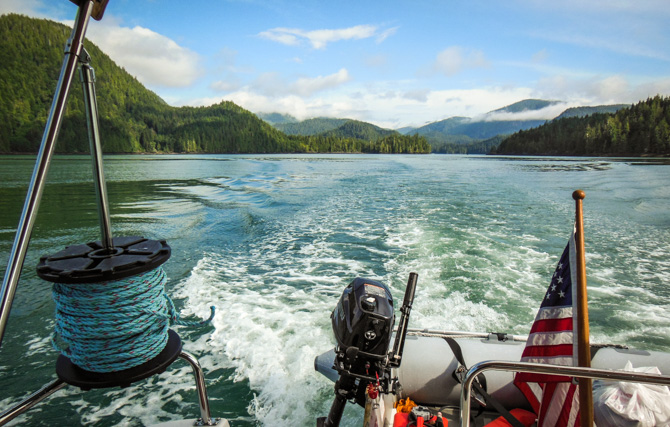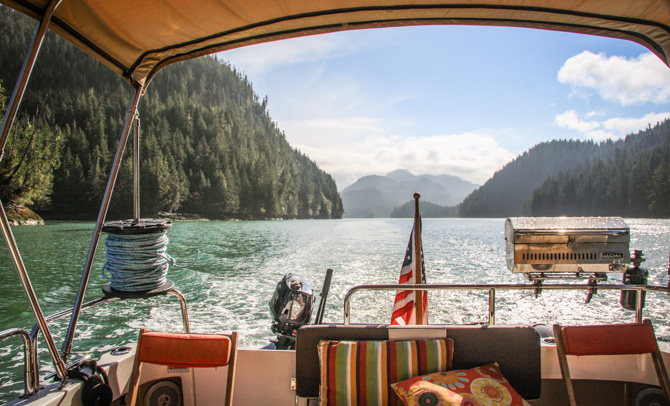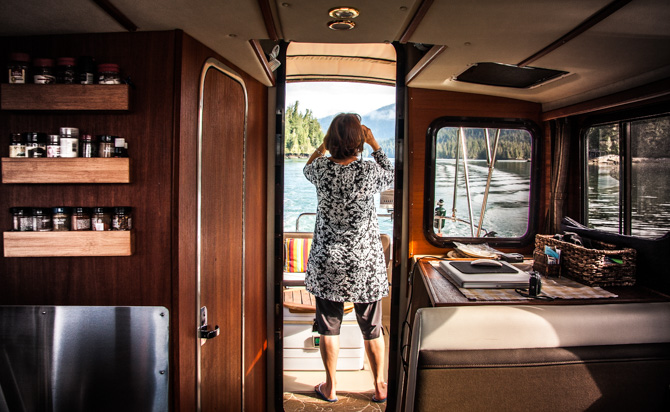 Lisa taking photos while Jim drives the boat.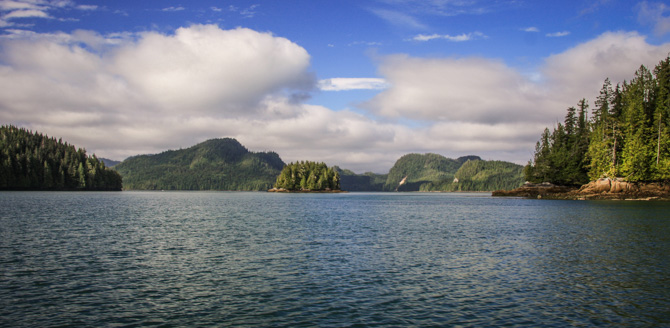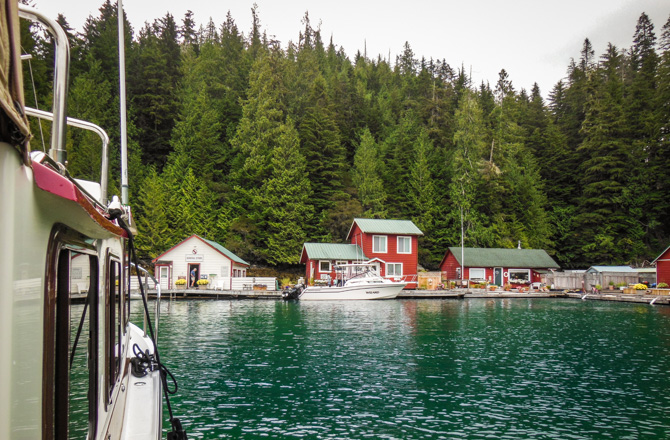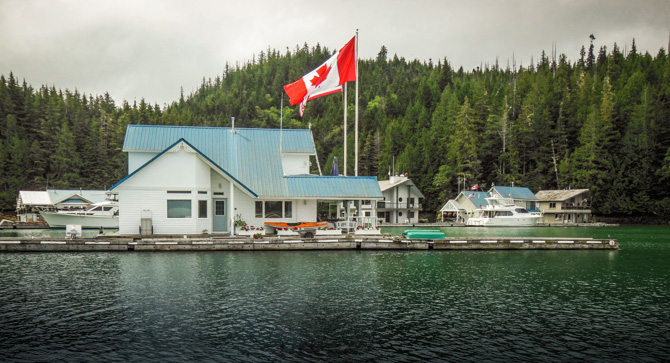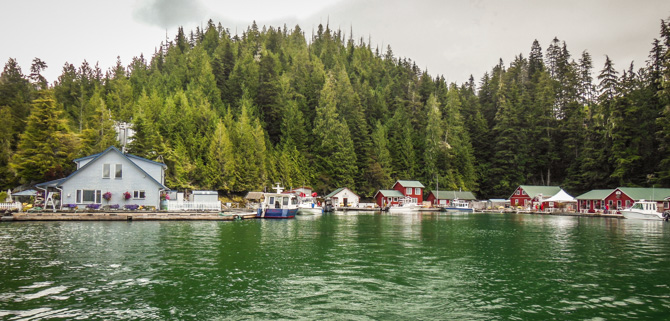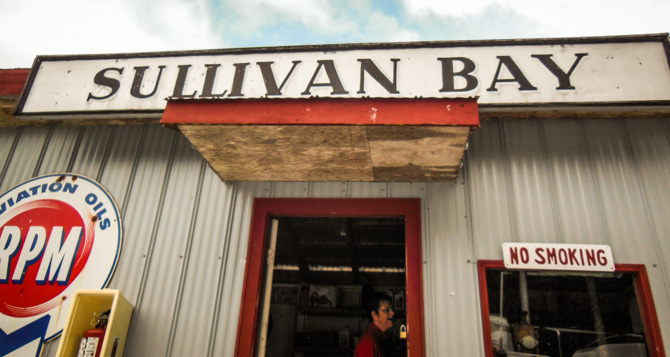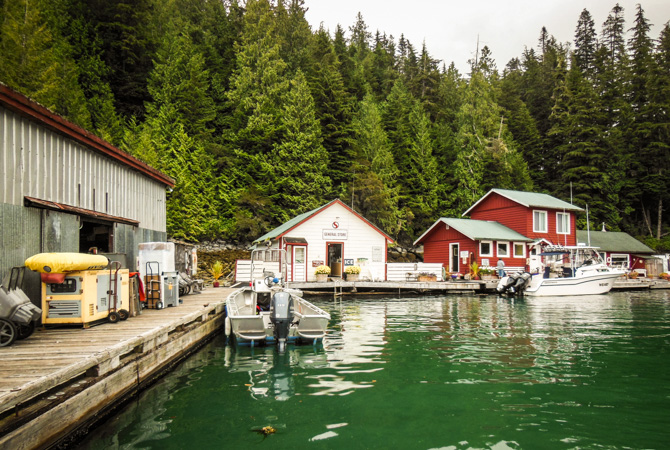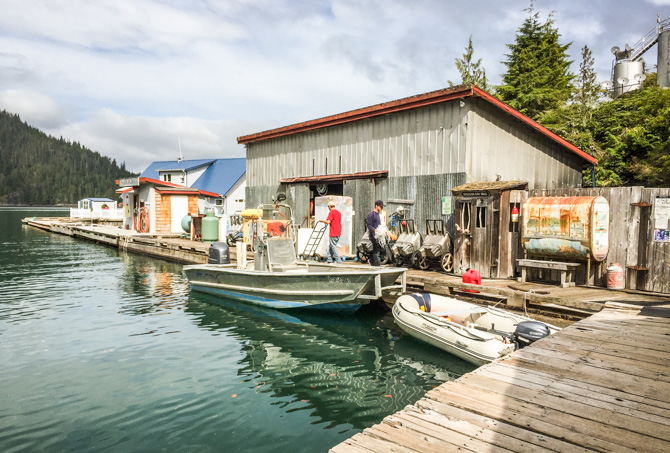 When we arrived we stopped at the fuel dock to top our tanks. We were warmly greeted by staff and other boaters when we arrived. We checked out the nearby grocery store to see what the offering were and ordered our cinnamon rolls for the next morning. Fresh produce was what we craved, but the prices were of course quite high – understandably.
Lisa immediately asked Jim for a two-night stay.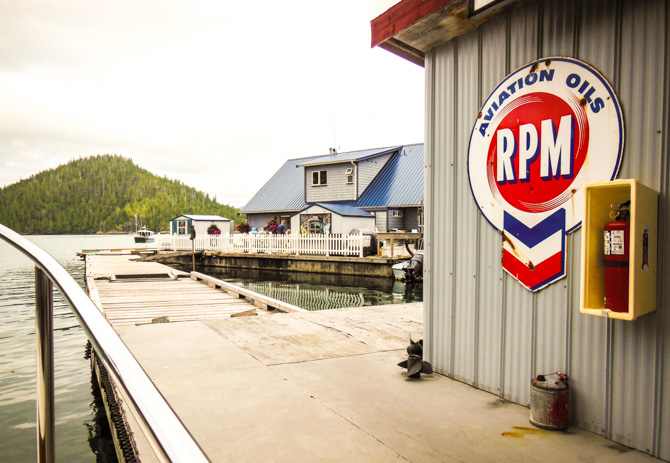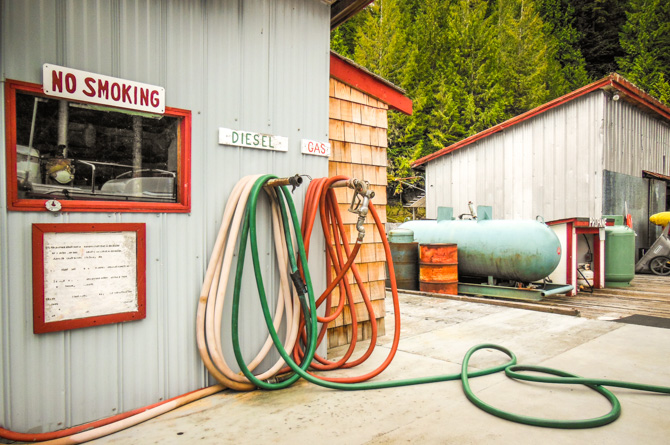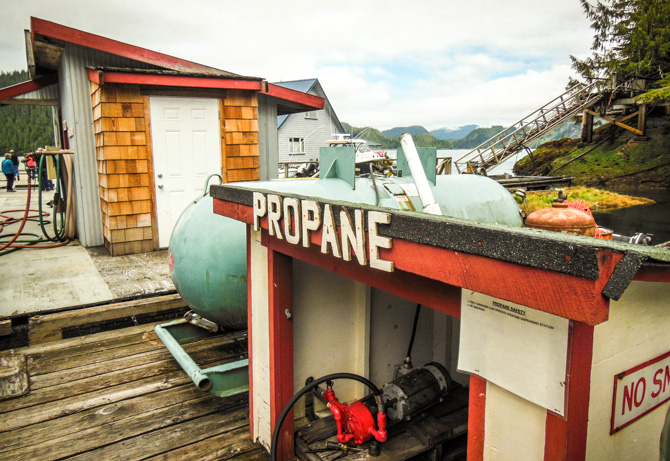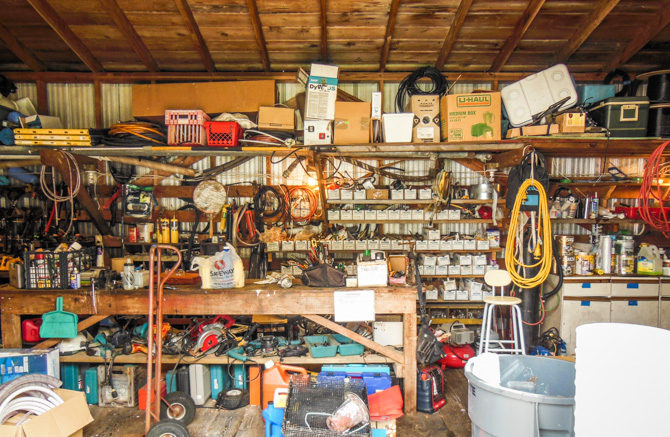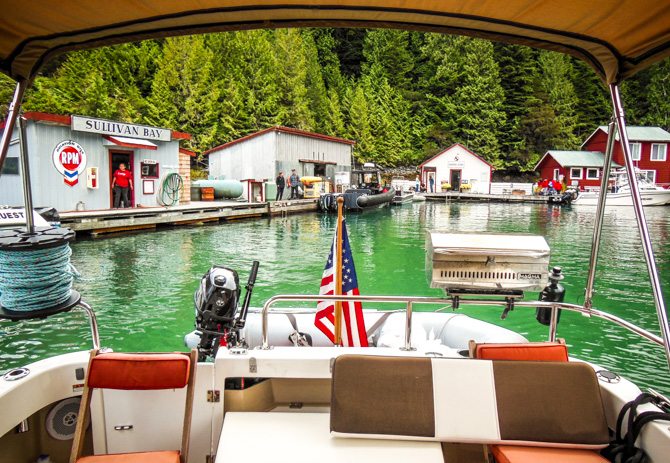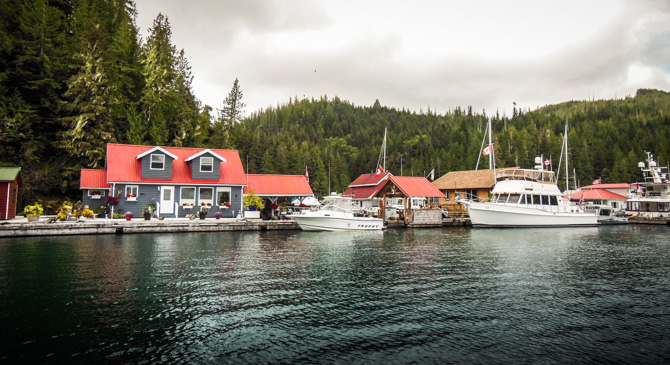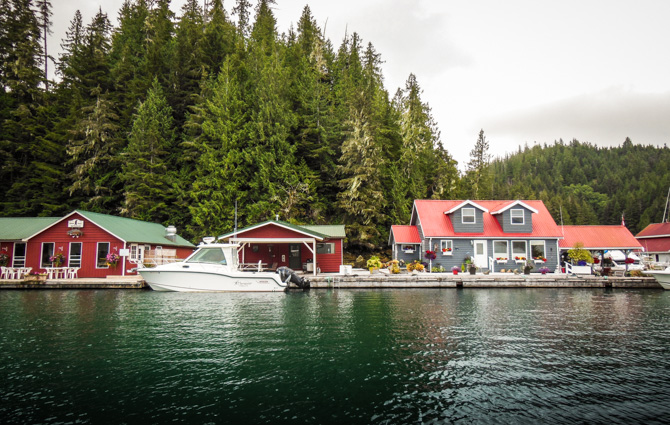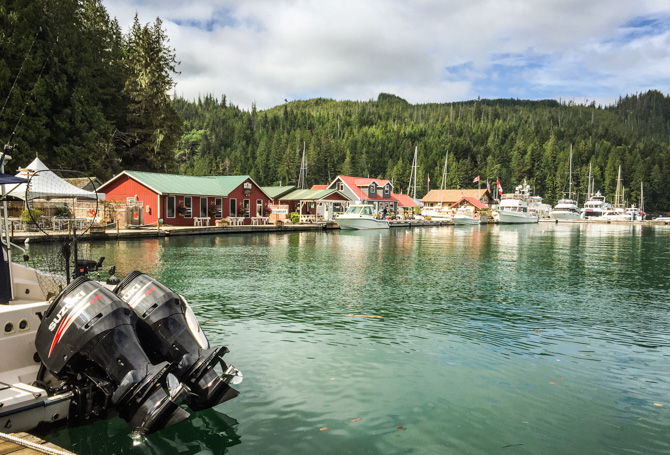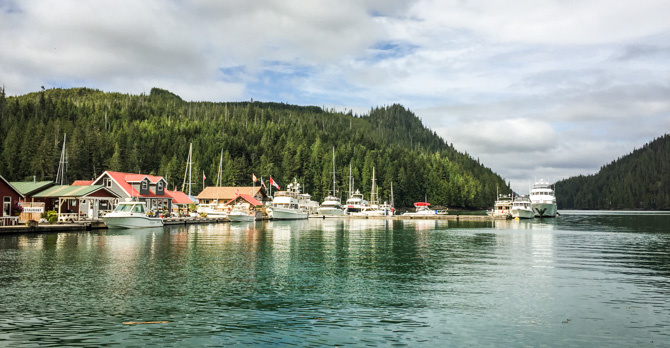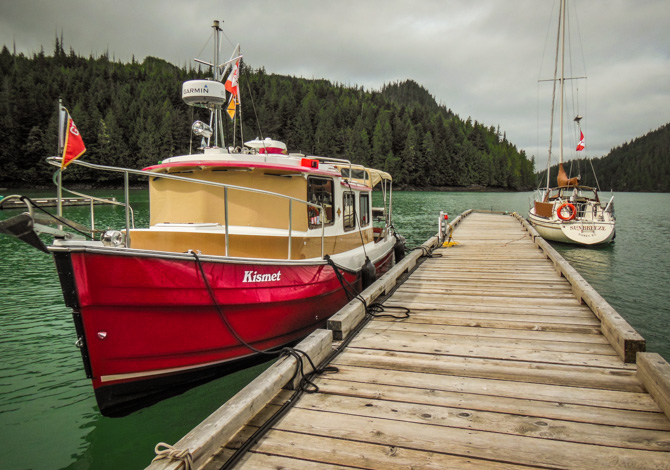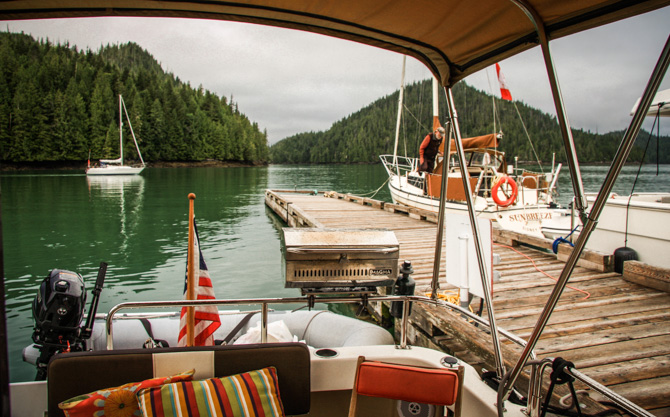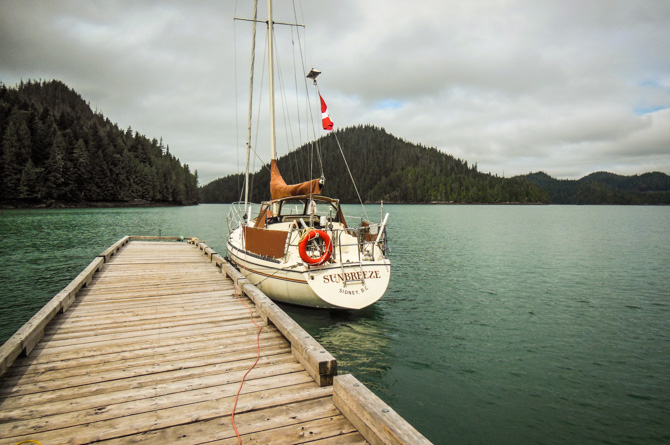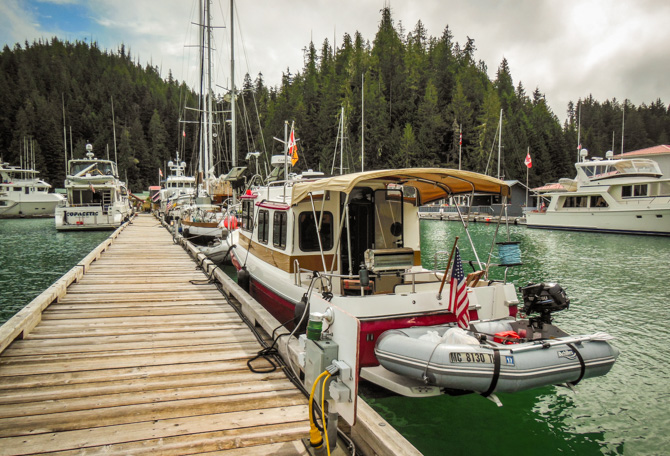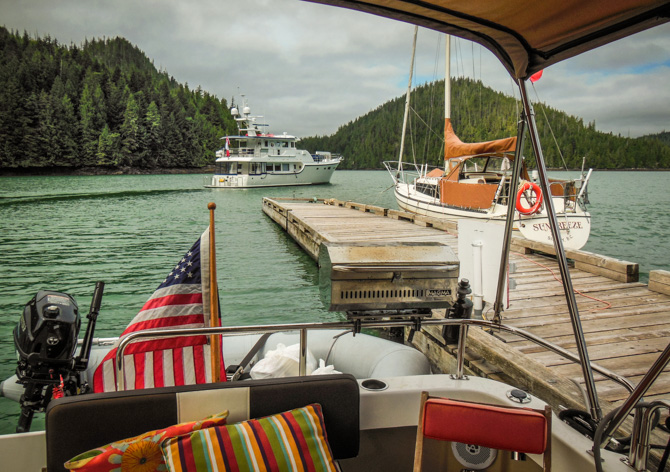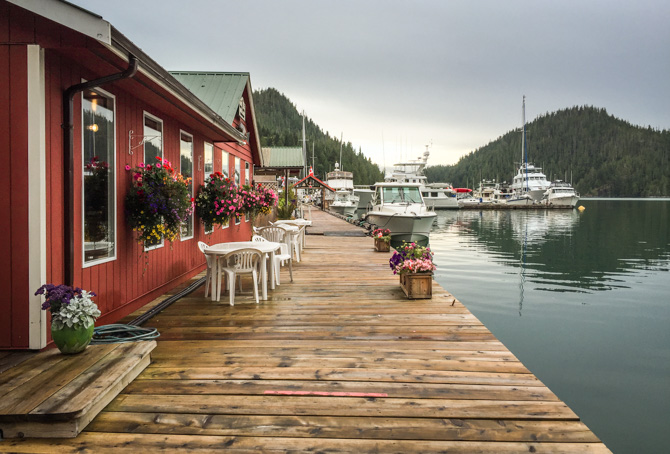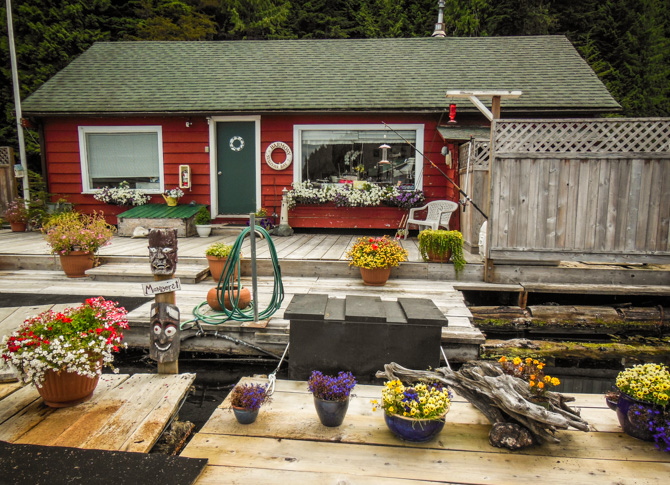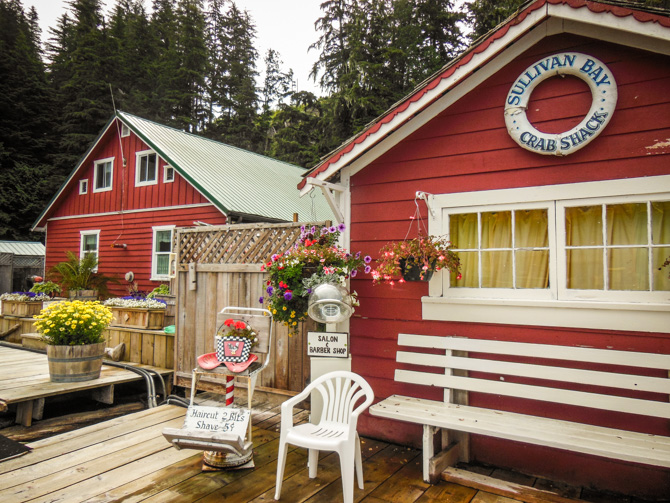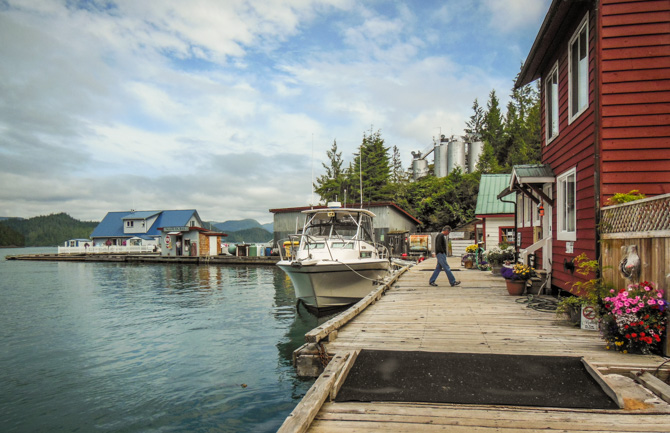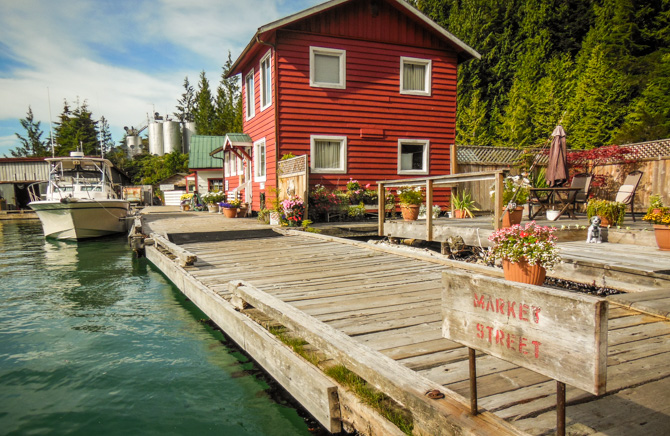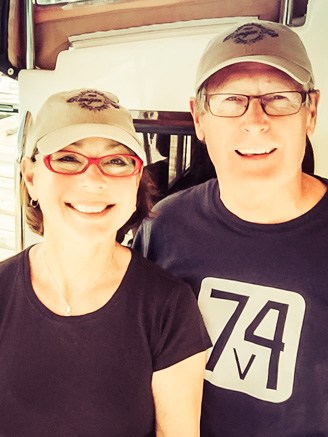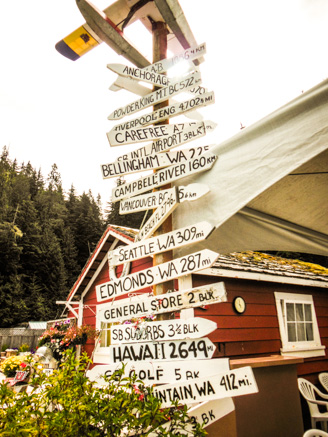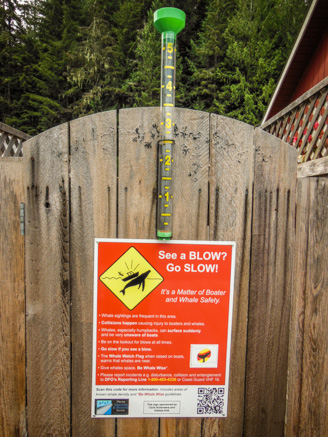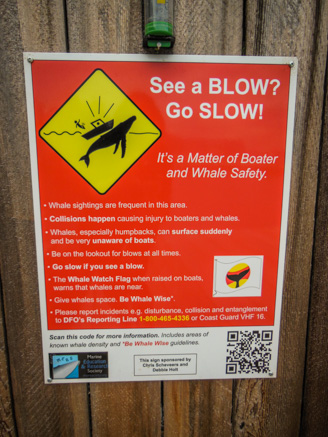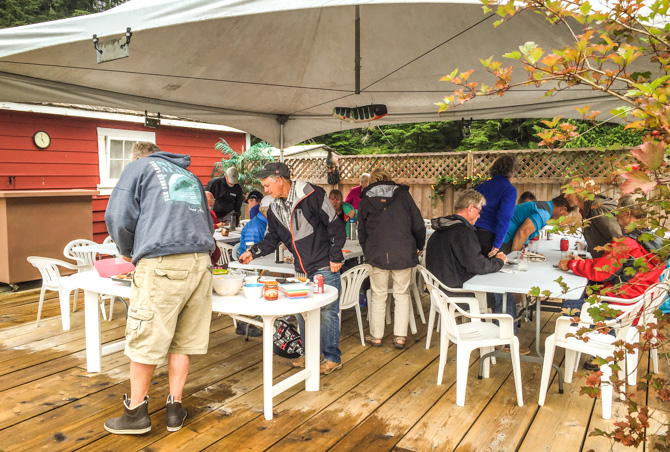 Happy hour is an important activity in the Broughton Islands. Every marina has their own take on what it should be. Usually you bring an appetizer or pot-luck dish to share. This is where you'll meet other boaters in a relaxed conversational setting.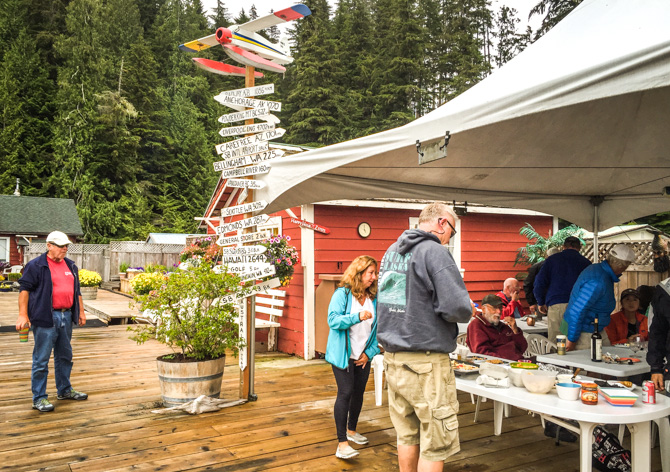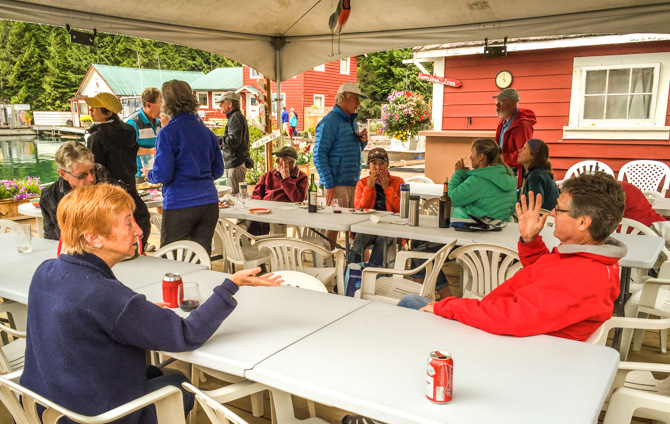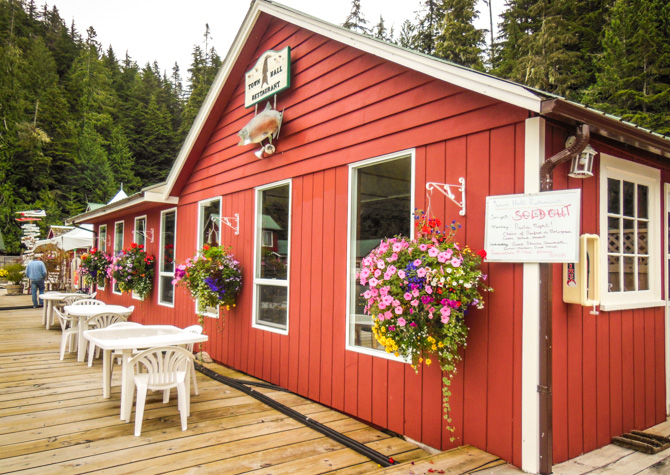 It seemed that we barely got settled and it was time for the prime rib dinner. When we made reservation at the marina we also signed up for the weekly prime rib dinner special. Diners go to the restaurant at the designated time. We shared a table with another couple, instant opportunity to get to know another boater. We felt more like we were at a big party at someone's house instead of a restaurant. The staff was friendly, cheerful and entertaining. It almost felt like we'd known them a long time. The food was fantastic, It was the largest piece of prime rib we've ever had. We'd do it again. They do things up right at Sullivans by cooking amazing feasts and making everyone feel at home. An art they've perfected.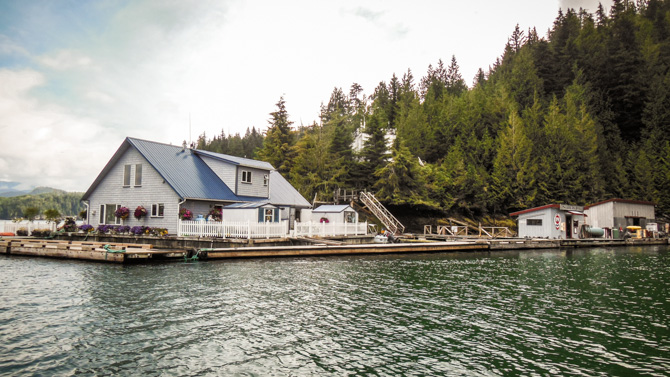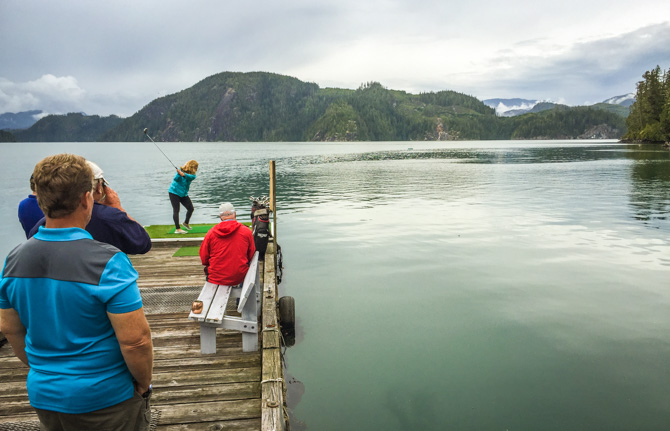 After happy hour, under the tent on the dock, everybody gets a try at swinging a hole-in-one off the dock. There are prizes for closest to the pin every evening. Hole-in-one wins free dockage.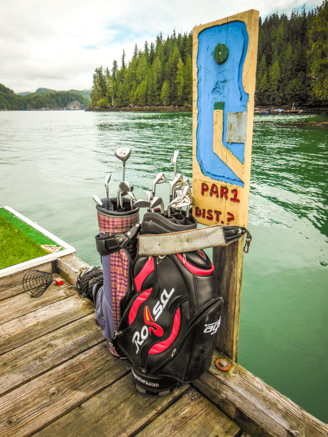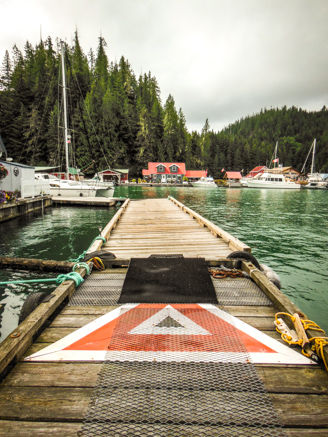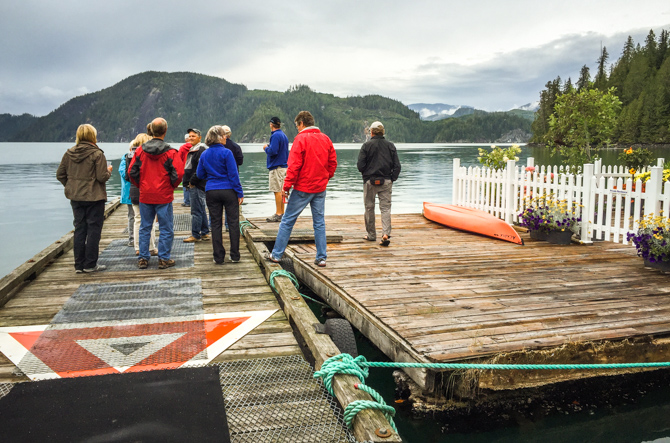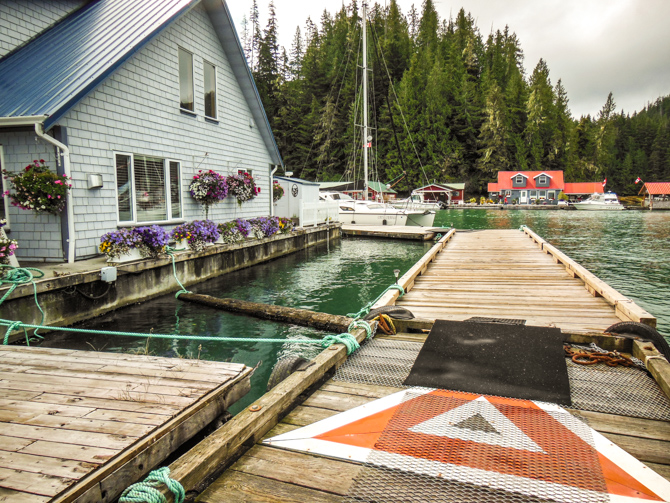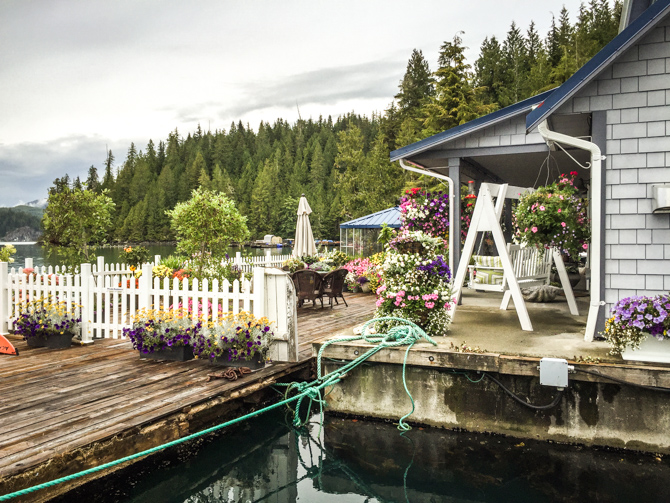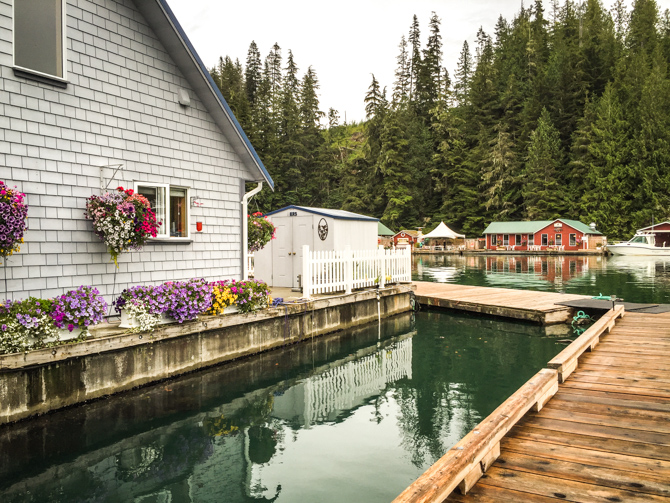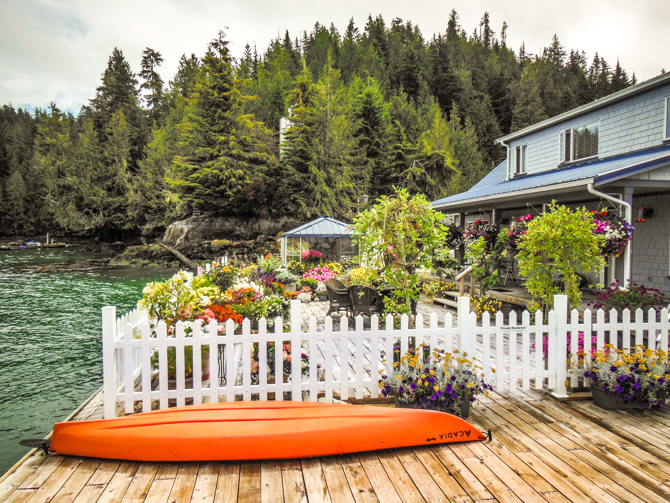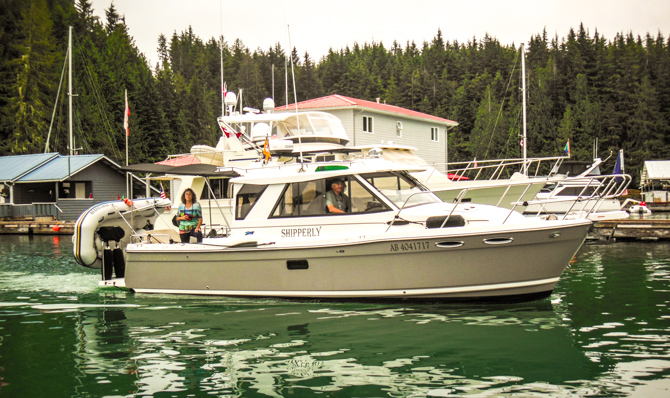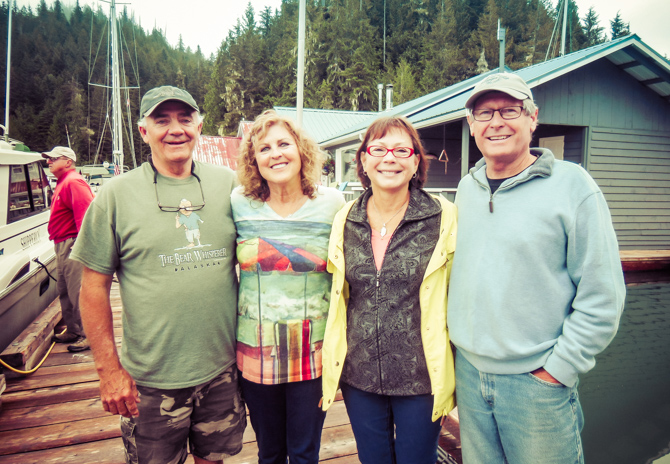 Shortly after docking we noticed a taupe colored Cutwater gliding into the harbor. It caught our eye as it looked familiar to us, so did the crew. It took a moment to register, as they cruised closer we saw it was our Canadian friends, Ken and Pauline, on their boat Shipperly. They were followed shortly after by our friends John and Laurie in there 39' Kady Krogan, Tribute.
Bumping into old friends is the best!
We had met both of these couples at different times over the years through boating with the Ranger Tugs and Cutwater community. We have been at rendezvous together at various times. We've run into them at various times in Florida, Washington, British Columbia, Ontario Canada and Florida. The crews of Shipperly and Tribute had buddy boated to Alaska this summer and were just now returning to Canada and the USA for John and Laurie. How lucky were we to be at Sullivan Bay Marina as they stopped for the night on their way home. It must be KISMET!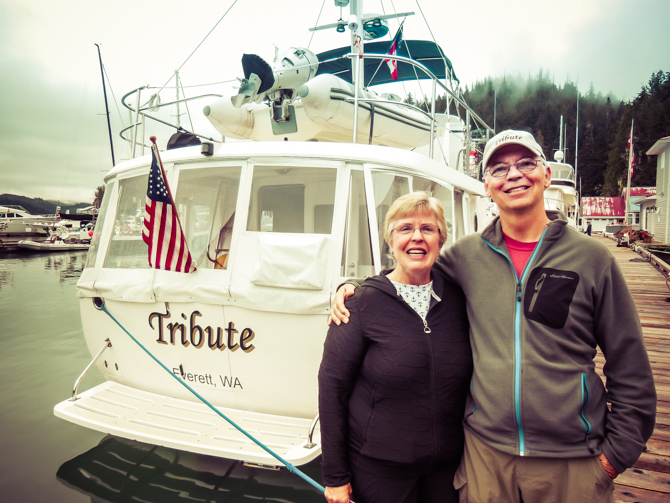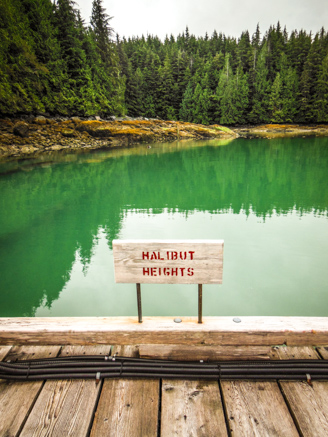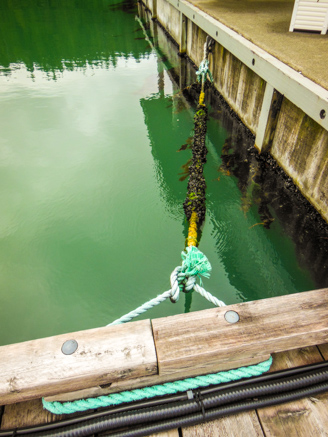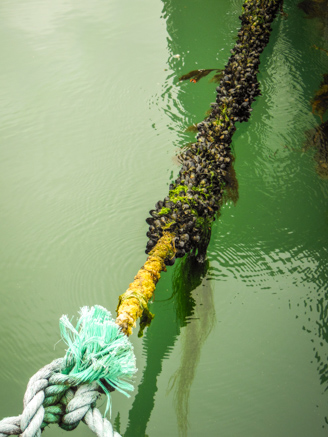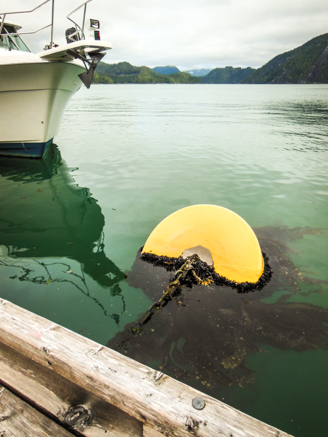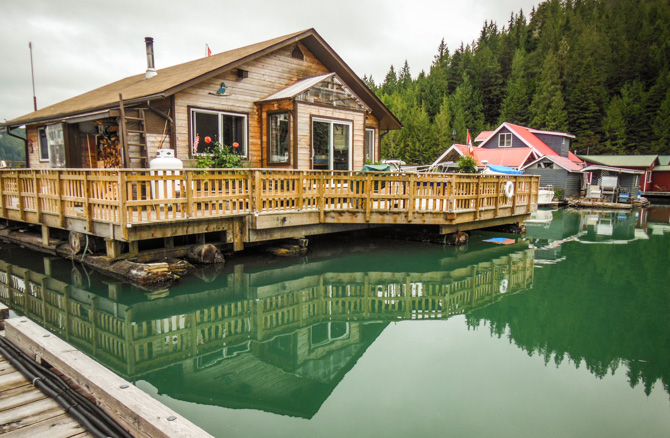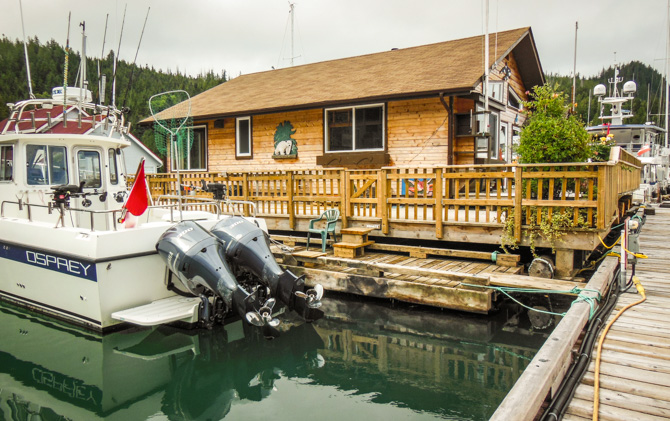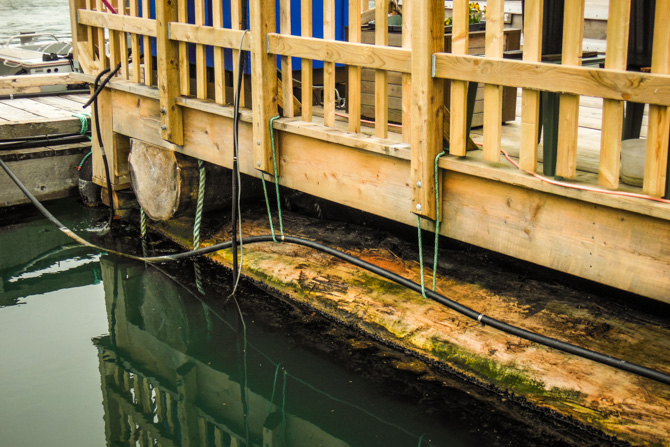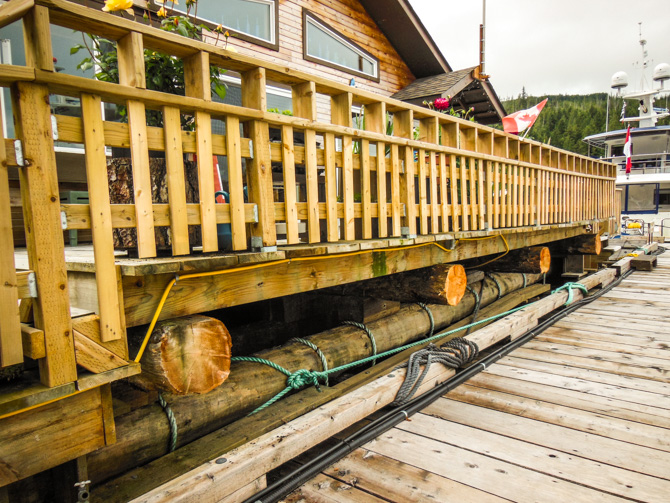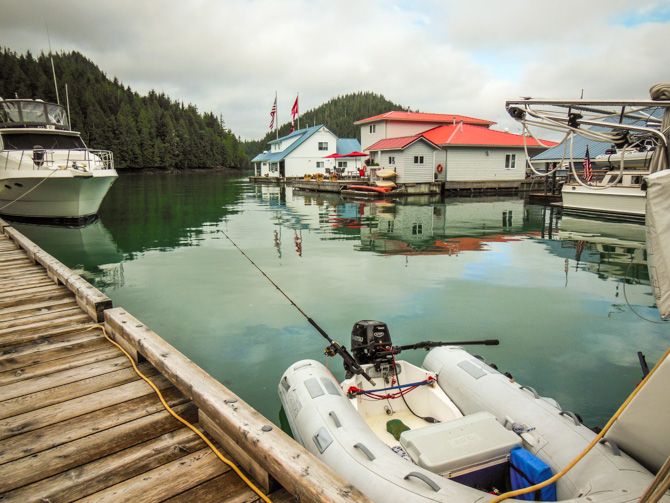 Everything floats on water at this marina – houses, grocery store, restaurant, laundry and shower facilities. If you are here awhile and want to get some exercise, you have to walk the docks. We saw several people power walking up and down each finger length of dock. You do what you gotta do when boating! That next afternoon while walking the docks for exercise we saw a group of people watching a mother black bear and cub at the rear of the float house/marina area. They were rummaging around shore foraging for food, turning over rocks looking for something tasty. The bears were only about 50 yards away and the cub appeared to be only a couple of months old.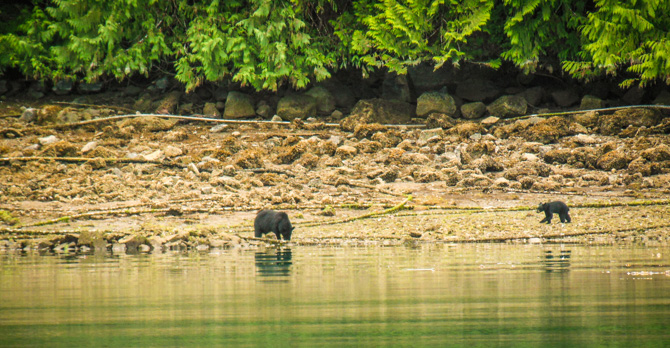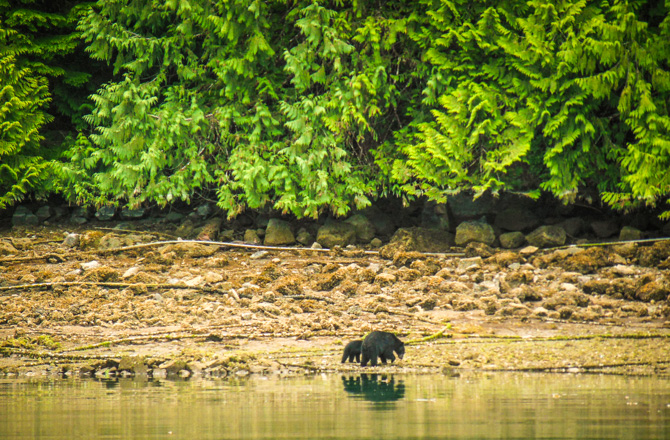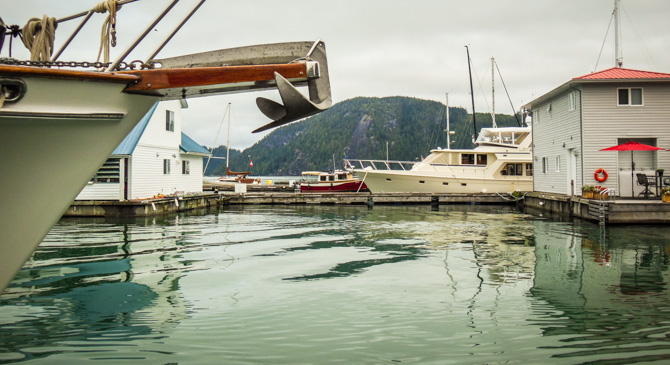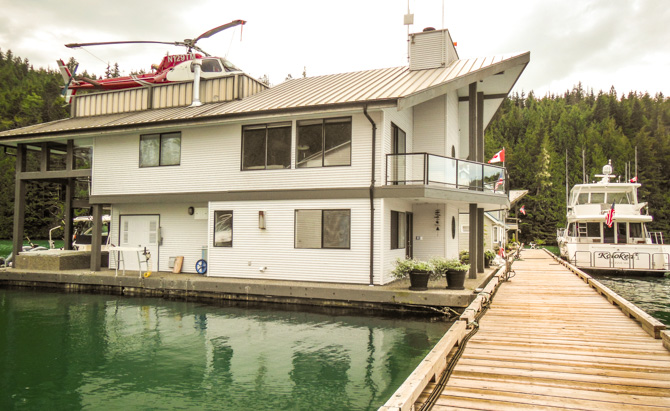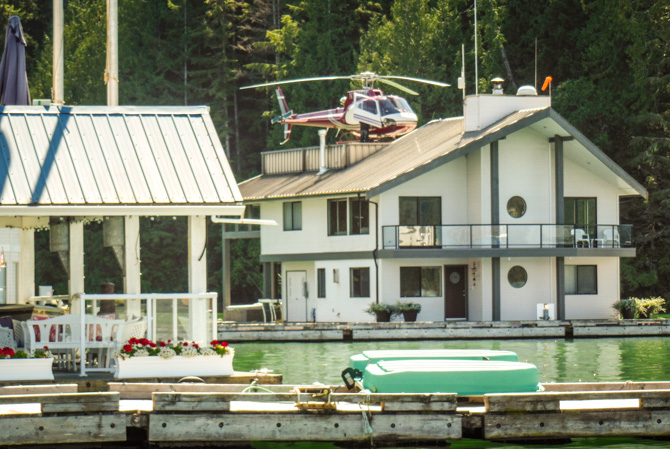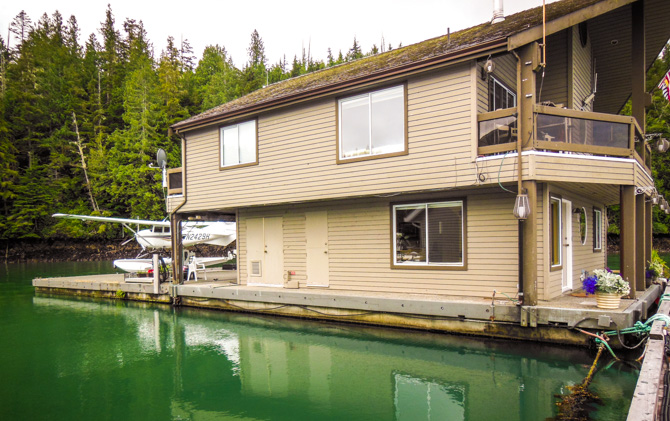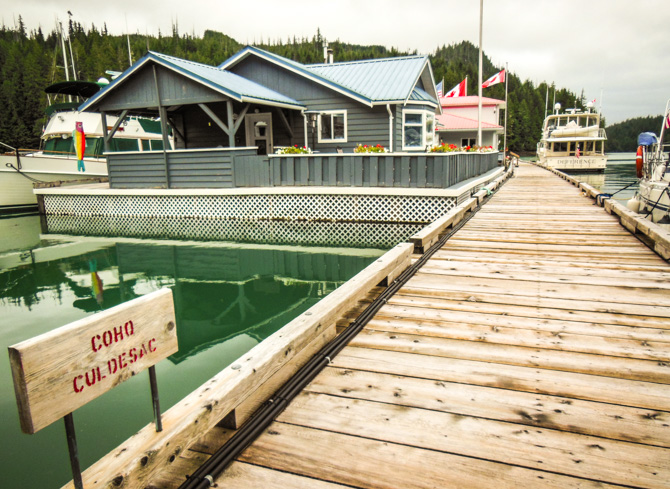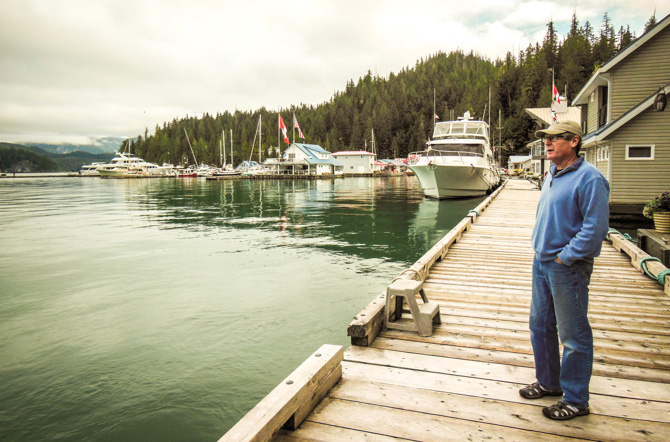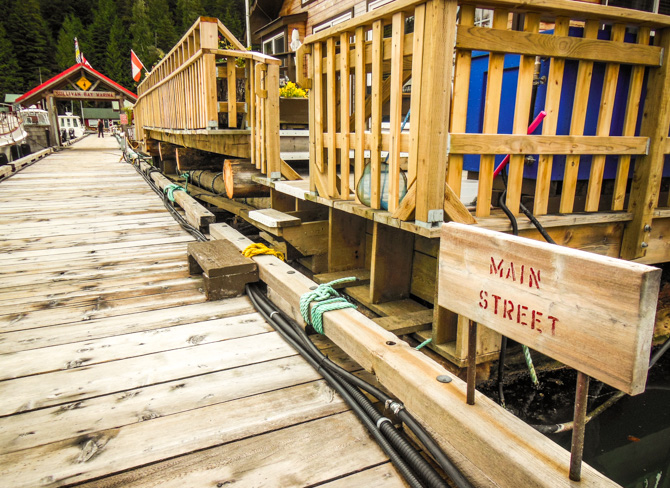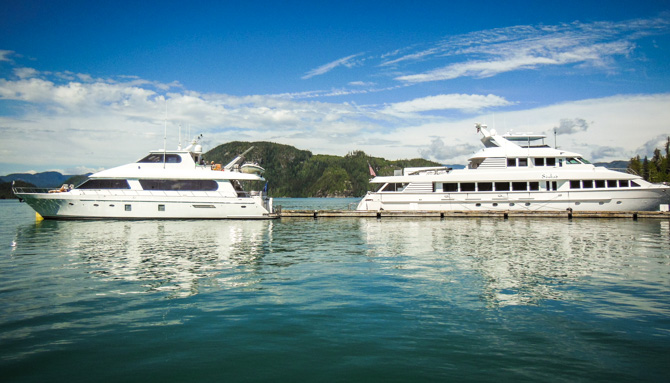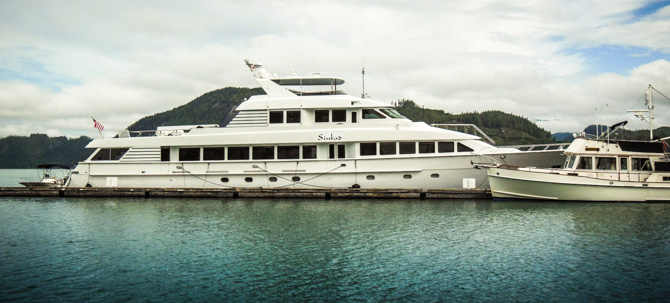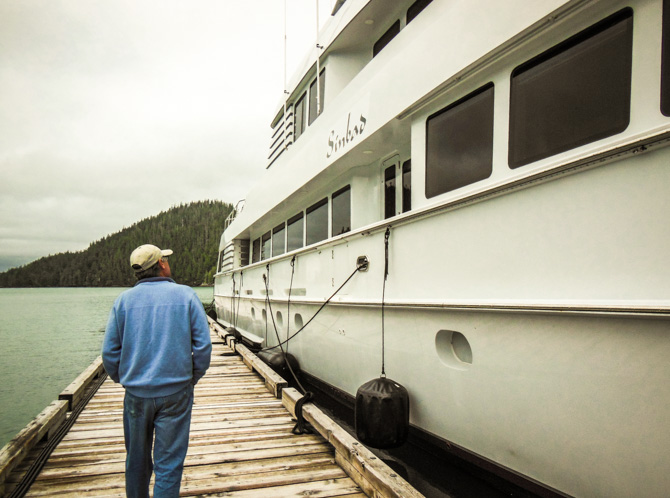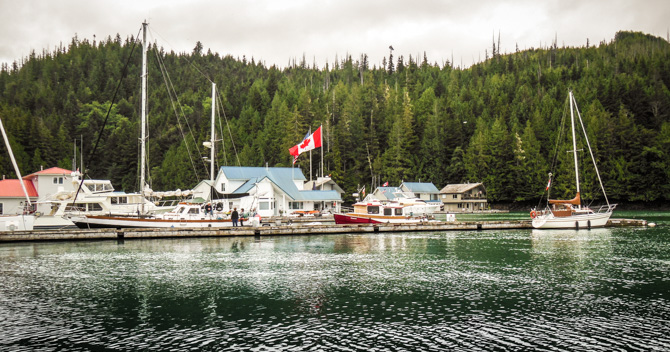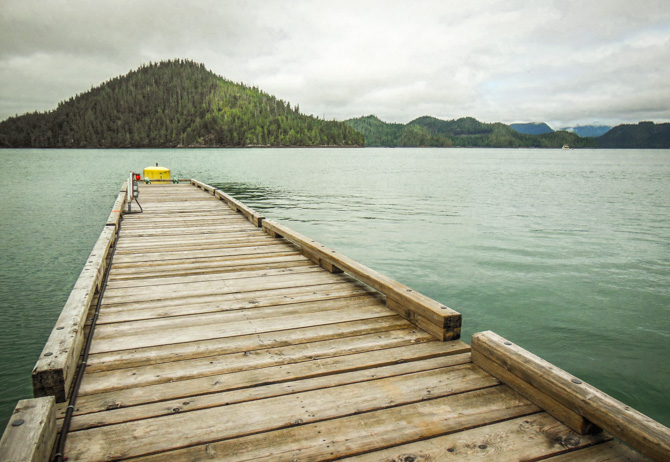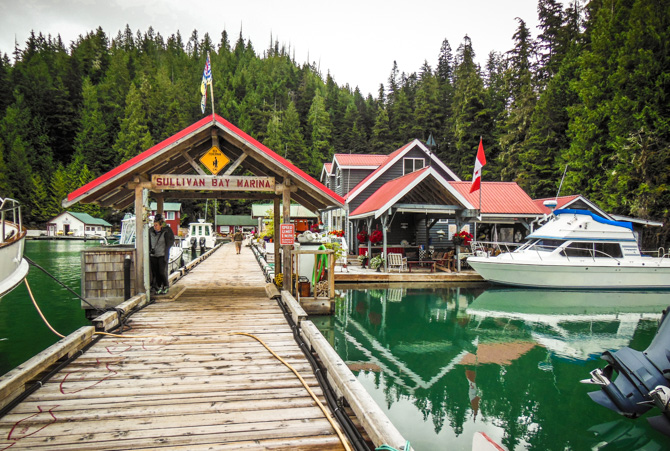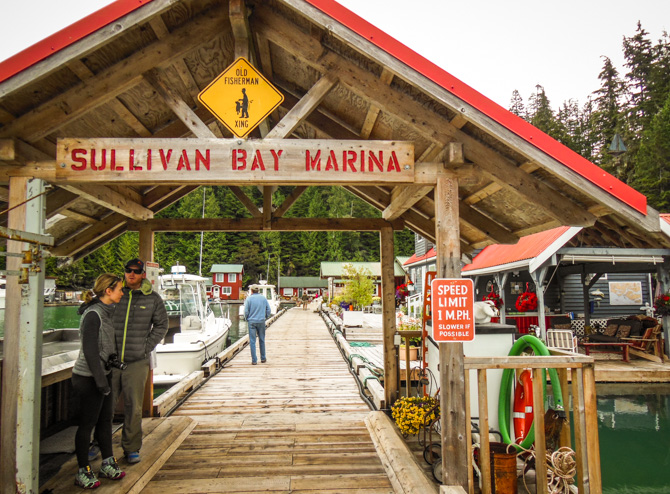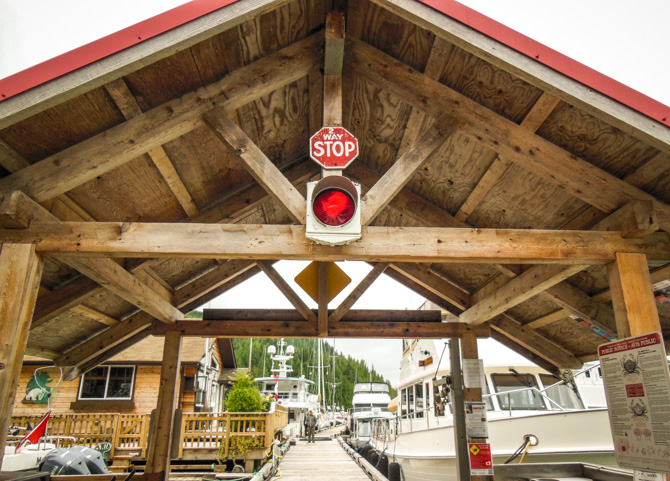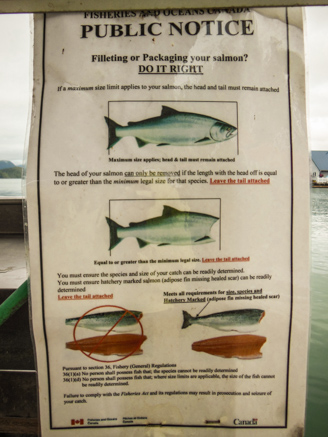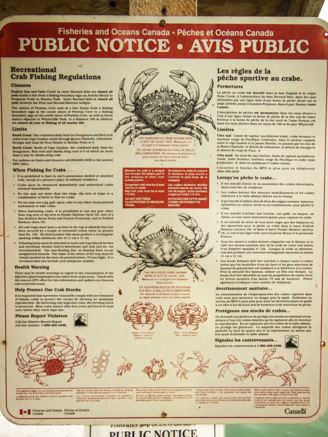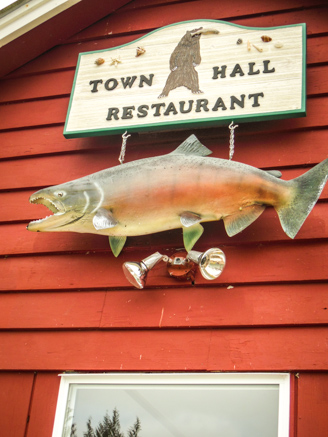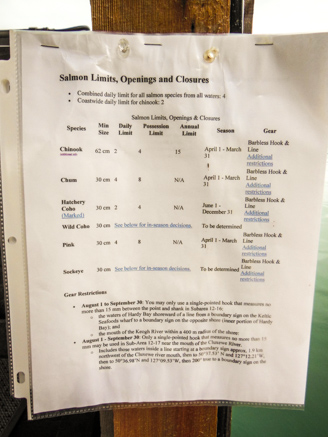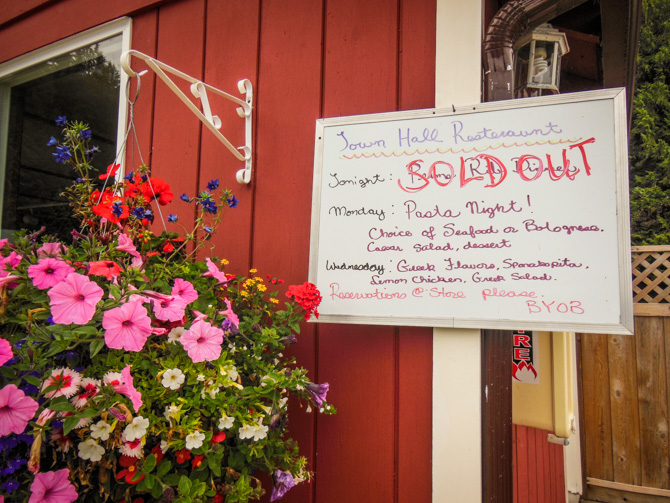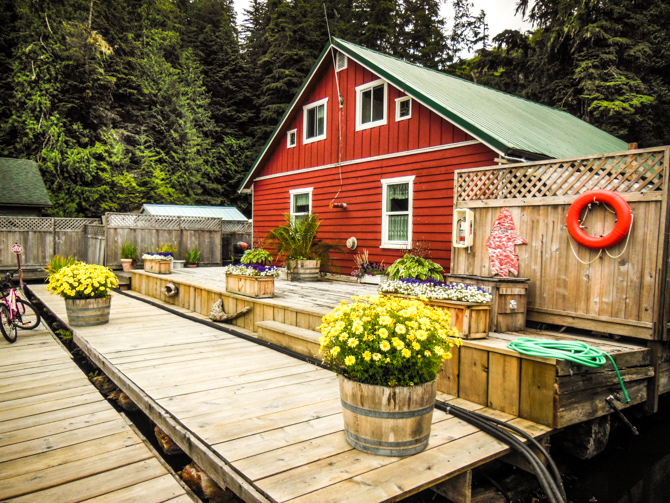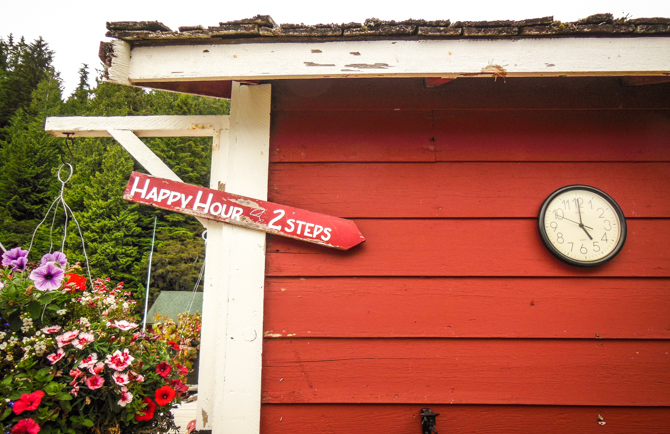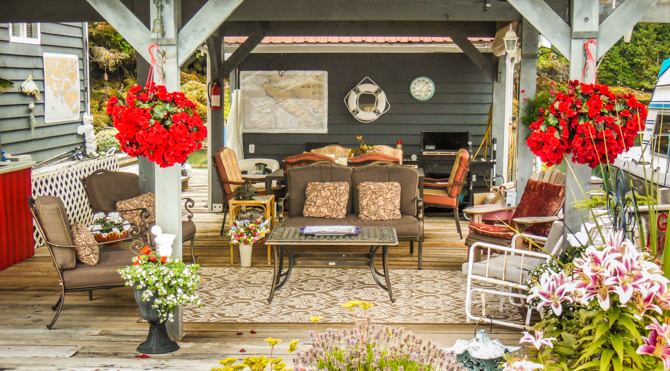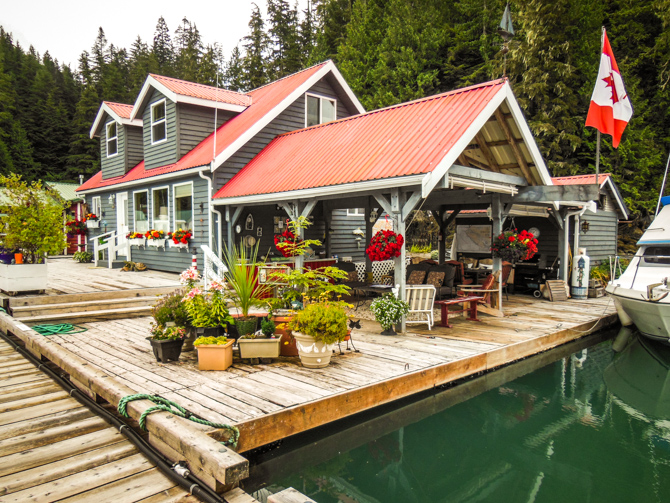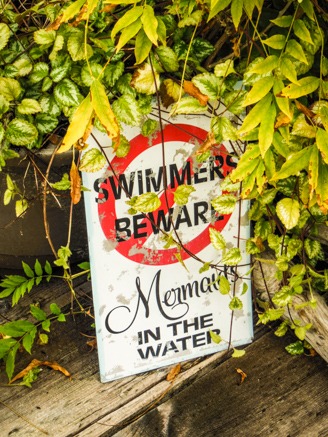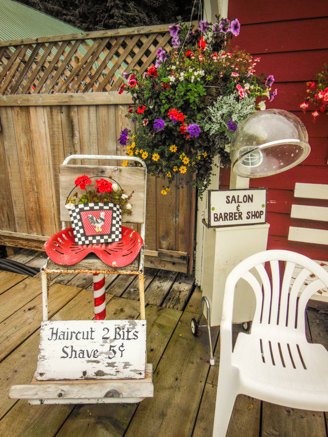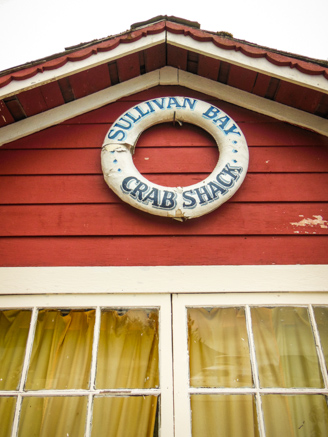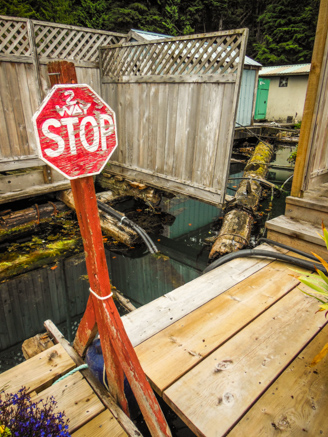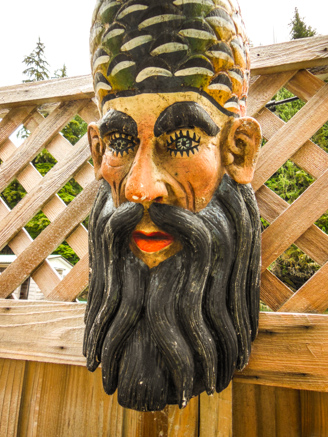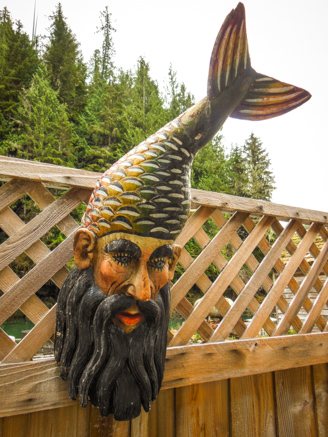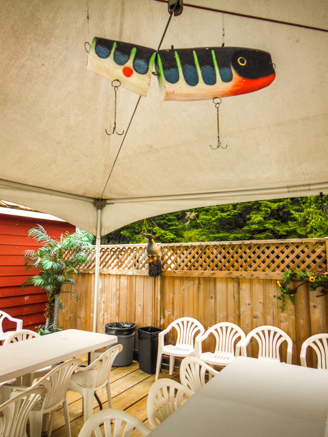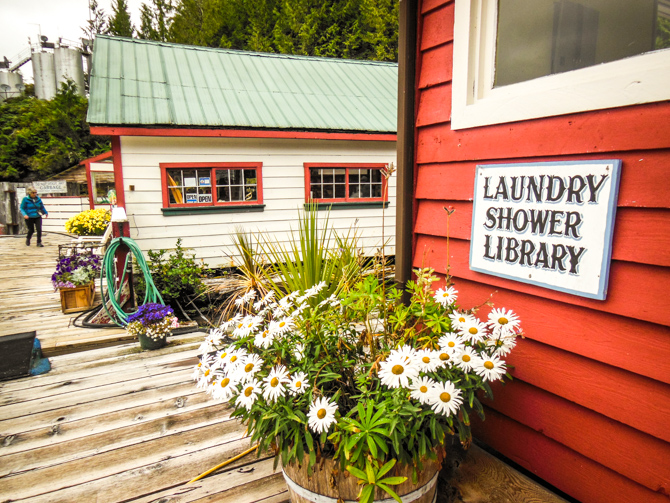 Cedar Water!
The water available at Sullivan Bay Marina is not potable. Just like we experienced at Kwatsi Bay Marina – it is cedar water. Lisa got a real lesson on cedar water while trying to do laundry on our second day. All the washing machines were taking forever to fill with water, it came into the machine in a slow trickle.
Lisa spent a couple of hours trying to do just one load of laundry.
While Lisa was waiting for her machine to fill, one woman just started taking a shower, she got all soaped up and then started yelling that the water had quit on her. Lisa ran and got a worker to look into the situation and a few minutes later he was pulling a filter out from under the building. It was covered and clogged with green slime. Okay, that did not look good at all. He cleaned the filter and the water started flowing full force again. The woman finally got to rinse the soap off her body and Lisa got her laundry done. There was some concern however about washing clothes in the yellow water. In the end, no damage done!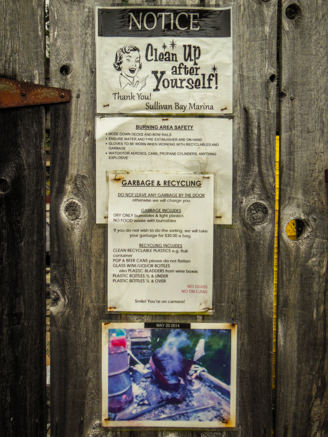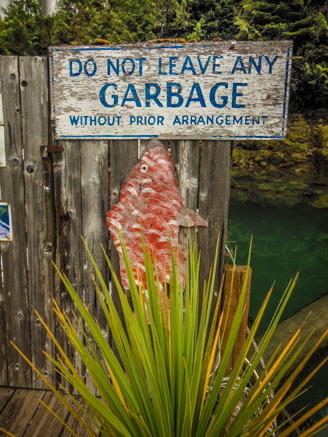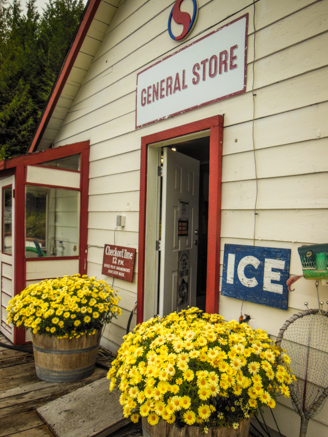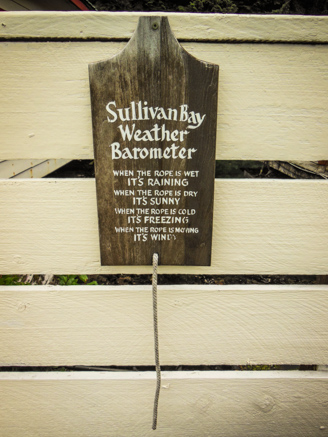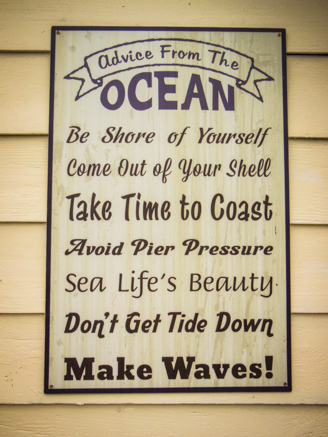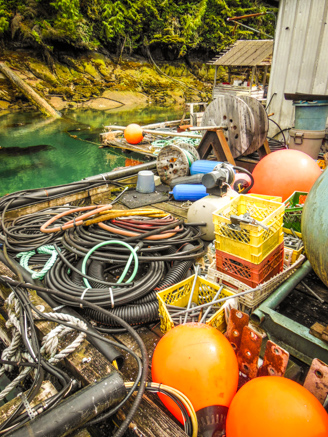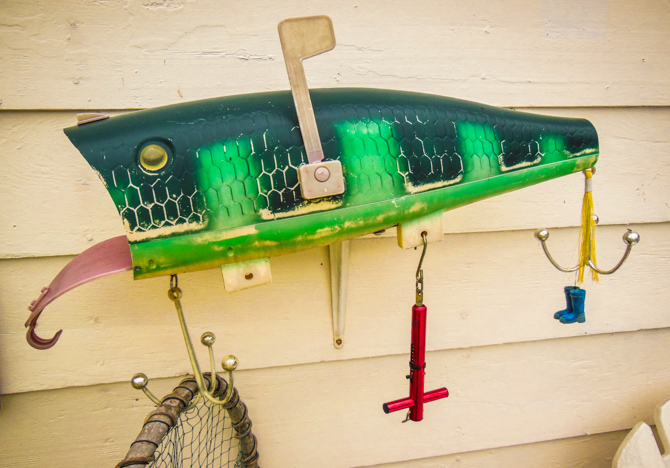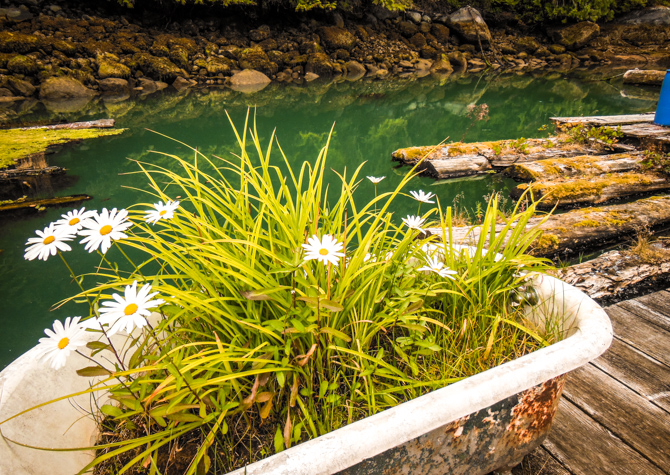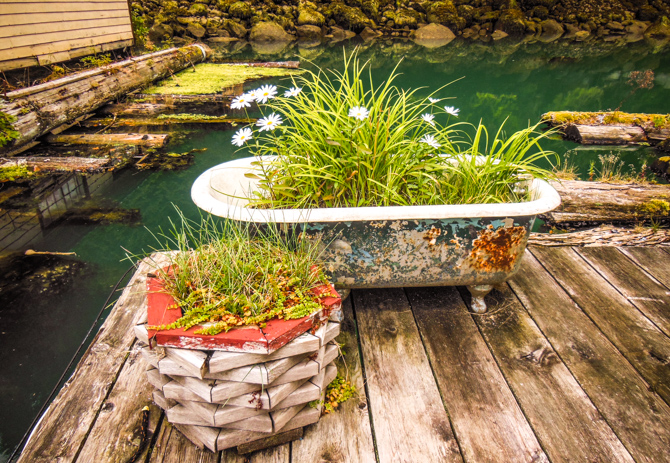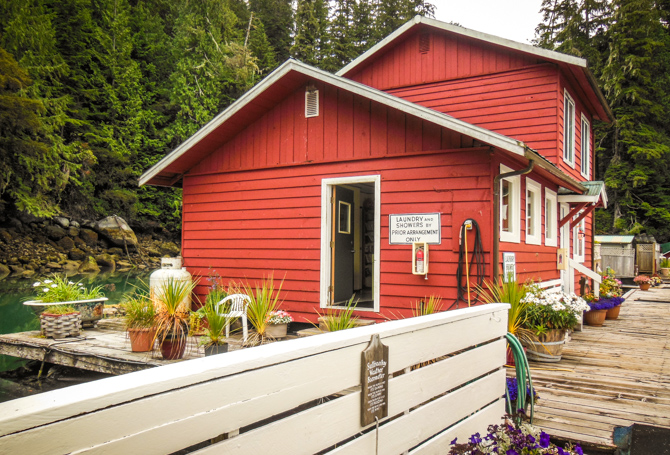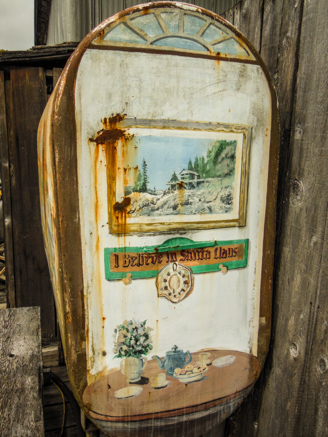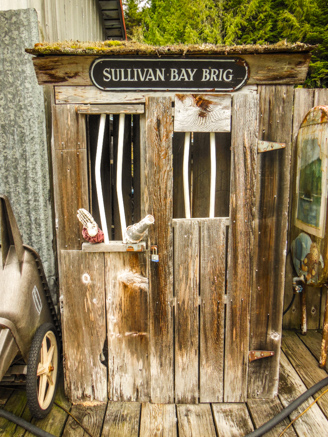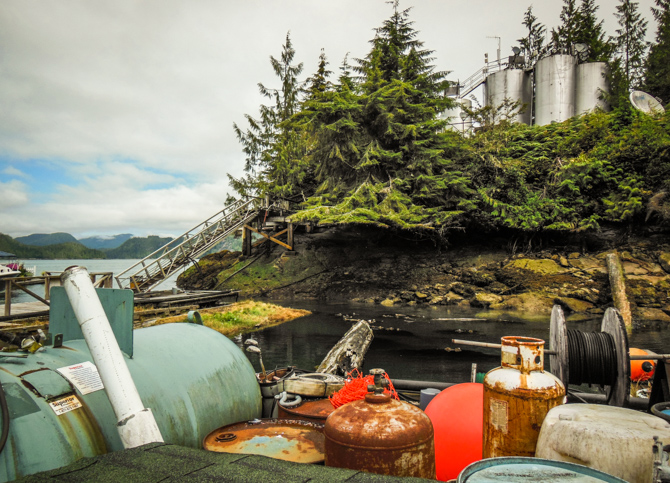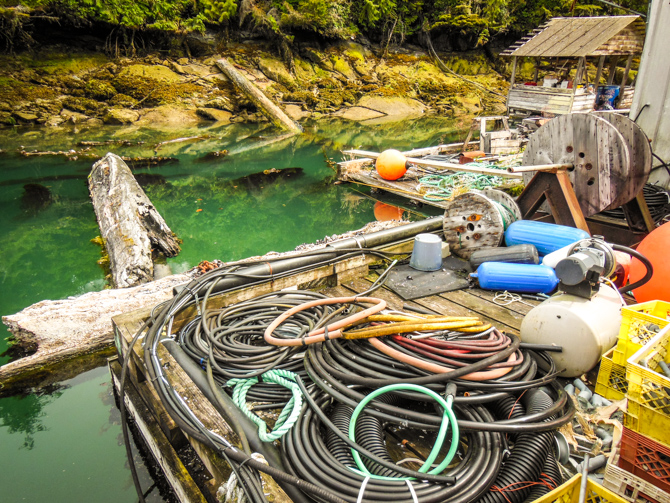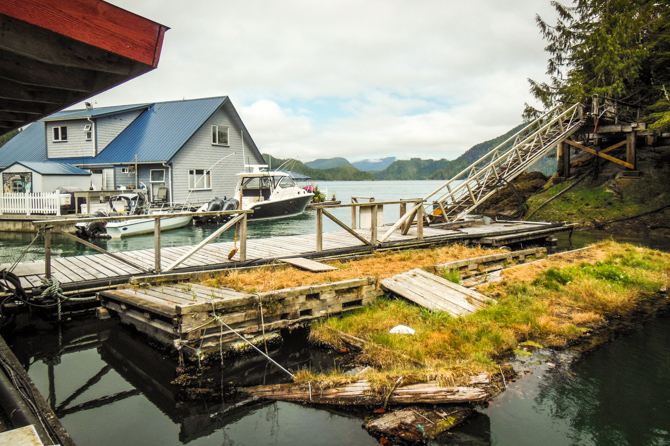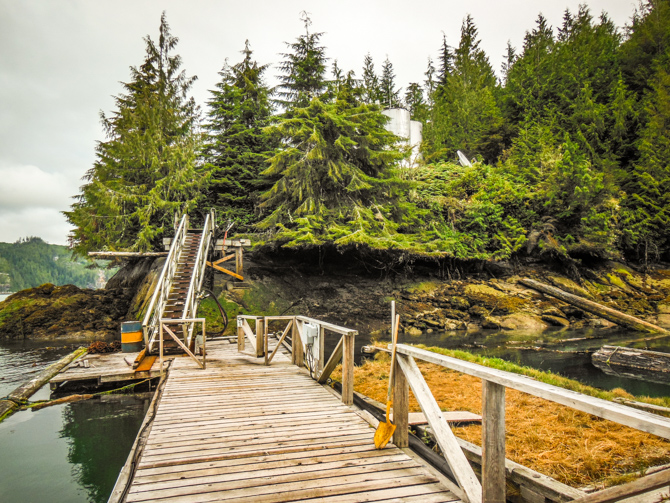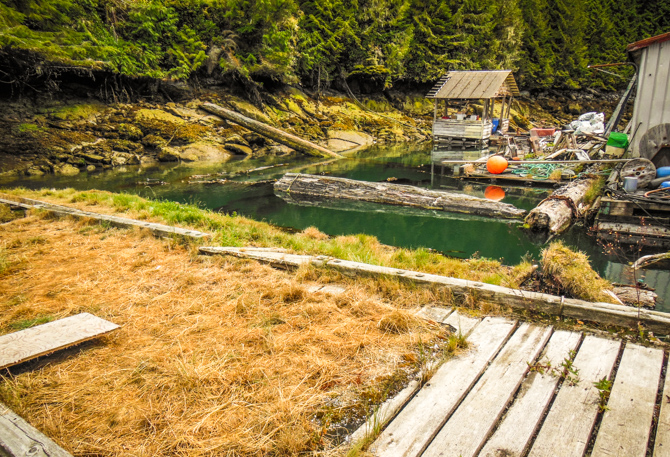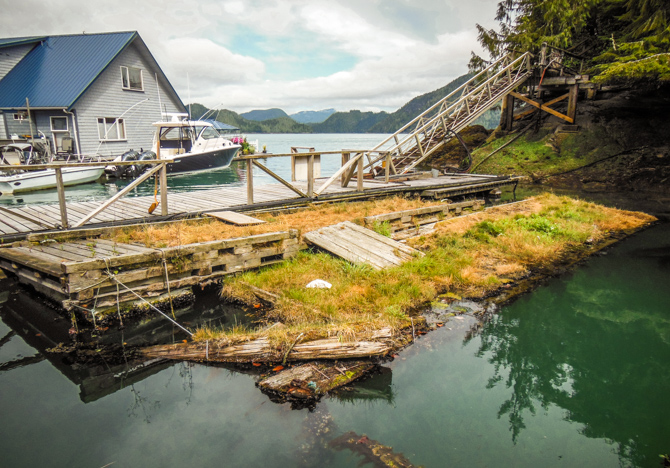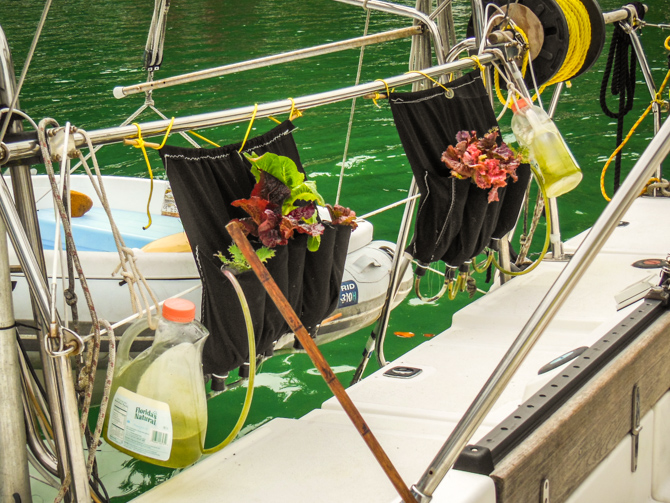 What a great idea, growing hydroponic lettuce on the boat. Fresh greens every day!