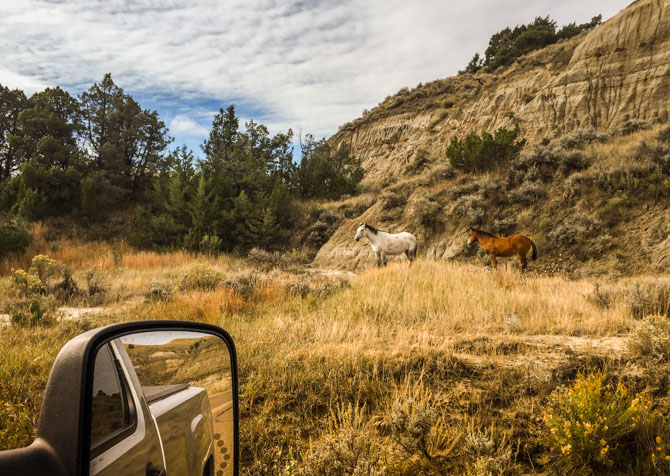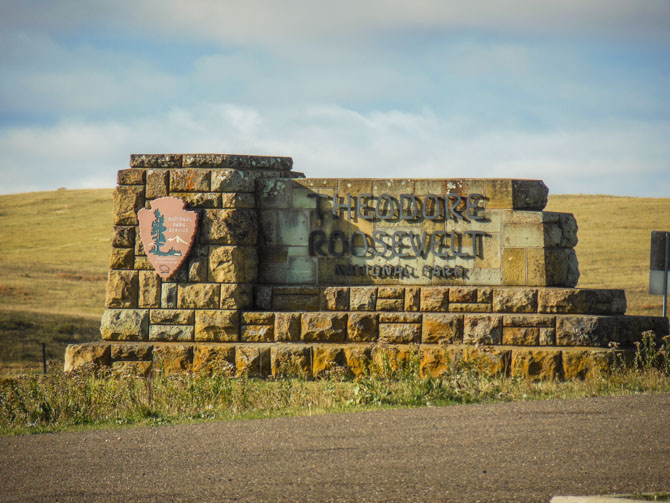 Taking a Break at Theodore Roosevelt National Park
Well before we take off on a cross-country trip, Jim always does some research and tries to line up something fun to do. It breaks up the monotony of sitting in the truck day after day. Usually it's a visit to a national or state park. This trip was no different, he picked Theodore Roosevelt National Park in Medora, North Dakota. He timed our travel days to get to an RV park just outside of Medora. That way, we could get up in the morning and get to the park early.
Theordore Roosevelt National Park, named for the 26th president of the United States, was established in 1978. The park covers about 110 square miles of breathtaking vistas, buttes and painted canyons in the arid and rugged Badlands of North Dakota.
The park has a dense population of wildlife. Bison, pronghorn, elk, white-tailed and mule deer, wild horses, and bighorn sheep inhabit the park, as do numerous smaller mammals, prairie dogs, amphibians, and reptiles. Over 500 species of plants can be found here. It didn't take us long to realize that we were in for a treat as far as the availability of viewing wildlife was concerned. Our first stop was a scenic overlook at the beginning of the park. A hugely massive buffalo greeted us right in the parking lot, making his presence known as he slowly made his way across the lot to the grassy fields behind a picnic area.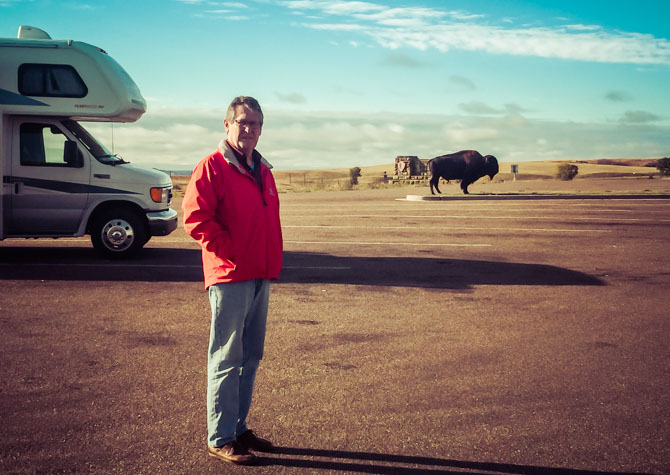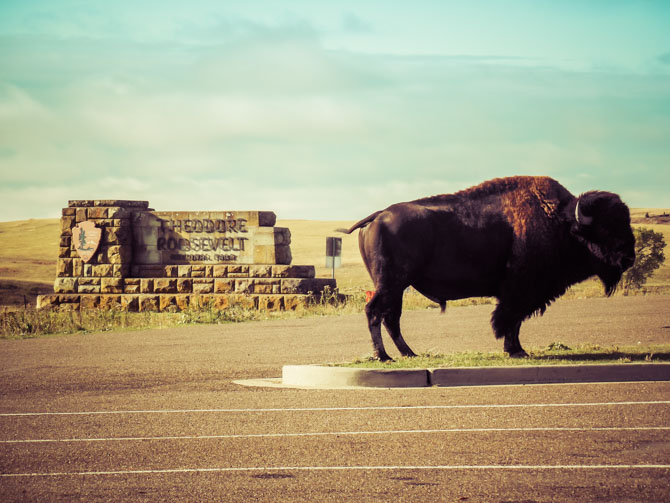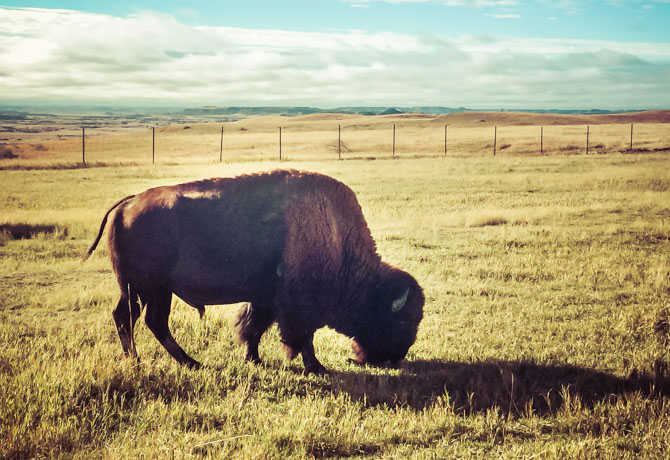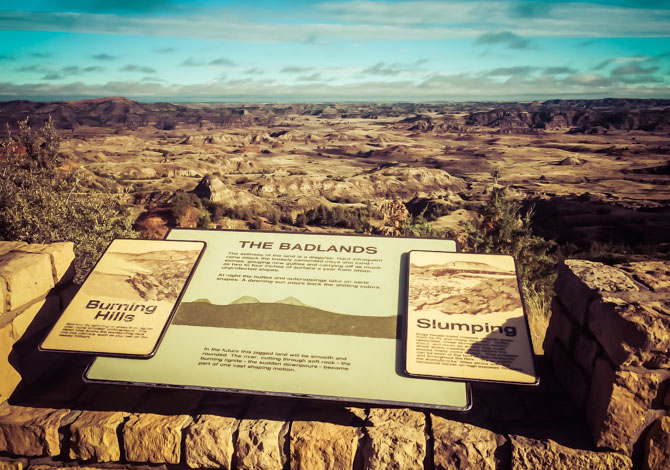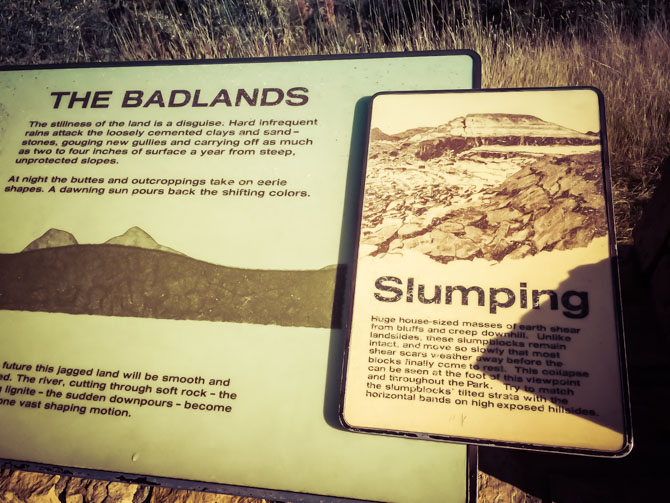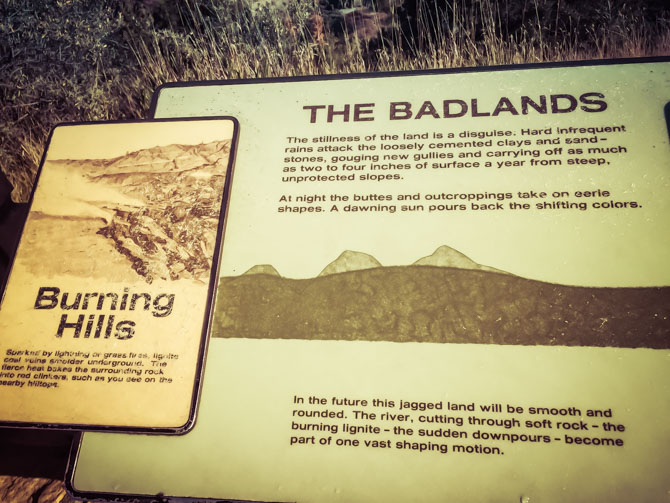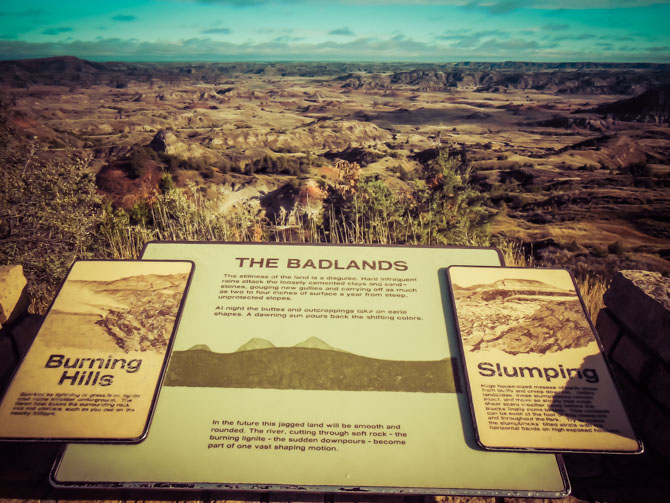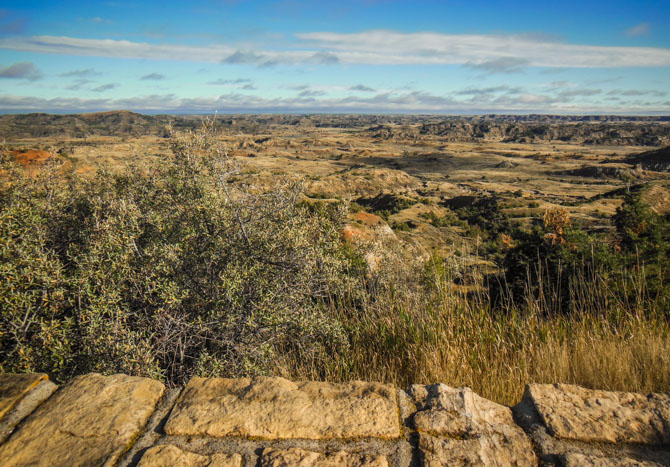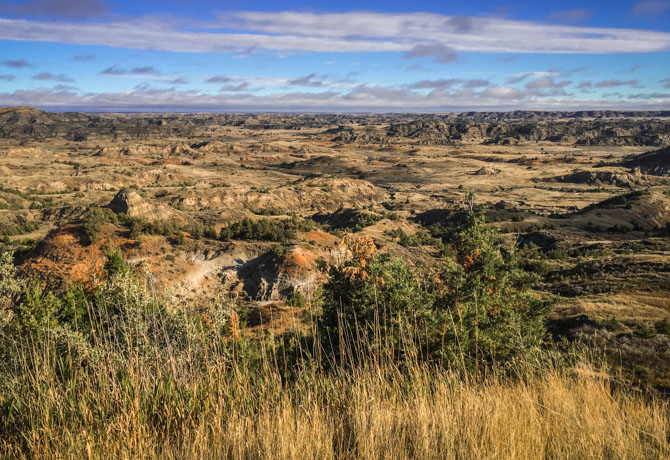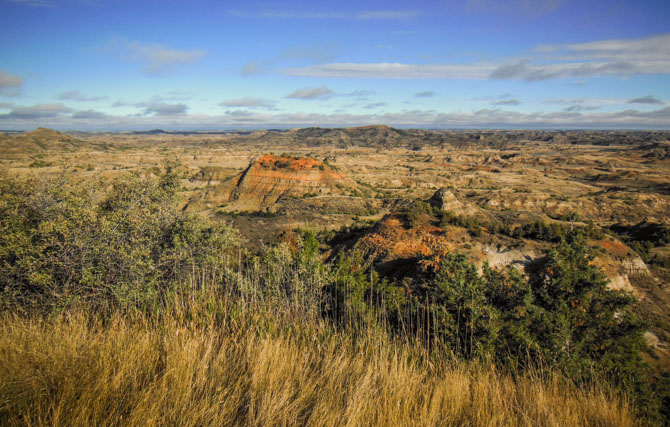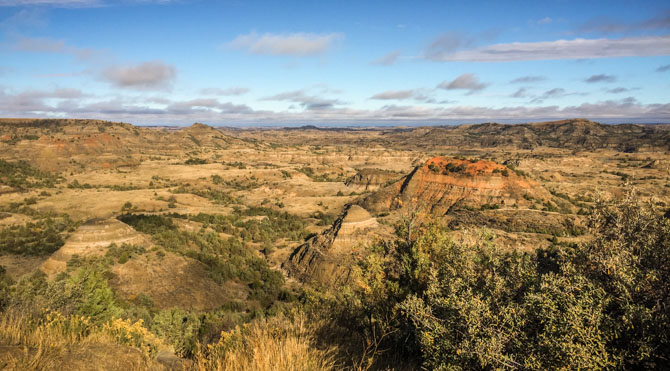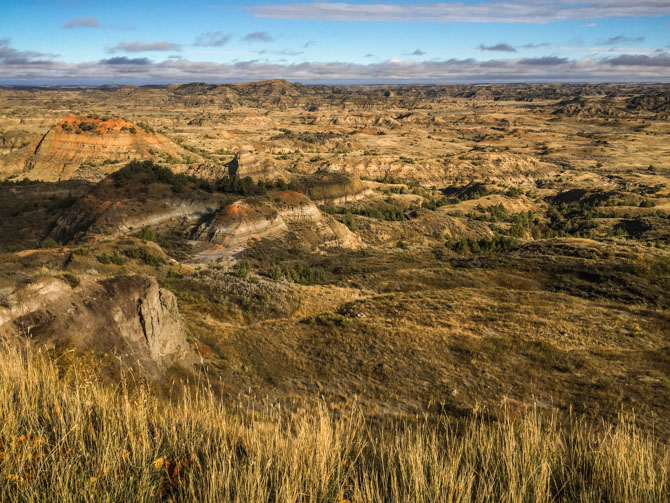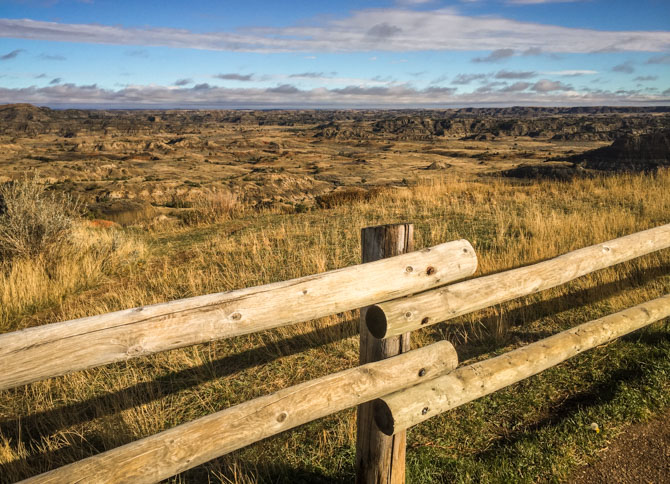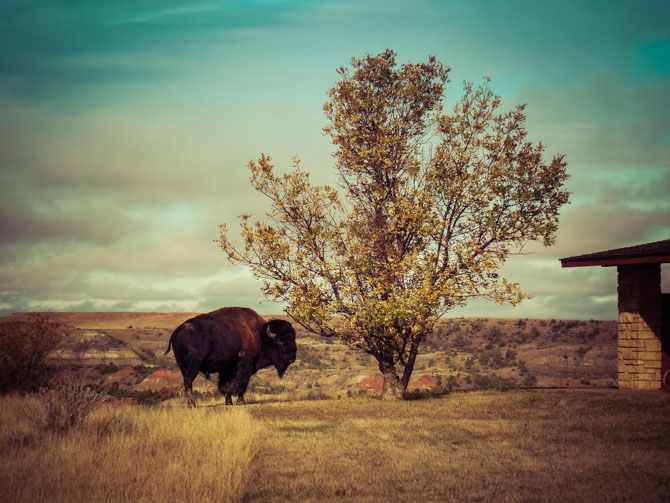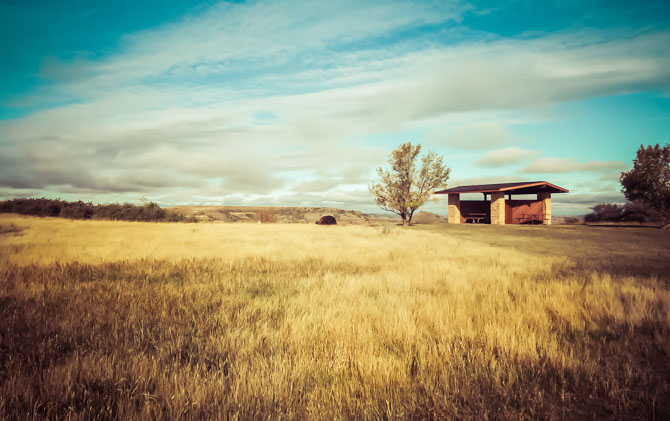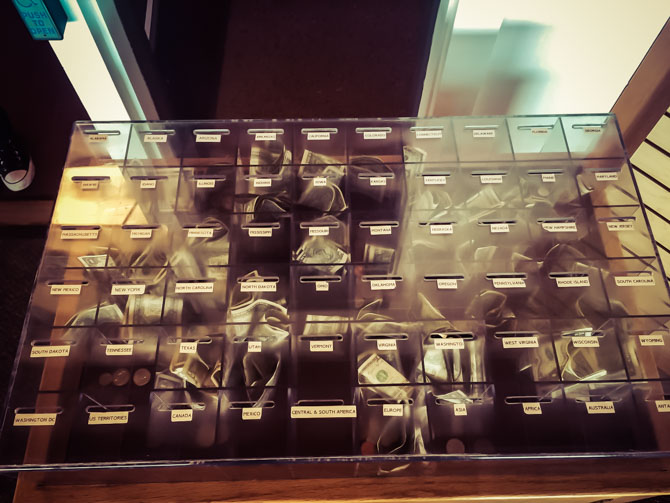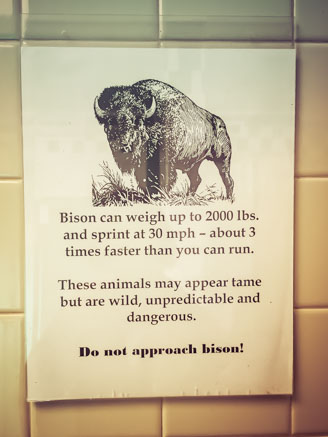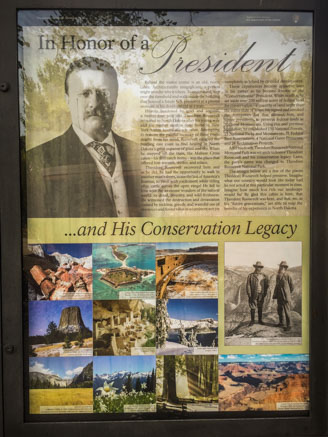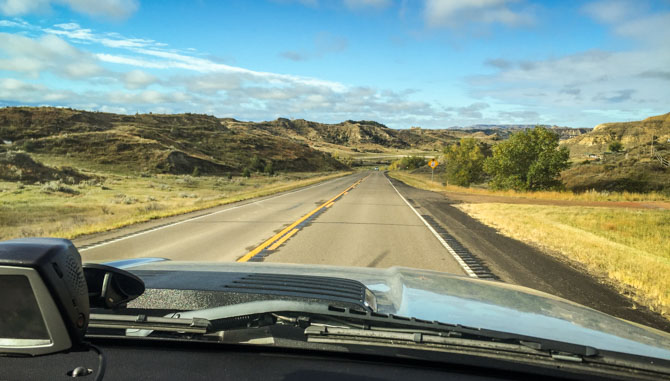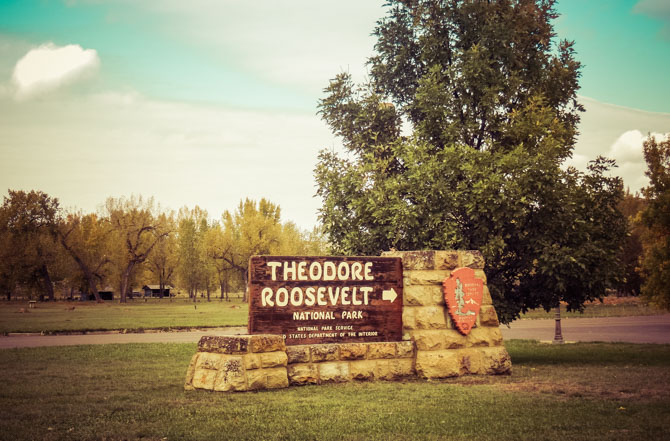 After leaving the scenic overlook, we drove to the Visitors Center in the South Unit. We wanted to drive through the Scenic Loop Drive. We parked our rig and disengaged the truck from the boat. We didn't want to drag the boat all through the 36-mile park and the park ranger assured us that it would be okay to leave it in the parking lot. Afterwards we headed to the Scenic Loop Drive in the South Unit. We couldn't wait to drive through this section of the Badlands.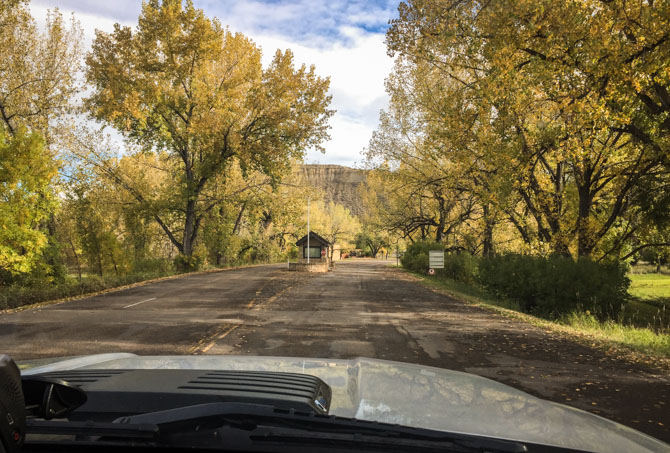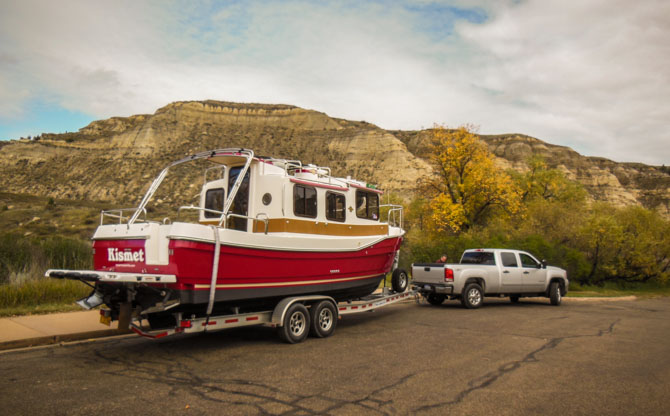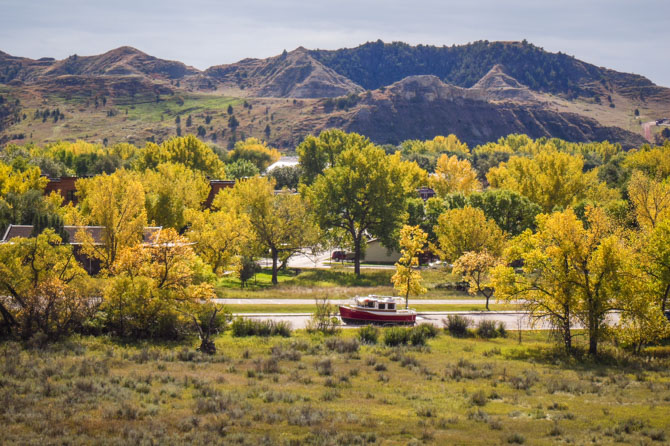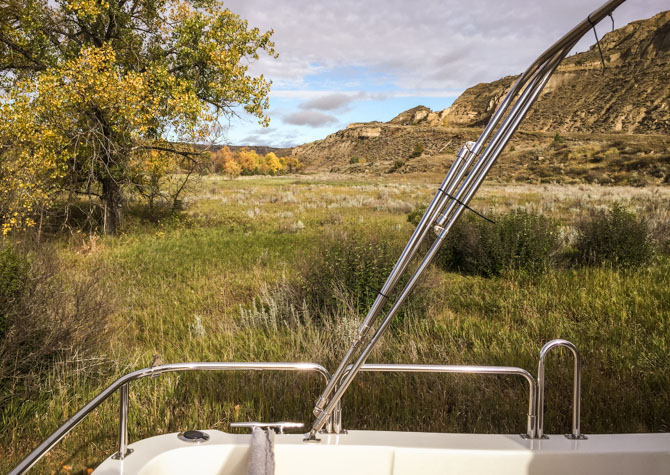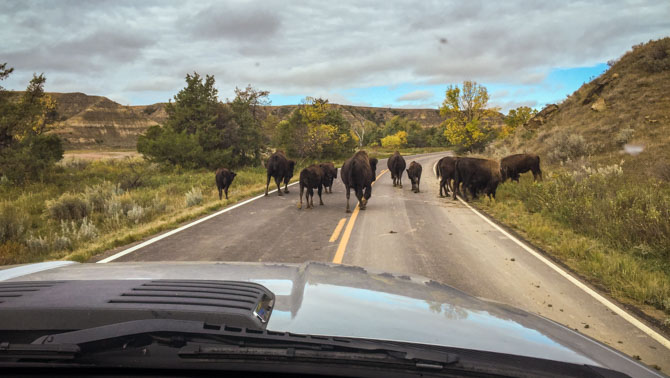 Not long into our drive, we encountered a herd of Bison lingering on the road. We got right in the midst of them and crawled along the road at their leisurely pace. We got really close to them and they didn't seem to mind our presence. This went on for about twenty minutes and without a doubt, it was the highlight of our cross-country road trip.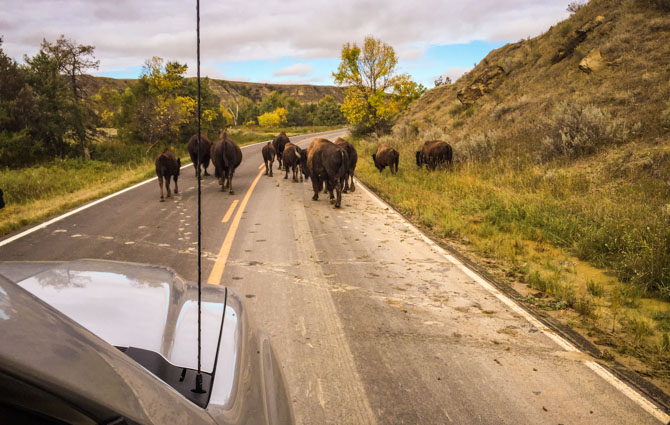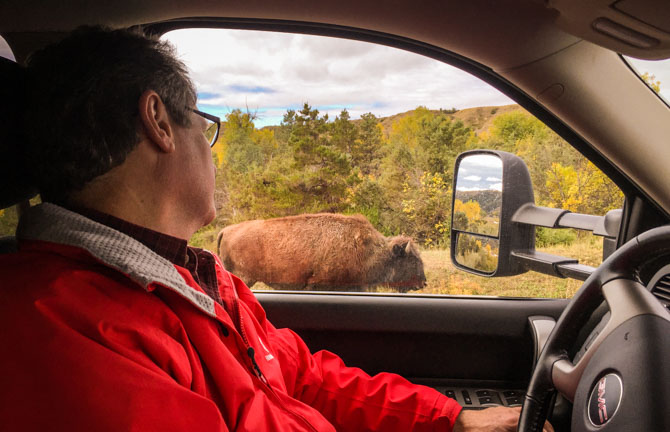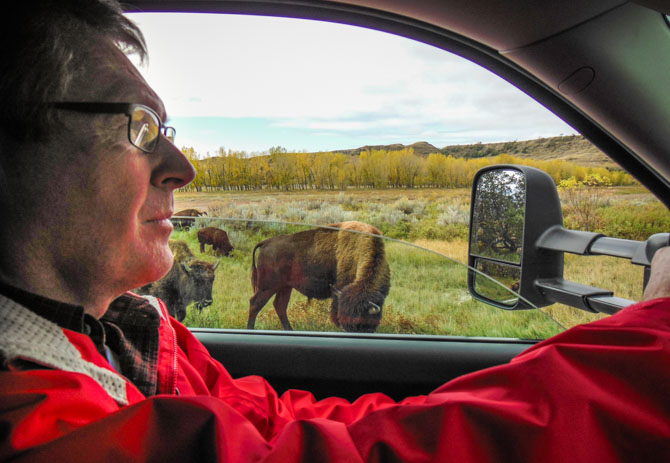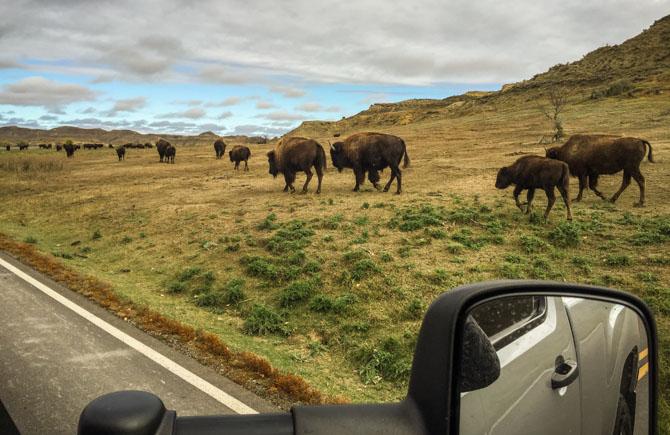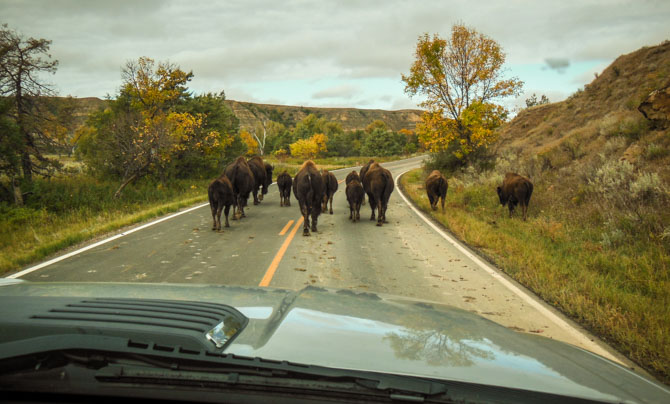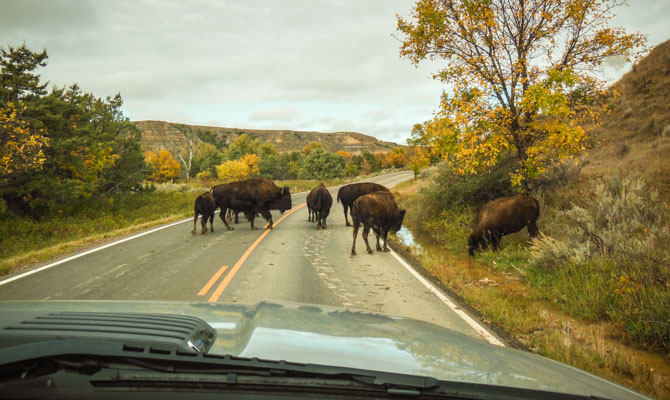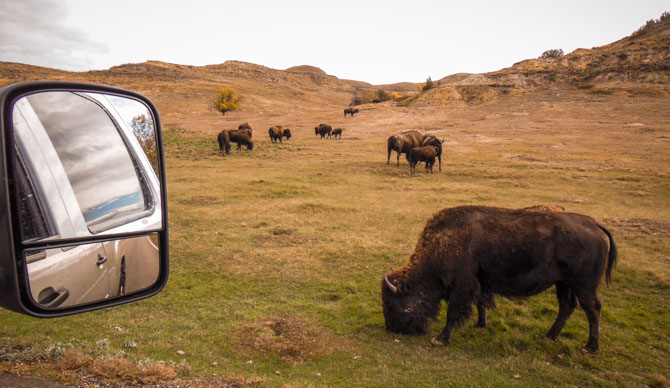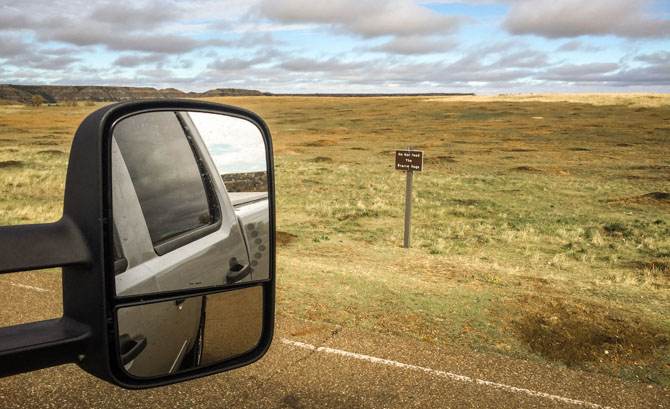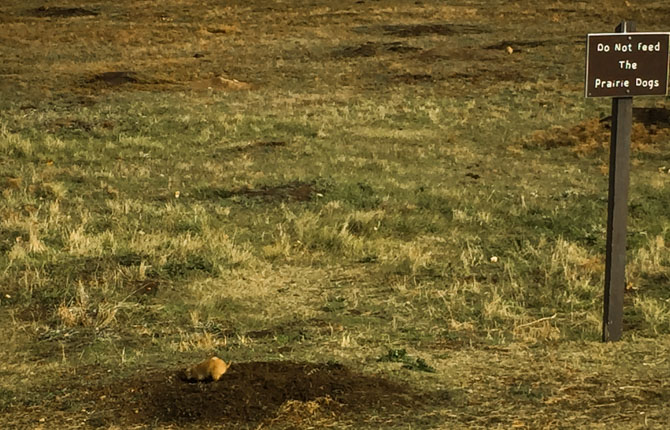 The prairie dogs were cute and in some open fields they were EVERYWHERE.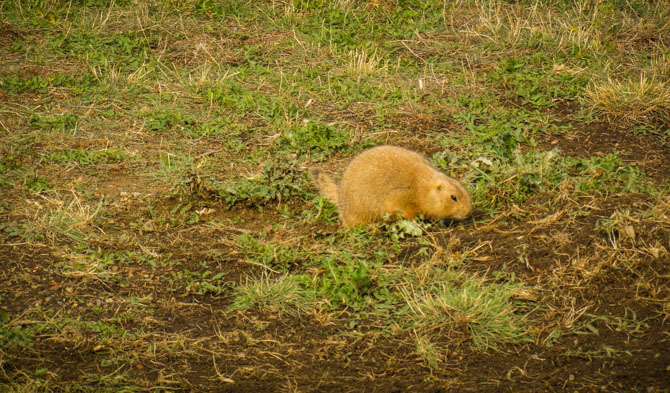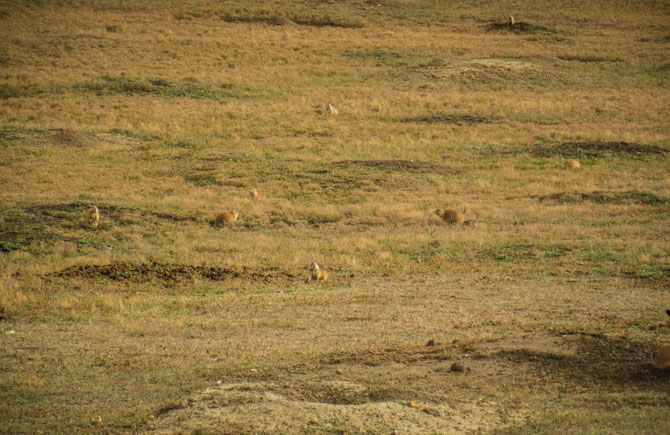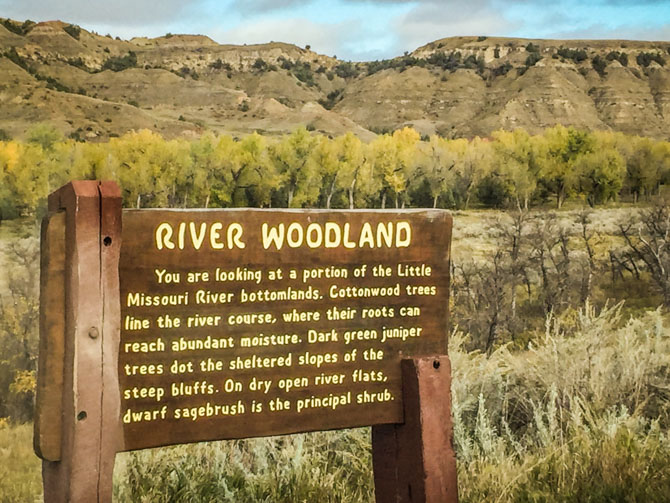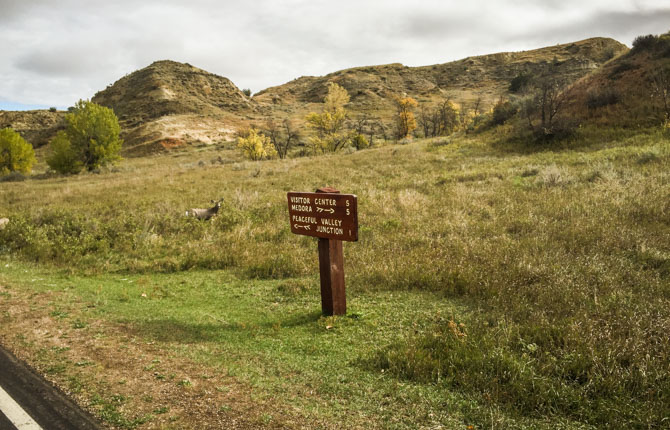 We saw mule deer, wild horses, buffalo, turkeys and many, many prairie dogs.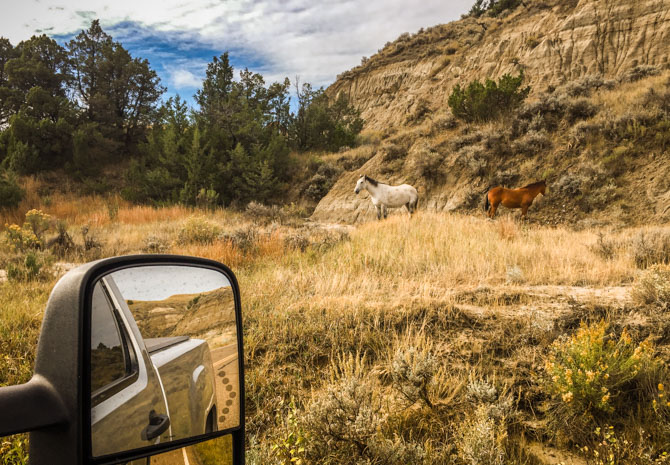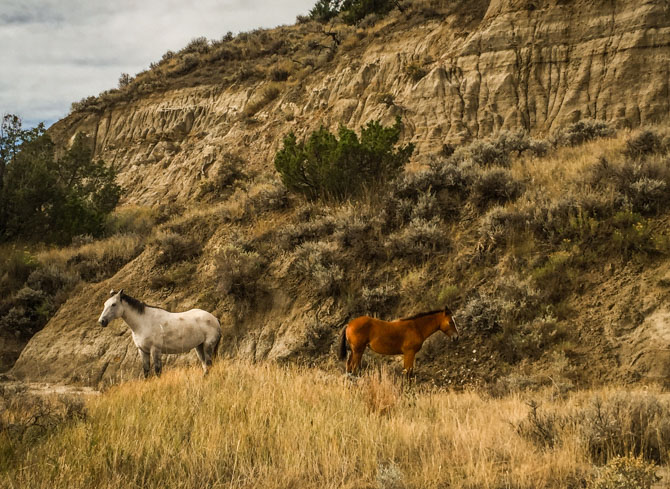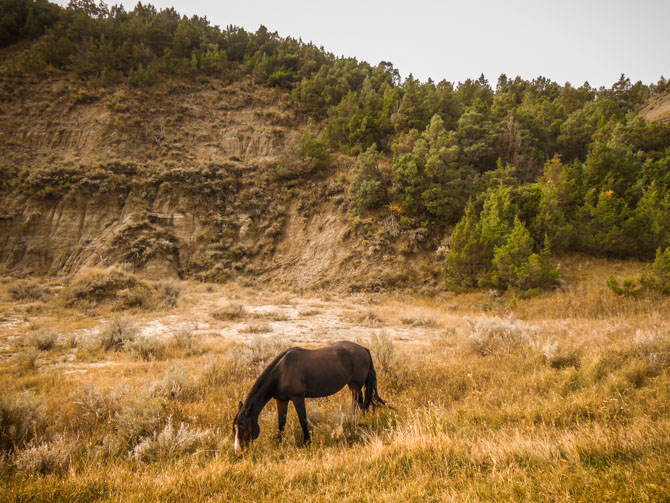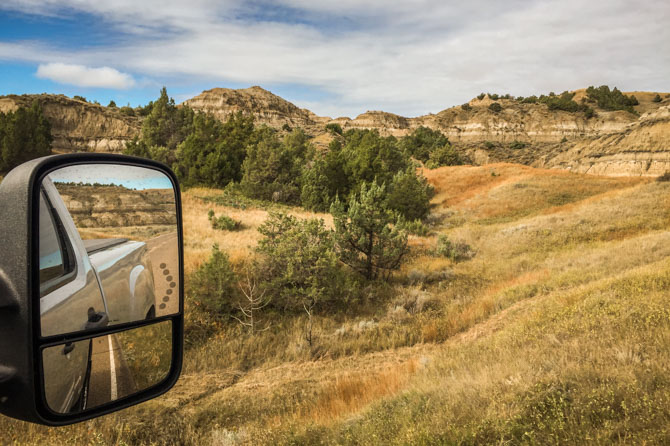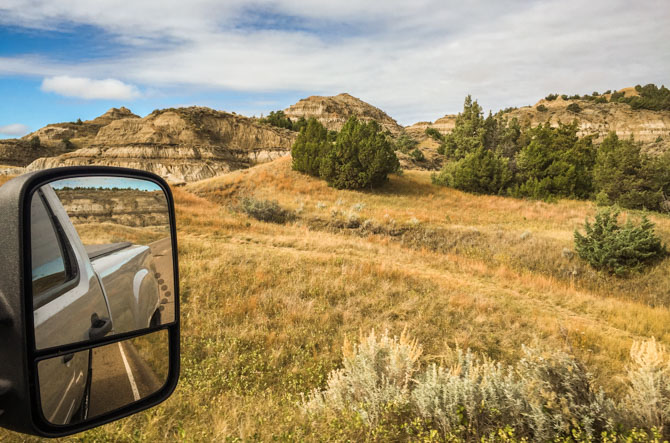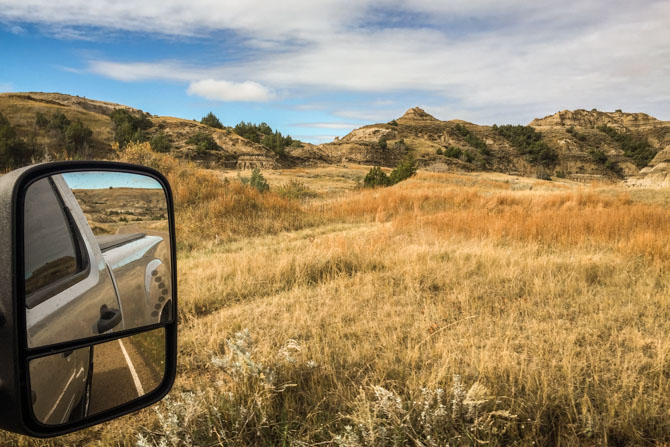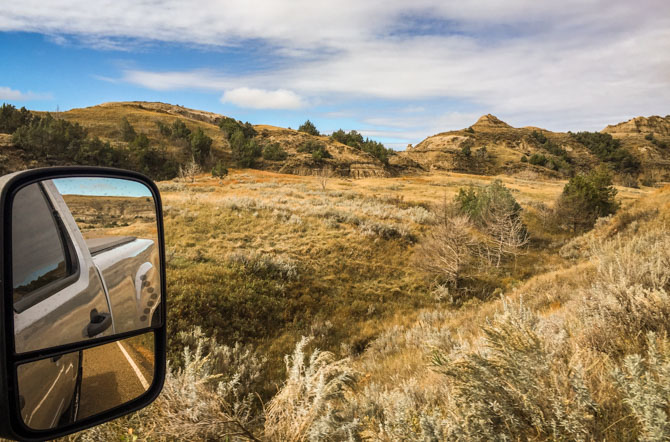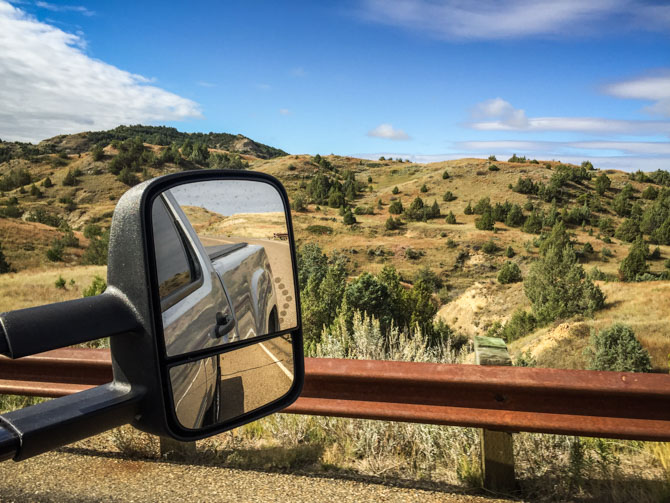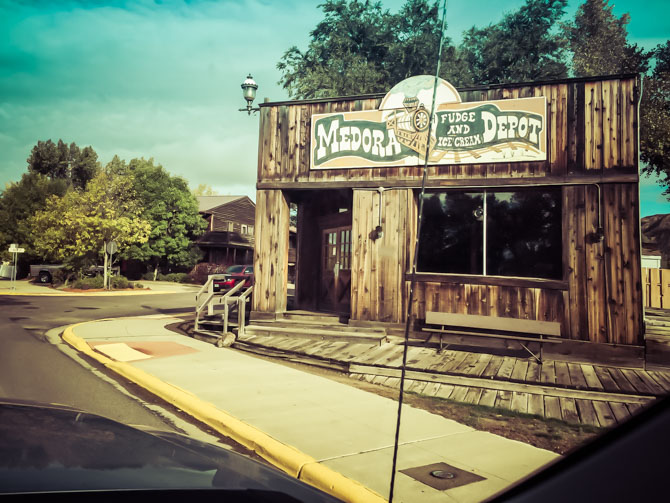 At the end of our scenic drive through the park, we were hungry for a late lunch, so we headed to Medora to find a real cowboy restaurant. A lot of places were closed due to the main season ending, but some locals directed us to a place close by and, as promised by them, we did see some real cowboys. The menu below lists a delicacy I had never heard of. I said, "Who would buy oysters in North Dakota?" Jim had to explain to me what they were. Here's what Wikipedia has to say about them…
Rocky Mountain oysters is a term for a dish made of bull, pig or sheep testicles. The organs are often deep-fried after being peeled, coated in flour, pepper and salt, and sometimes pounded flat. This delicacy is most often served as an appetizer with a cocktail sauce dip.
Okay, good to know!