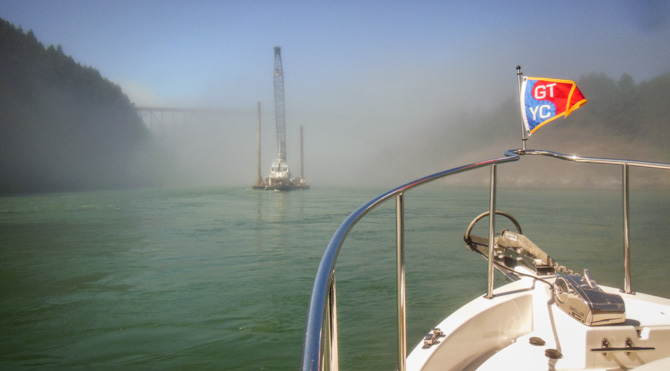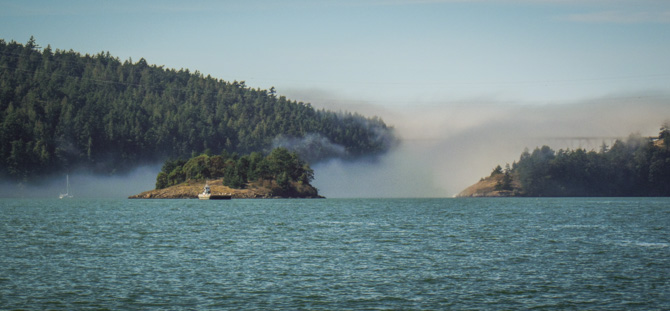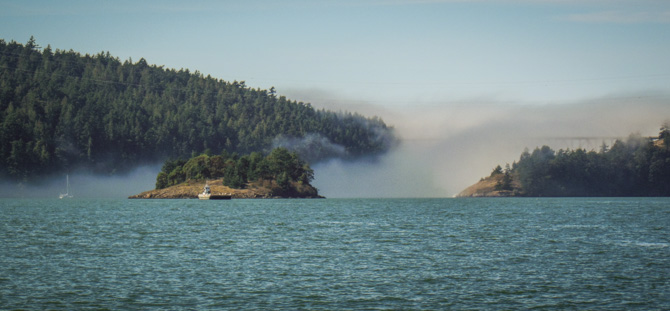 Heading for Deception Pass
After spending a pleasant night on the hook at Hope Island, we woke to a blanket of fog so thick, we could hardly see more then 150 feet in any direction. We waited and waited until finally, close to our planned departure time, the fog began to lift a little. We pulled anchor, turned on our radar and headed towards Deception Pass. A safe trip through Deception Pass needs to done at slack tide. We needed to be positioned at the pass for the optimal tidal event.
We ended up following a barge through Deception Pass while holding our breaths.
The fog continued to lift as we made our way to the pass, however, we were surprised when we arrived to see a wall of fog completely covering the cut. We idled in a circular pattern, along with a couple of other boats, waiting as long as we could for the possibility of the fog lifting but it never did. At precisely slack tide, we saw a big tugboat heading towards the narrow pass and decided to follow them through the foggy channel. We were close enough to see the tug boat and that's about all, we couldn't even see the bridge that spans the channel until we were almost directly under it.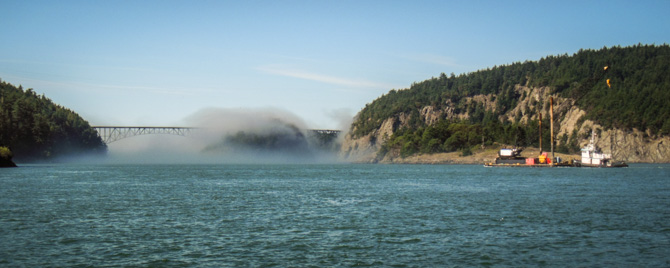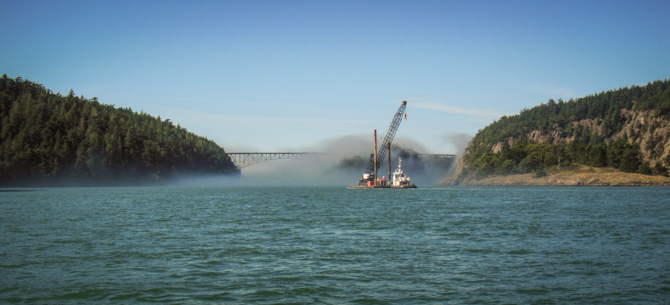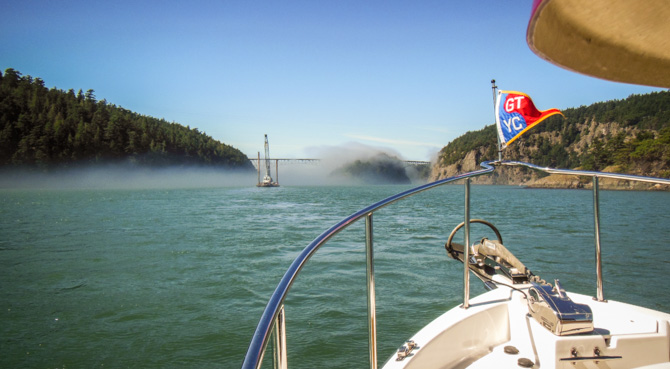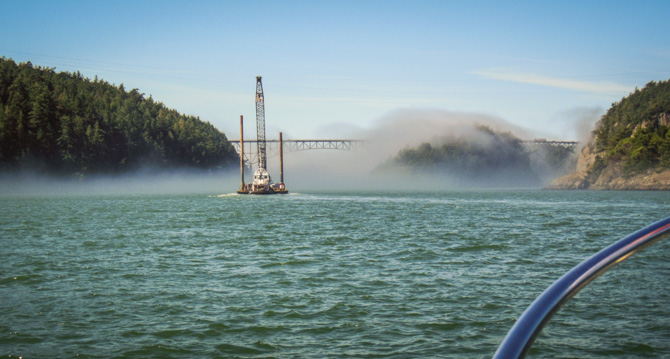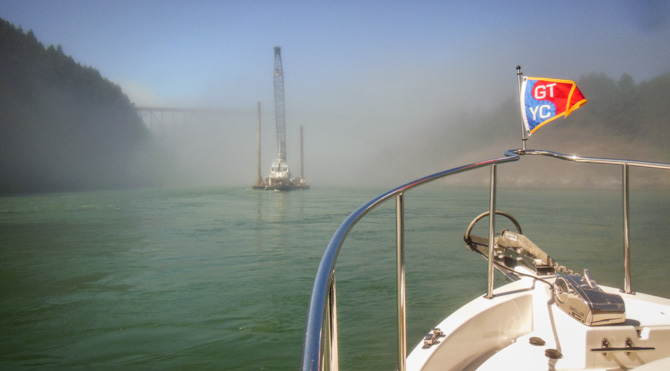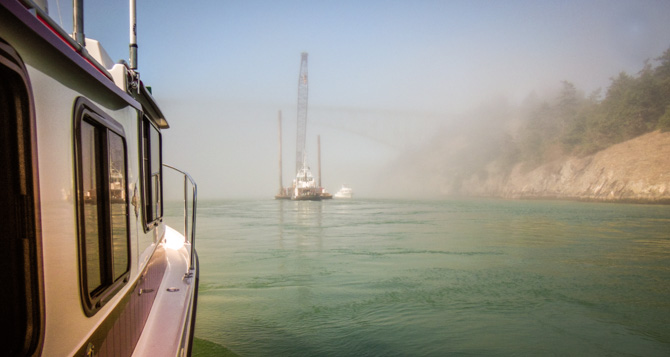 Looking off our back deck we could see a barge bringing up the rear (below).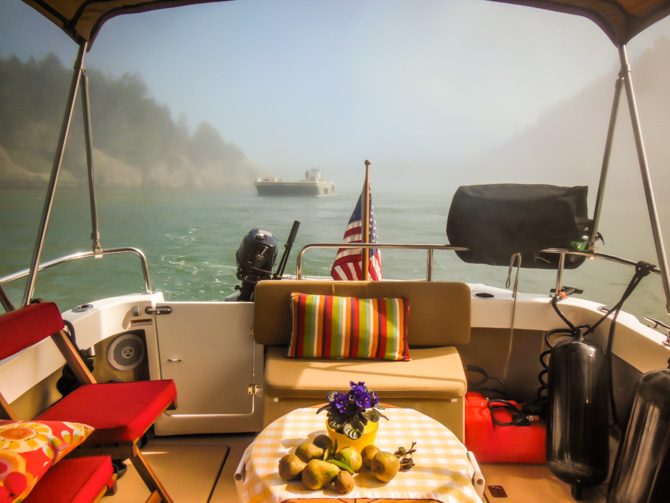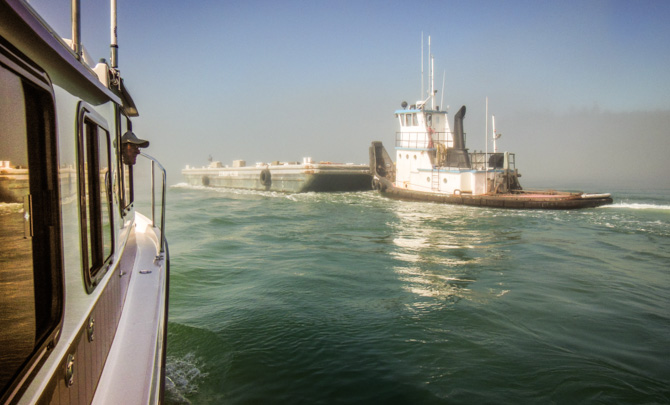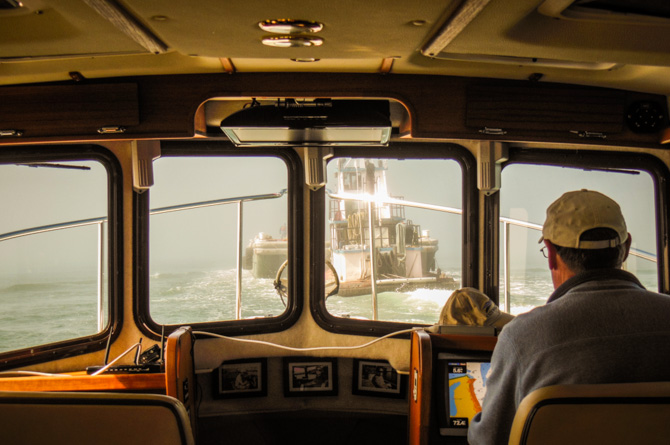 Once we cleared the bridge the channel opened up, we were heading south, the tugboat and barge were heading north, we parted ways and headed into a thick white haze with smooth, glassy water beneath us. Without the tugboat for guidance, we idled ever so slowly around Deception Island and inched our way south, staying attentive to the stray radar bleeps on our radar screen. We traversed the whole length of Whidbey Island in complete fog that lifted ever so slightly as we crossed the Strait of Juan de Fuca and got closer to Port Townsend, 18 miles south. The good thing about foggy conditions is that the surface water is typically fairly calm.