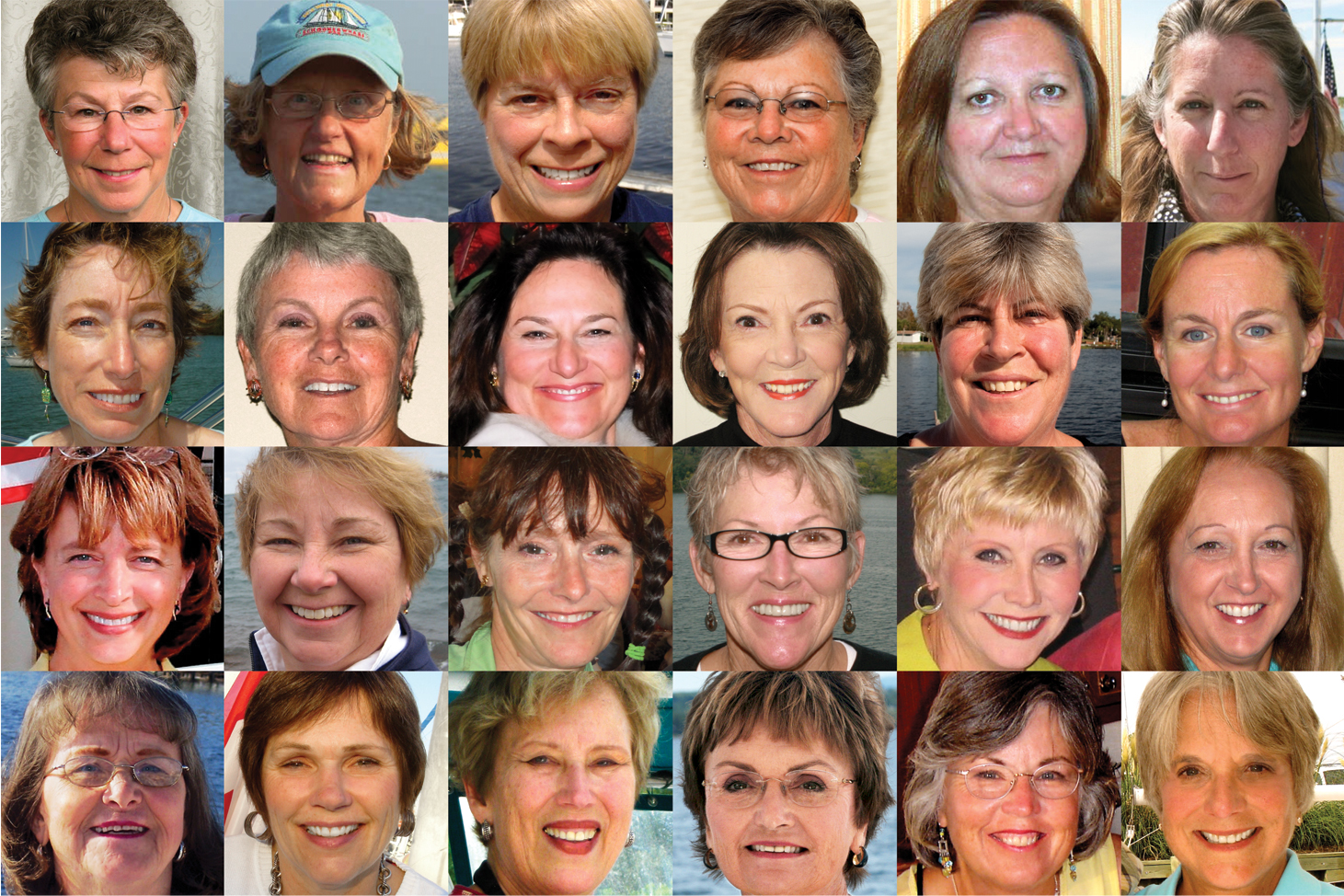 1.

Women Onboard Cruising Slideshow

Susan Armstrong
"You wanna do what? Are you friggin' nuts?"

Such was my reaction when my husband, Bruce, first broached the subject of spending our summers living on a boat and cruising the Intracoastal Waterway (ICW). I had no idea what such a voyage entailed, but I did have visions of us adrift in the Atlantic Ocean, miles from shore, all alone – just us and the sharks!

That's not the way it was at all.


Ginger Austin
Since I had more boating experience, I had to teach Laura everything about being a first mate, and that posed a dilemma. On one hand, she wanted to know how to do it "right," and on the other, she resented me for assuming the role of boss. Finally, as we met and talked with other couples that had similar issues, we decided that the captain is not defined as one's partner or husband. Furthermore, the captain is only the captain while on the bridge, underway or docking. At these times it is crucial for him/her to issue orders for the safety and well-being of the crew and vessel.

Barbara Benjamin
Many years ago, when we first cruised north and had never been in a lock before, I met a couple on the Hudson River and asked for advice on the locking process. The woman said to me, "How good is your marriage?" I answered, "What do you mean? Wonderful, of course!" But I became apprehensive about her words and wondered how our trip through the Champlain Canal would be.

Luckily, we later met a great couple from Canada who reassured me that it was a snap. All we had to do was put on rubber gloves, grab two hanging lines, one from the bow and one from the stern, hold the boat, and that was it, and they were right! Going through locks became a breeze.


Linda Brennan
I'm very proud of meeting the perceived challenges of long-distance boating and being in a position to impart some of the things I've learned to others. I'm not exactly sure what has settled me into this new lifestyle, but I do know now that it will be very hard for me to give up – every day is a new adventure.

The long-distance cruising lifestyle is addictive!

Barbara Doyle
We take advantage of what we have got and make the best of it. We are trying to live out our dreams. As Mark Twain said, "Twenty years from now you will be more disappointed by the things that you did not do than by the ones you did do." So, throw off the bowlines. Sail away from the safe harbor. Catch the trade winds in your sails. Explore. Dream. Discover.

Judi Drake
My husband and I have sailed over 40,000 miles and been to 30 different countries. After 11 years, we are still living aboard. We still often feel like novices and are continually learning. We were both in our thirties when we left on our first trip. We are not retired, we often stop and work to replenish the cruising kitty. Our first cruising boat was a 35-foot wooden Cheoy Lee Lion. We outgrew her and decided to buy a bigger boat. Once again, I had a long list of must-haves and once again as soon as we stepped aboard Echo, they all went out the window.

Sometimes we never learn!


Pam Ehrman
I knew nothing of the sea. I am an outdoorswoman of the Intermountain West, and I have every confidence in my ability to survive in the desert or mountain wilderness. As far as "open water" was concerned, I was happy enough with a good trout stream and a campsite beside a clear mountain lake. But I too felt the pull of adventure, and I sensed that I needed to push myself beyond my comfort zone.

May as well either go to sea or go to the moon, I thought. Both seemed equally remote to me.


Lisa Favors
Why Doesn't My Wife Want to Cruise with Me?

The answer to your question is really quite simple. You must be willing to compromise and make sure your partner feels part of the decision-making process. I'm talking about starting out with her involvement and input on choosing the boat that she'll find herself spending huge amounts of time on, then making sure her other needs and desires of any sort are taken into consideration. This is key to helping a woman trust in her partner, which leads to a feeling of safety and comfort. She'll be more open to leaving the comfort of home, family and friends.


Leslie Firestone
We had lived in Maryland for 30 years and loved it, but we knew we didn't want to spend our retirement there. Once our "new" boat was home in Maryland, we felt that it was time to sell our land-based home and move aboard. Many people were shocked that we would be willing to give up our home because to them "home" meant stability, but we couldn't have been more excited. It was a very freeing experience to go through all our "stuff" and decide what was important to keep and what we could eliminate.

Carol Gordon
Work as a team. Mike and I did what I consider an outstanding job of dividing and conquering. He took lead on the mechanical issues and I took the electronic. Everything else was random. A boat does take attention just like your house or car, so anticipate giving her time and attention, and don't forget to listen, resolve and celebrate your efforts.

Pam Harris
My college roommate told me that I was the least likely person she had ever met to sail around the world. I understand why she said that. I did not grow up around boats. I am not athletic. I became nauseated swinging on a swing set as a child. I have been sick in cars, planes, and even more so on any type of boat. I had never even owned a pair of boat shoes, not even cute ones. I love my roots and my ruts, but I also love the captain of my boat.

Ellen Langer
The rewards of a shared life and shared experiences with my partner are what really excite me about this kind of lifestyle. I am envious of those cruisers I have met who have spent most of their lives together, but I often also hear them say that they are just now getting to really know each other.

The hours on end I spend with Roy while underway are very special to me. We have conversations about everything! We are both newbies at the relationship thing, and yet it works.


Angela M. Metro
There are millions of women out there, just like you, who love the thought of long-term cruising but are holding themselves back. You're not sure if this is the right thing to do. I mean, you have a house, responsibilities, and a full life. "Cruising sounds like fun, but come on, is it really for me?" You ask.

I'm here to tell you that it's an unequivocal YES! Furthermore, in this section I will illustrate how these perceived roadblocks could be turned around, allowing you the freedom to embrace this experience.


Jan Nelson
Some people were amazed, when they saw a female docking and undocking our larger boats. Frankly, I thought that was the fun part. Tracy enjoyed knowing that on a lazy, sunny afternoon, he could take a nap on the bridge while I captained the boat. People often looked at him with surprise after hearing that I shared the captaining duties with him. Several times I heard him tell people that of the two of us, I was the only one who captained our 55-foot Hampton solo.

Nancy Ojard
Cruising and living on board a boat is an amazing experience! I've found that cruising has helped me to see the world from a different perspective, and it has given me a greater appreciation for the beauty of our country and her history. In some ways it may have even defined me, even if that wasn't my intent.

The people, places, experiences and memories have become so much a part of how I now look at life. This may be what it really means to be a BOATER and I wholeheartedly encourage you to take the plunge.


Cyndi Perkins
To quote Chaka Khan, "I'm Every Woman," the one puking in the bailing bucket and the one artfully guiding her 19,000-pound sailboat through a tight canal. The on-top-of-it long-distance cruiser plotting safe anchorages and fuel stops – and the klutz who bruises her ribs on the way down the teak companionway steps to get another cup of coffee.

I'm the brave voyager who challenges the wind, and the wimp trembling in a thunderstorm.

Doris Pritchard
What we've learned on this trip is that it's who you're with and what you're doing that counted for us… not where we're living or what we have in the way of the possessions that surround us. We've always thought this, but when we lived a year without all this "stuff," we found another level of contentment we hadn't known before.

Patti Salvage
While on this adventure, I wondered how well my spouse and I would enjoy "living large in such a small space." I had heard of couples getting off the boat and heading straight to their divorce attorneys. Yikes! One might consider a long-term boating experience as a redefining moment in a relationship. It rates up there with marriage, childbirth, becoming a grandmother and retirement!

I have learned that my life can be different now and it is not just OK, it is a good thing. Change is the only time we have an opportunity to make things better – more like we want them to be.


Darcy Searl
Ken and I have always worked well together, and we quickly fell into the daily routine of taking care of our responsibilities. We knew Ken was to captain the boat… and I, the "admiral," (along with being the navigator, deckhand and chef) would oversee all other operations.

Since we worked in our business while we traveled, it wasn't uncommon for one of us to be piloting the boat while the other was on the cell phone with a client or working on the computer.


Elvie Short
We have learned many valuable lessons while living aboard and cruising. Getting to really know my mate is one of the valuable experiences that I cherish.

While living in such close quarters and spending most of the time together, you and your mate have to learn to give and take so much more than with a traditional lifestyle. I learned more about my husband while living aboard than I had known about him in all the years we were married and still working. Our lives were so fast-paced back then. Now we have lots of time to talk and learn more about each other. Romance is sweeter and our communication on every level has increased significantly.


Charlotte Snider
Probably one of the things we never considered and definitely underestimated the first time was how challenging it would be to reintegrate into the land-life routine and way of thinking. Cruising changes your perspective on what is important and valuable in life.

When you reenter a corporate dog-eat-dog environment for example, it is an eye-opener in terms of recognizing that things that you once thought were important just aren't anymore.


Liz Stagg
We had learned that boredom was impossible. In fact, I was filled with an amazing sense of well-being. We were seeing new sights, learning how we would share responsibilities, and gaining confidence with each challenge conquered. But especially – most especially – we were embracing the easy camaraderie of fellow Loopers. I thought of the number of times we had crossed bridges in our car, looking down at cruising boats on cold, rainy days like this and wondered, "What are they doing on the water on a day like this?"

This day gave me the answer to that question: They were quite possibly having the time of their lives. No, boredom was not likely to be a problem on this adventure.


Sharon Stepniewski
Far more often than men, women seem willing to walk away from their dreams. Call it stereotypical thinking, call it perceived role modeling, call it simply letting the male spouse make the life decisions, call it whatever you wish, but more often it is the male who has the boating and cruising dream and the supportive female partner follows along. However, what if the roles are reversed and it is YOU, the female, who secretly harbors this dream of cruising off into the sunset? On the other hand, what if it is the male with the dream and the female is struggling with his idea of a daring life plan?

Linda Thomas
"Linda, do you have a ten-year plan of your own?" my husband Charlie asked me one day just about ten years ago while we were taking a walk. Raising my eyebrows, I said, "None at the moment." Busy with the task of raising children, working and social activities, I suddenly realized I had not taken time to dream for quite some time.

"Do you have one?" I asked Charlie. After a moment, Charlie responded thoughtfully, "I'd like to be retired in ten years and spend some of our time living on or near the water somehow. Who knows, maybe we'll buy a boat." With such a unique idea presented to me, I had a lot to think about.


Diane Wade
Thinking back on it now, I believe my story actually began several years ago with a profound, stark, and sober realization – the realization that my time here on earth is so precious and so very fleeting. Up untilthen, I hadn't really given it that much serious thought – I was always so bus y– continually on the run.

Underneath it all as I look back on it now, I was churning in a restless stew – but in those three decades, I just hadn't figured that out yet. With a growing concern, I was beginning to hear the clock ticking.