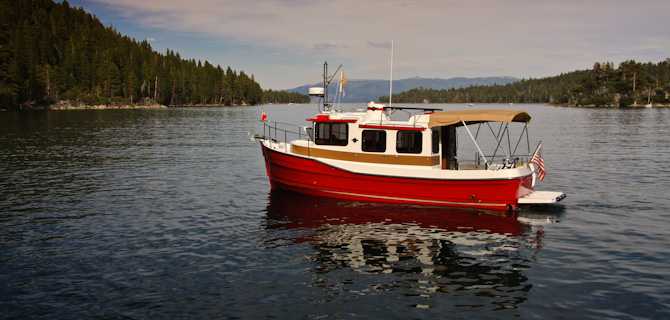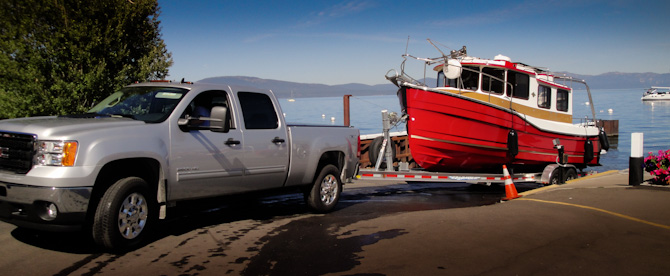 Lake Tahoe is a large freshwater lake in the Sierra Nevada of the United States. At a surface elevation of 6,225 ft, it is located along the border between California and Nevada, west of Carson City. Lake Tahoe is the largest alpine lake in North America with a depth is 1,645 ft, making it USA's second-deepest lake. Additionally, Lake Tahoe is listed as the 26th largest lake by volume in the world at 122,160,280 acre·ft. The lake was formed about 2 million years ago and is a part of the Lake Tahoe Basin with the modern lake being shaped during the ice ages. It is known for its water clarity and stunning mountain panorama view in all directions.
Within minutes after our boat inspection, we were at the boat launch ramp in Homewood, California. We presented our inspection documentation and proceeded to put the boat in the water. A picture perfect day with not a ripple in the lake, we glided away from shore for our destination, Emerald Bay.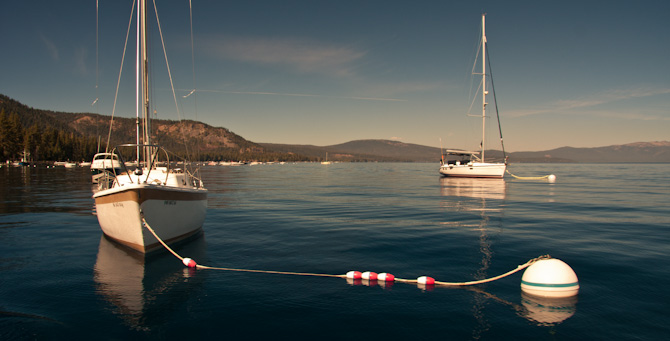 Emerald Bay State Park is located around Emerald Bay, a National Natural Landmark since 1968, at Lake Tahoe,California. The park is home to Eagle Falls and Vikingsholm, a 38-room mansion (below) that is one of the finest examples of Scandinavian architecture in the United States. The park contains the only island in Lake Tahoe, Fannette Island. Emerald Bay is one of Lake Tahoe's most photographed and popular locations.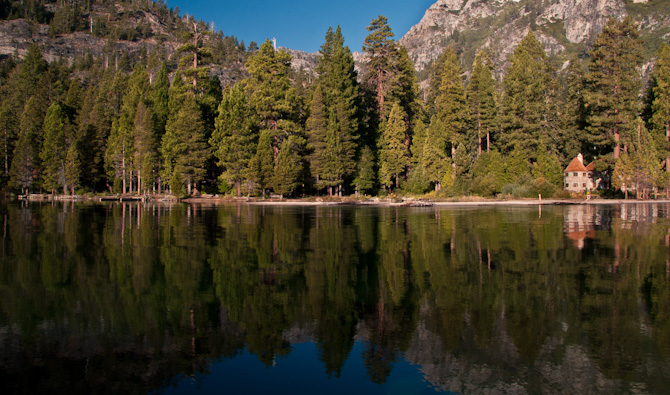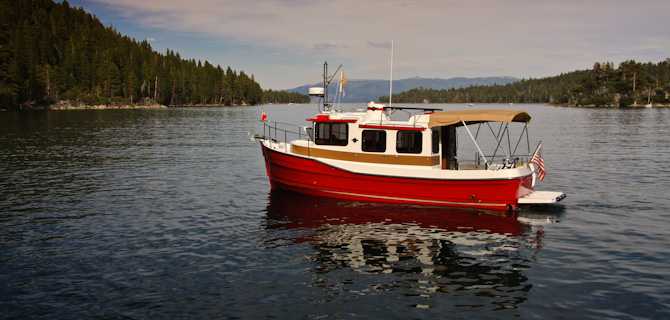 We've been on the go since we arrived in Seattle late August so it was nice to have some down time and I think we choose just the right spot. We played games cooked, ate, did chores around the boat and watched the daily menagerie of tour boats parade by.
The water was so clear we could see our anchor dug into the sandy bottom of the lake. This was nice because we could see if it held. We're glad to report it didn't move at all. As seasoned long-distance cruisers we can tell you that you don't very often have a chance to see the anchor that secures and holds your boat. More often than not the water is muddy and thick with silt.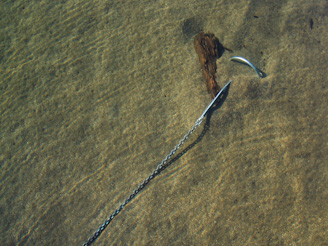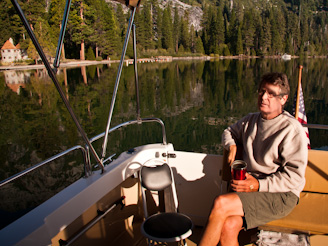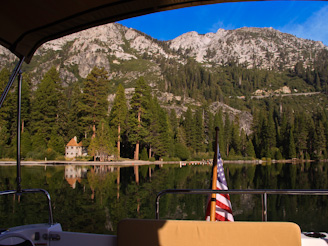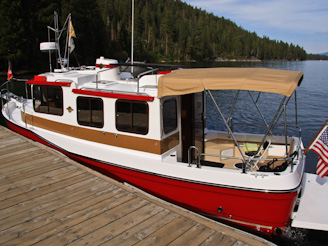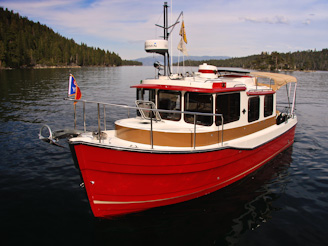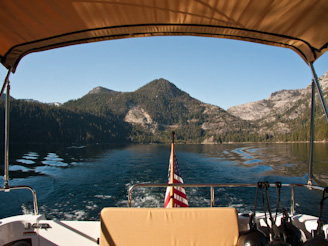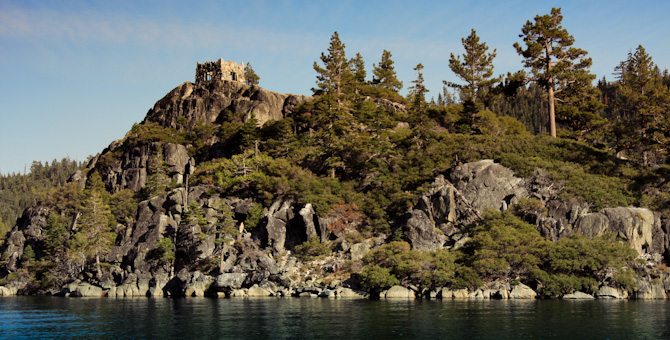 Fannette is the only island to be found in all of Lake Tahoe. The stone structure on top that looks like a miniature castle is the "Tea House" built during the same time that Vikingsholm was constructed, from 1928-29. After being transported to the island by motorboat, Mrs. Knight and her guests would occasionally be served tea there. A small fireplace in the corner and a large oak table and four oak chairs in the center of the 16 by 16-foot room gave it a very rustic appearance. The tea house has been vandalized in recent years and today only the stone shell remains.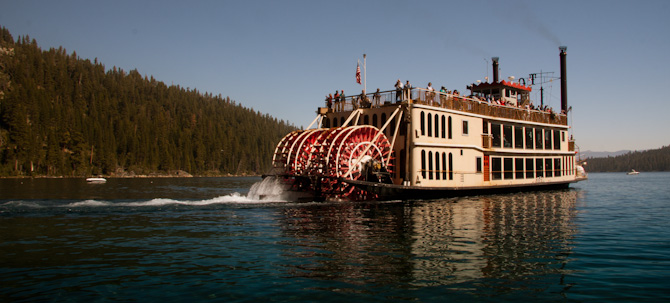 These paddle boats (above) made a loop right by our boat every couple of hours way into the evening, even after dark.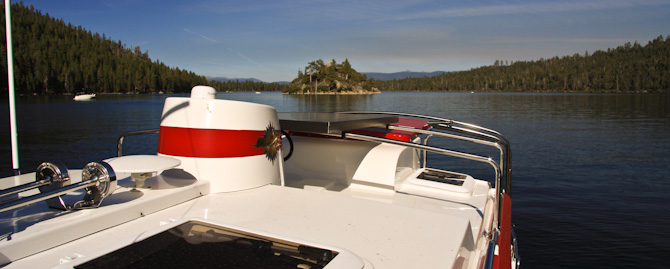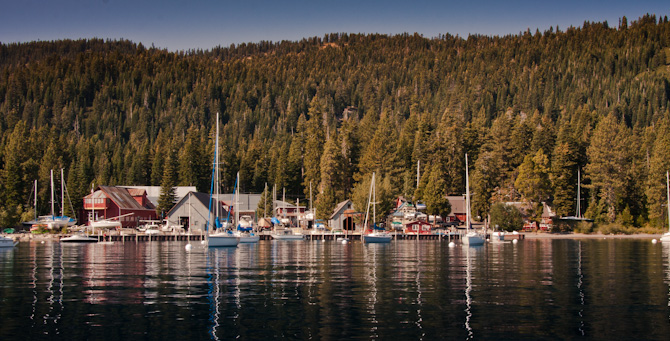 Obexer's Boat Company (above) in Homewood, California is where we launched and retrieved our boat.