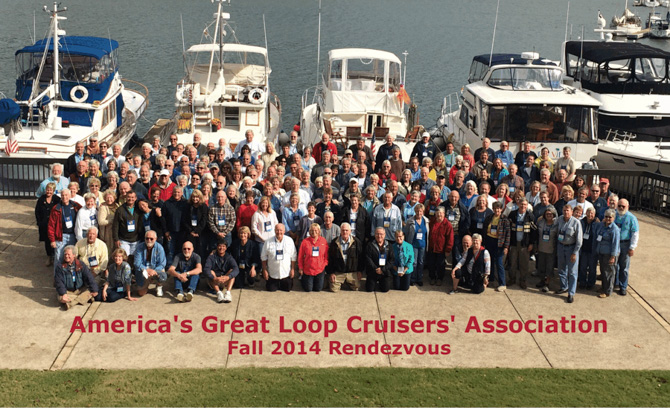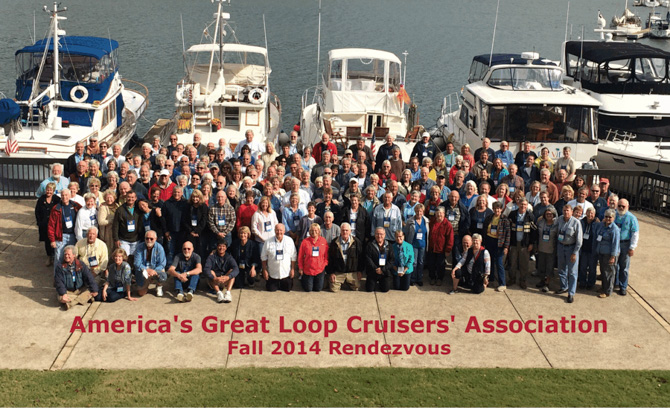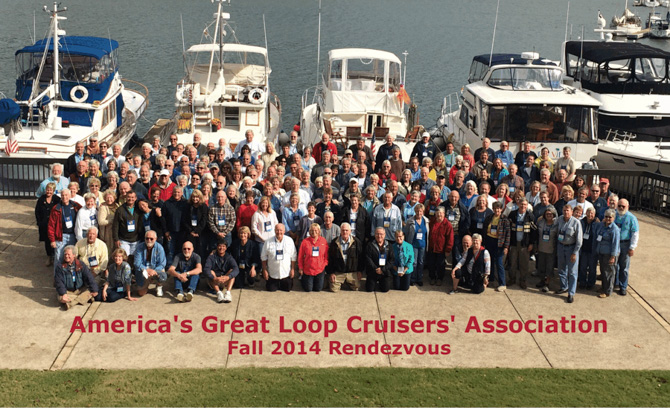 Great Loop Adventure!
The Great Loop Adventure! We packed up our boat and truck and headed down the highway to Joe Wheeler State Park in Rogersville, Alabama for AGLCA's 2014 Fall Rendezvous. Jim and I have been Loopers almost ten years (we have done the Loop almost twice). The excitement and camaraderie we feel when out on the water cruising new territory, meeting other Loopers in far off ports, and especially while connecting at one of the rendezvous, or Gold Looper Reunions, never gets old, in fact, it sustains us as cruisers.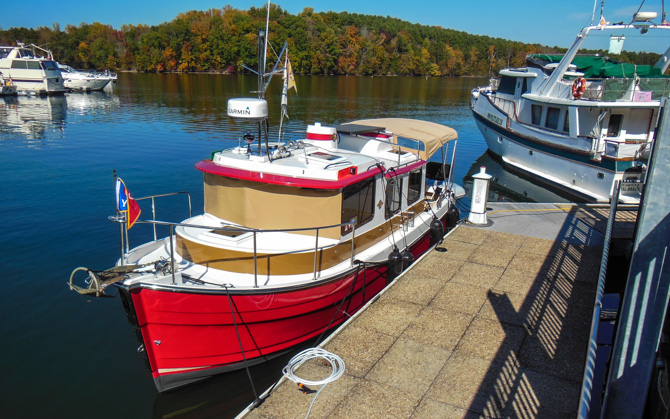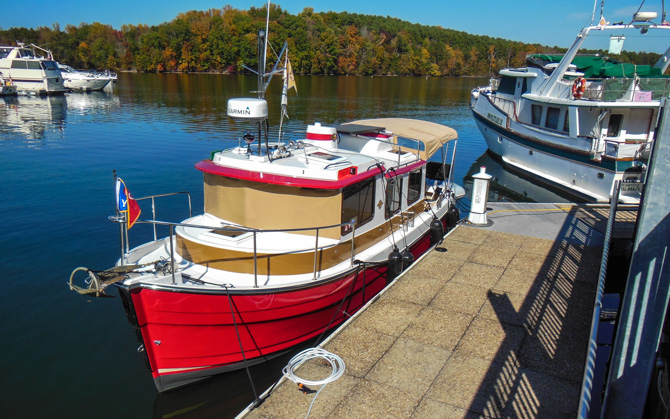 We laughed, we played, we shared boating stories, we sang and enjoyed music, we exchanged information on favorite anchorages, marinas, boat maintenance and galley provisioning. Seminar speakers help current Loopers prepare to navigate the stretch ahead. Jim gave two presentations at the rendezvous, The Gulf Coast of Florida and St Johns River. With many helpful sponsors in attendance, the resources available to current and future Loopers is huge.
One of the fun times at the rendezvous is the dinghy race. A two-person blindfolded competition to complete a short route around a marker… backwards.. with the captain blindfolded. The navigator sits behind the captain giving verbal commands to guide the captain around the marker and back to the dock. If you've never seen this drill before, we must tell you how hilarious it is… for those on the dock!
Although We Are Not Currently Loopers, We Will Always be Loopers at Heart!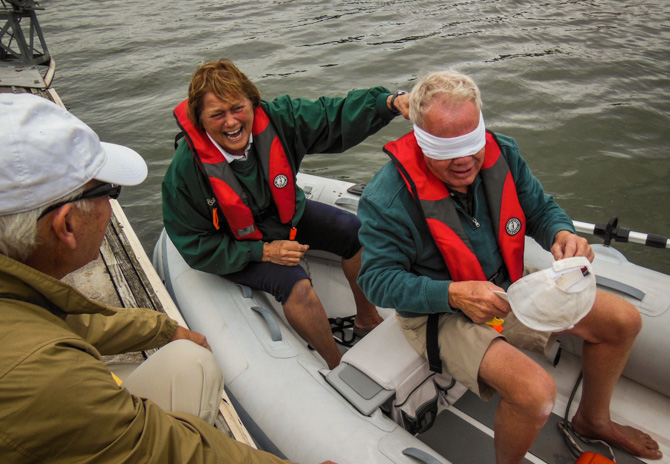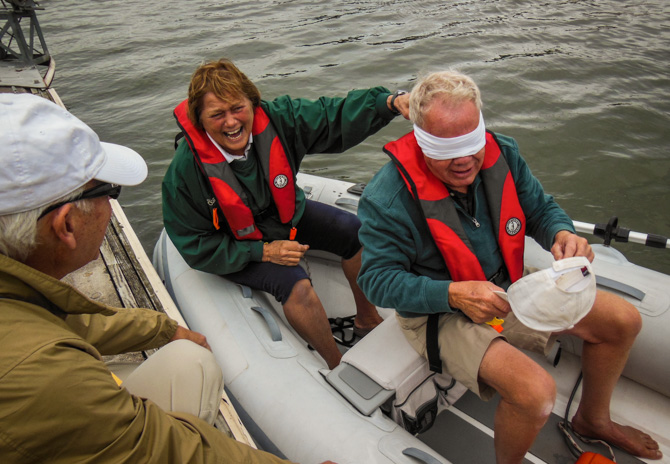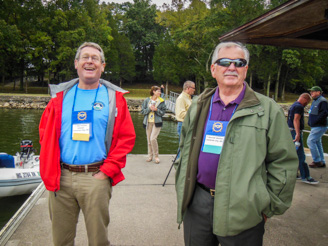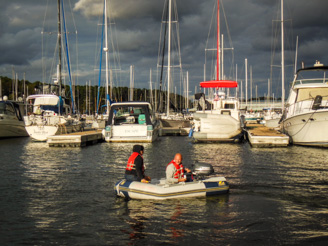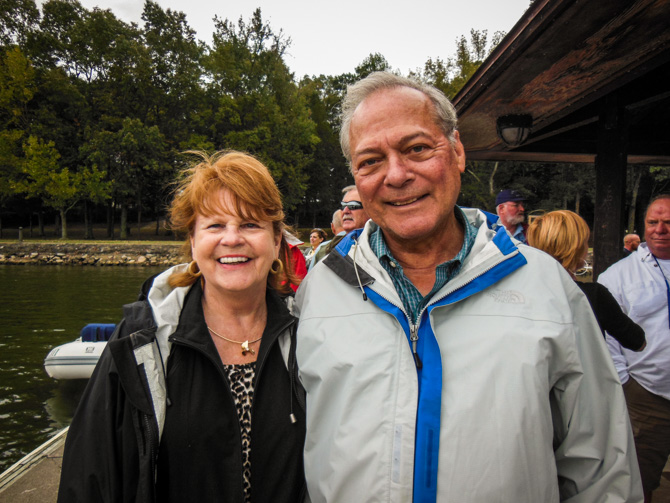 One of our highlights when arriving at Joe Wheeler for the event is the jar of pickles delivered to our boat by fellow Ranger Tug owners Pookie and Evan, on Pookie II (above and below). The best pickles we've tasted. Thanks again Evan and Pookie, glad we got to visit a little more this time.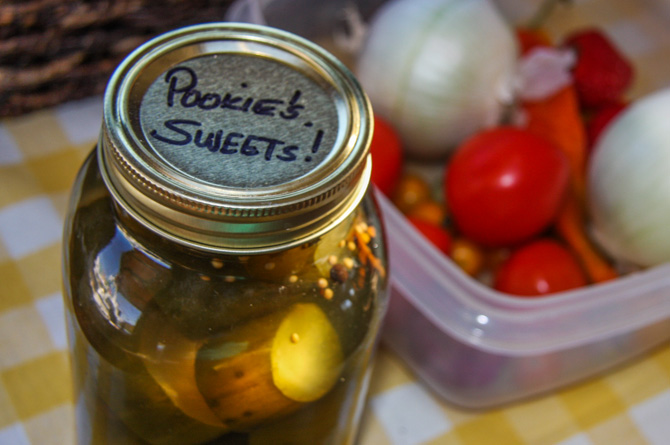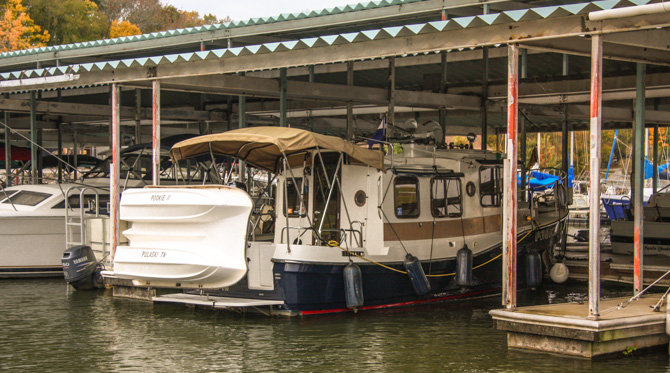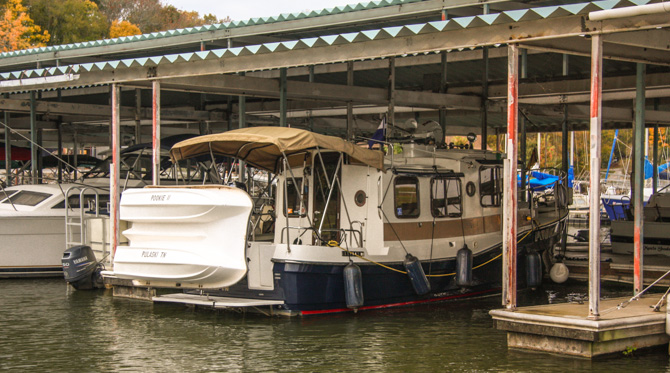 Thinking of Cruising the Great Loop Adventure?
One of the first things to consider doing is joining America's Great Loop Cruisers' Association. Completing the Great Loop boat trip is a big accomplishment for any boater, experienced or not. We have completed the trip 1.75 times, in different boats. One of the first things we did just before leaving our homeport of Charlevoix, MI, on our first Loop trip, was to become members of America's Great Loop Cruisers' Association (AGLCA). We fondly remember the first boat we saw sporting the club's distinctive burgee while staying at Burnham Harbor in Chicago. We could hardly contain our excitement as we dinghied over to Evelyn J. to introduce ourselves as fellow Loopers. The friendship made that day, along with all the other Looper relationships we made during our Looping trips, is the most valuable part of our approx. 6,000-mile trip… and it all started with that beautiful white AGLCA burgee.
We learned a lot during the years we lived on our boat doing the Loop. You don't have to know it all before you leave that which is familiar. The beauty of doing the Loop is in the ongoing learning process; if you're from the Great Lakes, you've never dealt with tides and saltwater issues; if you've boated in the Great Lakes you may not have much experience with locks. By the time you close your Loop, you'll be a seasoned boater and confident of your skills. We all have to start somewhere. Sure there will always be people that should not be boating… ever, but we would never discourage anyone who is working toward a challenge and seeking adventure. The important thing to remember, when contemplating a commitment to cruising the 6,000-mile route, is that it doesn't matter what skills you possess or lack – but do ask yourself a few questions… do you enjoy all aspects of boating and navigating and how big is your desire to take on such an adventure. The beauty of AGLCA is that it creates and brings together a living network of boaters; all willing to help one another along the way. The club burgee is an instant introduction to new friends and future cohorts in one of America's greatest boating adventures. A new Looper will meet other Loopers currently on the trip by recognizing the club burgee and attending one or more rendezvous., they'll find support and camaraderie as they all negotiate their way around the Loop. They'll even bump into "Gold Loopers," (the gold AGLCA burgee signifies completion of the Loop) at various ports on the route as those boaters proudly display that gold burgee as a reminder of the accomplishment they have achieved. Gold Loopers love to share information with "newbies" about routes, hazards and local information; they are a valuable resource for Loopers and boaters alike.
The AGLCA twice-yearly rendezvous helps a current or future Looper in many ways. The Fall Rendezvous will cover navigation and particulars from Alabama to Norfolk, the Spring Rendezvous will cover Norfolk to Alabama. Some people attend these events early in their planning to see what the trip is all about. Current Loopers attend to learn more about new cruising ground in front of them along with a chance to stop and celebrate their ongoing accomplishments with their new boating buddies. Another valuable benefit of joining AGLCA is the Daily Digest (a Looper forum), which includes Tom Conrad's valuable "Weather Musings," focusing on the weather windows for crossing the Gulf of Mexico. Questions are asked and answered on the forum much like any other forum, only focusing soely on the Great Loop boat trip. Seasoned Gold or Platinum Loopers along with experienced high profile boaters give sessions on everything to do with Looping, navigation, boating, maintenance etc. They provide an excellent resource for anything related to the Loop. AGLCA brings it all together.
If you have not had the experience of being part of the club, it would be hard to grasp the significance and value gained. You can't put a price on it, we know Loopers who feel their Gold burgee is a badge of honor, having accomplished and completed an adventure of a lifetime. Sure you could do the Loop on your own, but it seems to us that it would lack some of the richness of the experiences we've outlined above. Joining AGLCA and experiencing the Great Loop adventure was one of the most stimulating and adventurous things we have ever done as a couple and it positively changed our lives for the better.
Jim and Lisa Favors