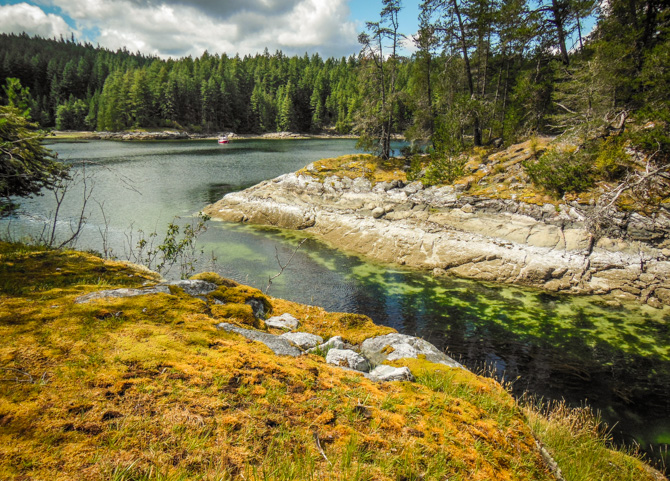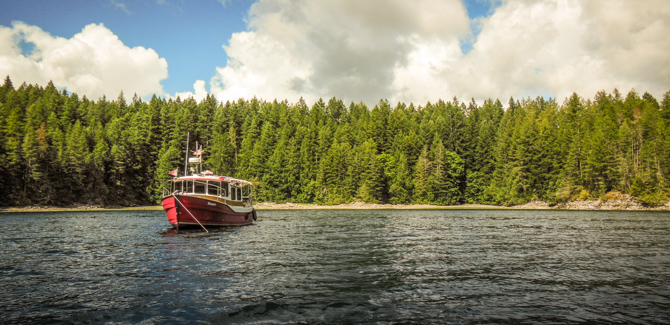 We Were Surprised – Only a Few Boats Anchored at Octopus Islands! –
We timed our departure from our anchorage at Von Donop Inlet, so our arrival at the "Hole in the Wall" rapids would coincide with "slack tide." Our plan was to get to Octopus Islands Marine Park to anchor for a couple of days.
Knowing when slack water, or tide, occurs is important in tidal waters. This is more important where you need to negotiate a narrow pass where water has limited space to move through. With these conditions, water turns into a rapids that can be dangerous to pass through in most any condition other than slack tide.
Slack Tide, described by Wikipedia is:
"Slack water, which used to be known as 'the stand of the tide,' is a short
period in a body of tidal water when the water is completely unstressed,
and therefore no movement either way in the tidal stream, and which
occurs before the direction of the tidal stream reverses."
We've had to learn about timing our travels to meet up with optimal conditions for transit through narrow passes while cruising the Pacific Northwest. We notice that a lot of boaters like to talk about those passages and their experiences transiting them. Negotiating rapids seems to lend a certain amount of challenge to our cruising abilities. It's a tricky thing to get all your ducks in a row by checking the tide tables carefully. You also have to time your departure carefully and set your speed. You don't want to get into trouble when you arrive. On this day, we had to leave at 10:50 a.m. to meet slack tide at Hole in the Wall a few hours later.
Once through the rapids, we settled into a well-protected cove by early afternoon. We stayed on the boat the balance of the day. Mostly relaxing exclusively in the boat's cabin due to the rainy, cloudy day. We spend a lot of time reading and playing games lately it seems. Day two was more promising as a sunny day presented itself. So we went on a long dinghy ride around Octopus Islands. We landed the dinghy and explored the mossy rock islands scattered throughout the marine park. While out exploring we spotted two eagles perched high up on an isolated bare tree top. We saw a huge yacht anchored in a secluded spot and marveled at how few boats surrounded us. Last time we were in the Octopus Islands was in 2013 – the anchorage was almost too crowded with boats.