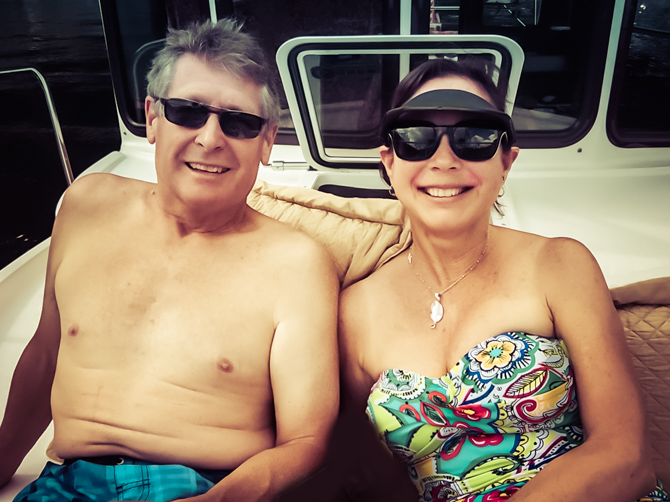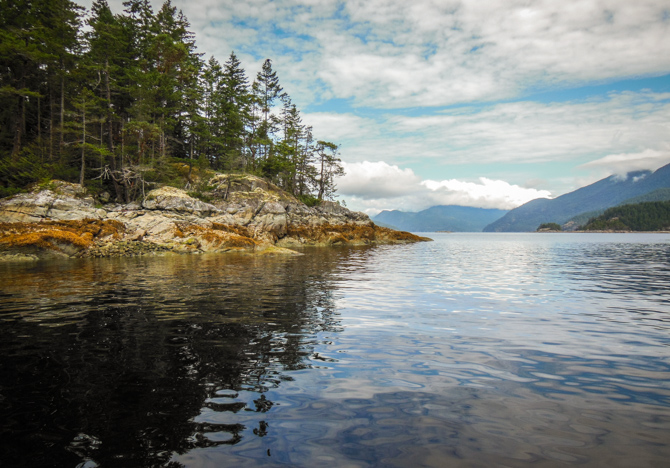 Pendrell Sound Provided a Break from All Distractions!
From Tenedos Bay we cruised over to Waddington Channel and finally into Pendrell Sound, on East Redonda. We went all the way to the end of the sound, through a fjord like channel to anchor. That way we'd be facing toward the snow-capped mountain range to the south. From this spot we would also have a view of all boat and sea plane traffic in the sound. It was a gorgeously hot summer's day.
During our three days at anchor in Pendrell Sound it all sunk in. This is what we came for. Stunning mountain ranges, scattered islands, winding waterways, scenic vistas, surprising wildlife sightings and peaceful seclusion. We found relative isolation from the busyness of the fast pace world we left behind. No connectivity of any kind. Our phones did not work here, no TV reception and no internet. We lazed the days away without access to a news source, entertainment or man-made social functions or interactions. Only the quiet presence of other boaters who we shared an anchorage with. Everyone respectfully quiet and laid back while overnighting in comfort and serene peace on our boats. They, no doubt, were seeking the same experience as we were. We enjoy this time together, no distractions, demands or obligations pending.
We loved not knowing whats going on in the world.
I'm guessing we may be surprised by the news once it does come to us, being an election year in the states and all — maybe not. Either way, we were content in our secluded natural environment. We spend this time listening to our music library, eating well, swimming, playing games and being attentive to each other. Basically having the time of our lives.
Did we say how relaxed we are? Our only craving is family, friends and the home we left behind to take this cruise in the Britsh Columbia. We say this often – the hardest part of being an adventure seeker is missing those we left behind. Every minute onboard when relaxing, we wish they could be sharing this adventure with us.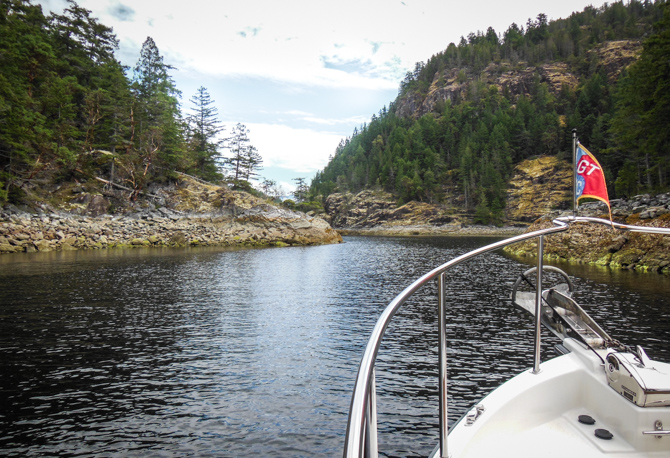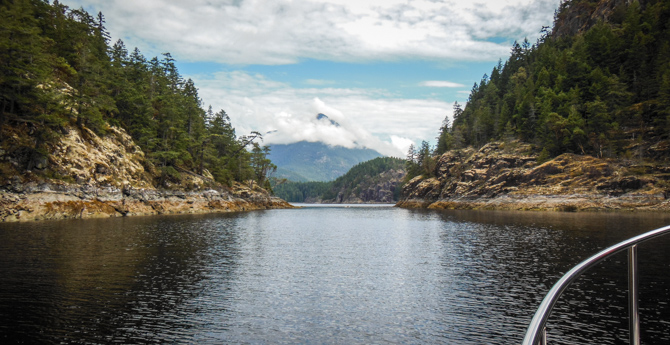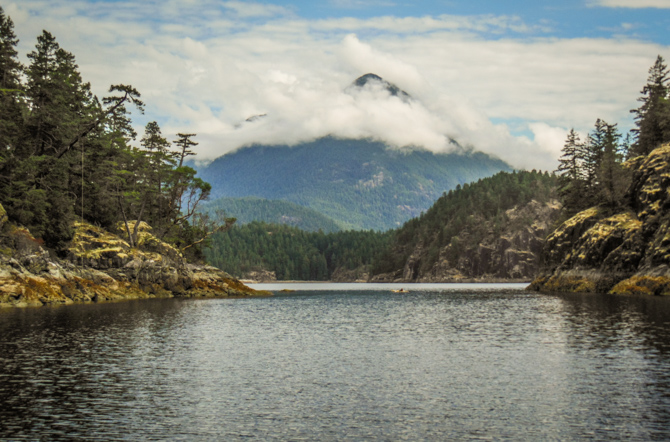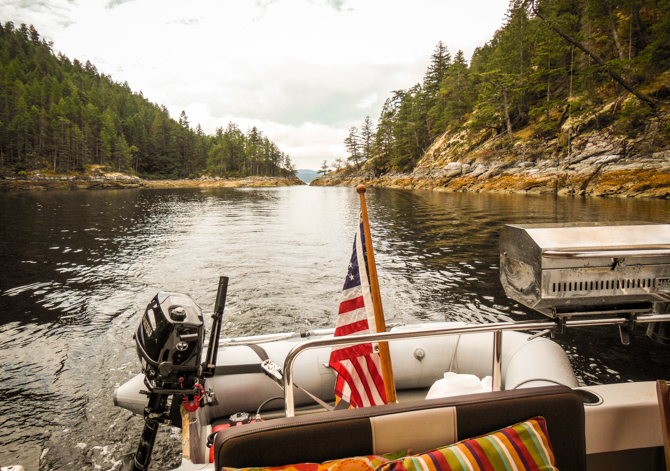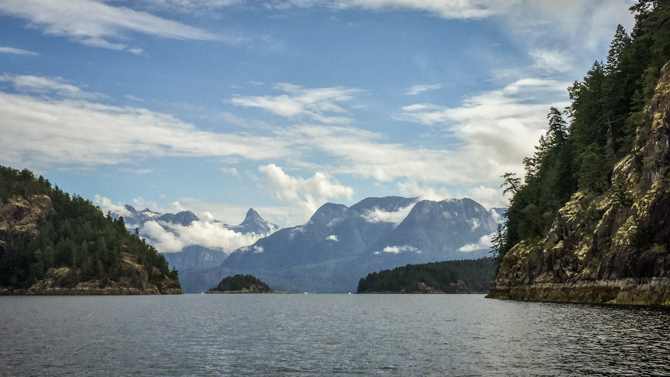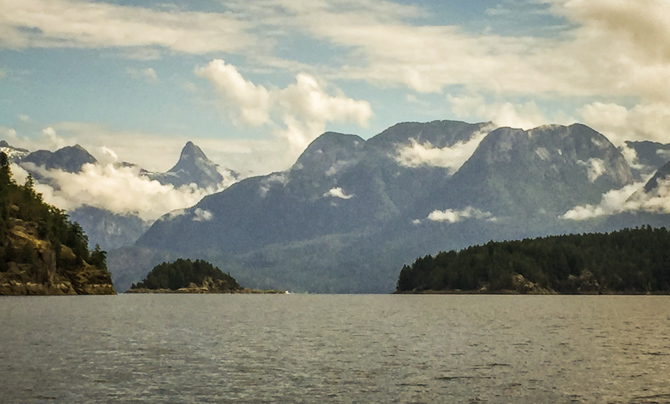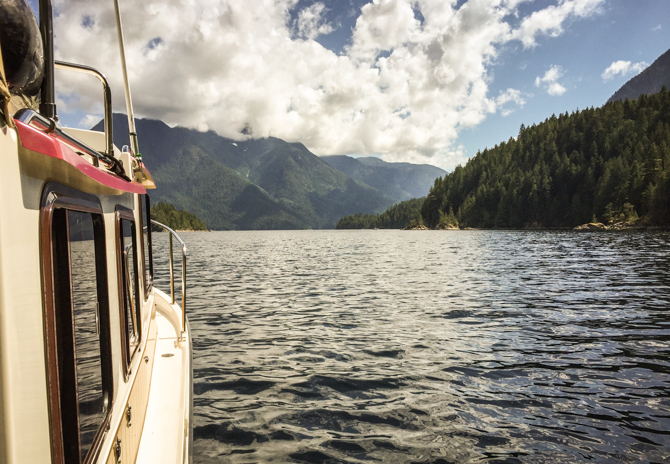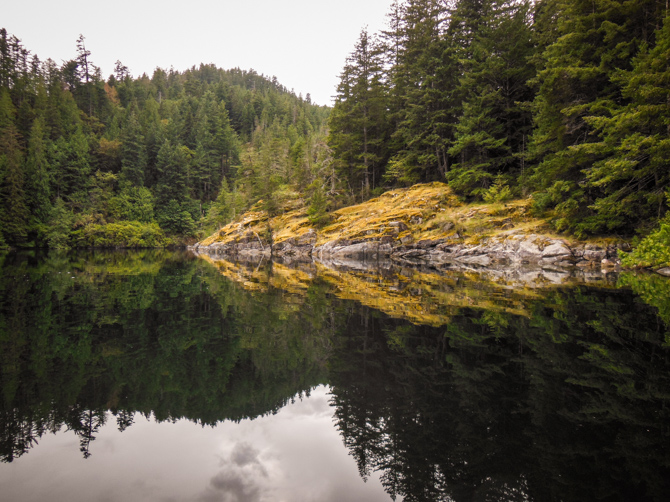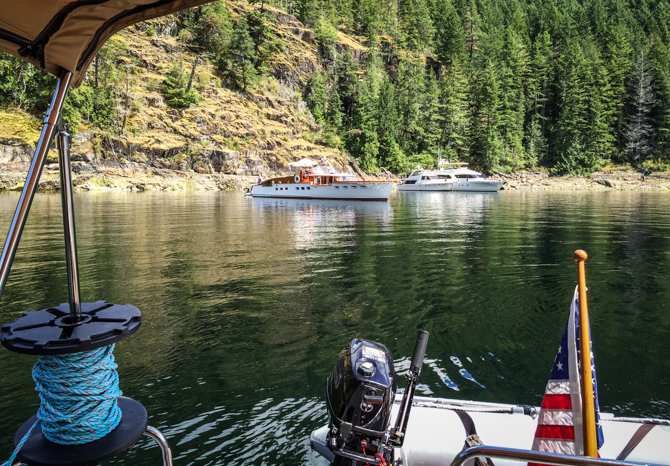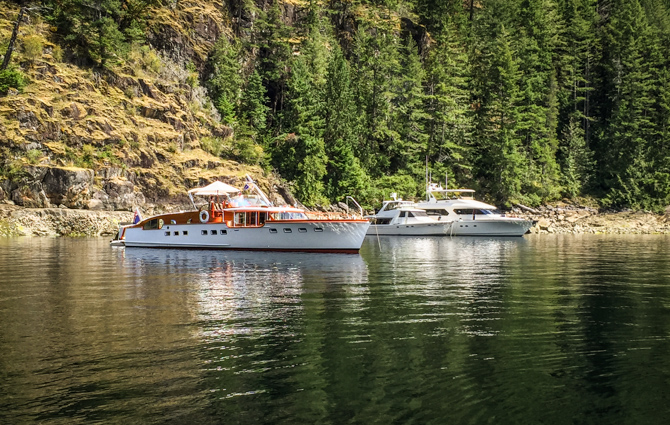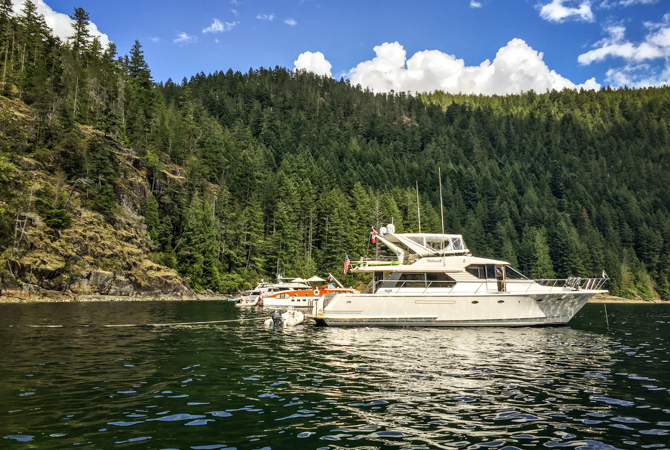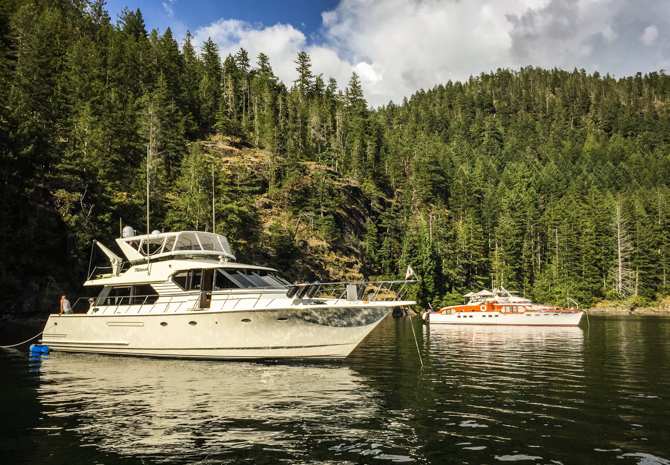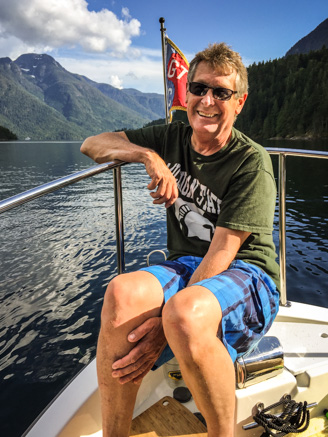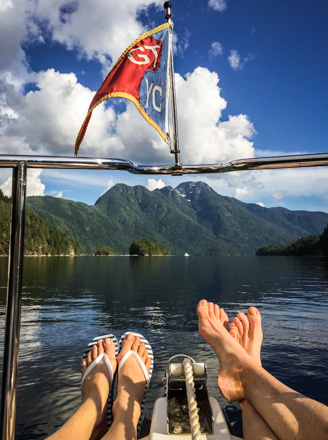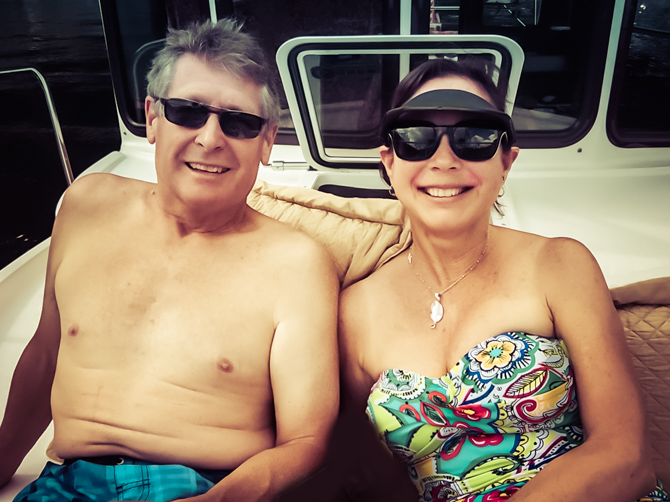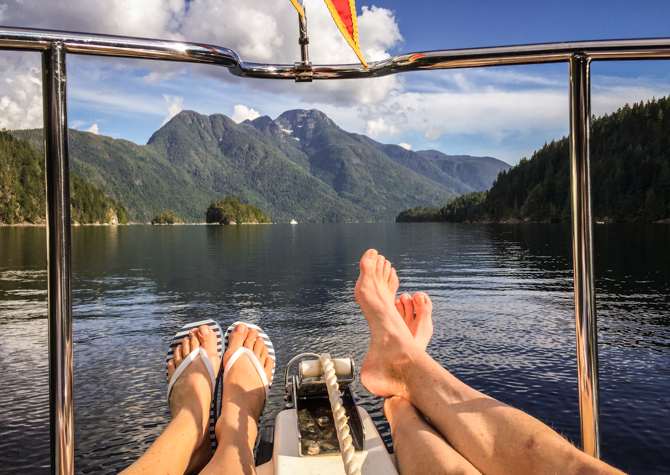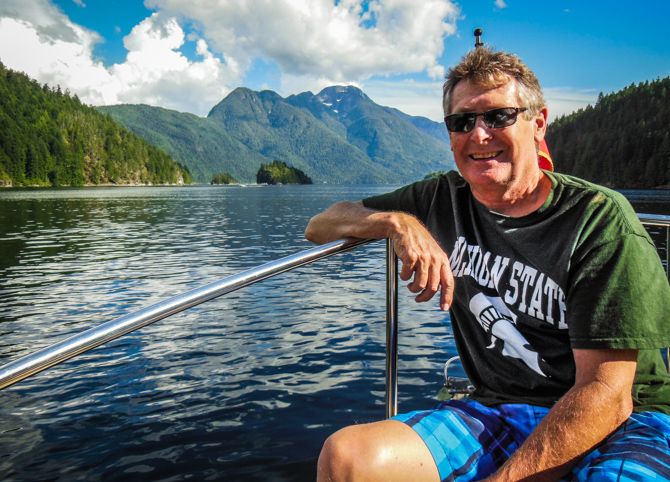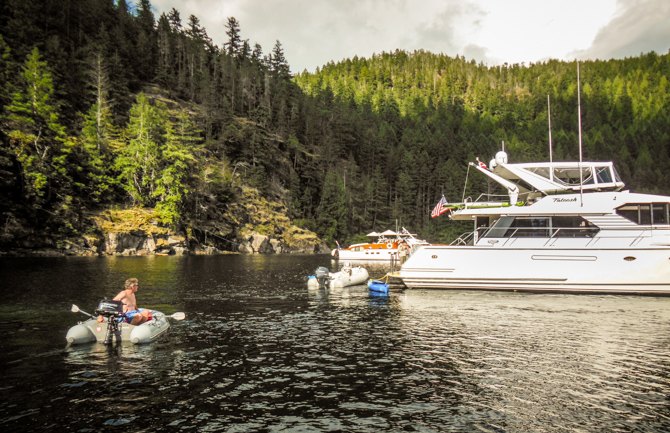 In the middle of a relaxing happy hour on the bow of Kismet, we started up a conversation with the crew on a 50' Sonship, Tatoosh, anchored next to us. During the conversation their yacht gradually started to drift towards us. It happened slowly at first and then quite rapidly. Before we knew it we were on our feet, in fend-off mode. Lisa stayed on the bow of the boat with the boat hook in hand. Jim jumped into our dinghy to help retrieve their stern line from shore along with two other guys from the classic wooden vessel Lazee Gal anchored nearby. The stern line was finally retied to shore providing a different angle, to keep their rear off our anchor's reach. Finally the captain of Tatoosh pulled up his anchor to reset it. Fingers crossed that it would hold overnight! We woke up the next morning to find all boats were still securely set at anchor, no overnight mishaps.