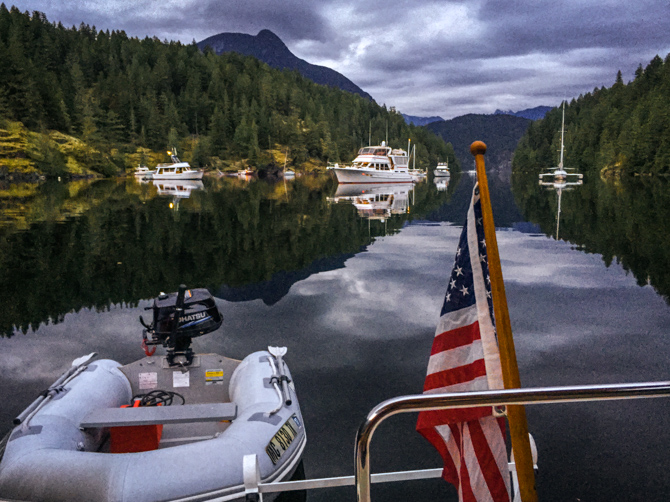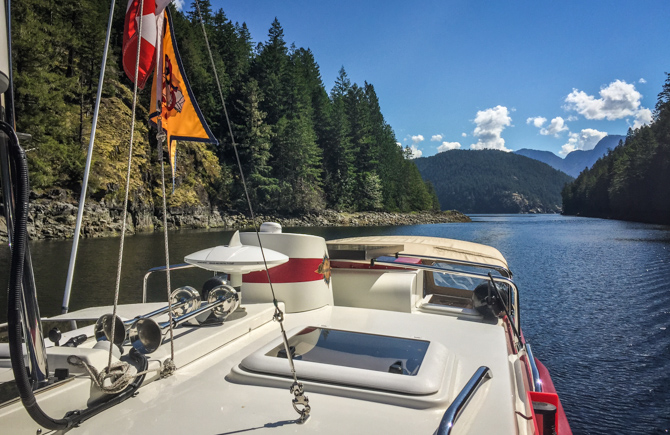 Roscoe Bay Provincial Marine Park is known for the thousands of moon jellies that congregate there annually.
We woke this morning to a clear blue sky and knew it would be a great day. We only had a handful of miles to travel for our 11 A.M. arrival for a 2-day stay at anchor in Roscoe Bay. Our day started off with freshly baked sticky buns and coffee. It was a slow cruise on calm water as we made our way around the south side of West Redonda Island to get to our destination. Roscoe Bay is known for the thousands of moon jellies that congregate there annually.
Roscoe Bay has a narrow, dry shoaling entrance that leads to a full, 360 degree, protected bay. Most boaters have to negotiate this channel on a rising tide. As we passed over the shoal, we saw a crystal clear sandy bottom which appeared to be within a hand's reach. However, we knew we had a good three feet of clearance below our keel. Our Ranger Tug has a two-foot draft. Because of our early arrival, we had plenty of anchoring choices and finally settled in at a spot towards the end of the bay. As the day progressed more boats showed up for a total of 20 by the end of our first day.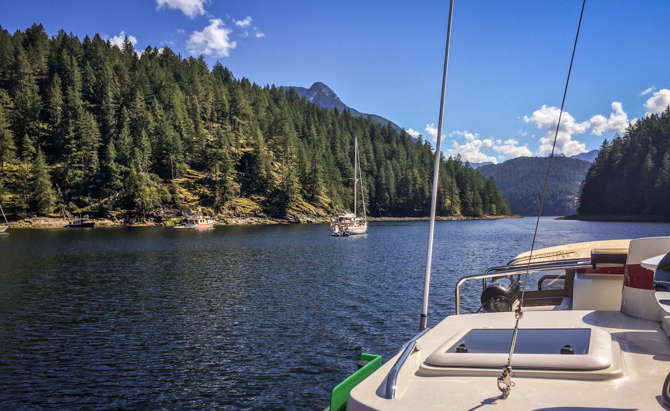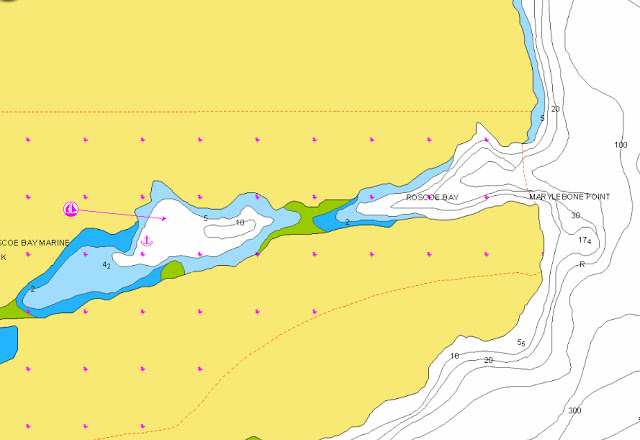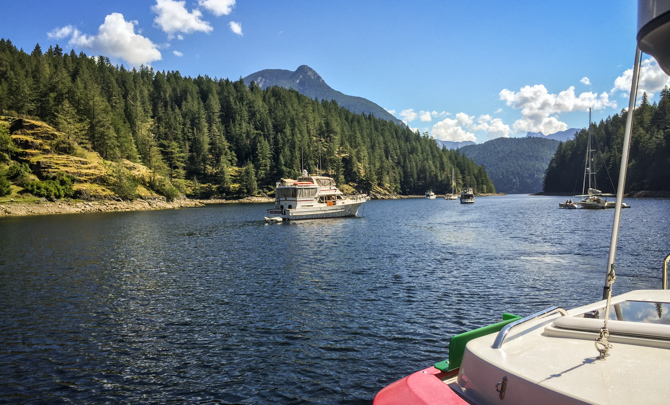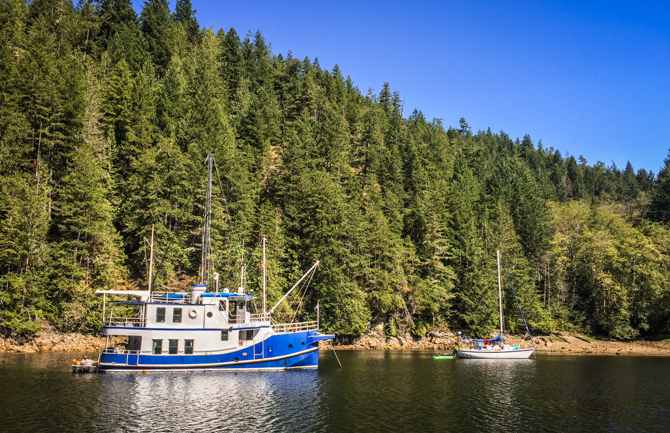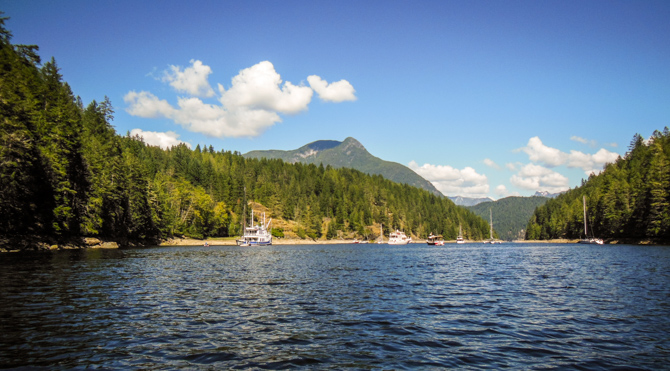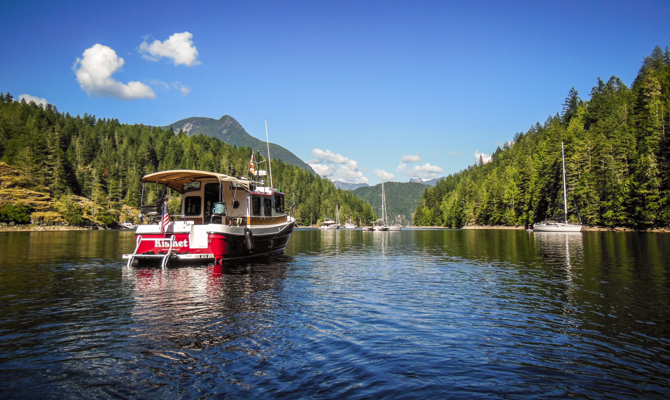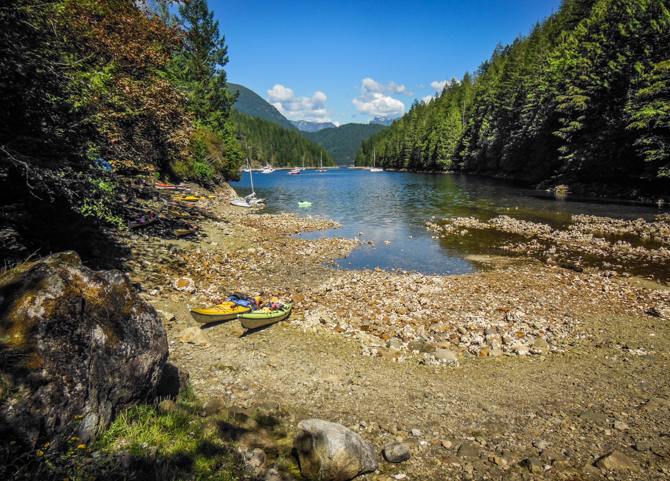 Wanting to get off the boat to stretch our legs, we prepared the dinghy and ourselves for the short hike to Black Lake. A swim in the warm water of this mountain lake was our main objective. When having only a 40 gal. water tank on board, we always look for opportunities for a refreshing swim when anchoring for long periods.
We took the dinghy to a landing of sorts, timing our adventure so we would not get stranded with a falling tide. This took some time due to the sharp oyster shells lining the bay. We had to pick a clean rock or beach to land our small dinghy and try to guesstimate where the tide would put it by the end of our hike. We have a soft bottomed dinghy and those oyster shells can become enemies of a hypalon inflatable like ours. This is especially true when the tide drops seven feet or so. While anchored in the bay, a couple we met at Refuge Cove actually did cut a slice into their inflatable, thus the reason for the extra caution.
Once on shore we had a nice walk up an old logging trail to Black Lake. It felt refreshing to have a swim in the reasonably warm clean water on a hot, July afternoon.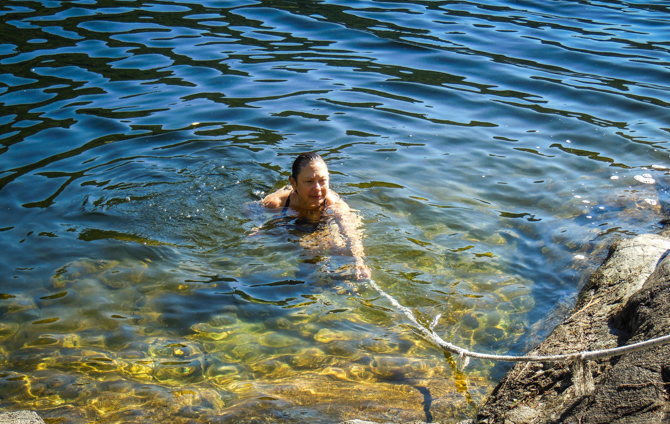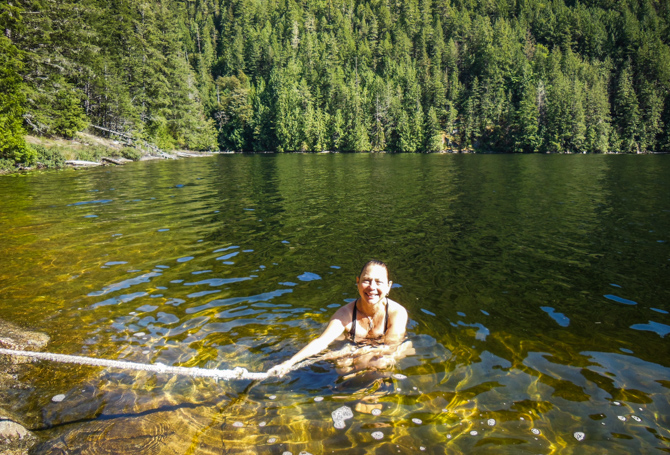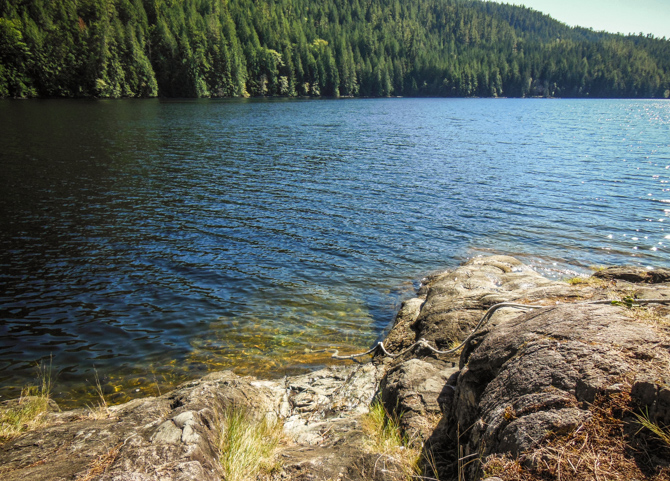 The rock beneath the water line is covered in slimy green mossy matter. Someone has tied a rope leading from a tree down to the waters edge to hold onto when entering and exiting the water.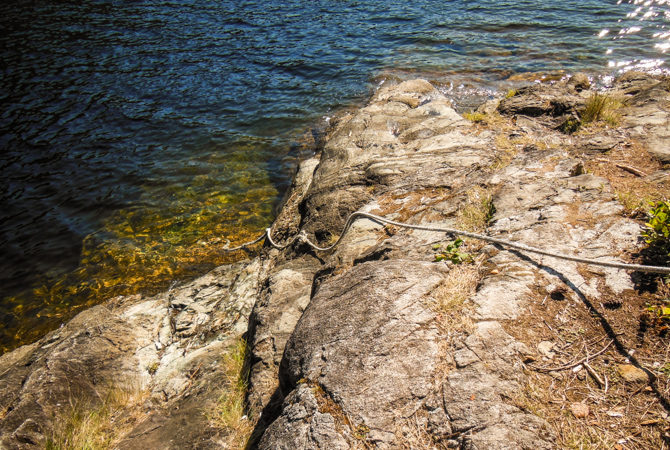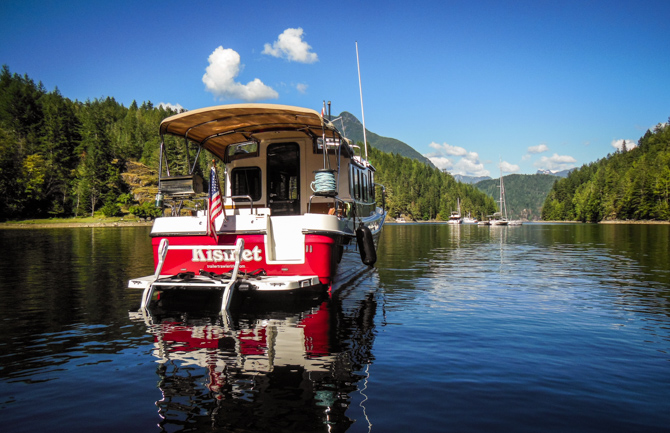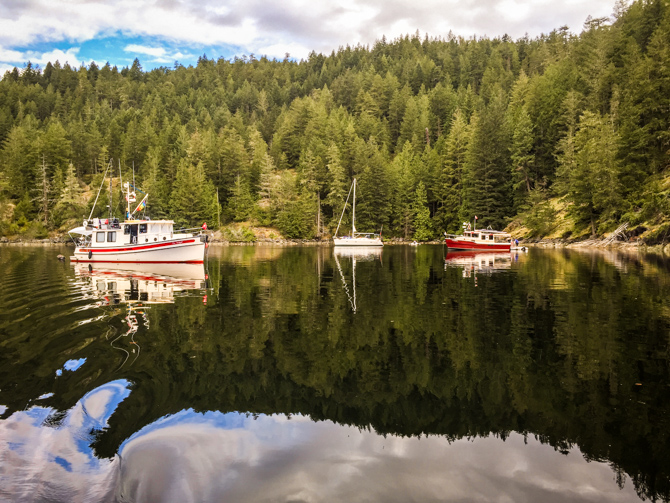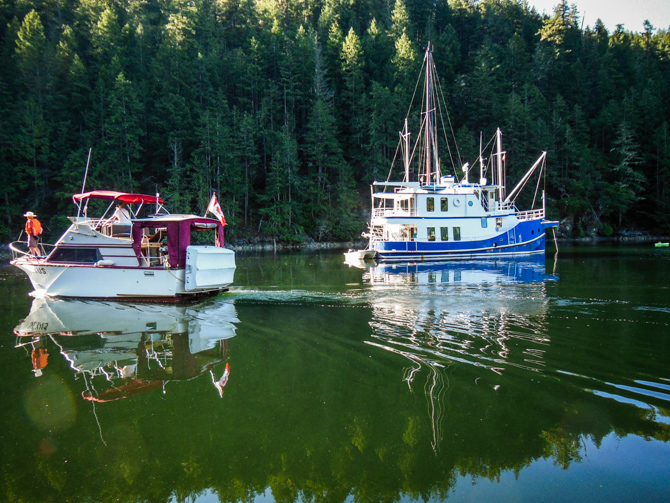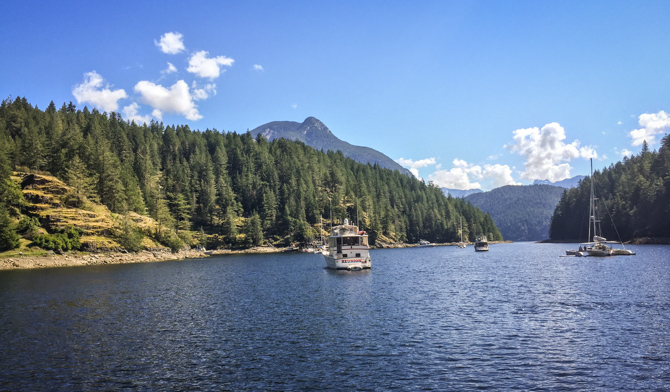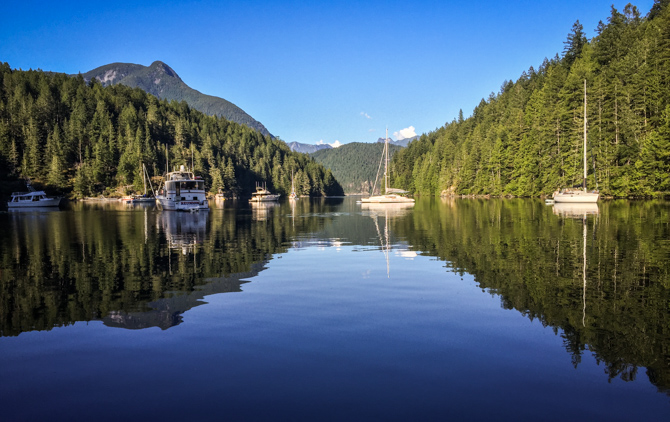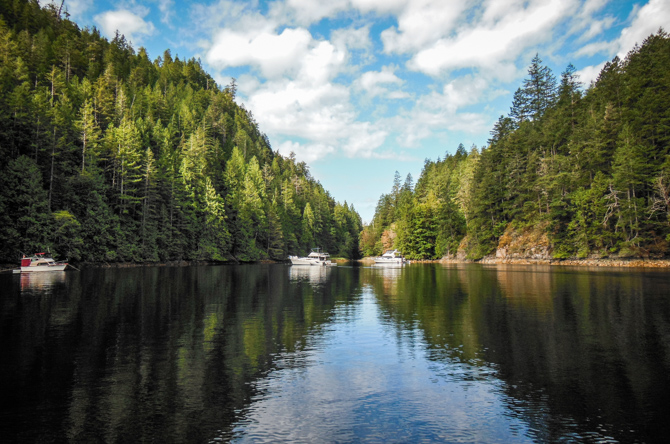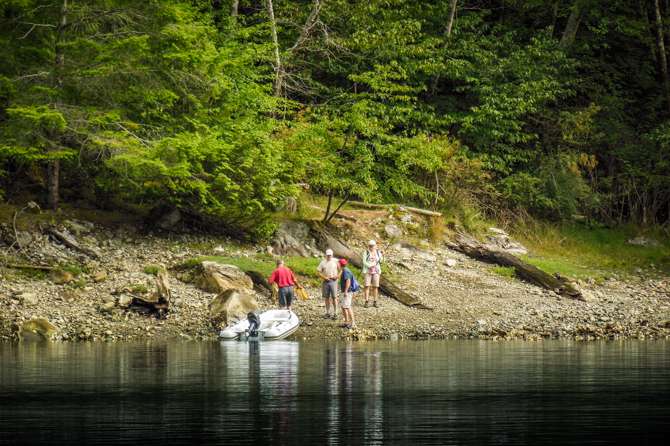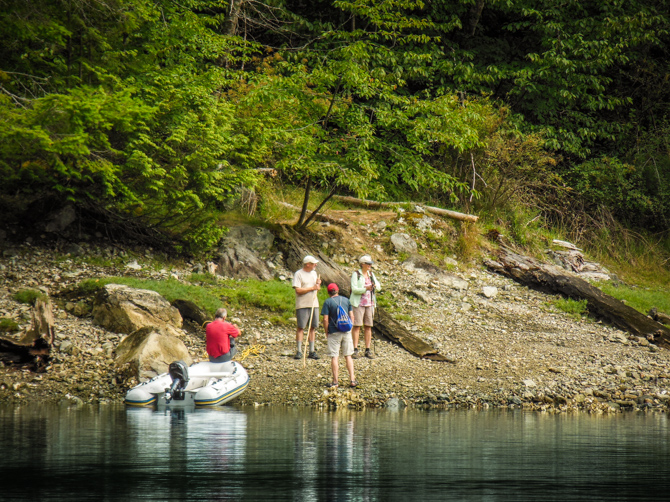 The next day, we met Keith, another Ranger Tug owner. I joined Kieth and a group of other boaters he put together for a hike up towards the top of Llanover Mountain. (Lisa opted out for some alone time on the boat.) But, once we hiked about half way up the trail we found out it was closed due to a logging operation in progress. Although disappointed that we did not make it to the top of the mountain, the shorter hike was still worth the effort. Got to meet some nice people and take a few photos of Kismet resting in Roscoe Bay from part way up the mountain.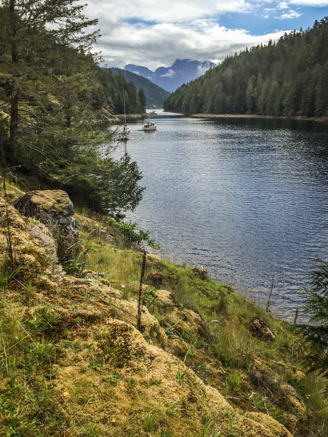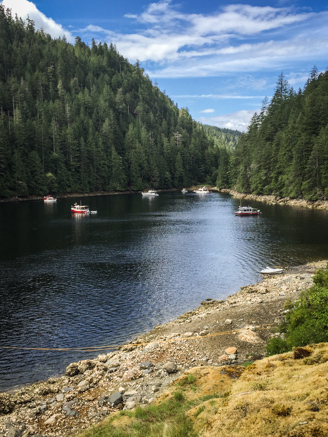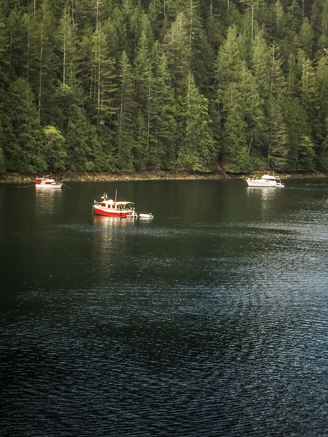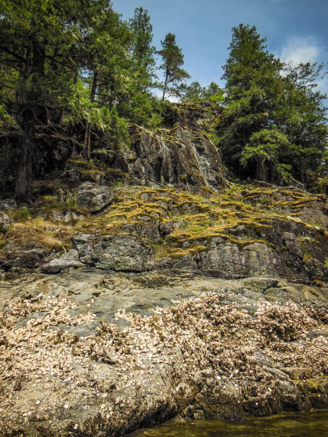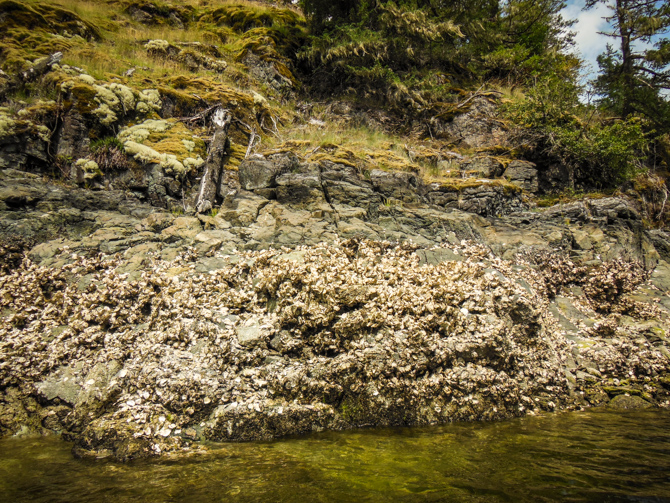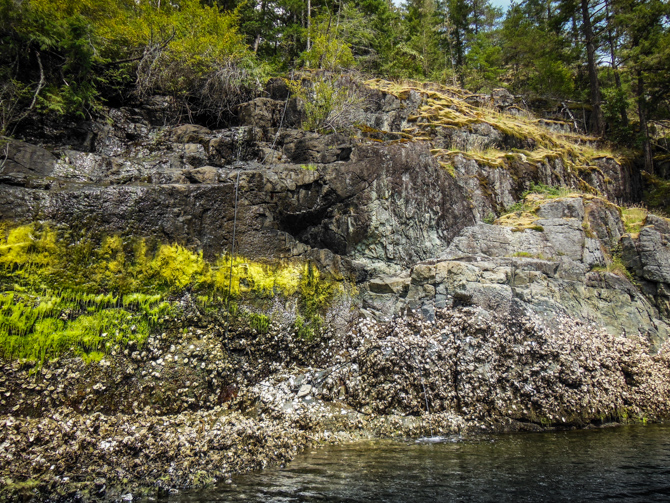 We did not see this hose, with continuously running water, hanging over the rocks until we were leaving the bay. So we think someone has rigged a system from a water source up the mountain's edge for the convince of boaters. Could this be fresh water?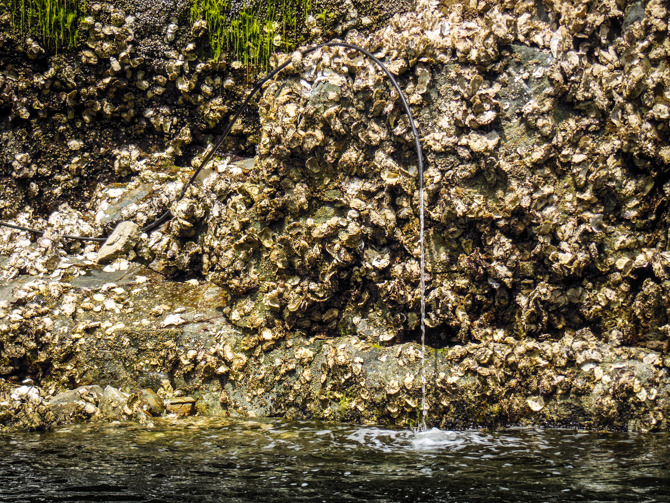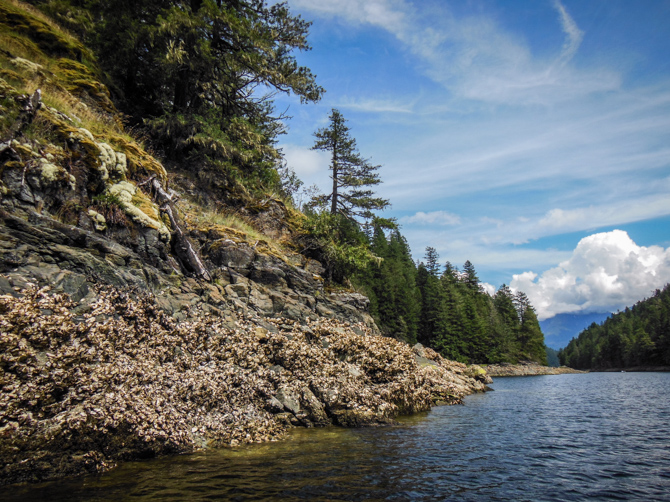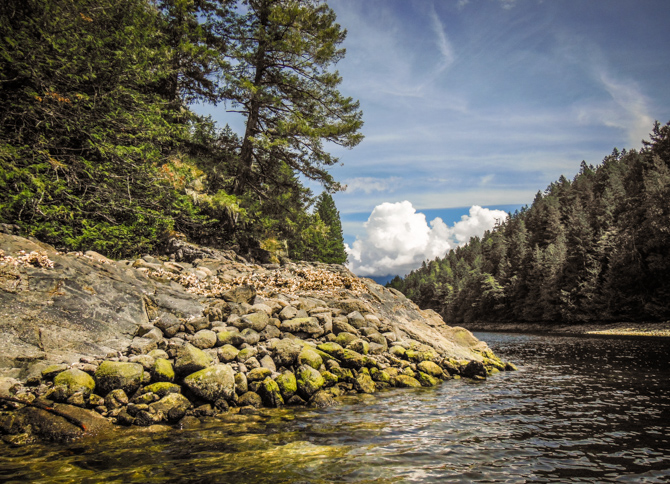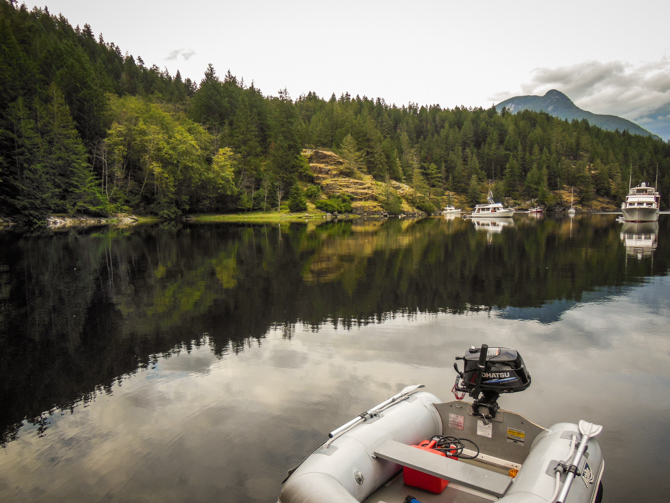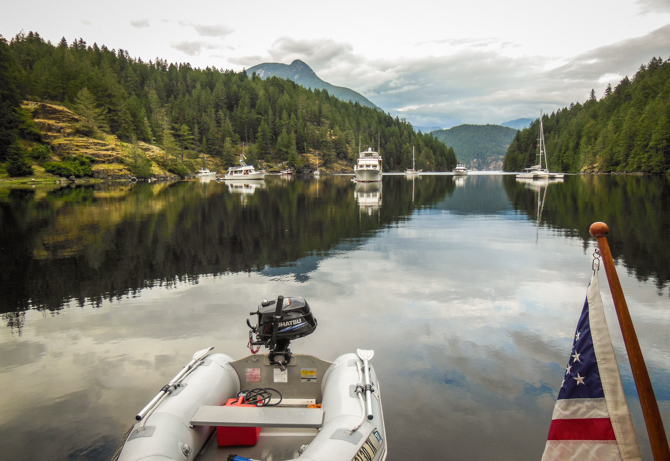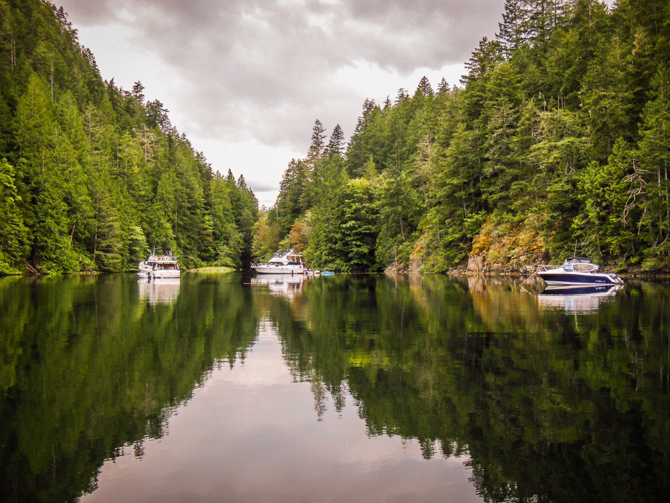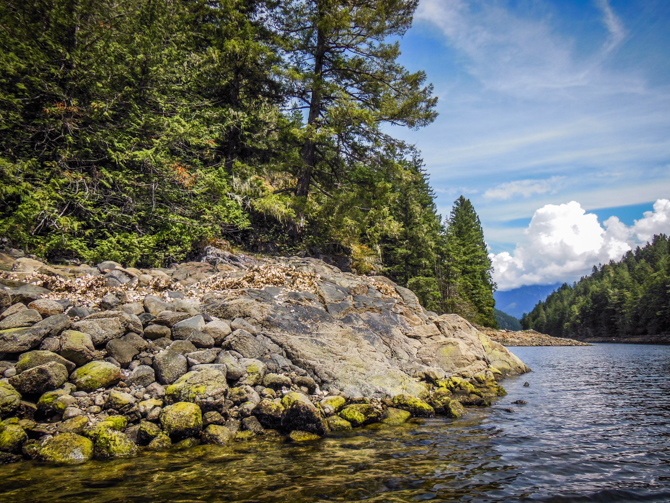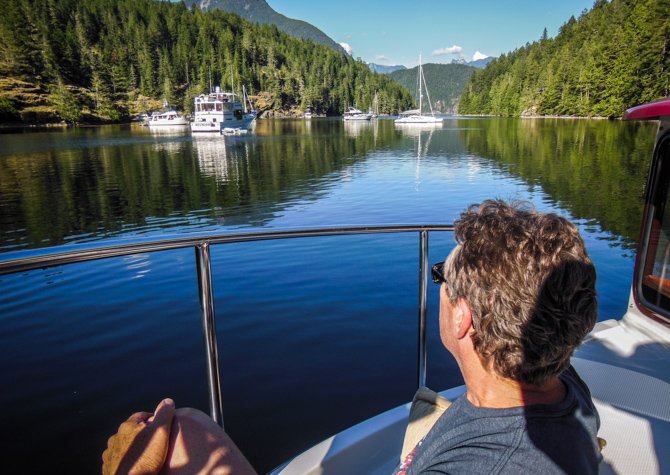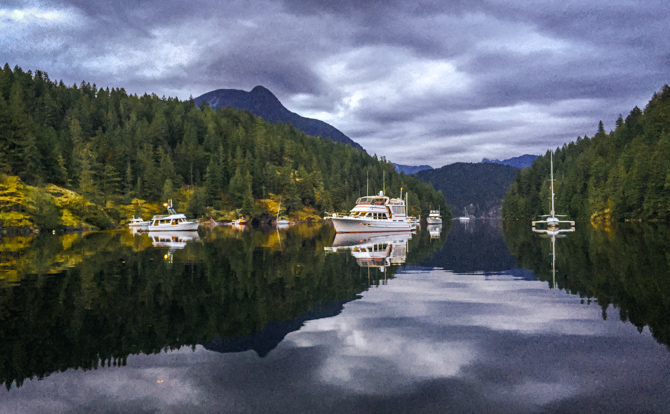 Later in the day there were two deer on shore that we watched on and off for over five hours. They were there all afternoon. The evening of July 21, up to this point in our PNW 2016 cruise, was the best overall weather day we've had so far. Later, we sat very relaxed on the bow of Kismet during happy hour until well after sunset. We watched boats come and go, anchoring, people dinghying from one boat to another for social get togethers. As the night wore on it became very still and quiet, warm lights turned on inside boats as the scenery outside took on a cool purplish blue cast