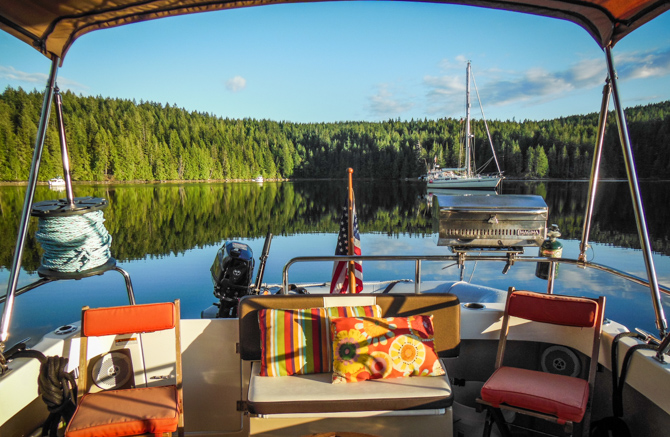 We Chose Von Donop Inlet as an Anchorage Twice
During Our Stay in the Desolation Sound Area –
Von Donop Inlet is situated on the northwest side of Cortes Island, it can be entered from northern Sutil Channel. The inlet is part of the Discovery Islands, not Desolation Sound Marine Park. We had to leave Desolation Sound on two occasions to provision. So, we used Von Donop as an anchorage both times. First was a trip to Campbell River and another time on our way to Heriot Bay. The inlet is long and narrow and, although we cruised past many boats already anchored the length of the inlet, we chose to go all the way in to the bay at the south end. We felt it afforded the most protection from high winds and we felt a storm brewing.
Rainy Day Blues in Von Donop Inlet
We love to read and have lots of books downloaded to our iPads. But for rainy days on the boat, ones where you don't even want to read anymore, walk outside, or even dinghy somewhere in a downpour, we needed to have something a little more entertaining lined up. So, starting in Ladysmith (Gulf Islands), we began rummaging through marina book swap libraries for used DVDs. Ones other boaters had left behind. Later, as our movie "monkey" grew, we moved on to checking local used book stores and thrift shops in some of the towns we've docked at. It became one of our provisioning chores when we got to a marina. Like most boaters, our list includes washing laundry and walking to the Post Office, grocery, hardware, liquor and drug stores. Now we've added used book and thrift stores to the list.
Let me tell you, there are a lot of used DVDs out there. Sometimes we were able to swap ones we'd viewed for newer ones and we'd buy a few extra to thank the owner for considering the swap. During our stay in Campbell River, we took some of the growing number DVDs we've accumulated during our cruise up to Desolation Sound and doubled our stash. It's a good thing we did, because when we got to the anchorage at Von Donop Inlet, we had two miserable, rainy days cooped up on the boat. The movies helped immensely to break the grey, gloomy days.
We've continued this process all the way up to the Broughtons. Thank God we did! We anchored out most of the time while there and due to one thing or another, could not get off the boat much except to dinghy around the anchorage.