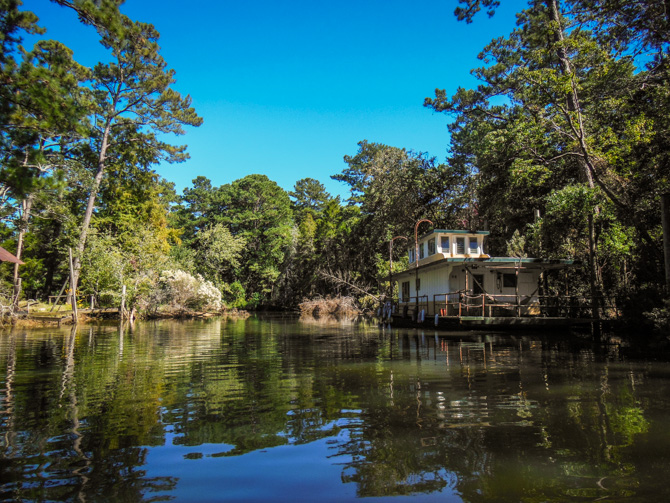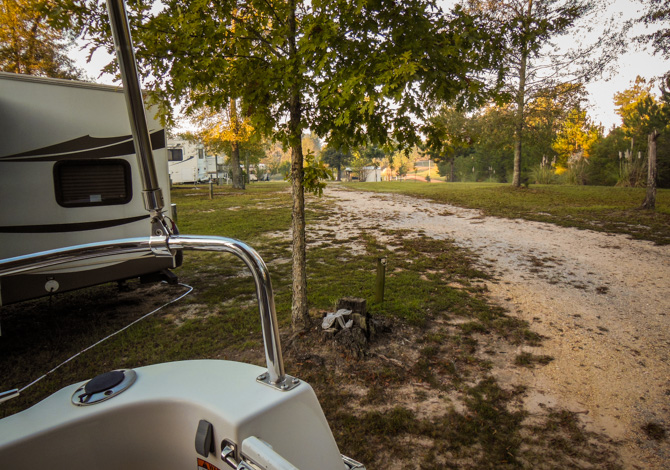 Boaterhoming Our Way to Fairhope Alabama
After leaving Joe Wheeler State Park after the AGLCA rendezvous we headed south with Fairhope Alabama as our intended launch site. However, after a late start and a long day's drive, we called it quits when we got to Greenville, Alabama and found this rustic RV park about a mile off I-65. Stopping here for the night gave us the opportunity to arrive at Fairhope early in the day. The park was quiet except for an evening symphony of cricket chirping in a swamp nearby.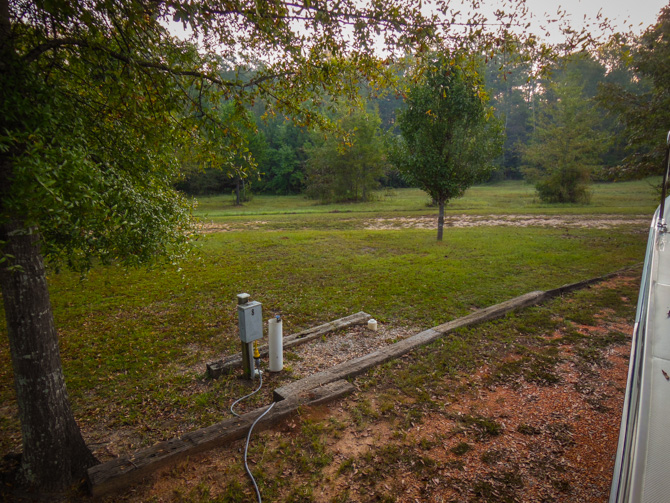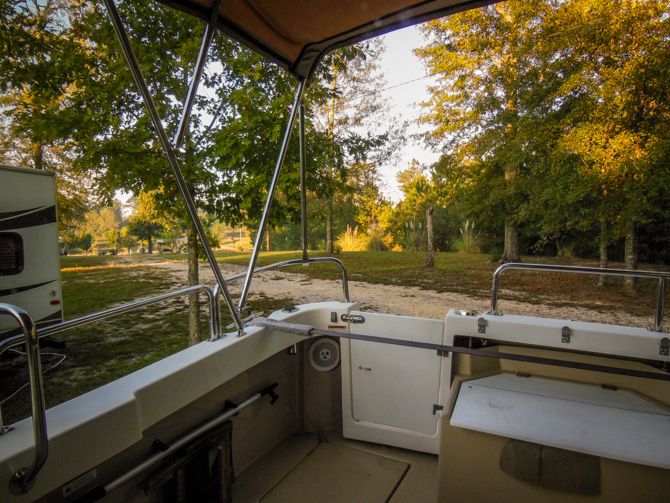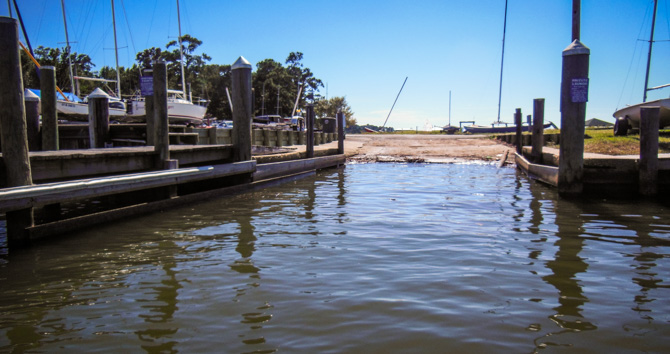 We have been by this way twice before and each time stayed at Eastern Shores Marina in Fairhope, Alabama. We ran into Ed, the harbormaster, at the AGLCA rendezvous a few days ago and made arrangements then to secure a slip and check into good launch sites. He suggested the Fairhope Yacht Club across the inlet, since he is a member he offered to go over there with us when we arrived to use their ramp (above).
Finally! Back in the water.
It's a small world because we ran into another MTOA members, Ken and Ann Shanley, on Charis (below), they were staying on the yacht club docks, just across from Eastern Shore Marina. The Shanley's are in the middle of their Great Loop adventure.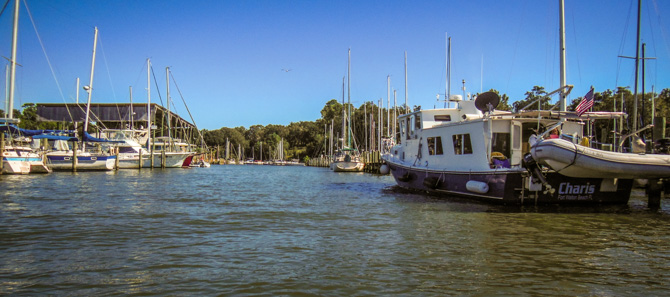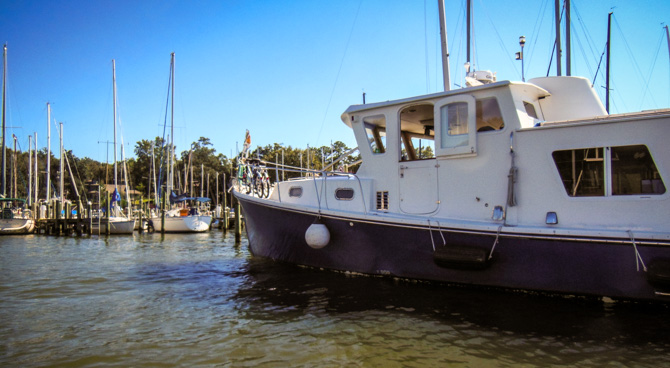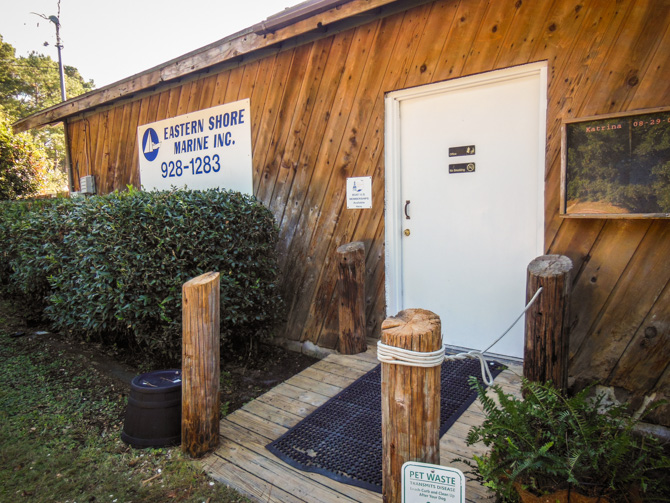 The first time we were in Fairhope was just months after Katrina hit the Mobile Bay area, in December of 2005. We remember the high waterline mark lining the walls of the office back then. The second time we were there, in 2007, the water line was preserved as it is today (above and below).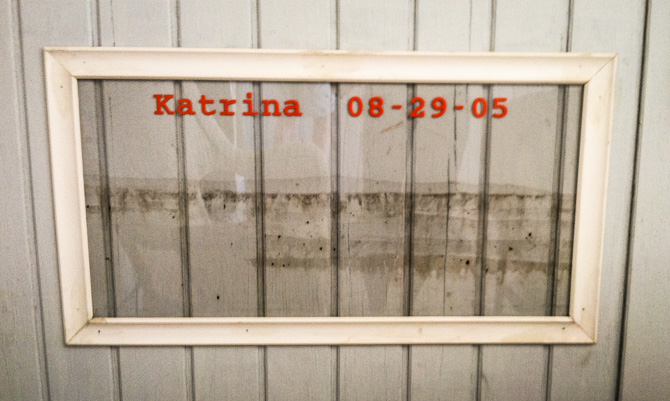 Debbie (below), was a bright spot in our morning when we visited the marina office. She went over the chart on the wall and gave us a few good anchoring spots in the panhandle. She knows her stuff! One of the reasons we love staying at Eastern Shore Marina is the staff is so helpful and accommodating. Another reason we like this marina so much is it is chock full of genuinely rustic, old south character, we find this atmosphere missing from some of the newer marinas we visit.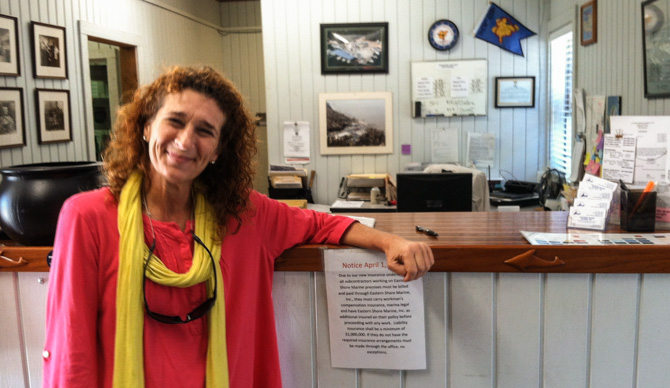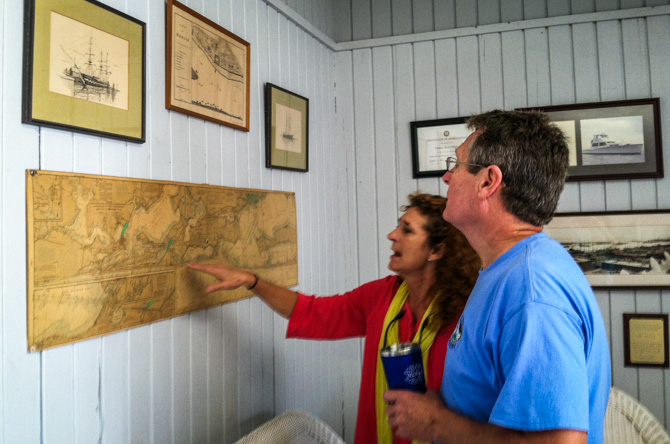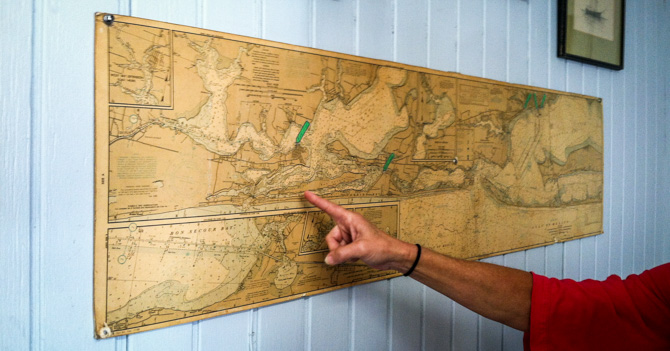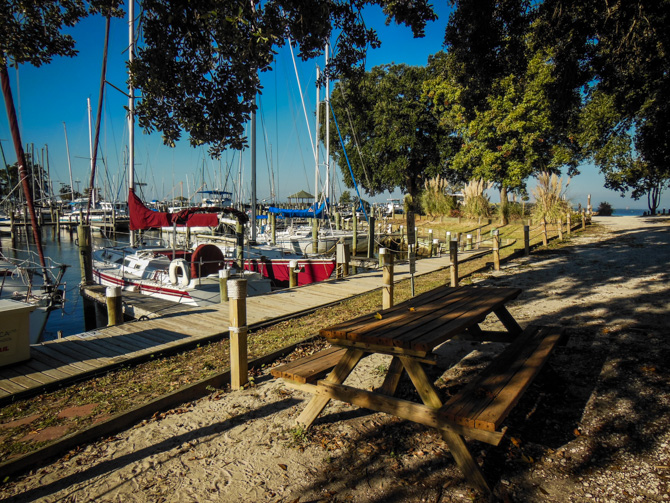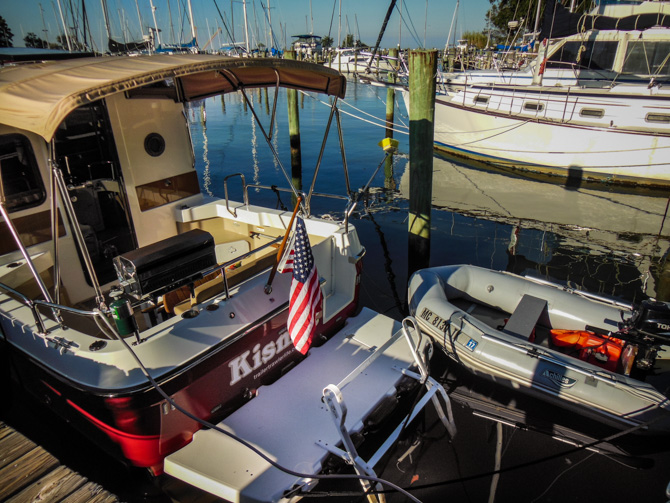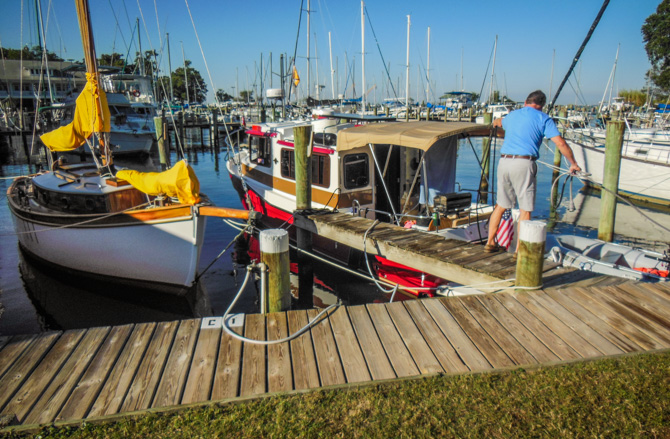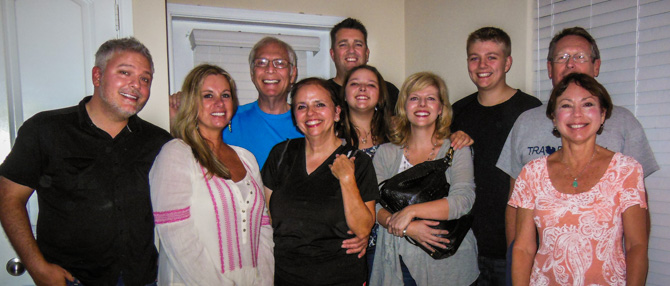 One of the reasons we decided on Fairhope for a launch spot for this year's fall cruise is because of family. My brother Jem, his wife, Patti and his extended family moved to Fairhope about four years ago and whenever we can visit with them is precious time spent.
My beautiful niece, Jena (above-left). My brother, Jem and I (below).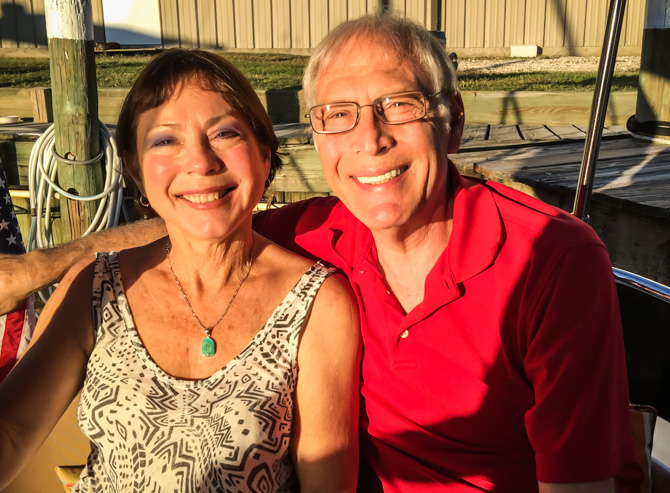 My handsome nephew, Jay, Jim, me, my brother's wife Patti and my brother, Jem (below).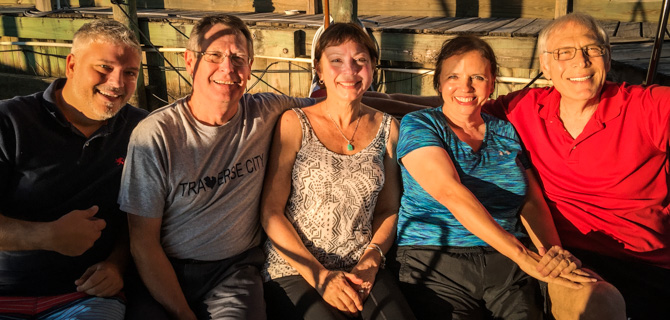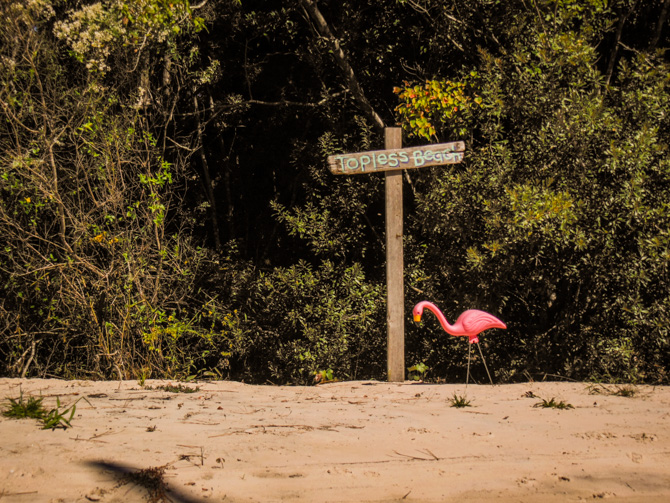 Jim took me to a TOPLESS BEACH today!
One thing we had never done before when staying at Eastern Shore was take a dinghy ride up Fly Creek, starting just around the bend from the marina. It was such a nice day and we were enjoying the fresh, warm air we decided to launch the dinghy and head up the creek. The dinghy ride began immediately with the "Topless Beach" (above). What followed was a spectacular windy creek with a few boats and all levels of party shacks, my term, don't know what locals call them, lining the shore. The party shacks I am referring to are open air tiki type huts probably used to cool off down by the creek when it's hot. Some were basic in accommodations, with hammocks and coolers. Others were decked out with bars, electric fans, big screen TVs and comfortable furniture. The creek seemed to go on forever and finally we decided to turn back, we think we only got about half way. So, if you are staying at Eastern Shore Marina, don't miss this fun dinghy ride.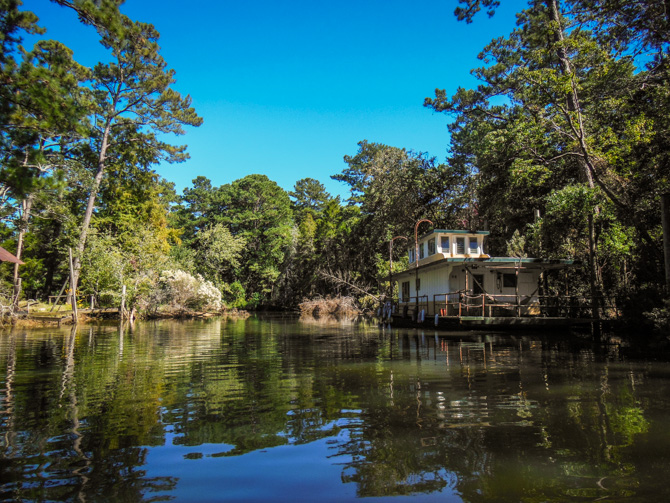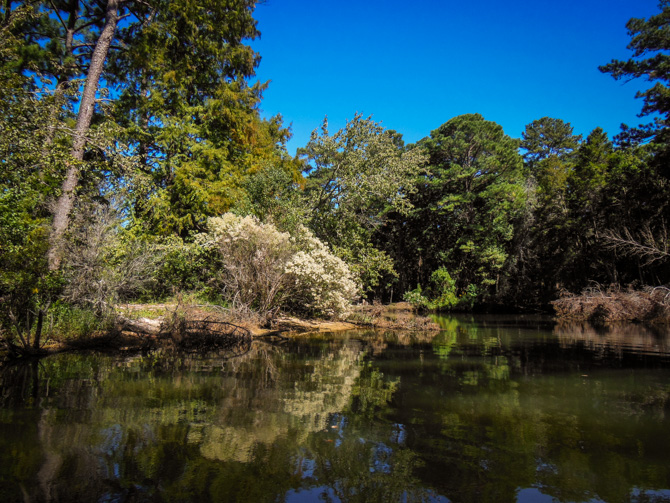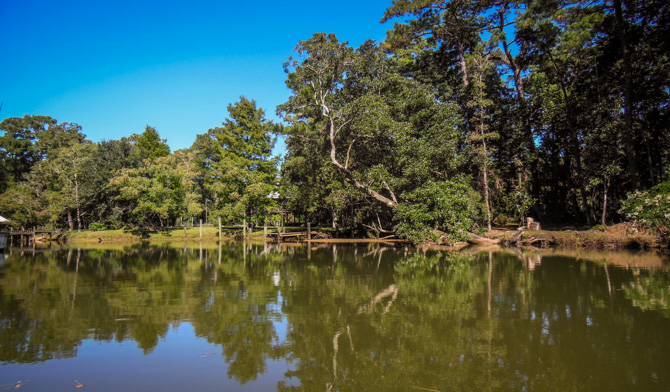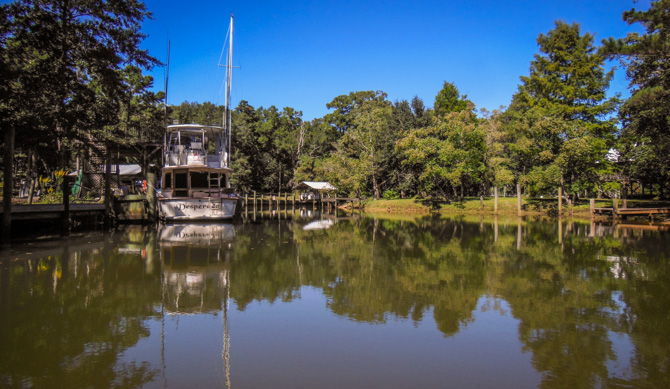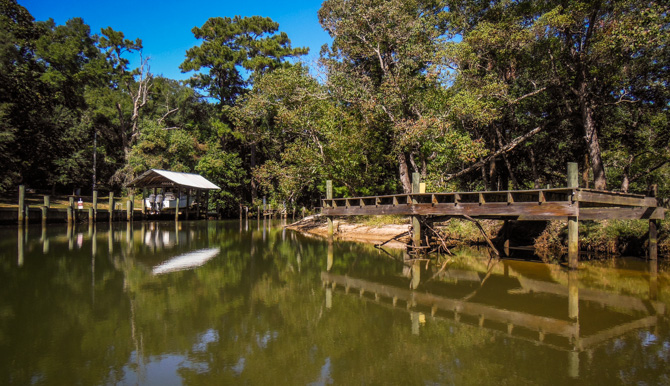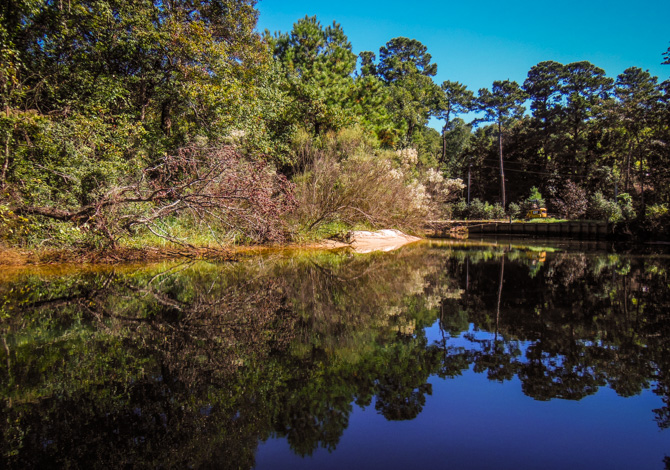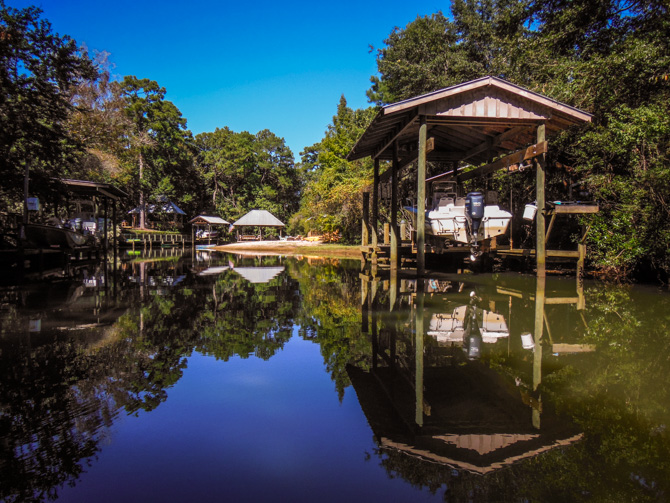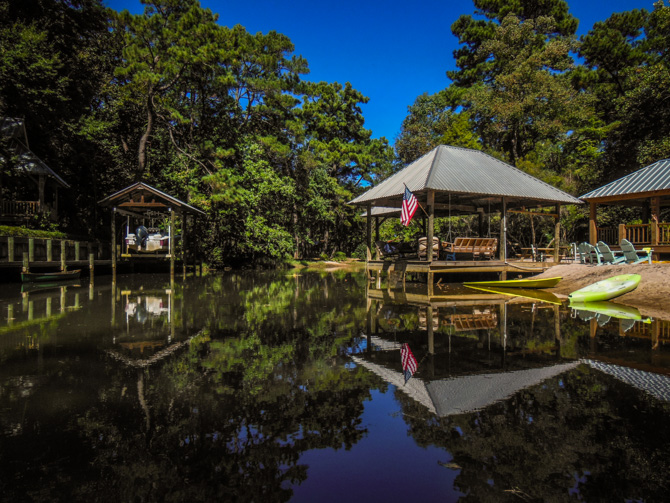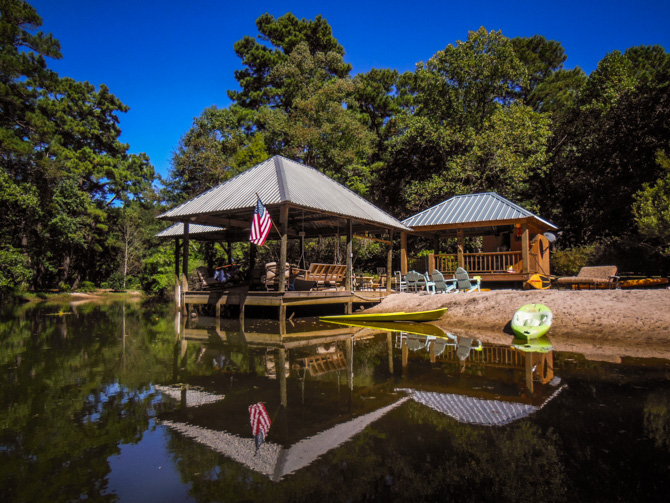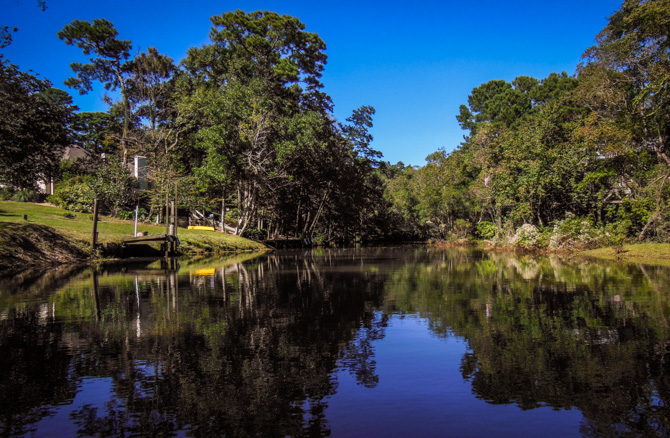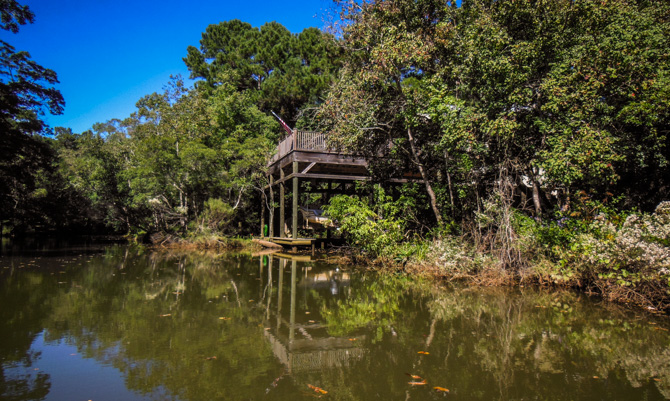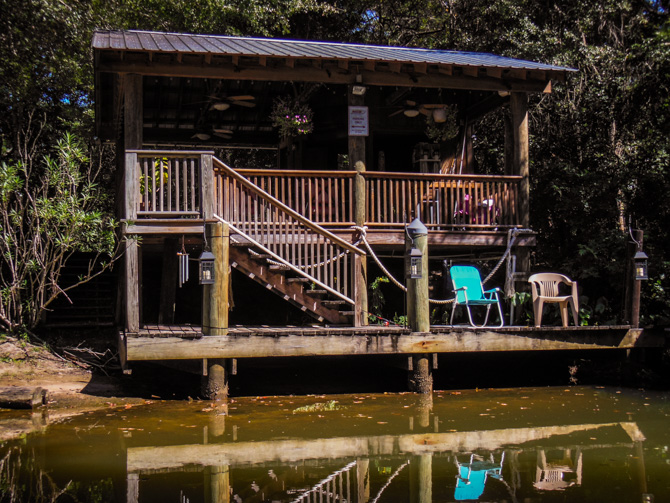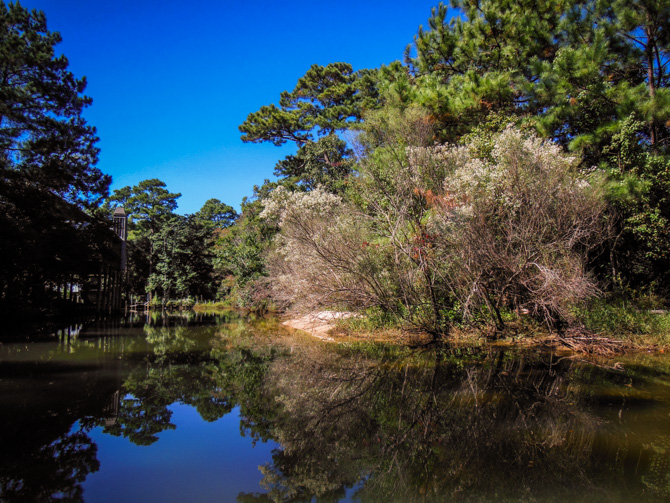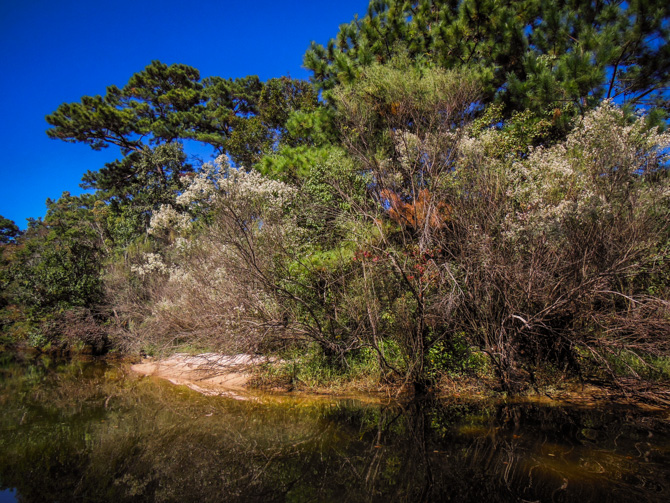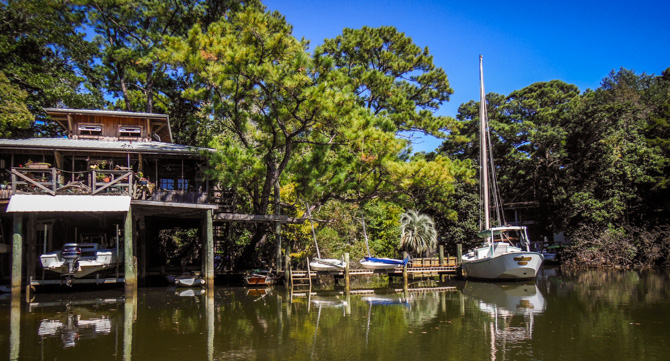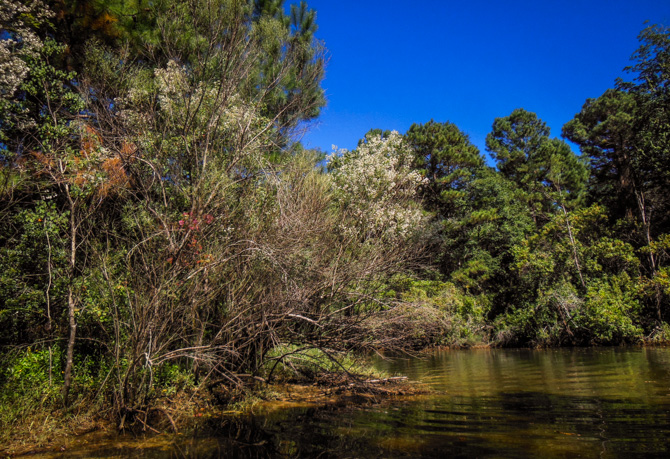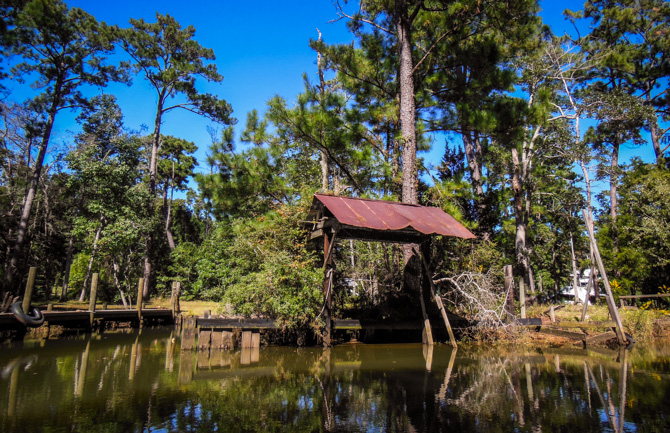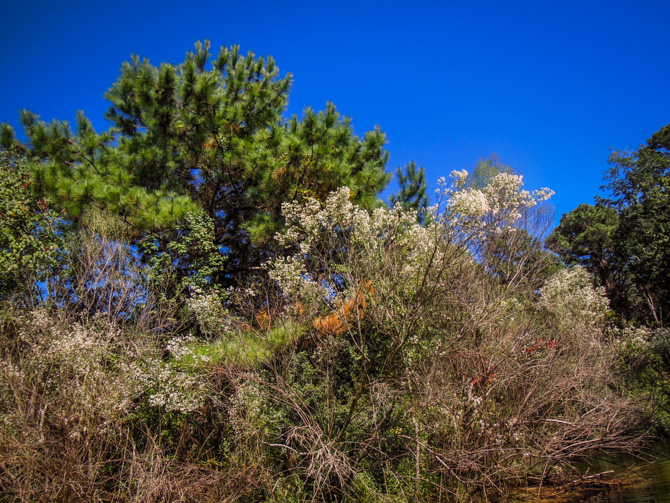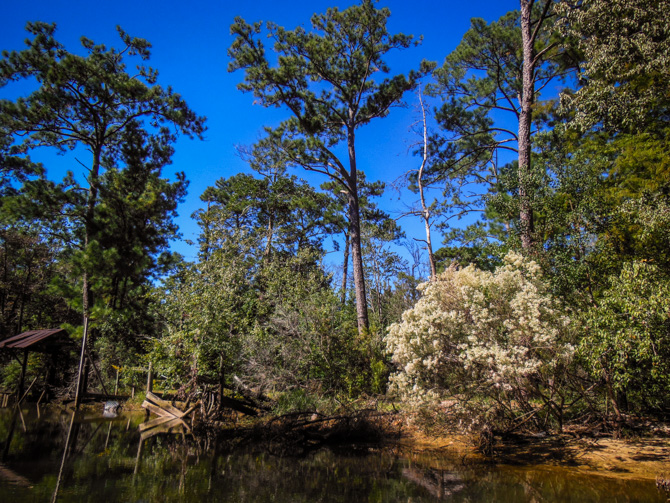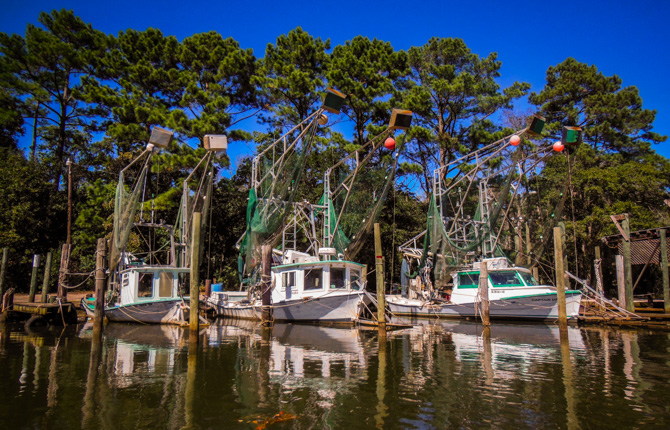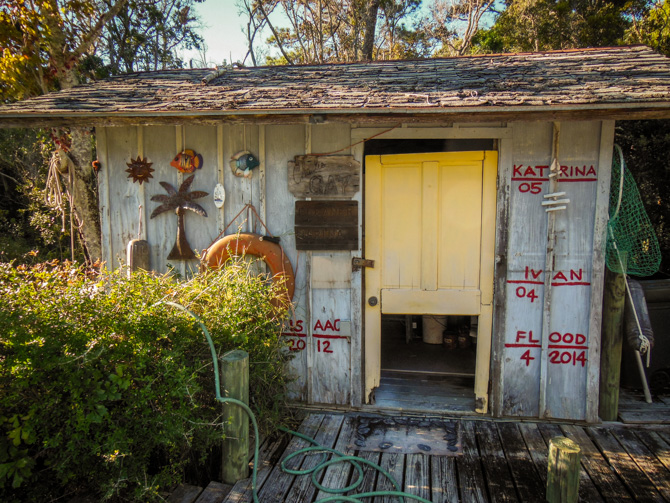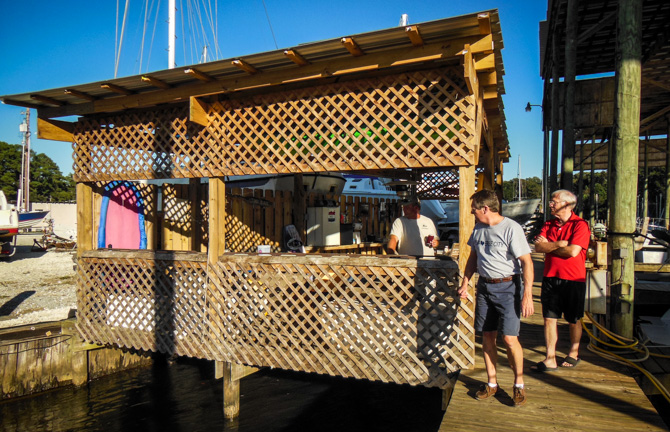 We loved the Boater's Lounge at the marina.