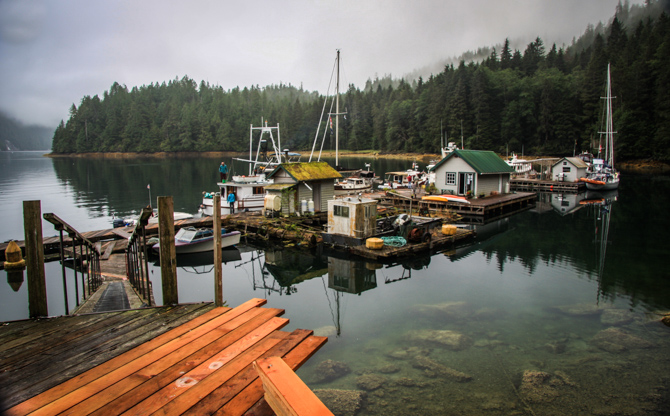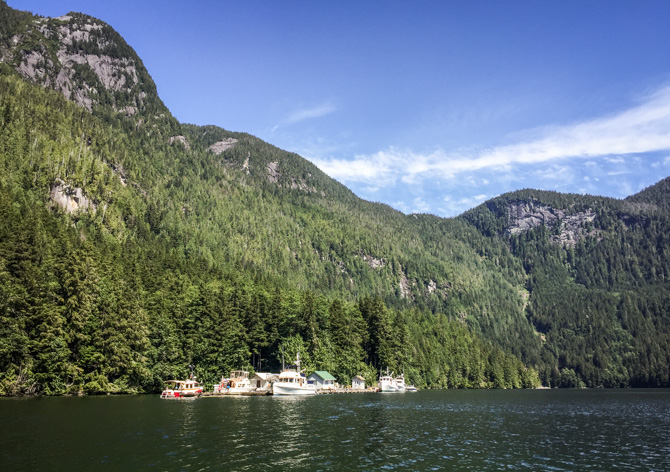 Kwatsi Bay Marina is Just One of Many Floating
Communities in the Broughton Archipelago!
Kwatsi Bay Marina was just around the bend from our anchorage, so it was a short trip to the dock soon after breakfast. We have never thought it made sense to go into a marina at the end of the day if there is an anchorage situated nearby. Maybe it's the Scotch in us, but why pay for a full day when you don't have to?
This family owned and operated marina has a well-known reputation for being a friendly, hospitable stop. After teaching and then managing the Scott Cove Salmon Hatchery, Kwatsi Bay Marina owners Max Knierim and Anca Fraser, along with their two children, towed their existing float-home to an empty Kwatsi Bay in 1995.
This marina will be our introduction into the many
floating communities in the Broughtons.
Taking a page from the logging industry, very few buildings in the Broughtons are actually built on shore. Most marinas here are a maze of floating dock systems. It is easy to unlash and move the whole community from bay to bay if need be. Floating homes and marina buildings grew somewhat organically over the years to form rustic floating neighborhoods, marinas and resorts.
These floating communities turned out to be
one of the most fascinating aspects of our trip.
They all had unique personalities of the architectural and human kind, which set them apart from the others. We understand marina owners worked collectively in the beginning to brainstorm. How could they provide visitors a unique experience, something to write home about? How would they get people talking about the Broughtons and what would draw them back for more. We think they succeeded in their endeavor.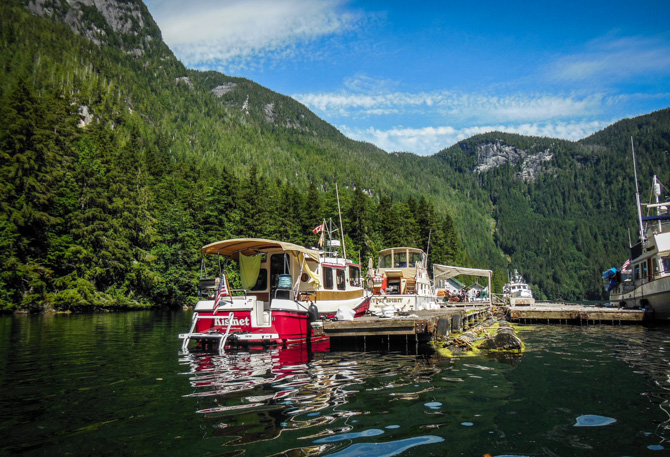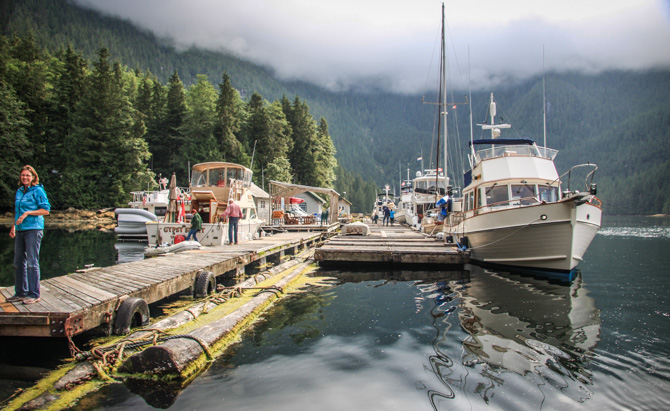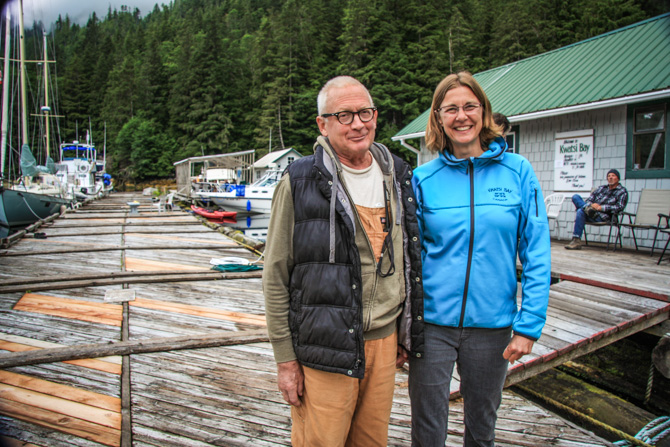 Max and Anca (above) welcome boaters from all over the world to their little slice of heaven with warmth and generous hospitality. They take their stewardship of Kwatsi Bay seriously.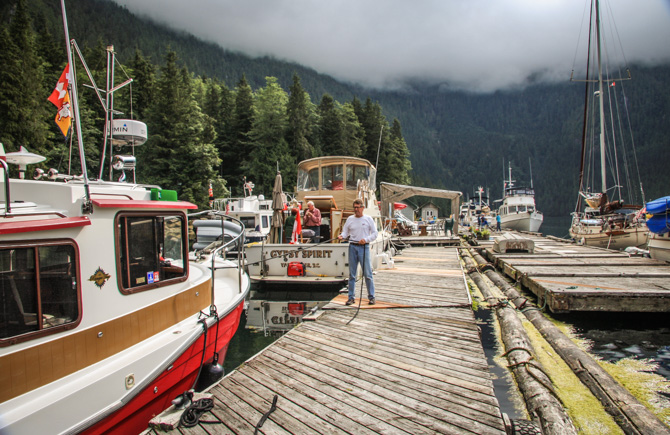 Arriving early we had plenty of time to wash the boat from the thick salt water spray that accumulated while coming up Johnstone Strait. After being stuck on the boat without debarking for several days during our trip north, we eagerly walked the long dock to stretch our legs. A hot shower was next on our agenda.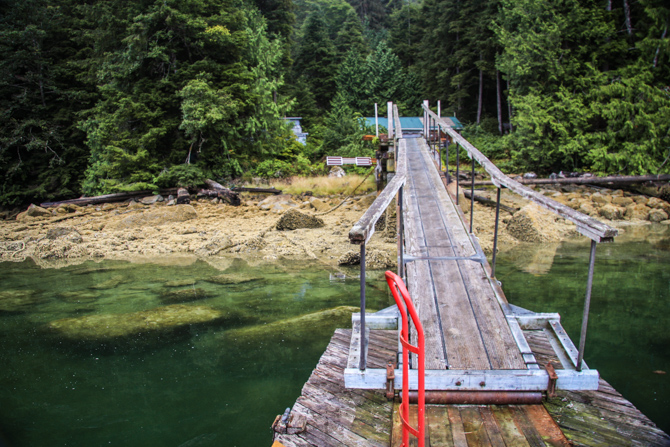 Max and Anca's home sits at the top of the ramp to shore (above and below).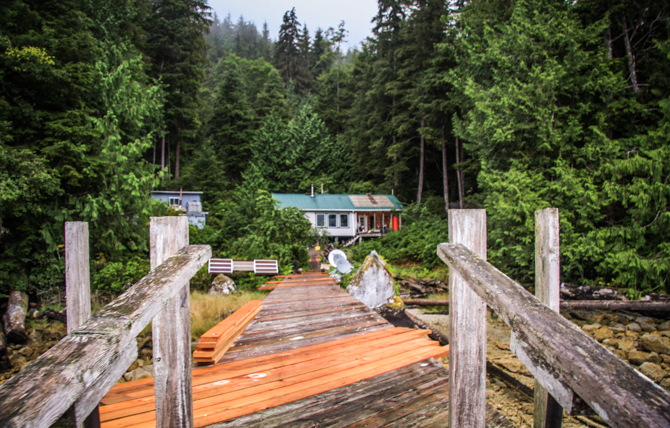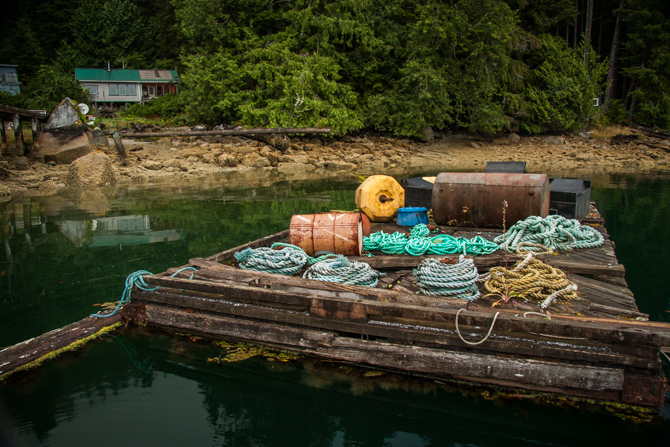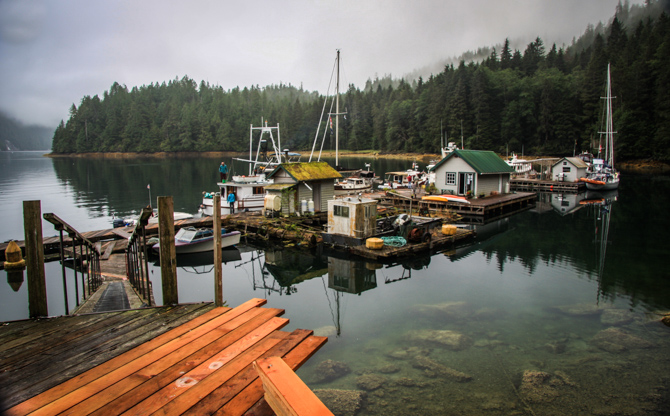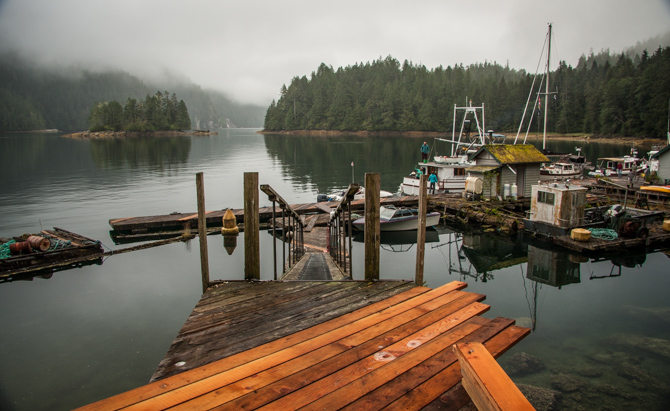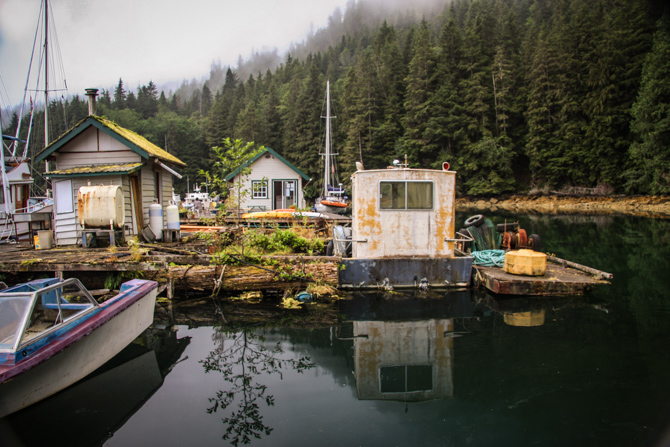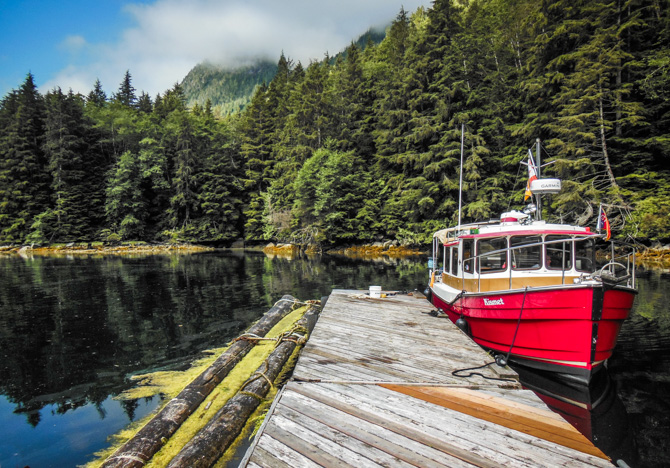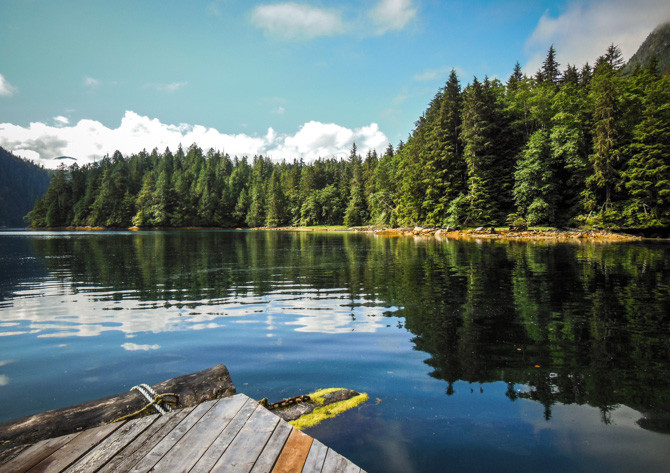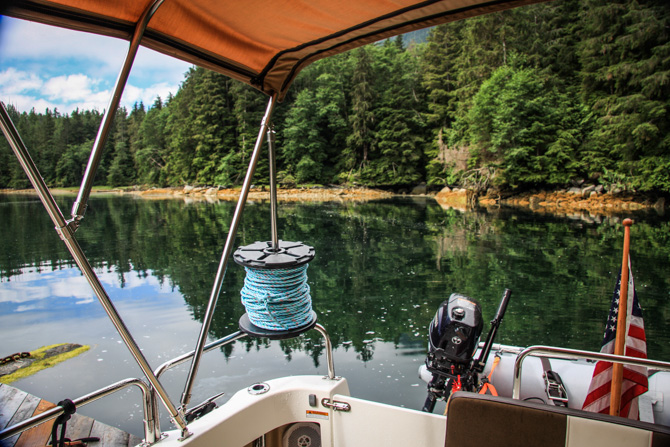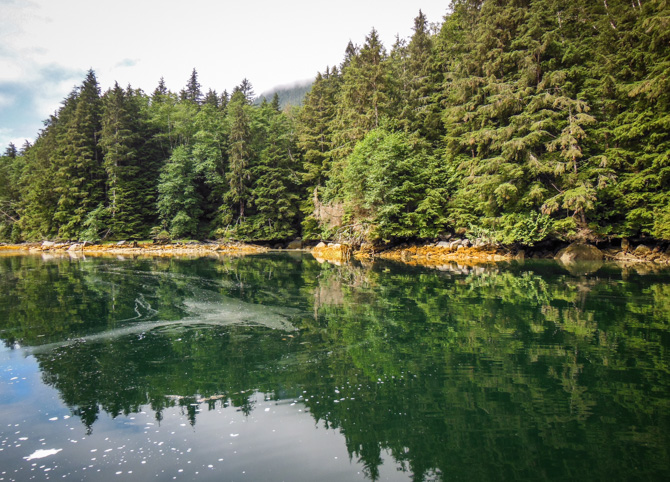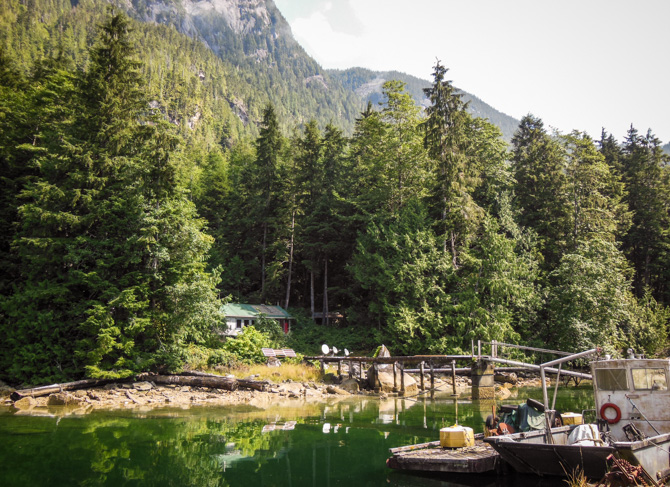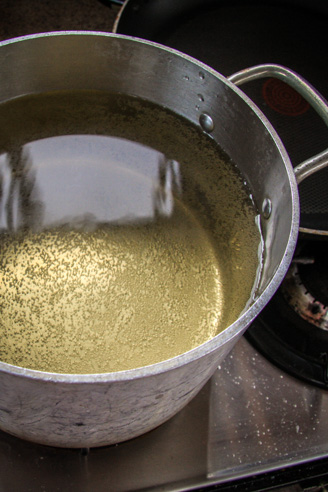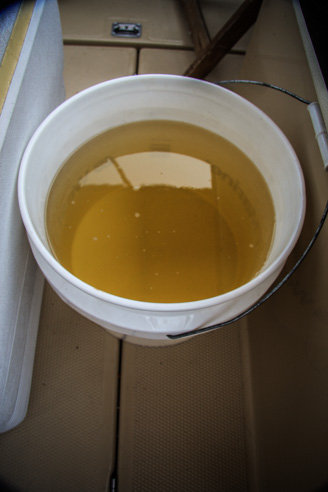 We were just beginning to learn that anything to do with fresh water in the Broughtons is something of a major consideration when trip planning. While most marinas offer a form of potable water, we found that cedar water was the norm. Anna said theirs is filtered several times and safe to drink, but due to it's color, a pale yellow (above), we hesitated to fill our tanks. Many suggest boiling it before consumption.
Time to think about ways to make our fresh water supply last
during this trip into the wilds.
What we came to understand is that it's a balancing act between water and garbage. Garbage is also a concern when cruising the Broughtons. (We did not visit any marinas that accepted garbage from visitors.) To fill our tank with fresh water and dispose of our garbage (all neatly stowed in our dinghy) we had to visit Port McNeill, on Vancouver Island. We did this mid-trip, during our three-week adventure.
Reality quickly set in. How would we handle this precious resource on the boat? We immediately went into tank-water preservation mode. Before we left Kwatsi Bay Marina, we filled our biggest pail with cedar water. It would be used for washing dishes or quick showers while on the hook.
Coming soon to future article…
How we handle water preservation in remote areas.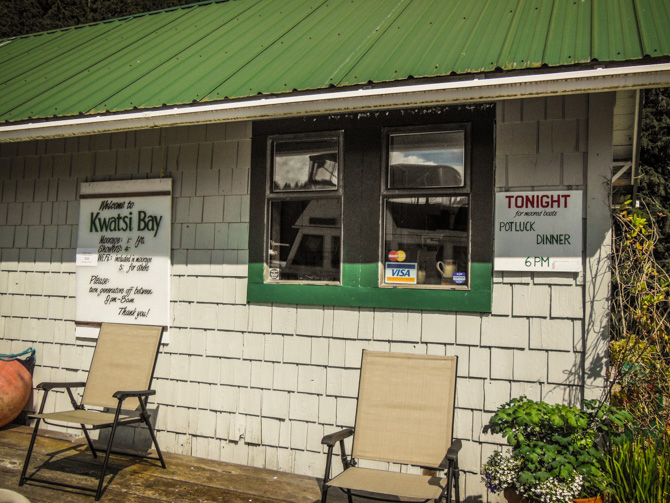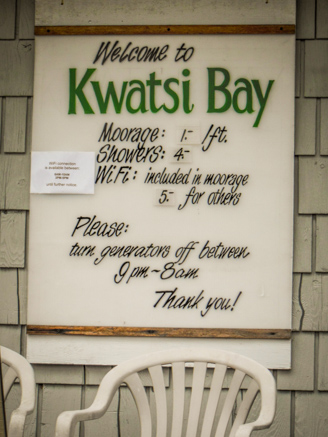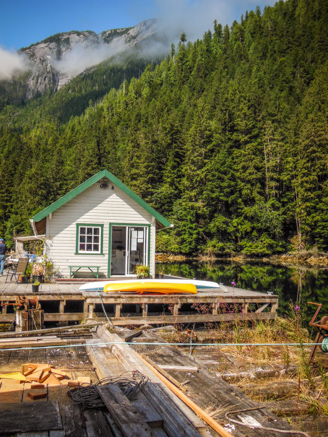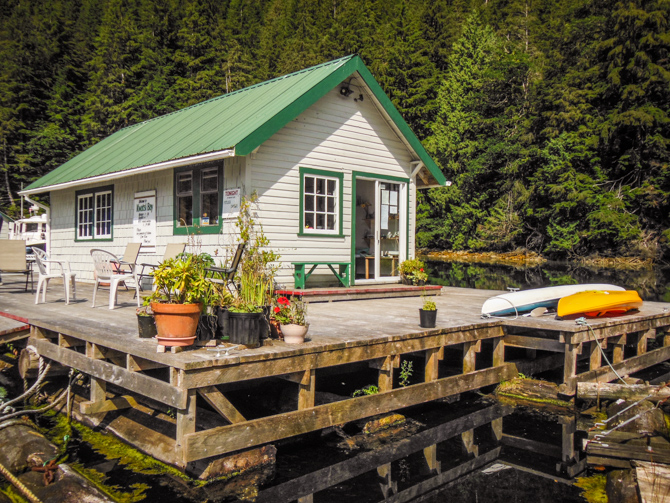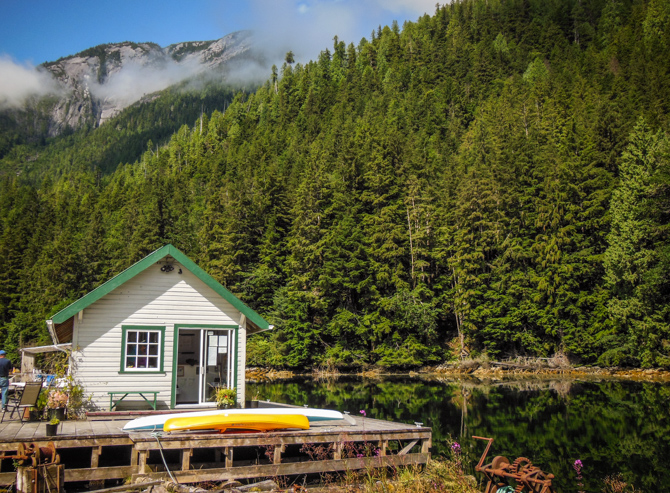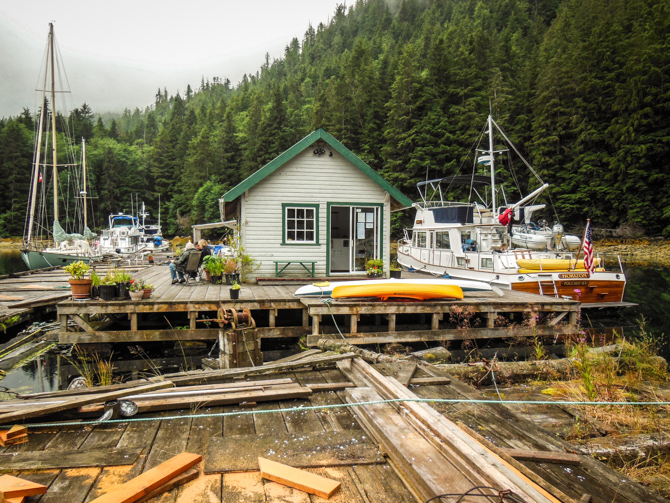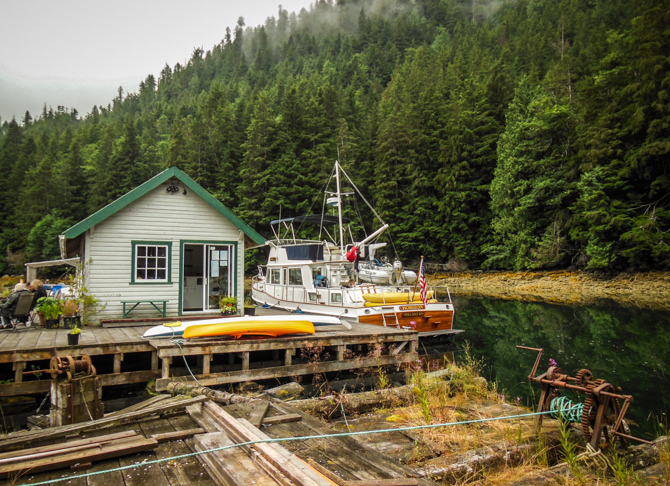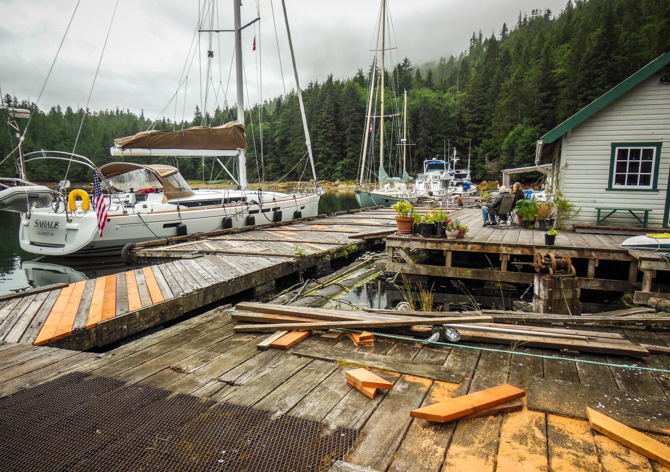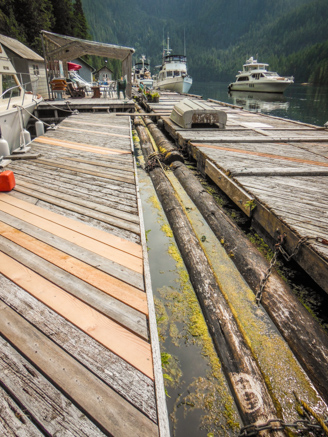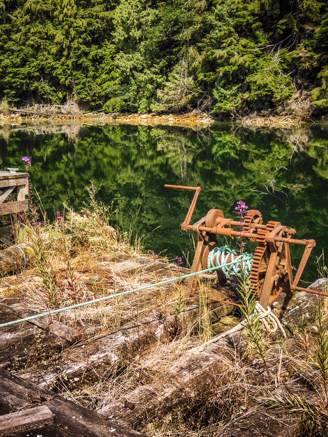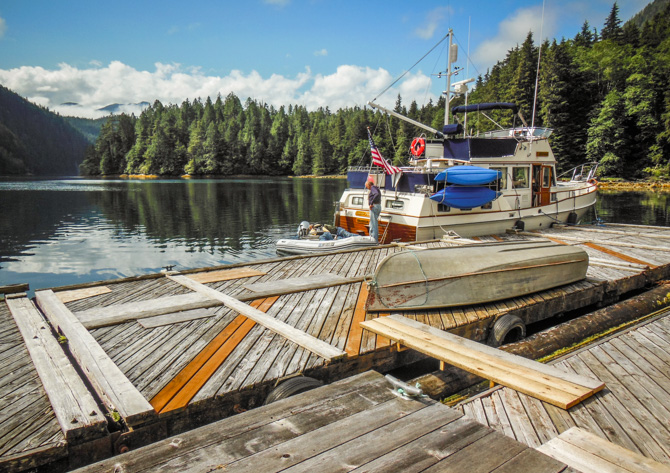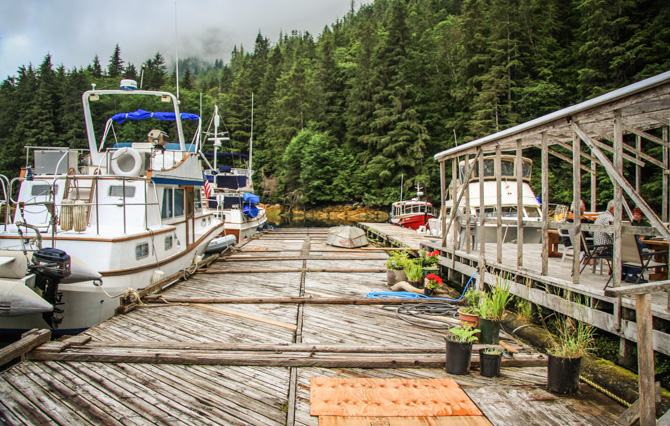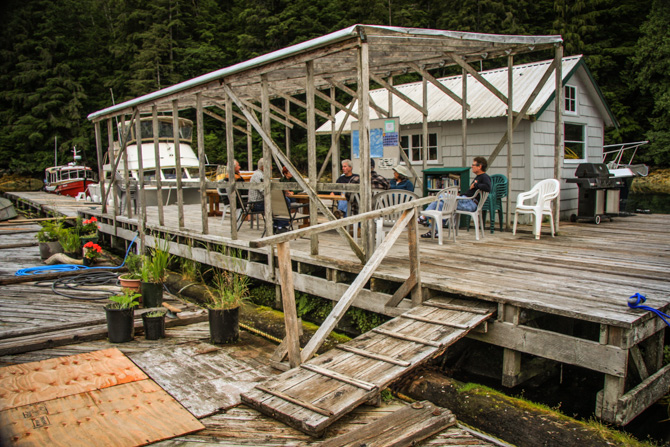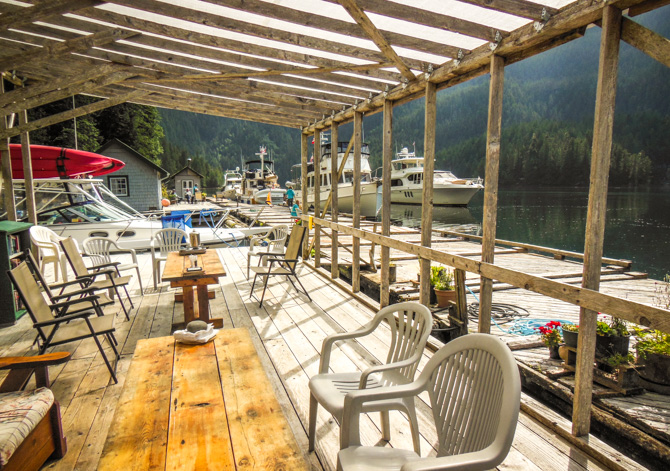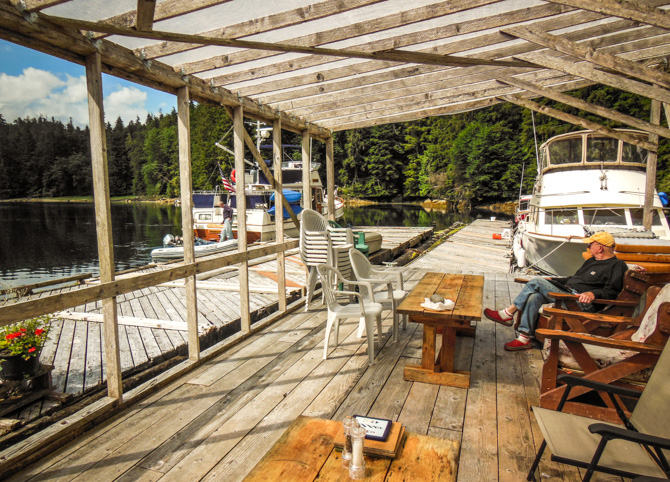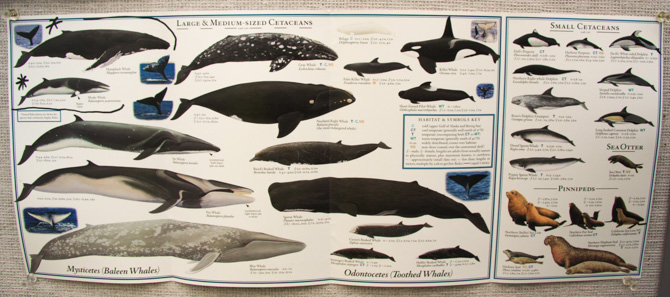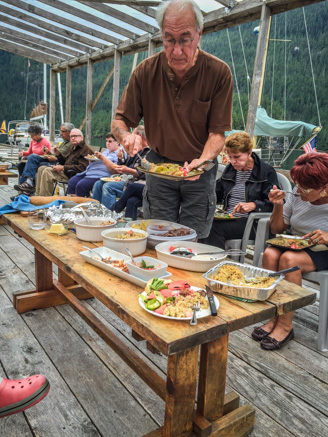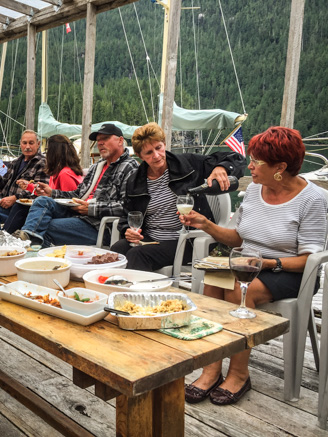 Anca and Max post an invitation, to either a pot-luck or Happy Hour appetizer get-together, every day on the front of the Gift Shop building. We arrived on a potluck night. Everyone brings a dish to share, and as it always seems to be with potlucks, it was a bounty of deliciousness. Our contribution was a salmon pasta casserole. We met friendly folks on this night that we would run into from time to time over the next three weeks. Many who had been returning to this archipelago for many, many, years.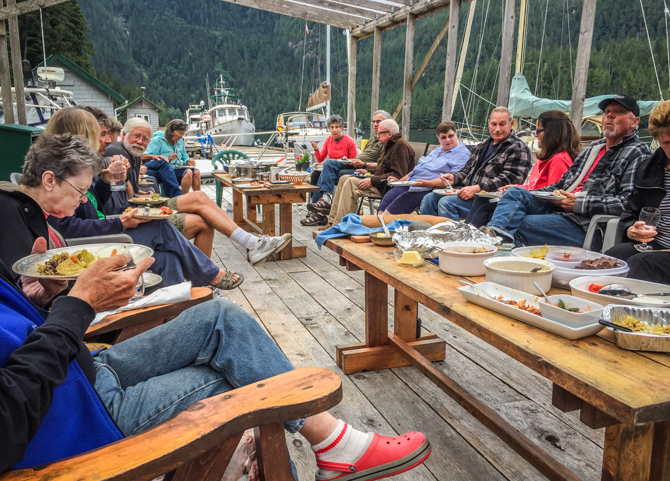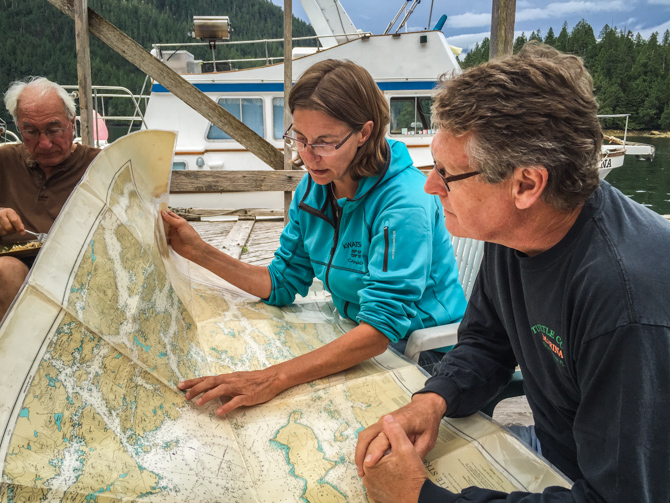 After the potluck Anca did a chart review with Jim. As first timers, we didn't want to miss an opportunity to get expert advice on the highlights of the Broughtons. Thanks Anca!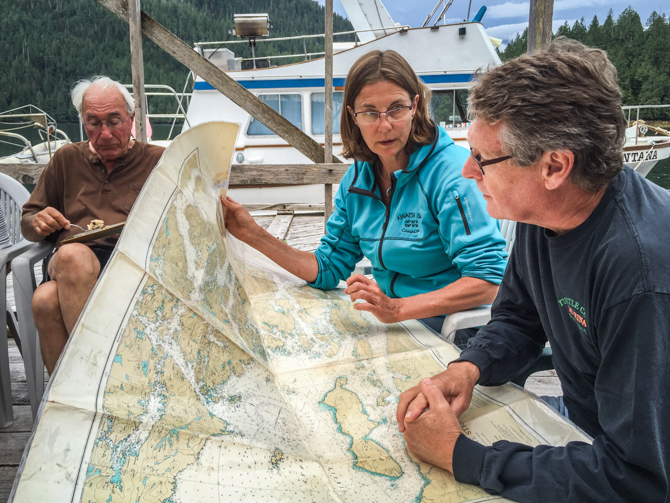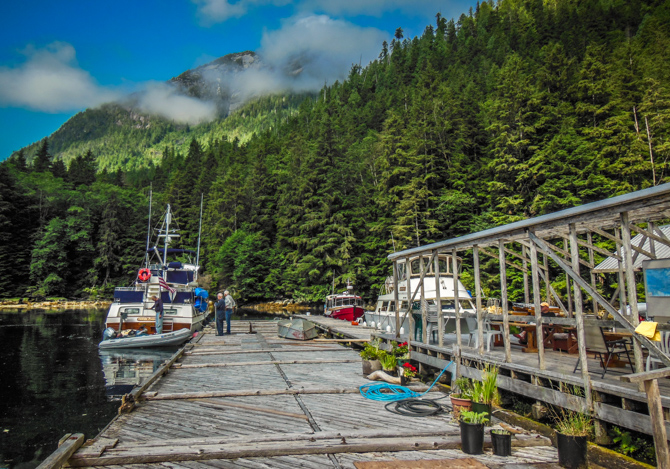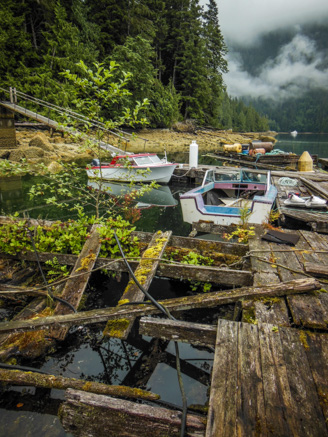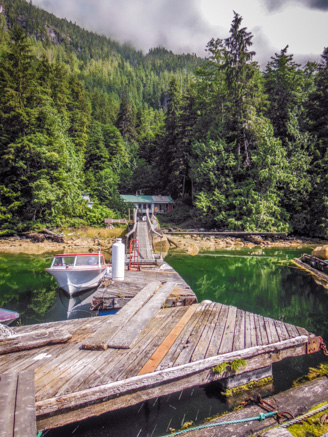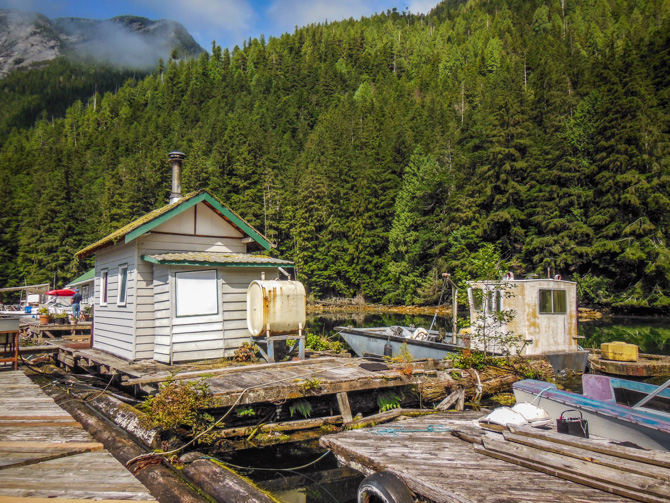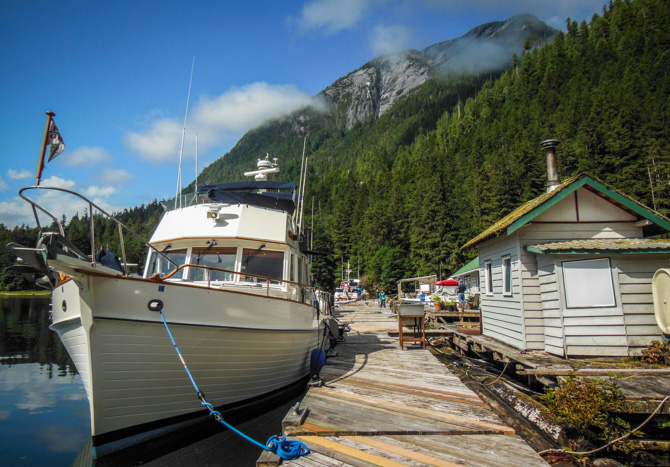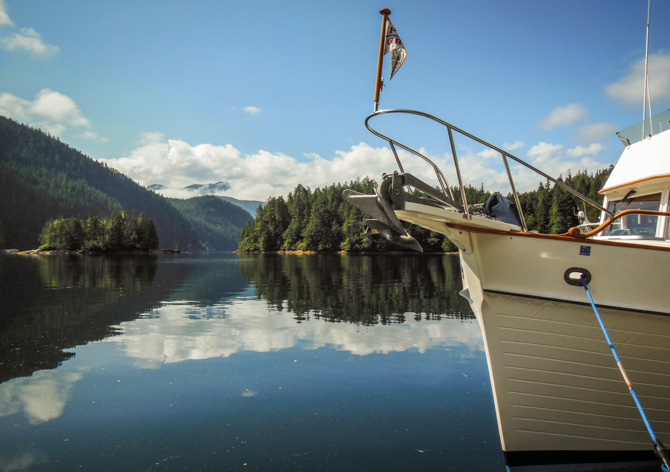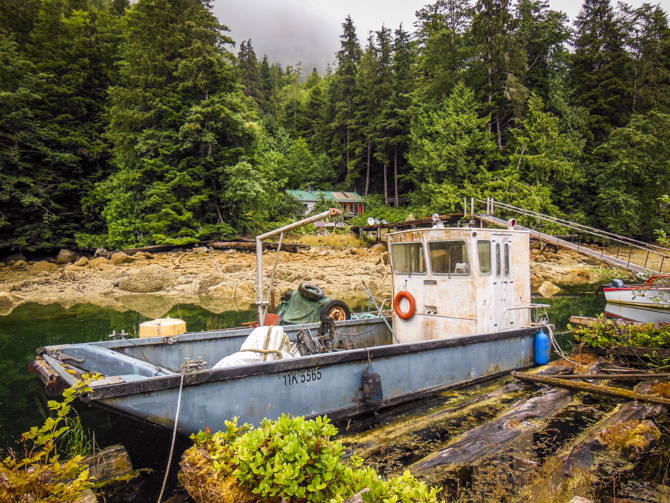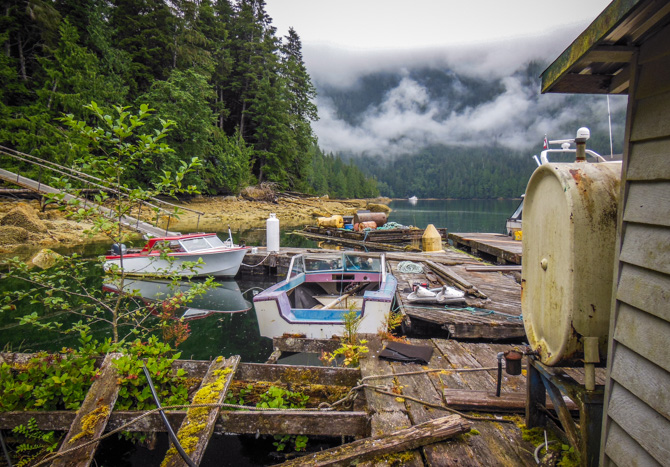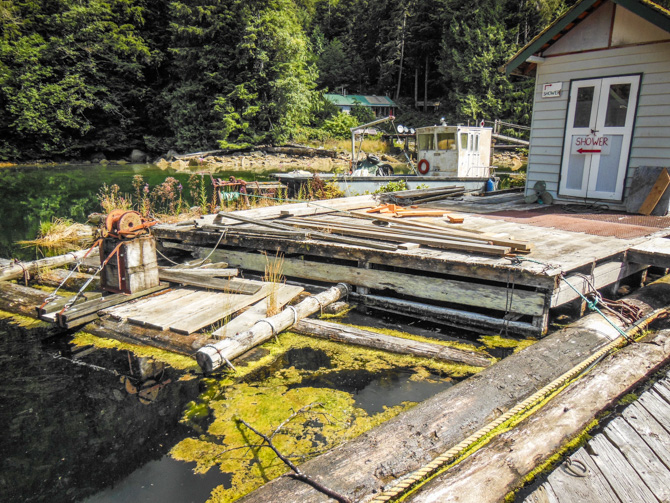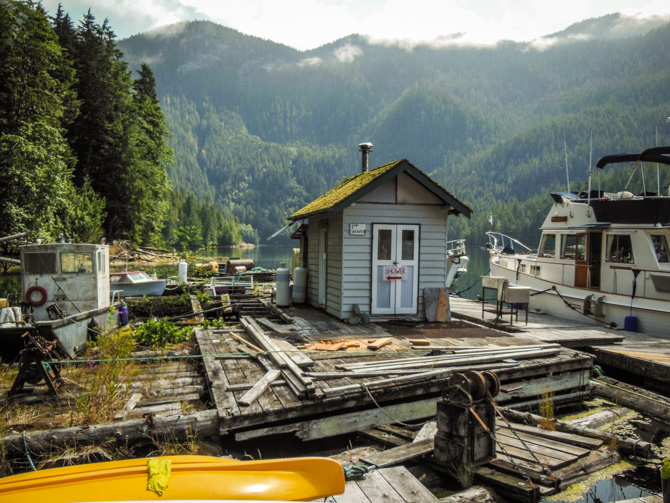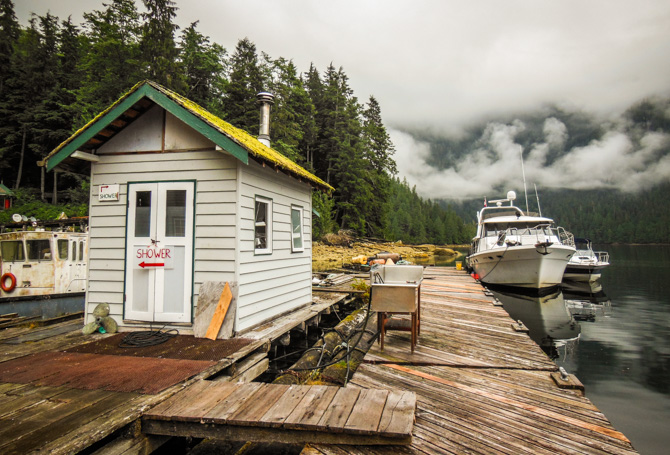 Gotta love the signs!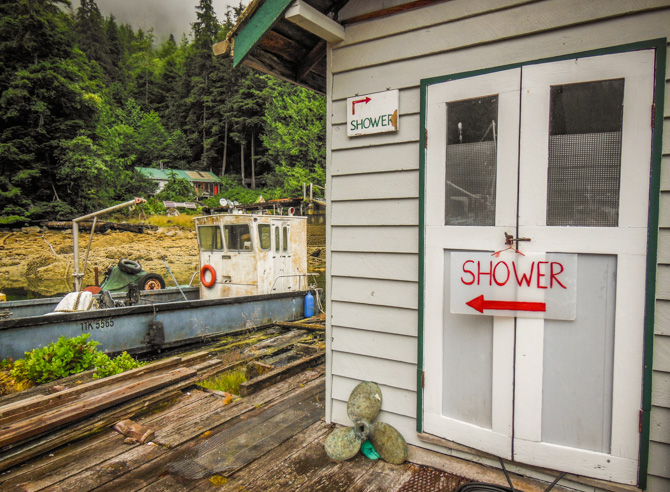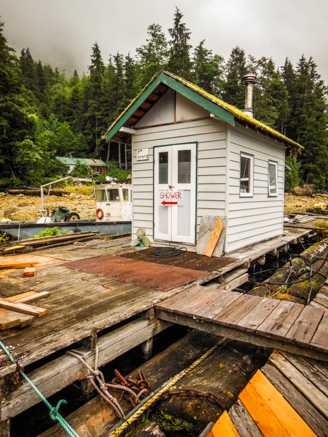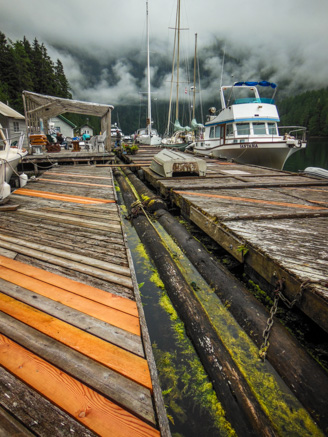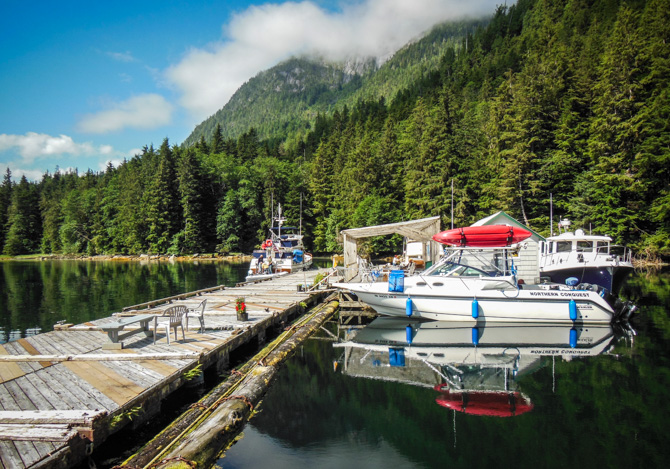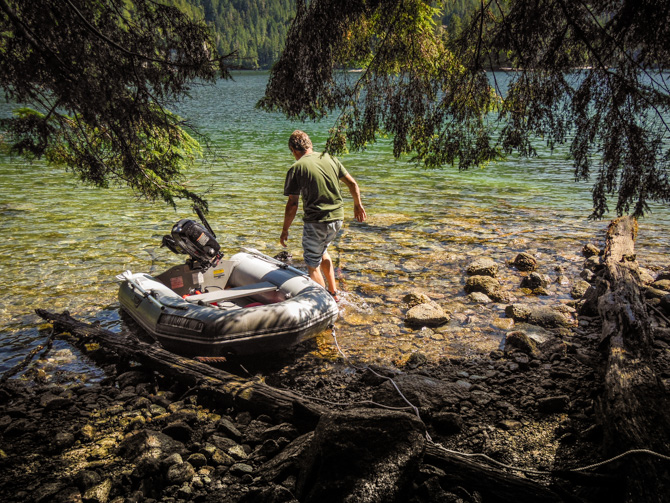 Once settled at dock, we dinghied over to a trail, not far from the marina, that leads to a waterfall.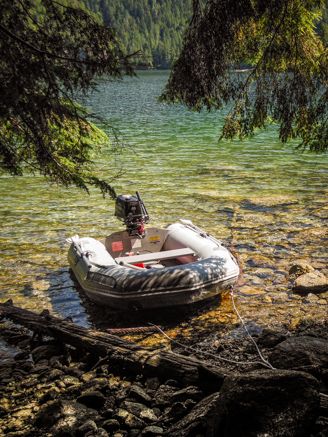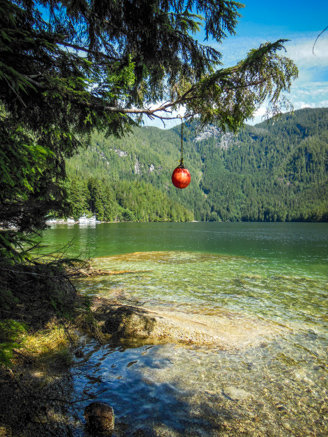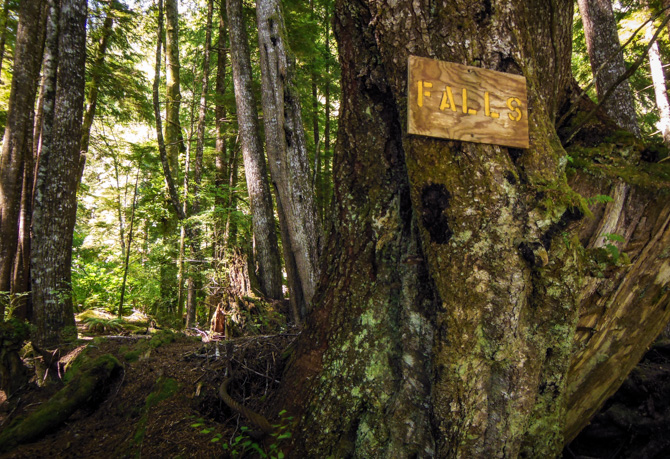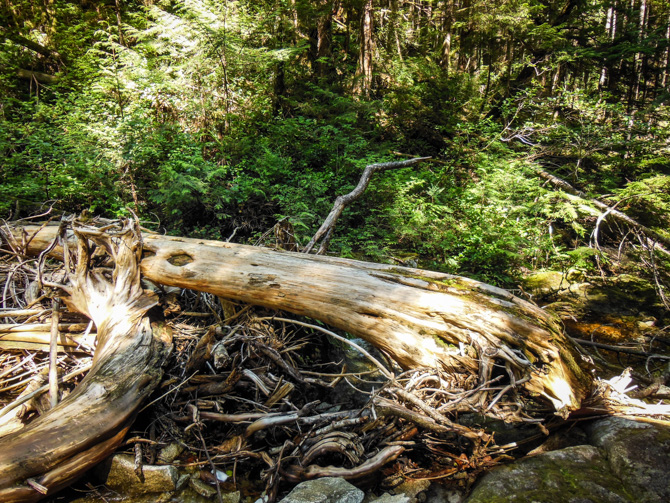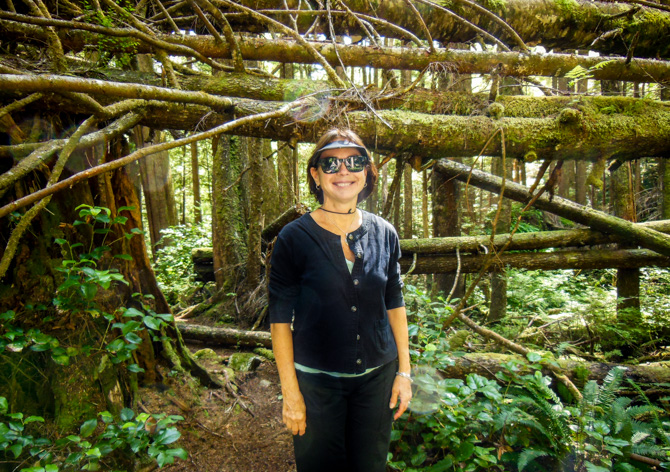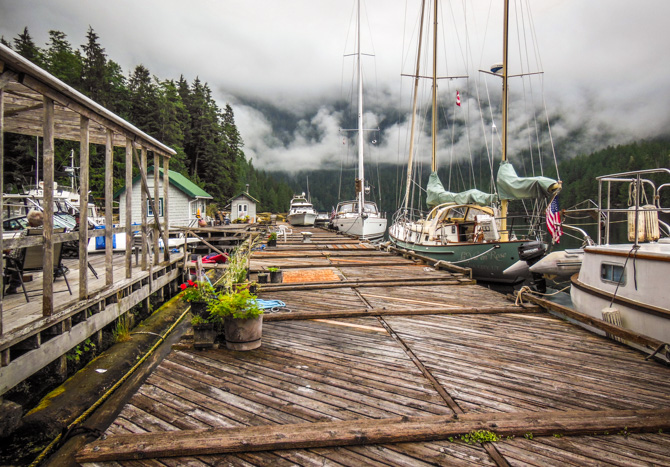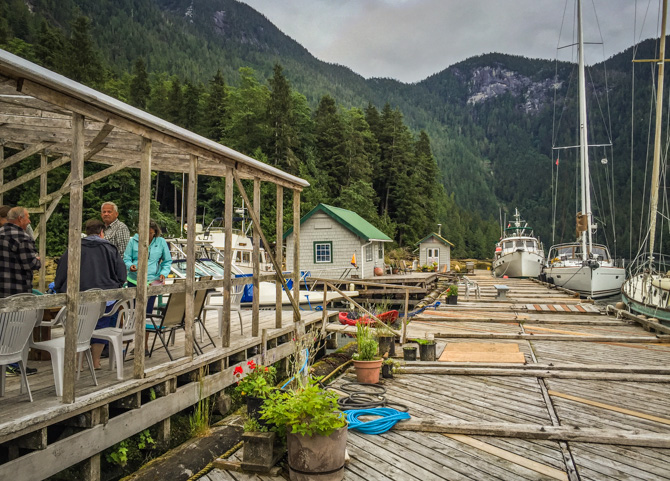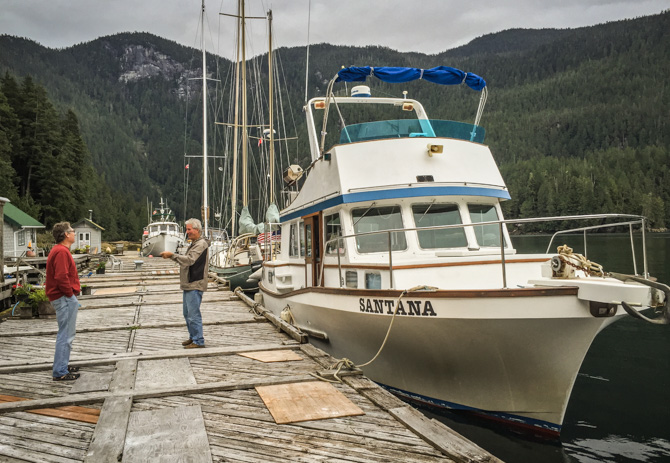 Lo and behold, look who we ran into (photo-above). We last saw Santana during our 2013 trip to Chatterbox Falls.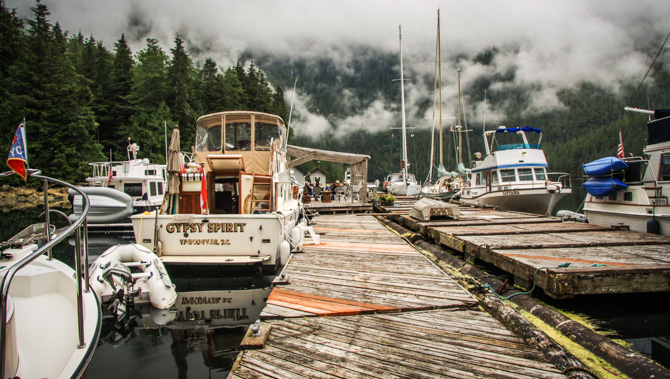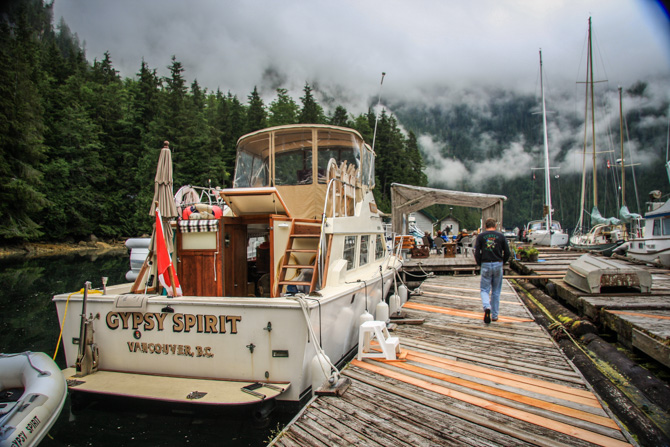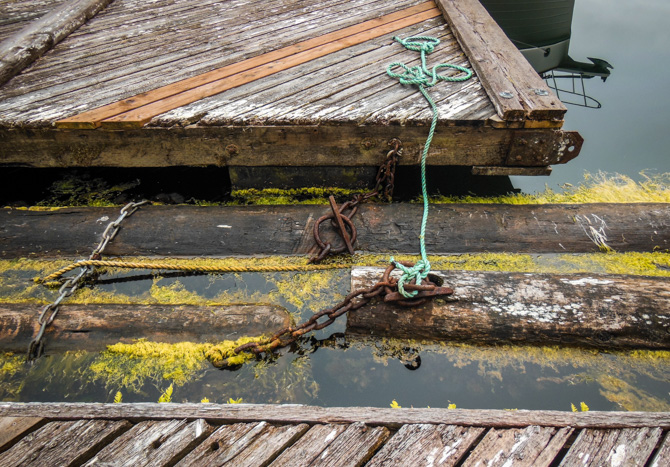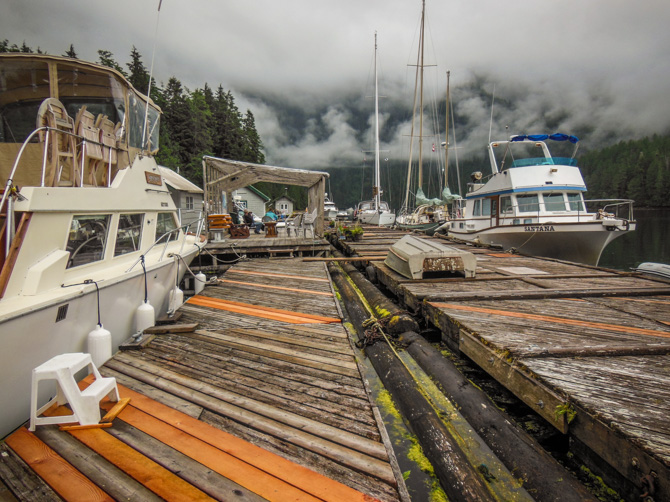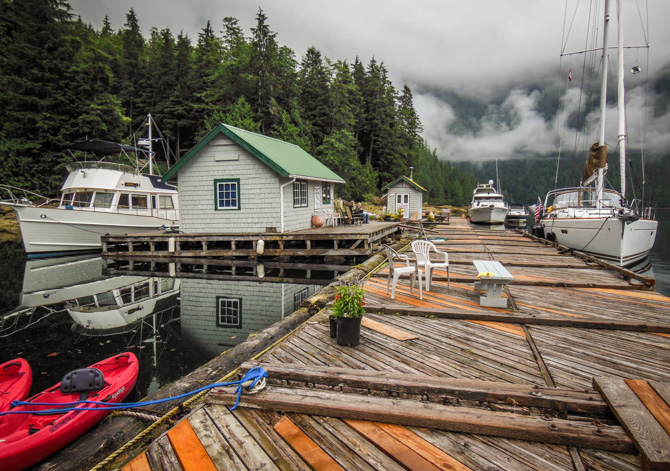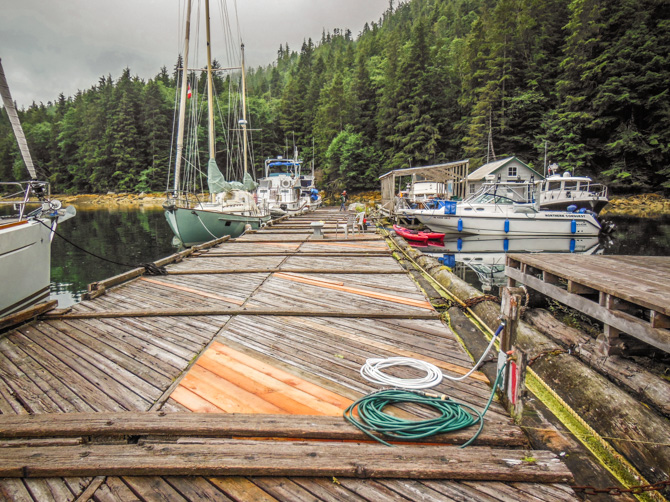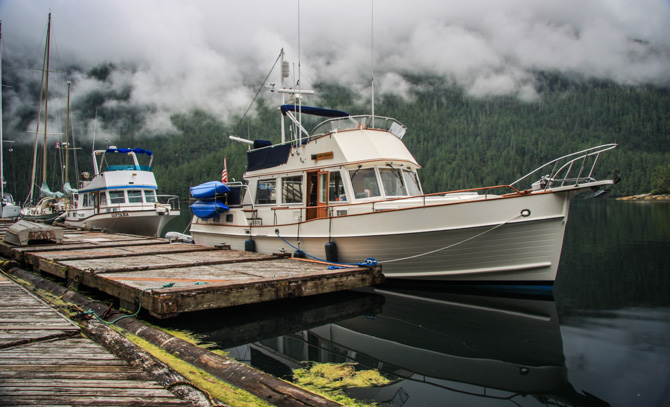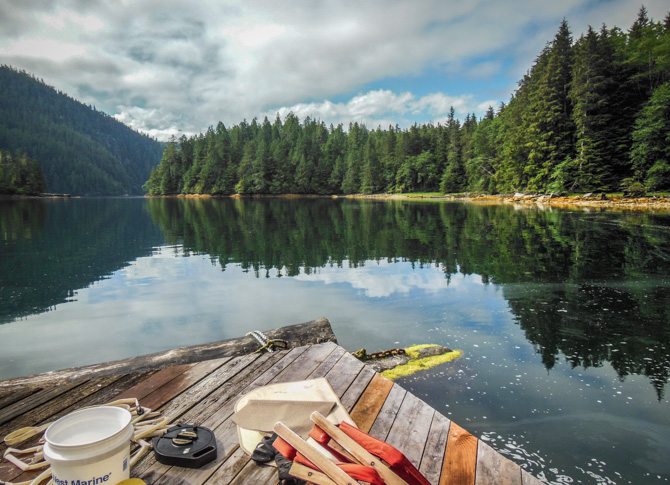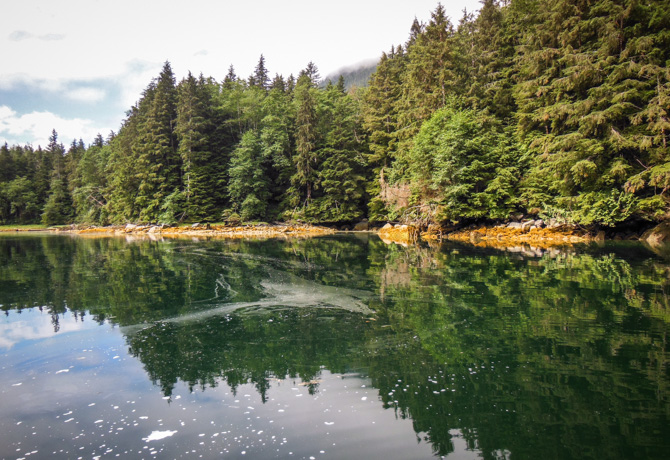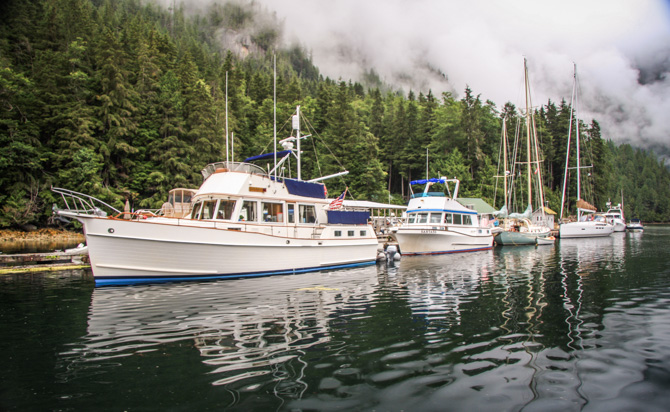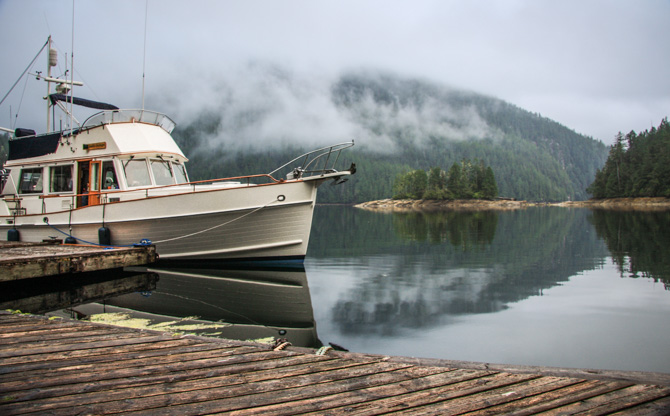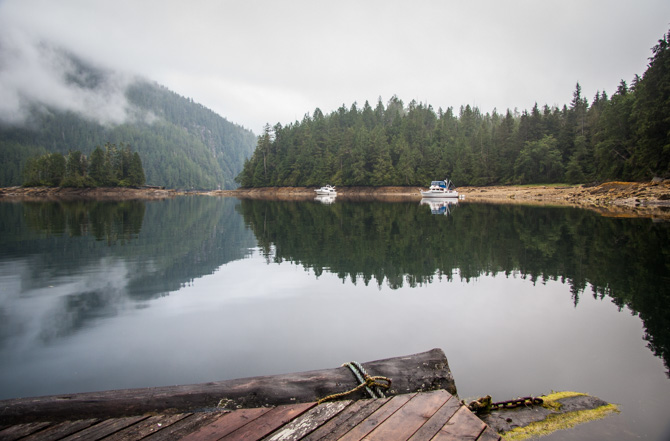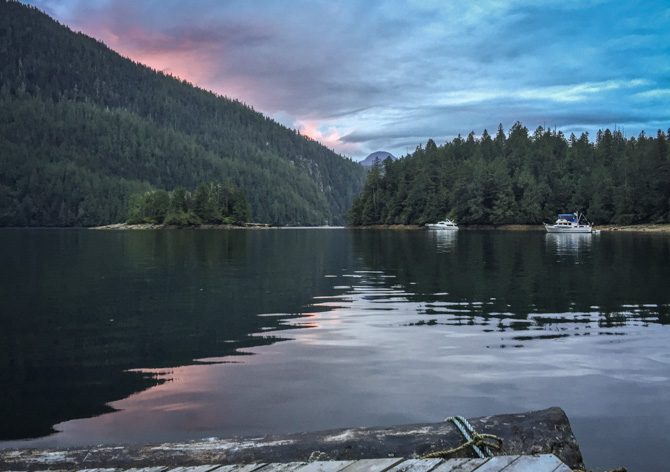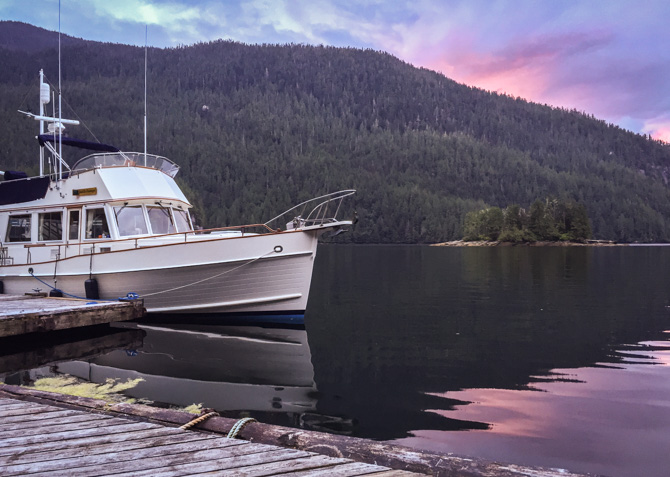 After enjoying a two-night stay at Kwatsi Bay Marina, we reluctantly prepared to leave mid-morning for Turnbull Cove. Sometimes we enjoy a place so much, we want to stay longer than our schedule allows. Kwatsi Bay was that kind of place for us. We vowed to return before our three weeks in the Broughtons was over.
Goodbye Kwatsi Bay Marina, see you again soon!