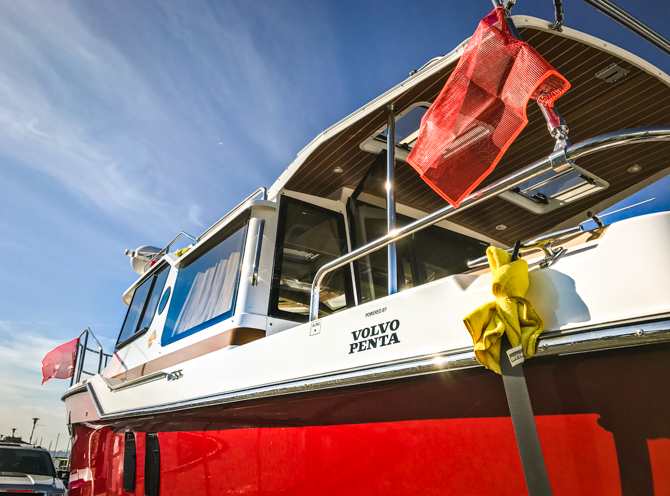 Heading Back to Des Moines Where We Will Be Loading Kismet Onto its Trailer for the First Time.
Apprehension is defined in Websters Dictionary as "anxiety or fear that something bad or unpleasant will happen." As our time in the Pacific Northwest was coming to an end, I was beginning to feel a little uneasy about trailering our new boat cross-country. The new Ranger Tug R29S is two feet longer and one and one-half feet wider, a little taller and a couple thousand pounds heavier than our previous R27. I've been known to worry a lot when faced with something new to me. Trailering an "oversize load" through city traffic, construction zones and steep grades in the mountains was not something to take lightly.
After loading Kismet onto the trailer in Des Moines, our plan was to tow her cross-country to Ohio, where my mother lives. We would visit with her a few days after Kismet was stowed in her berth, a landscaper's storage building. Then we would continue home, to Traverse City where we would be land-locked and catching up on time with family and house chores, until after the holidays.
In preparation for trailering the boat, we knew it was important to have an equal distribution of weight on our boat. So we moved as much of the contents as we could off the boat and into the bed and back seat of the truck. During our final days of cruising in Puget Sound, as we approached the haul-out day, we made sure the fuel tank was about empty. Also the water and holding tank were emptied just before the haul out. We completely winterized the boat's engine and systems when the boat was out of the water and on the trailer. With Ivan Guzman's help, a customer service rep from Ranger Tugs, we got the boat out of the water and prepared Kismet for her inaugural 2,500 mile cross-country trip.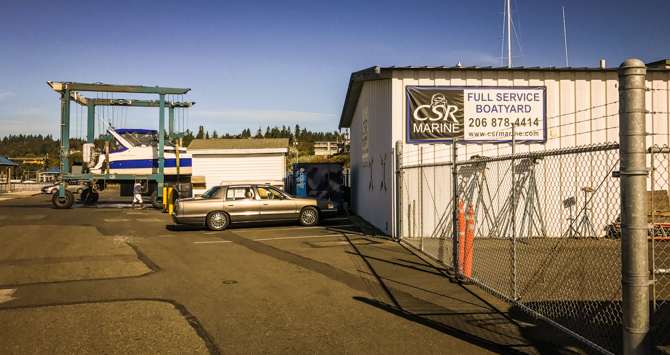 The crew at CSR Marine were very helpful in making sure Kismet was hauled out of the water and placed on her trailer just right.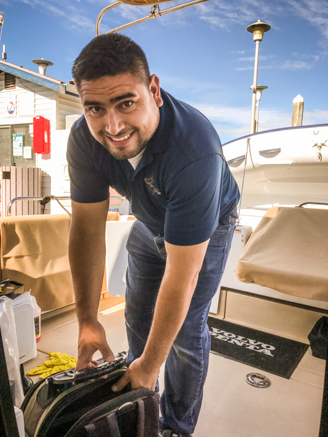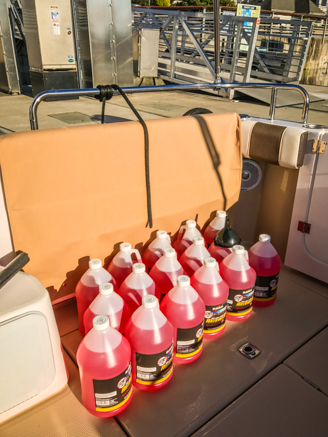 It was nice to have Ivan at the boat to take care of a few punch list items.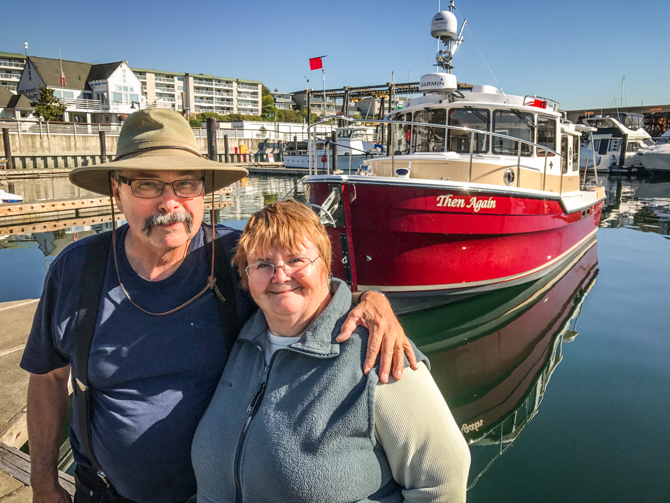 Much to our surprise, soon after we arrived at Des Moines Marina, we ran into Lenny and Louise, on their new Ranger Tug R31, Then Again. Lenny and Louise are from Portland, Oregon. Louise is also a fellow member of Ranger Tugettes, a facebook group of women Ranger Tug and Cutwater Boat owners. We've bumped into this friendly couple several times during our trips to the Pacific Northwest. It was nice to see their friendly faces before heading home.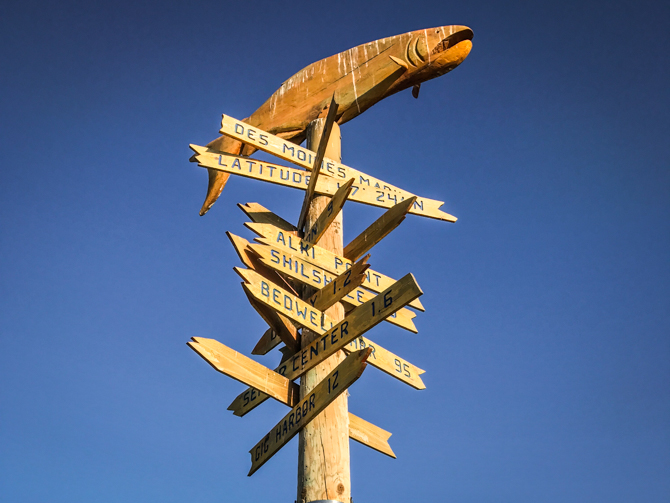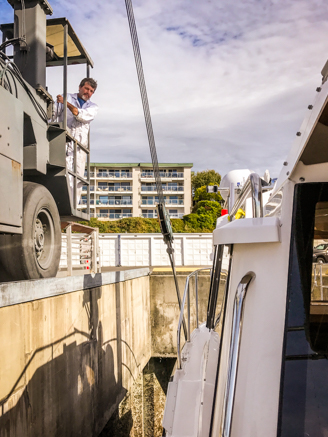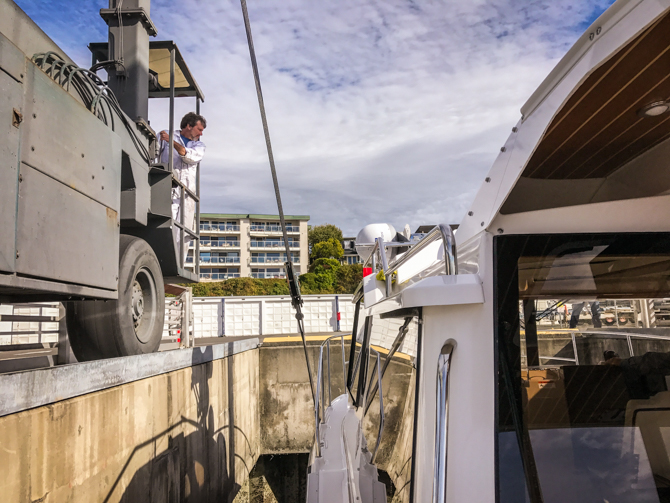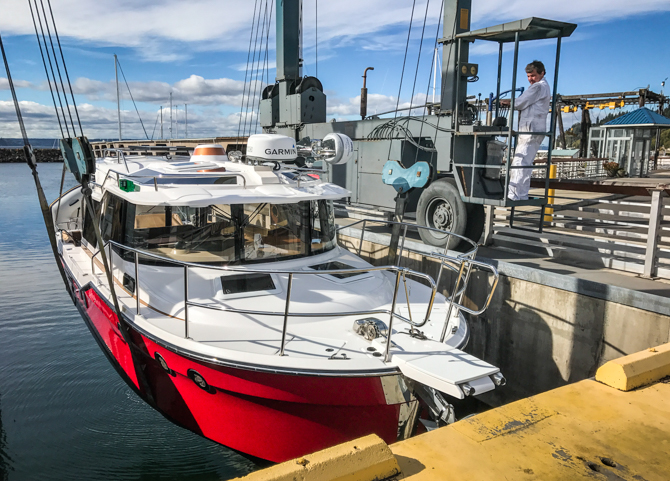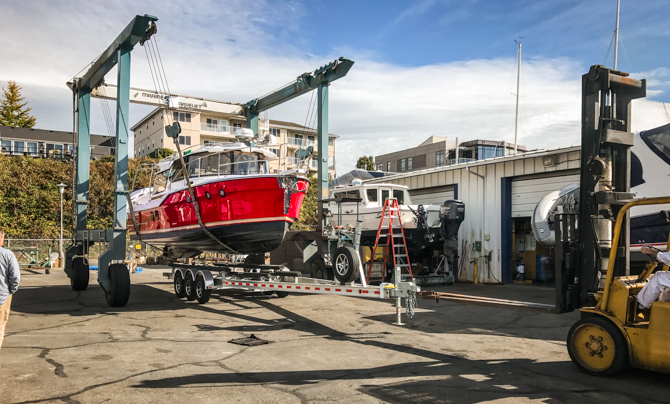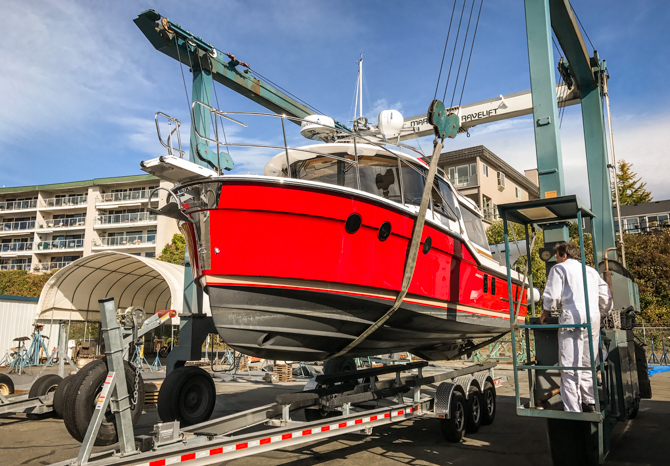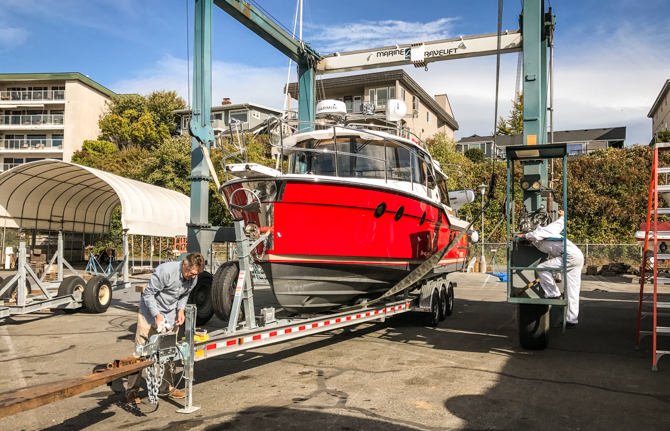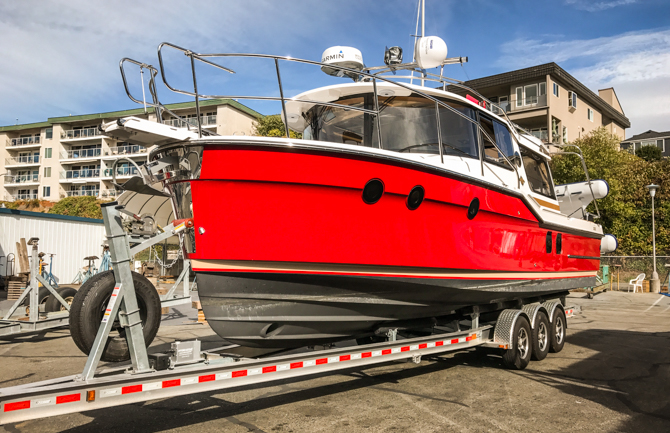 Finally the boat sat on the trailer for the first time seemingly ready to go, but our work was not finished.
Unlike our previous Ranger Tug R27, we had to prepare the boat according to permit regulations for transporting an oversize load on the highway. So, before we took off we attached an "oversize load" banner on the front of the truck and on the back of the boat (attached to the dinghy), along with two red flags at the widest point of load. Those needed to be on both sides of the boat. Because of the boat's ten-foot beam, we also had to get "Oversize Load" permits from each state we would be traveling through, a challenging job to say the least, but it was our first time, so hopefully next time will be easier.
Next post will cover the procedure of securing permits for the nine states we traveled through during our trek east.