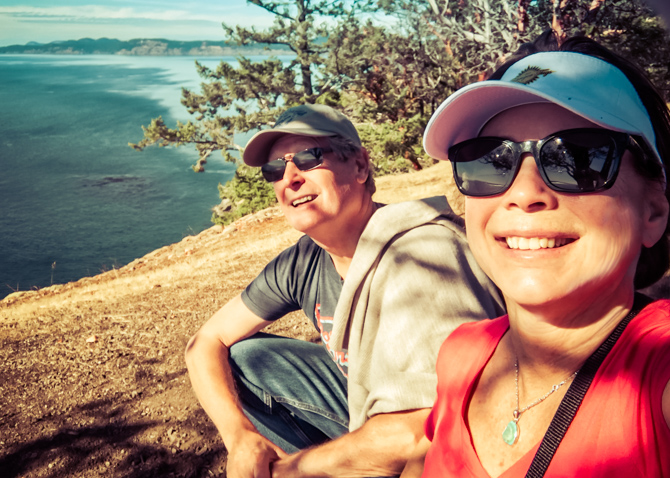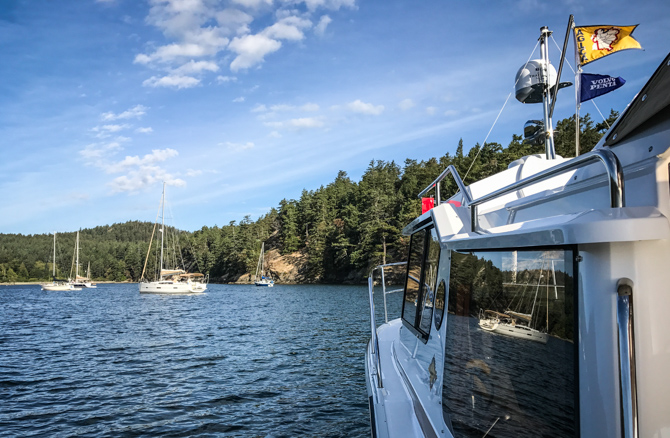 Stunning Views from Lover's Leap on Stuart Island!  –
Just when we think we've seen most of the amazing spots in the San Juan Islands, along comes this stop at Stuart Island. Located in the northern sector of the San Juan Islands, Stuart Island sports two harbors, Prevost and Reid. Prevost Harbor has seven offshore buoys and 256 feet of dock space. Reid Harbor offers fifteen offshore buoys and 572 feet of dock space on three different docks, two of which are offshore. Stuart Island has 18 primitive campsites, potable water is available most of the year, as are composting and pit toilets. For boaters, a handy barge sits in Reid Harbor for manual pumpouts. A big plus in our world of boating. Otherwise, you must pack out what you bring onto the island. There are two communities on the island, but it is a very remote setting without access to stores or facilities of any kind etc. We anchored in Reid Harbor with plenty of room, the surrounding scenery was a big plus.
The View from Lover's Leap Was Definitely Worth the hike!
Jim had a plan for the day which led us to dinghy ashore to the dock in Reid harbor. He'd heard about a trail that climbed the island to a bluff called Lover's Leap. The beginning of the hike was quite strenuous, due to having to negotiate fallen trees and debris, while climbing uphill all the way to where the island's one-room schoolhouse, library and little local history museum are located. Soon after we left the schoolhouse we found a road which took us to an open field area before it turned northwest and uphill again through woods and eventually broke out into the well-known, mossy cliff on top of the island.
We'd hoped to have a sighting of whales transiting the area, but no luck this time. The magnificent view from Lover's Leap was so spectacular, we decided not to walk the rest of the way down to the Turn Point Light Station (used to guide shipping in Boundary Pass to the island's north). We sat on the bluff for the longest time, it was hard to leave such a great spot.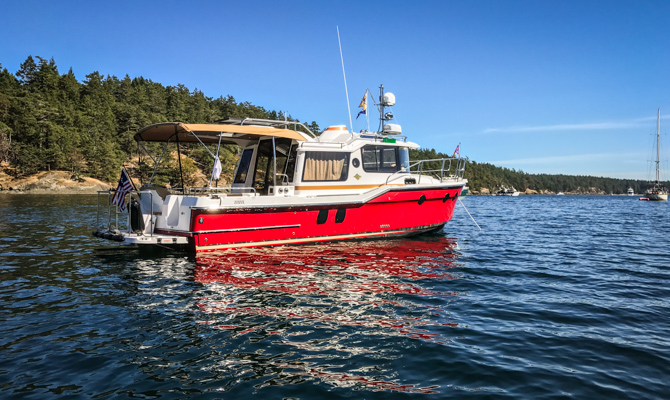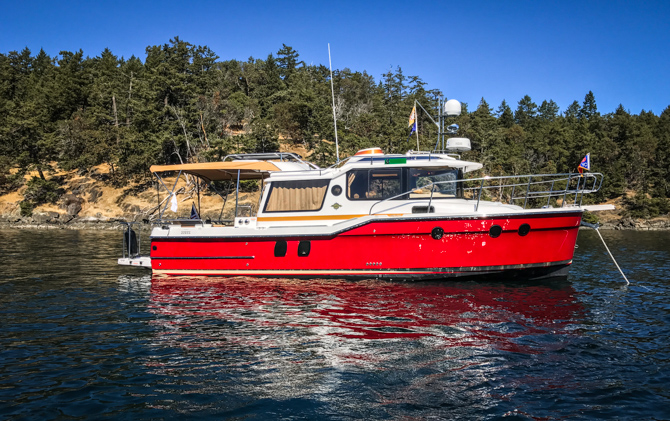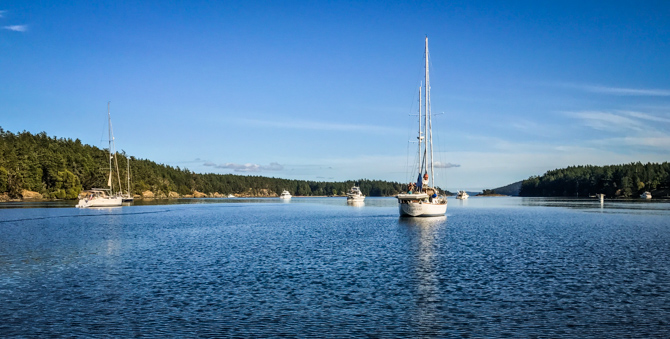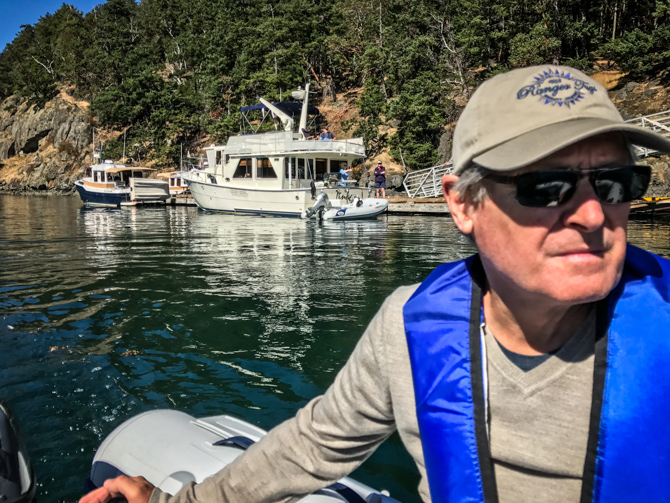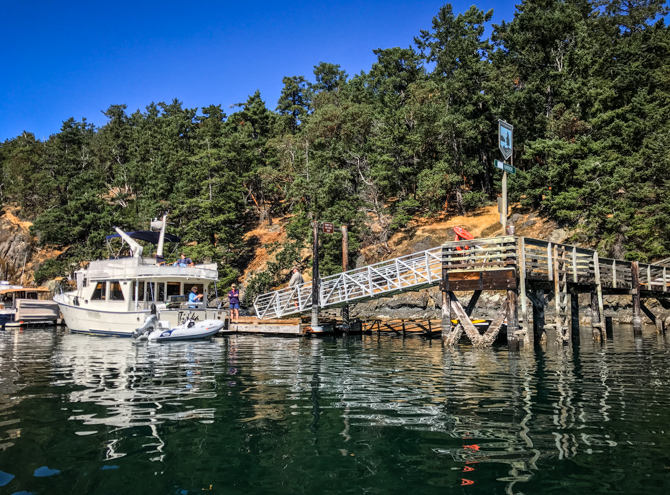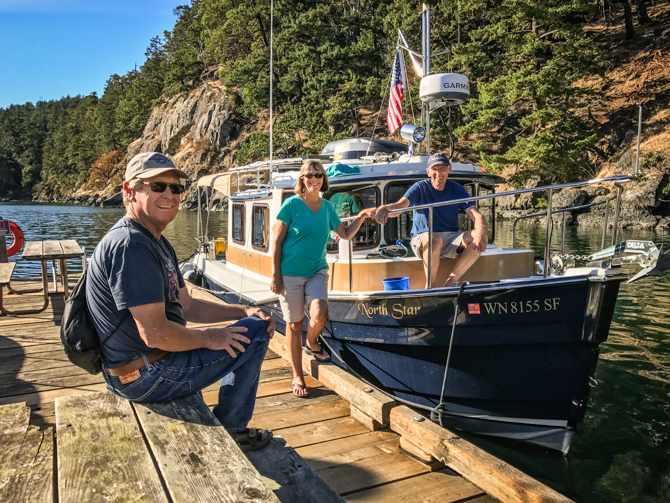 There were several Ranger Tugs docked or anchored in Reid Harbor during our stay. Probably three or four other than ourselves. We were fortunate to meet Lois and Dan, on North Star, during our first Desolation Sound Cruise in 2013. Every time we come out to the Pacific Northwest, we run into them while cruising or at a Ranger Tugs cruise or rendezvous. They are experienced boaters in the area, always willing to share local knowledge with us.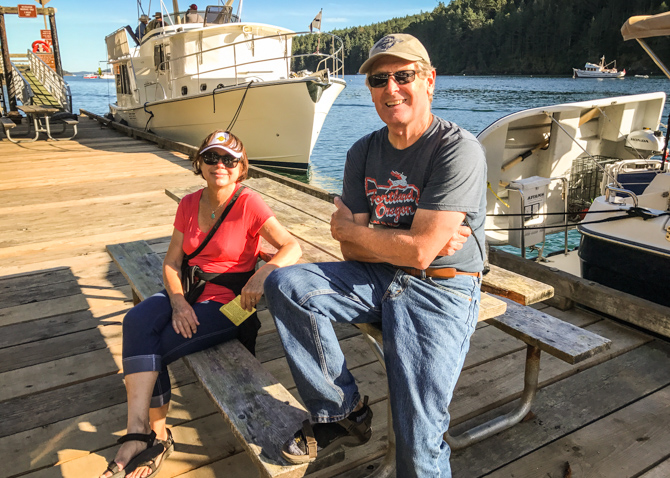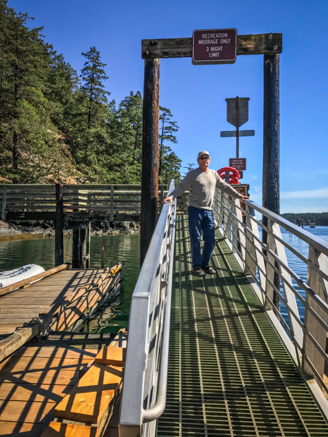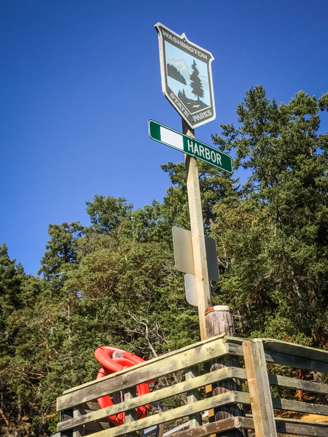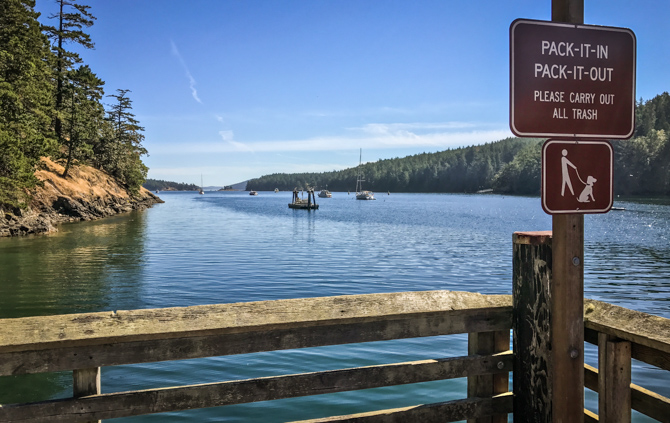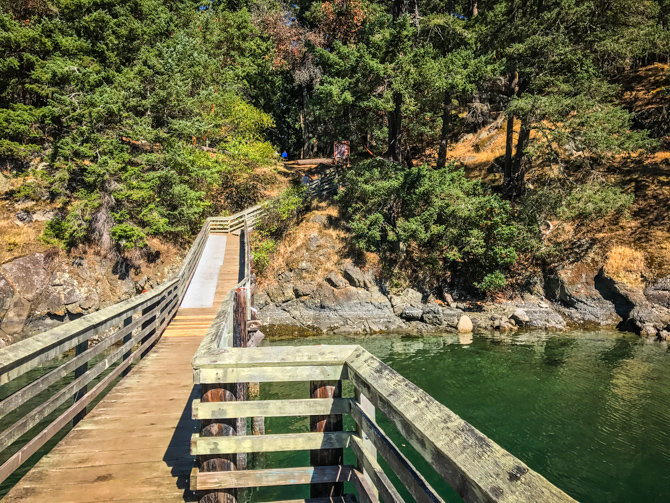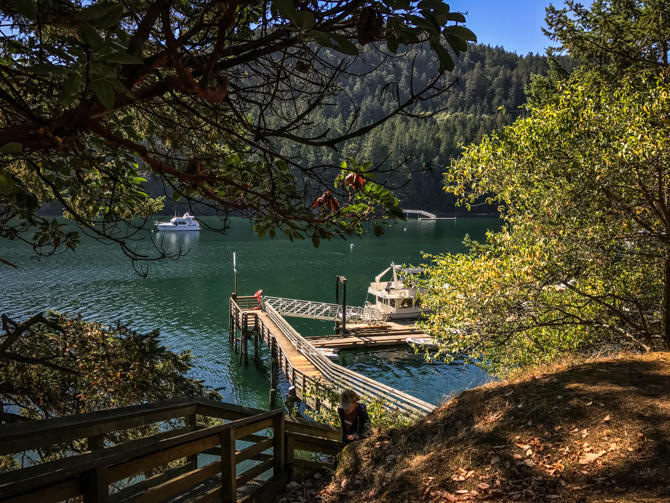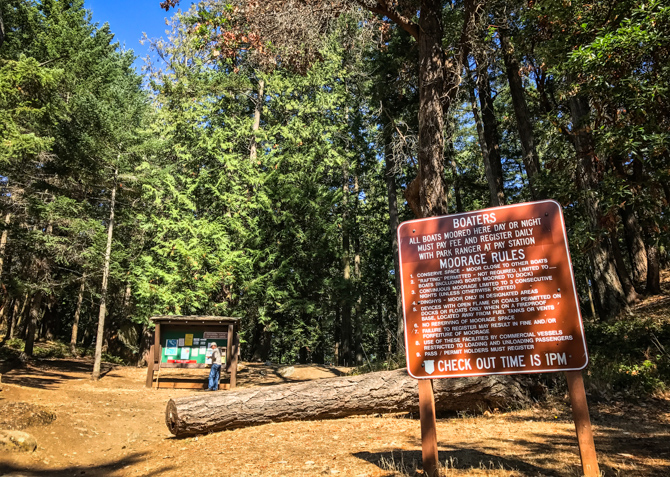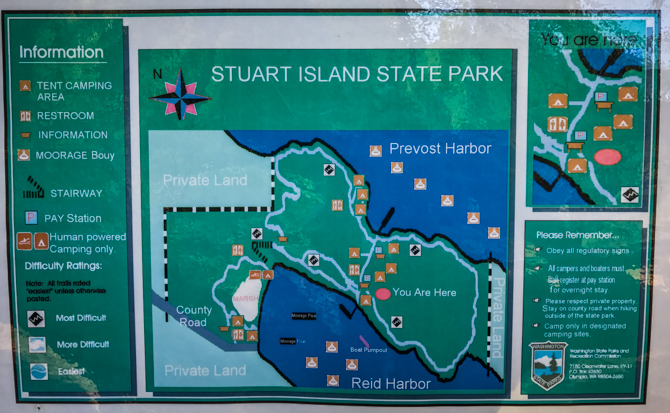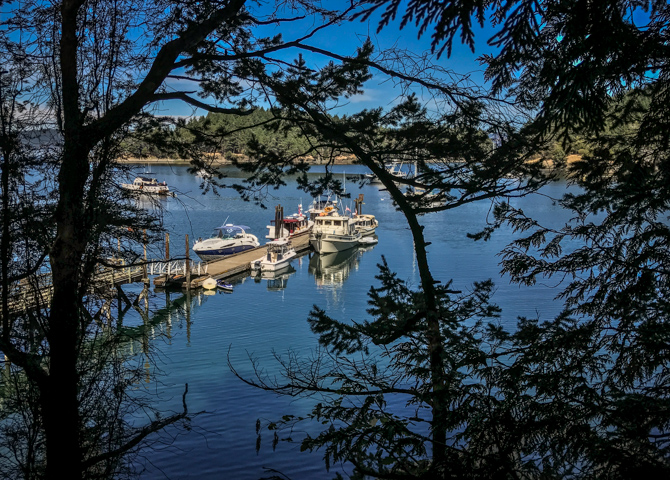 Prevost Harbor (above).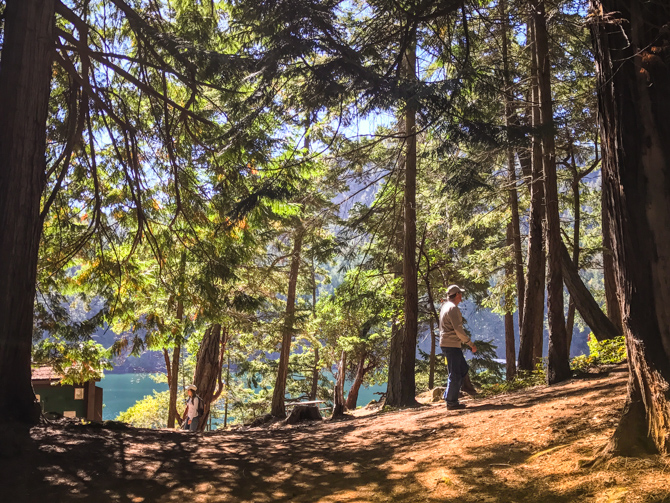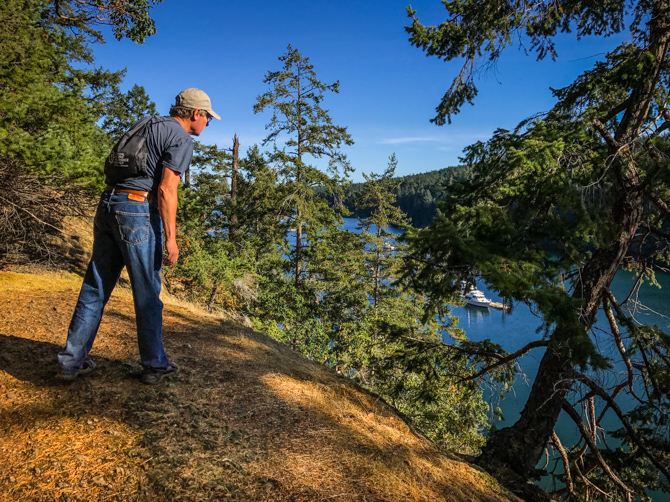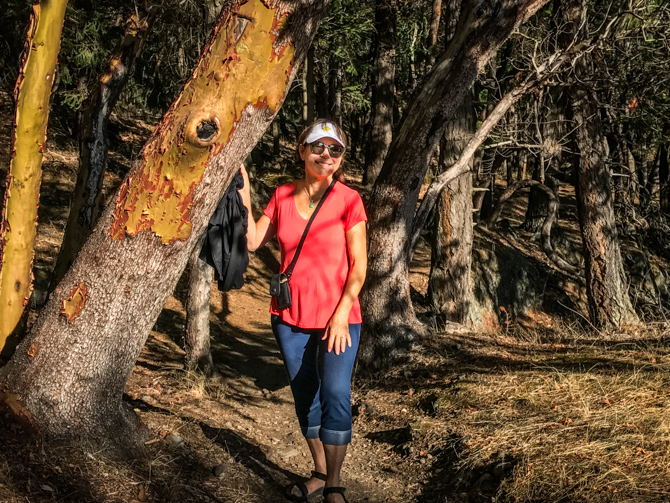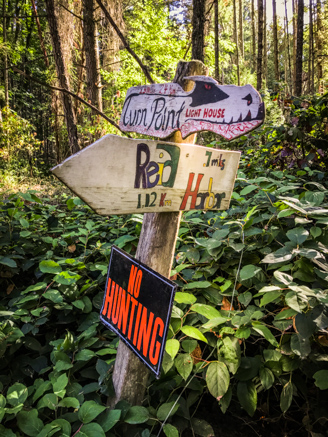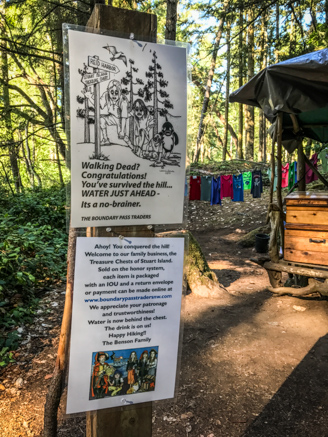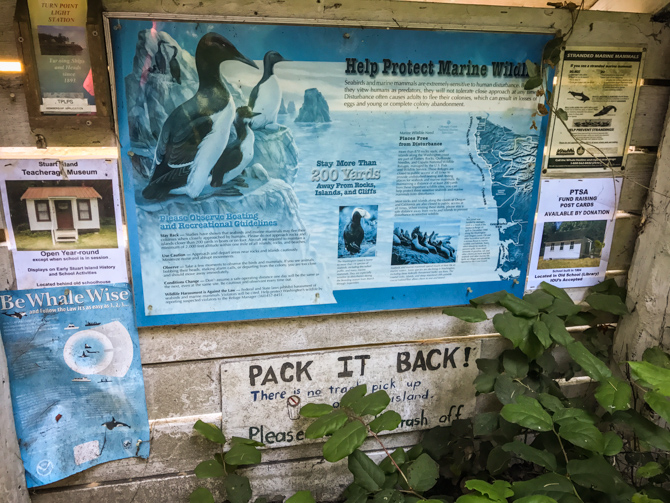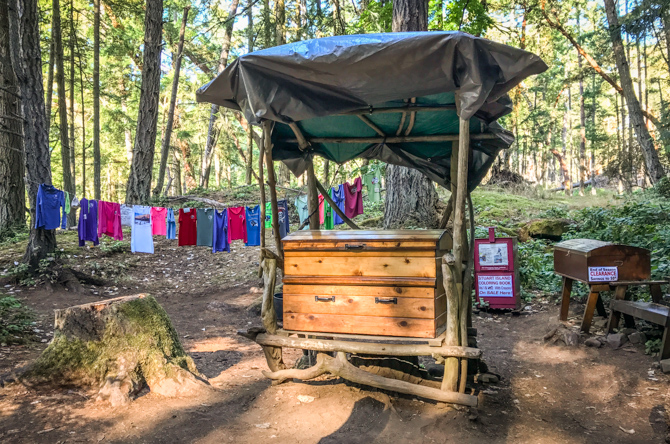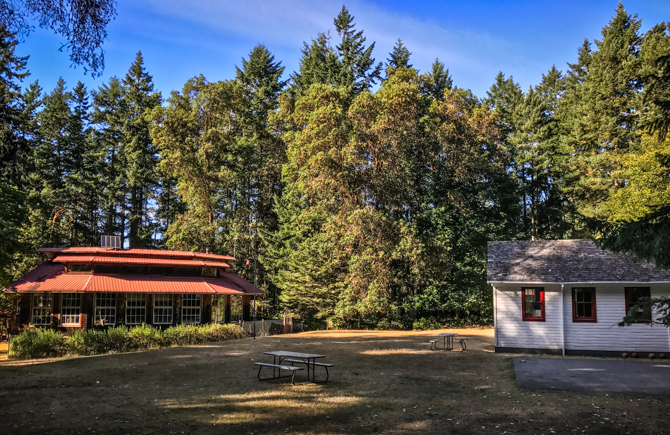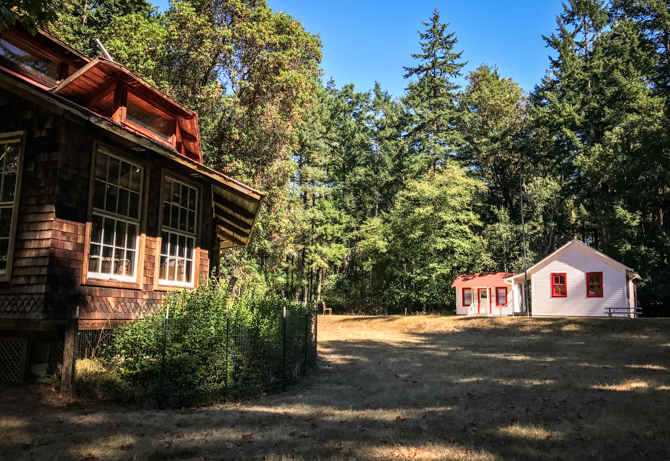 We took a little break from hiking when we came upon the old schoolhouse and museum.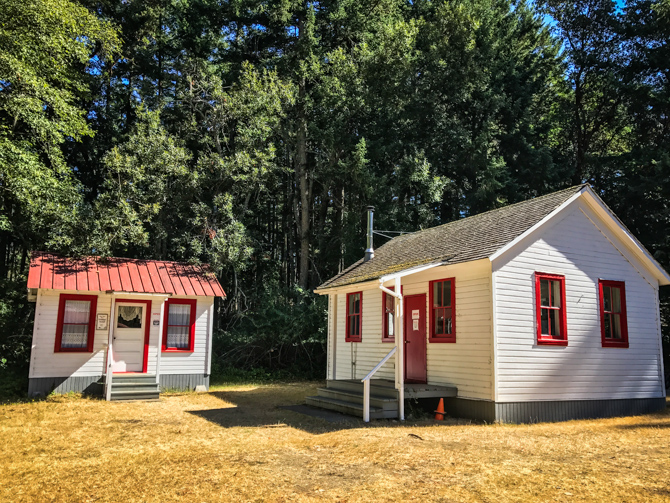 Mt. Baker (above and below).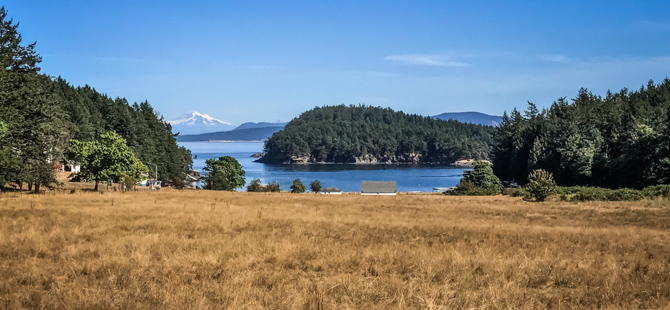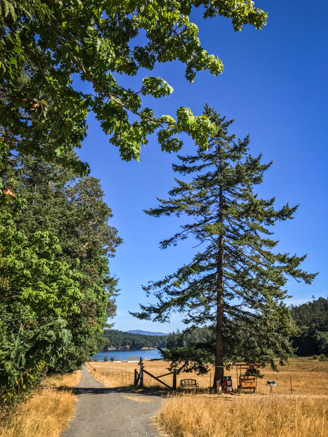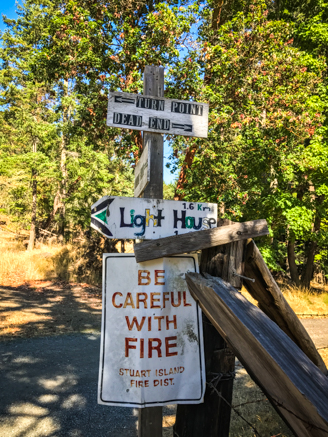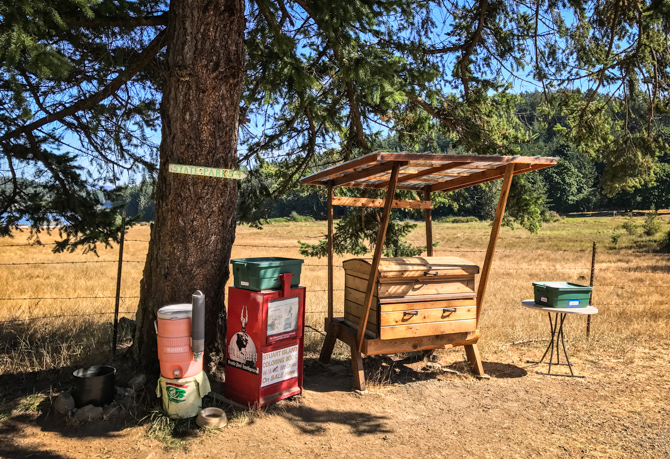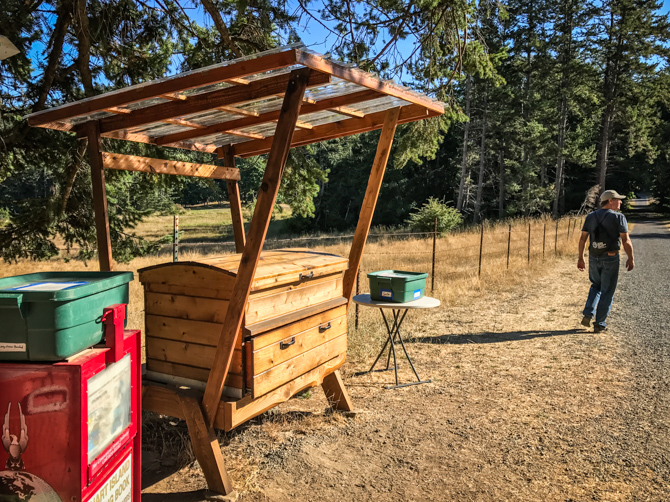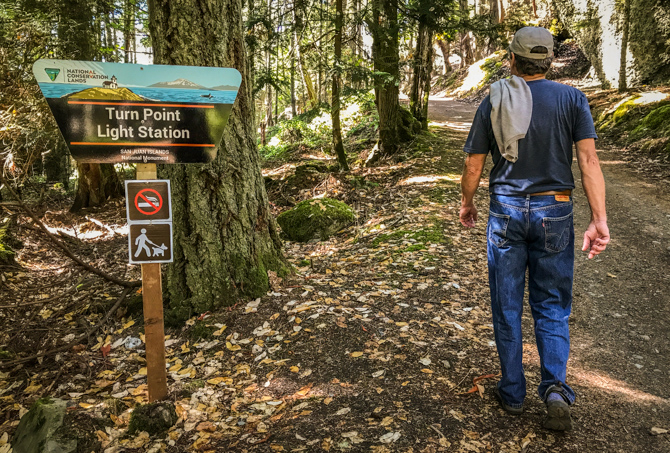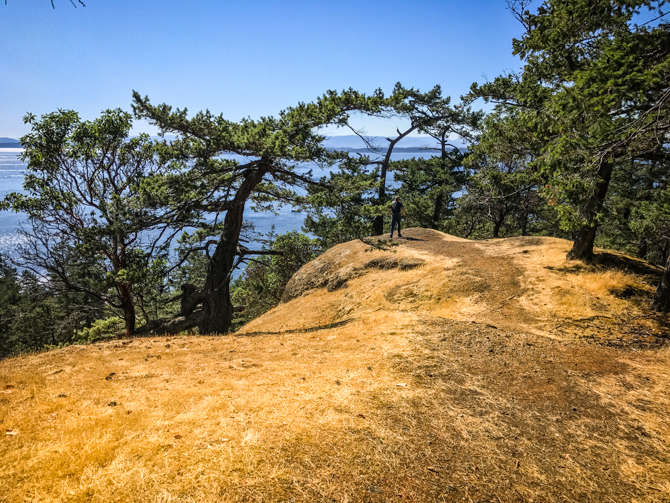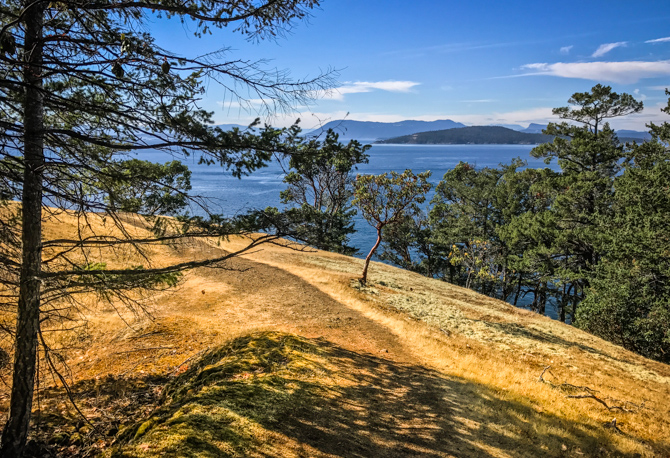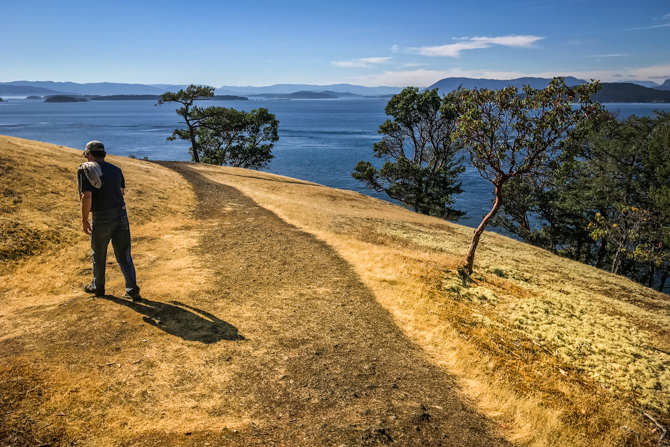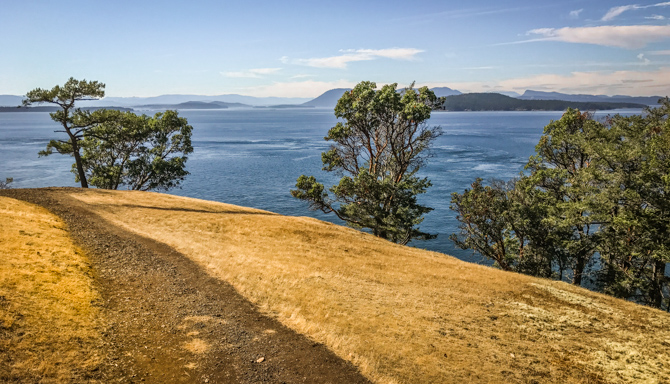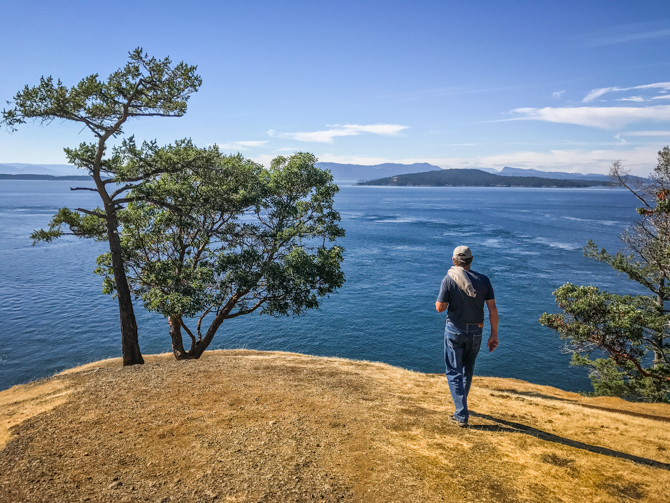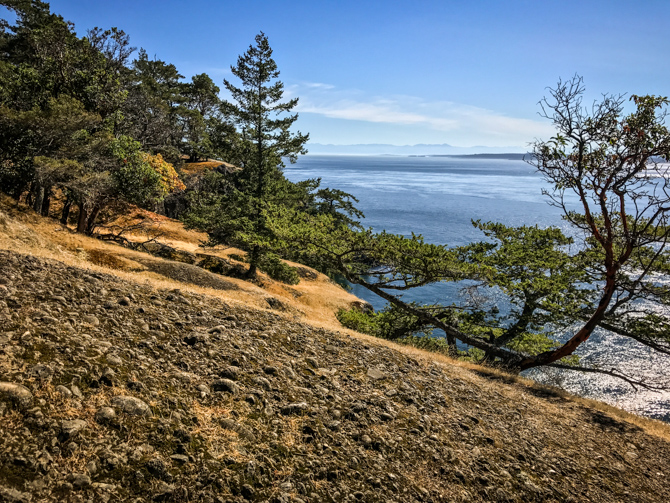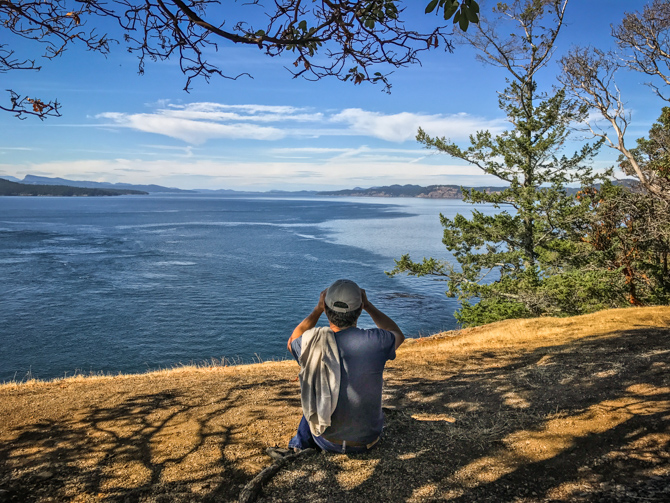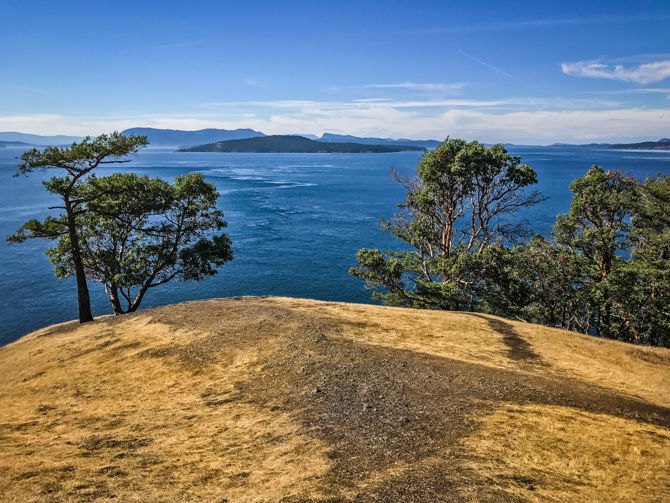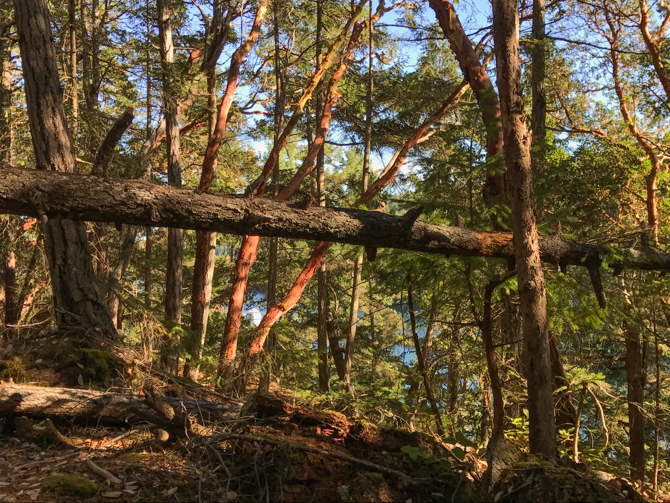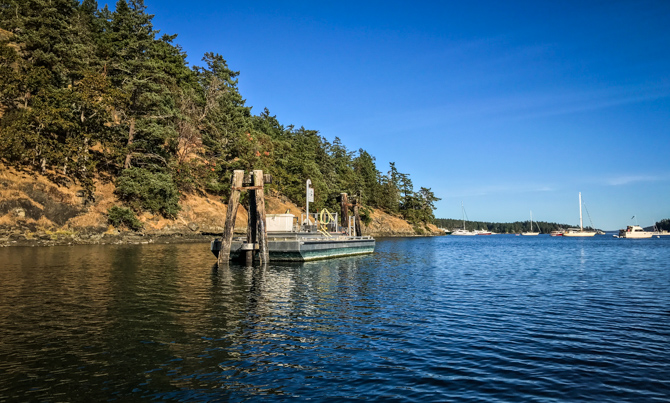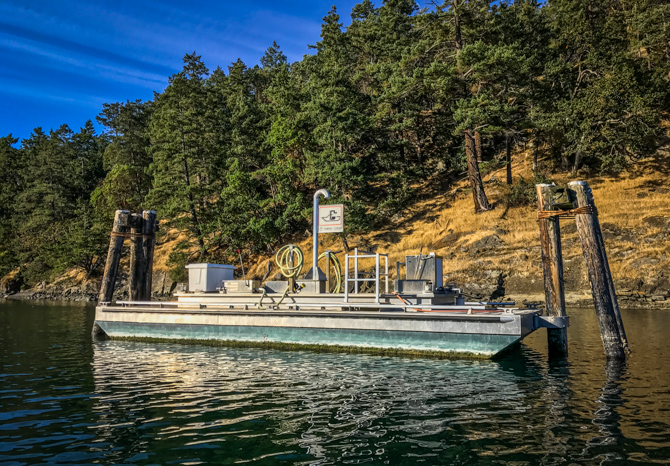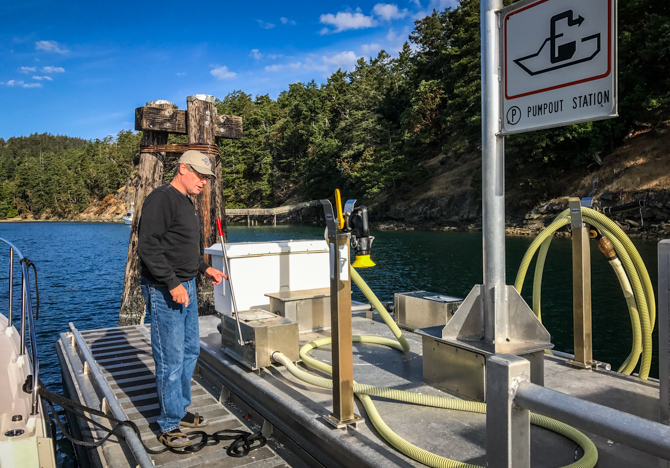 We took advantage of the manual pumpout station. What a great idea to make this available to cruisers and sailors.