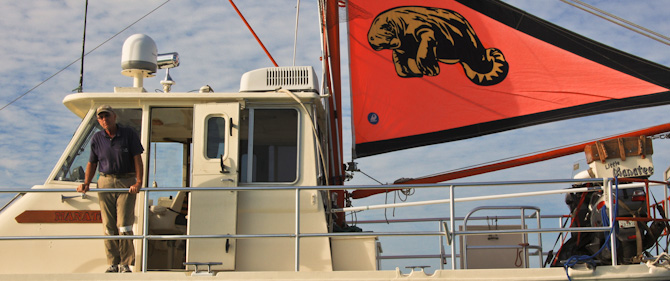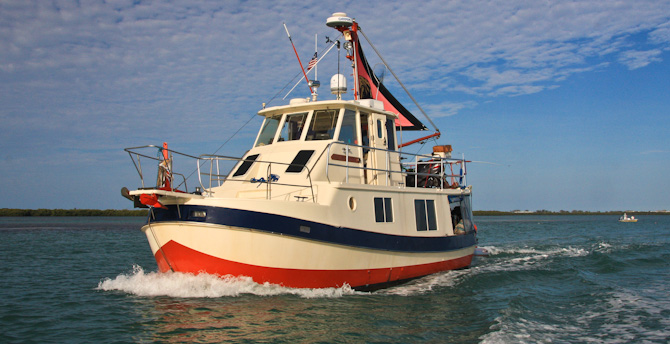 Recently we made a post about meeting Ted, on Manatee (below – left), a very friendly boater whom we spent only about an hour of total time with. We first met Ted while we were both traveling south on the GICW (we slowed down for a short conversation about where we were headed), we finally met up with each other in Goodland, Florida where we anchored near the Calusa Island Marina where Manatee was docked.
In an hours length of total time I don't think you could say we were good friends but good enough for us to know Ted is a good natured guy, willing to help out another boater if the need arises. Not long after we left Goodland for Marathon, another Ranger Tug boater, and friend, called us from his anchorage in Russell Pass (in the Everglades) to discuss his engine starting problems, he was literally dead in the water. This was Rich's first time in the Everglades, so he was looking for information on where might be a good place to get his boat towed to for repair. Having only been in this area a few times ourselves, I didn't know much more than Rich but immediately my thoughts turned to our encounter with Ted in Goodland. I suggested to Rich that if he got back to Goodland (he did get a jump start from a fishing boat) he might want to look Ted up. My thoughts were that Ted, being a long time winter boating resident of the Goodland area, would be able to more accurately guide Rich to a qualified service technician.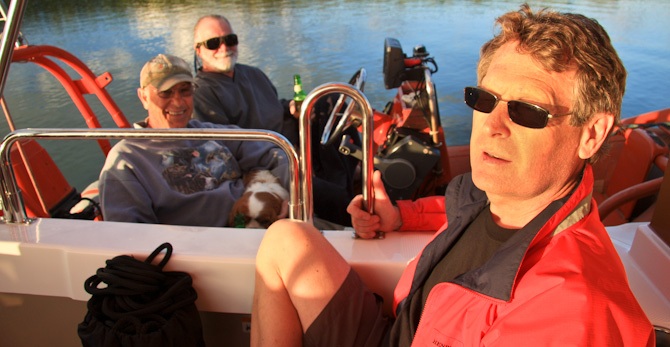 In the end Rich did connect with Ted. Ted not only helped determine what Rich's starting problem was but he also had the necessary parts on his boat to correct the problem. Thanks to Ted, Rich and Cheryl were back on their way the next day.
Over the years we've been long-distance cruising, we've come to the conclusion that boaters are one of the friendliest and most helpful people around. Most will go out of their way to help a fellow boater whether they need directions, a lift to the store or. Most, like Ted, will be more than willing to lend a helping hand to solve a problem and get you back on the water. So, a big "Thank You" to Ted and all the other "Ted's" out there who make us proud to be members of this friendly and helpful boating community.