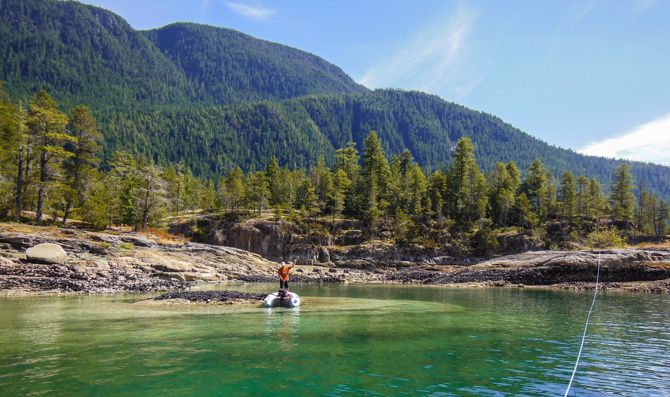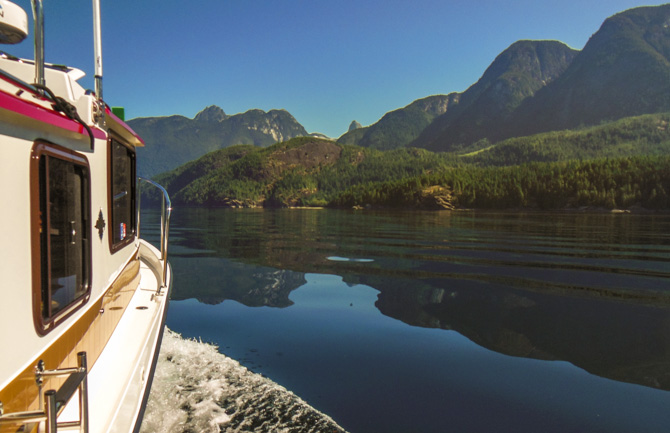 Anchoring in Walsh Cove while waiting to get dock space at Toba Wildernest.
One of the beauties of cruising in Desolation Sound is that when you leave one place you have plenty of spots to consider for your next days docking or anchorage. We left Laura Cove after the three-day holiday weekend and headed northeast up Homfray Channel. We passed Homfray Lodge, a stop recommended by some friends, but we decided to pass on it and continue cruising as we were hoping for a black bear sighting. We had heard bears were often sighted along the shoreline of the channel, however, after striking out on the bear sighting, we cruised up to Wildernest Lodge and radioed in to reserve a spot on their dock for the next day and night, we then proceeded on our way to Pryce Channel, down into Waddington Channel and finally into Walsh Cove where we decided to anchor for the night – all this within a two-hour, trawler paced, cruise. The snow capped mountains and picturesque fjord like channels more than made up for the lack of a bear sighting earlier in the day.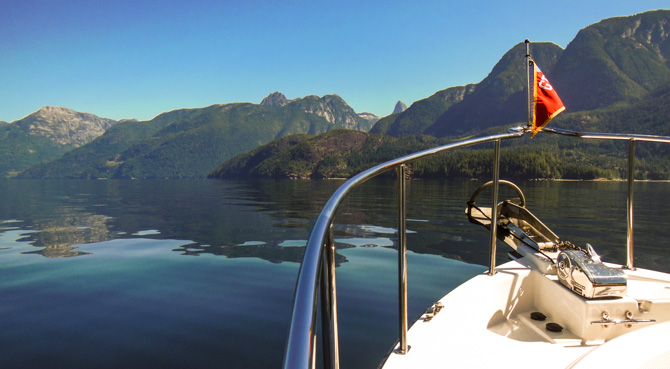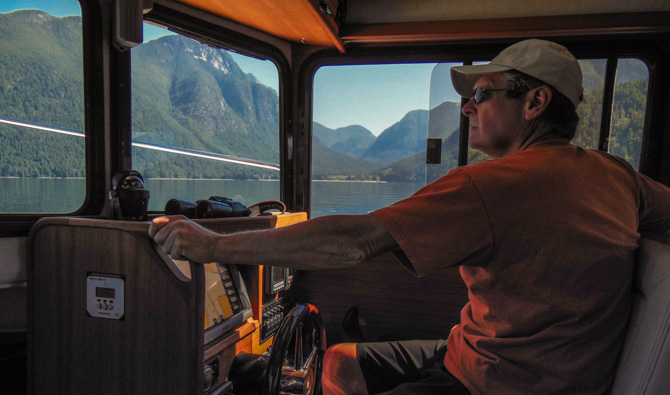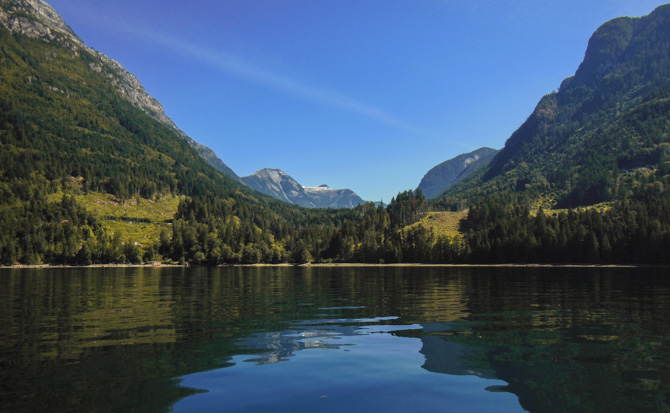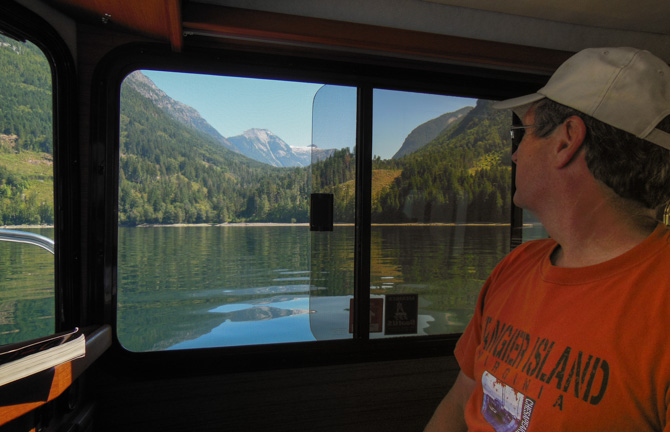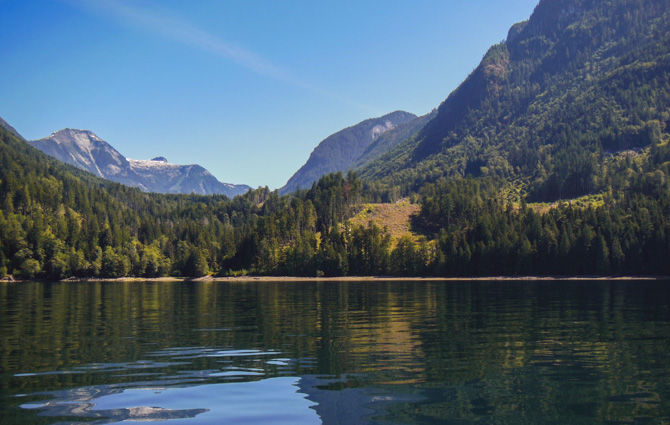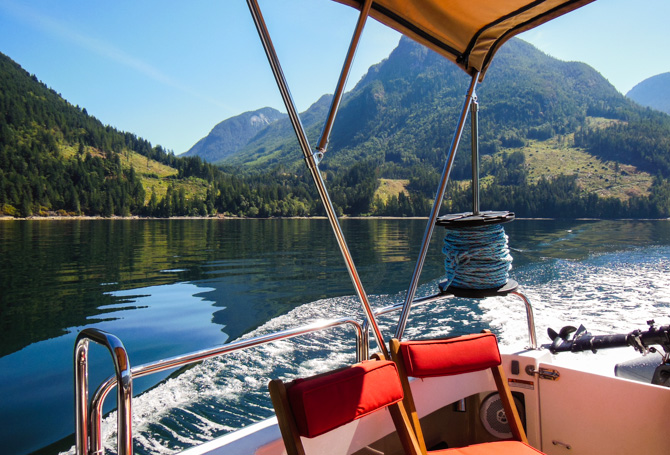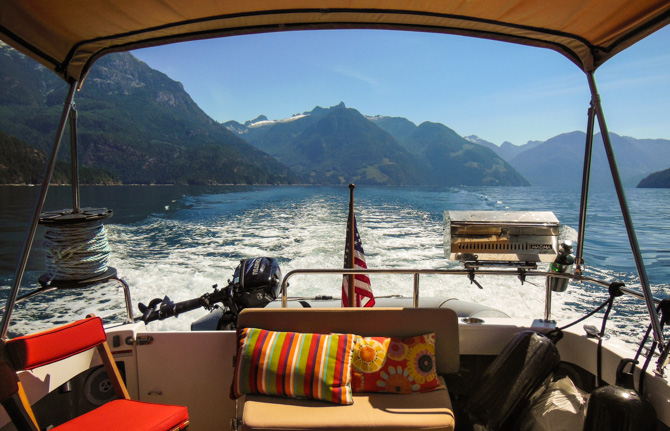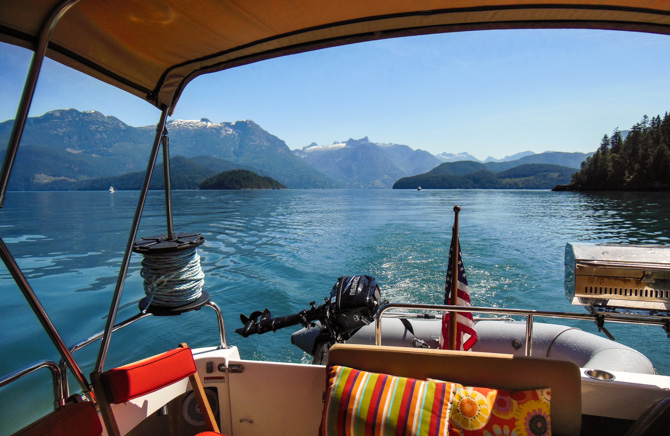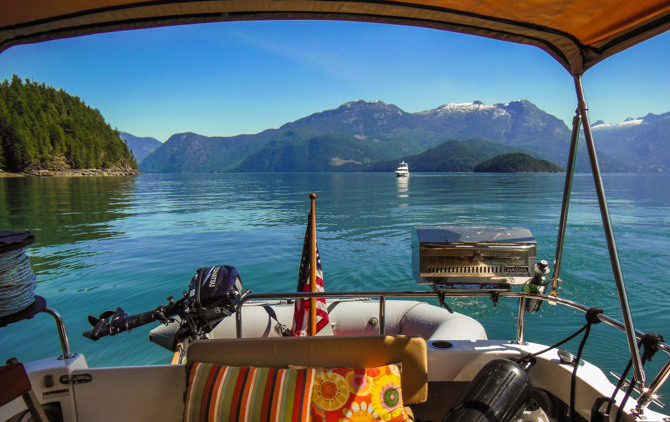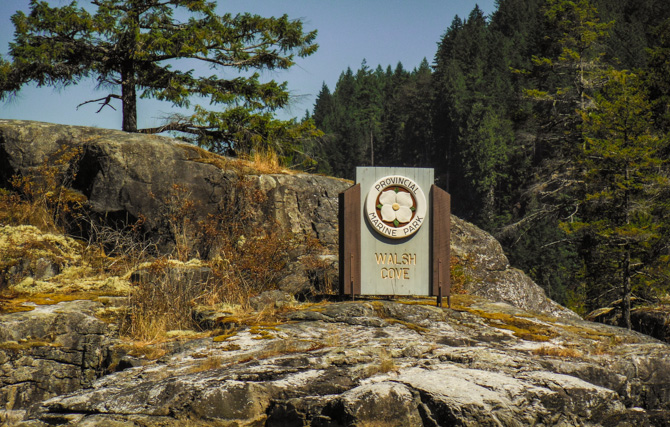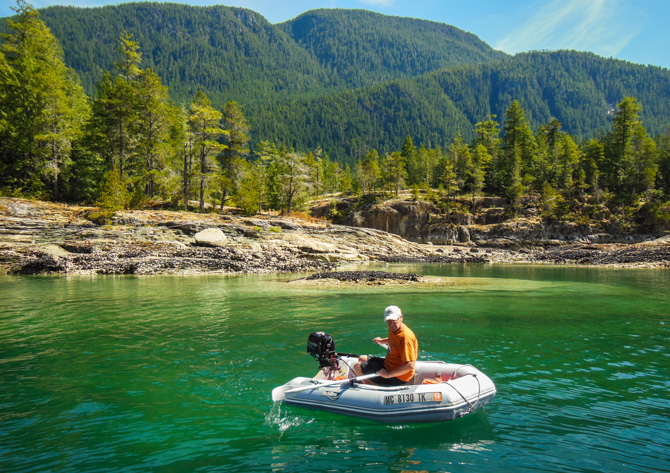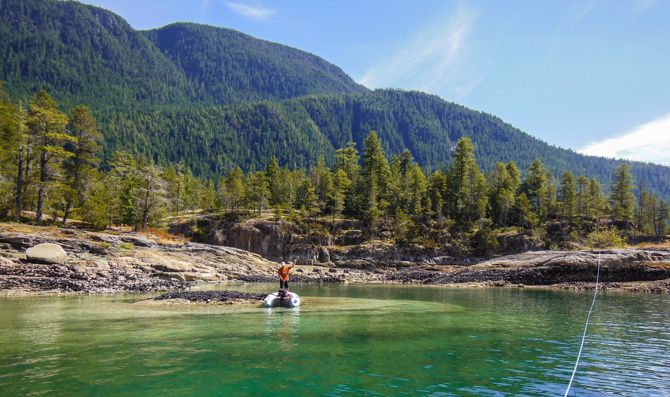 Look how much different that rock island looks at high tide. Jim is just returning to the boat (above) after setting the stern line to shore at Walsh Cove. The photo below shows our line barely visible on the top of that rock.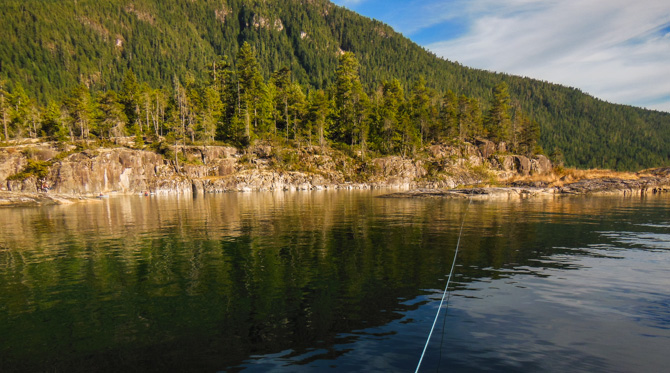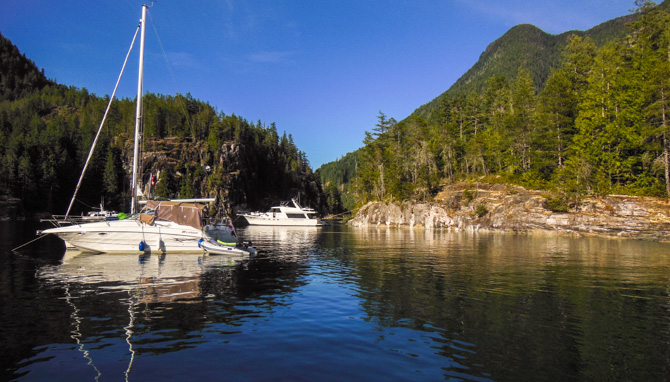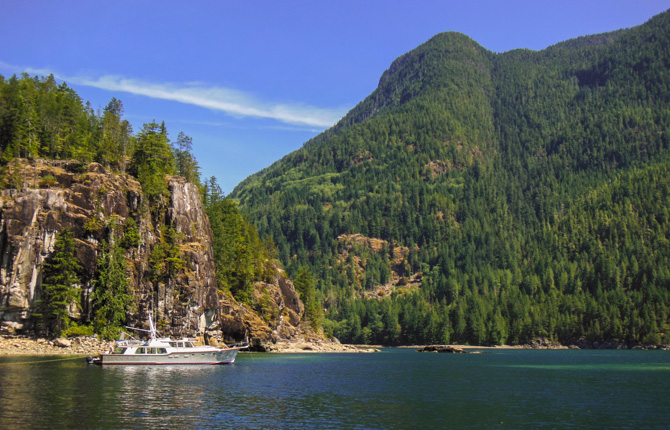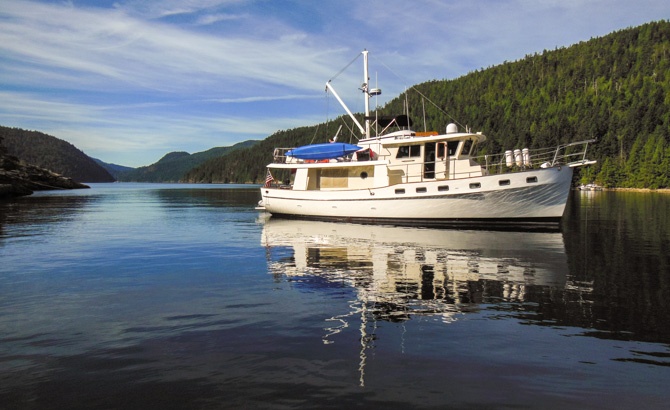 Shortly after our anchor was set and stern lines taken ashore, who should show up but some friends, fellow Tugnuts (folks who own or have owned a Ranger Tug), Willie's Tug, Last Call and Moondance, cruised into the cove and rafted off each other on the far side of Walsh Cove. After spending a week or so without much outside social interaction we were looking forward to visiting with them after dinner to catch up on our mutual Desolation Sound cruising adventures. Don't get me wrong Lisa and I get along just fine, but when you're on a boat 24/7 together, it's nice to bump into some friends on the water.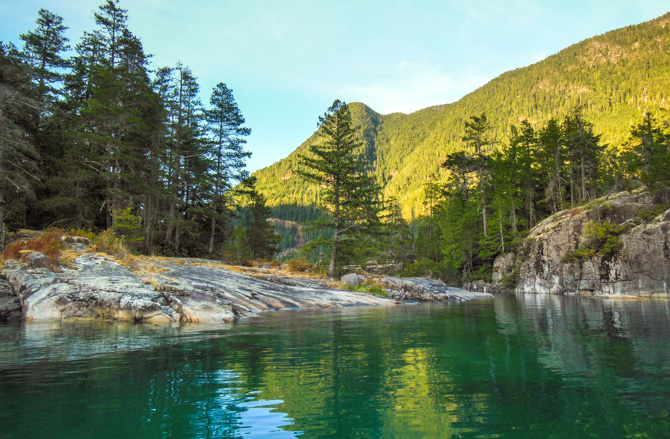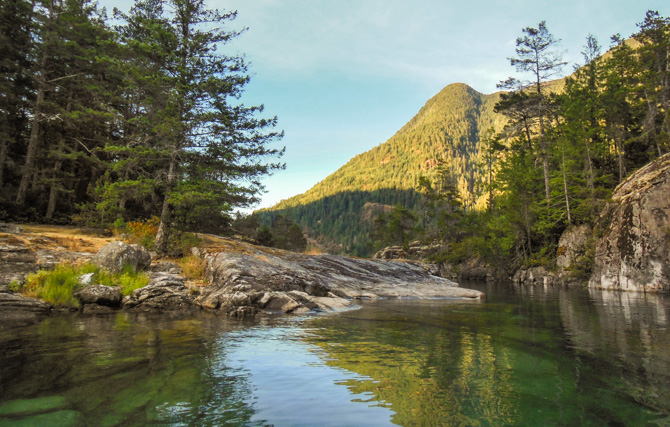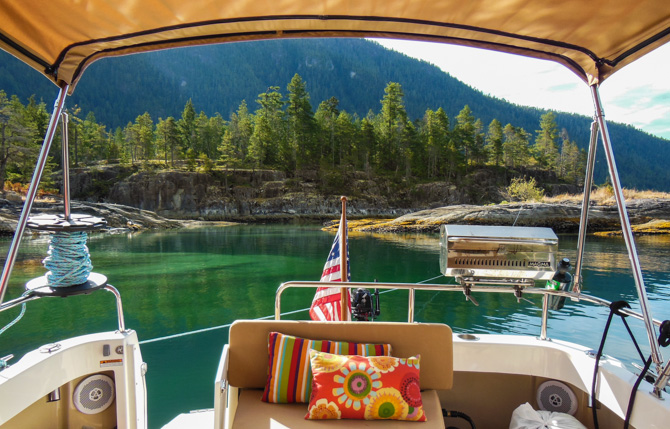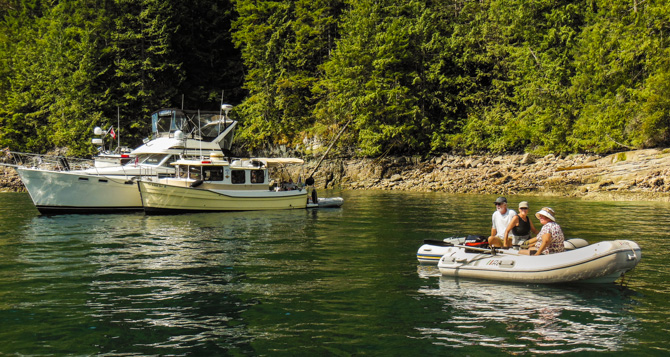 After dinner we dinghied over to the three boats, the girls settled into the salon inside and the guys in the cockpit of Last Call. I'm not to sure what the girls talked about but they sure laughed a lot, we guys talked about anchorages, fuel filters, boat registration and such. Herb and Willie, on Willie's Tug, Bruce and Vickie, on Moondance and Patrick and Gail, on Last Call, had been cruising together since they left Gorge and came up with a group name… Willie's Last Dance.
When we bumped into Bruce and Vickie later we learned how close we were to a whale sighting, apparently when they arrived into the cove (we were already settled in) they saw some orcas making their way through the channel outside Walsh Cove. Our view of them was blocked by the huge rock we had tied up to.