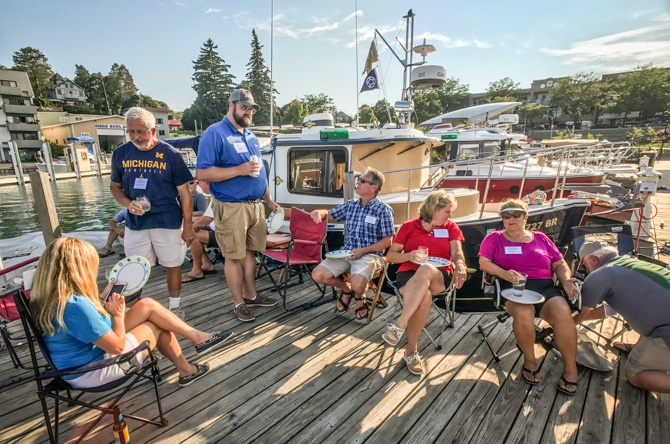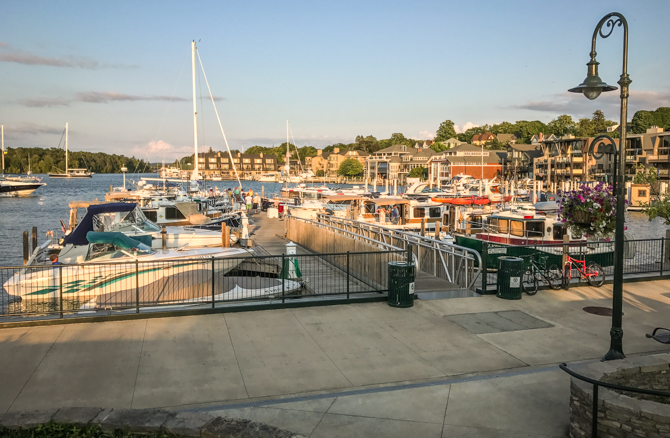 Coming Home to Charlevoix, Michigan for the Ranger Tugs Cutwater Boats 2017 Charlevoix Rendezvous!
Charlevoix Michigan was home to the Ranger Tugs Cutwater Boats 2017 Charlevoix Rendezvous. What a spectacular setting for this years event. Lisa and I have a fondness for Charlevoix as this was once our homeport. That was before we became enamoured of trailering our Ranger Tug all over the United States. So being in Charlevoix again was like coming home.
Arriving on Monday morning, for our 3-day event, we had nothing but clear sunny skies while greeting attendees as they arrived. With 40 people in attendance, we had boaters from Iowa, Wisconsin, Indiana, Washington, Ohio, Kentucky, Ontario, Michigan, Arizona and Pennsylvania. Also in attendance were sponsors and representatives of Reed Yacht Sales, Manitowoc Marina and Volvo Penta. The event was also sponsored by Ranger Tugs and Cutwater Boats and Global Marine Insurance. By the very nature of being able to trailer these boats, Ranger Tugs and Cutwater Boats have a broad, ready made, community that spreads far and wide.
When we get together at events like this some of the boaters may already know one another, if not, we're a friendly bunch, we are here because we all want to have a fun time with other tug owners.
We spent the first day getting settled in. For us, being boatless, this meant first checking into a local motel and then setting up chairs and a table on the end of the dock for the Pot Luck dinner the first night. Day one was a casual affair, making sure people get their ditty bags, questions answered. For some it meant finding a parking spot in town for their truck and maybe trailer.
For 2018 we're planning on heading to Ontario's Trent Severn Waterway.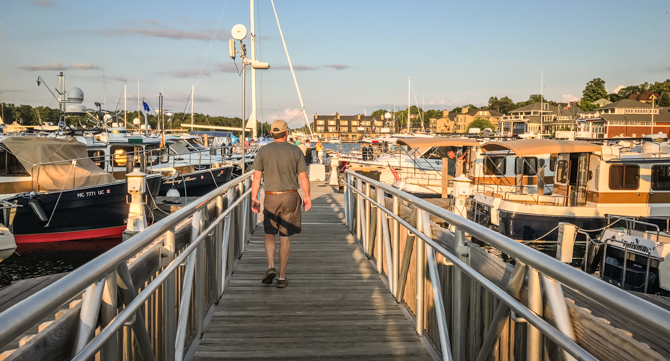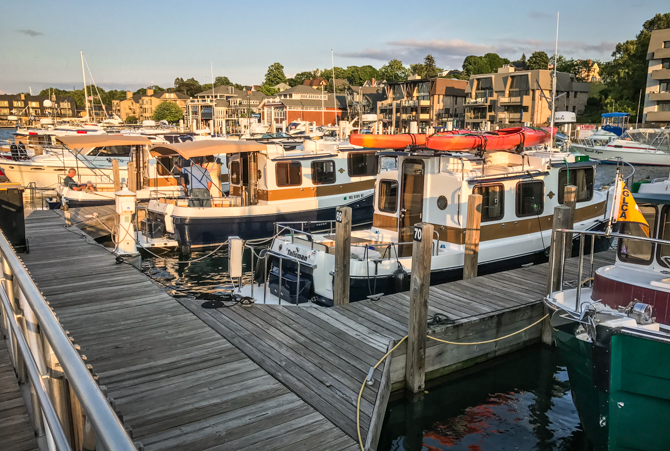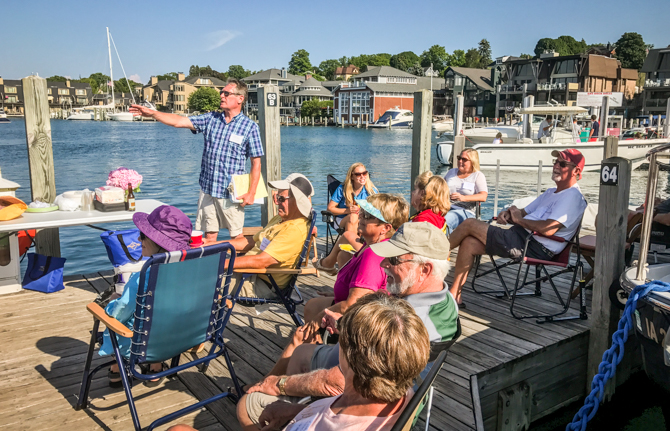 During Happy Hour on the dock, Jim welcomed everyone with an overview of the agenda and introductions of attendees just before we dug into the pot luck offerings.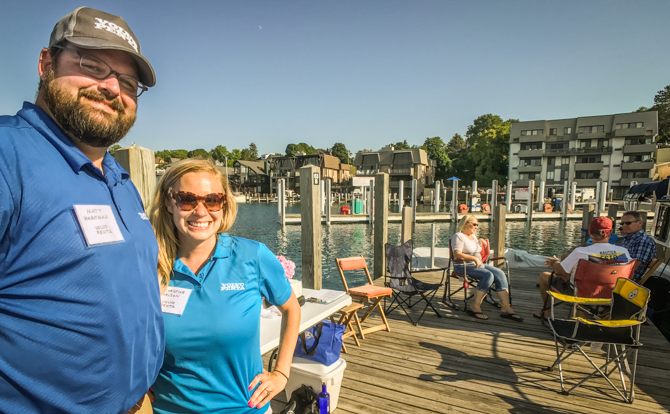 Matt Hartman and Christine Carlson (above), from Volvo Penta, were with us for our three-day event. Although they were working on Public Relations and Marketing projects for Volvo's "Where Does Volvo Penta Take You" campaign they both did a good job of blending in seamlessly with our Ranger Tugs and Cutwater boats community.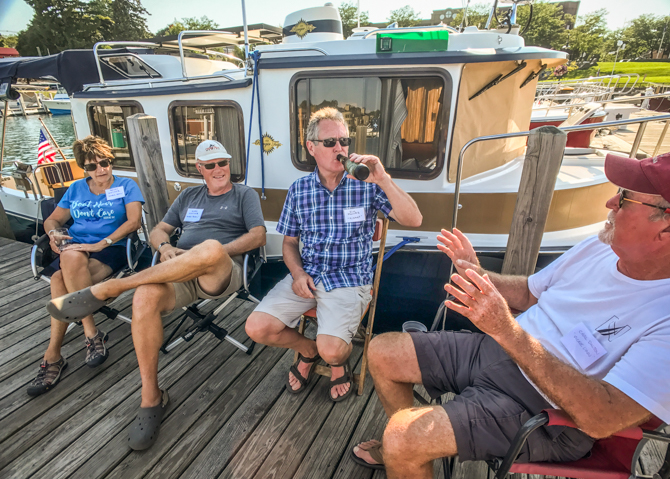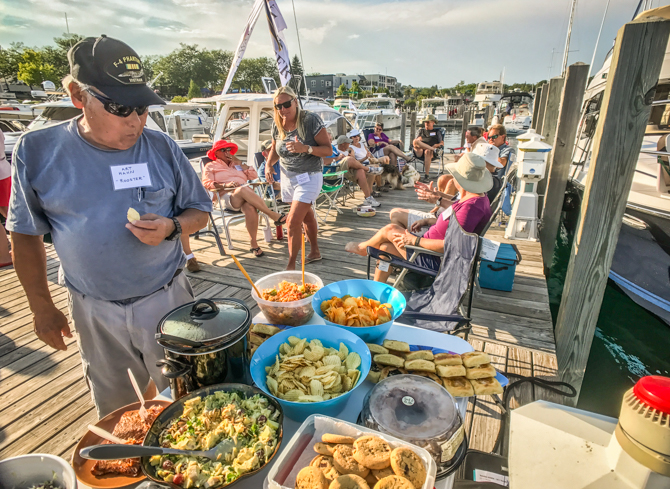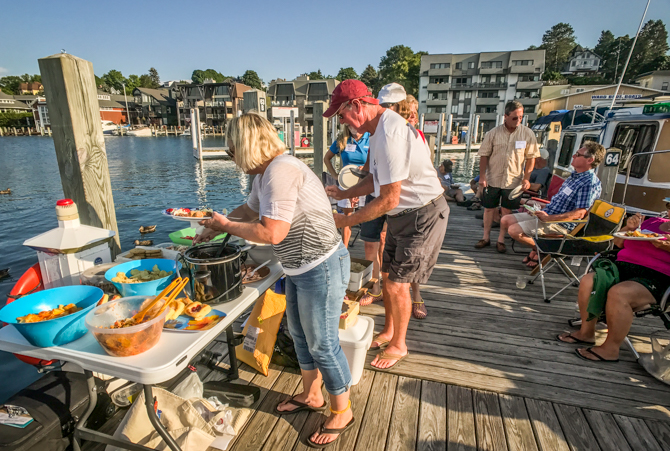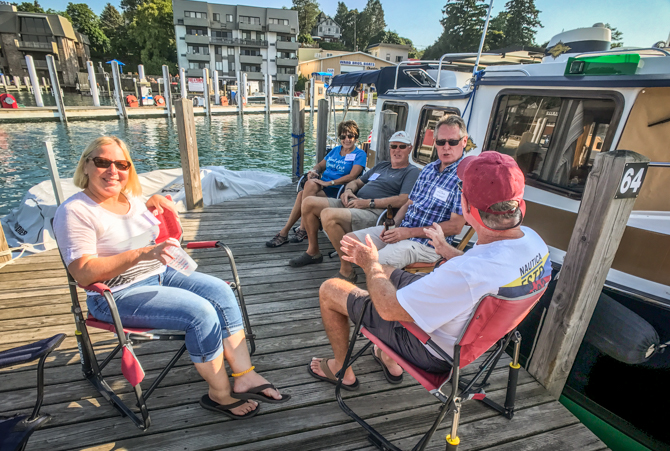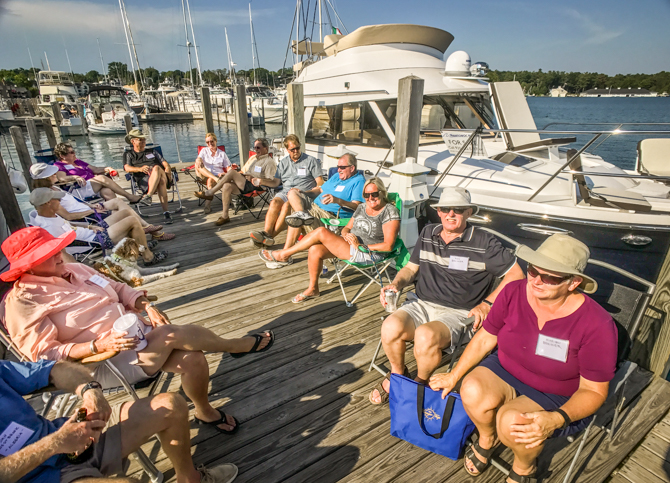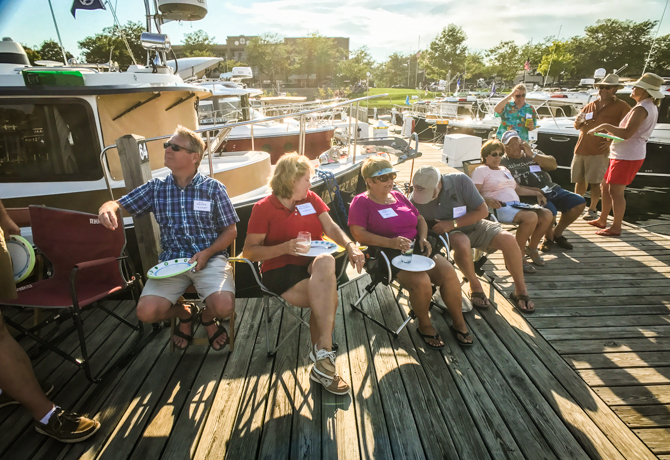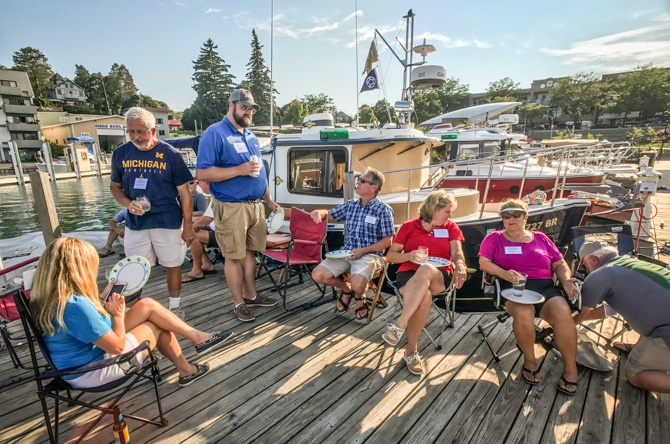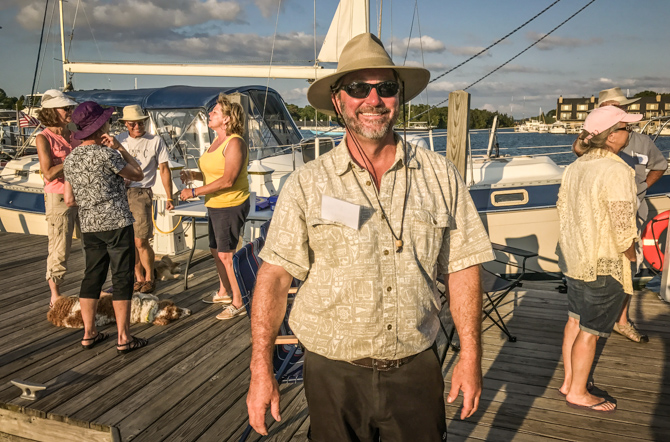 Mark Derene (above), the representative from Reed Yacht Sales, always had a friendly smile, you could tell he was having a good time. He brought the beautiful red Ranger Tugs R29S to the rendezvous, I think so Jim and I could drool over it. It is just like the one we have on order, we'll take possession in a few weeks. Thanks for letting me crawl all over your boat Mark!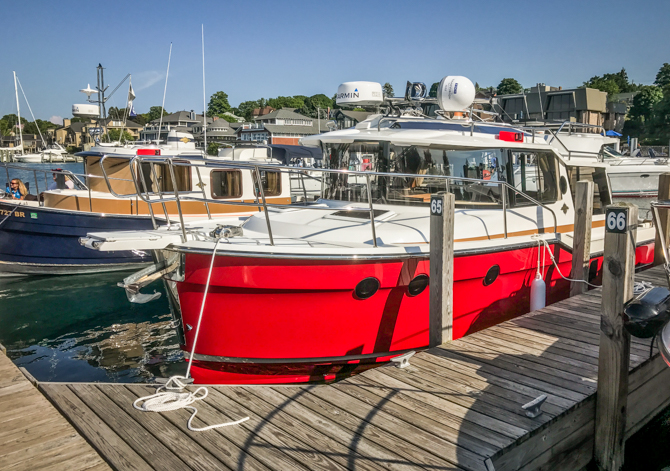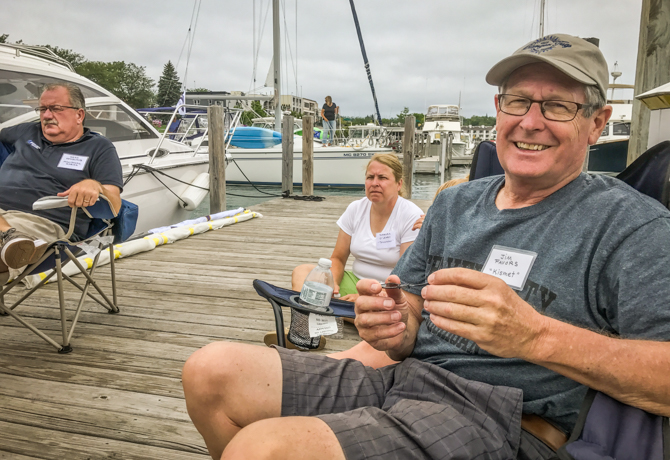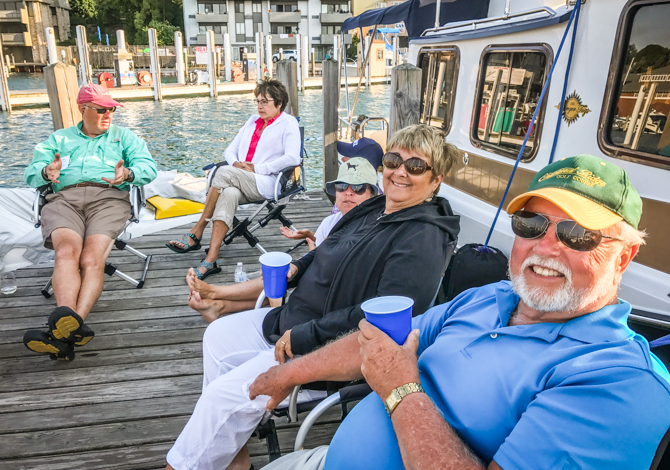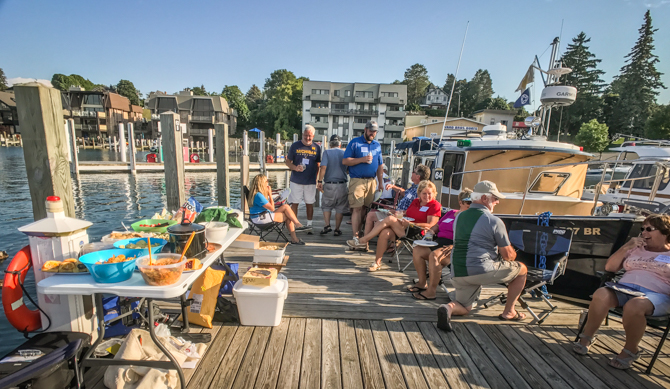 Everyone is enjoying the Ranger Tugs Cutwater Boats 2017 Charlevoix Rendezvous.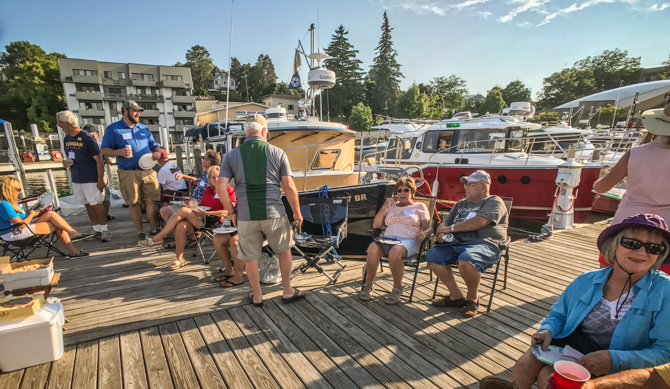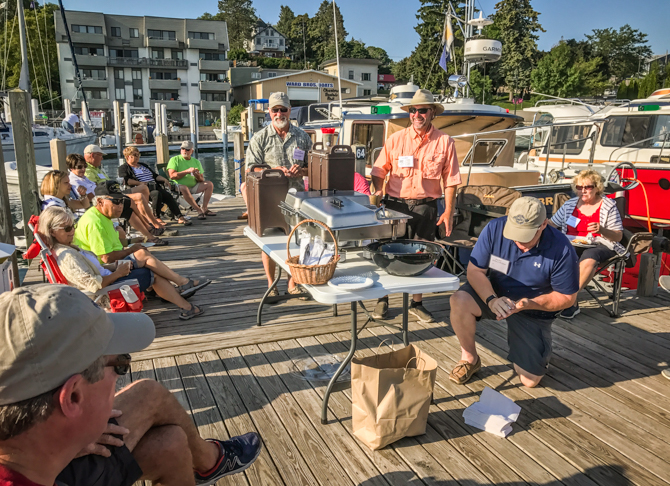 We started day two off with a catered breakfast followed with US Coast Guard Safety inspections and a boat crawl. We offer the boat crawl in order to learn about enhancements people make to their boats. It's also an opportunity to share maintenance tips that can save us time and money as well as keep us on the water.
No rendezvous would be complete without a happy hour on the docks, we had one every night. We had a wonderful view of downtown Charlevoix and Round Lake. The day was capped off with a catered dinner on the town's waterside park lawn.
Matt and Christine were kept busy most days interviewing attendees. Can't wait to see the photos and videos they took.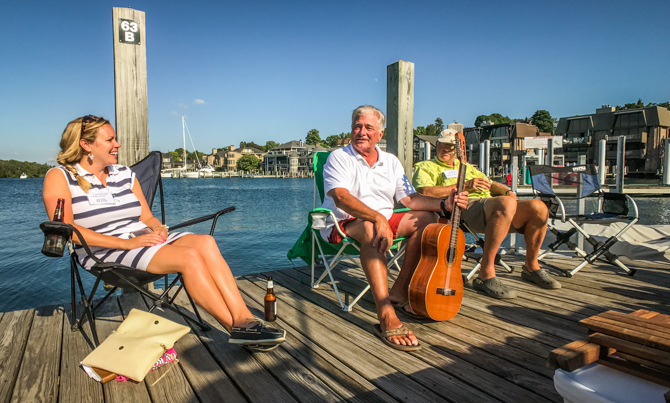 Charlevoix has one very special ambassador in their Harbor Master!
Hal Evans is a legend in the boating community, at least to those who have visited "Charlevoix the Beautiful." You will never encounter a more friendly greeting when docking your boat. Most often Hal will shout a warm "Welcome Home" as you approach to dock your boat. Hal is a one-of-a-kind individual – one of those rare people whom the sun shines through so naturally and radiates out even brighter to all in close proximity. A genuinely good man. Retiring next year, Hal's shoes will be hard to fill.
Hal helped to make our rendezvous happen in Charlevoix this year. We invited him and his wife, Mary Ann, to dinner Tuesday night and he in turn brought his guitar to sing a few old sailor songs during happy hour. Thanks Hal!!!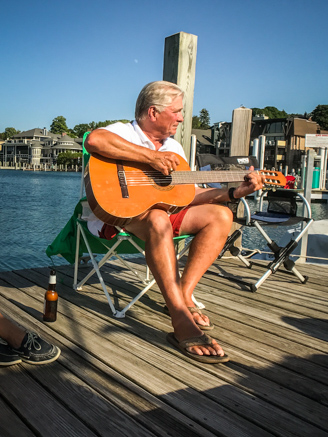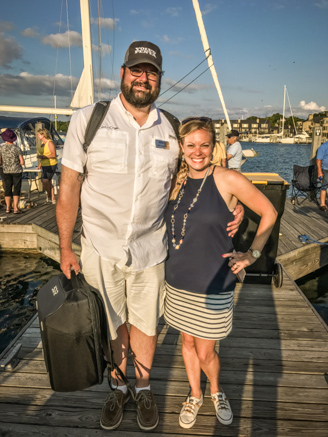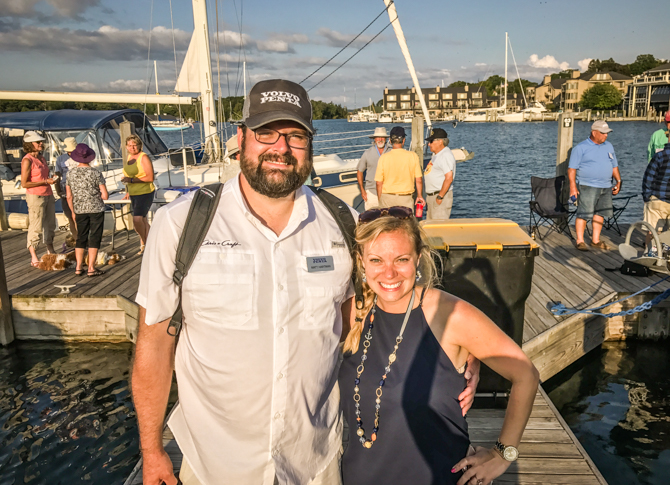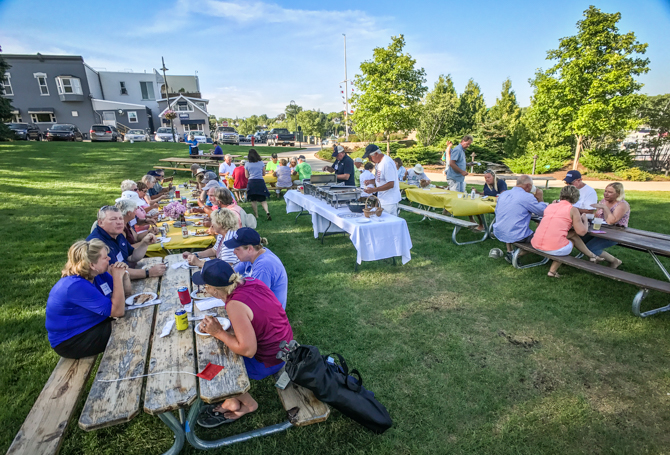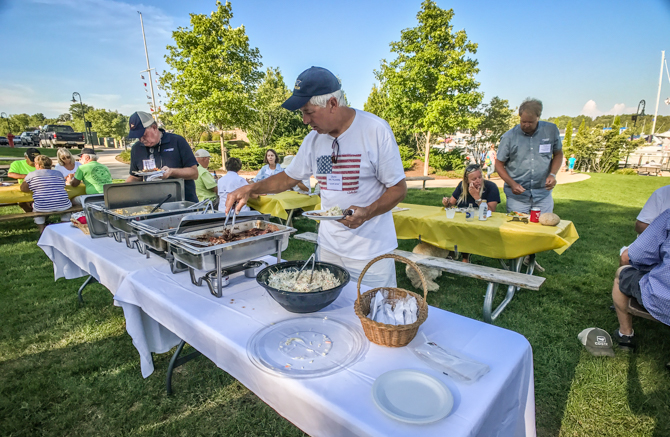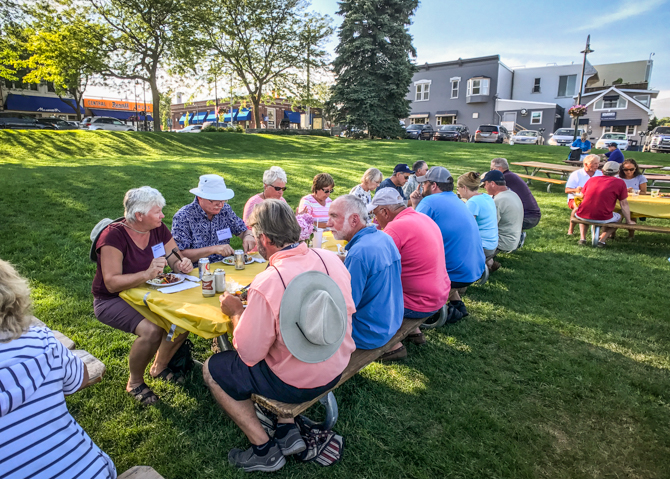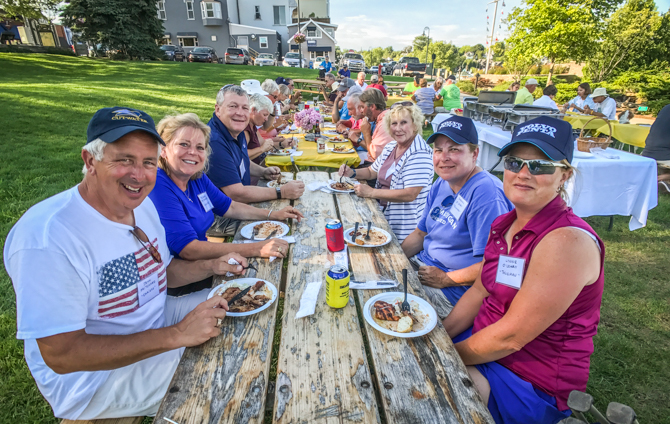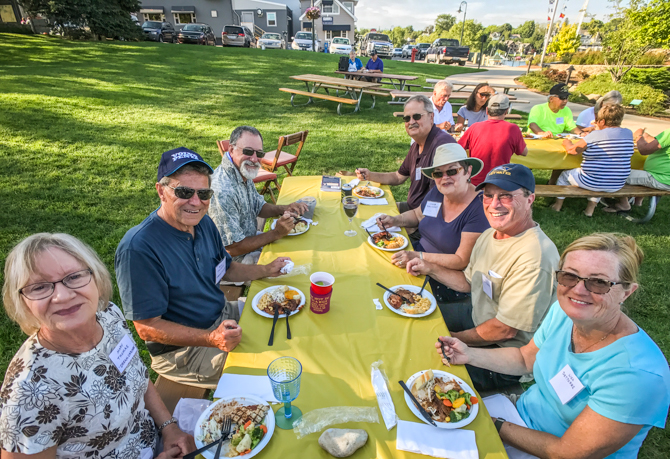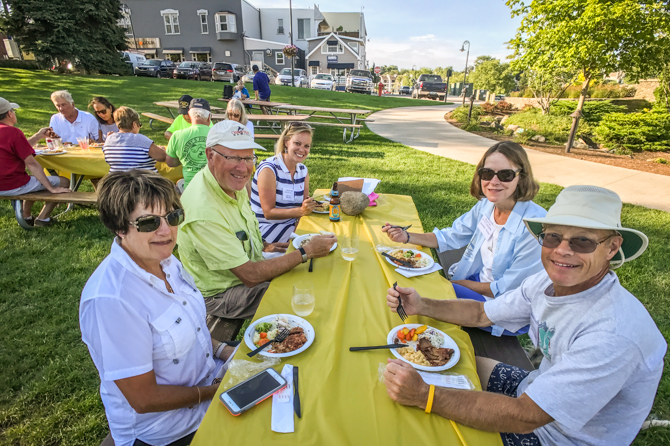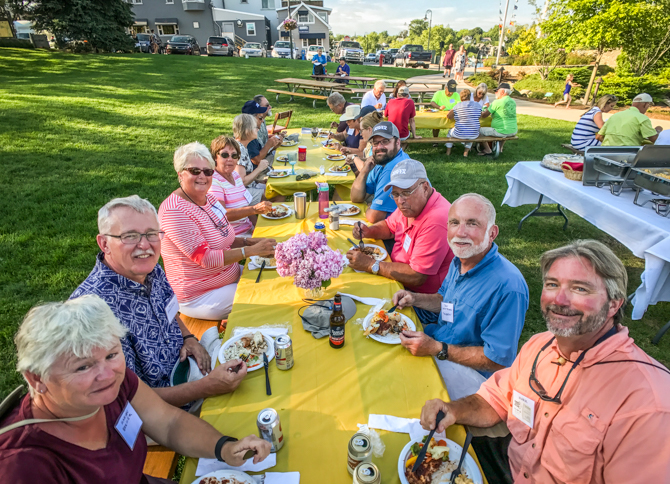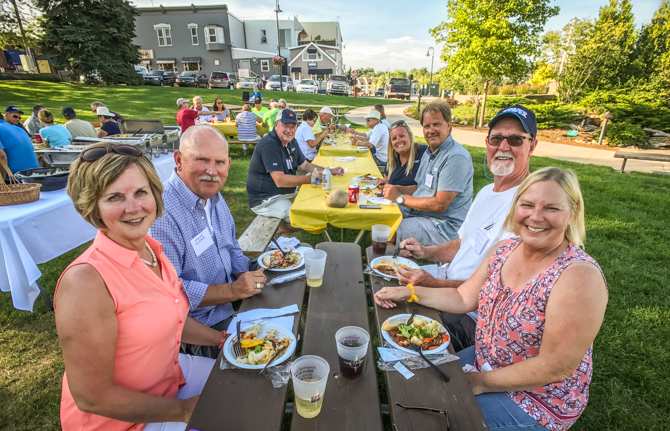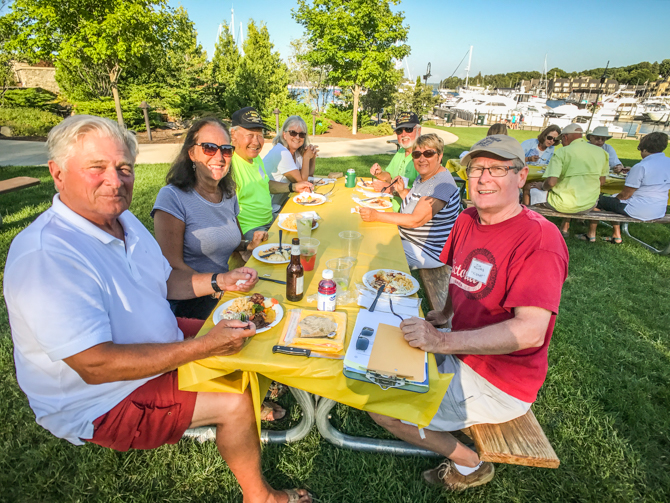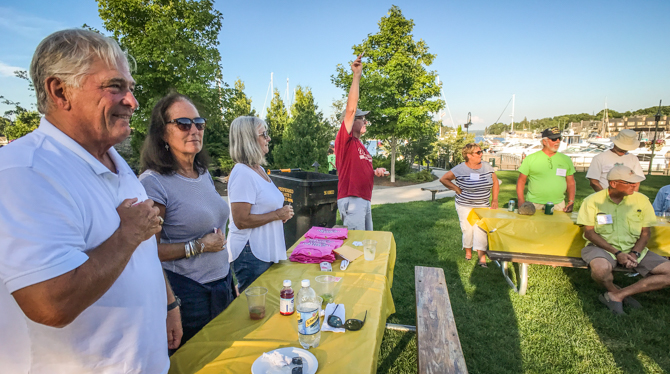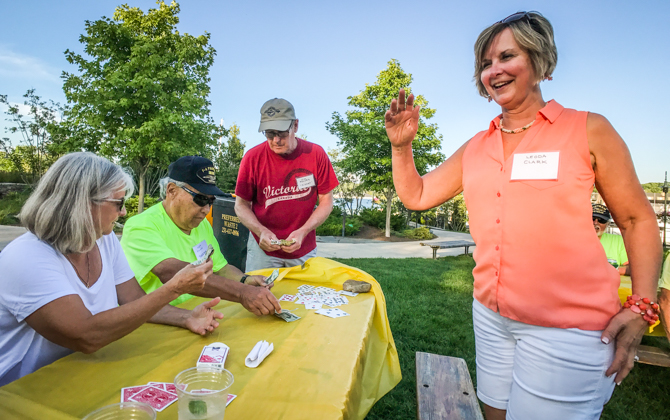 After dinner we played a short game of LAST PERSON STANDING. The last person standing won a parts certificate from Fluid Motion (Ranger Tugs and Cutwater Boats).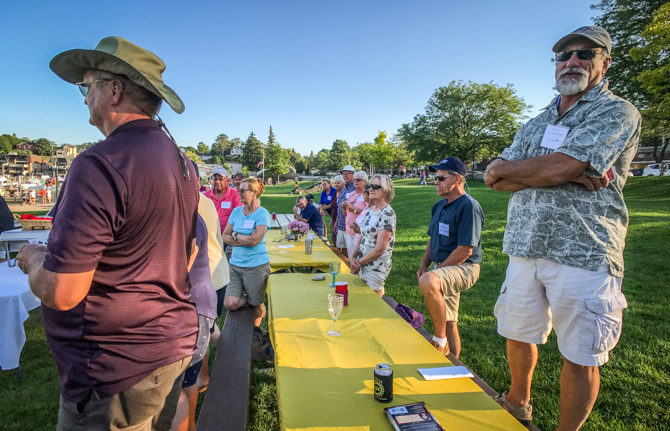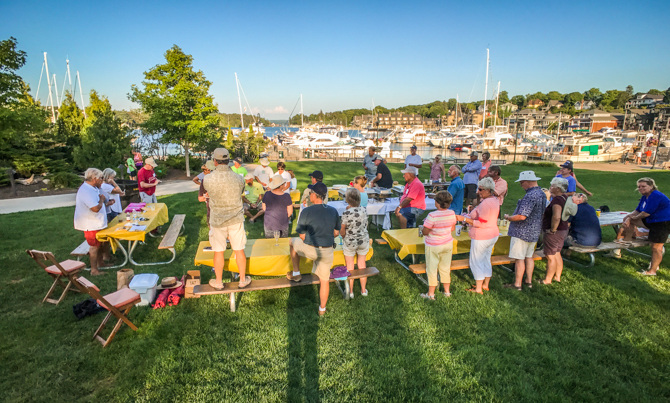 The Ranger Tugs Cutwater Boats 2017 Charlevoix Rendezvous ended Wednesday on a high note with a tour of John and Zita Winn's exquisite boat house and fascinating maritime collection.
The Winn's collection includes unique, and mostly one of a kind boats, outboard engines, seat cushions, paddles, burgees, toys, artifacts and so much more. After crawling around the boat house, John invited us upstairs to his "Chart Room." Lot's of activities and memorabilia to keep a boater entertained.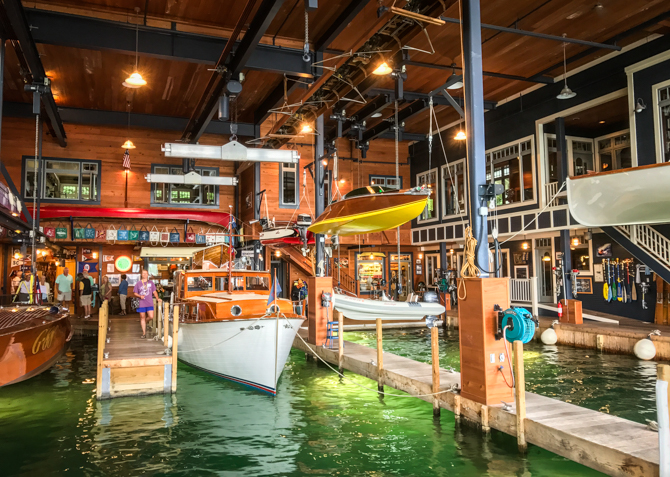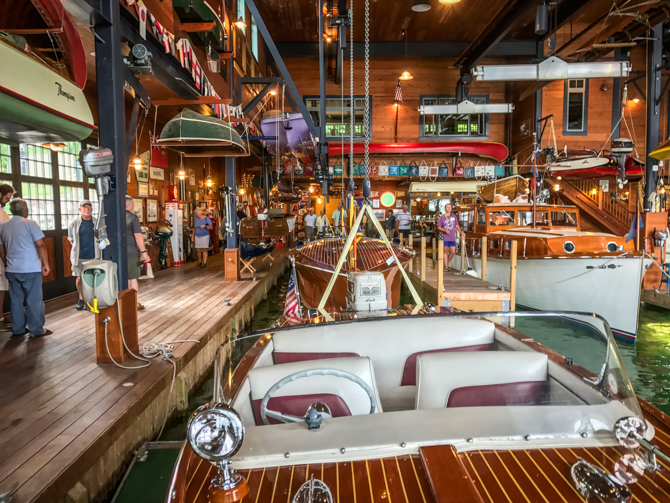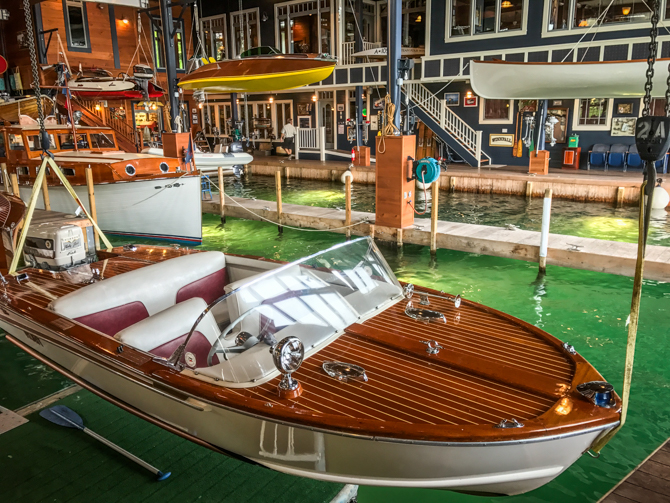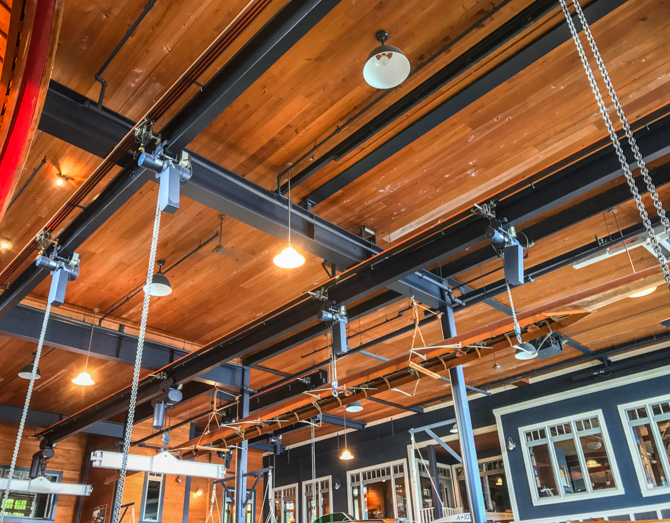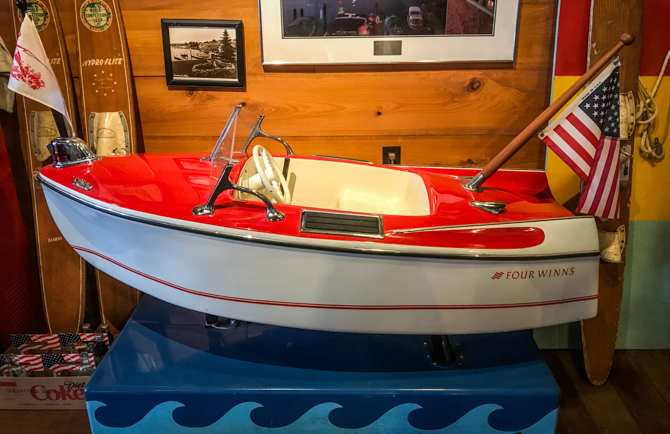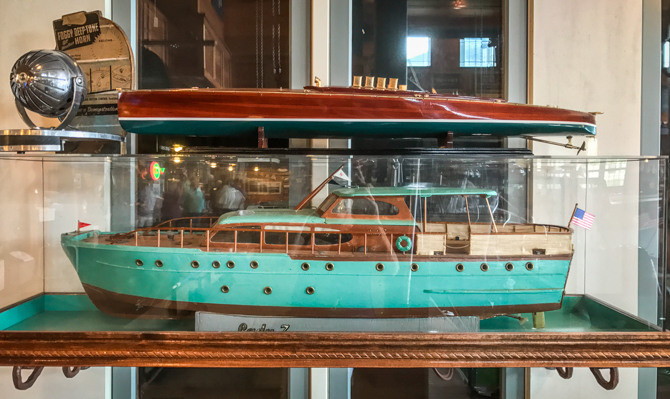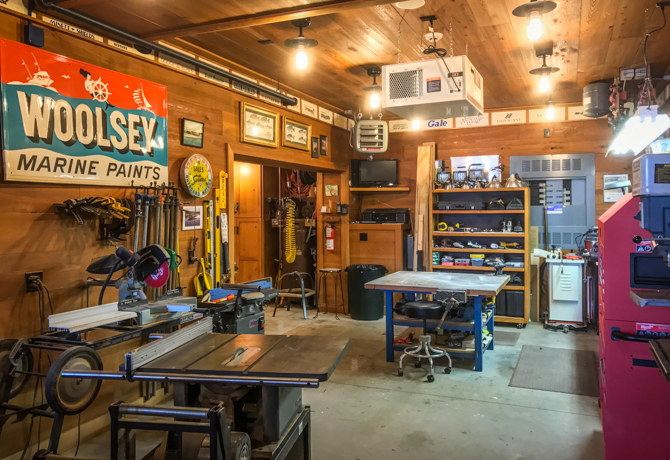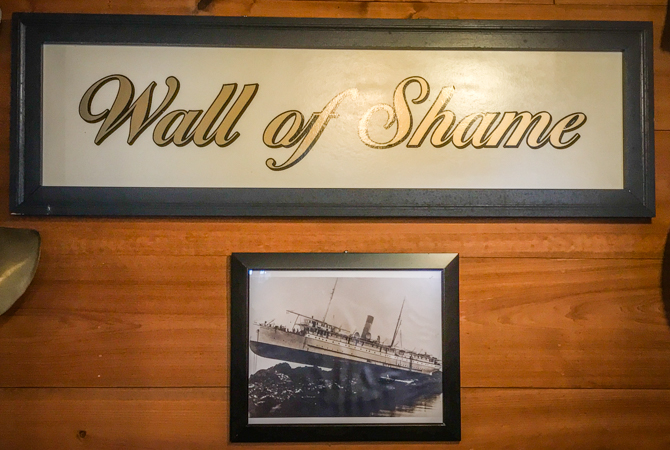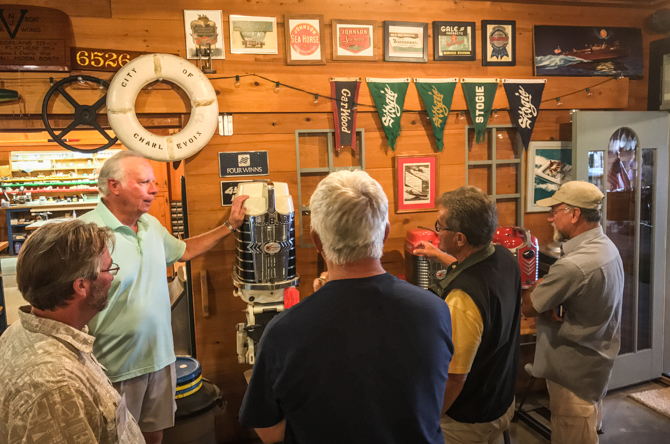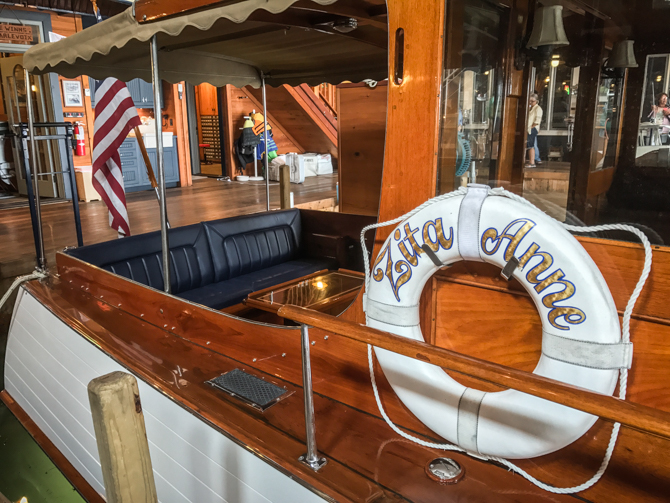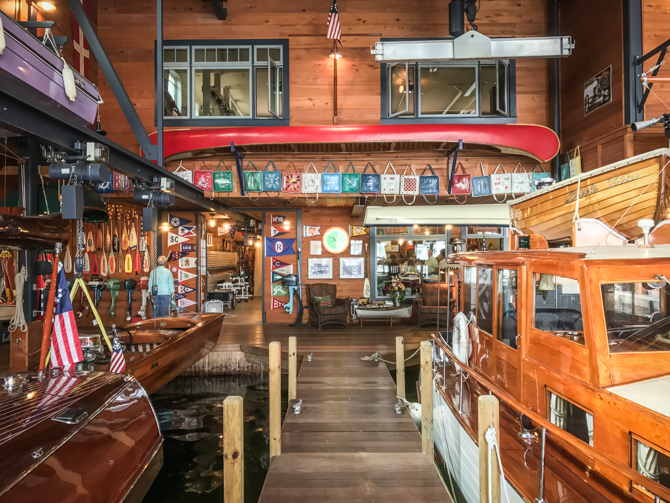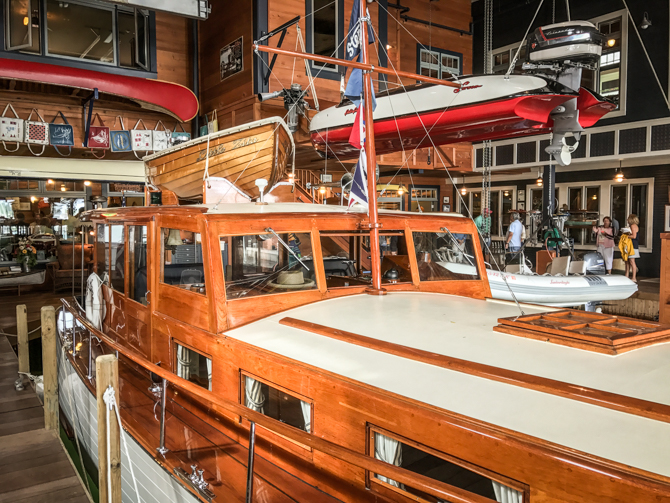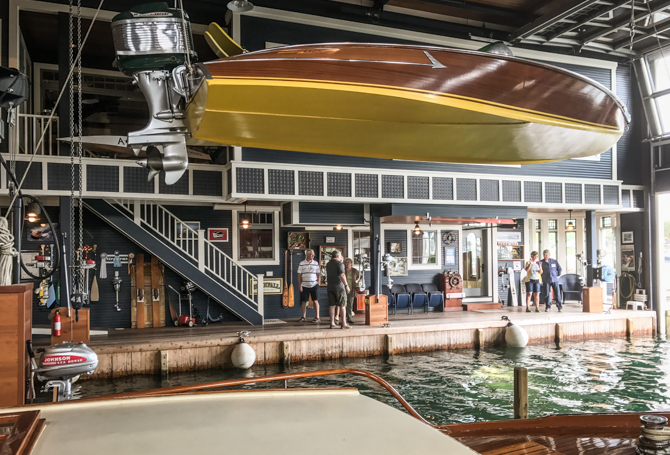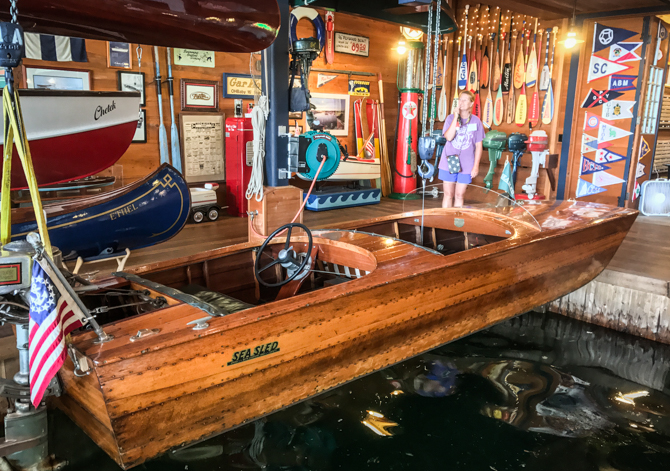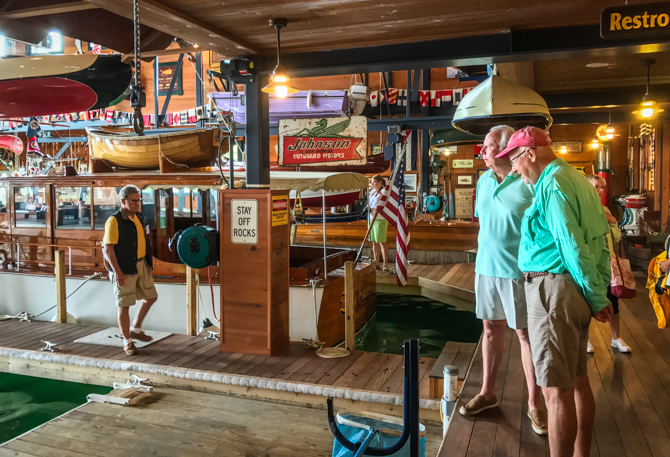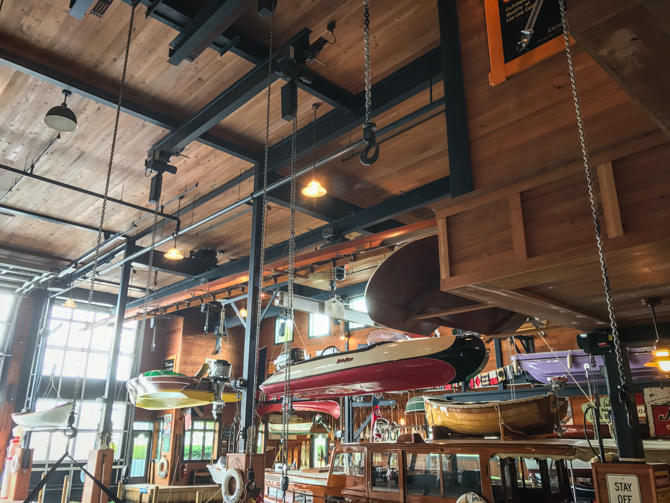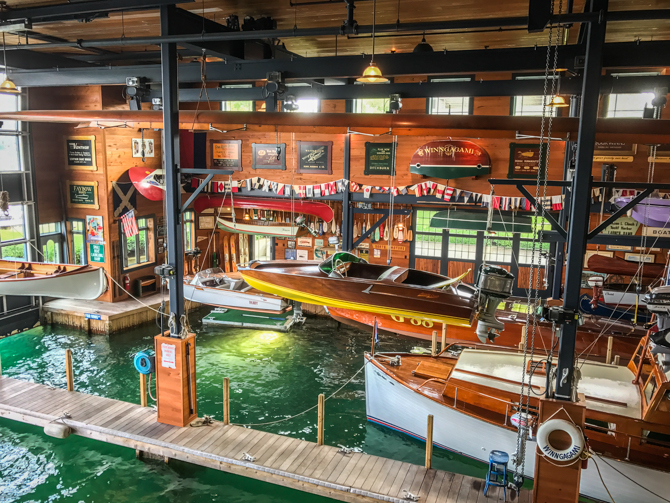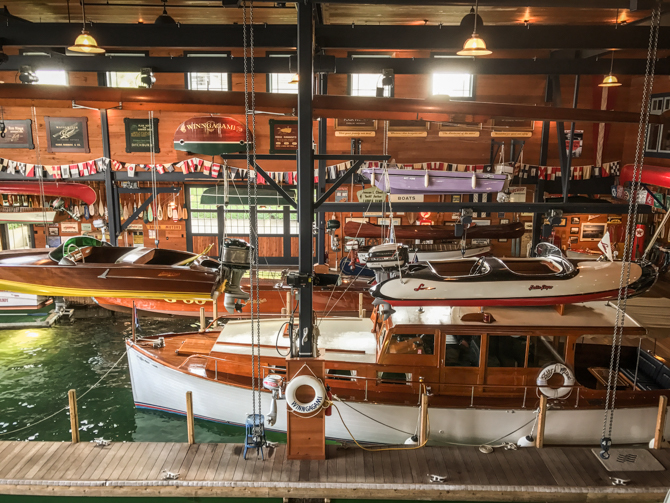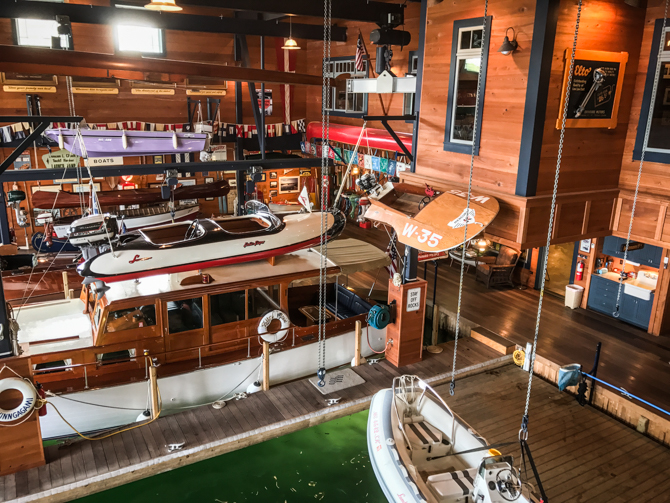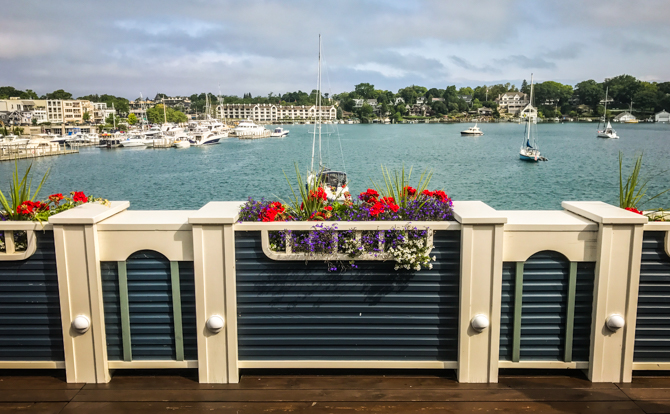 John and Zita's view of Round Lake from their Chart Room.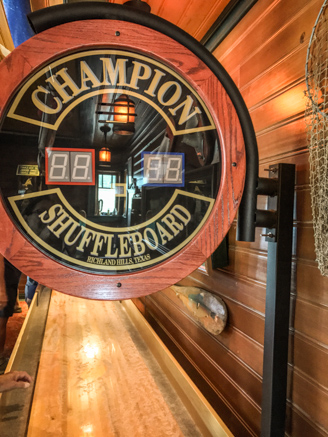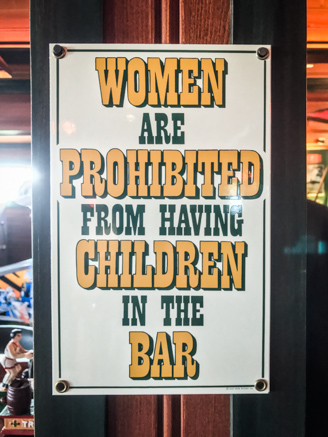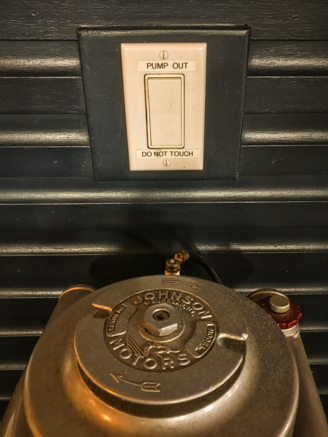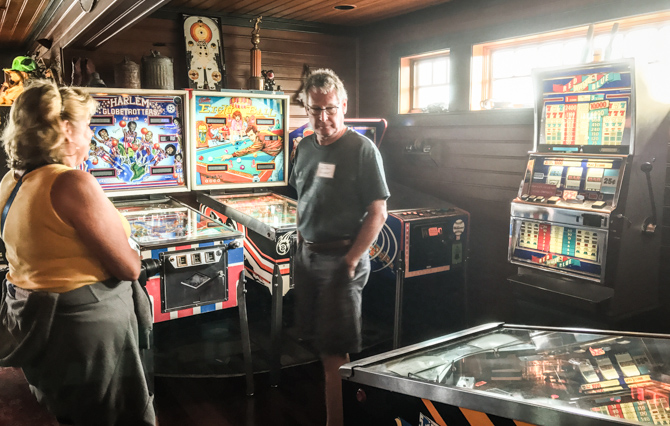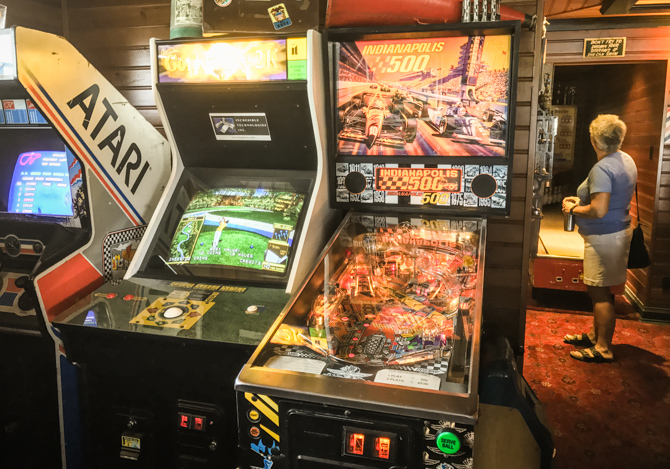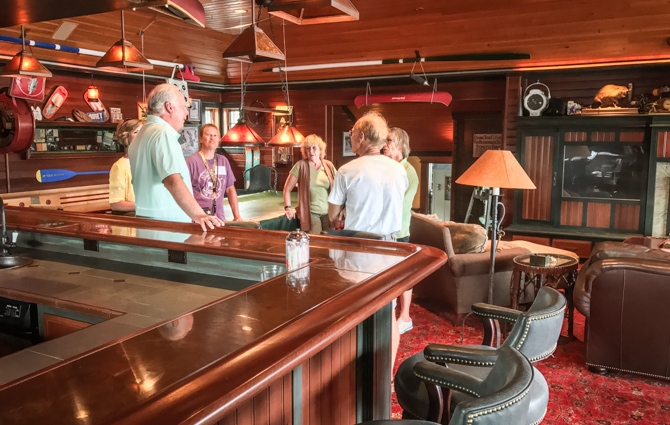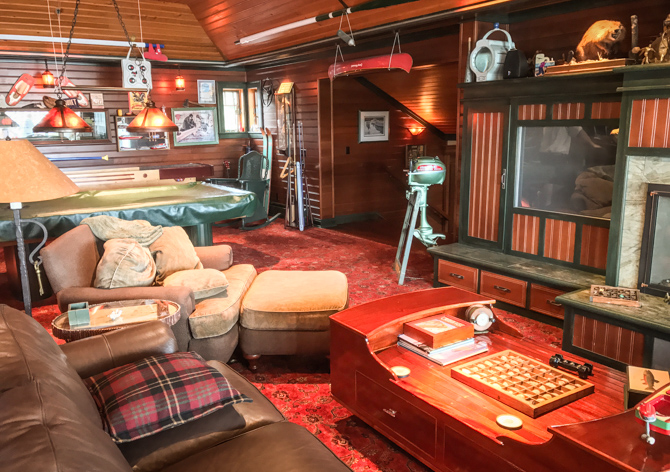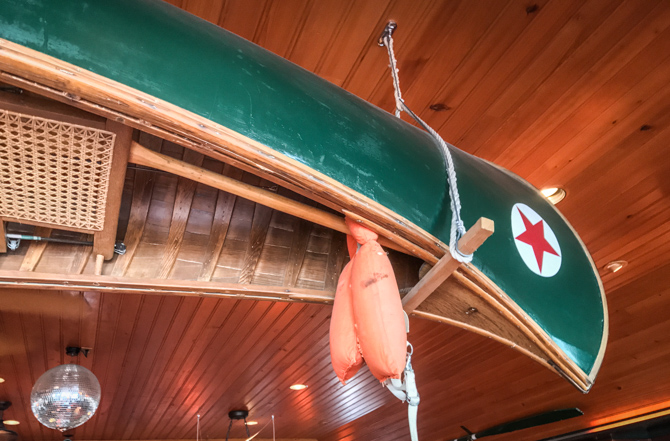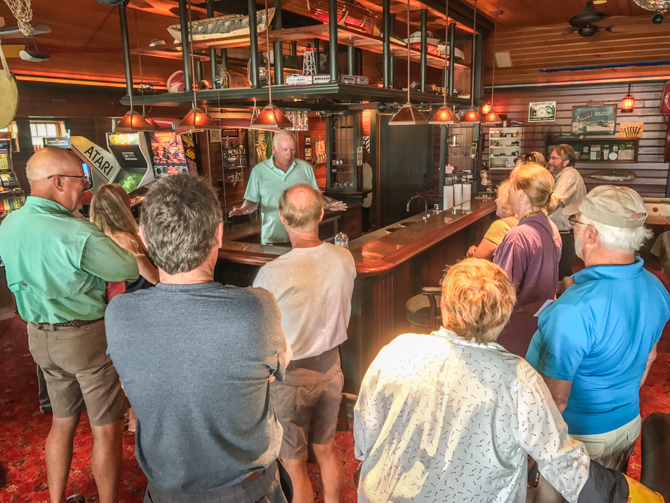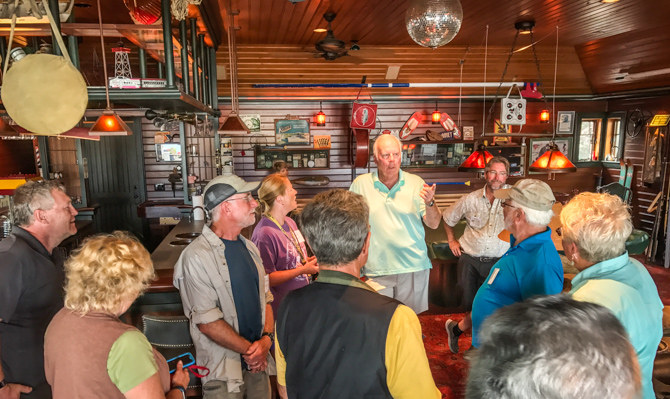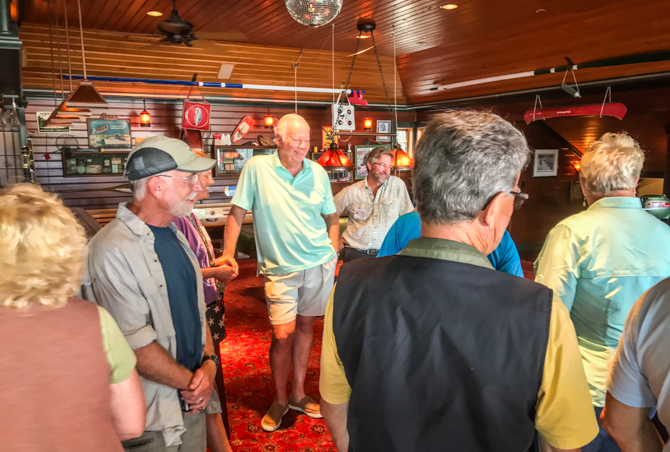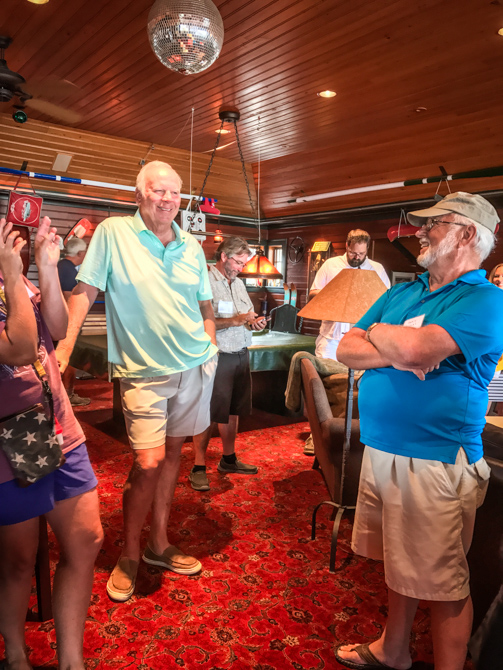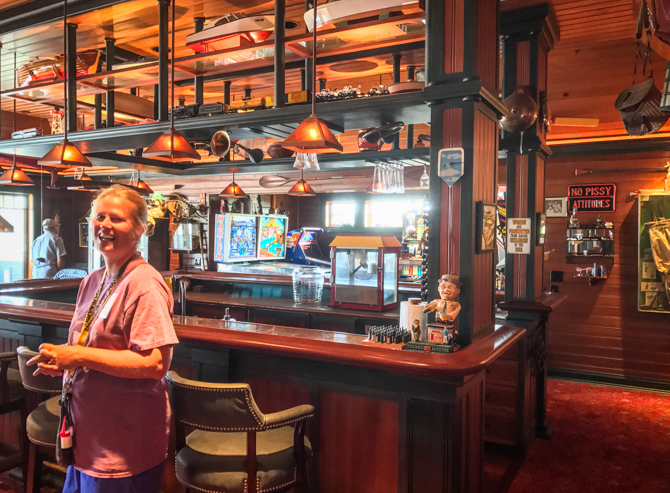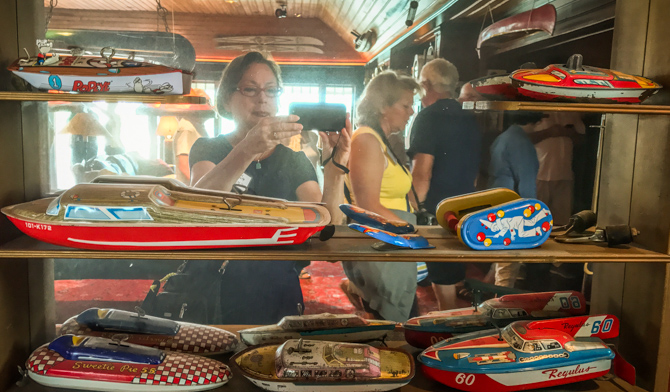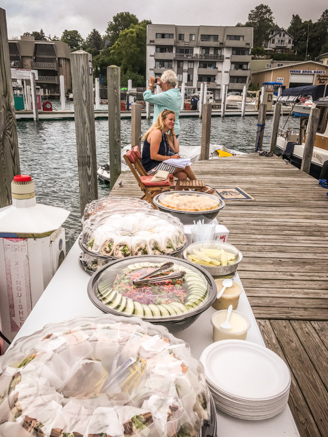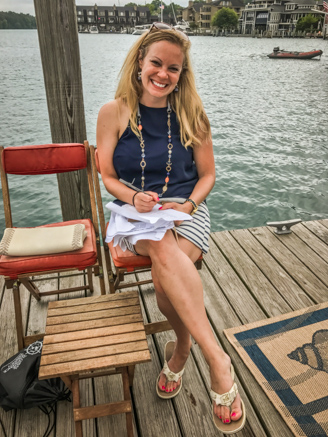 Later, we had a catered lunch on the dock followed by a presentation about marine insurance by Matt Anderson and Ben Belyea, President of Global Marine Insurance (below). There was also some free time scheduled each day, so people could explore Charlevoix, relax and or go for a cruise out on Lake Charlevoix. The last night we had a pizza party on the dock where many discussed their departure plans the next day.
Pictures are great and we know not everyone can always attend, however we hope this gives you a small taste of what a Ranger Tugs Cutwater Boats Rendezvous is all about.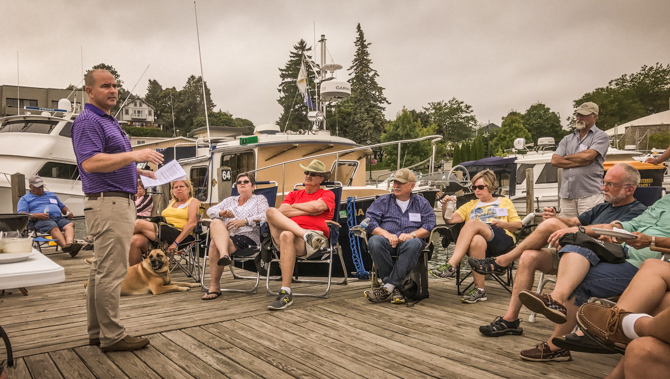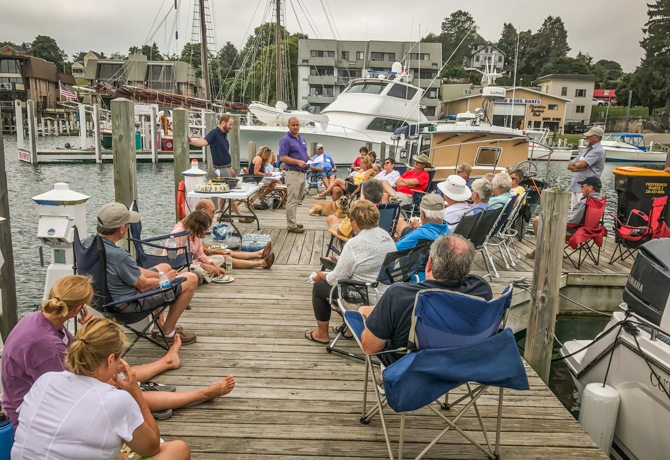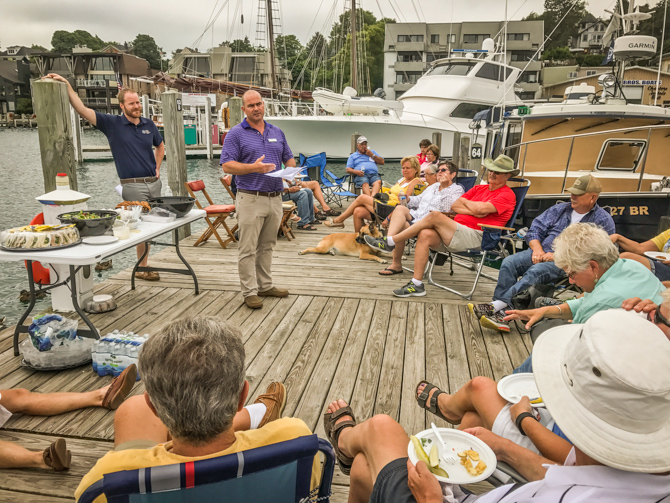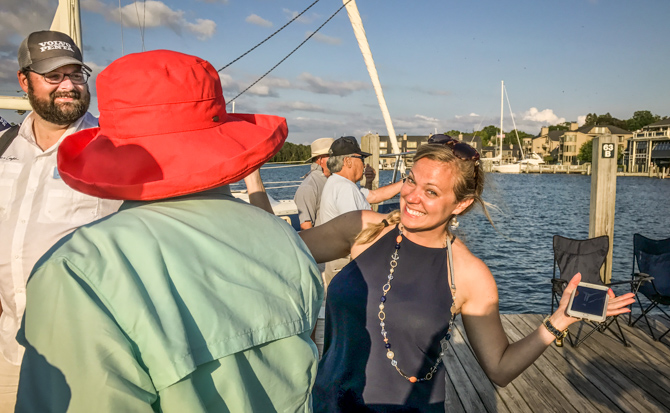 A fun time was had by all! Thanks to the attendees, the sponsors, the marina staff, the dealer representatives, the City of Charlevoix and John and Zita Winn for a one-of-a-kind tour of their boathouse and maritime collection.