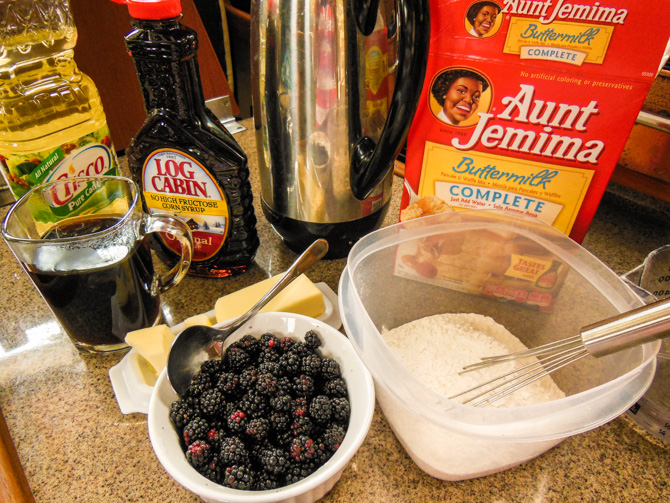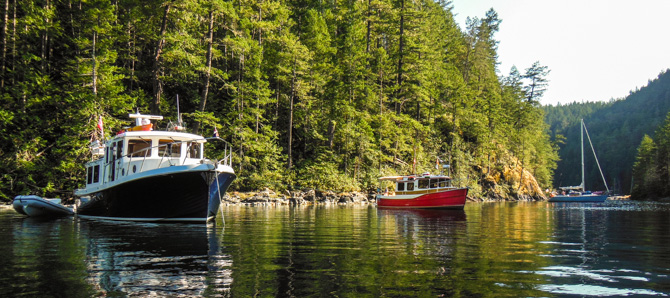 After our swim at Unwin Lake we followed the river and small rapids back to the dinghy. Just outside the woods in the open sunlight by the park entrance, where our dinghy was tied up, we came across a slew of blackberry bushes loaded with precious ripe berries. Risking bee stings and thorn torn hands and legs, we harvested enough for blackberry pancakes the next morning. But first, when we arrived back to the boat, sitting in our Tenedos Bay anchorage, a batch of martini's were in order to wind down a very enjoyable day. Lisa then whipped up one of our favorite dishes, red beans and rice.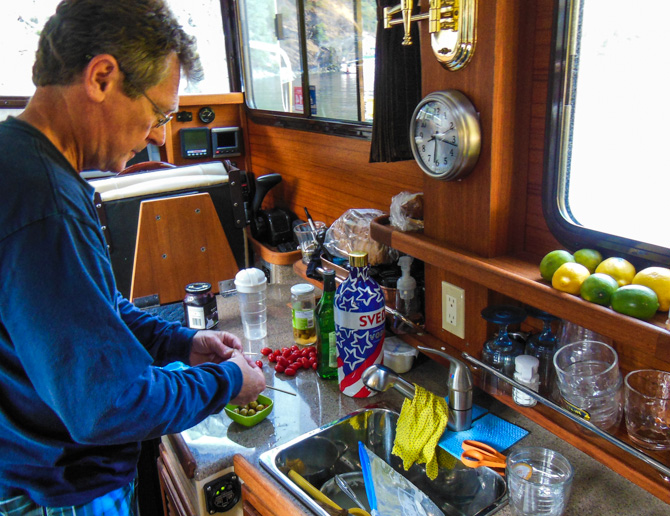 By this time in our trip I'd have to say we've become very VERY relaxed. Over a stack of blackberry pancakes the next morning, I asked Lisa, "What day is it?" and she said, "I don't know!" After spending five travel days trailering our Kismet across country, followed by a few days of preparations, laundry and provisioning, and finally hop-scotching up the coast of Vancouver Island with the Ranger Tug group, we knew we'd come to the point of our PNW cruise where we had become completely relaxed. We didn't know, or care, what day of the week or or month it was. We had not seen or heard a newscast since putting our boat in the water, and we didn't care. We had turned our phones off when we entered Canada and our on-board wifi card was turned off as well, no calls in or out for us and no internet except at the rare marina stops. We were beginning to feel like we were in a bubble of sorts and we savored every minute of that blissful state, being in the moment and totally focused on our Desolation Sound Cruise.
Blackberry pancakes this morning in our Tenedos Bay anchorage!
After a yummy breakfast of pancakes and berries, on Sunday morning, we pulled anchor to head over to Melanie and Laura Coves.