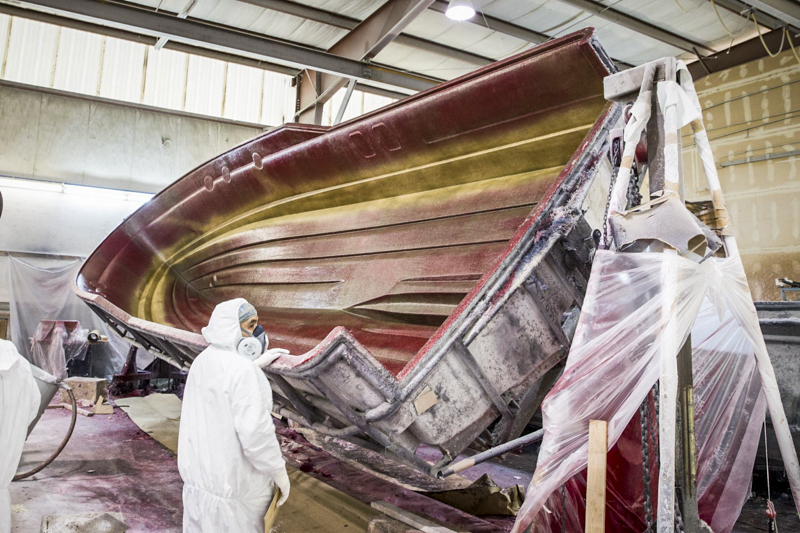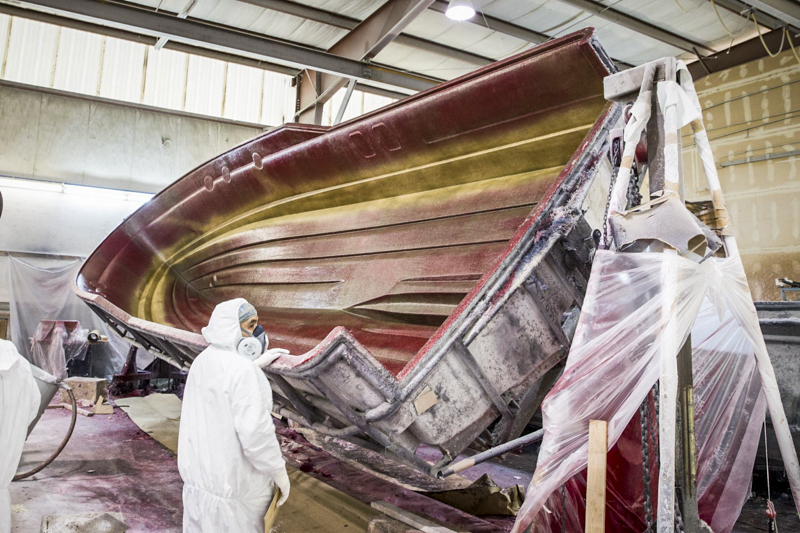 Marrying the Hull of the New Kismet Ranger Tugs R29S
Having something built from scratch, such as a house, car or in this case a boat is usually best left to the professionals. As you'll see from the following photos there is evidence that a tremendous amount of thought and mindful design goes into building a boat, before and during manufacturing. There is a coordinated effort, before the actual production starts, to have on hand all of the hardware, wiring, hoses, batteries, glass, lighting, engine, generator, electronics, solar panel, seating cushions, tanks, etc. This ensures production occurs smoothly and on time. If not planned properly, I could see how delays and backlogs in production could very easily happen. In this case our new Kismet was complete almost before we knew it, that's because of the efficiency of the professionals at Ranger Tugs… they know how to build boats and they build them well.
In the past, when we've ordered a boat to be built, we have always gotten photo's taken of the whole process.
We do this to understand the boat's innards. It makes it easier for me to know how things are assembled, especially areas I cannot see. For instance, in case I want to run wiring for additional electronics. It's important to know where things are located such as tanks, or really anything hidden beneath the fiberglass shell. Also, it's helpful to know the easiest way to access something for maintenance, especially something difficult to get to. Besides, its cool to understand how the parts come together to make this beautiful new boat.
The molding process is fascinating.
Once the hull, hull liner and top side are popped from their molds, it takes about a week to lay these molds up, then actual construction starts in earnest. Then they get to work on cutting out openings for windows, doors, hatches, etc. Once each major mold piece is ready the liner is married into the hull and is built out with tanks, engine, generator, cabinets and more. At the same time the deck has had parts added to it in preparation to be married to the hull for final assembly. Although months go into parts ordering and coordination the actual production of a Ranger Tugs R29S takes only about one month.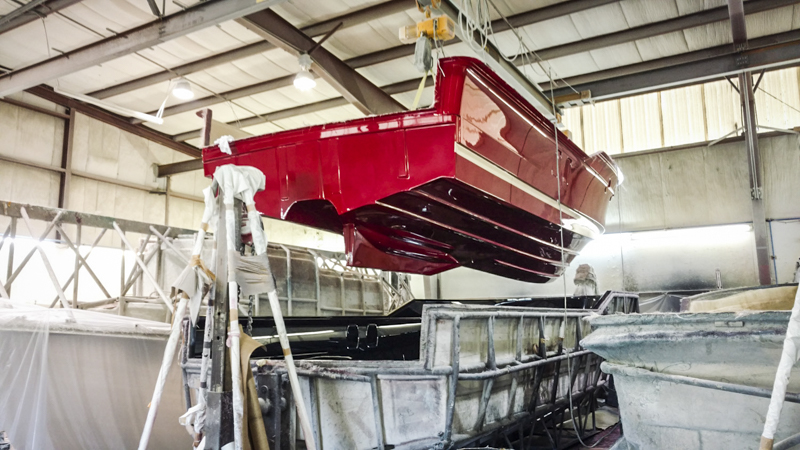 The bright red hull is being lifted out of the mold (photo-top).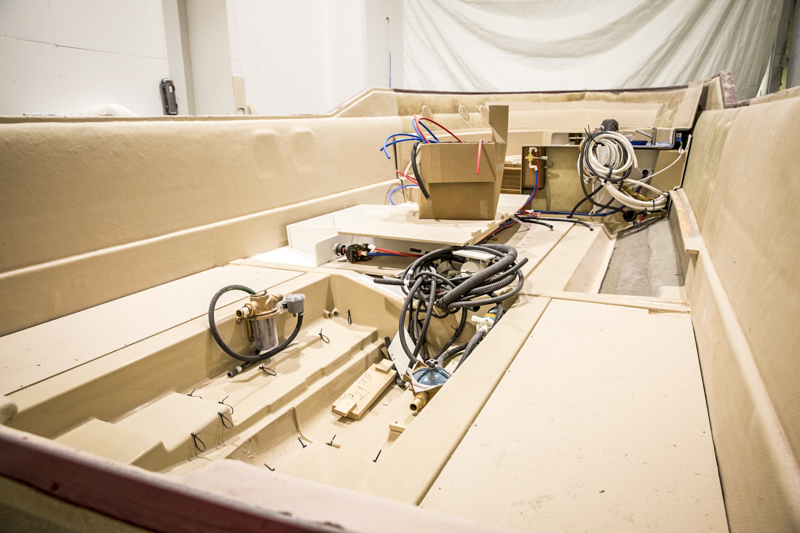 The liner of the hull is show just before cables and wiring are added (photo-top)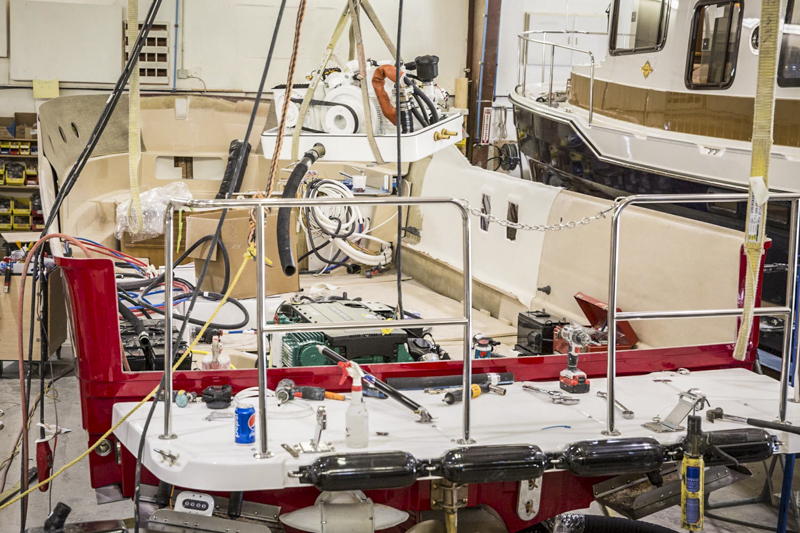 You can start to see the transom take shape (photo-above).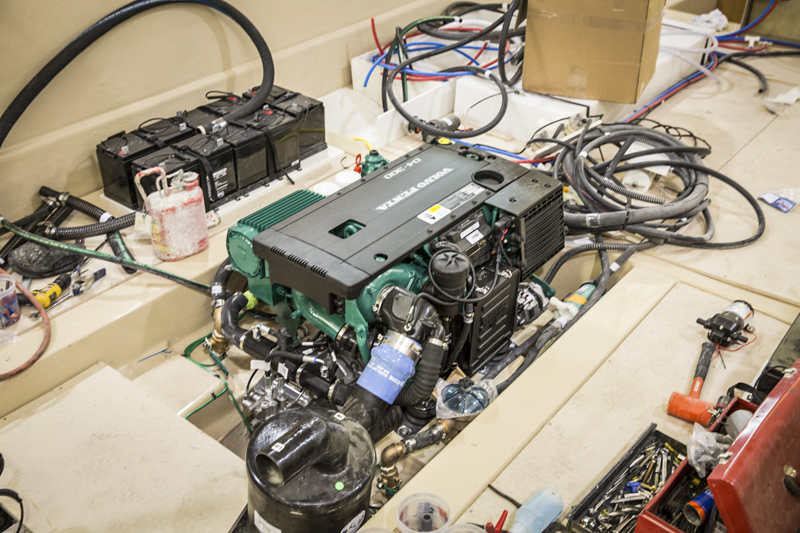 Engine is in place (photo-above).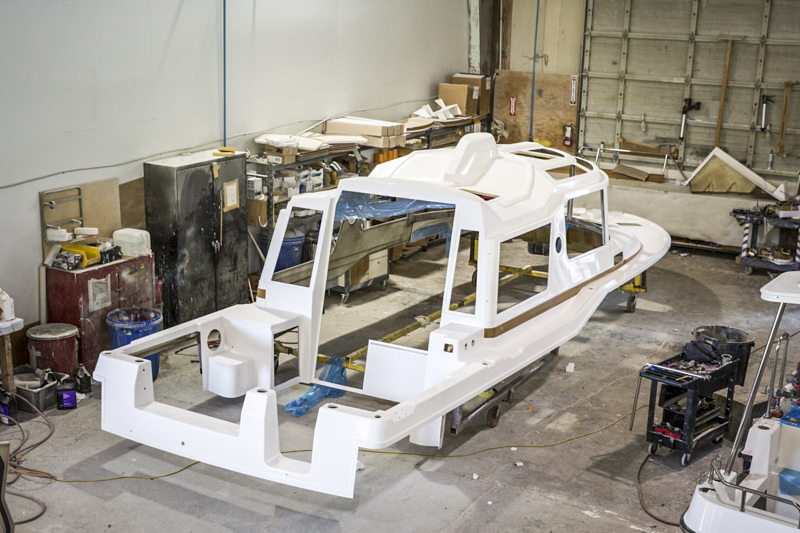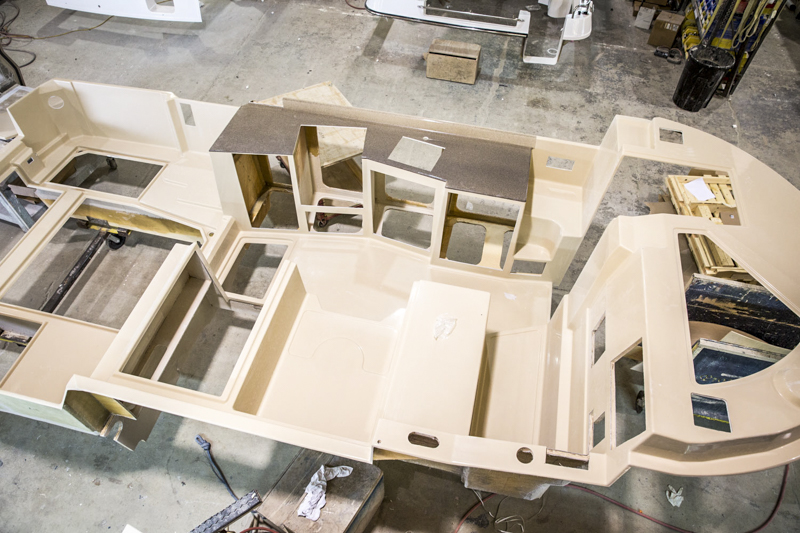 Kismet will be powered by a Volvo Penta D4 300 HP diesel inboard (photo-below). We're excited to be getting back out onto the water soon to experience our new boat with an engine that has more power then we had in our R27, with the added benefit of having a quieter ride. Can't wait for this engine to take us to new boating destinations!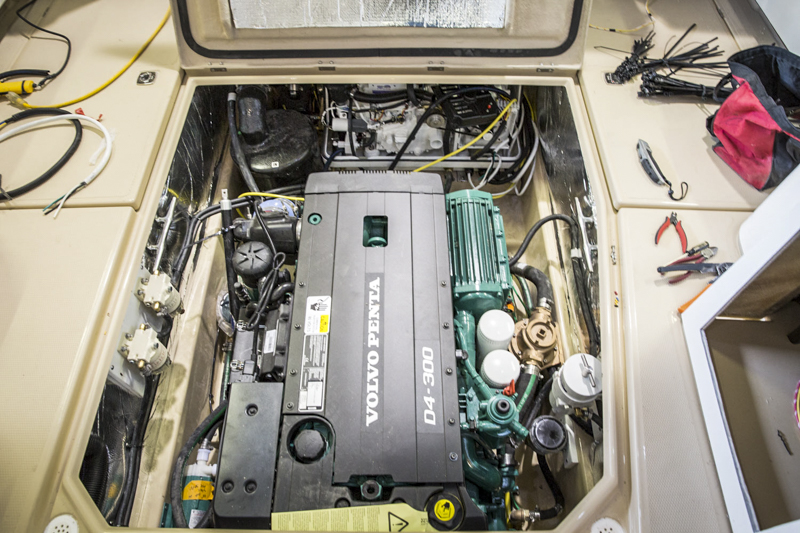 The New Kismet Ranger Tugs R29S taking shape at the Ranger Tugs factory located NE of Seattle, Washington.